Hazelnut Chicken Salad served over dressed arugula is an easy single serving recipe made with the best ingredients!
This classic chicken salad is so good! Made with seasoned Foster Farms Bold Bites, Earthbound Farm arugula, and La Tourangelle Hazelnut Oil, this tasty recipe couldn't be easier to make. Plus, keep reading and you'll find out about a special $20 off + FREE Delivery on your first Safeway online order!!!
This post was sponsored by Safeway, but all opinions are 100% my own.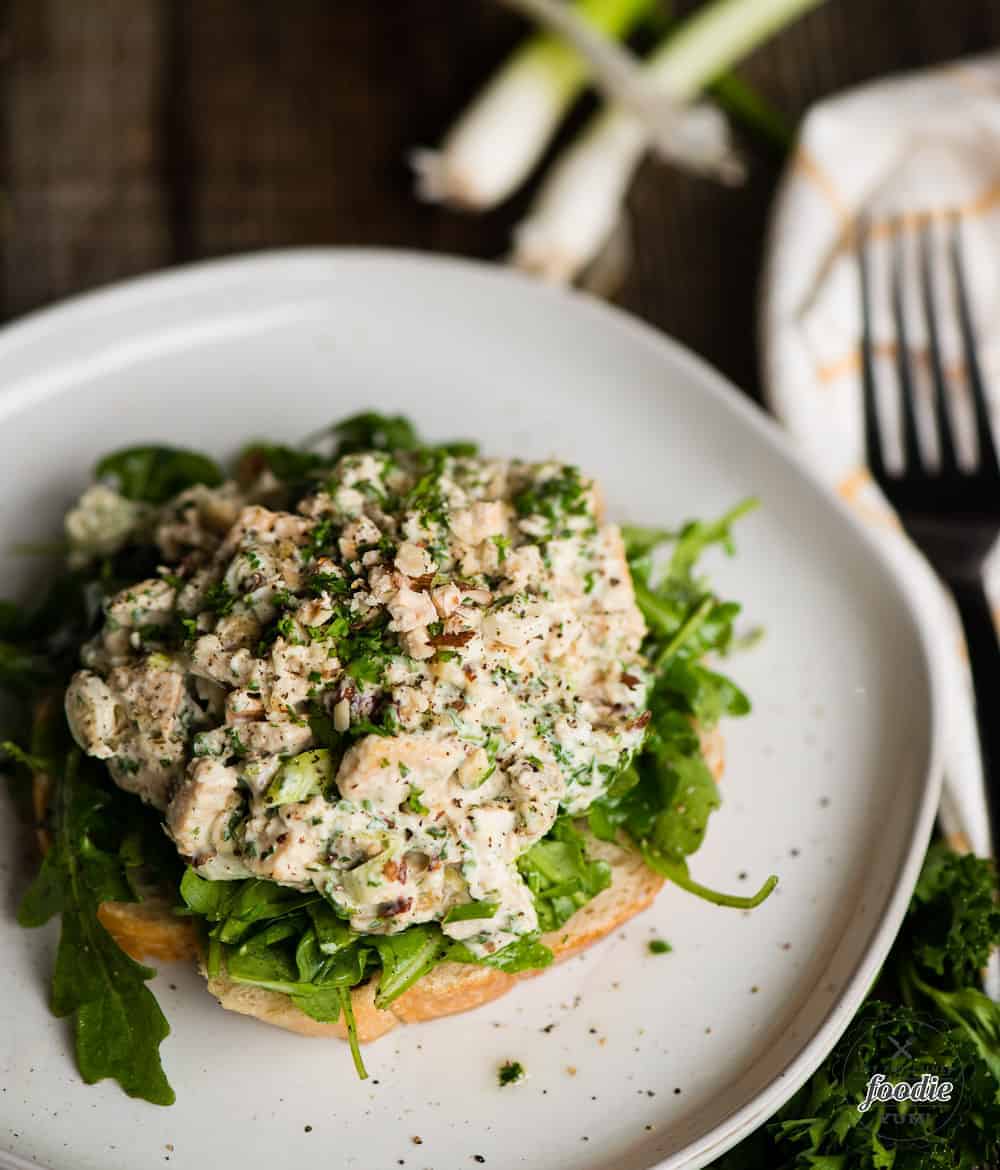 EASY CHICKEN SALAD RECIPE
Pin it to your CHICKEN RECIPE BOARD to SAVE it for later!
Follow Self Proclaimed Foodie on Pinterest for more great recipes!
If you were going to make a recipe with Foster Farms Bold Bites, La Tourangelle Hazelnut Oil, and any Earthbound Farm organic greens of your choosing, wouldn't you make Hazelnut Chicken Salad too? I almost feel guilty sharing this recipe because it was so easy to make. Honestly, it may have been the best chicken salad I've ever eaten.
Every good chicken salad recipe needs two things: flavor and crunch. I have to have crunch. The texture, in my opinion, is what sets an outstanding chicken salad apart from an average chicken salad. I like my crunch to come from two sources – vegetables and nuts. The chosen vegetable was green onion. It's mild but still very flavorful. The crunch came from raw hazelnuts. I knew I wanted to dress my greens in hazelnut oil, so adding hazelnuts to the chicken salad was perfect!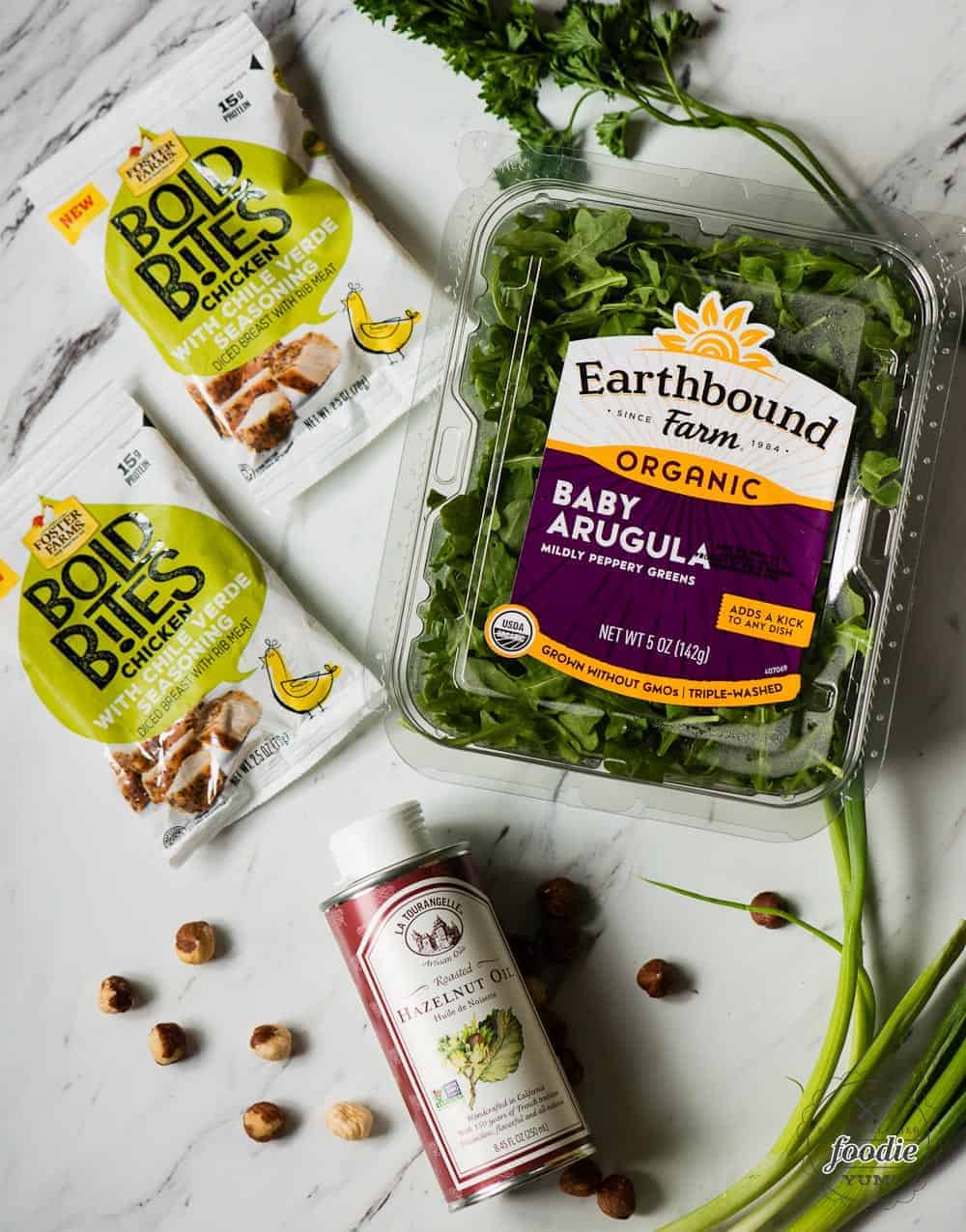 Chicken salad ingredients:
To fully appreciate how easy and delicious this chicken salad recipe was, allow me to tell you about the star ingredients:
Foster Farms Bold Bites. Chances are you're very familar with Foster Farms, but you may not have seen their latest innovative product called Bold Bites. I found these at Safeway in the refrigerated lunchmeat section. They have five boldly seasoned different flavors of chicken breast bites, but I chose the chile verde seasoning variety and it was absolutely perfect in the chicken salad. Each package of Bold Bites is a single serving with 15 grams of protein – perfect for a quick and easy chicken salad lunch!
Earthbound Farm. If you've ever been to the grocery store looking for organic greens, you're already familiar with Earthbound Farm and their high quality produce. They've been around for more than three decades. In fact, Earthbound Farm was the first company to successfully launch and market pre-washed packaged salad for retail sale. When they started, people considered "salad" to be iceberg lettuce. Thankfully we've come a long way! Earthbound Farm really changed the produce game, making it super easy for consumers like me to bring home washed, organic, ready-to-eat greens. Any of their organic greens would have been great with the chicken salad, but I love the peppery bitterness that arugula brings.
La Tourangelle. Artisan French techniques, while locally sourcing ingredients and minimally processing, are how small batches of flavor-rich oils are made. La Tourangelle is a family owned company that creates a broad range of oils including Walnut, Avocado, Grapeseed, Sesame, and Hazelnut. These oils can be used on their own, in cooking, or infused into blends. Their oils are handcrafted, expeller-pressed, and all natural. The Hazelnut Oil was used to dress the greens and drizzle over the chicken salad. So delicious!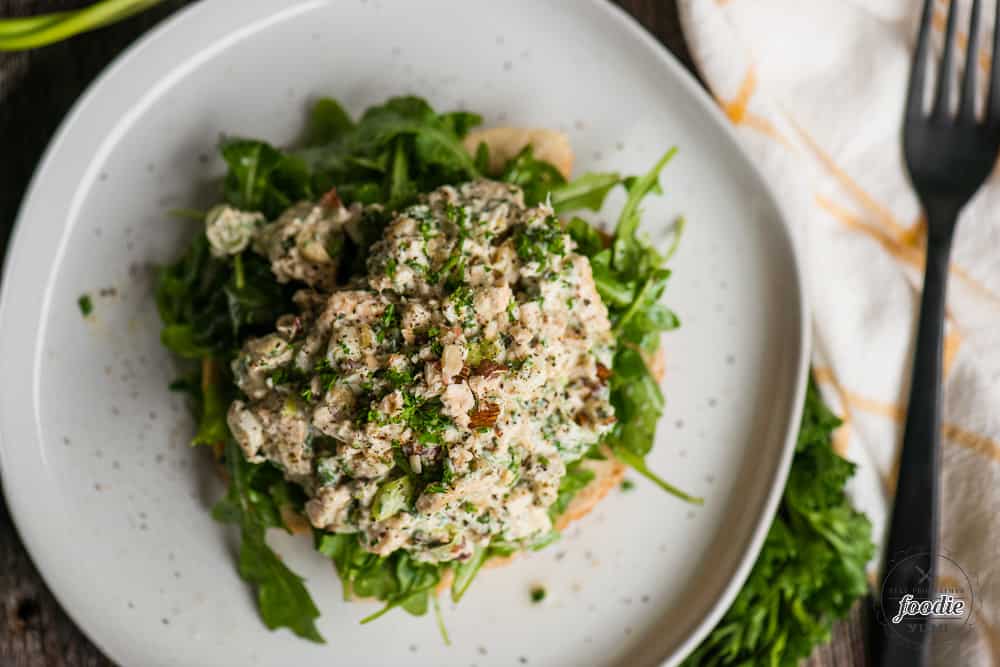 How to make easy chicken salad:
Simply combine the cooked chicken breast meat, mayonnaise, hazelnuts, parsley and green onions in a bowl. I prefer to have the chicken in small pieces so I use a fork to shred. If desired, you can use greek yogurt in place of mayonnaise. Because the chicken is already seasoned, nothing else is needed!
Chicken salad tastes best with dark leafy greens, and when dressed with a flavorful hazelnut oil and a bit of acid like white balsamic vinegar or lemon juice, the makings of a perfect chicken salad sandwich are about to be consumed. YUM!
Special offer!
$20 Off + FREE Delivery
on your 1st online order*
when you spend $75 or more
Enter Promo Code: SAVE20 at online checkout
       Valid thru 12/31/18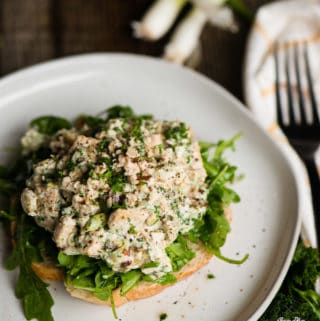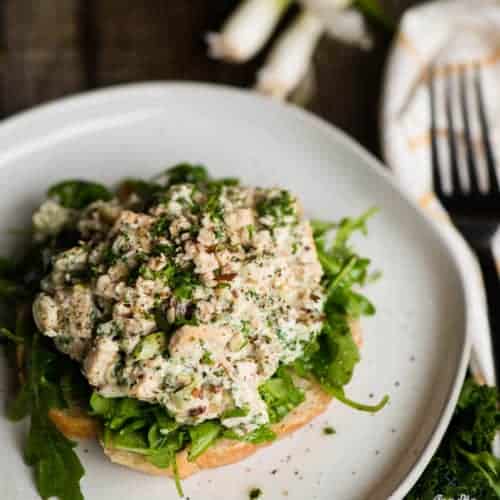 Hazelnut Chicken Salad Recipe
Hazelnut Chicken Salad served over dressed arugula is an easy single serving recipe made with the best ingredients! This classic chicken salad is so good!
Print
Pin
Rate
Ingredients
Hazelnut Chicken Salad:
2.5

ounce

Foster Farms Bold Bites Chicken

cooked diced chicen breast meat

1

tablespoon

hazelnuts

chopped

1

tablespoon

parsley

minced

1

tablespoon

green onions

sliced

1

tablespoon

mayonnaise
Dressed Greens:
1/2

cup

Earthbound Farm Arugula

or other dark leafy greens

1

teaspoon

La Tourangelle Hazelnut Oil

1/2

teaspoon

white balsamic vinegar

or lemon juice

salt & pepper

to taste
To serve:
1

slice

toast

if served open faced, additional toast for sandwich

additional La Tourangelle Hazelnut Oil

to drizzle on top
Instructions
To make chicken salad, combine chicken, hazelnuts, parsley, green onions and mayonnaise in medium sized bowl. Use a fork to mix well, breaking up the pieces of chicken.

To prepare the greens, toss with oil and vinegar.

To serve, add dressed greens to top of toast and pile on the chicken salad. Drizzle additional hazelnut oil on top. Enjoy!
Nutrition
Calories:
351
kcal
|
Carbohydrates:
15
g
|
Protein:
19
g
|
Fat:
23
g
|
Saturated Fat:
2
g
|
Cholesterol:
51
mg
|
Sodium:
307
mg
|
Potassium:
367
mg
|
Fiber:
1
g
|
Sugar:
2
g
|
Vitamin A:
635
IU
|
Vitamin C:
8.8
mg
|
Calcium:
54
mg
|
Iron:
1.7
mg
Disclaimer:
*Limited time offer: $20 Off + Free Delivery Offer: Minimum $75 purchase required. Enter Promo Code: SAVE20 at online checkout. Order by 12/31/18. OFFER VALID ONLY FOR 1ST TIME ONLINE GROCERY ORDERS. LIMIT 1 PER HOUSEHOLD. SERVICE FEE MAY APPLY. May not be combined with any other free or reduced delivery fee or service fee offer, discount or promotion. Service by safeway.com available only in select areas and may be provided by another Albertsons Companies store banner, which is subject to that banner's availability, pricing and promotions. Instacart may independently provide shopping services. OFFER ONLY VALID FOR 1ST TIME INSTACART USERS. Enter your zip code online to find if service from safeway.com and/or Instacart is available in your location. Service by Instacart subject to Instacart service fees, terms and conditions, and account registration. Same day delivery subject to availability. All delivery orders require a minimum purchase, unless otherwise noted. Minimum purchases calculated based on subtotal of all qualifying items in cart at checkout. Qualifying items exclude fluid dairy, alcohol and tobacco products. Prices for products you order for delivery generally are higher than the prices for such products in Safeway physical stores and may vary depending on fulfillment method chosen. Online promotions, discounts and offers may differ from those in Safeway physical stores. We reserve the right to modify or cancel this offer and/or to correct typographical, pictorial and other ad or pricing errors.  Find additional terms at safeway.com/ShopStores/Terms-of-Use.page. Instacart terms at delivery.safeway.com/terms.