The BEST Loaded Grilled Italian Sandwich is filled with mouthwatering cured meats, marinated veggies, olive tapanade, fresh greens, and melty cheese!
Whether you're hosting a party, having friends over to watch the game, or are just craving something delicious, this warm Italian sandwich has everything your taste buds desire!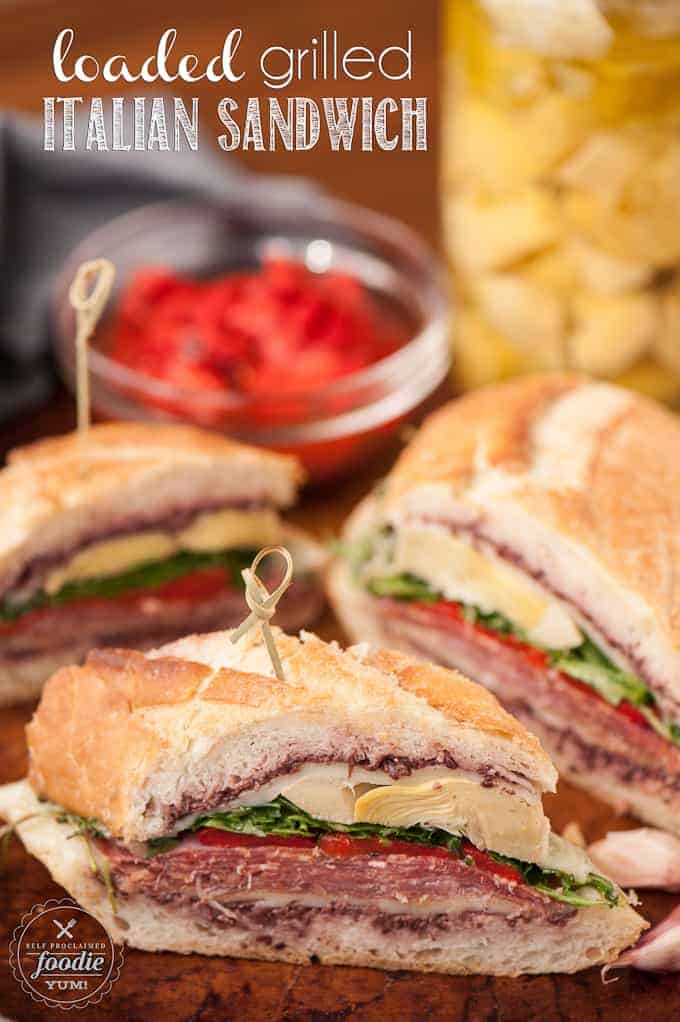 HOT ITALIAN SANDWICH
Pin it to your SANDWICH BOARD to SAVE it for later!
Follow Self Proclaimed Foodie on Pinterest for more great recipes!
If there's one thing my husband loves, it's a good sandwich. Now, show him a sandwich like this that's full of the things he loves – namely cured Italian meats like salami and prosciutto – and he's one happy man. I try to make food like this right before asking for something that he might normally disagree with to see if it sways his decision!
In all seriousness, who doesn't love a good sandwich, really? What's not to love when you combine so many different flavors and textures in between two pieces of crusty bread.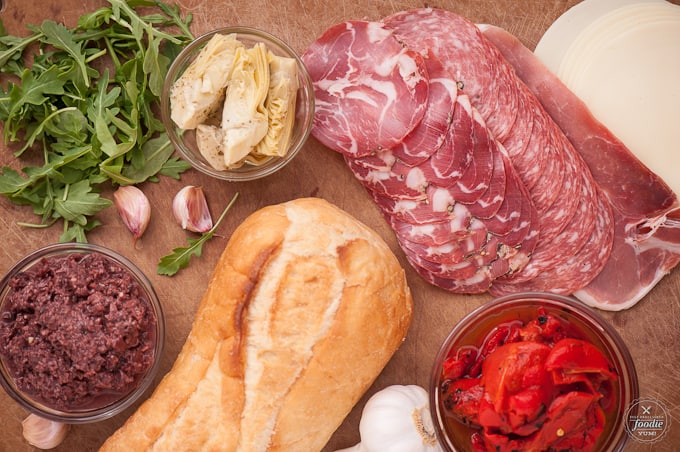 What is the best kind of bread for a hot Italian sandwich?
One of my pet peeves when it comes to sandwiches, though, is either a sandwich that's too big to bite (or if you're successful, it's not pretty) or a sandwich that has too much bread. One really must have the right bread to filling ratio.
If you plan on using a nice crusty Italian loaf like I did, there's a secret.
How do you make the BEST Italian sandwich?
You must scoop the inside of the loaf out to make room for all the fillings. No need to waste all that delicious bread – just let it dry out and then run it through the blender or the food processor and turn it into bread crumbs. This way you have this wonderful void in which you can properly layer your filling ingredients without risk of dislocating your jaw while attempting to eat such a massive sandwich. Creative, right? Now keep in mind you have to choose a bread with a pretty tough outside to hold up to such manipulation, but once you do the end result is so incredibly worth it.
Load up the inside of the sandwich with as many cured meats as you desire, provolone, olive tapenade, marinated artichokes, roasted red peppers, and arugula.
Now, one could assemble this sandwich and call it good, however I'm not that kind of girl. If I'm going to combine all of these amazing harmonious ingredients into one sandwich, then I'm going to take it to the next level and grill it up so the cheese gets all nice and melty and all of the other ingredients are heated through. Wrap it up tight in aluminum foil and bake until your Italian sandwich is hot and wonderful.
Trust me – that is an insanely delicious sandwich you're looking at right there. Now, can you imagine standing in a cool parking lot as the fall weather creeps in waiting for your favorite team to take the field, and you and your friends pull one of these sandwiches off the grill to devour before you head into the stadium? Oh yes.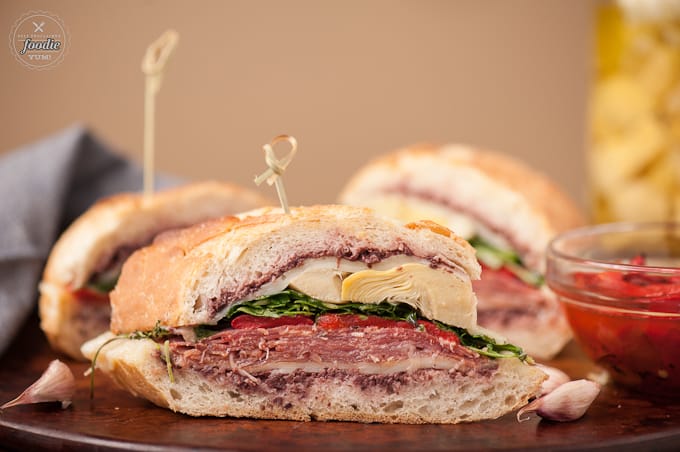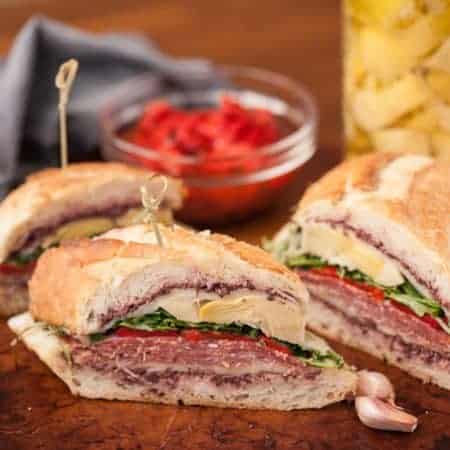 Loaded Grilled Italian Sandwich Recipe
Just imagine how tasty these mouthwatering cured meats, marinated veggies, fresh greens, and melty cheese on this Loaded Grilled Italian Sandwich taste!
Print
Pin
Rate
Ingredients
16

ounces

Italian bread

1 loaf

12

ounces

kalamata olives

2

cloves

garlic

1/2

cup

marinated artichokes

1

cup

roasted red bell peppers

6

ounces

sliced cured Italian meat

salami, prosciutto, etc.

6

ounces

sliced provolone

2

cups

arugula
Instructions
Slice loaf of bread in half and scoop out as much of the inside as possible while leaving the crust in tact. Use the bread that you removed for bread crumbs or another alternative.

Drain the olives and puree in the food processor with the garlic and 1 tablespoon of the oil marinade from the artichoke hearts. Spread entire mixture over both sides of bread.

Then top both sides with sliced cheese and meat.

Layer remaining ingredients and close sandwich.

Wrap in aluminum foil. Bake in preheated 350°F oven for 20-30 minutes, with the last 10 minutes or so uncovered, until the cheese has completely melted.

Slice and serve warm.
Nutrition
Calories:
558
kcal
|
Carbohydrates:
33
g
|
Protein:
15
g
|
Fat:
40
g
|
Saturated Fat:
18
g
|
Cholesterol:
31
mg
|
Sodium:
1827
mg
|
Potassium:
294
mg
|
Fiber:
3
g
|
Sugar:
18
g
|
Vitamin A:
690
IU
|
Vitamin C:
11.7
mg
|
Calcium:
205
mg
|
Iron:
2.1
mg
This post was originally created in September 2016 and has been updated with more fun facts and tidbits for your reading pleasure.