Italian Stromboli is a tasty hot sandwich loaded with pizza sauce, spinach, cured Italian meats, and melted mozzarella wrapped in homemade pizza dough.
This stromboli is crisp on the outside and bubbly hot on the inside. This decadent meal will fill you up and leave you wanting another slice!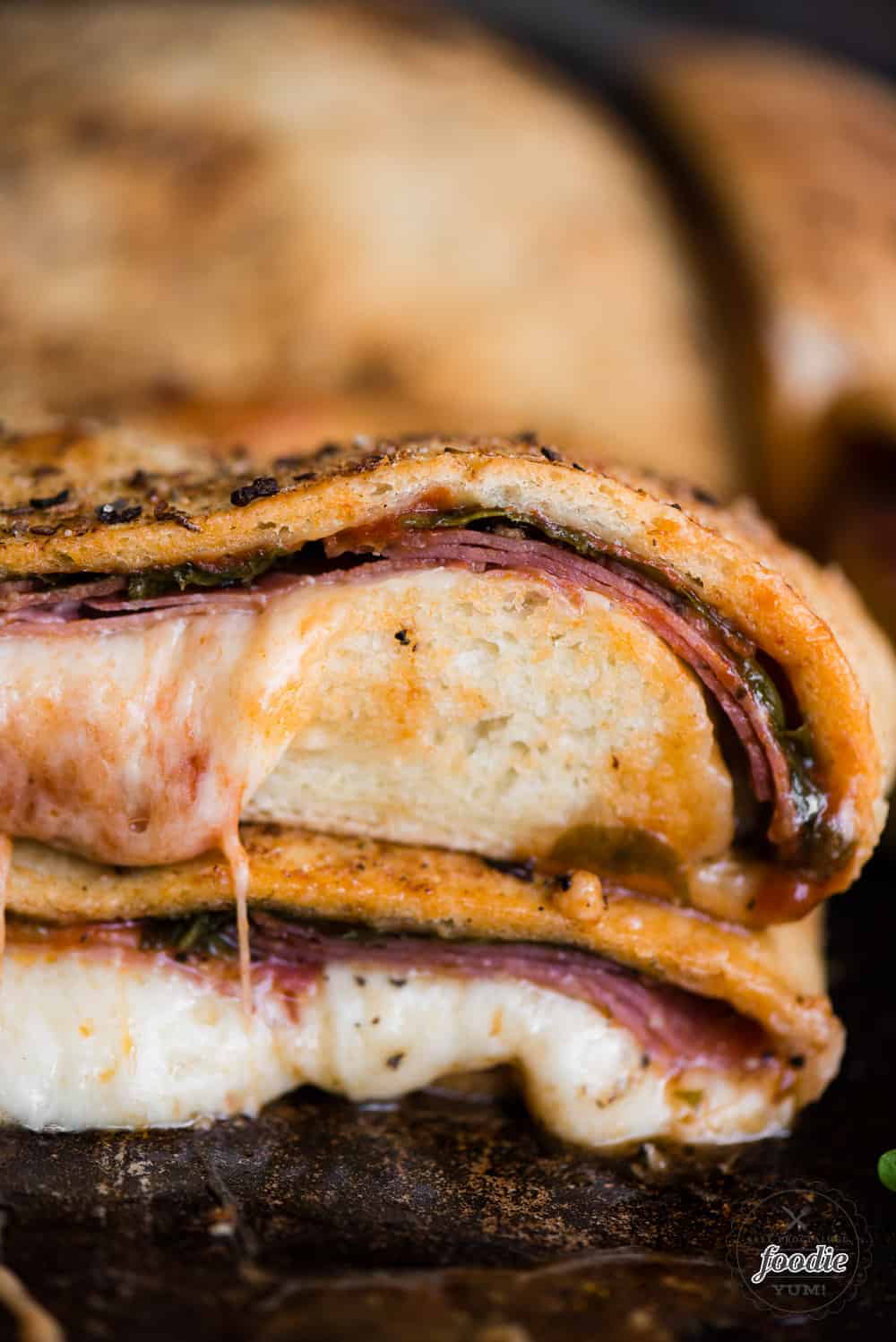 Do you love pizza? Who doesn't, right? This stromboli recipe is filled with Italian meat and gooey cheese is basically the same as pizza, just inside out. This hot Italian sandwich has all the same ingredients as you might find in a delicious slice of pizza, but there's something wonderful about wrapping is up in pizza dough for a crispy crust you'll crave! There are never leftovers when I make this Easy Italian Stromboli for dinner.
What is Stromboli? It's like a savory turnover filled with cheeses, various meats, and vegetables. I used pizza dough, however, most any type of bread dough will work as long as it will get crispy on the outside when baked.
STROMBOLI VS CALZONE
A Stromboli is almost exactly the same as a calzone, however, a Stromboli is typically a long cylinder whereas a calzone is crescent shaped.
Another difference between calzone and stromboli is that a Stromboli has the sauce baked inside the crust, and a calzone has the sauce served alongside instead of inside with the other fillings.
A Stromboli is much closer to a sandwich, stromboli ingredients include the same type of ingredients you'd put in an Italian hoagie, while calzones are filled with standard pizza toppings.
Do you know where the stromboli originated?
We probably all consider this meal Italian, and that's how I classified it in the recipe, however it is thought to have originated right here in the states. Several restaurants claim they created this tasty masterpiece.
That's the great thing about customizable recipes. It's so easy to put your own personal spin based on your own tastes and preferences. For example, I added spinach because I pretty much put spinach on everything these days. Whether it be breakfast, lunch, or dinner, you will see spinach on my plate more often than not.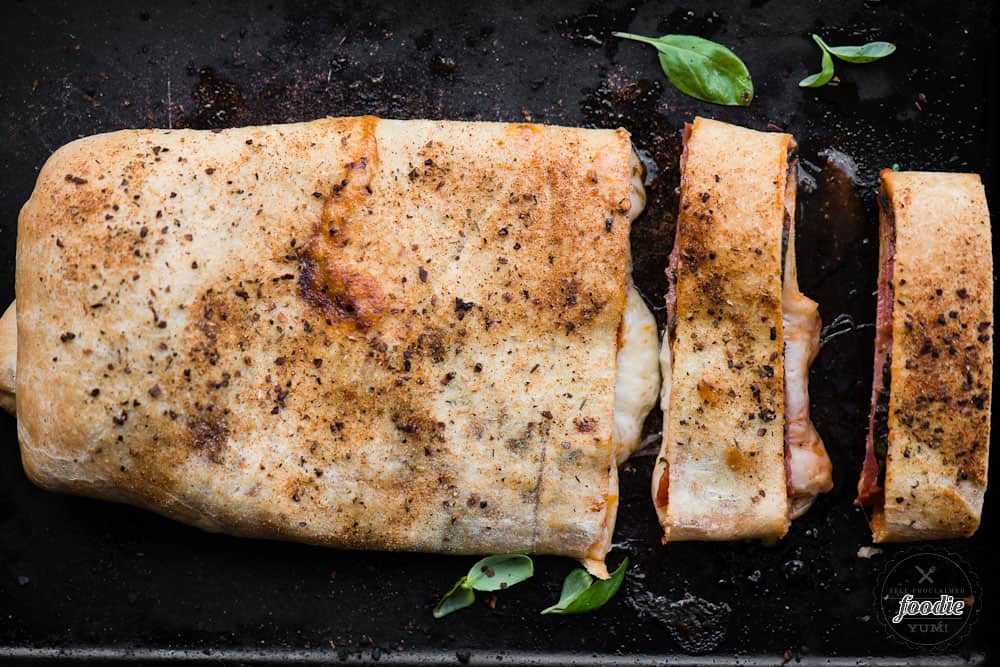 How to make Stromboli:
You can, of course, use homemade pizza dough, but if you're in a rush (or happened to forget to prep like I do sometimes) buy some pre-made pizza dough at the store or your local pizzeria. It's usually found in the refrigerated section, either in a tube or in a bag.
It's always best to let your pizza dough come to room temperature before you cook with it. I also like to roll it flat into my desired shape and let it rest before adding the remaining ingredients, but that's not entirely necessary if you're in a hurry.
Then add your sandwich fillings and bake! Something magical happens when all of the filling ingredients are trapped inside. The flavors of the meat get transferred to the other ingredients creating one harmonious hot Italian sandwich. It's amazing!
Slice into pieces for serving and dig in!
Want more of my favorite sandwich recipes?
Tools used to make this Italian Stromboli recipe:
Baking Sheet: A nice big baking sheet is a must have for any kitchen. This half pan sheet is large than a regular cookie and works great for anything you're baking.
Parchment Paper: Your baked goods will never stick again! I love using parchment paper for everything from cookies to pizzas!
Rolling Pin: I love the weight of this one and the handles make it super easy to use.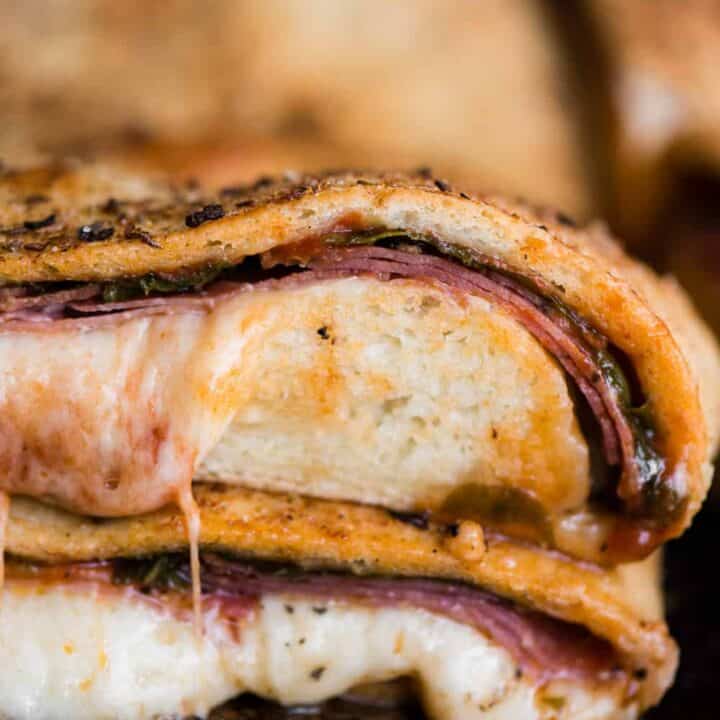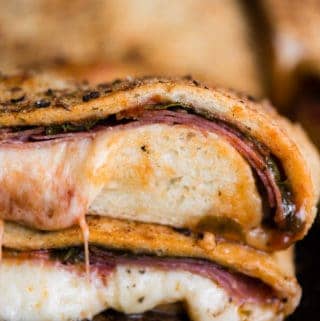 Italian Stromboli
Italian Stromboli is a delicious hot sandwich loaded with pizza sauce, spinach, cured Italian meats, and melted mozzarella. Homemade pizza dough wraps around all the fillings to create a mouthwatering sandwich!
Print
Pin
Rate
Hover to scale:
8
sandwich slices
Ingredients
1

pizza dough

½

cup

pizza sauce

1

cup

spinach

(fresh, packed )

8

ounces

Italian cured meats

((ex. salami, prosciutto, ham))

2

cups

mozzarella

(shredded)

1

tablespoon

olive oil

1

tablespoon

garlic herb blend
Instructions
Preheat oven to 375 degrees F.

Line your work surface with parchment paper. Roll pizza dough into a 10-inch x 13-inch rectangle.

In the center third (lengthwise), add pizza sauce, then top with spinach.

Fold ends over, then the first long side, followed by the remaining long side. Carefully turn the stromboli over so the seam is down.

Transfer parchment to a baking sheet. Top with olive oil and garlic herb blend. Bake in preheated oven for 25-30 minutes. Slice and serve warm.
NUTRITION INFORMATION
Calories:
339
kcal
|
Carbohydrates:
25
g
|
Protein:
16
g
|
Fat:
19
g
|
Saturated Fat:
7
g
|
Cholesterol:
44
mg
|
Sodium:
1252
mg
|
Potassium:
200
mg
|
Fiber:
1
g
|
Sugar:
3
g
|
Vitamin A:
605
IU
|
Vitamin C:
2.1
mg
|
Calcium:
151
mg
|
Iron:
2.1
mg
This recipe first appeared over at Real Housemoms where I'm a contributor.