Mushroom Blend Meatball Sliders, made with a perfect blend of ground beef and mushrooms, held together by a tasty potato roll, make the best tailgating recipe!
The perfect combination of a tender patty smothered in marinara sauce and gooey Italian cheeses, all wrapped in a tiny potato roll is all you need to satisfy your comfort food cravings while watching the big game.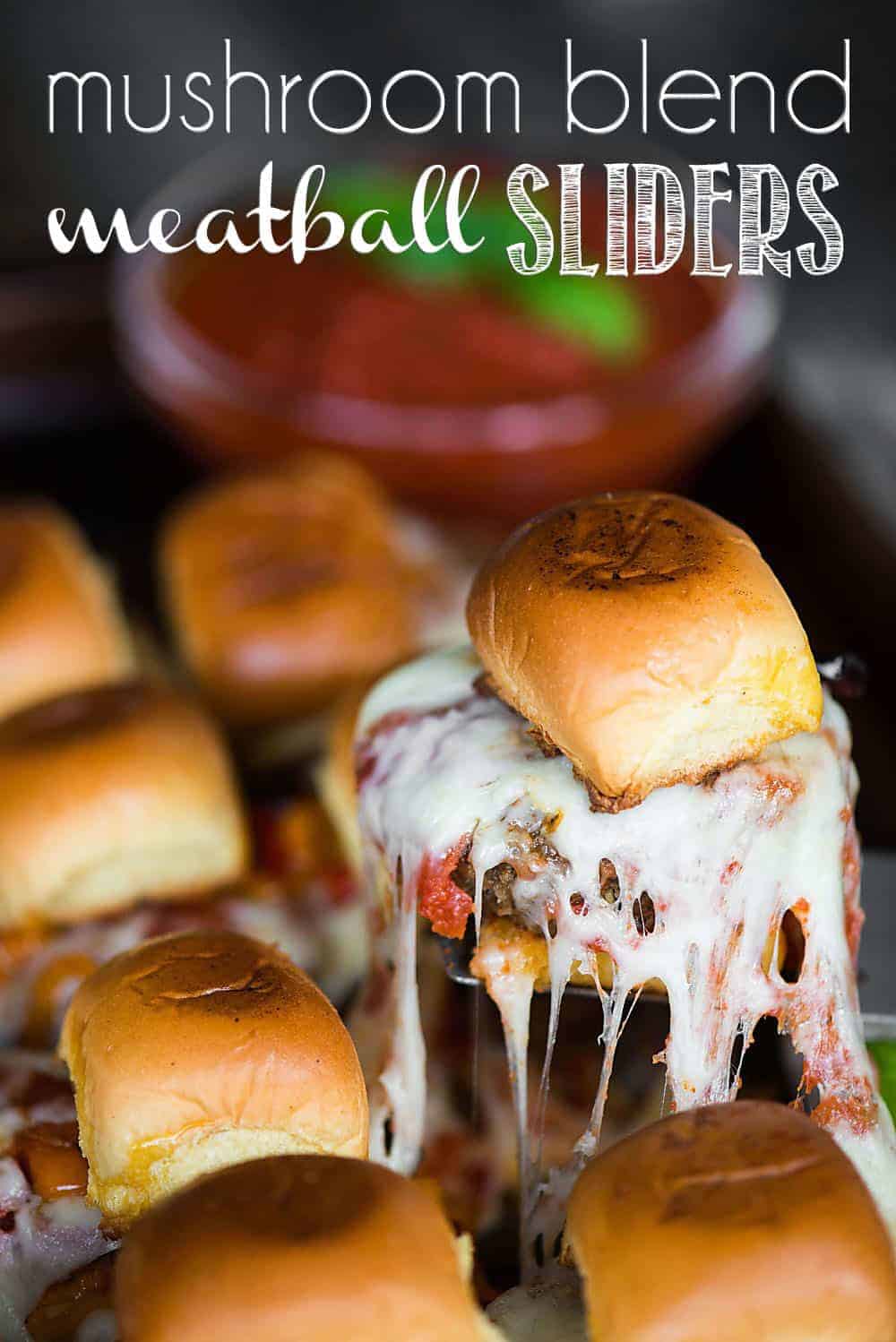 This post was sponsored by Martin's Potato Rolls and The Mushroom Council.
Why this recipe works:
Everyone loves a flavorful homemade slider.
By incorporating ground mushrooms into the ground beef, you not only incorporate a vegetable without anyone being able to detect it, but the mushrooms add moisture and a ton of flavor!
These sliders are extra tasty because of the roasted peppers, marinara sauce, and melted cheese.
How to make this recipe:
You can most definitely use your hands to shape these meatball slider patties, however I happened to have a burger press with a slider insert. Not only did it create perfectly shaped and sized slider patties, but I couldn't believe the mixture yielded a perfect dozen!
I can tell you that had I not added the mushrooms, not only would the final meatball slider patty not have tasted as good, but I definitely wouldn't have been able to create 12 patties from just one pound of ground beef.
Don't they look incredible? You can easily cook these mushroom meatball slider patties on the grill, but I chose to cook them in the oven. Either way, I'm confident they'll turn out perfect.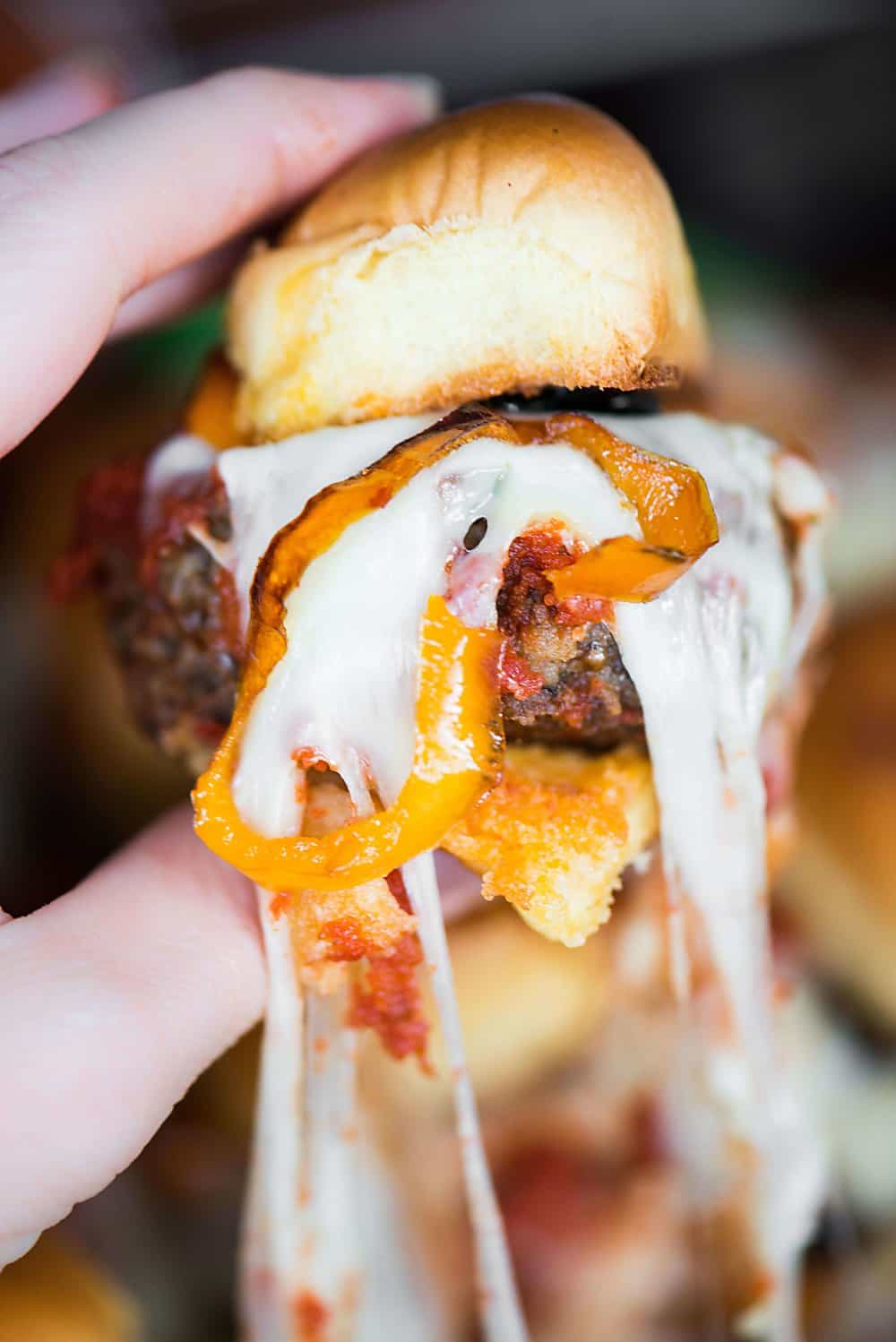 Don't they look amazing with all of that ooey gooey cheesy goodness?
Cooking with mushrooms:
I adore mushrooms year round in everything from savory breakfasts like omelets and scrambles to dinners like your traditional Salisbury Steak and Stroganoff.
I even use this 50/50 method of half ground beef and half ground mushrooms when I make tacos! The kids can't tell and the flavor and texture is 100% better than straight ground beef.
You can incorporate mushrooms into any meal to simply add flavor, vitamins, and texture. You can get all sorts of information and ideas from The Mushroom Council's website.
Fun fact: even though my husband and I are a huge lover of mushrooms, our kids are not. I can't blame them only because I was the same way when I was little. But since mushrooms are such a great thing to incorporate into your diet, I want them to eat them.
Bun recommendations:
One of the many tricks to make these mushroom meatball sliders absolutely perfect is to toast the buns. I'm not kidding when I say that I love Martin's Potato Rolls so much that I have to fight the urge (and my kids) to avoid just shoving them straight out of the bag into our mouths.
Martin's not only has the best taste, but they are so pillowy soft. That is why toasting is a must before you assemble the sliders.
Since you soak the patties in warm marinara sauce before assembling, your potato rolls would get mushy if you don't take the time to toast them. But after only five minutes in the already hot oven, your golden brown perfection works as the perfect vessel to hold your mushroom meatball slider and transport it from the plate to your mouth!
And just look at those rolls! YUM!!!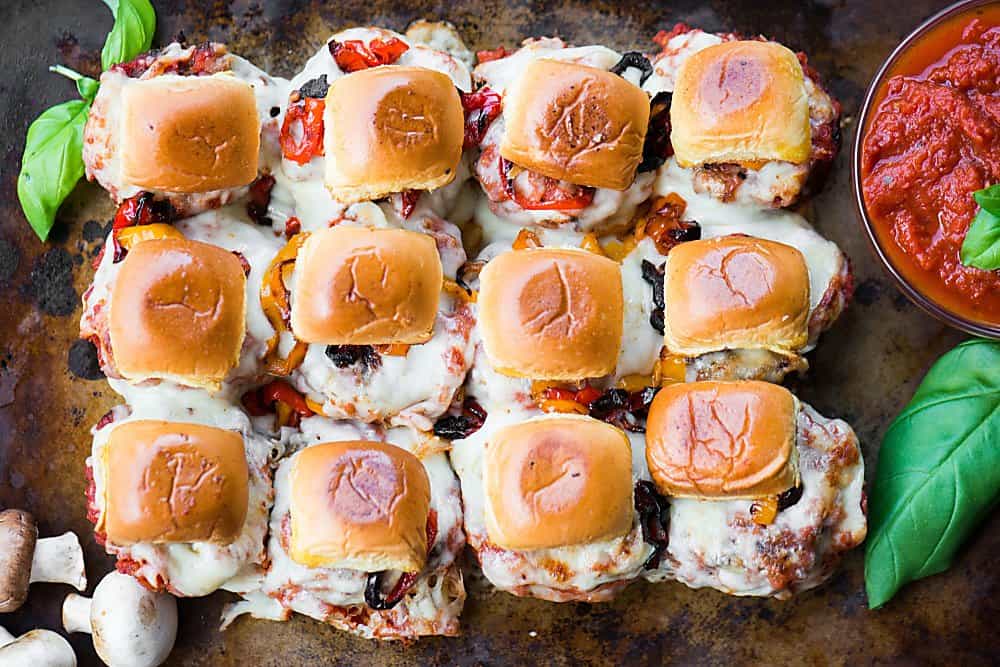 Sliders with a kick!
I had some mini peppers in my refrigerator so I decided to toss them in a bit of olive oil and roast them in the oven while the slider patties were cooking.
This is optional and you can just as easily use jarred peppers, but I highly recommend it! Not only do they add to the taste, but they add a little pop of color which always makes me happy. My only regret is that I didn't make more.
Cooking Tips!
If you're planning on enjoying these mushroom meatball sliders at your next tailgating event, here are some ways you can plan ahead to make your outdoor prep a little easier:
You can chop up the mushrooms and onions, saute them, and allow them to cool. Then combine them with the other patty ingredients and store them in a tupperware and take the blend with you.
You can shape the patties and freeze them individually on a baking sheet covered in parchment paper. Once frozen through, store them in a resealable freezer bag. Prior to cooking, you can allow them to fully thaw or even put them on the grill or in the oven frozen. If frozen, they'll just take longer to cook, but they're small enough that it won't matter.
You can cook the patties ahead of time, combine with the marinara sauce, and simmer in a pot before assembling. Super easy!
If you're tailgating and only have a grill set up, the assembled sliders will heat through and melt perfectly if using a baking sheet.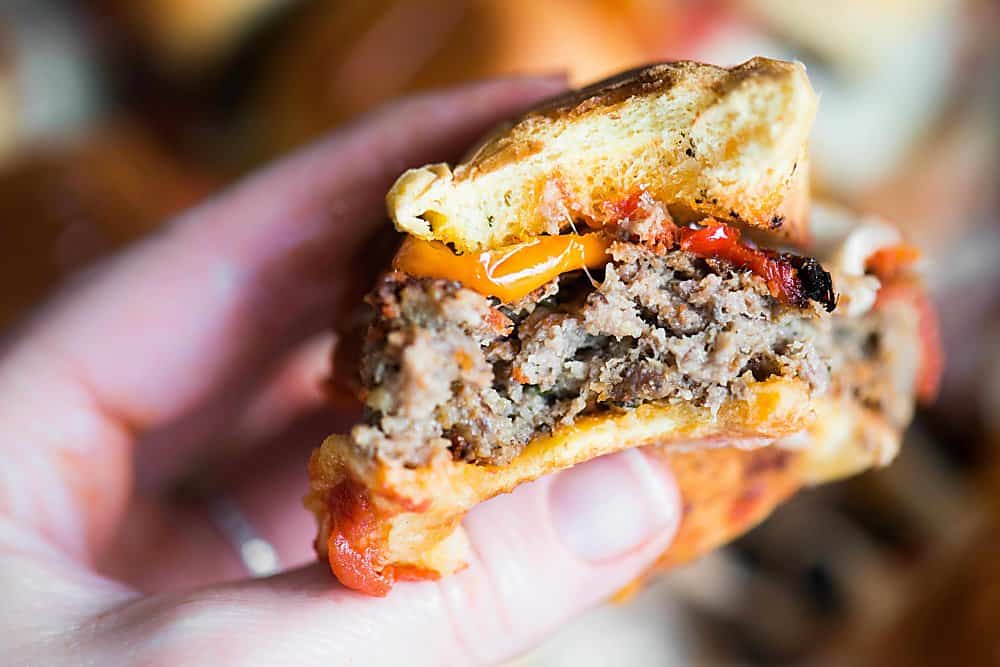 Mushroom Blend Meatball Sliders might just be the best food you can enjoy while tailgating and waiting for the big game to start. It's the ultimate game day grub. Serve them with a homemade Ceasar salad or oven baked fries!
Mushroom Blend Meatball Sliders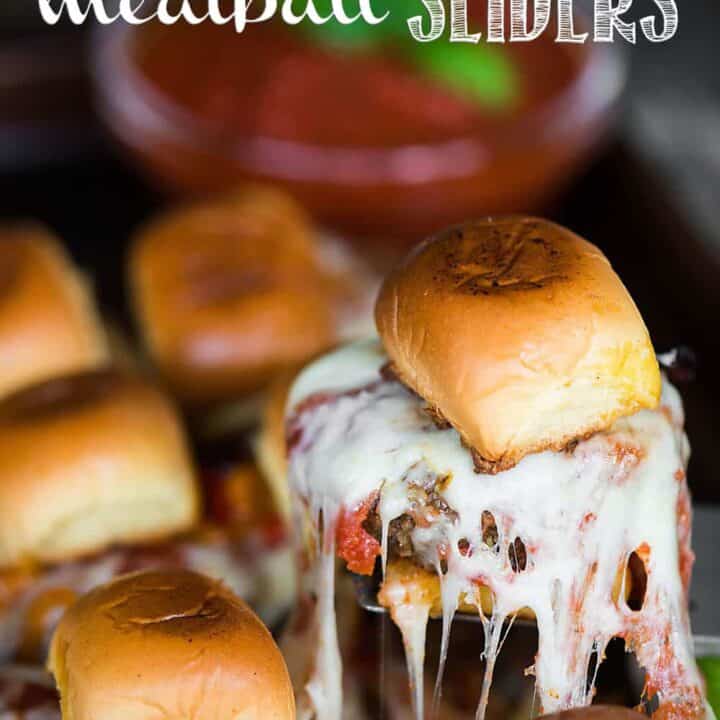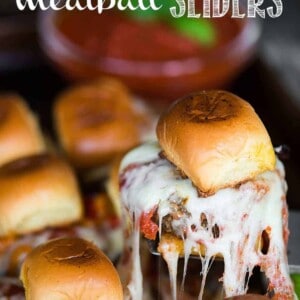 Mushroom Blend Meatball Sliders, with a perfect blend of ground beef and mushrooms, held together by a tasty potato roll, make the best tailgating recipe!
Ingredients
16

ounces

mushrooms

1

medium sized red onion

1/4

cup

olive oil

2

cloves

garlic

1/4

teaspoon

red pepper flakes

1

pound

ground beef

1

cup

bread crumbs

1/2

parmesan

grated

1

large egg

1/2

cup

fresh basil

minced

28

ounces

marinara sauce

12

ounces

Italian cheese blend

Martin's Party Potato Rolls

roasted peppers

optional
Instructions
Combine the mushrooms and onion in a food processor and pulse until they are finely chopped and resemble the texture of ground beef.

Heat the olive oil in the largest saute pan you have over high heat. Once the oil is hot, add the mushroom and onion mixture and allow to cook, stirring occasionally for 10-15 minutes. During the last minute of cooking, add garlic and red pepper, stir to combine, and allow to start turning golden brown and fragrant. Remove mixture from heat and allow to fully cool before combining with other ingredients.

Preheat oven to 400 degrees F. In large bowl, combine ground beef, bread crumbs, grated parmesan, egg, fresh basil, and cooled mushroom mixture. Use hands to thoroughly mix but try not to over work the meat. Shape into 12 evenly sized slider patties.

Bake in preheated oven for 20-25 minutes.

Add marinara sauce to small pan and heat over low heat until heated through.

Split Martin's Potato Rolls and toast in hot oven, open side up, for five minutes.

To assemble sliders, dip each slider patty in the hot marinara sauce and place on top of toasted Martin's Potato Roll bottom. Cover with Italian cheese blend. Add roasted peppers, if desired. Return to oven for another 5-10 minutes to allow the cheese to fully melt.

Serve with remaining warm marinara sauce. Enjoy!
Notes
Makes a dozen sliders. Nutritional info based on a single slider as a serving.
Nutrition
Calories:
366
kcal
,
Carbohydrates:
26
g
,
Protein:
22
g
,
Fat:
21
g
,
Saturated Fat:
5
g
,
Cholesterol:
46
mg
,
Sodium:
597
mg
,
Potassium:
480
mg
,
Fiber:
2
g
,
Sugar:
7
g
,
Vitamin A:
370
IU
,
Vitamin C:
6.4
mg
,
Calcium:
177
mg
,
Iron:
3.1
mg
Nutrition information is automatically calculated, so should only be used as an approximation.
This post was originally published in September 2017 and updated for your viewing pleasure!