This is a sponsored post written by me on behalf of Classico Riserva. All opinions are 100% mine.
Few dinners compare to the saucy cheesy goodness of Meatball Parmesan. Its the perfect comfort food your family will love served over pasta or on a bun.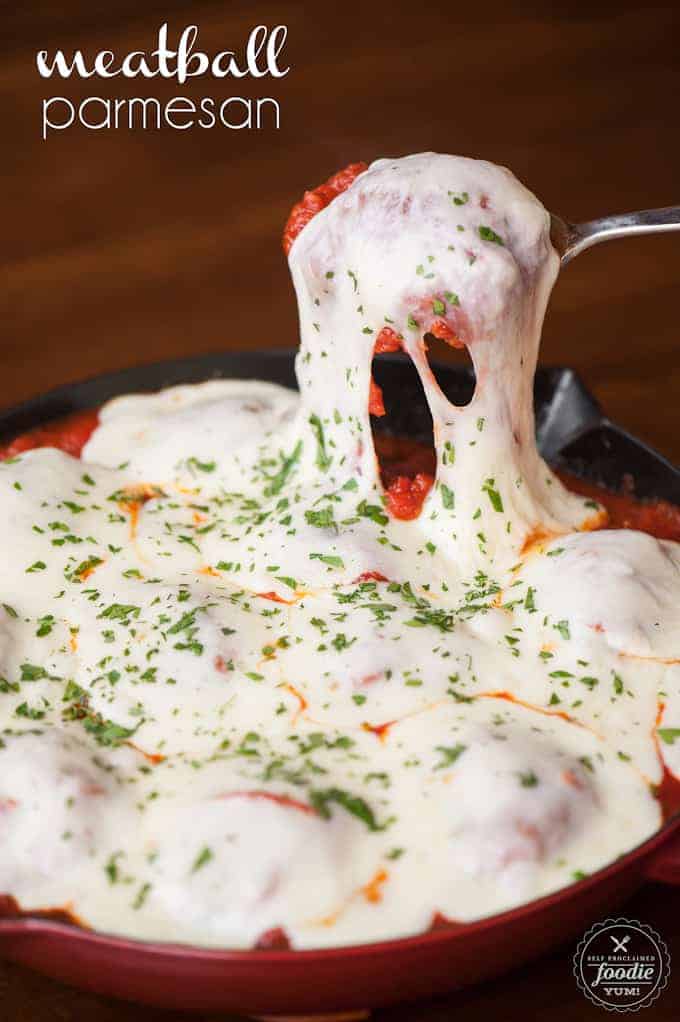 My family loves to eat. I'm one of those lucky moms who has kids that not only will eat (most of) what I serve for dinner, but my kids aren't even ten years old yet and can usually tell you the type and quality of the ingredients I've used. They make me proud. Good old fashioned spaghetti is a regular visitor to our dinner table, but I wanted to make something better. Something cheesier. Something saucier.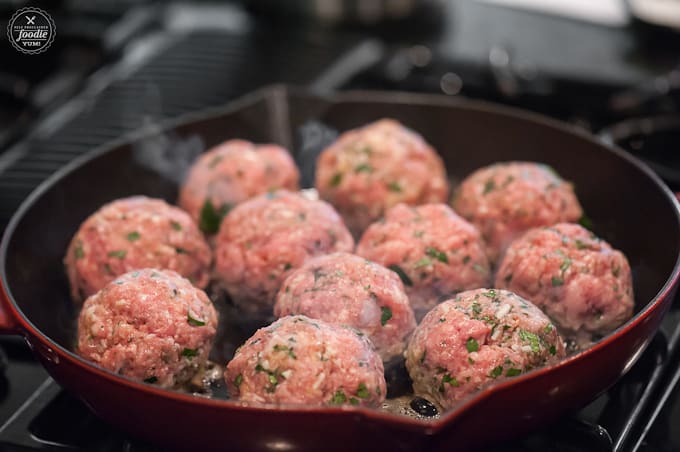 This meal started out with some giant meatballs. I made them using ground beef and pork along with some herbs, egg, bread crumbs, and parmesan. I browned them while doing my best to keep their round shape. Then, I removed them from the pan and sauteed up a red onion to ensure every last delicious bit of cooked meatball was released from the pan and locked into the flavor of the onions. All this needed was a delicious sauce and loads of melted mozzarella.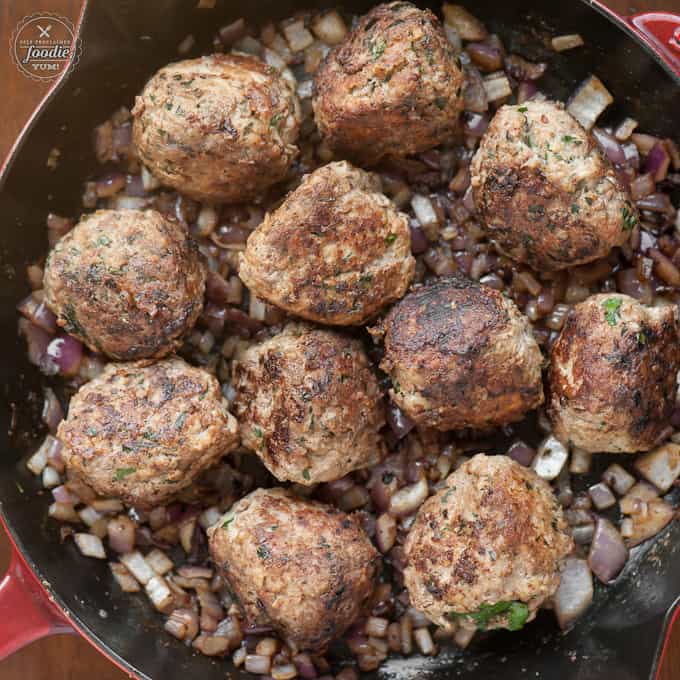 Lucky for me, I had some Classico Riserva Pasta Sauce, the newest addition to the Classico line of pasta sauces. I grew up eating Classico, and was so happy to see this new line of sauce that's made with no artificial ingredients or added sugar. Plus, the flavors were unlike any I had ever enjoyed. I was asked to develop a custom recipe featuring Classico Riserva as one of the brand's "Sauce Sommeliers". Do you know what a sommelier is? I had to look it up! A sommelier, or wine steward, is a trained and knowledgeable wine professional, normally working in fine restaurants, who specializes in all aspects of wine service as well as wine and food pairing. The role is much more specialized and informed than that of a wine waiter in fine dining today. Well, I was pretty flattered that the brand trusted me with such high expectations! This sauce is different than any sauce I've had, and experiencing the sauces' quality ingredients and creative elements when you open the bottle really are similar to that of opening a premium bottle of wine. Because this is a brand new product, the brand is introducing the "Open up a Bottle of the Good Stuff" campaign to celebrate the launch.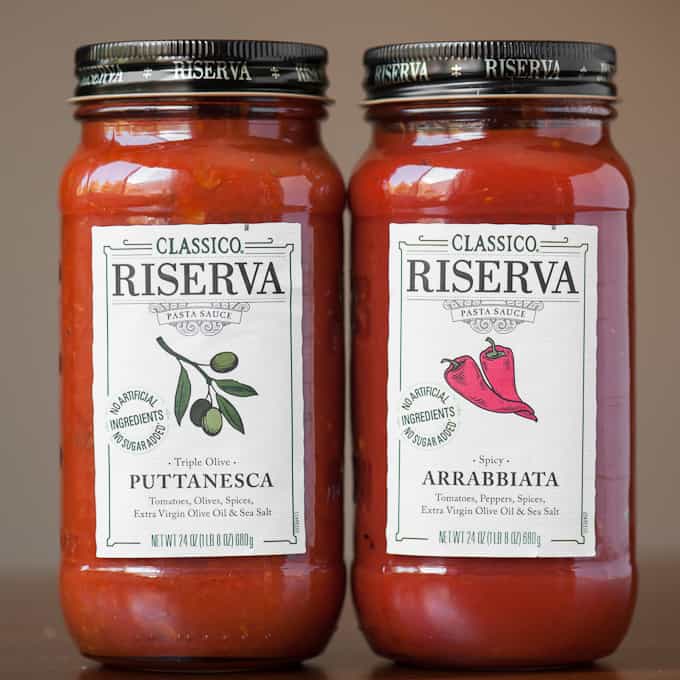 If your family eats pasta as often as mine does, I highly recommend trying this sauce. Classico Riserva is available in five varieties including: Marinara, Eggplant & Artichoke, Roasted Garlic, Arrabbiata and Puttanesca. Classico Riserva's vine-ripened tomatoes are picked at the peak of sweetness and are perfectly balanced with herbs and spices, extra virgin olive oil and a pinch of sea salt, then slowly simmered to perfection. They really do have exceptional taste that will help elevate any meal.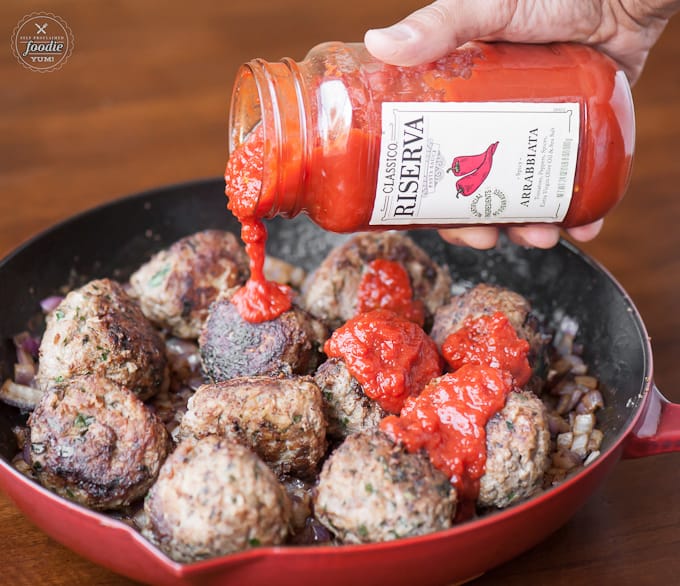 I smothered those browned meatballs in that sauce and allowed them to simmer for a good 20 minutes to allow them to finish cooking all the way through and absorb all those incredible flavors. Don't be fooled – the meatballs aren't the main ingredient in this recipe. Its definitely the sauce!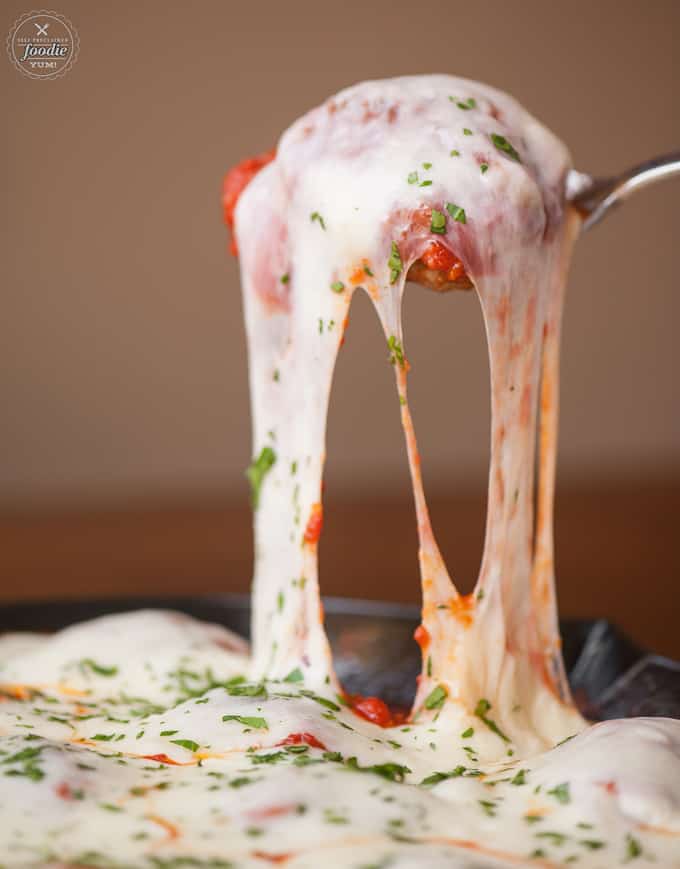 Ooey gooey cheese – I'm salivating. YUM!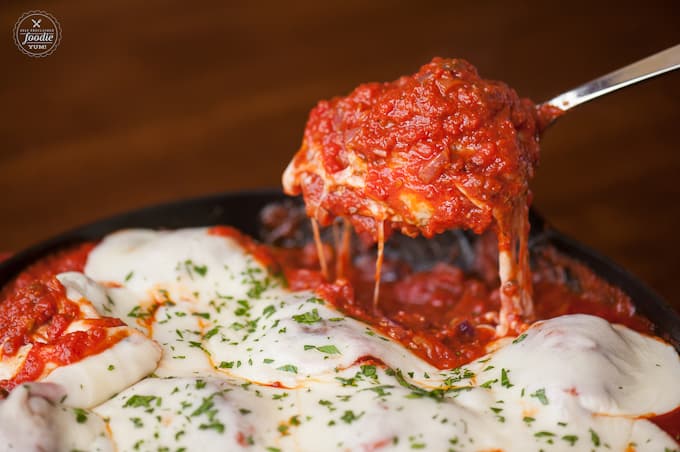 Just look how gorgeous that sauce looks? I know you want this. Aren't you happy you know what you're making for dinner now? Enjoy!!!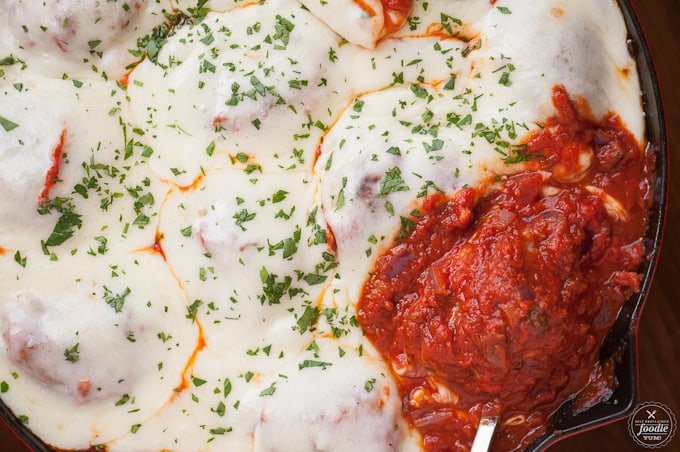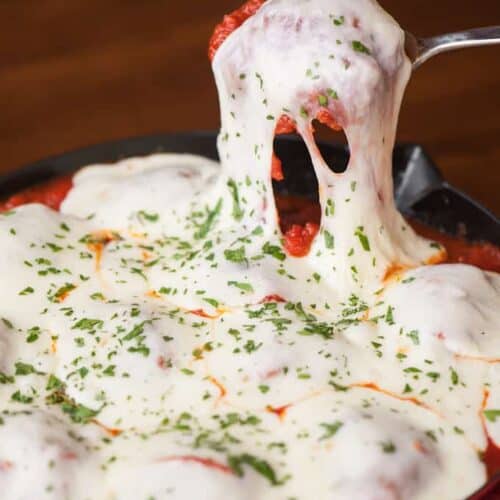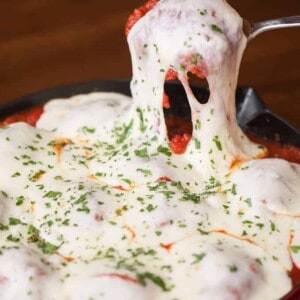 Few dinners compare to the saucy cheesy goodness of Meatball Parmesan. Its the perfect comfort food your family will love served over pasta or on a bun.
Instructions
In a large bowl, combine meat, parmesan, garlic, basil and/or parsley, bread crumbs, seasonings, and eggs. Mix well but try not to overwork the meat.

Using a large 12" oven safe skillet, heat the olive oil over medium high heat. Use hands to shape large palm sized meatballs and gently set in hot oil. Cook all meatballs until crispy golden brown for 2-3 minutes per side (you will have to gently rotate each meatball several times). When the surface of each meatball has a fair amount of cooked exterior, set aside on plate.

Add the onion to the hot oil and use a wooden spoon to scrape the bottom of the pan. The moisture from the oven should allow all that wonderful flavor stuck to the pan to release. Once the onion has slightly browned, return meatballs to pan. Cover with sauce. Allow sauce to come to a simmer and then reduce heat to the lowest point that still allows a gentle simmer. Let the meatballs cook in the sauce, uncovered, for 20 minutes.

While the meatballs are cooking on the stove, preheat the oven to 400 degrees F.

Place the mozzarella in a single layer on top of the meatballs. Place in preheated oven and allow to cook for about 5 minutes until the cheese is melted through.

Garnish with additional basil and/or parsley. Serve atop pasta or with a bun to make an awesome meatball sub.
Nutrition information is automatically calculated, so should only be used as an approximation.
Love to make meatballs?
Then you'll have to try these recipes: