These tasty Basil Meatballs are packed full of flavor. Toss them in your favorite sauce, or keep them in the refrigerator for a quick protein filled snack.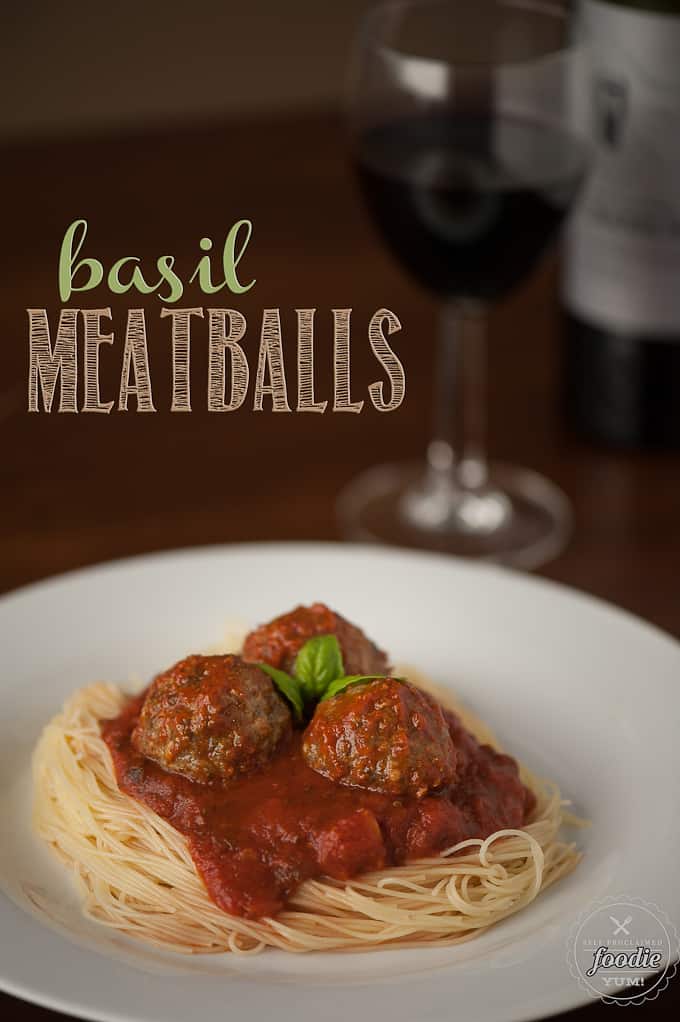 MY OTHER RECIPES
Before I get into talking about how good these meatballs are, allow me to give you a glimpse into my hectic life. I work full time in a very stressful industry that has absolutely nothing to do with this food blog. I post a new recipe on this food blog daily. If you do the math (which I certainly hope you can because this is not a tricky equation), that means I have to make 7 new recipes a week. That also means that when I'm not working or doing something with my kids (see my attempt at both roller staking and ice skating on instagram), I'm cooking and photographing like a mad woman. Lately I have barely been able to keep up with all you hungry people out there. Last summer I was fortunate enough to take a little hiatus from my full time employment; a little perk the job offers. That was when I started my food blog, although it wasn't officially announced to the world until I had been cooking and writing for a full two months to build up content. Anyway, those first couple months were full of recipes that I cook every day. In stark contrast to now, where I have learned there are trends in the food world and most of my current cooking caters around the next holiday and/or big game. I was able to cook so much during that time period and actually photograph it because the Oregon summers stay light until well past 9pm. Here it is January where the midday light is bleak, at best, and if I don't get it staged by 3:30pm, its not getting pictured. That, given my already hectic schedule, is making it extremely hard to keep up with the blog. Thank goodness I have just a few gems like these meatballs stashed away from when I had more time and the days were longer… otherwise you may not have gotten to see fresh content on the blog today!
Okay, on to the meatballs. When I make spaghetti for dinner, and that happens more often than not in our household, I typically make it with meat sauce because its a teeny bit faster. My favorite method, however, is to go the meatball route. I just think they taste better, and who out there doesn't think of Lady and the Tramp when they see a plate like this? Now that Spring is coming (please tell me it is, or I just may give up all hope – that's how people feel this time of year around these parts) I'm seeing fresh potted herbs at the stores, namely basil. I love me lots of basil. These meatballs are versatile too because you can eat them on spaghetti as shown, throw them in a sub sandwich, or if you're trying to go low carb and lose some poundage like I really should, throw them on top of zoodles for a vegetable protein snack. Anyway, there are a million ways to make meatballs, but this is how I make mine.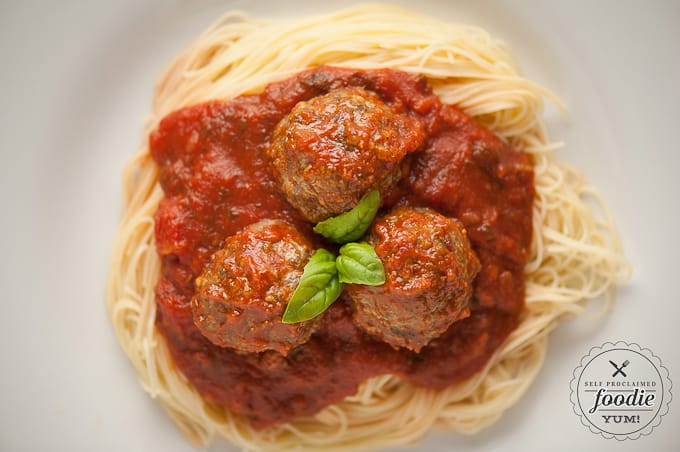 These tasty Basil Meatballs are packed full of flavor. Toss them in your favorite sauce, or keep them in the refrigerator for a quick protein filled snack.
Ingredients
1

cup parmasan

3

cloves garlic

20

large basil leaves

1

small red onion

1 1/2

pounds ground beef

1

pound ground pork

1

cup panko bread crumbs

1

tablespoon dried oregano

1

teaspoon kosher salt

1

teaspoon ground pepper

1/2

teaspoon red pepper flakes

1

large egg
Instructions
Preheat oven to 400 degrees F. Line a large rimmed baking sheet with parchment paper.
In a food processor, blend parmesan, garlic, basil leaves and red onion until well blended. It should resemble a thick pesto.
In large bowl, combine basil mixture with remaining ingredients and use hands to mix until all ingredients are well combined.
Form meatball mixture into small balls, about a tablespoon in size. Space evenly on baking sheet about a half an inch apart. I was able to fit 40 on one baking sheet.
Cook in preheated oven until nicely browned, about 30-35 minutes.
Continue with remaining meat until its gone.
To make spaghetti with meatballs, heat sauce in large pot over low heat and drop desired amount of meatballs in sauce. Cook until sauce and meatballs are heated through.
These can be kept in a slow cooker with tomato sauce and the temperature on low if serving a crowd or as an appetizer.
Recipe Notes
I prefer small meatballs for spaghetti but I'll form large balls for meatball subs. You just need to increase cooking time to account for the larger size.