Baked Italian Meatballs made with beef, pork, and fresh basil are so flavorful.
Perfect in spaghetti but also in a delicious meatball sub sandwich! These tasty homemade basil Meatballs are best when tossed in your favorite sauce or they can be kept the refrigerator for a quick protein filled snack.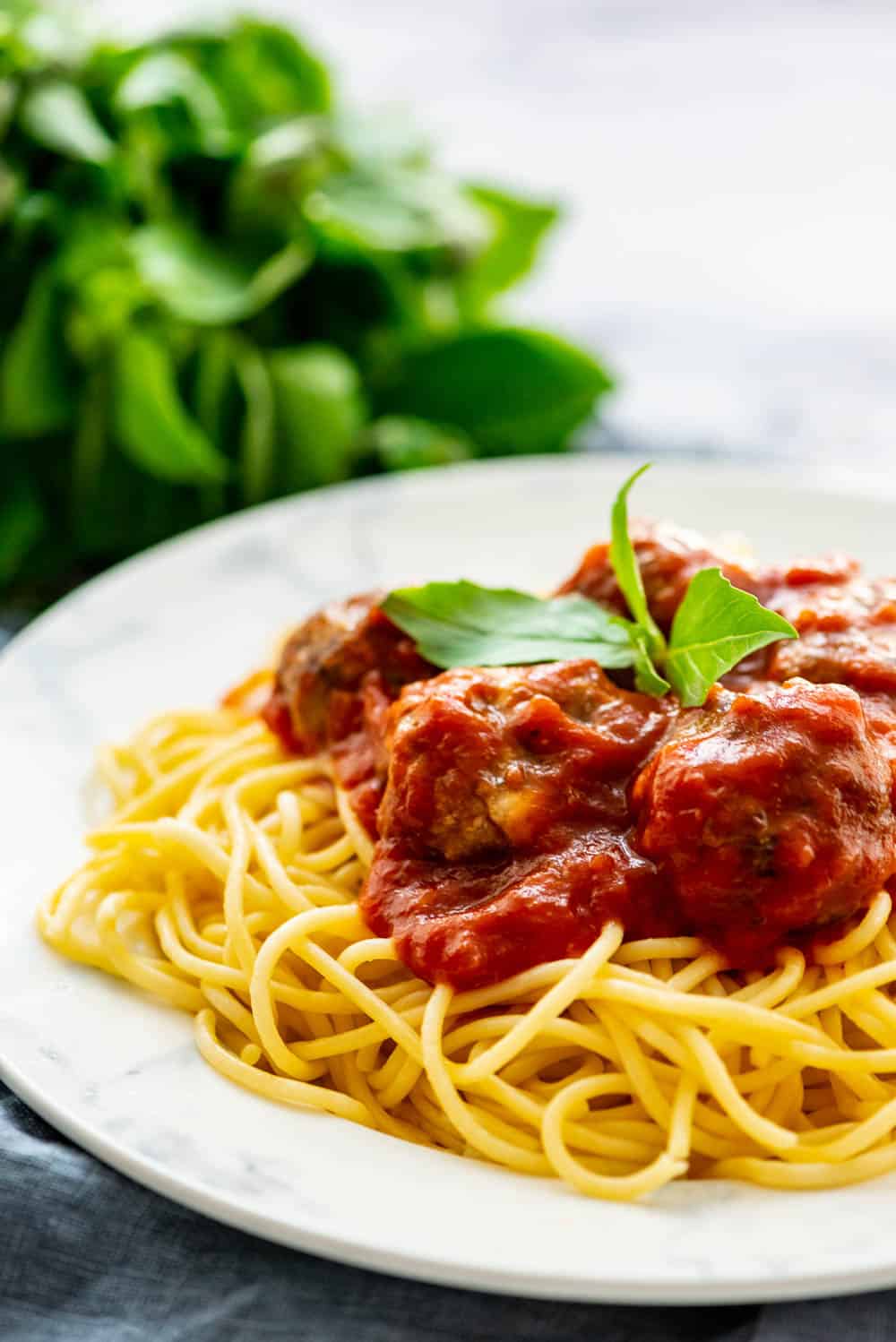 One of my favorite dinners is homemade spaghetti and meatballs. What's not to love? This meal gives me:
an excuse to drink red wine. I simply cannot eat Italian Meatballs without a class of red wine.
a belly full of one of my favorite comfort foods.
and a reason to remember that scene from Lady and the Tramp when they nibble on the noodle until their lips meet.
Why are my meatballs tough?
Your meatballs shouldn't be tough. Not with this recipe, anyway.
If you find that your meatballs are tough, however, it's most likely because of one of two reasons:
You worked the meat too much. Any time you make a ground beef recipe

, or ground pork for that matter, you want to handle the meet the least amount needed in order to incorporate all the ingredients.

You added the salt too early. Salt breaks down the protein in meat and should be added at the very end, right before the meat gets cooked, in order to minimize the changes in the meat and retain it's tenderness.
How much is a serving of meatballs?
We're pretty big eaters so the serving size I estimated for this recipe was about 1/4 pound of meat per person plus all of the other tasty ingredients that are incorporated into the meatballs.
Depending on the size of your delicious homemade Italian meatballs, that will equate to somewhere between 4-8 meatballs per person.
If you're serving a crowd of light eaters, or if you have a ton of other side dishes to choose from, this recipe will serve more than ten people.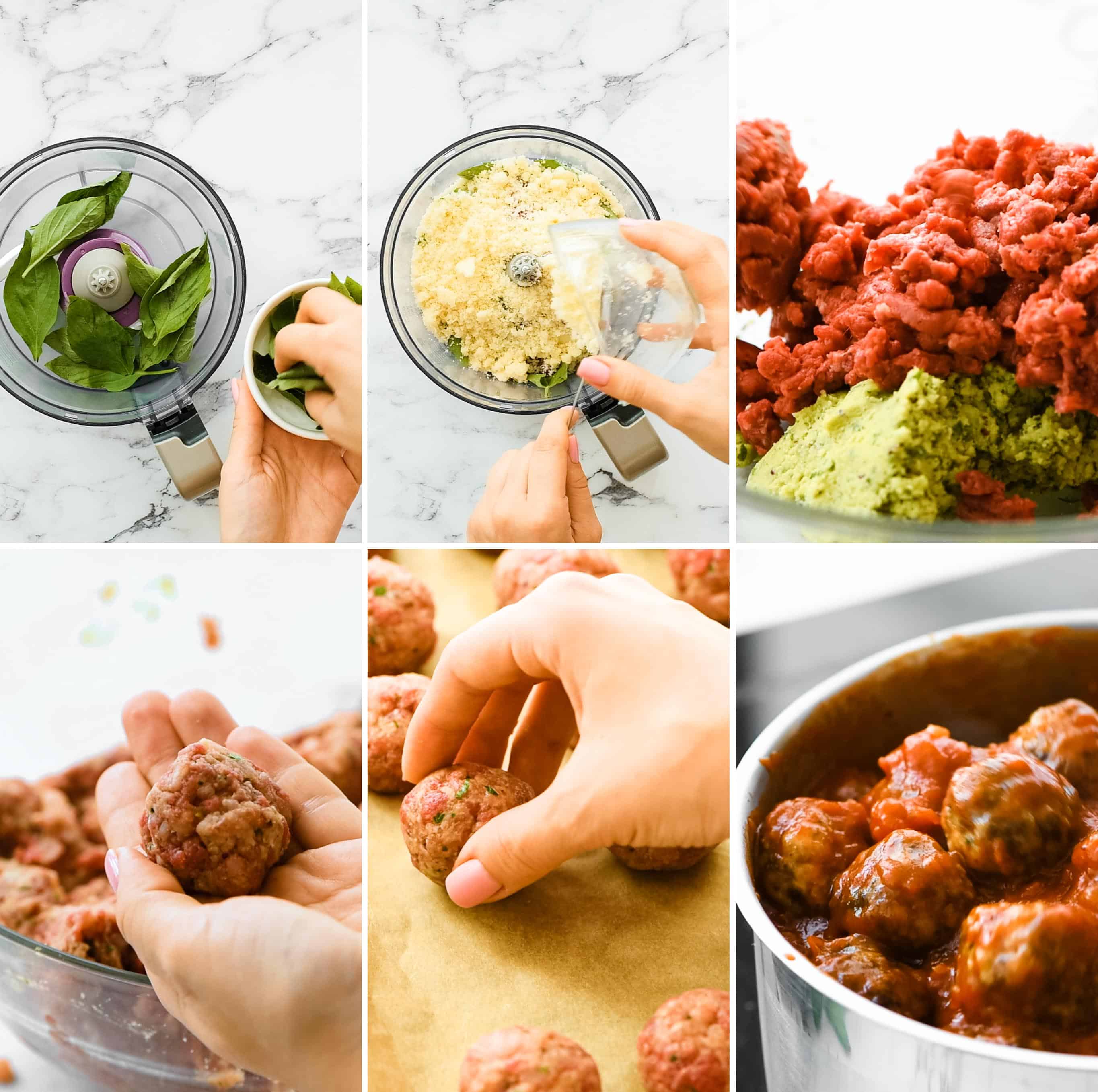 Can you cook raw meatballs in sauce?
Yes, but I don't and I'll tell you why.
I really really like it when my meatballs have a crispy outside. That goes for most recipes that use ground beef, ground pork, or a combination. Think about a really good meatloaf... is the outside soft like the inside? Or is the outside a bit crispy? If you're like me, you want that crispy outside, which is why I bake (or sometimes fry) my meatballs first.
You can certainly cook raw meatballs in spaghetti sauce, but it will need to be hot enough and long enough to get the internal temperature of the meatballs to 160 degrees F.
What pasta is best with meatballs?
If you know me, you know how I'm going to answer: homemade pasta, no matter the shape, is far and beyond better than any kind of dried store bought pasta. If you've never made it, you must try it!
But, since making your own homemade pasta isn't always the best choice on a busy weeknight, most of us will use store bought.
My family prefers spaghetti or linguine when I make these meatballs. I usually use whole wheat pasta for at least half of my pasta just to make it a bit healthier. I often will spiral cut a couple zucchinis to mix in as well.
How long should you cook meatballs in sauce?
Since my meatball recipes requires you to cook the meatballs in the oven first, they only need to be in the sauce long enough for the meatballs to heat all the way through.
If you add them to the sauce straight from the oven, it will instantly be ready to serve as long as your marinara sauce is already hot.
If you make your meatballs ahead of time and pull the cooked and chilled meatballs out of the refrigerator, you'll have to heat them in the sauce until they're heated through.
Likewise, if you prepare and cook them ahead of time but freeze them, just be sure to thaw completely in the refrigerator before adding to the sauce, otherwise they'll have to heat in the sauce for quite a long time.
How long can you keep leftover spaghetti and meatballs?
Fresh herbs always make every recipe better, and I love me lots of basil.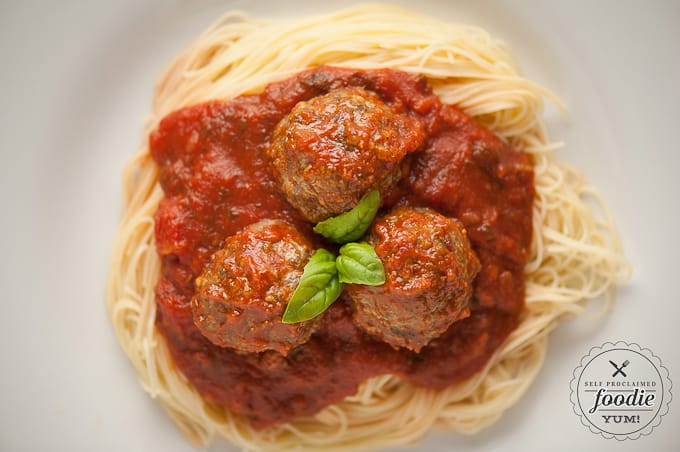 Love homemade meatballs?
Then you'll have to try these recipes:
I highly recommend making your own homemade pasta, homemade spaghetti sauce, and a Ceasar salad to serve alongside these meatballs for the ultimate spaghetti and meatball dinner!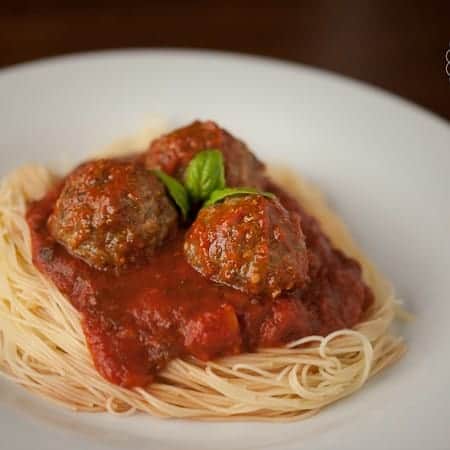 Basil Meatballs
These tasty Basil Meatballs are packed full of flavor. Toss them in your favorite sauce, or keep them in the refrigerator for a quick protein filled snack.
Print
Pin
Rate
RECIPE VIDEO WILL AUTOPLAY
Hover to scale:
10
servings
Ingredients
Baked Italian Meatballs:
1

cup

parmesan

(grated)

3

cloves

garlic

(smashed)

20

large

basil leaves

(fresh is always best)

1

small

red onion

(chopped)

1 1/2

pounds

ground beef

(grass fed recommended)

1

pound

ground pork

1

cup

panko bread crumbs

1

tablespoon

dried oregano

1

teaspoon

ground pepper

1/2

teaspoon

red pepper flakes

1

large

egg

(slightly beaten)

1

teaspoon

kosher salt
Spaghetti and Meatballs:
2

28 ounce jars

marinara sauce

1

pound

pasta
Instructions
To make the meatballs:
Preheat oven to 400 degrees F. Line a large rimmed baking sheet with parchment paper. Alternatively, if you have an oven safe baking rack that sits on top of a baking sheet, that will create even better meatballs because air will touch the bottoms and allow for even browning.

In a food processor, blend parmesan, garlic, basil leaves and red onion until well blended. It should resemble a thick pesto.

In large bowl, combine basil mixture with remaining ingredients except salt and use hands to mix until all ingredients are well combined. Do not over mix. Once blended, add salt and mix just until the salt is distributed.

Form meatball mixture into small balls, about a tablespoon in size. I like to use a cookie dough scoop to make them all the same size.

Space evenly on baking sheet about a half an inch apart. I was able to fit 40 on one baking sheet. You will most likely need to cook them in two batches.

Cook in preheated oven on prepared baking sheet until nicely browned, about 30-35 minutes. If you are unsure if they are cooked through, the inside of the meatball needs to reach an internal temperature of 160 degrees F.
To make spaghetti and meatballs:
To make spaghetti with meatballs, heat sauce in large pot over low heat and drop desired amount of meatballs in sauce. Cook until sauce and meatballs are heated through.
Notes
I prefer small meatballs for spaghetti but I'll form large balls for meatball subs. You just need to increase cooking time to account for the larger size.
Meatballs can be kept warm in a slow cooker with marinara sauce with the temperature on low if serving a crowd or as an appetizer.
Serving size based on about 1/4 pound of meat per person.
NUTRITION INFORMATION
Calories:
539
kcal
|
Carbohydrates:
40
g
|
Protein:
31
g
|
Fat:
27
g
|
Saturated Fat:
11
g
|
Cholesterol:
109
mg
|
Sodium:
522
mg
|
Potassium:
470
mg
|
Fiber:
2
g
|
Sugar:
2
g
|
Vitamin A:
190
IU
|
Vitamin C:
1.6
mg
|
Calcium:
174
mg
|
Iron:
3
mg
This post was originally created in 2015 but has been updated with more information and cooking tips!
These baked Italian meatballs are versatile too because you can eat them on spaghetti as shown, throw them in a sub sandwich, or if you're trying to go low carb and lose some poundage like I really should, throw them on top of zoodles for a vegetable protein snack. Anyway, there are a million ways to make meatballs, but this is how I make mine.