No Bake Chocolate Sunflower Oat Balls are healthy nut-free snacks that are high in protein and fiber and fit perfectly into your child's lunch box.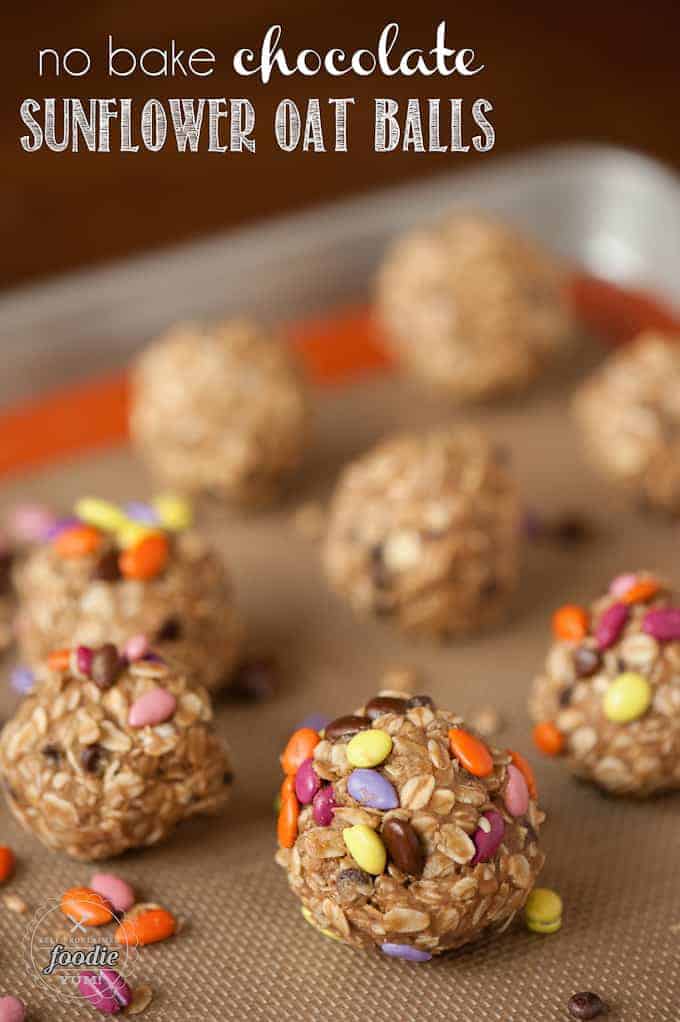 Fortunately, we don't have to live with any severe allergies in our home. Seasonal allergies are hard enough. I can't imagine having to live with a life threatening allergy. I have several friends who have children with severe peanut allergies and have had many trips to the ER as a result of accidental exposure. I met these friends at our preschool years ago which, of course, was a nut free school. Because the school was a co-op that relied heavily on parent involvement, I was in the classroom a lot, and one of my responsibilities was to provide "mini meal" (aka healthy snack). This was the first time I was exposed to the world of sunflower seed butter. Now, I know that some children have seed allergies as well, but as far as I'm aware, its either not as common or not as severe, at least enough to allow it in the classroom.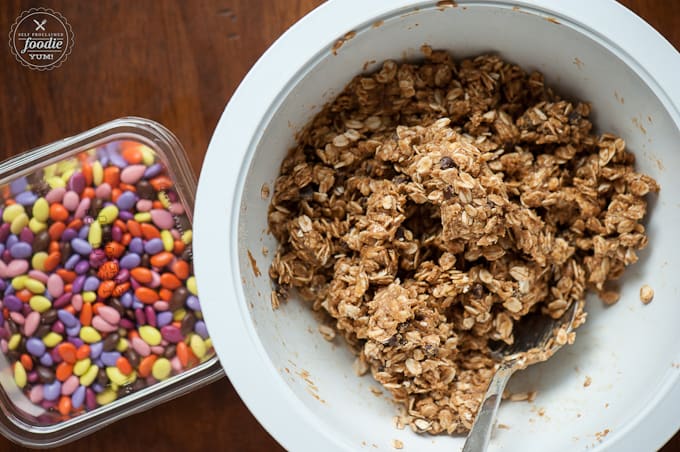 I actually love eating raw oats. I'm sure my enjoyment stems from years of eating oatmeal cookie dough. Even now I add groats, which are whole raw oats, into my chocolate protein smoothie every morning. I even prefer my oatmeal a bit underdone. All reasons why I knew I would like these little snacks.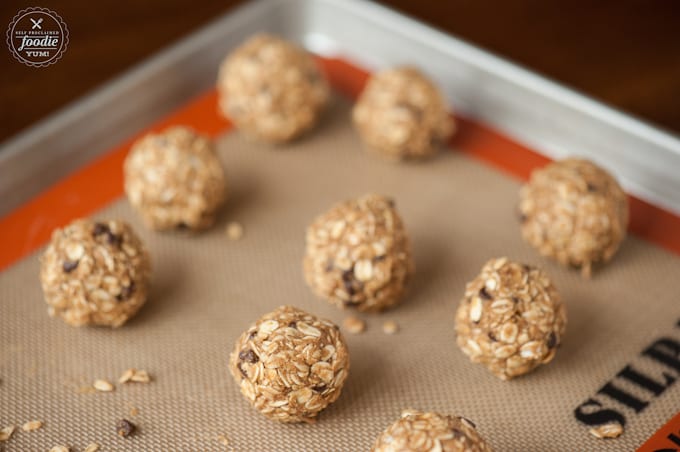 They were quite messy to form into balls until I slathered my palms up with some butter. Proof, once again, that a nice coat of butter makes everything better. As I explain in the recipe, I had a hard time getting the candy and chocolate coated sunflower seeds to stick to the outside. They just looked so pretty. You might have an easier time of it, or you might want to experiment with mixing them into the balls. Get creative, but be sure to report back.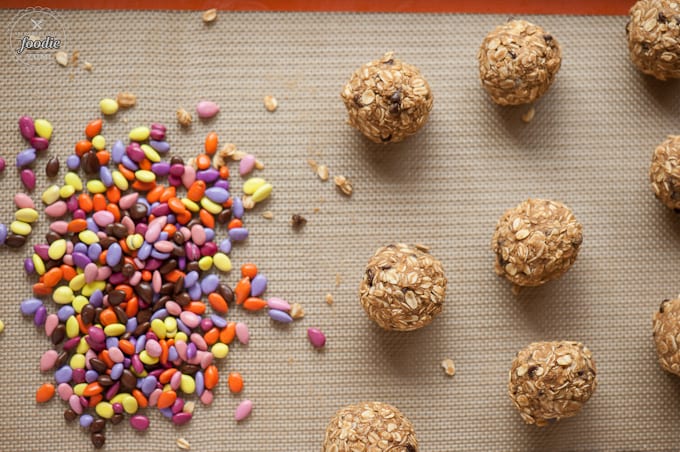 The final result is a fantastic little tasty and healthy treat that is sure to give a solid burst of energy to keep you going throughout the day.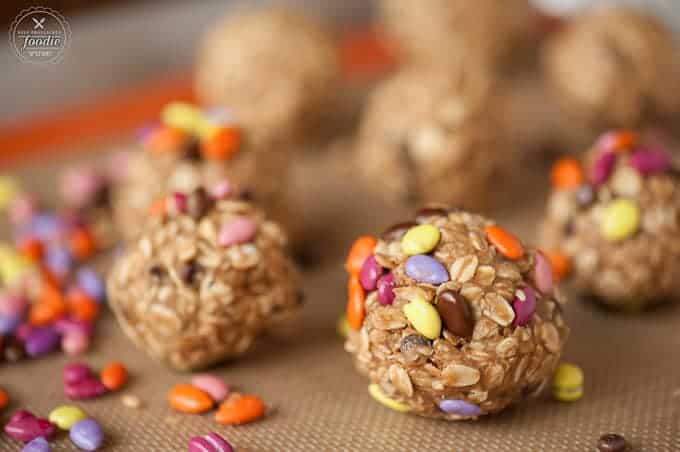 I love to give my kids a lunch they look forward to. They work and play hard all day long, so I enjoy giving them a variety of interesting food that they find not only delicious, but also nourishing. Honestly, this is how I pack for my kids, but its also exactly how I pack for myself!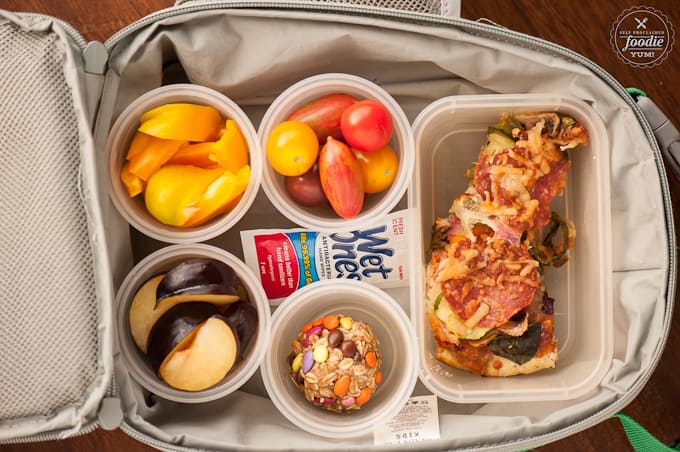 No Bake Chocolate Sunflower Oat Balls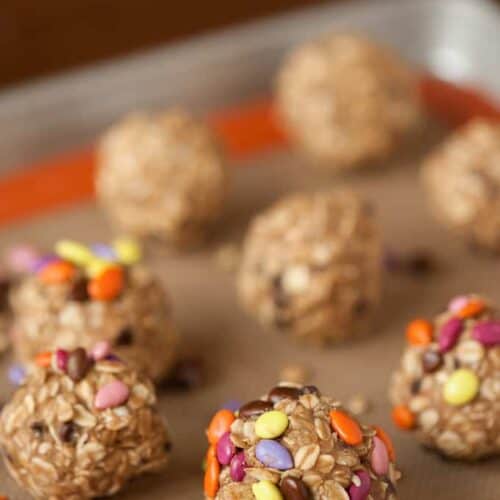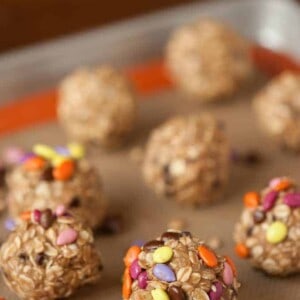 No Bake Chocolate Sunflower Oat Balls are healthy nut-free snacks that are high in protein and fiber and fit perfectly into your child's lunch box.
Instructions
Combine oats, sunflower butter, mini chocolate chips, and maple syrup in large bowl. Mix well to combine.

Coat palms of hands liberally with butter. Grab a small handful of the mixture and squeeze and shape into a ball. Repeat until finished.

Optional: roll finished ball in candy/chocolate covered sunflower seeds. I had a very hard time getting them to stick, so another option would be to incorporate them into the mixture.

Store at room temperature in an air tight container.
Nutrition
Calories:
192
kcal
,
Carbohydrates:
20
g
,
Protein:
5
g
,
Fat:
11
g
,
Saturated Fat:
2
g
,
Cholesterol:
1
mg
,
Sodium:
5
mg
,
Potassium:
59
mg
,
Fiber:
2
g
,
Sugar:
8
g
,
Vitamin A:
19
IU
,
Vitamin C:
1
mg
,
Calcium:
38
mg
,
Iron:
1
mg
Nutrition information is automatically calculated, so should only be used as an approximation.