Zuppa Toscana is a hearty creamy homemade soup made with spicy Italian sausage, potatoes and baby kale.
This tasty Zuppa Toscana soup recipe is a copycat version of what you would find at The Olive Garden.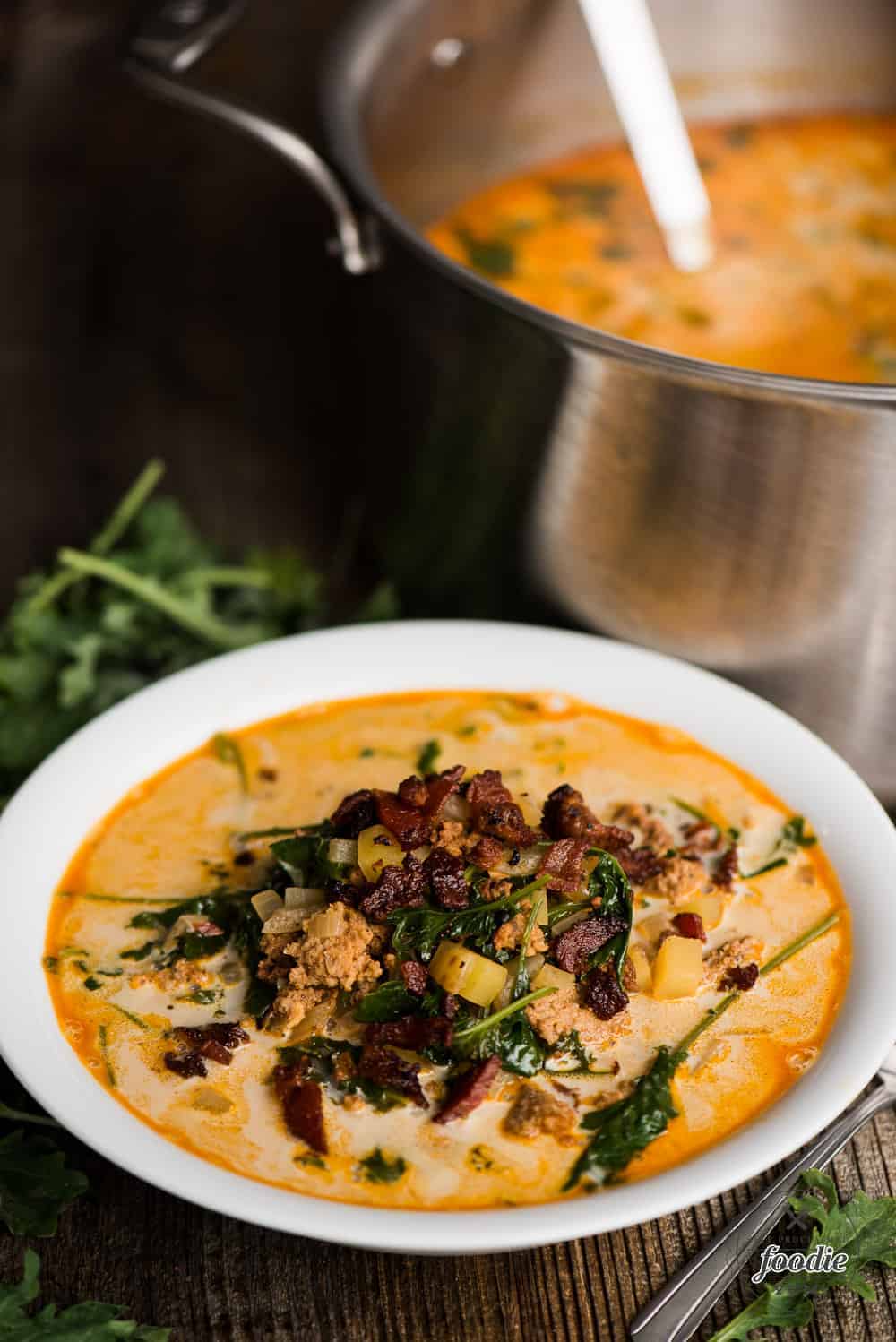 Zuppa Toscana might just be my new favorite soup. I mean, does it get much better than a creamy brothy soup, packed with flavor and texture? I think not. There's a question that get's asked more often than you might think: How do you make Zuppa Toscana soup from Olive Garden? Truth be told, I never eat at Olive Garden. But, I knew this soup existed so I did some research and created my own version that could definitely be considered a copycat recipe... only 1000x better.
I've made an Kale Soup with Italian Pork & White Beans that's a bit similar to this recipe, however the Zuppa Toscana has potatoes instead of beans and some heavy cream. Oh yes, and we can't forget the bacon. Zuppa Toscana is topped with crispy bacon. Are you starting to salivate yet?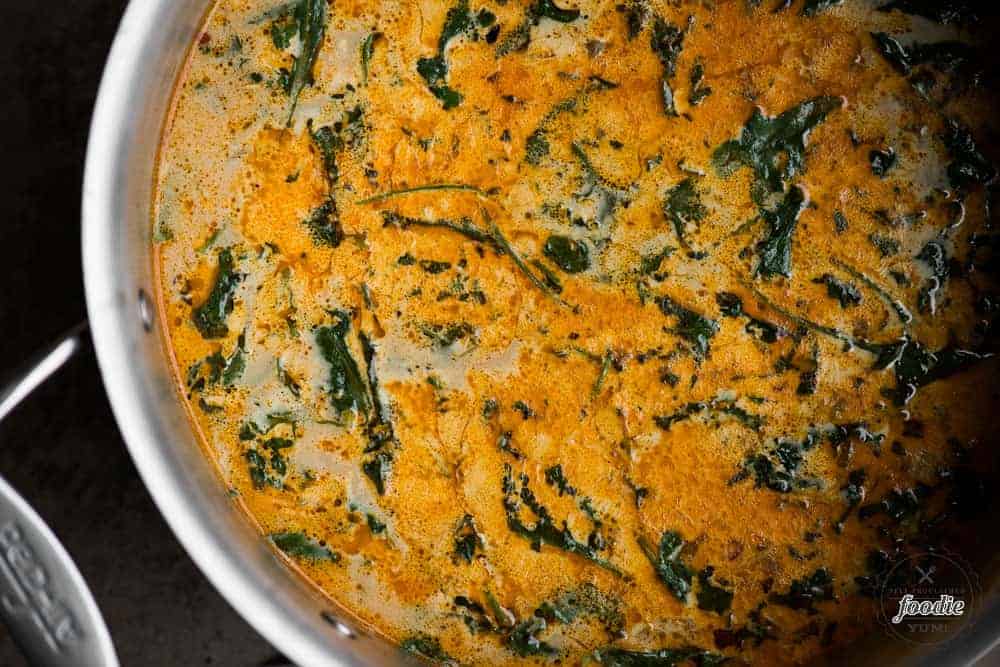 What is the meaning of Zuppa?
From what I found, Zuppa specifically refers to a type of soup for which the main ingredients are vegetables common to the country. Considering this Zuppa Toscana soup has dark leafy green baby kale which is popular in the region, I suppose we can say it counts. If it's wrong to call this Olive Garden Zuppa Toscana recipe by that name, well, then I blame Olive Garden. There's only one thing you really need to know about this recipe, however. It is absolutely delicious.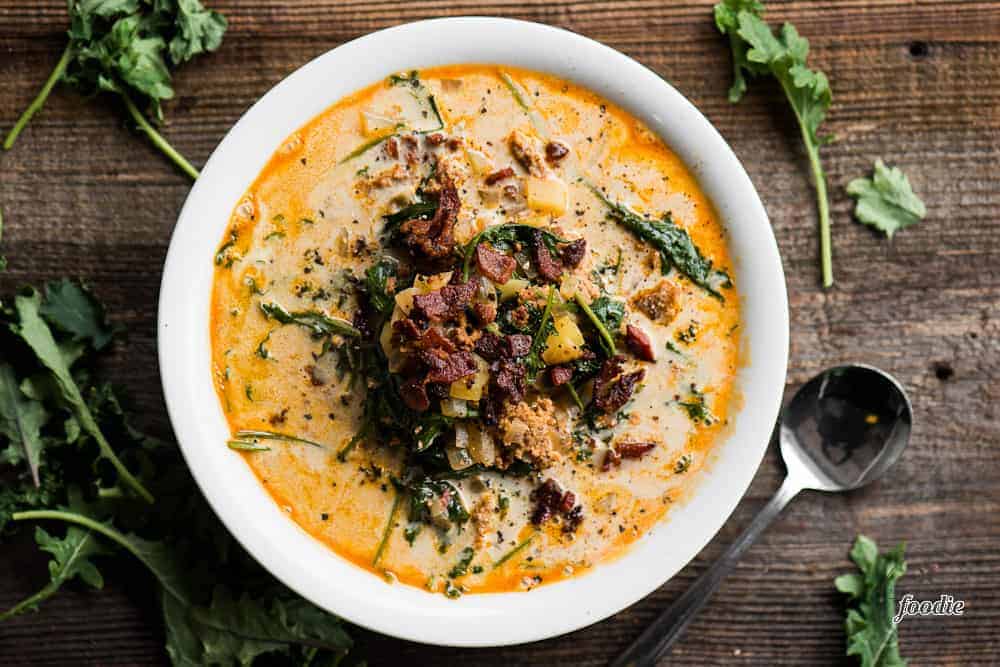 Cooking tips for success:
The crispy bacon on top adds an incredible amount of flavor and texture. I rarely like to add cooked bacon to my soups. I much prefer to cook the bacon first, set it aside, and then use that same pot to cook my soup. That way, not only will the soup pick up the flavor left in the pot, but the bacon you add at the end will remain crisp. Once you throw cooked bacon in a pot of liquid, it gets soggy and gross. It even appears to look uncooked, even if the fat has been completely rendered. Do yourself and everyone else a favor and save the bacon for the very end.
Same goes for the sausage. I love my sausage to get a bit crispy and golden brown (just like when I make homemade biscuits and country sausage gravy). That's why I prefer to cook it and then set it aside until the zuppa toscana soup is just about done.
Speaking of sausage, you can totally buy spicy Italian sausage from the store or your butcher, but I much prefer to use ground pork and then add my own spices, which is how the recipe is written. That way I know that my version of spicy Italian sausage is free of preservatives and I've added just the right amount of seasonings to flavor it how I like. Hopefully it's how you like it too!
Additional recipe recommendations:
Some Olive Garden copycat Zuppa Toscana recipes call for thinly sliced potatoes and that just may be how they serve it at the restaurant. Remember, I don't eat there so I don't know. I decided to cube my potatoes instead of thinly slice them for two reasons. First, I wasn't sure if thinly sliced potatoes would fall apart. And second, I like to be able to load up my spoon with even amounts of all the ingredients with every single bite. I was worried sliced potatoes would just result in disaster while trying to shovel all of this wonderful soup into my mouth.
Finally, I highly recommend getting some plastic quart containers and freezing some of this soup for another day. The only thing better than enjoying this homemade zuppa toscana soup fresh is remembering you have some in the freezer on a day when you don't feel like making dinner. Trust me on this one.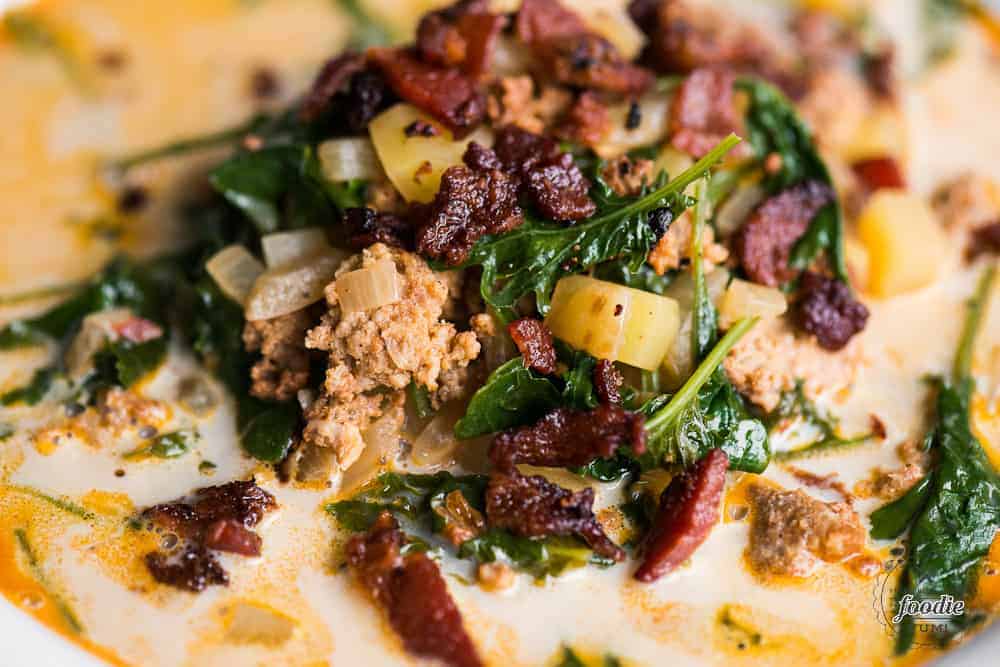 Make this soup in the slow cooker or pressure cooker:
Although I made this particular batch of soup on the stove top, this recipe can easily be adapted to make in your crockpot or Instant Pot. More often than not, I love making soup in my dutch oven on the cooktop because I get to be part of the entire process. I get to smell the smells and I get to hear all of the sizzles. Watching a recipe transform before my eyes brings me so much pleasure. But, I think using an electric pressure cooker to make something like this Zuppa Toscana would be quick and easy. Likewise, using your crockpot makes it so that you can prepare you meal in the morning and come home to a hot meal. All great options.
To make Zuppa Toscana in the Instant Pot or electric pressure cooker, make the following changes:
Brown the bacon and then the sausage in the base of the instant pot, just like in the recipe, and set the meat aside.
Add the broth and potatoes, set to high pressure, and cook for 5 minutes. The potatoes should be plenty tender, but if not you can fasten the lid and cook on high pressure another couple of minutes.
Quick release the pressure, add the sausage, cream, and kale. Use the warm or saute setting to bring the soup up to temperature and serve.
To make it in the Crockpot or slow cooker, make the following changes:
Unless you have a fancy new slow cooker that has a browning setting, you'll have to cook the bacon and sausage on the cooktop as explained in the recipe.
Combine cooked sausage with broth and potatoes in the slow cooker and cook on low 4-6 hours.
Add heavy cream and kale and allow to heat through.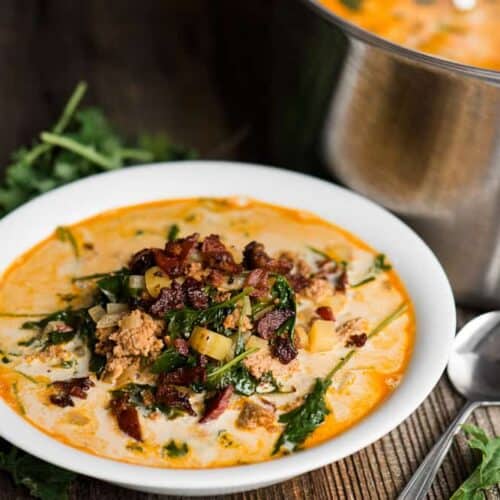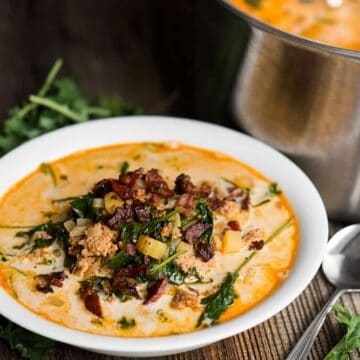 Zuppa Toscana
Zuppa Toscana is a hearty creamy homemade soup made with spicy Italian sausage, potatoes and baby kale. This tasty Zuppa Toscana soup recipe is a copycat version of what you would find at The Olive Garden.

Print
Pin
Rate
Hover to scale:
8
servings
Ingredients
8

ounces

bacon

(chopped)

1

pound

ground pork

1

tablespoon

smoked paprika

1

teaspoon

salt

1

teaspoon

fennel seeds

1

teaspoon

red pepper flakes

3

cloves

garlic

(minced)

1

large yellow onion

(chopped)

10

cups

chicken broth

7

yukon gold potatoes

(peeled and chopped (about 3 cups))

1

cup

heavy cream

4

cups

packed fresh baby kale

additional salt and pepper

(to taste)
Instructions
In a large Dutch Oven or stock pot, cook bacon. Start over relatively high heat and gradually reduce the heat as the fat renders. When done, scoop out bacon and allow to drain on paper towel lined plate and discard or reserve bacon grease for another use.

In the same pot, add sausage, paprika, salt, fennel seeds, red pepper flakes, garlic and onion. Stir well and cook over medium high heat until the meat is browned and crumbly. Remove sausage and transfer to a paper towel lined plate. If there's any excess grease, drain it off.

Add chicken broth and potatoes to the pot. Bring to a boil and then reduce heat to medium low. Continue to cook until the potatoes are tender, about 15 -20 minutes. Add the heavy cream, cooked sausage, and kale and cook until heated through. Add additional salt and pepper, to taste.

To serve, top with cooked bacon.

Store leftovers in refrigerator for up to a few days or freeze for longer storage.
NUTRITION INFORMATION
Calories:
499
kcal
|
Carbohydrates:
26
g
|
Protein:
21
g
|
Fat:
36
g
|
Saturated Fat:
15
g
|
Cholesterol:
100
mg
|
Sodium:
1630
mg
|
Potassium:
1304
mg
|
Fiber:
4
g
|
Sugar:
1
g
|
Vitamin A:
4300
IU
|
Vitamin C:
80
mg
|
Calcium:
151
mg
|
Iron:
7
mg