Vampire Cocktail is the perfect spooky Halloween drink. Syringes filled with sweetened raspberry puree look gory, but taste amazing!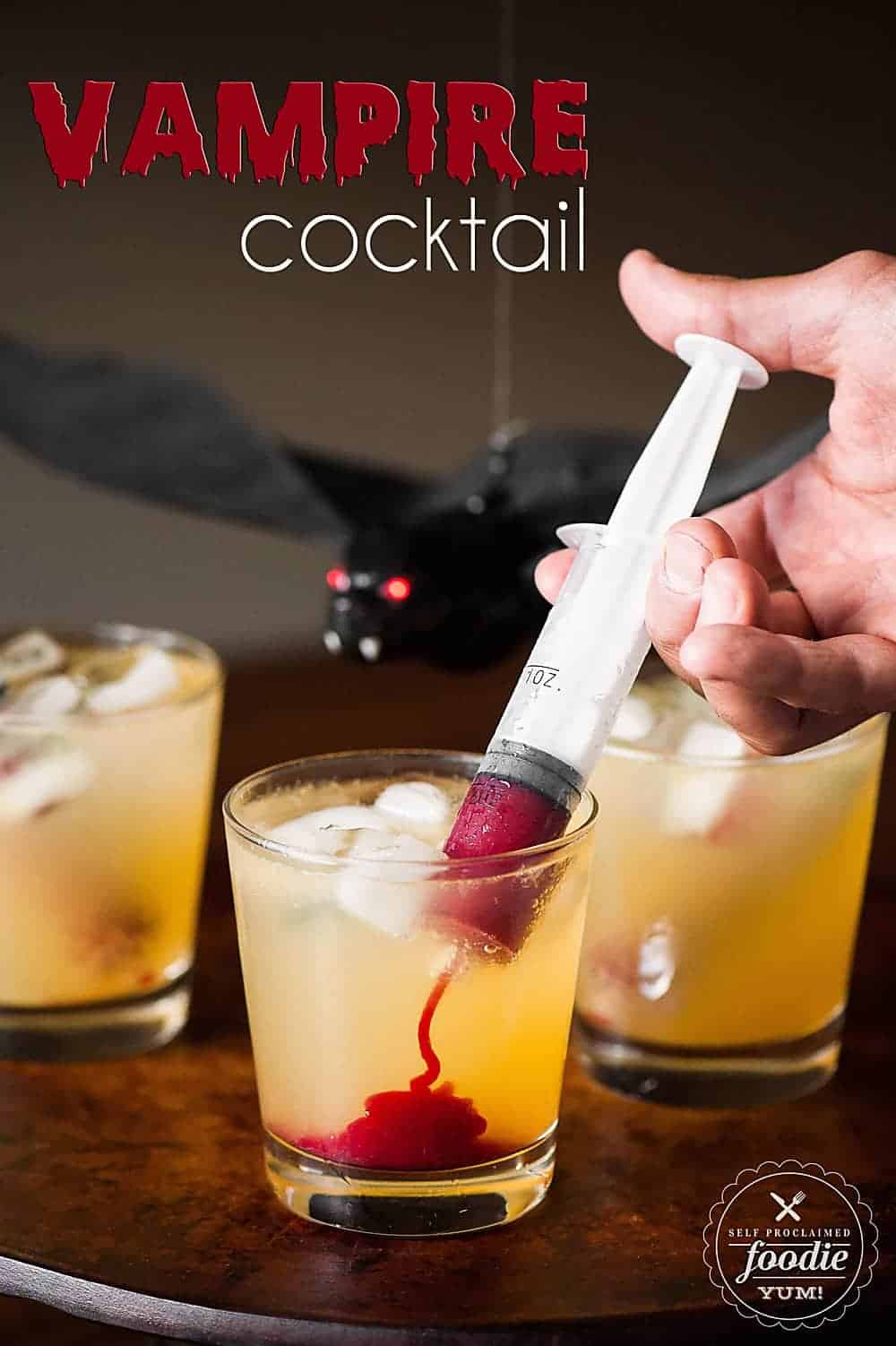 Vampire Cocktail – how fun! I have to admit, I really enjoy making this cocktail. First of all, I love every ingredient in this drink. The base of the cocktail is an easy to make combination of vodka and amaretto shaken with ice combined with orange juice and club soda. That alone is delicious, but when you inject the gory blood, errrr I mean sweetened raspberry puree, the drink not only tastes delicious but you realize this Vampire Cocktail is the must-serve drink for any Halloween party. To make something look gory and disgusting, yet taste awesome, just tickles me pink.
I originally published this post in the first few months of having a blog back when I started in 2014. It quickly became one of my popular recipes this time of year, so I decided to recreate it with a video (scroll down to see it) and give the post a much needed refresh. I also have a lot of other great Halloween recipes I wanted to share with you to go along with the vampire cocktail! Equally gory is the Zombie Shooter. If you're looking for a kid friendly drink, be sure to check out my Witches' Brew. If fun Halloween party food is what you're looking for, look no further than my Trick-or-treat Overload Bars, Monster Cookies, Ghost Meringues, or the ever popular and oh-so delicious Peanut Butter Spider Cookies.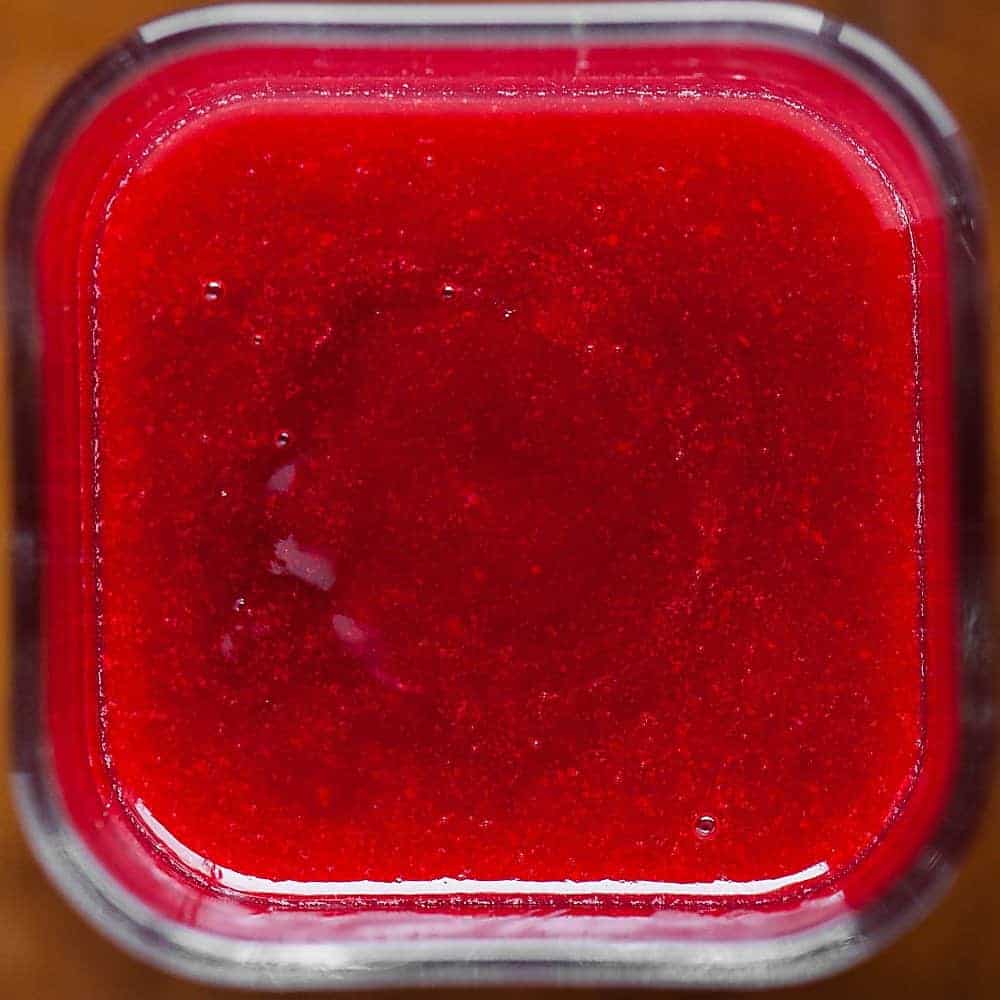 Who knew some raspberry puree cooked with sugar would turn out looking just like blood? This stuff tasted so good, especially in the vampire cocktail. If you're wondering where I found the syringes, I had to look no further than one of those big Halloween superstores that pop up everywhere this time of year. They came in a six pack and I plan on making this vampire cocktail every Halloween from now until forever.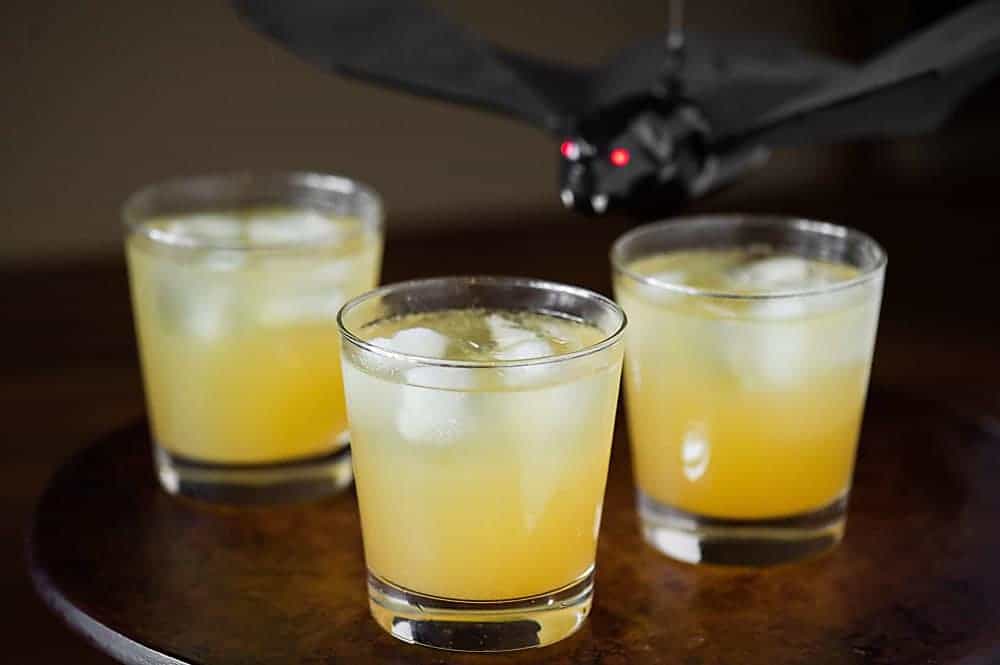 Here's a funny to brighten your day:
Why is a vampire a good person to take out for meals? Because he eats necks to nothing. Get it? Ha!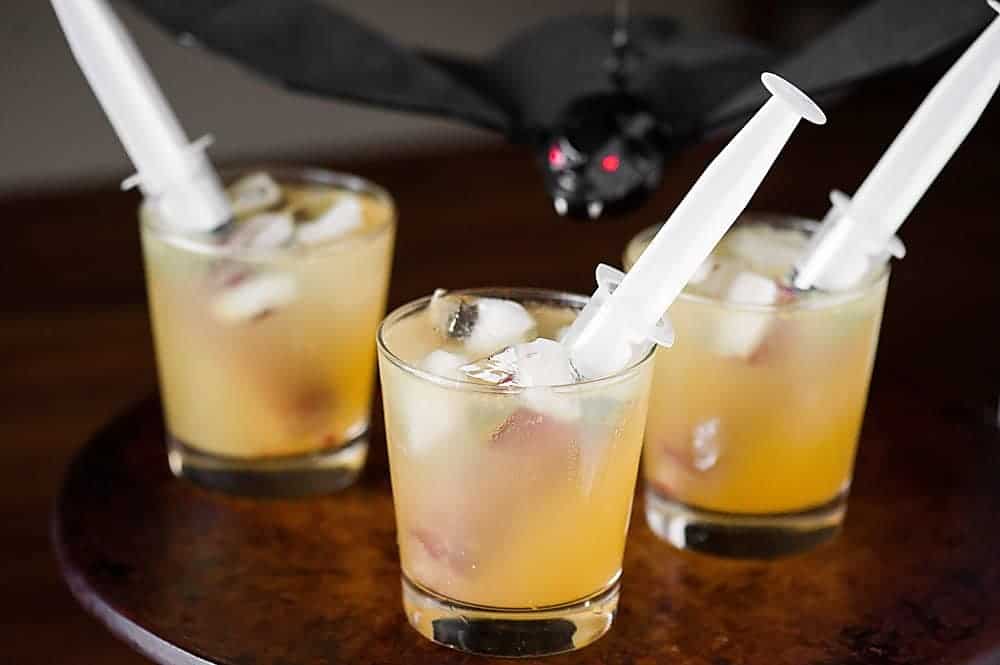 How to make a Vampire Cocktail:
Allow me to go through the process of making this drink. First you shake the vodka and amaretto with some ice to get it nice and cold. Then you stir in the OJ and club soda and pour it over ice. This would be a pretty boring drink at this point if it weren't for the spooky bat with the glowing red eyes in the background, don't you agree?
Suck (get it? vampire – suck) up an ounce of the chilled raspberry puree into each syringe and stick it in the glass. Restrain yourself from squeezing the puree into each glass because its so darn fun. Don't deprive your guests of this pleasure.
Give it a good squeeze. Ewwwww.
Give it a stir. I've watched enough Walking Dead, Dexter, and True Blood to freely admit that I was pretty darn pleased with myself in making this drink look like it has blood in it. Well done, Krissy. I can mark that one off my bucket list.
Lastly, empty those syringes into the other drinks. You have to admit, its pretty fascinating.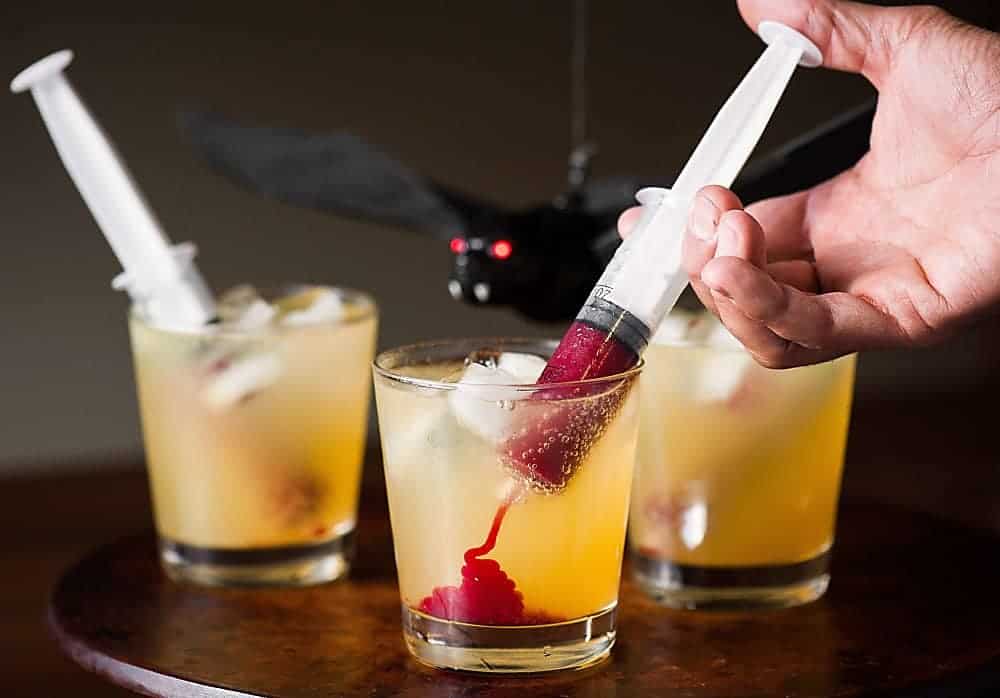 Fall drink recommendations:
Looking for other fall drinks that would be perfect for Halloween? In addition to this vampire cocktail, you can make: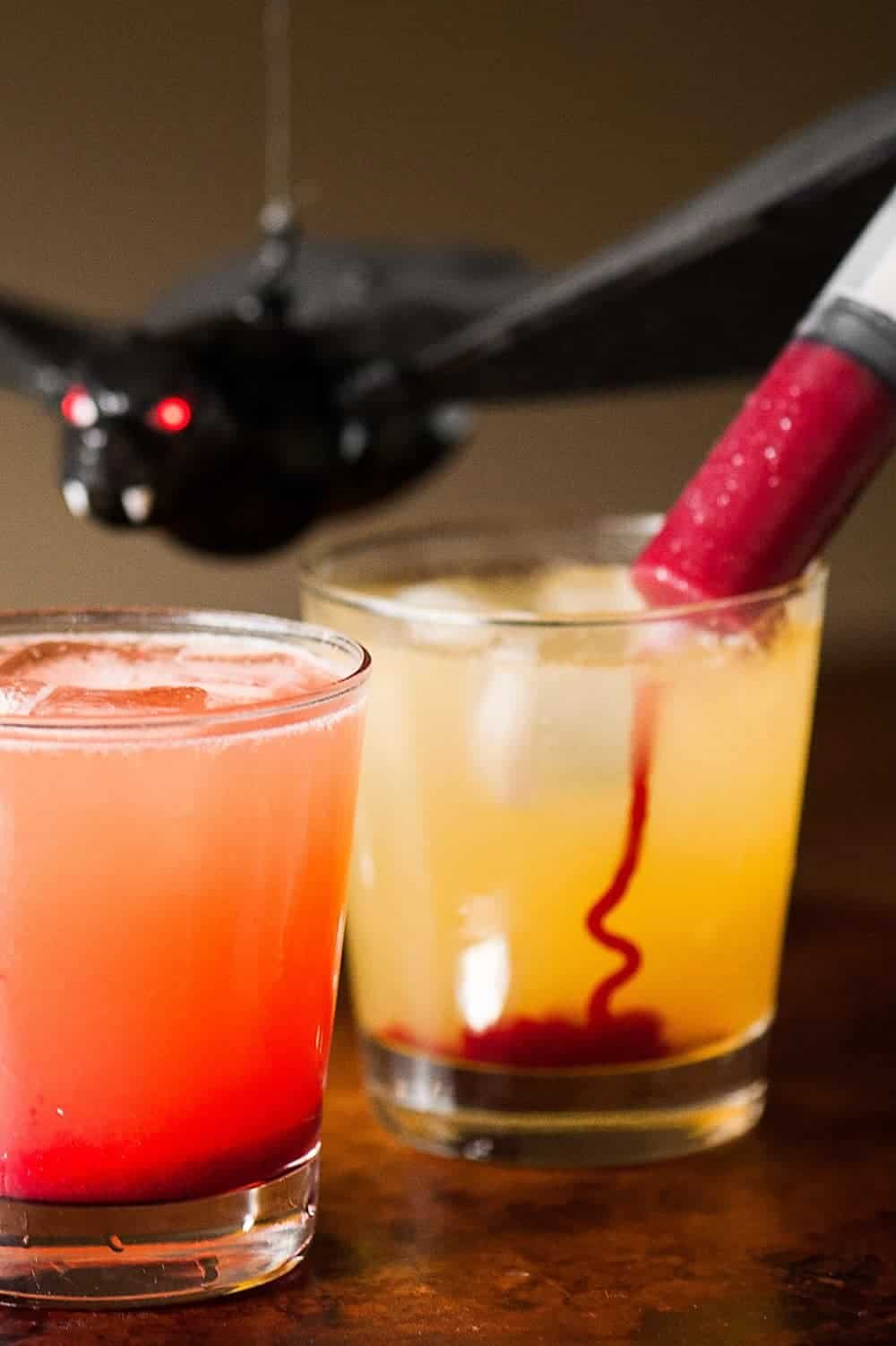 My husband always likes me to credit him on his ideas. Ladies and gentlemen, it was his idea for me to shoot the vampire cocktail from above and he was 100% right. Not only was it a cool angle because you can see more of our sweet bat, but the sweetened raspberry puree really looks like blood in the photo below. So, if you feel nauseated right now, you can thank him.
I'm not lying when I tell you this drink tastes really good. I guarantee it will be the hit of any Halloween party.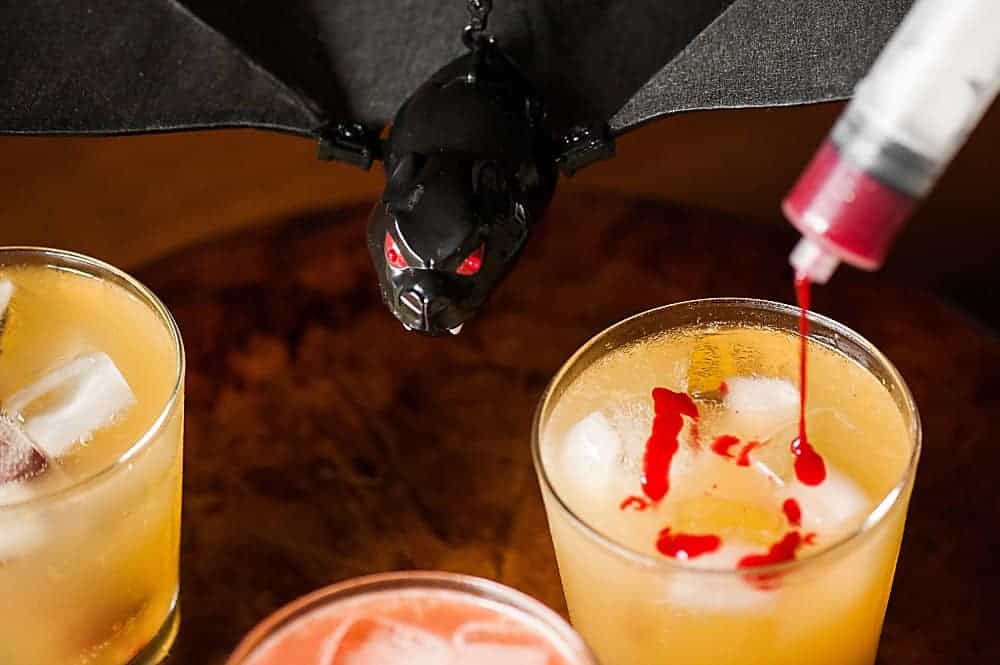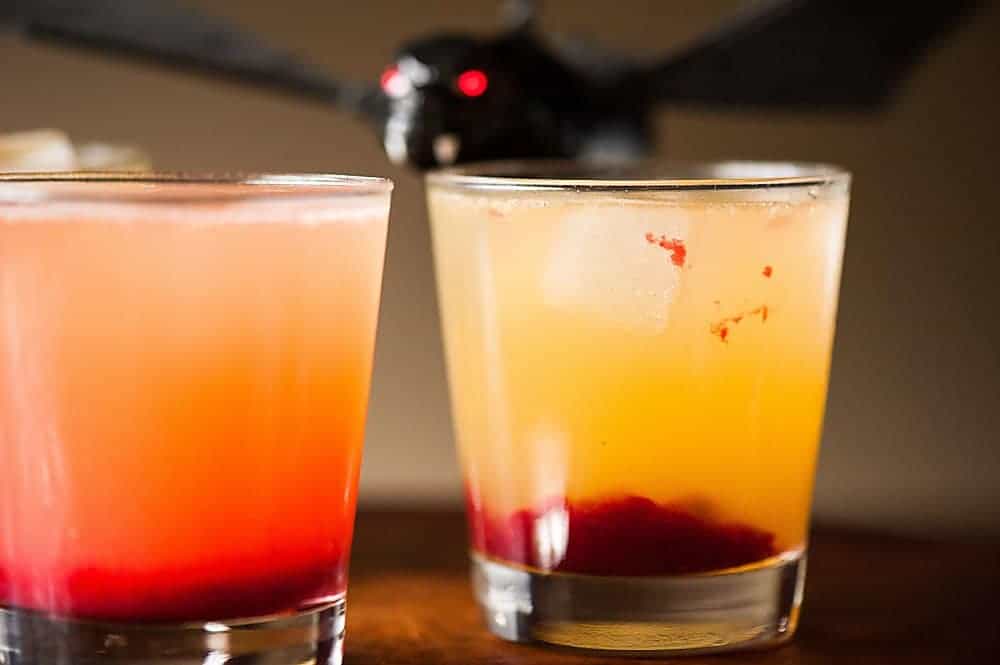 Recipe video below: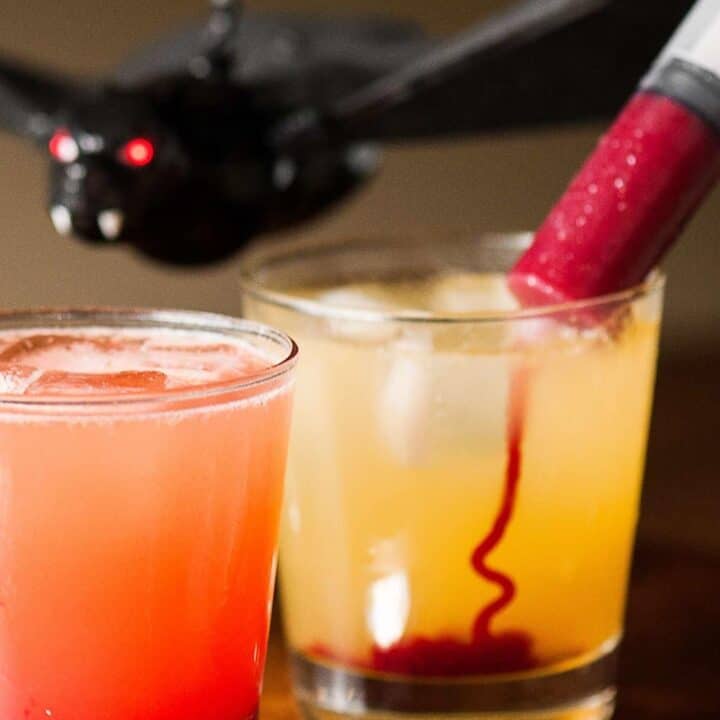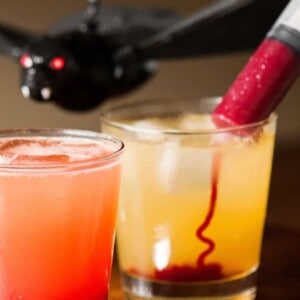 Vampire Cocktail is the perfect spooky Halloween drink. Syringes filled with sweetened raspberry puree look gory, but taste amazing!
Ingredients
Raspberry sauce:
2

cups

raspberries

1/4

cup

sugar
Cocktail:
4

ounces

vodka

2

ounces

amaretto

2

ounces

orange juice

6

ounces

club soda
Instructions
To make the raspberry sauce:
Puree the raspberries in a blender or food processor. Press the puree through a fine mesh strainer to separate the pulp from the seeds. Discard the seeds.

Combine the puree with the sugar in a small saucepan over medium high heat. Stir frequently and cook until mixture darkens and thickens, about 10 minutes. Chill until ready to use.
To make the cocktail:
Add vodka and amaretto to a shaker with ice and shake until very cold, about 20 seconds. Stir in orange juice and club soda. Pour into iced glasses.

Fill syringes with equal parts of the raspberry syrup and place in glasses before serving.
Notes
This recipe makes four servings. To make for a crowd, you can increase the number of servings by changing the number in the "hover to scale" area of the recipe card. The cocktail portion can be made in a large pitcher for self-service and you can make as many syringes as needed.
Nutrition
Calories:
195
kcal
,
Carbohydrates:
25
g
,
Sodium:
11
mg
,
Potassium:
118
mg
,
Fiber:
3
g
,
Sugar:
20
g
,
Vitamin A:
50
IU
,
Vitamin C:
22.8
mg
,
Calcium:
15
mg
,
Iron:
0.4
mg
Nutrition information is automatically calculated, so should only be used as an approximation.