Peanut Butter Spider Cookies are perfect Halloween cookies because everyone loves a good peanut butter and chocolate recipe!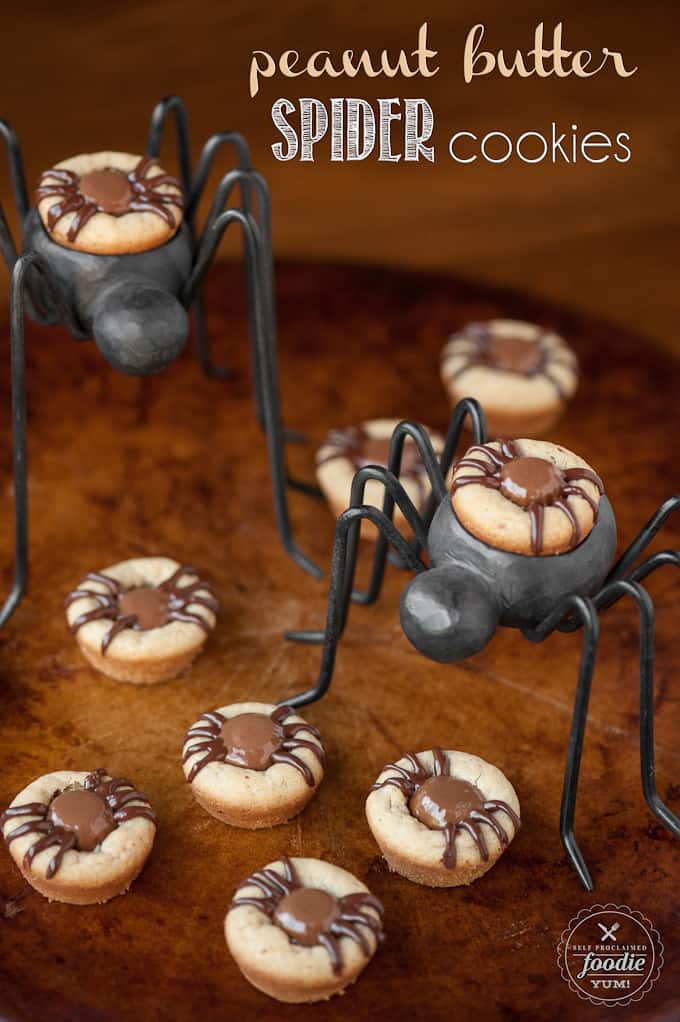 Peanut butter spider cookies always turn out perfectly. Halloween cookies are so fun to make, as are spooky Halloween drinks. There's just something about this time of year that get's people in their kitchen to not only make tasty treats, but fun ones too! By the time Halloween is over and we're looking for ways to use up our leftover Halloween candy in fun recipes, things like these spider cookies will be a distant memory and we'll move on to planning out side dishes for Thanksgiving dinner!
You'll find a lot of recipes for spider cookies out there, but I'm particularly fond of this version. Not only do these combine one of the world's best flavor combinations – peanut butter & chocolate, but they are bite sized Halloween cookies which makes them extra YUM!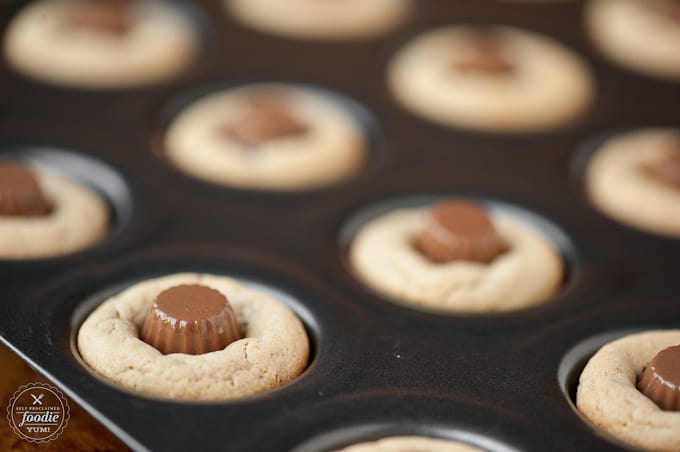 How to make Peanut Butter Spider Cookies:
The peanut butter dough for the spider cookies just takes a few minutes to mix up. Then comes the fun part – rolling it into balls. Because I'm a little OCD about having all of my peanut butter spider cookies be the same size, I used my small cookie scoop and made each ball a level scoop before rolling. Not only did this make the cookies all the same size for even cooking, but it made it so that I got an exact 4 dozen out of the batch (plus the bit of dough at the end that I couldn't help tasting).
I always bake these Halloween cookies exactly 8 minutes. Your oven time may vary, but that's the sweet spot for my oven.
Then, as soon as you take the spider cookies out of the oven, you press the peanut butter cups into the top of the cookie. When I make these during the Christmas holiday, I put the peanut butter cups in the right way and press them all the way down to make the tops even with the cookie. But because I knew I wanted to add legs to make spiders, I turned those peanut butter cups upside down and didn't press them in all the way.
Once the peanut butter spider cookies have cooled, you're going to pipe the chocolate peanut butter legs on. This took me a bit of practice, plus the temperature of the chocolate will determine whether you get skinny or fat legs. Don't worry though – if any of them turn out ugly, you get a free pass to eat those spider cookies right then and there. I can justify most things, as you might learn, from reading my blog!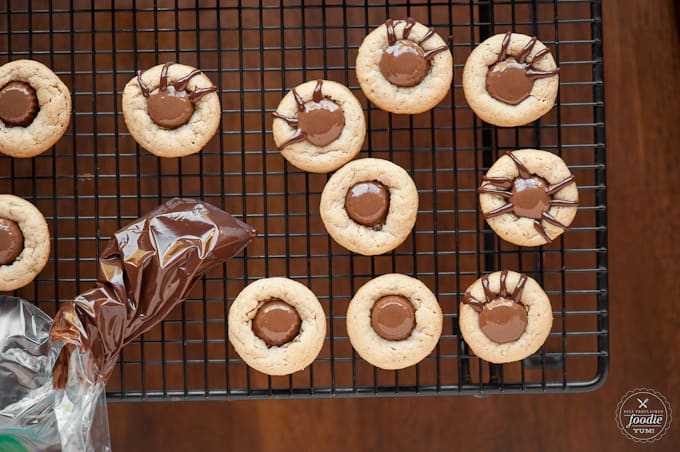 These peanut butter spider cookies are insanely tasty. My kids were so excited when they came home and saw these. I pretty much won the "coolest mom" award for the day. They packaged them up and brought them in for their teachers the next day.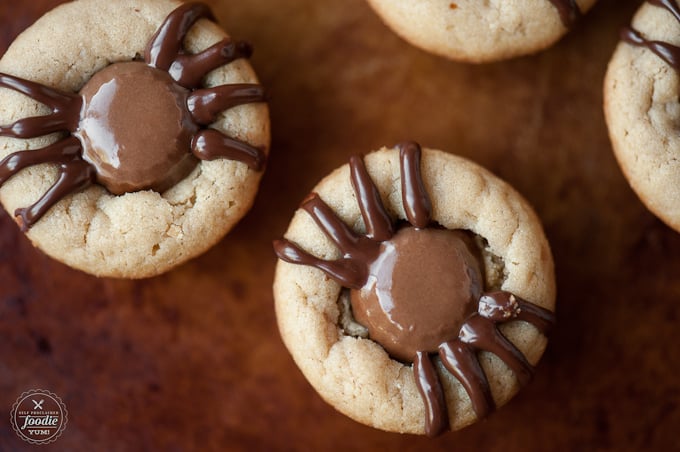 Peanut Butter Spider Cookies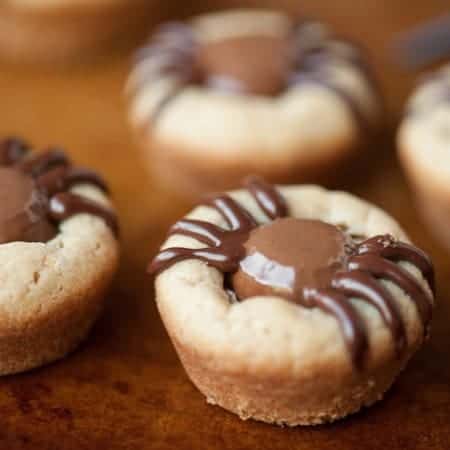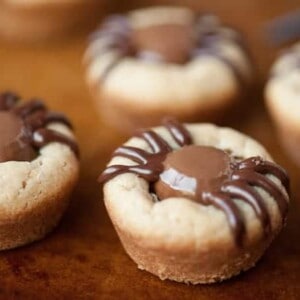 Kids love these Peanut Butter Spider Cookies because they are super fun and easy to make, taste great, and are the perfect Halloween treat.
Instructions
Preheat oven to 375 degrees F. Sift together the flour, salt and baking soda and set aside.

Cream together the peanut butter and butter along with the white and brown sugars until light in color and very fluffy. Stir in the egg, vanilla and milk until well combined.

Add the flour mixture and mix just until well combined.

I used a small cookie scoop and rolled each level scoop into a ball. Place each dough ball into an ungreased well of a mini muffin pan. You should have just enough batter to make 48 cookies.

Bake in preheated oven about 8 minutes. Remove from oven and immediately press a mini peanut butter cup into each ball. If you're making spiders, I think its cute to put the peanut butter cup in upside down and not press it in all the way. If you won't be adding legs, you can push it in right side up and press down to make the top even with the cookie. Cool and carefully remove from pan.
Legs:
Microwave chocolate chips and peanut butter on 50% power for 2-3 minutes, then stir well. If chips are still not melted, continue to cook in microwave at 50% power in one minute increments until melted. Add to plastic bag and snip off corner to squeeze eight legs onto each cookie. Be sure to pipe legs onto cooled cookies and allow the chocolate to somewhat cool before piping to get your desired thickness. Allow chocolate legs to dry and harden.

Store in an airtight container. Can be frozen.
Nutrition
Calories:
83
kcal
,
Carbohydrates:
9
g
,
Protein:
1
g
,
Fat:
4
g
,
Saturated Fat:
2
g
,
Cholesterol:
8
mg
,
Sodium:
65
mg
,
Potassium:
42
mg
,
Sugar:
5
g
,
Vitamin A:
65
IU
,
Calcium:
7
mg
,
Iron:
0.4
mg
Nutrition information is automatically calculated, so should only be used as an approximation.