Two-Ingredient Cauliflower Mash is a quick, easy, healthy, low carb side dish. So rich and delicious, you might actually mistake the flavorful cauliflower for creamy mashed potatoes!
Different than my Cauliflower Mashed Potatoes which actually combine cauliflower and potatoes, this recipe only uses cauliflower and flavored cheese.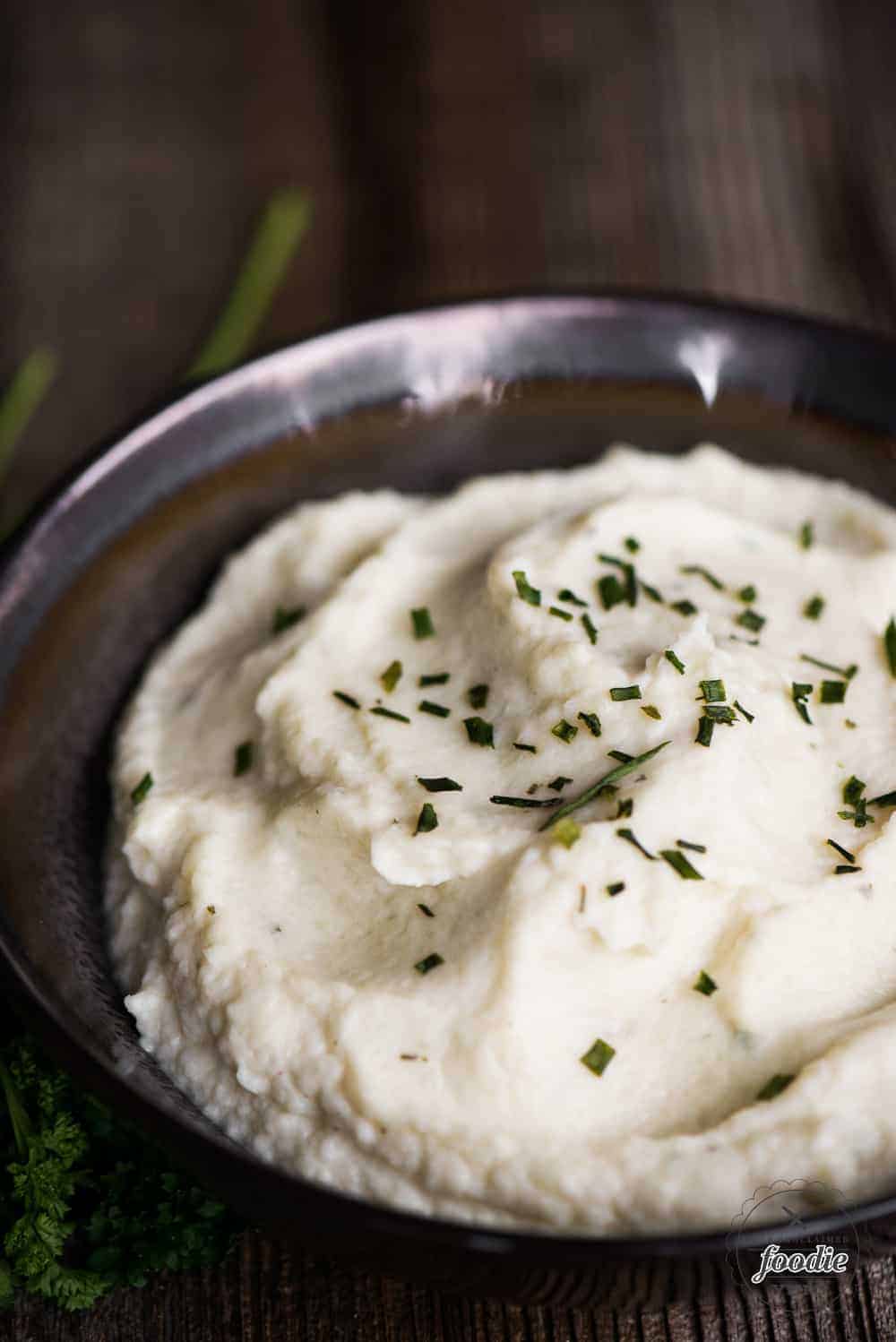 Two-Ingredient Cauliflower Mash is surprisingly delicious.  Surprisingly because I've never been a huge cauliflower fan. I've tried to sneak it into a recipe here and there like in my Hidden Cauliflower Macaroni and Cheese. We have also used cauliflower in lieu of something not as healthy like in my Buffalo Cauliflower Bites where I used cauliflower instead of chicken wings. But never have I tricked my taste buds into thinking I was eating something that wasn't cauliflower.
Not until now.
This mashed cauliflower is so rich and creamy. If I hadn't known it was made from cauliflower without a single potato, I may have very well been fooled.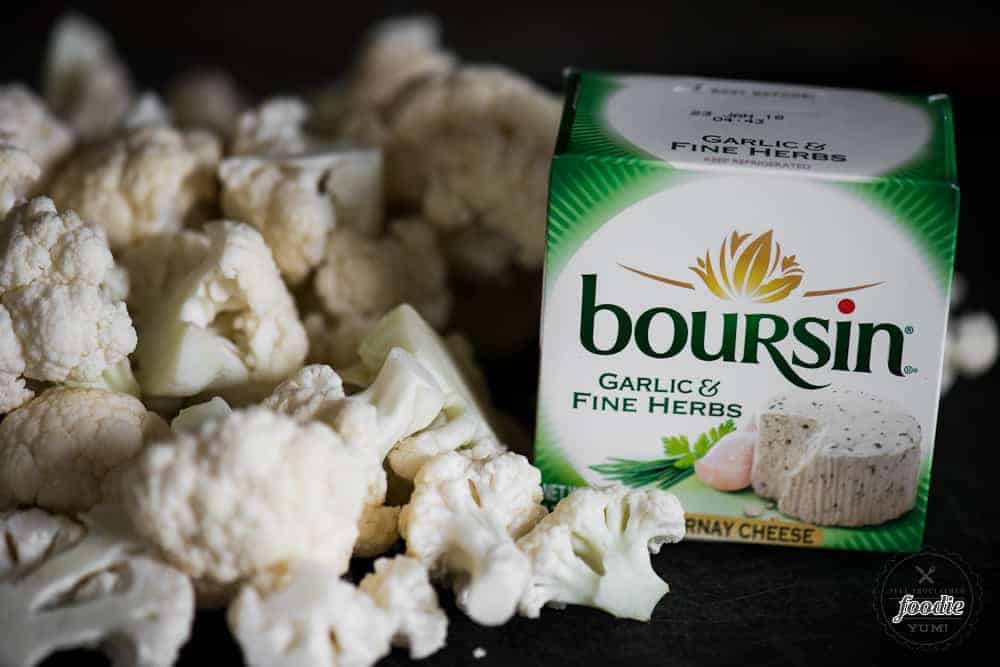 Only two ingredients.
I don't have too many two-ingredient recipes on my blog. Why? Well, because I don't believe there are too many recipes out there worth sharing where I would tell you to mix two ingredients together and, BAM, something wonderful happens. Well, I was so pleasantly surprised by these two-ingredient cauliflower mashed potatoes (minus the potatoes).
The Boursin cheese added everything the steamed cauliflower needed to be creamy, flavorful, and downright wonderful. You could absolutely make your mashed cauliflower just like you would your mashed potatoes, with tons of butter, sour cream, cream cheese, and salt. I wouldn't fault you for going that route. But, I think the Boursin adds everything you might want to your cauliflower mash recipe - creaminess, flavor, and richness.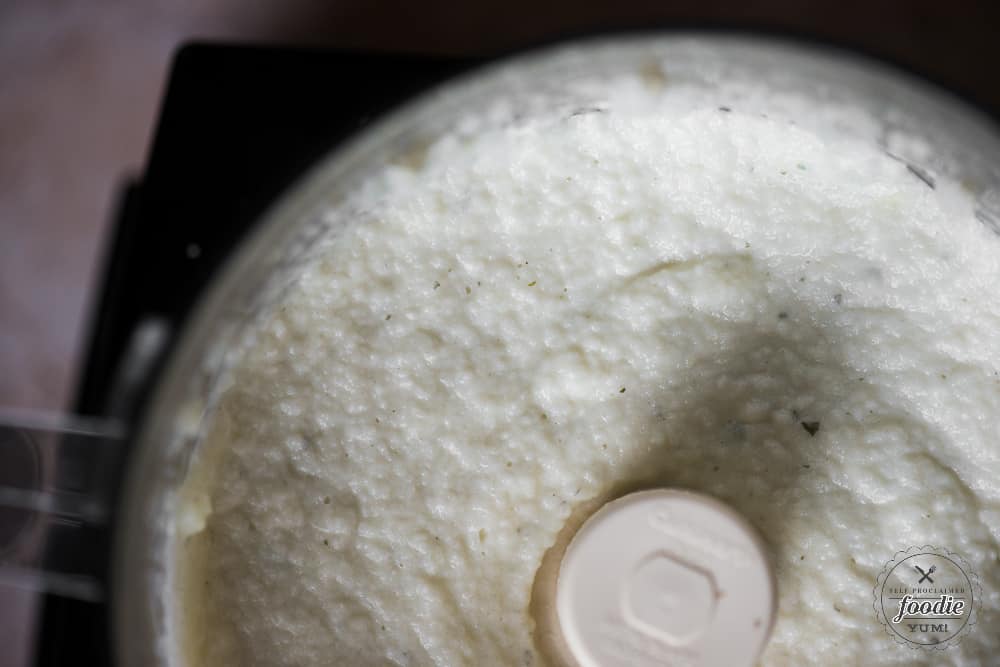 Why choose cauliflower over potatoes?
When cooked, cauliflower has about one fifth of the calories of potatoes. If you live by  calories in needing to be equal or less than calories out, cauliflower would be your better choice.
Cooked cauliflower has different vitamins and micronutrients than potatoes. If you're looking to boost your intake of vitamin C, folate, and vitamin K, then cauliflower would be your better choice.
And given the fact that January often tends to be low carb month for most people, cauliflower has about one fifth the total carbohydrates when compared to poatt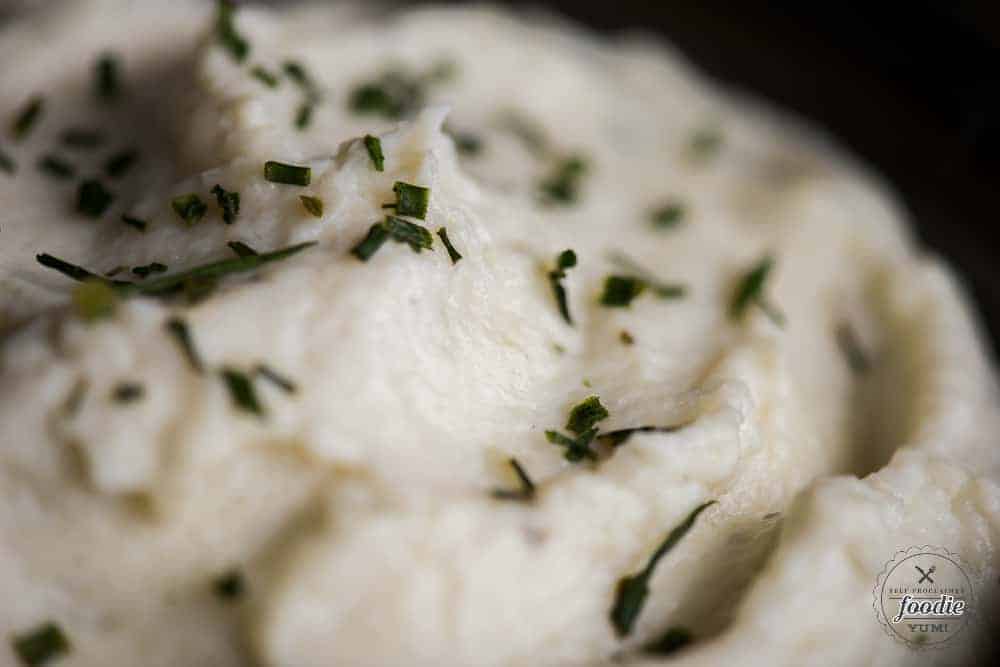 Tips to making the perfect mashed cauliflower recipe:
You want to steam, not boil, your cauliflower. To achieve thick and creamy cauliflower mash, you can't introduce any additional water. Either use a steam basket or add just the slightest amount of water to the bottom of the pan and cook on high heat while covered in order to properly steam your cauliflower. You can to cook it until it is very tender but  not mushy. Be sure to drain off all the water as well!
To achieve super smooth cauliflower mashed potatoes, you need to use a food processor. An immersion blender might work too, but a food processor does the trick with ease.
To avoid cooling down to your cauliflower mash during the processing, allow the Boursin cheese to come to room temperature before you process it with the steamed cauliflower. It will melt beautifully and hold everything together.
Although this is called two-ingredient cauliflower mash, you can always add additional salt, pepper, and/or diced chives. This mashed cauliflower is seasoned pretty well on its own, but you might want to add a bit more for kicks.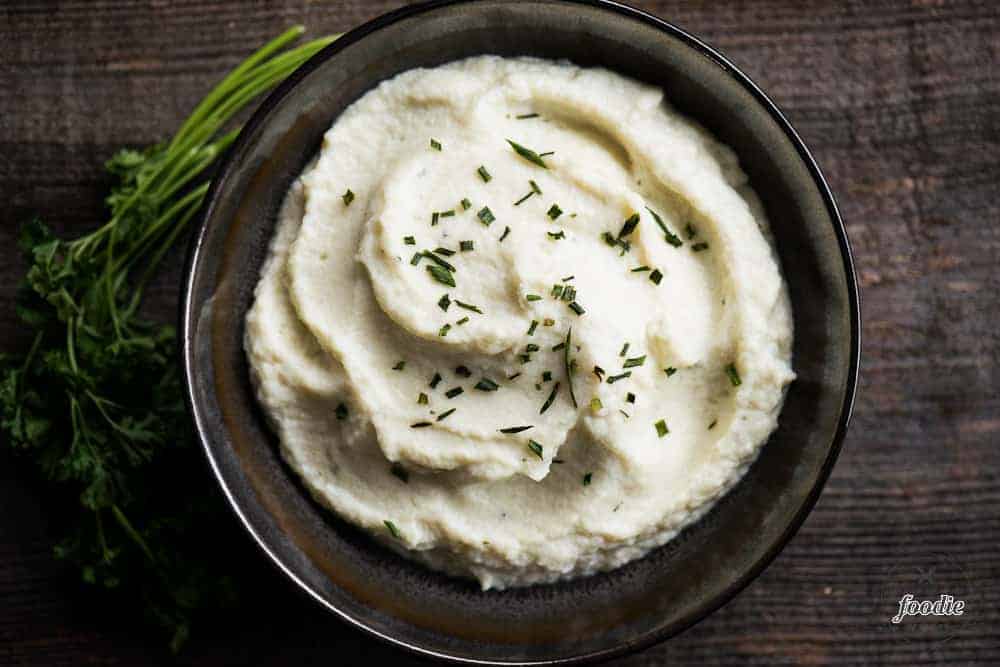 Kitchen tools used:
3 quart sauce pan: I bought an entire All-clad set recently and this is my favorite sized pan. I use it for everything from steaming veggies to cooking pasta and soups.

Food Processor​

- I have a big one. Sure it's heavy and can sometimes be a pain to clean

 

depending on the recipe, but it does the job and it does it well.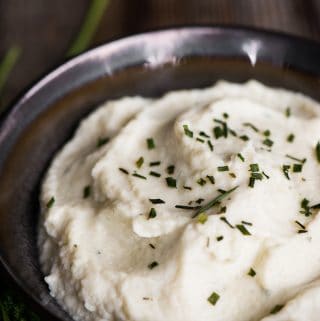 Two Ingredient Cauliflower Mash
Two Ingredient Cauliflower Mash is a quick, easy, healthy, low carb side dish that is so rich and delicious that you might actually mistake the flavorful cauliflower for creamy mashed potatoes!
Print
Pin
Rate
Hover to scale:
6
servings
Ingredients
1.5

pounds

cauliflower florets

(fresh or frozen)

5.2

ounce

Boursin cheese
Instructions
Steam cauliflower until tender. Drain off all water.

Blend steamed cauliflower and Boursin cheese until smooth in food processor. Serve hot and enjoy!
Notes
You can use cauliflower florets or cauliflower rice - both readily available in the freezer section at the store. 
NUTRITION INFORMATION
Calories:
130
kcal
|
Carbohydrates:
6
g
|
Protein:
3
g
|
Fat:
10
g
|
Saturated Fat:
6
g
|
Cholesterol:
25
mg
|
Sodium:
186
mg
|
Potassium:
339
mg
|
Fiber:
2
g
|
Sugar:
3
g
|
Vitamin A:
255
IU
|
Vitamin C:
54.7
mg
|
Calcium:
42
mg
|
Iron:
0.5
mg