Take your love of Girl Scout Cookies to the next level by transforming them into Thin Mint Cookies & Cream Brownies, also known as the ultimate dessert.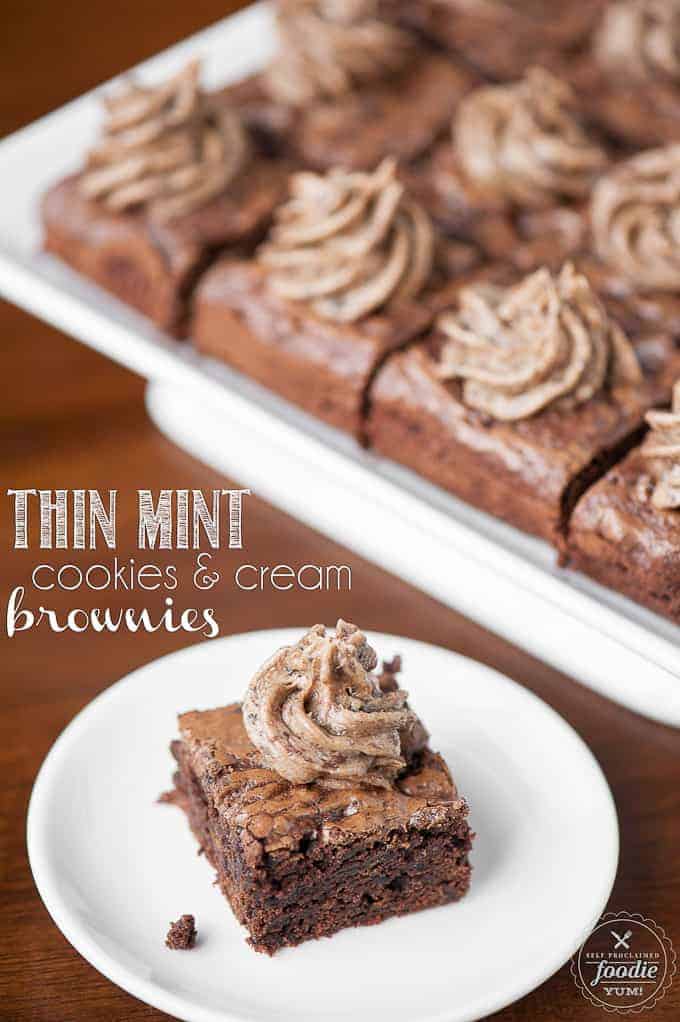 Who on Earth doesn't love Girl Scout Cookies? You have to admit, we all look forward to that brief time of year when we walk into a store and see those cute little sales girls earning their badge in sales and marketing, trying to sell semi-expensive but oh-so-delicious girl scout cookies to complete strangers. Fortunately, I have friends with a daughter in girl scouts and I'm proud to feed my cookie addiction support their fundraising efforts each Spring.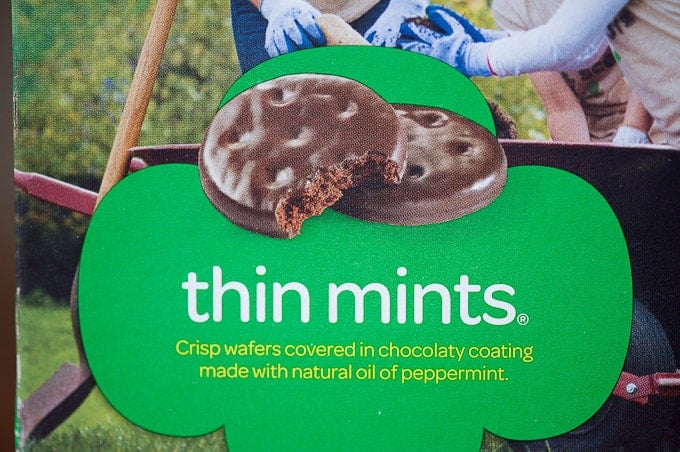 I love Girl Scout cookies, but my two favorite flavors are Thin Mint and Samoas. I can easily consume an entire box of these bad boys. Step one: admit I am powerless over the mighty Thin Mint. But why gorge on the box of cookies when I can transform them into something even more magical?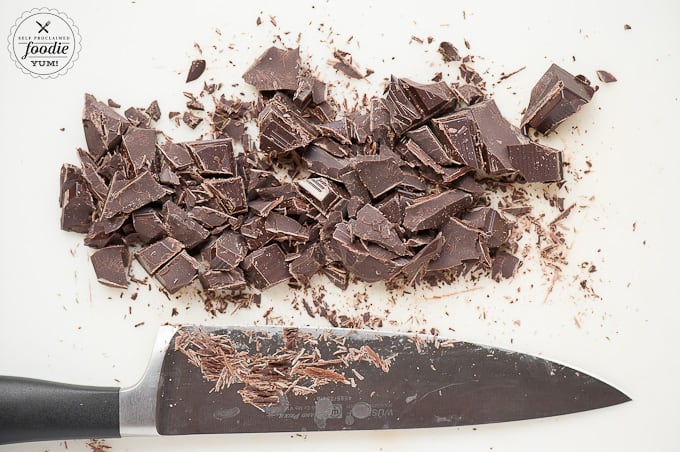 I basically started with my recipe for triple treat peppermint brownies. I crushed up the entire box of cookies. Well, the entire box minus the couple I just had to eat. Then I incorporated them into the brownie mix as well as the frosting. This particular brownie is dense and cake like because its made with real dark chocolate in addition to using cocoa powder. When I put frosting on my brownies, I like them to be firm. The chewy brownies like my brown butter brownies are best without frosting and are highly recommended to be eaten hot out of the oven with a tall glass of milk.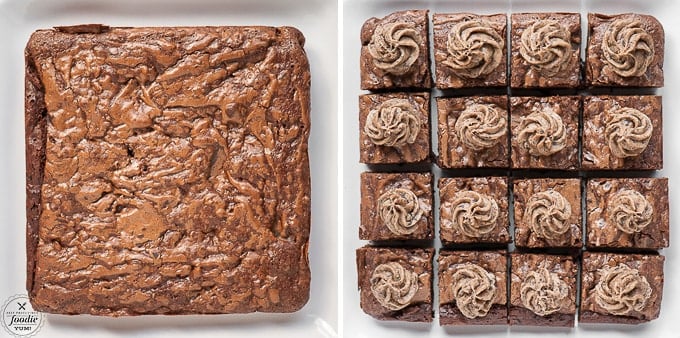 Aren't they pretty? Even my husband commented that he liked the variance in color and texture, and he's not want to talk about food that way. He's more of a "I'm hungry. Feed me. I'm full." kind of a food talker.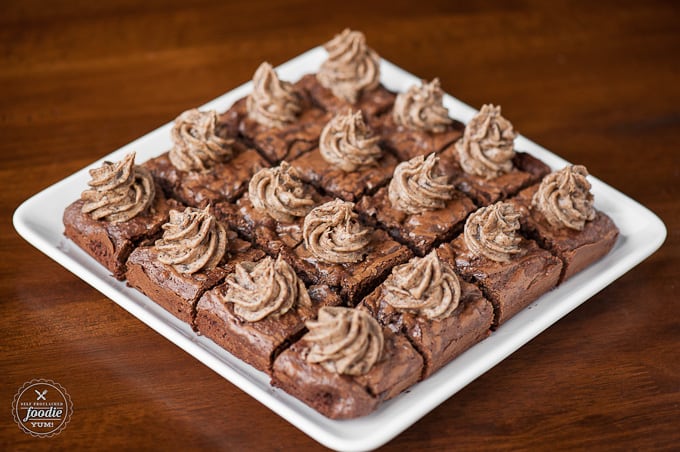 Of course, you can spread the frosting on, but why would you when its so darn pretty in a little swirl. Oh shoot, just as I was typing this, I realized that I through away my piping tip with the bag. Crap! Its okay… it was one of the plastic ones. I need to bite the bullet and just invest in a nice piping set. The disposable plastic bags are a pain in the butt to work with anyway.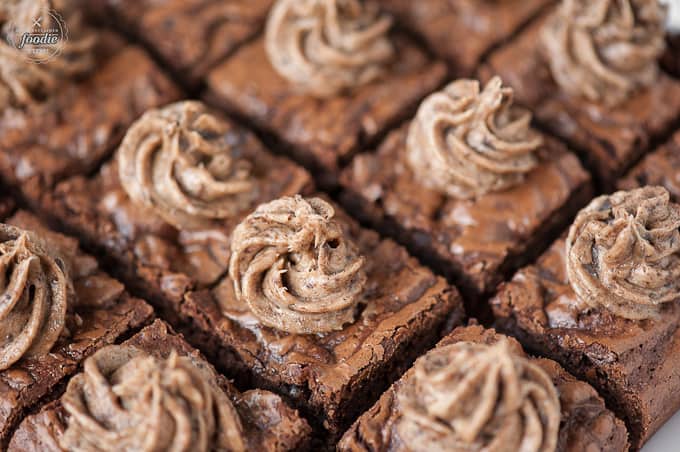 Back to the brownie talk. This brownie is awesome because both the brownie and the frosting have that fantastic Thin Mint flavor, and the crushed cookie pieces just add to the interesting texture.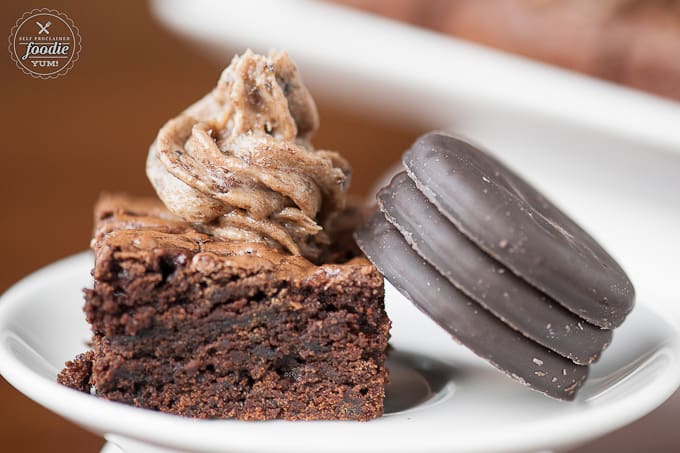 The mixture of the slightly sweetened cream cheese frosting with the cookie crumbs ends up being this pretty light brown color with specks of dark brown. Definitely pleasing to both the eye and the taste buds.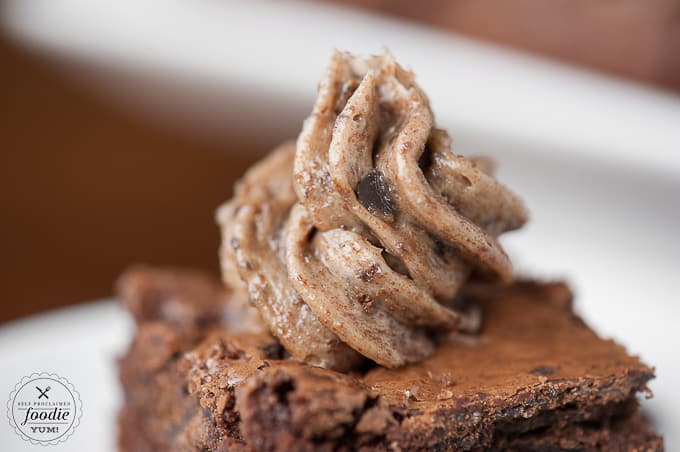 And for my final photo, a little play on depth of field. I shoot all my food photos with my 105mm macro lens. To get any top down shot, I have to stand on my table. I shot the photos below with an aperture of f/5.6. One would think that would be small enough to get the entire brownie in focus, but because it filled the frame of my camera, I ended up with quite a narrow depth of field. Its quite mesmerizing going back and forth between staring at the in focus frosting peak and then the in focus brownie surface, right? Or do you just want a brownie now?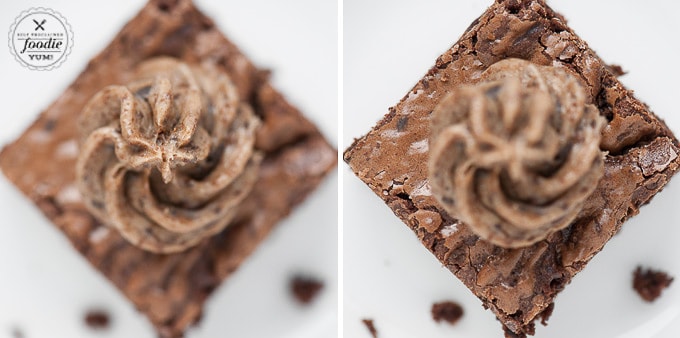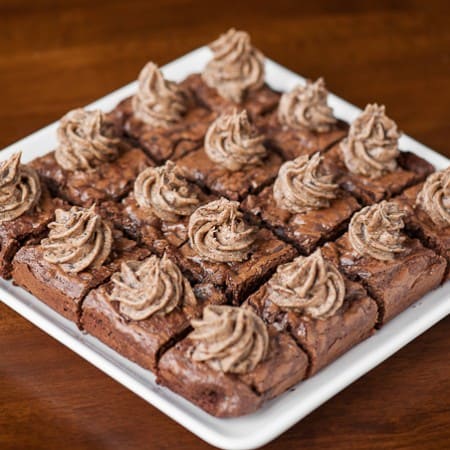 Thin Mint Cookies & Cream Brownies
Take your love of Girl Scout Cookies to the next level by transforming them into Thin Mint Cookies & Cream Brownies, also known as the ultimate dessert.
Print
Pin
Rate
Ingredients
Brownie:
4

ounces

dark chocolate

3

tablespoons

butter

1/2

teaspoon

baking powder

¼

teaspoon

kosher salt

½

cup

all purpose flour

2

tablespoons

cocoa powder

2

large eggs

¾

cup

sugar

1

teaspoon

vanilla

1

teaspoon

peppermint extract

2/3

box Thin Mint Girl Scout cookies

roughly crushed
Frosting:
1

tablespoon

unsalted butter

softened

3

tablespoons

cream cheese

softened

1

cup

powdered sugar

1

teaspoon

peppermint extract

2/3

box Thin Mint Girl Scout cookies

finely crushed
Instructions
Preheat oven to 350 degrees F. Line 8x8 inch baking pan with parchment paper.
To make the brownies:
Chop chocolate into small chunks to enable even melting. Melt dark chocolate and butter on stove over very low heat or on 50% power in microwave. Heat, stir, check and stop heating just when chocolate is melted. Set aside.

In separate bowl, sift together baking powder, salt, flour, and cocoa powder.

In a large bowl, beat two eggs by hand until light and fluffy. Gradually add in ¾ cup sugar and continue beating until mixture thickens. Add the dry ingredients and blend with a rubber spatula until fully incorporated. Fold in the melted chocolate butter mixture until well combined. Stir in vanilla and peppermint extract. Fold in the cookie crumbs.

Spread brownie mixture into bottom of prepared baking dish. It will be very thick.

Cook in preheated oven 25-30 minutes or until knife or toothpick comes out clean. Allow brownies to remain in baking dish 10 minutes before removing.
To make the frosting:
Cream butter and cream cheese on high speed in the bowl of a stand mixer using the paddle attachment until light and fluffy, about 2-4 minutes. Gradually add the powdered sugar and continue to mix until fully incorporated, starting off slow and then cranking up the speed to fast. Stir in the peppermint extract. Finally, stir in the remaining cookie crumbs.

Once the brownies have fully cooled, cut them into whatever size pieces your heart desires. Either spread frosting on top or if you want to get really fancy, pipe it on. Then, hide these brownies from your family so you can hoard them all for yourself.