Pumpkin Cupcakes with a Citrus Cream Cheese Frosting are the best fall inspired homemade dessert you can make! They are super soft and full of flavor.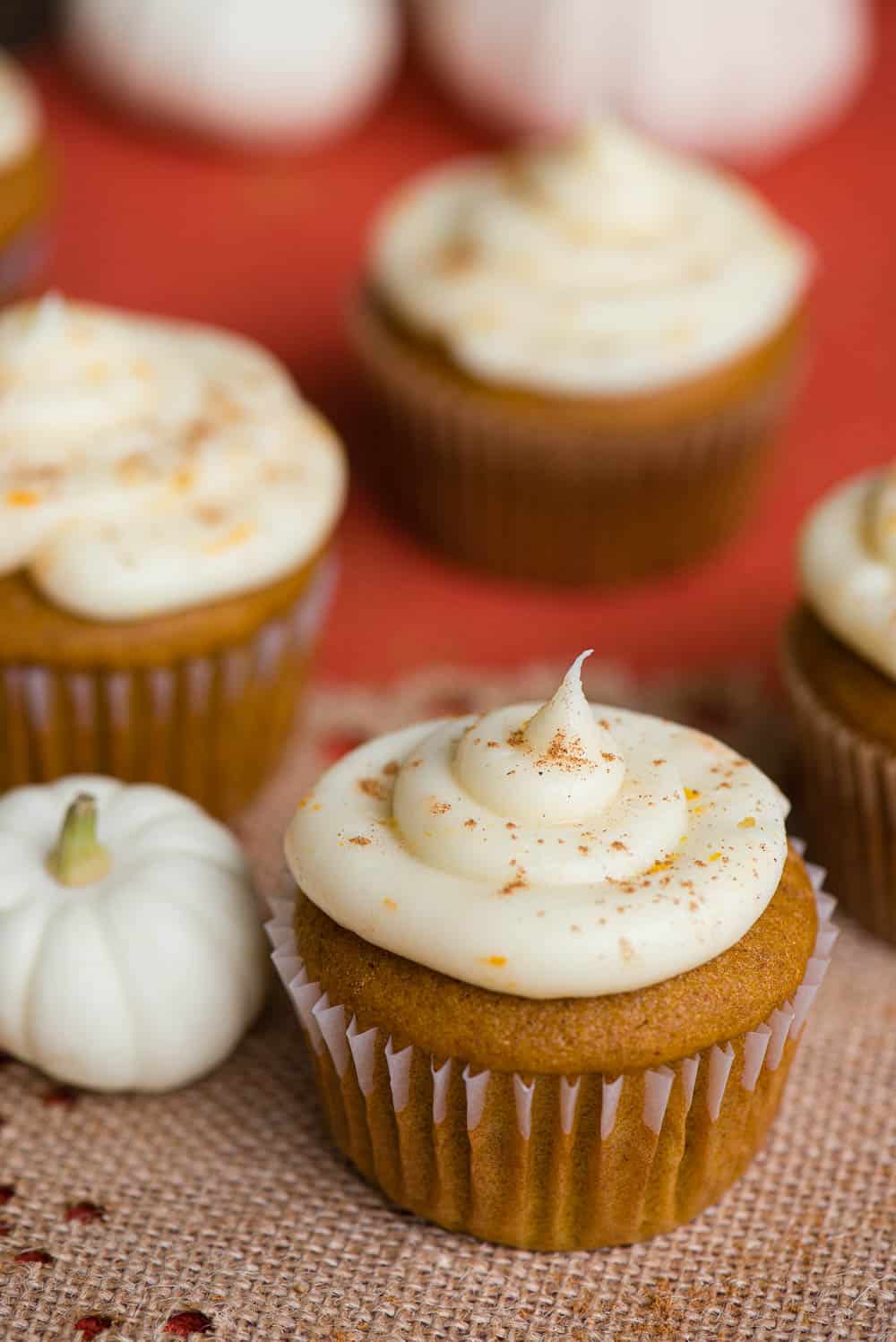 One of the main reasons I enjoy cooking with pumpkin is because it makes recipes like cakes and quick breads incredibly moist and delicious.
Whether you use canned pumpkin puree or you know how to roast a pumpkin so you can make your own puree, these are simply phenomenal.
You will find that these cupcakes are soft, moist, flavorful, and have just the right amount of pumpkin spice flavor. The addition of orange zest in the homemade cream cheese frosting makes all the difference too!
How to make this recipe:
I use my stand mixer any time I make a cake from scratch, but you can just as easily us a hand mixer.
I used my standard process of making a cake that involves mixing all the dry and wet ingredients separately, then whipping half the wet ingredients in to make the batter light and fluffy before adding the remaining wet ingredients.
I then scoop the batter into a paper lined muffin tin. I find that using a cookie scoop makes the process clean and easy (photo 1). You'll want to try and fill the liners as evenly full as possible (photo 2).
Bake the pumpkin cupcakes in your preheated oven for about 20 minutes (photo 3). Make sure you allow them to cool fully on a rack.
Make up your favorite frosting and make those cupcakes beautiful! (photo 4)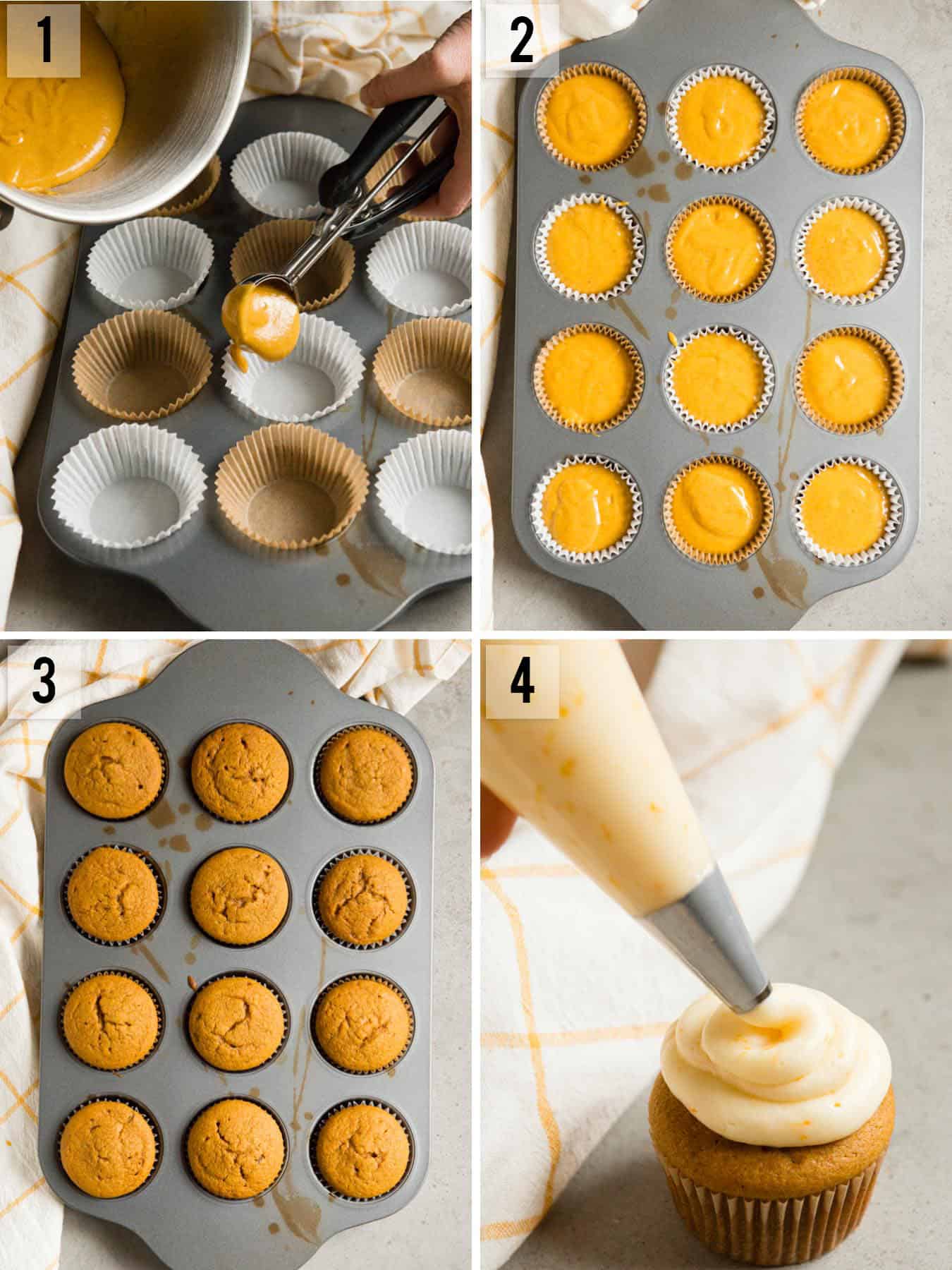 How to make the frosting:
It's undeniable that pumpkin cupcakes and cream cheese frosting are a marriage made in heaven.
You can also top them with Mascarpone Frosting, Maple Frosting, Brown Butter Frosting or Buttercream Frosting if you're looking for something a little different.
The secret to a perfect cream cheese frosting is to ensure both your butter and cream cheese have been softened. You can set them out to get to room temperature if your house is nice and warm or you can gently heat on a low power in the microwave.
Use a stand or hand mixer to fully whip the cream cheese and butter together. You'll probably need to scrape the bowl several times.
Mix in the vanilla and orange zest.
Finally, you will mix in the powdered sugar. Start with the mixer speed on slow to get it incorporated, then increase the speed to fully mix. Continue to add sugar until you get your desired sweetness.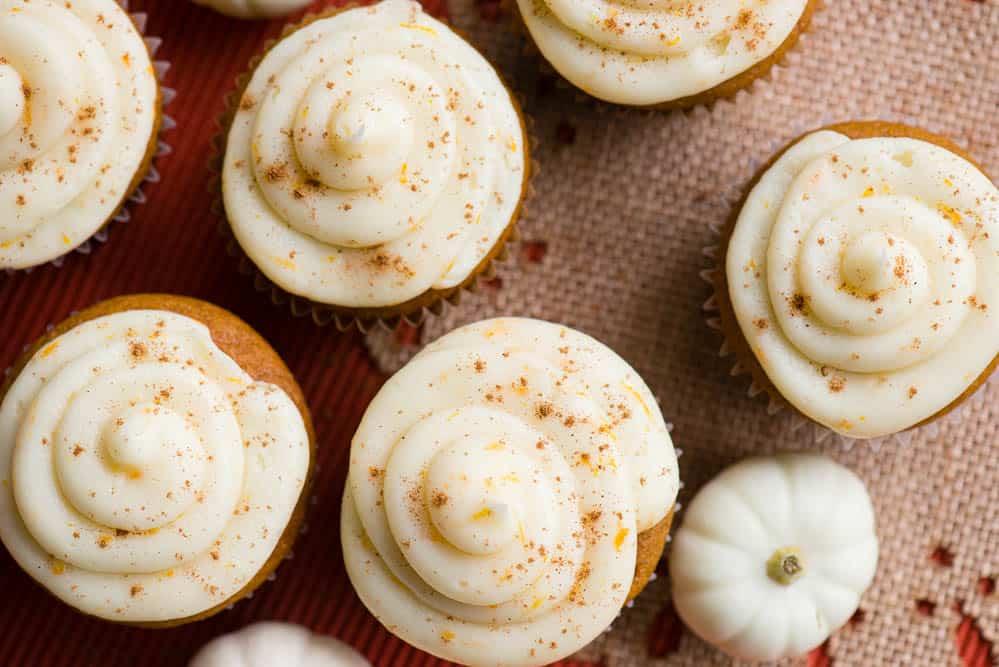 Make ahead directions:
One of the best things about these pumpkin spice cupcakes with cream cheese frosting is that they can be made ahead.
They actually taste great for several days if kept refrigerated in an air tight container.
For longer term make ahead instructions, you can freeze the cupcakes and frosting separately or you can frost the cupcakes and freeze them as well. This can be done a few months in advance.
If you freeze the cupcakes, just be sure to let them come to room temperature when you're ready to eat and they'll be just as good as the day you made them.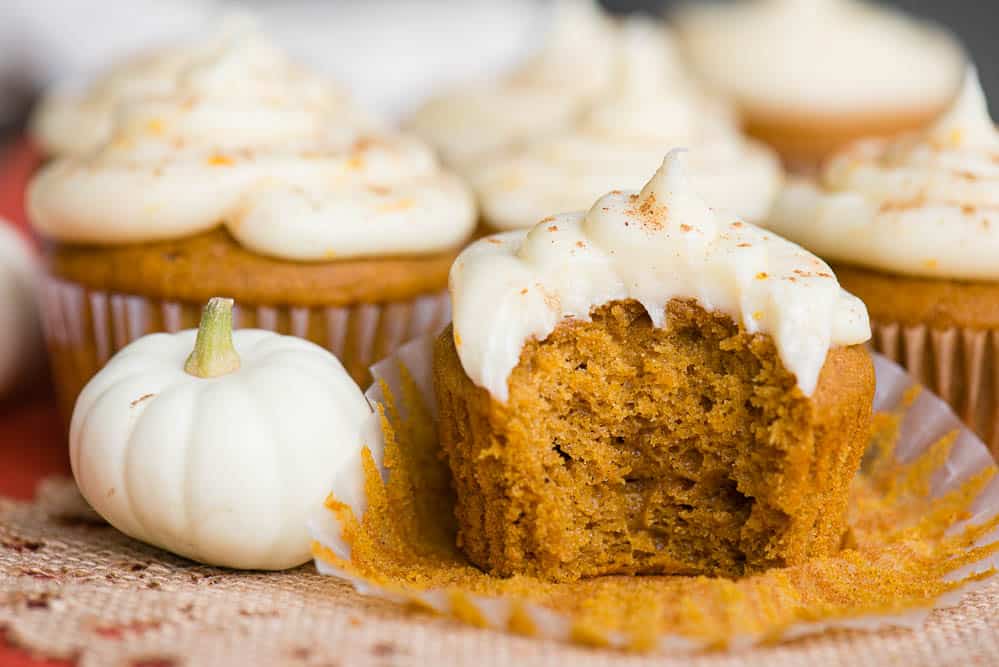 If these cupcakes look good to you, I highly recommend you also try making my Layered Pumpkin Cake or my Pumpkin Roll.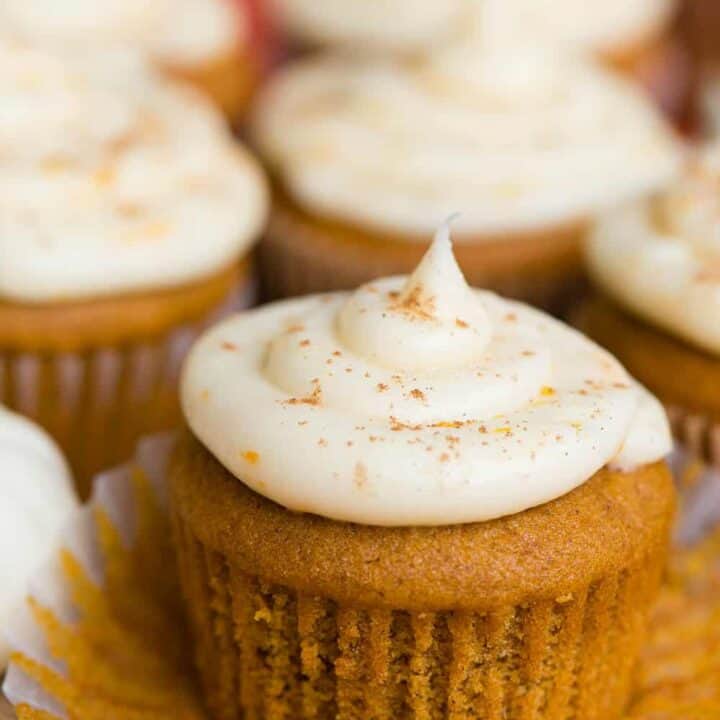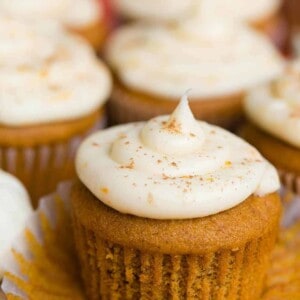 Pumpkin Cupcakes with a Citrus Cream Cheese Frosting are the best fall inspired homemade dessert you can make! They are super soft and full of flavor.
Instructions
To make the cupcakes:
Preheat the oven to 350°F. Line a 12-cup muffin pan with cupcake liners.

In a stand mixer with the paddle attachment, combine the flour, brown sugar, baking powder, baking soda, salt, cinnamon, and pumpkin pie spice together. In a separate bowl, whisk the oil, eggs, pumpkin, and vanilla extract together until combined. Pour about half of the wet ingredients into the dry ingredients and mix. Start on a low speed to combine and then bump it up to high speed and mix until light and fluffy, 3-5 minutes. Scrape the bowl, add the remaining wet ingredients, and mix just until combined, scraping as necessary.

Spoon the batter into the liners to about 2/3 full until all twelve are equally filled. Bake in preheated oven for 20-22 minutes, or until a toothpick inserted in the center comes out clean. Remove cupcakes from muffin pan and allow the cupcakes to cool on a wire rack completely before frosting.
To make the frosting:
Blend butter and cream cheese together on high speed in a stand mixer with the paddle attachment until light and fluffy, about 5 minutes. Scrape sides, add vanilla and orange zest, and continue mixing for about another minute or so, scraping the sides as needed.

Add sugar incrementally, blending slowly to combine and then on high speed to really mix. Scrape well and mix once more to fully combine.
To frost the cupcakes:
Ensure cupcakes are completely cool, then frost however you'd like. I used a disposable piping bag with a large round tip.
Notes
Make Ahead Instructions: Cupcakes can be made ahead 1 day in advance, covered, and stored at room temperature. Frosting can also be made 1 day in advance, covered, and stored in the refrigerator until ready to use. If refrigerated, frosting will need to come to room temperature before adding to cupcakes.
Storage: Leftover cupcakes keep well covered tightly in the refrigerator for 3 days. Frosted or unfrosted cupcakes can be frozen up to 2-3 months. Thaw overnight in the refrigerator.
Substitutions: Instead of prepared pumpkin pie spice, you can use 1 teaspoon of cinnamon plus 1/2 teaspoon each: ground allspice and ground ginger AND 1/4 teaspoon each: ground nutmeg and ground cloves.
Oil: You can replace with unsweetened applesauce.
Pumpkin: I used canned pumpkin but you may roast fresh. Just be sure to prepare at least a day ahead of time so that it has time to release excess liquid which you can squeeze out.
Recipe makes 12 cupcakes. Nutritional info based on one cupcake.
Nutrition
Calories:
334
kcal
,
Carbohydrates:
44
g
,
Protein:
3
g
,
Fat:
17
g
,
Saturated Fat:
12
g
,
Cholesterol:
48
mg
,
Sodium:
223
mg
,
Potassium:
132
mg
,
Fiber:
1
g
,
Sugar:
34
g
,
Vitamin A:
3461
IU
,
Vitamin C:
1
mg
,
Calcium:
51
mg
,
Iron:
1
mg
Nutrition information is automatically calculated, so should only be used as an approximation.