Rich and flavorful Lobster Bisque is an easy recipe to make at home. Succulent tender pieces of meat cooked in a lobster stock are served in a delicious puréed cream base soup.
If you love lobster and other seafood recipes, you may want to also check out my broiled lobster tails, surf & turf, as well as my lobster mac and cheese!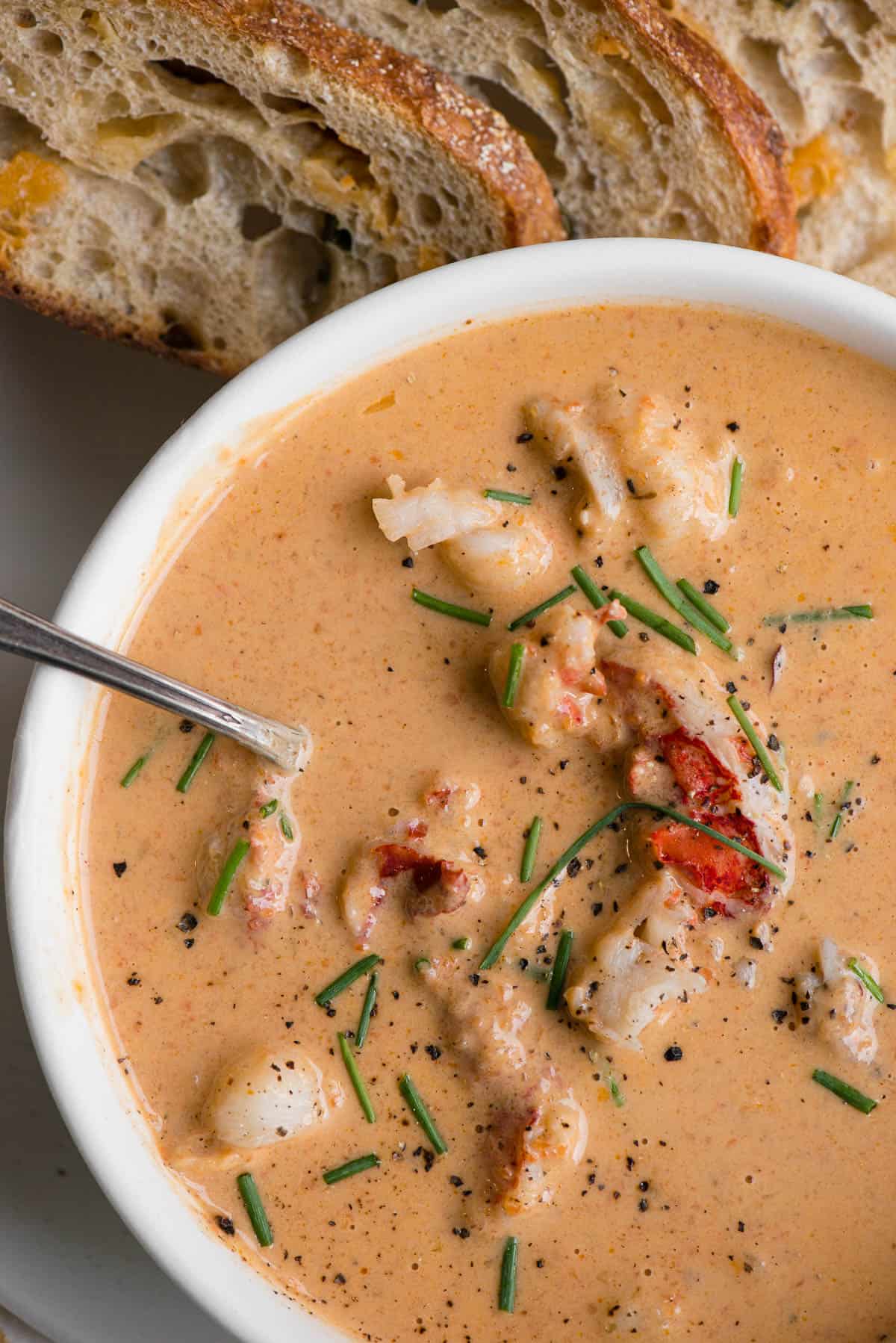 Why This Recipe Works
If you want to feel like you're eating in a fancy restaurant while enjoying all the perks of a homemade meal, this Lobster Bisque will blow your mind.
Flavorful lobster stock: The broth in this delicious soup is a combination of seafood stock with a rich broth made from the lobster shells and herbs.
Fantastic texture: The combination of small tender pieces of lobster with the pureed bisque that is finished with cream creates the most wonderful combination.
Easy to make: You will be shocked at how quick and easy this fancy soup is to make! It's the kind of recipe that will impress and delight all who enjoy it.
Join today and start saving your favorite recipes
Create an account to easily save your favorite recipes and access FREE meal plans.
Ingredients Used to Make This Recipe
Lobster: I used wild caught lobster tails, but you can also use langostino or shrimp to make this bisque with some additional steps in order to create the stock.
Seafood stock: I use one can in addition to water, Herbes de Provence, and salt (not pictured) to make the flavorful lobster stock.
Mirepoix: Equal parts of carrot, onion, and celery are cooked in butter. Garlic and tomato paste are then added, thickened with some flour, and deglazed with white wine.
Heavy cream: This is what really turns the blended lobster bisque into a rich and creamy meal.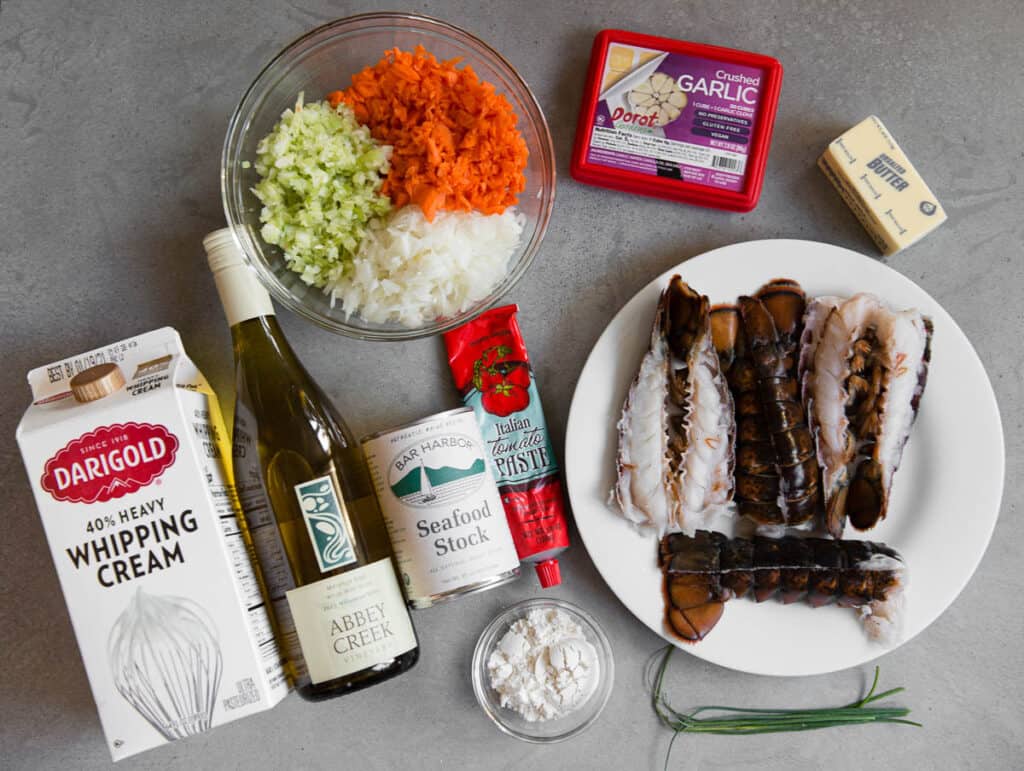 How to Make Lobster Bisque
This recipe has two main components: the lobster stock and the bisque.
Make the Lobster Stock
Step 1: Remove the meat
The first step is to remove the lobster meat from the shells. The shells are then added to a pot with the seafood stock, water, herbs and salt.
Step 2: Simmer the stock
The stock is cooked over low heat, uncovered, for about 15 minutes.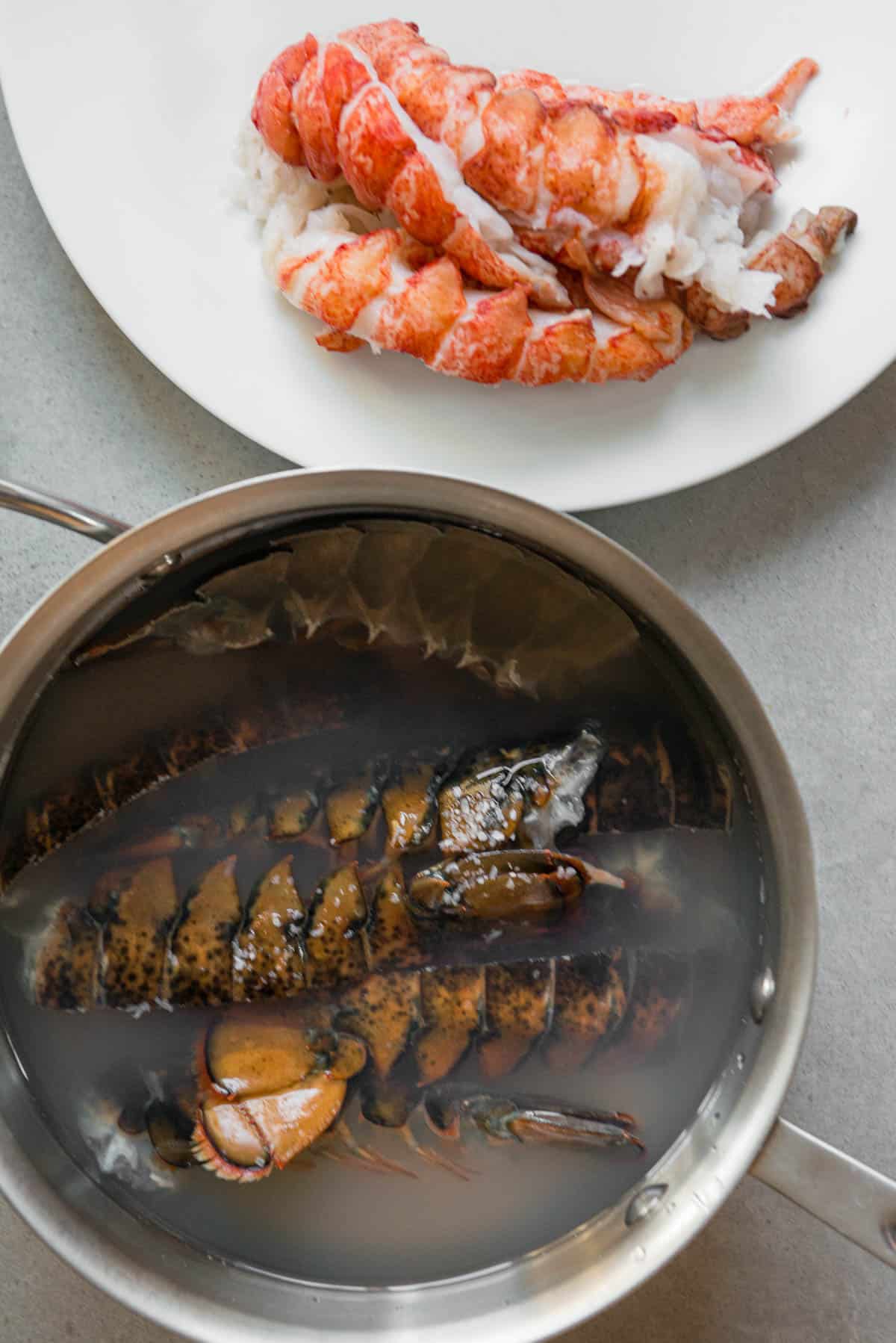 Step 3: Cook the lobster meat
Once the flavors of the stock develop, the lobster meat is added and cooked just until it starts to firm and is no longer opaque.
Step 4: Chop the lobster meat
The lobster is removed from the stock and chopped into bite sized pieces. It will be added to the soup just before serving.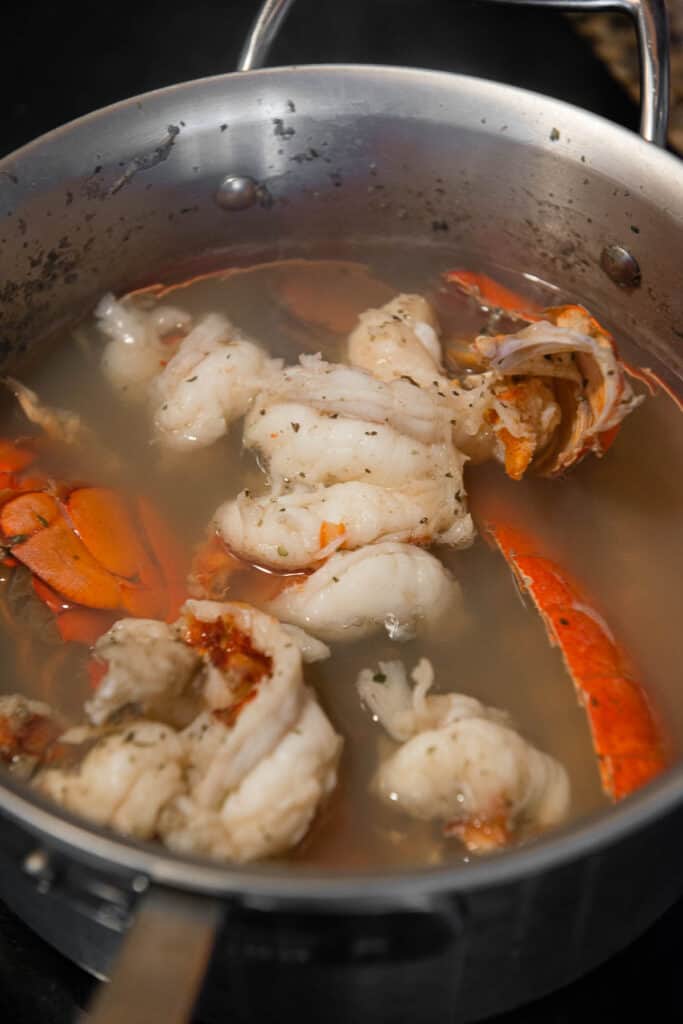 Make the Lobster Bisque
The bisque can be made while the stock is cooking, thus decreasing the overall time it takes to make this recipe.
Step 1: Mirepoix
The mirepoix is cooked in butter until the vegetables are tender and slightly browned. The garlic is then added followed by the tomato paste.
Step 2: Add flour
All-purpose flour is added to this mixture and allowed to cook for a bit. This is what will help thicken the lobster bisque.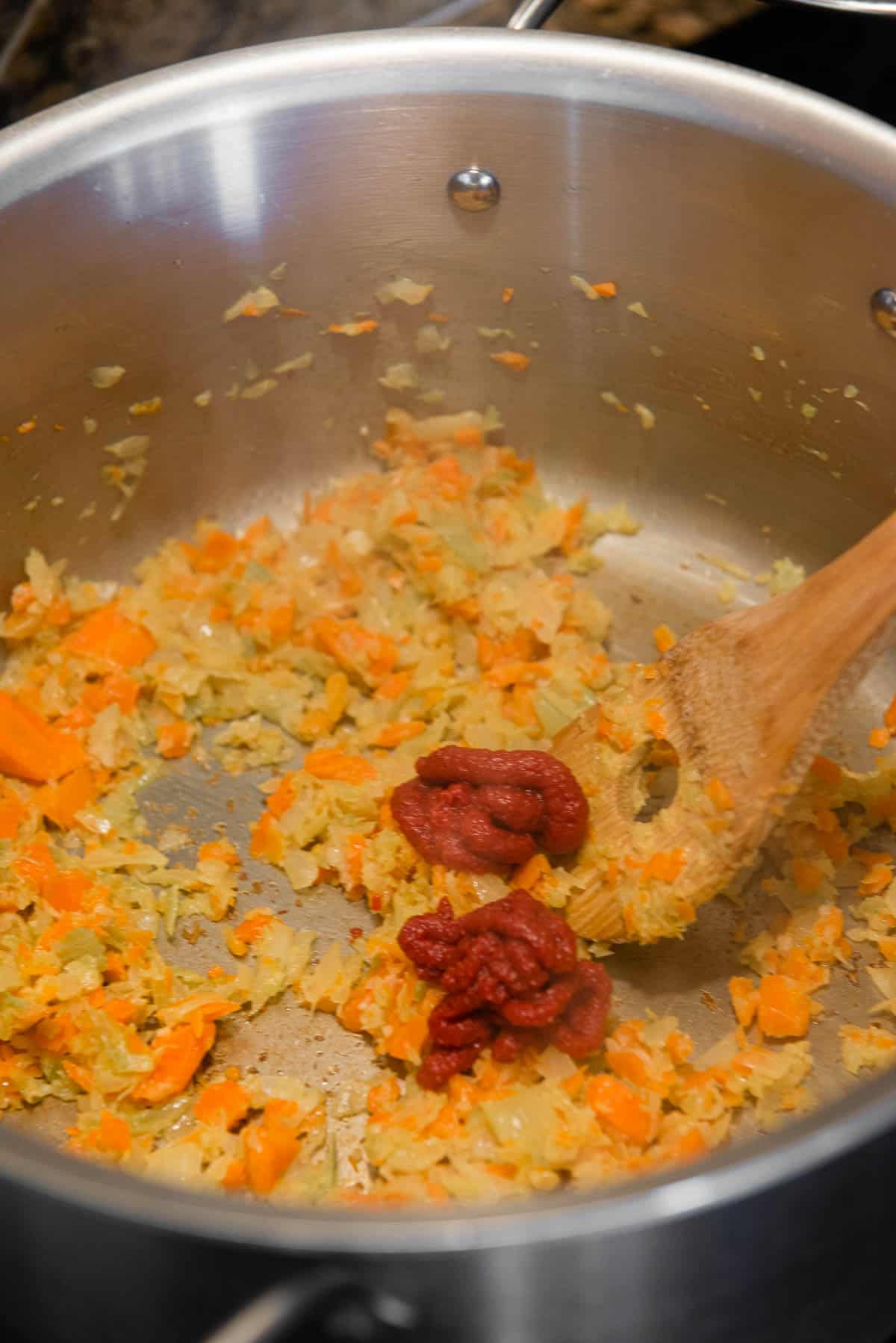 Step 3: Deglaze
Once the flour is mixed in, the ingredients will really begin to stick to the bottom of the pan. The white wine is added for flavor but also to deglaze the pan. It will immediately thicken.
Step 4: Add lobster stock
Using a fine mesh strainer, add all of the lobster stock to the bisque while straining the shells.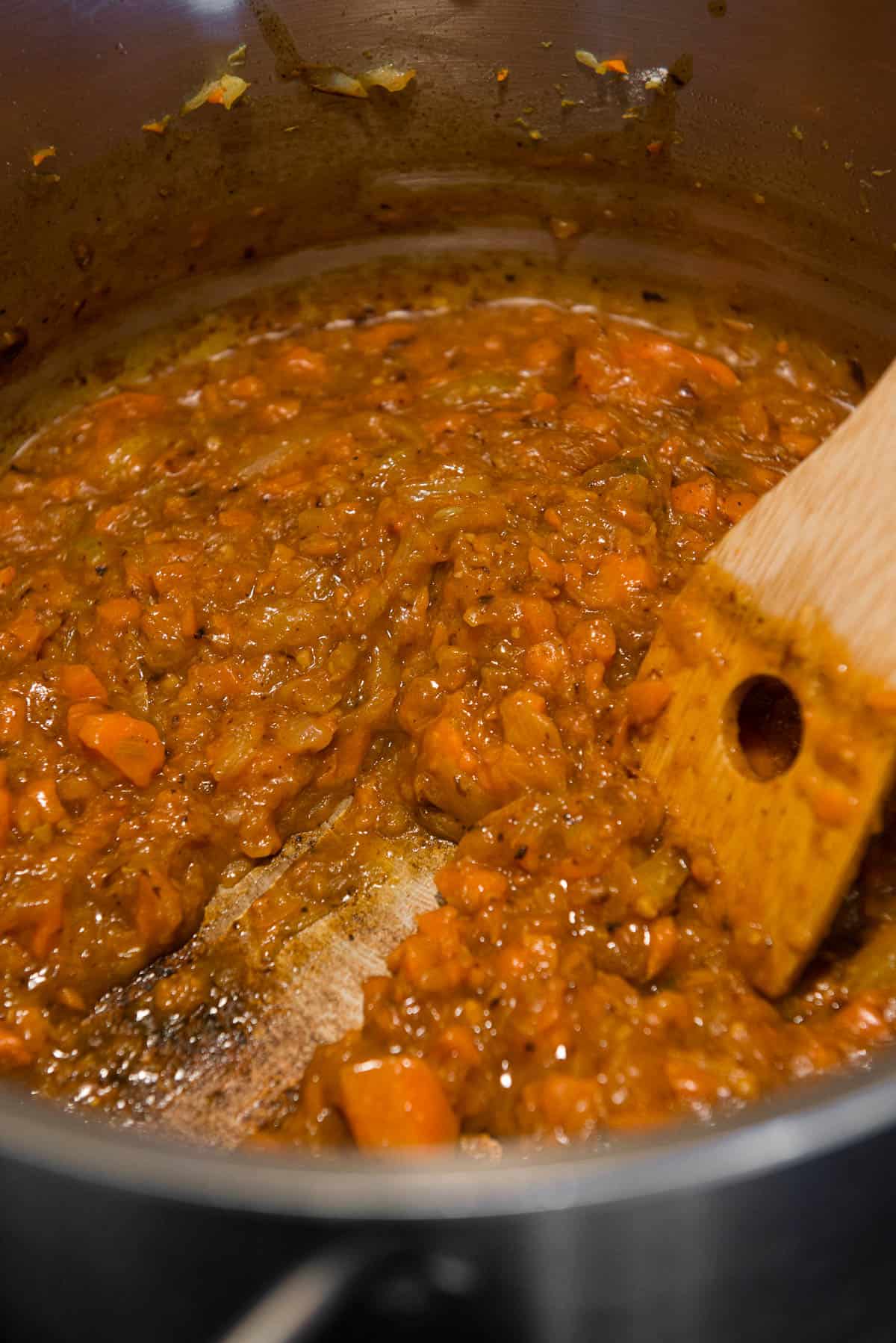 Step 5: Puree
Using a counter top blender or an immersion blender, puree the soup.
Step 6: Add cream
At the very end, stir in the heavy cream along with the cooked lobster meat and cook just until heated through.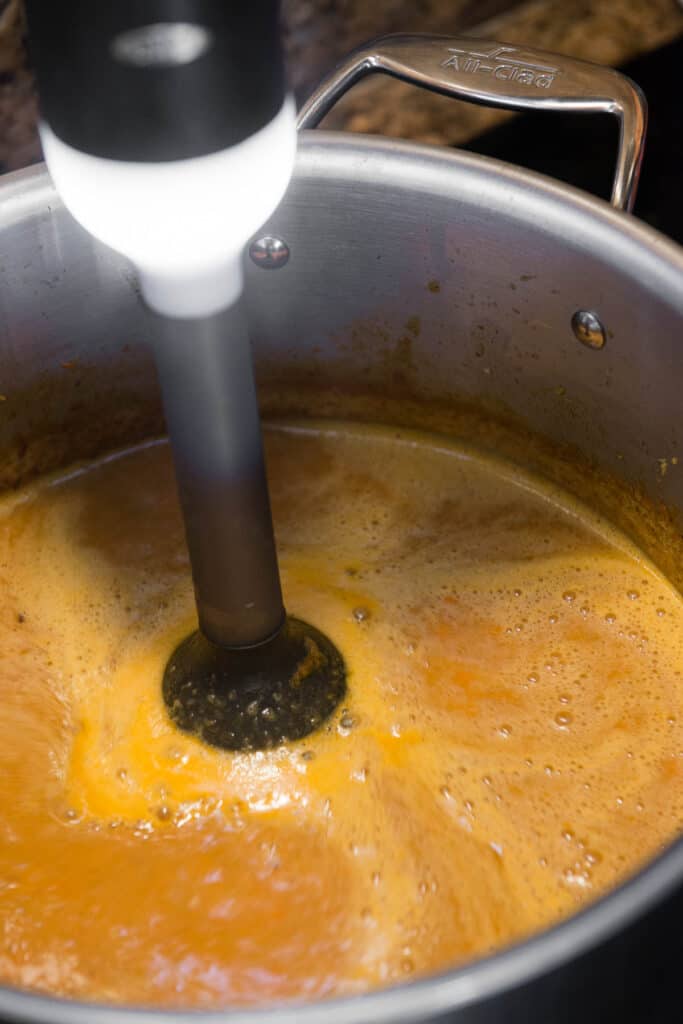 Recipe Tips
I highly recommend using real lobster for this recipe in order to get a true lobster bisque, however there are some seafood variations available. You can use langostino, shrimp, Dungeness crab legs, or a seafood mixture.
Pro tip: you can sometimes find lobster on sale the week after Valentine's Day.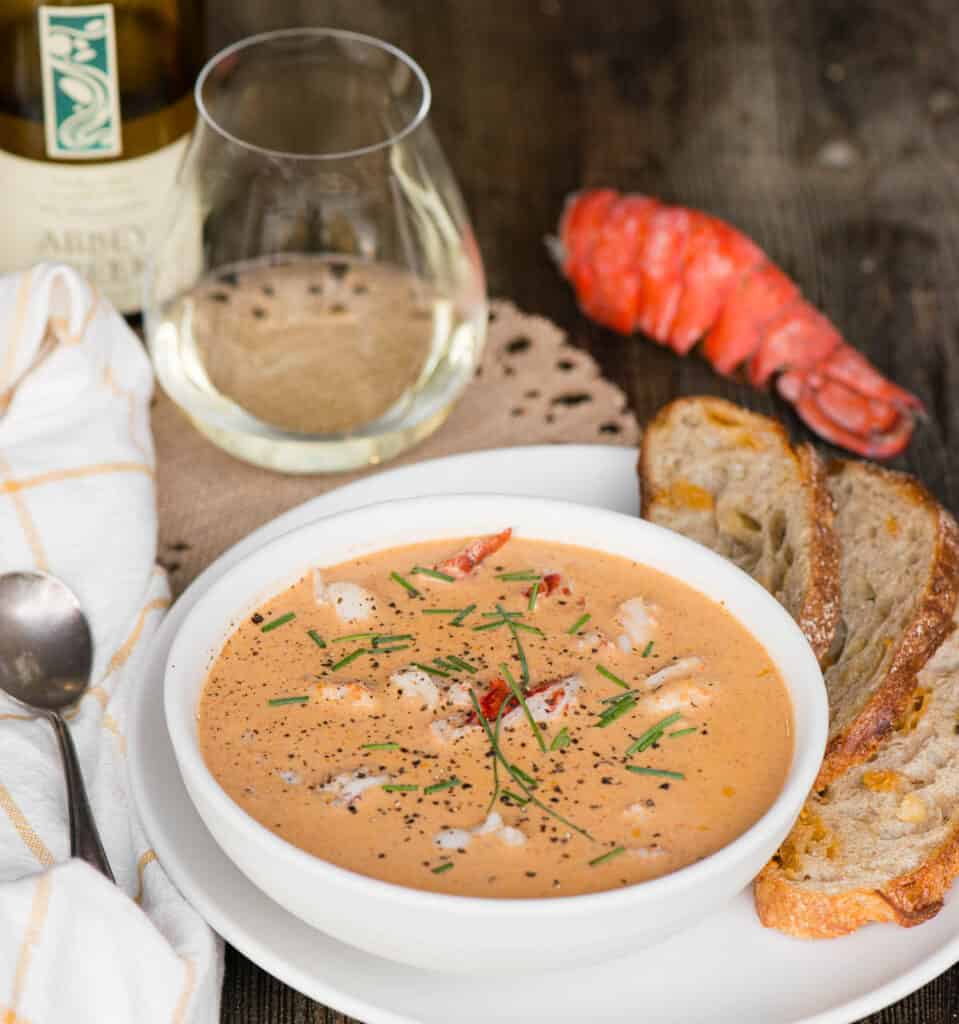 Fancy Dinner Recipes
Homemade lobster bisque is amazing as a main entrée, but it is a fantastic first or second course if you are making an elegant dinner. If you're planning on making this bisque as a starter, I highly recommend serving it before these favorites.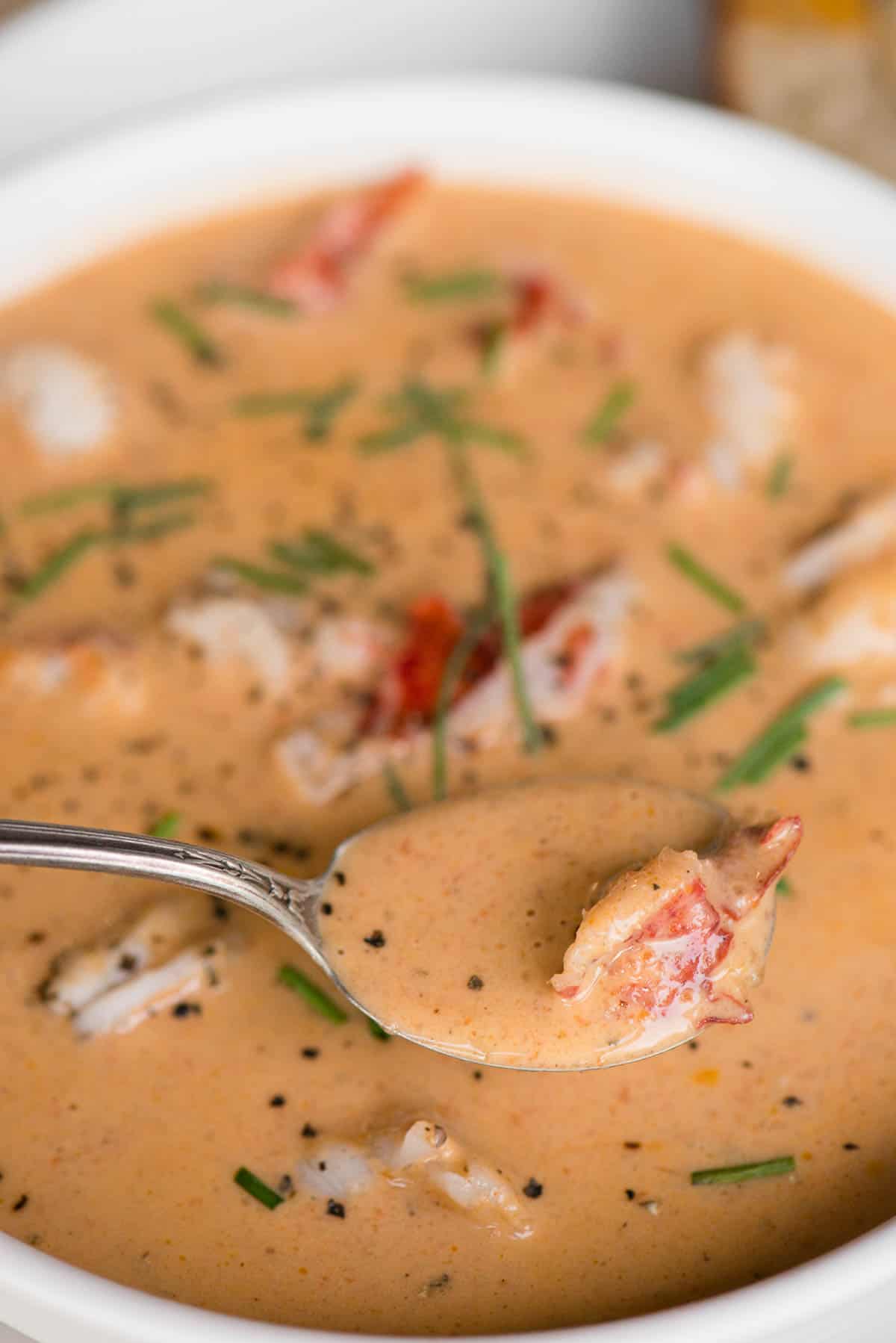 FAQs
Can I make the bisque ahead of time?
Yes, you can make the bisque ahead and reheat it gently before serving. The flavors often deepen with time.
Can I freeze leftover lobster bisque?
Due to the tender delicate nature of the lobster meat as well as the cream in this soup, I feel like it is best enjoyed immediately or within a few days, if refrigerated. However, you can freeze leftover bisque in airtight containers for up to 2-3 months. Thaw and reheat gently before serving.
What is the best way to reheat lobster bisque?
Due to the cream and succulent chunks of lobster, you will want to reheat the bisque slowly over very low heat. A saucepan on the stove is recommended but the microwave will work if it is done at a reduced power in one minute increments.
Can I double the recipe?
This is a small batch recipe makes about four servings. You can easily double the recipes by clicking the 2x button in the recipe card and it will scale all of the ingredients.
How long does it take to cook the bisque?
The bisque typically takes about an hour to prepare, excluding the time needed to make the lobster stock.
Can I omit the wine in the recipe?
Yes, you can omit the wine, but it contributes to the complexity of flavors. Use additional seafood stock or vegetable broth as a substitute.
Is the bisque gluten-free?
No, the bisque contains flour as a thickening agent. However, you can explore gluten-free alternatives if needed.
Why use tomato paste in lobster bisque?
Tomato paste adds richness and a subtle tang to the bisque, enhancing its overall flavor profile.
Pin this now to save it for later
Pin It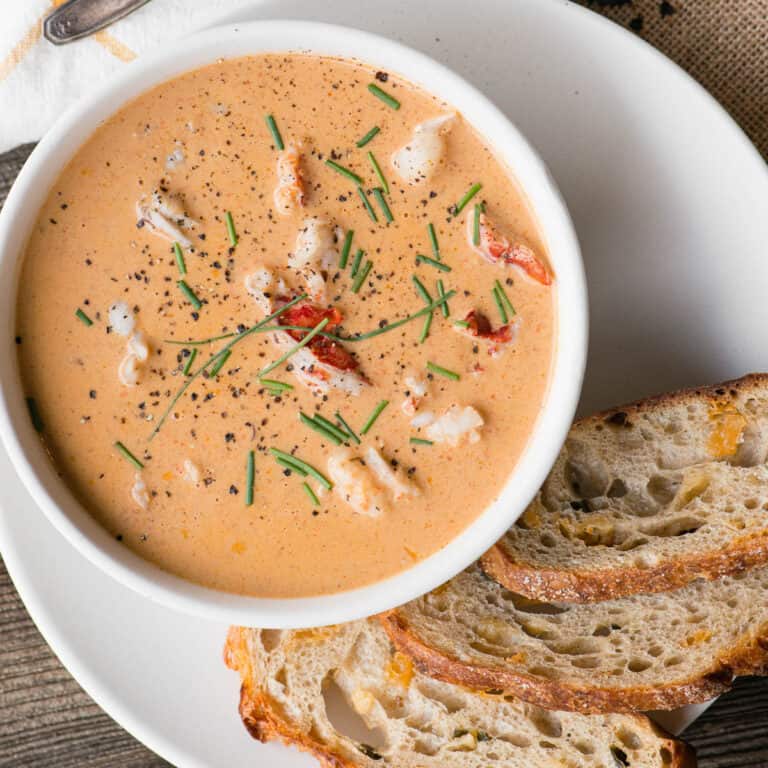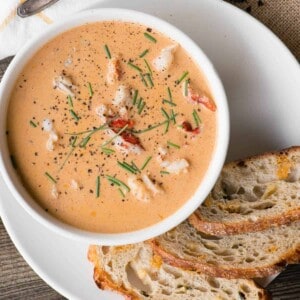 Rich and flavorful Lobster Bisque is an easy recipe to make at home. Succulent tender pieces of meat served in a puréed cream base soup.
Ingredients
LOBSTER STOCK:
16

ounces

lobster tails

I used four 4-oz sized tails

15

ounces

seafood stock

okay to use water instead

4

cups

water

(I just filled the 15-oz can twice)

1

teaspoon

Herbes de Provence

(aromatic blend of dried herbs including rosemary, oregano, thyme, basil, savory, sage and lavender)

1

teaspoon

salt
BISQUE:
4

tablespoons

butter

1

cup

yellow onion

finely chopped (1 medium sized onion)

1

cup

carrots

peeled and finely chopped (3 medium sized)

1

cup

celery

finely chopped (4 medium sized stalks)

4

cloves

garlic

minced

2

tablespoons

tomato paste

3

tablespoons

all-purpose flour

1 1/2

cups

dry white wine

lobster stock

strain and use all of it

1

cup

heavy cream

salt and pepper

to taste
Instructions
LOBSTER STOCK:
Split lobster tails lengthwise with sharp kitchen shears. Remove meat and set aside. Add empty shells to stockpot or 4-qt sauce pan. Cover with seafood stock and water. Add Herbes de Provence and salt. Bring to a boil over high heat, then reduce heat as low as you can while still maintaining a simmer. Allow to simmer, uncovered, for about 15 minutes.

Add the lobster meat, cover with lid, and let simmer for 5 minutes. Remove when meat is bright red and white. If any part is still translucent, continue to simmer until cooked. Remove meat from pot and transfer to a cutting board. Cut into small pieces and refrigerate until ready to add to bisque.
BISQUE:
While the lobster stock is cooking, you can begin to make the bisque at the same time.

Heat butter over medium high heat in a large pot. Add the onions, carrots, and celery. Stir to coat in butter and cook until soft, about 5-10 minutes, stirring occasionally to prevent burning.

When vegetables are just about done and begin to stick to the bottom of the pan, add garlic, stir to combine, and allow to cook for 1-2 minutes.

Add tomato paste, stir well to coat vegetables, and cook for 1-2 minutes.

Reduce heat to medium. Sprinkle over flour over mixture, stir well to combine, and cook while stirring frequently to prevent burning for an additional 2 minutes. The mixture should really start sticking to the bottom of the pan and turning brown. Do not allow it to burn.

Add wine to deglaze pan. Stir well with a flat bottom wooden spoon, scraping the bottom of the pan. Allow in wine to simmer for several minutes. The liquid will reduce and the mixture will become thick.

Set a fine mesh sieve or strainer over your pot and pour the lobster stock through the strainer into your pot. Discard shells. Stir broth into bisque base until well combined. Reduce heat to lowest setting to maintain a gentle simmer and allow to cook for about 30 minutes to allow flavors to develop. Stir occasionally during this time.

Remove bisque from heat. Use an immersion blender to purée the soup right in the pot. Alternatively, transfer to a blender to purée and then return bisque to pot.

Add heavy cream and chopped cooked lobster pieces to bisque and stir well. Heat over medium-low heat until bisque is heated through. Season with salt and pepper, as desired. Serve hot with crusty bread on the side.
Notes
To reheat, I recommend heating gently in a saucepan over low heat. The microwave will work, but should be at a very low power in one-minute increments.
Nutrition
Calories:
486
kcal
,
Carbohydrates:
19
g
,
Protein:
11
g
,
Fat:
35
g
,
Saturated Fat:
21
g
,
Cholesterol:
152
mg
,
Sodium:
1300
mg
,
Potassium:
583
mg
,
Fiber:
3
g
,
Sugar:
6
g
,
Vitamin A:
6806
IU
,
Vitamin C:
9
mg
,
Calcium:
159
mg
,
Iron:
2
mg
Nutrition information is automatically calculated, so should only be used as an approximation.
This recipe was originally published in January 2021 but has been updated with more helpful information. Don't worry – the recipe hasn't changed!