The secret to cooking a perfect Surf and Turf dinner at home is in the timing. Instead of ordering this at a restaurant, find out how to make the absolute best version at home with the most flavorful steak and broiled lobster tail. Perfect for Valentine's Day, birthday dinners, or a New Year's Eve celebration!
For this mouthwatering dinner, I combined my reverse seared New York Strip Steaks with Broiled Lobster tails. I also highly recommend making Surf and Turf with Filet Mignon in place of the NY steaks.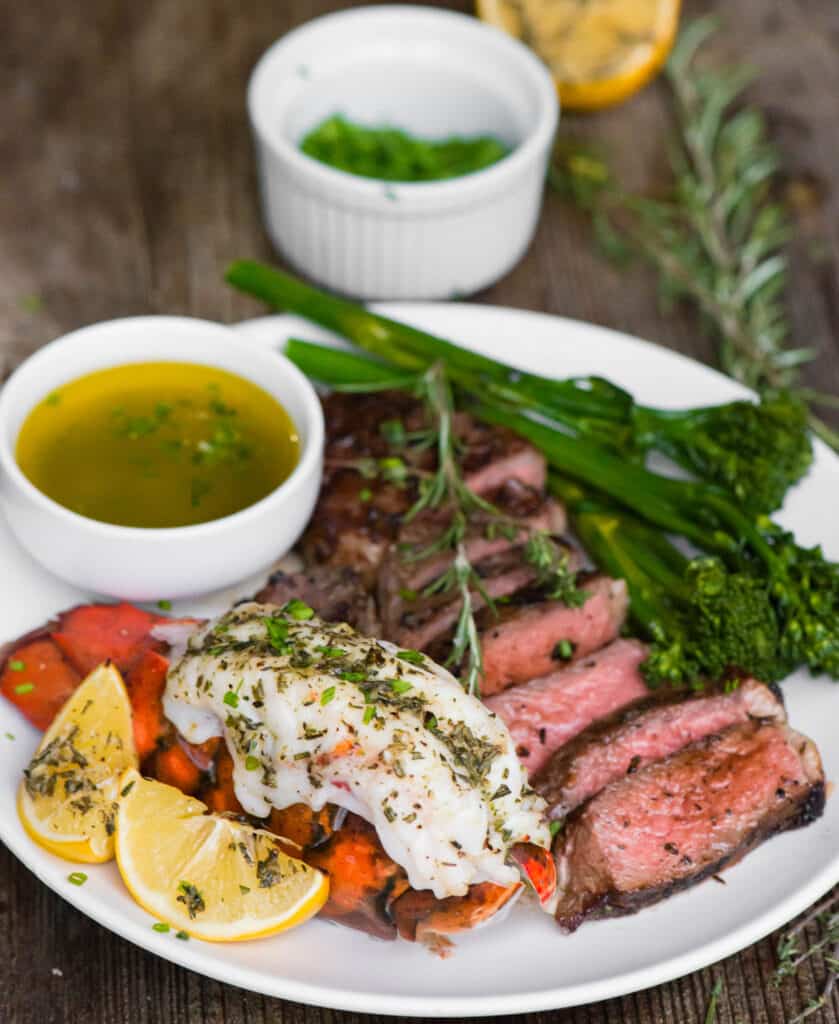 ✅ Why this recipe is so great:
Timing is everything. The lobster only takes a few minutes to cook but requires some prep work. The steak takes longer to cook but also requires some prep work as well as time to rest. This recipe takes you through step-by-step so that both the steak and lobster are done at the same time.
Better than a restaurant: Surf and Turf is most often enjoyed while dining out, but not only is it more economical to make it at home, but it will taste better. Homemade always does. And, if you're looking for the most intimate setting, it is way better to make Surf and Turf at home than be surrounded by strangers!
🥩 Ingredients needed:
Exact quantities are listed in the recipe card below, but here is a summary.
Broiled lobster tail (aka surf) ingredients:
Lobster tails, butter, lemons, and herbs. For the herbs, I like to make the compound butter to cook the lobster with fresh rosemary and thyme, but you can use other herbs including parsley, chives, basil, etc.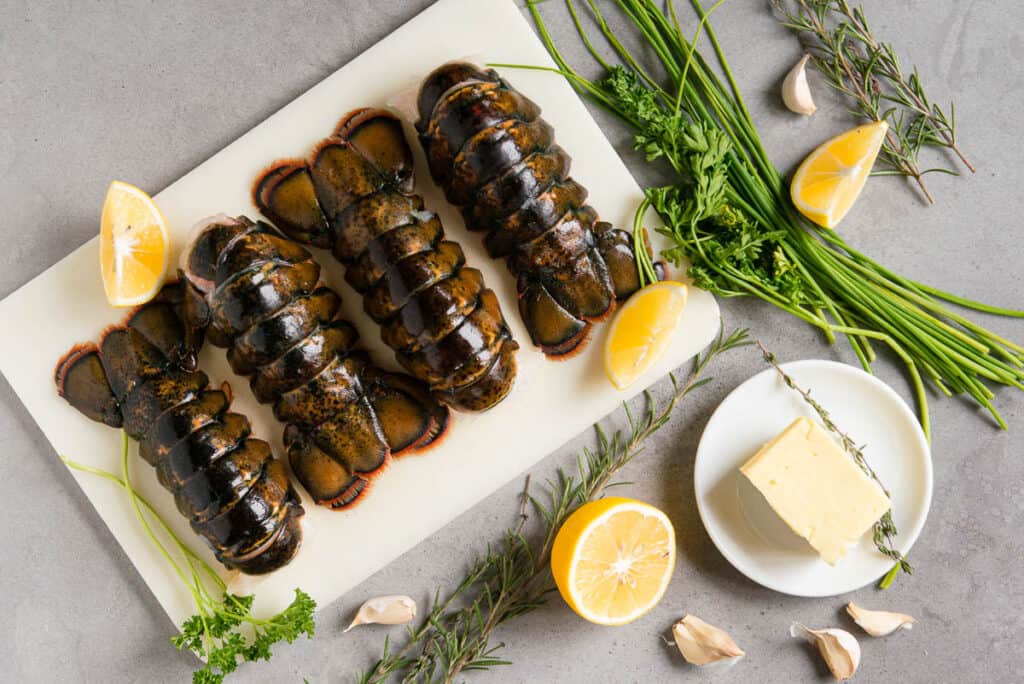 Ingredients needed to make the steak (aka turf):
Steaks and compound butter made with garlic and herbs. For this particular recipe, I used prime cut New York Strip Steaks.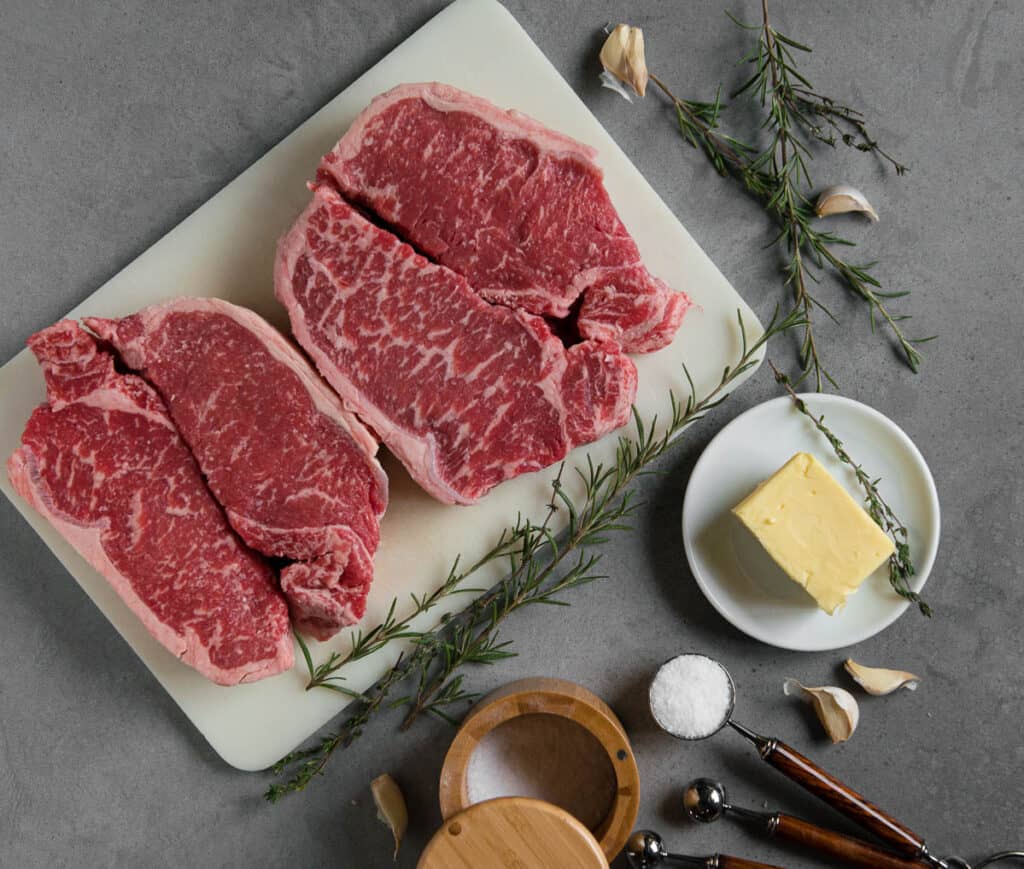 🍽️ How to make Surf and Turf:
Detailed step by step instructions are listed in the recipe card below, but here is a summary. Again, the timing is everything with this recipe.
Step 1: Prepare the steaks.
Lightly salt both sides of the steaks and expose to air in the refrigerator.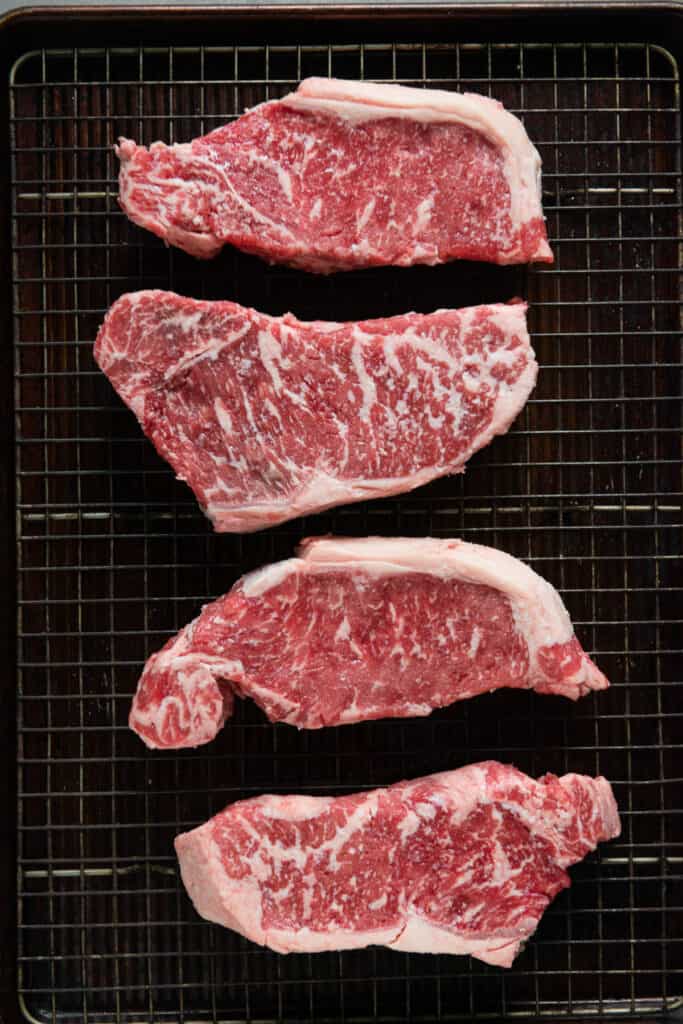 Step 1: Make the compound butter.
Use a food processor to mince the garlic and herbs. Add the softened butter and mix until smooth and creamy. This compound butter will be used for both the steaks and the lobster.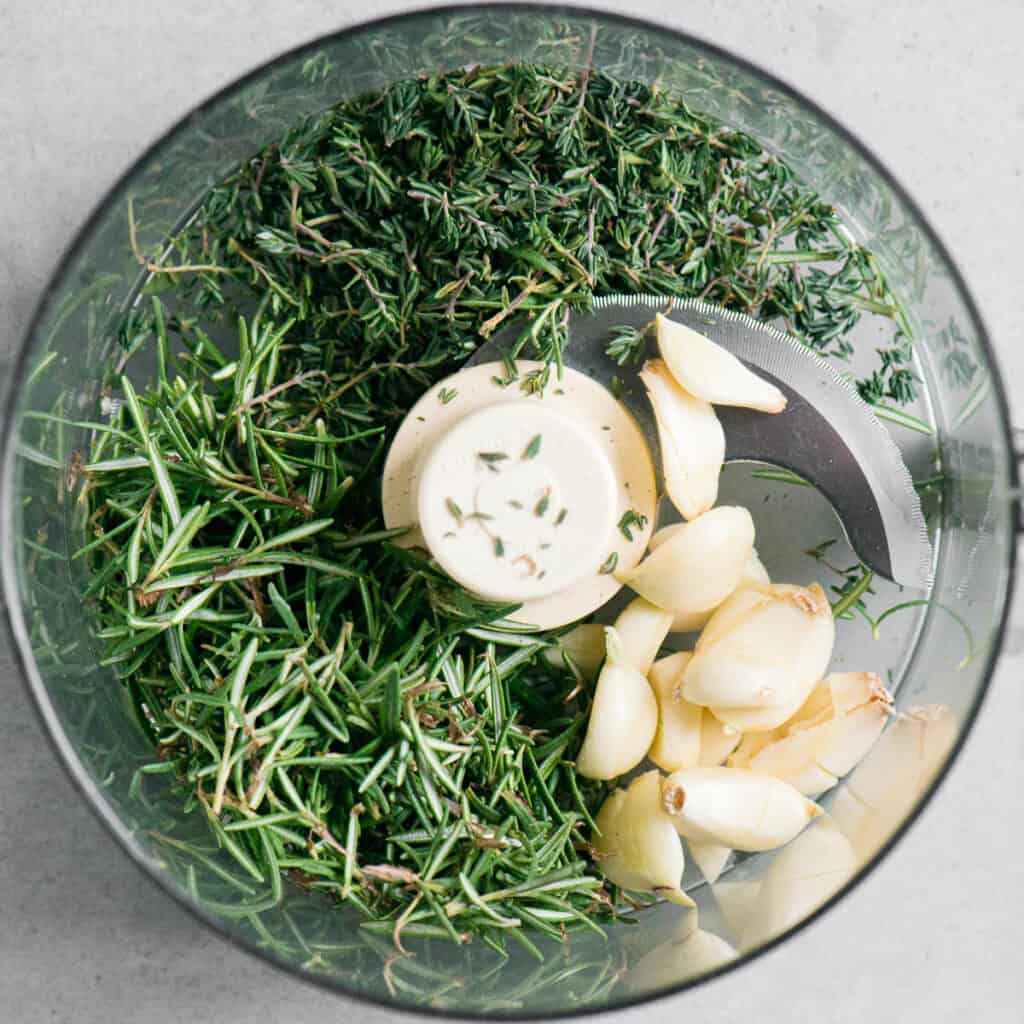 Step 3: Prepare the lobster tails.
Prior to cooking, you must have the lobster tails ready to go. This can be done the morning of, or right before you cook the meal.
Cut shell: Slowly cut each segment of shell using sharp clean kitchen shears in a straight line to the tail.
Remove vein: If there is a vein present, remove it.
Separate meat: Invert shell and use your thumbs to press down on the bottom of the tail. Use your fingers to carefully separate the meat from the shell until it has completely separated, except for the section connected at the tail.
Rinse: Do not submerge underwater. Rather, rinse to remove any shell pieces and shake off any excess when done.
Place meat on top of shell: Carefully lift the meat away from the shell, close the cut shell beneath it, and place the meat on top.
Coat with butter: Melt compound butter and brush it on top of the meat, using any remaining butter to coat the lemon. This step can be done ahead of time or while the steaks are in the oven, just prior to broiling the lobster.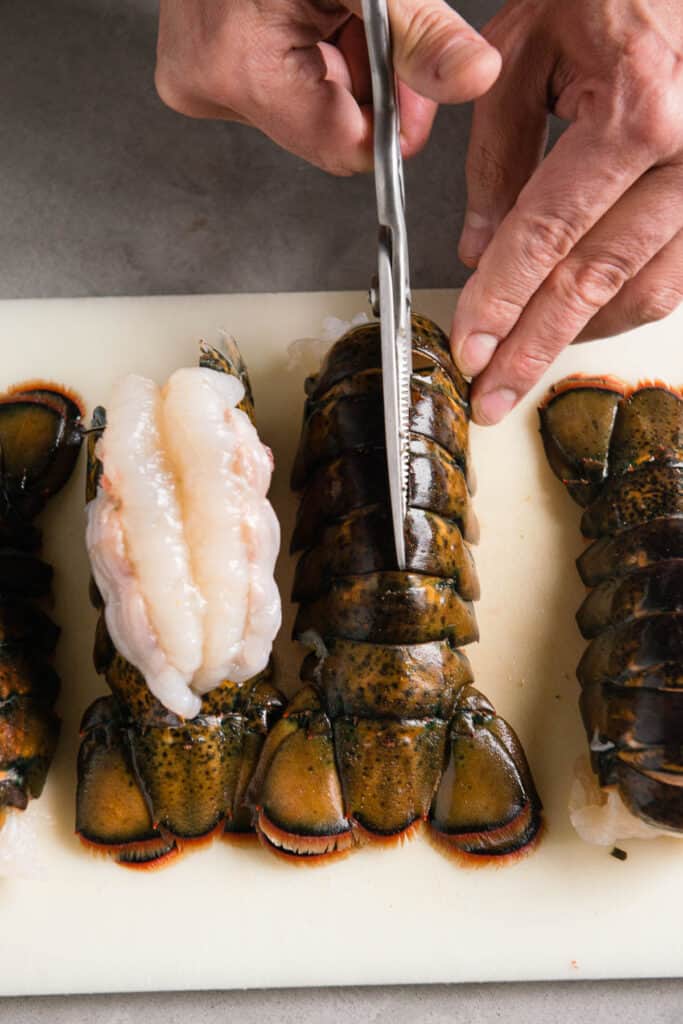 Step 4: Cook steaks in oven:
Coat steaks in compound butter, place in large cast iron skillet, insert a high quality meat thermometer, and bake just until the internal temperature reads 110°F. Note, this is much cooler than you will want to eat, but the will finish cooking later.
Remove the steaks from the oven, place on a cutting board, and let them rest for about ten minutes while the lobster cooks.
Step 5: Broil lobster tails:
As soon as the steaks come out of the oven, turn on the broiler. Once the broiler is hot, place the lobster tails in the oven and broil until done. They will not take long to cook.
Step 6: Reverse sear steaks:
As soon as the lobsters go into the oven, set the pan the steaks cooked in on the stove and place over the highest heat. After the steaks have rested for about ten minutes and the butter in the pan is so hot that it is about to smoke, transfer the steaks to the hot pan and sear on each side. This should only take a couple minutes per side.
When done, transfer them to a cutting board and let them rest for a few minutes. The lobster should have just finished cooking.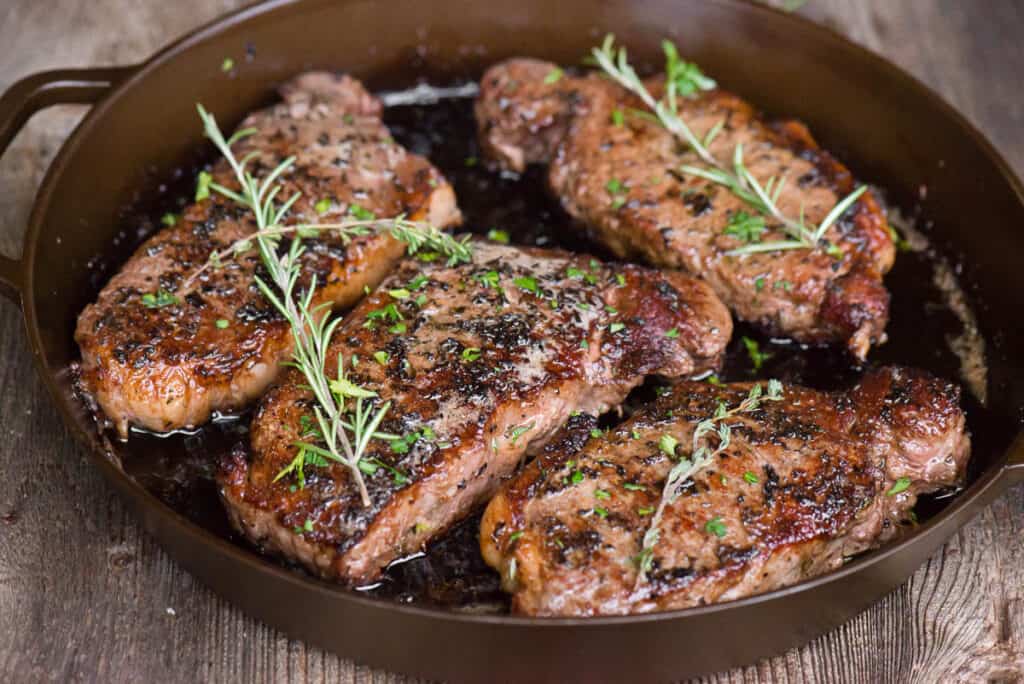 ✔️ Recipe tips for perfect results:
Have everything ready: The trick to perfect Surf and Turf, aside from high quality ingredients and an outrageously good recipe, is to nail the timing. Do as much prep work ahead of time and have a plan so that you're not scrambling at the last minute and accidentally over cook your meal or serve something cold.
Make the sides ahead of time: Because you won't want to be worrying about anything other than the steak and lobster, have all of your sides made ahead of time and kept warm. That way, you only have to worry about serving them.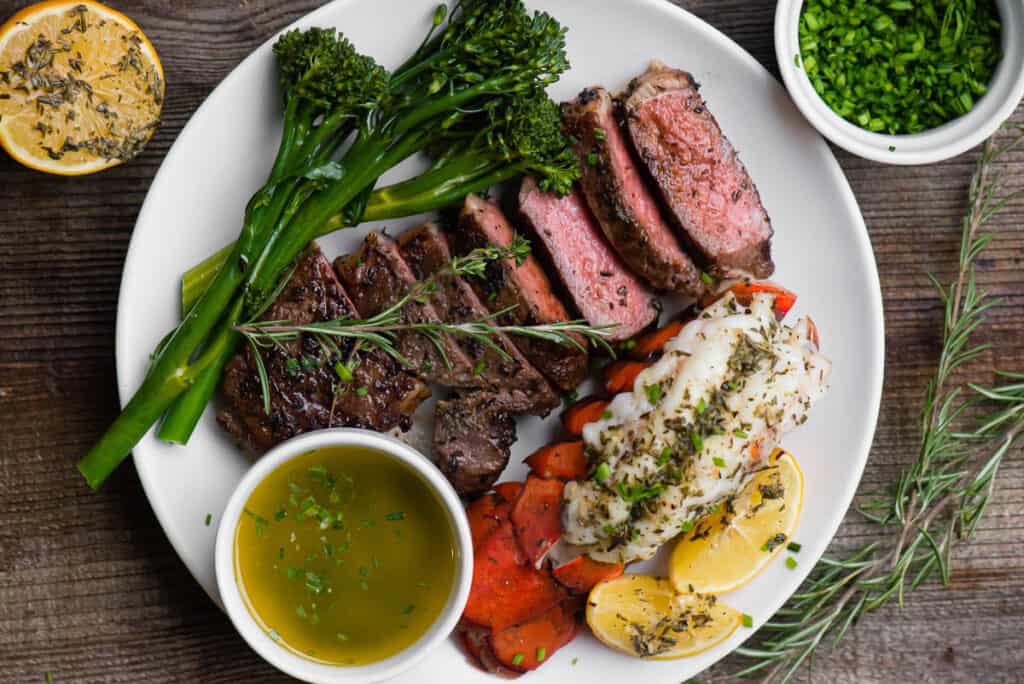 🍴 Serving recommendations:
Not much is needed to complete this meal, but I like to serve it with these favorites.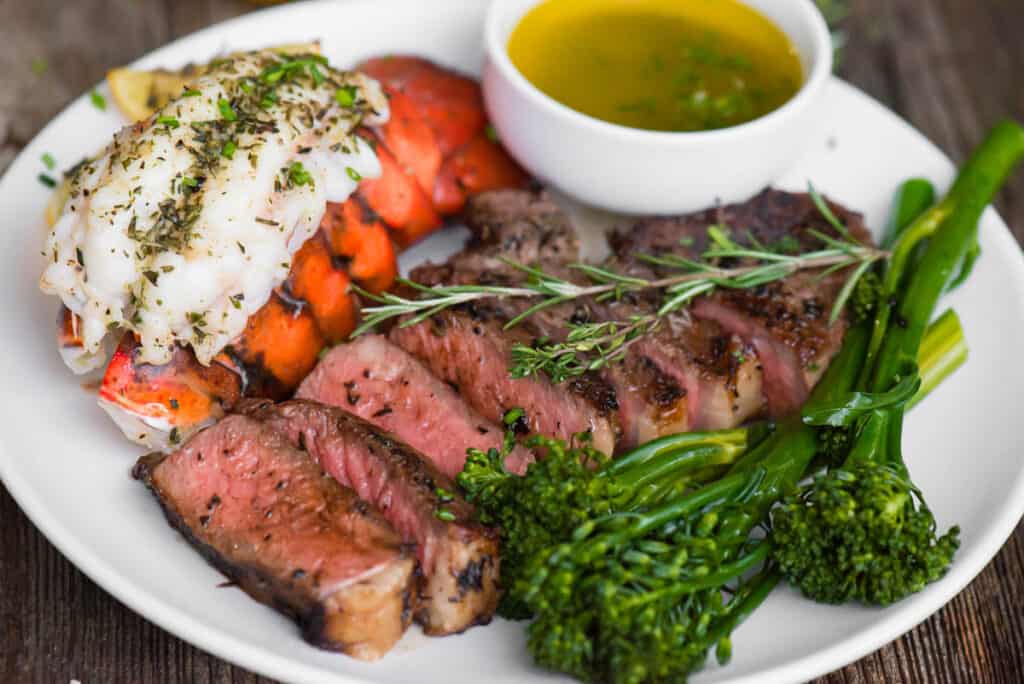 If you've made this or any other recipe on my site, let me know in the comment section how it turned out. I love hearing from my readers!
You can also follow along on PINTEREST, FACEBOOK and INSTAGRAM to see more amazing recipes to satisfy any foodie craving!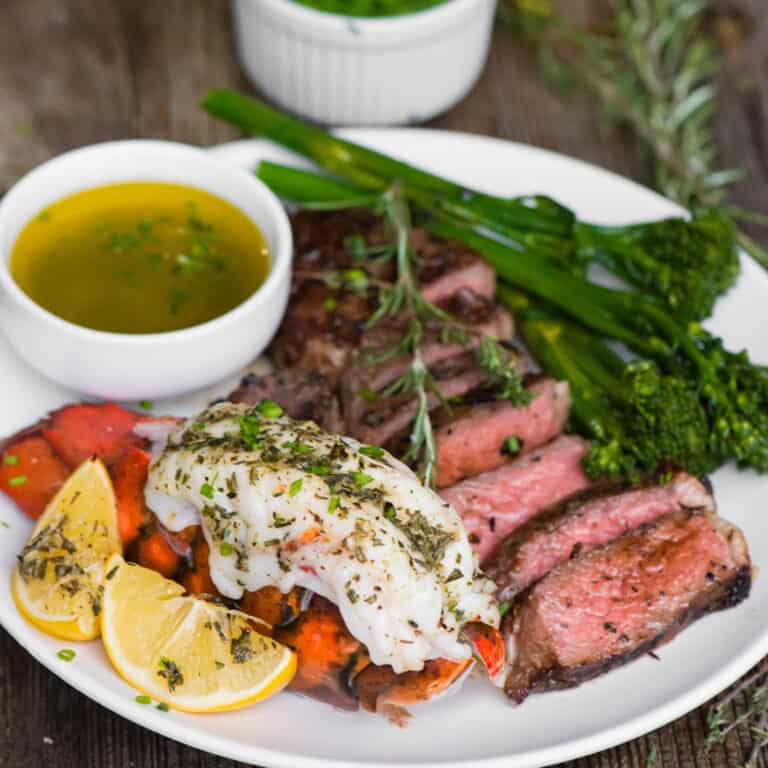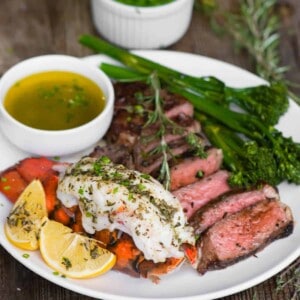 How to make the best steak and lobster tail for the ultimate Surf and Turf dinner at home!
Ingredients
Steaks:
4

10-ounce

steaks

size can vary; filet migon, NY strip, T Bone, or Rib Eye recommended

1

teaspoon

kosher salt
Lobsters:
4

lobster tails

mine were 5-6 ounces each

2

lemons

halved or wedged; Meyer lemons recommended
Compound butter:
8

tablespoons

unsalted butter

softened, high quality

8

cloves

garlic

4

sprigs

fresh rosemary

stems removed

8

sprigs

fresh thyme

woody stems removed
For serving:
4

tablespoons

butter

melted, high quality

1

teaspoon

fresh parsley

minced

1

teaspoon

fresh chives

minced
Instructions
Prep steaks: Cover both sides of steaks with salt and set on rack in refrigerator for at least an hour before cooking.

Make compound butter: Combine the softened butter with the garlic and herbs in the food processor and process until smooth.

Butterfly lobster tails: Using a sharp pair of kitchen shears, cut down the middle of the shell all the way to the tail. Turn the tail over, grab the cut shell with the finger tips on both hands, and bend inside out while releasing the meat from the shell. Turn back over, lift the meat away from the shell while keeping the tail connected, and set the meat on top of the shell. Remove vein, if present, and separate any connective tissue preventing it from taking it's natural butterfly shape. Rinse tails to remove any small fragments of shell and shake off any excess water (do not submerge in water). Sprinkle a thin layer of salt and pepper on top of the lobster meat.

Cook steaks in oven: Preheat oven to 225°F. Using half of the compound butter (reserving the other half for the lobster), cover both sides of steaks (thin layer on bottom, thicker layer on top). Place in a cast iron or oven-safe skillet. Insert a meat thermometer into the center of the thickest steak. Cook in preheated oven until the internal temperature reaches 110°F.

Prep the lobster tails: While the steak is in the oven, line a baking sheet with parchment paper and set the prepared lobsters on top. Arrange the lemon wedges or halves on the paper. Melt the remaining compound butter and brush on top of lobster meat; spread any excess on top of lemons.

Rest steaks: Remove steaks from oven and transfer to a cutting board. Do not remove thermometer. In preparation for the lobster, preheat broiler to 500°F and ensure top rack is in the center of the oven, about 6-8 inches below the heating element. Allow steaks to rest for 10 minutes. Temperature will increase 5-10°F while resting.

Broil the lobster: As soon as the broiler hits the set temperature, it's time to broil the lobster tails while the steaks are finishing. Place baking sheet in broiler and cook roughly ten minutes until meat is opaque, shells are vibrant orangish-red, and internal temperature of the meat is about 145°F.

Reverse sear steaks: Towards the end of the rest period, set pan they were cooked in with remaining melted butter on a burner over high heat. Just as melted butter starts to smoke, gently place steaks in hot pan. Allow to sear, undisturbed, until they start to brown on the bottom and then flip. The goal is to get a nice sear on both sides and also to bring them to the proper temperature. Steak temperature will still rise a few degrees once removed from pan, so remove them 3-5°F below desired final temperature. For medium, remove at 127°F. Transfer to cutting board and allow to rest at least five minutes before serving.

Serve: The surf and turf should be done at about the same time. Serve steak whole or slice on cutting board after rest period. Place parsley and chives in melted butter. Squeeze broiled lemons over lobster meat and dip each bite into the melted butter.
Notes
Cooking time is roughly 2 minutes per ounce, so 5-oz tails take about 10 minutes to cook.
Anywhere from 3 to 10-ounce lobster tails are considered a good size for an individual portion.
Nutritional information is based on one whole steak, one whole lobster tail, and lots of butter.
Nutrition
Calories:
948
kcal
,
Carbohydrates:
8
g
,
Protein:
65
g
,
Fat:
75
g
,
Saturated Fat:
40
g
,
Polyunsaturated Fat:
3
g
,
Monounsaturated Fat:
28
g
,
Trans Fat:
1
g
,
Cholesterol:
314
mg
,
Sodium:
1002
mg
,
Potassium:
962
mg
,
Fiber:
2
g
,
Sugar:
1
g
,
Vitamin A:
1217
IU
,
Vitamin C:
34
mg
,
Calcium:
97
mg
,
Iron:
6
mg
Nutrition information is automatically calculated, so should only be used as an approximation.