This recipe will tell you everything you need to know, from preparing the lobster to making compound butter, to make absolutely perfect Broiled Lobster Tail. They might be expensive and reserved for special occasions, but lobster is actually extremely quick and easy to make. The method for how to cook a lobster tail in the oven is pretty standard, however you will find some tips and tricks that really sets this recipe apart from all the others!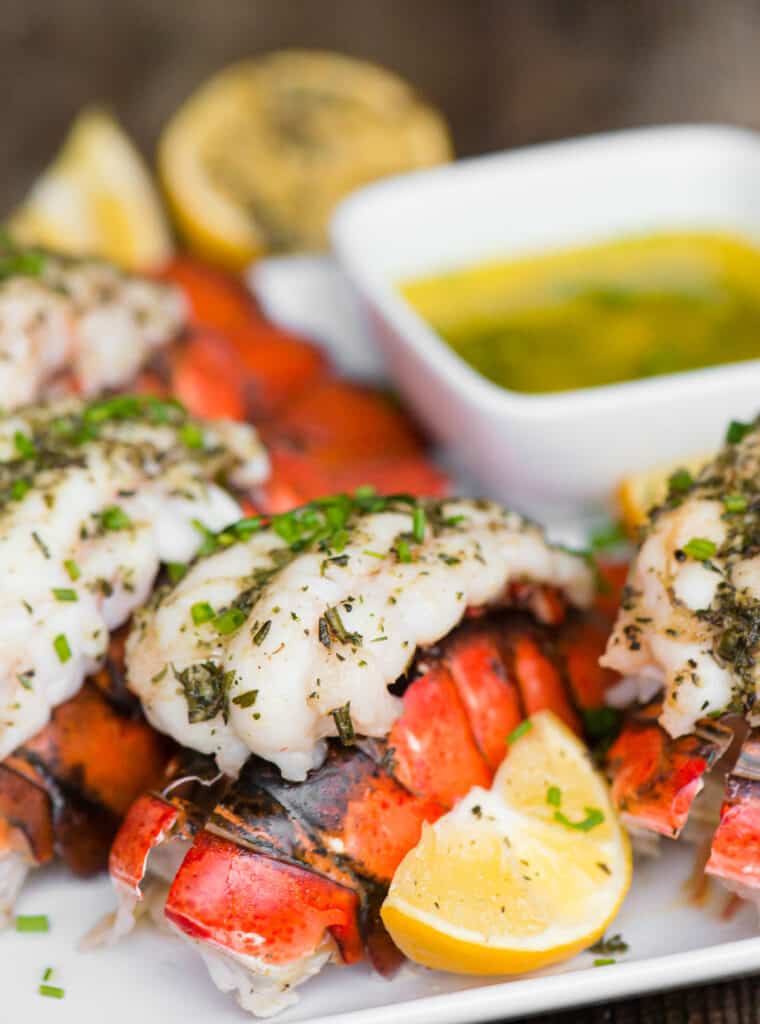 And if you love lobster, you'll also want to make my Lobster Bisque and Lobster Mac and Cheese!
Why this recipe is so great:
Best way to cook a lobster tail: Like any shellfish, there are a variety of ways to cook this delectable seafood. You can boil, steam, bake, grill, etc. Baked lobster tail, or more specifically broiled, is the best method because it infuses the flavor of the garlic herb butter into the meat and yields a beautiful presentation.
Compound butter: Most broiled lobster recipes just use plain old butter. Why do that when you can infuse so much flavor with fresh garlic and herbs! Plus, when you make compound butter, plan on doubling or tripling the batch and store the extra in the fridge. It tastes fantastic on steaks but can also be used to make amazing garlic bread.
Broiled lemons: One thing that really sets this recipe apart from the others is that you will broil the lemons alongside the lobster tails. Not only does that add additional aromatics in the oven, but broiling compound butter coated lemons creates the most wonderful warm lemon juice to squeeze on top of the lobster.
Ingredients needed:
Exact quantities are listed in the recipe card below, but here is a summary.
Lobster tails: Fresh or frozen are fine, however if you buy frozen you will need to fully thaw in the refrigerator before preparing. Each lobster tail can range anywhere from 3-10 ounces in size to be considered a full serving. These tails were roughly 5-6 ounces each with the shells.
Butter: If you are going to spend a lot of money on lobster, please use a high quality butter.
Lemons: Meyer lemons are best because they have lovely aromatics and are slightly less acidic, but standard lemons will work.
Herbs: I prefer to use rosemary and thyme in the compound butter and then parsley and chives in the melted serving butter.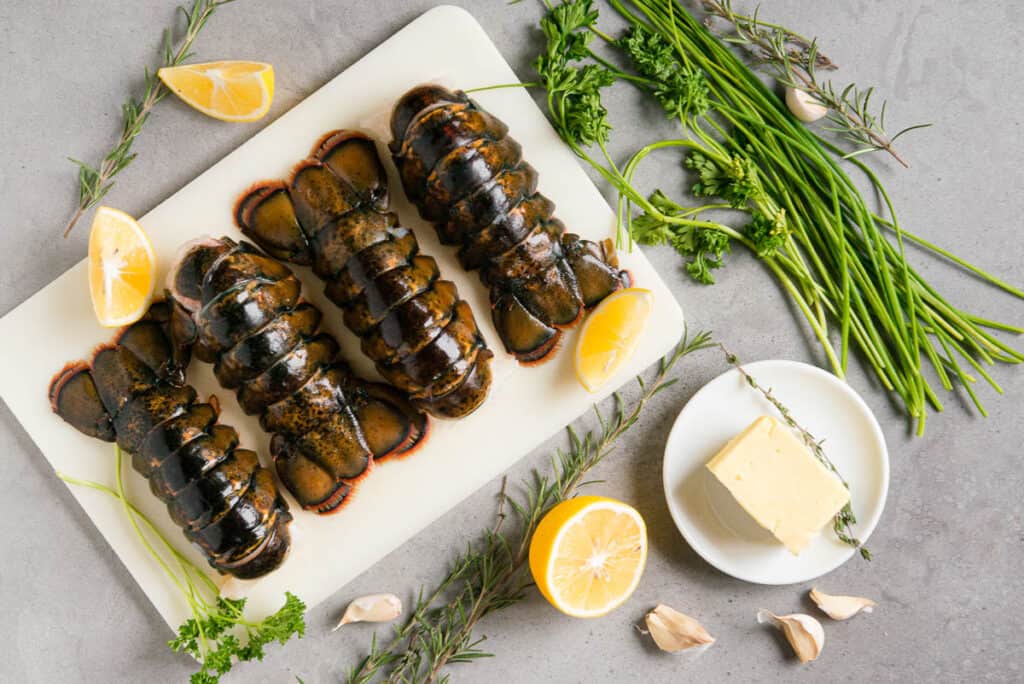 How to cook lobster tail:
Detailed step by step instructions are listed in the recipe card below, but here is a summary.
Step 1: Prepare Lobster Tails
When preparing to broil lobster tails, you must lift the meat out of the shell. The first try might seem a bit tricky, but it is really an easy process if you follow these step-by-step instructions.
Cut shell: Using sharp clean kitchen shears, face the meaty part of the tail towards you with the tail opposite and slide the shears in between the shell and the meat. Slowly cut each segment of shell in a straight line to the tail.
Separate meat: Turn tail upside down. Place your fingertips in between the cut shell and the meat. Use your thumbs to press down on the bottom of the tail. This will further break the shell. Use your fingers to carefully separate the meat from the shell until it has completely separated, except for the section connected at the tail.
Remove vein: If there is a vein present, remove it.
Rinse: Hold the tail and shell under cold running water to wash away any small fragments of the shell that may be present. Do not submerge underwater and shake off any excess when done.
Place meat on top of shell: Carefully lift the meat away from the shell, close the cut shell beneath it, and place the meat on top. The lobster tail should naturally butterfly, but if any small pieces need to be cut to allow the butterfly shape, do so now.
Coat with butter: Place prepared lobster tails on a parchment-lined baking sheet along with some cut lemon halves and wedges. Coat meat with melted garlic herb butter and use any remaining butter to coat the lemon.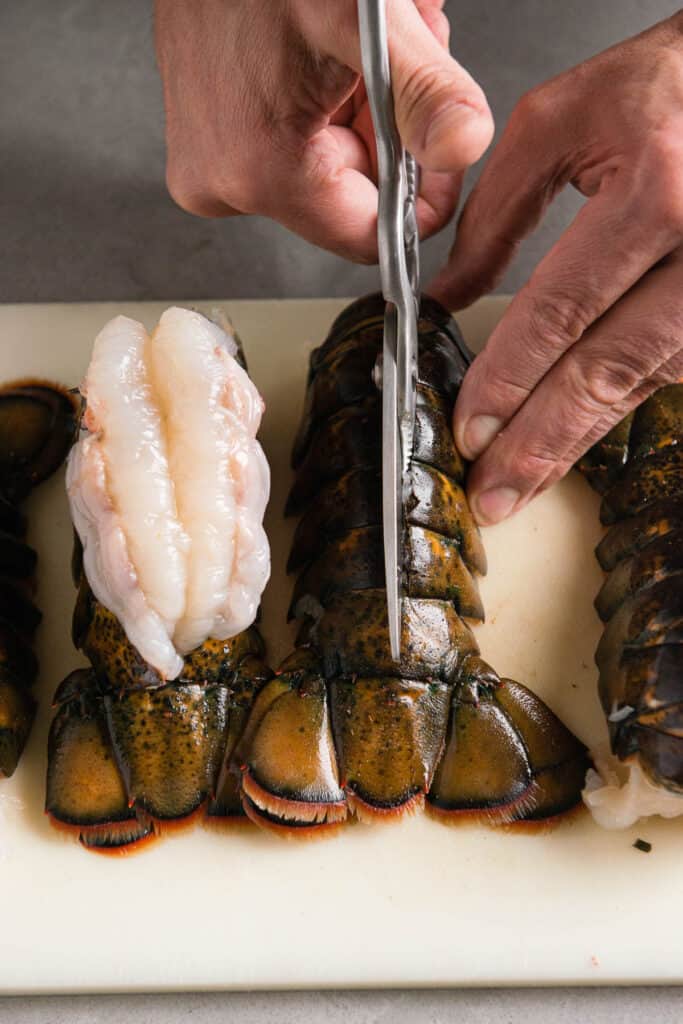 Step 2: Broil Lobster Tails:
Preheat the oven with the broiler on and place the baking sheet on the center rack. Broil the lobster tails with the lemons until the meat turns an opaque white color and the shells turn a vibrant orange-red. To be sure, verify the internal temperature of the lobster tail meat is 145°F with a good quality instant-read thermometer.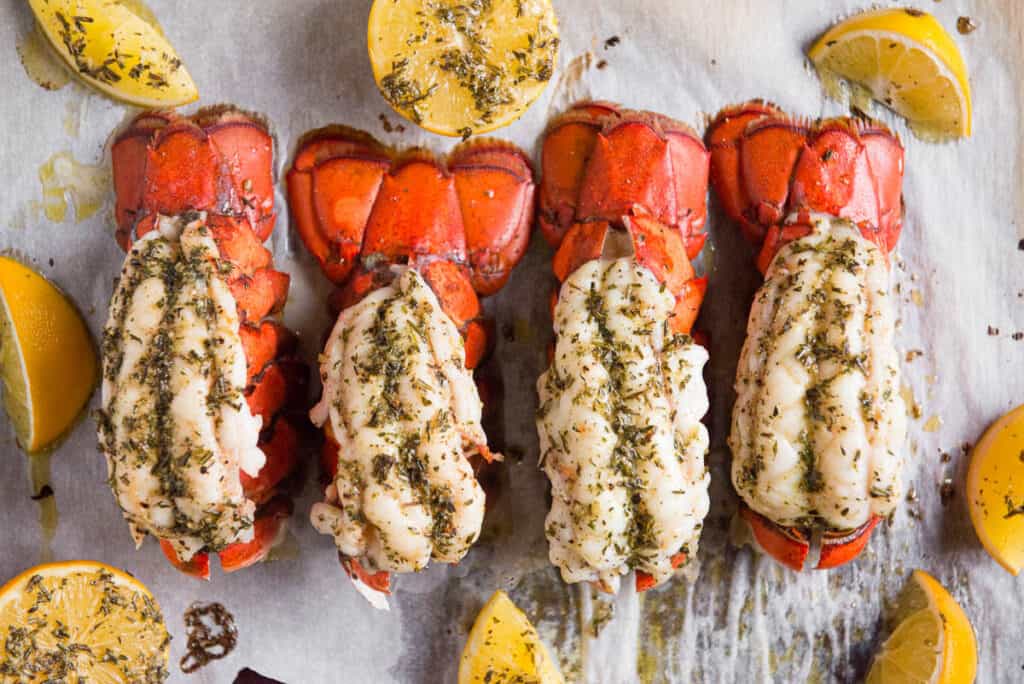 Recipe tips for perfect results:
Buying lobster tails: Many people will buy Costco lobster tails because, around the holidays, they will have large packs in the meat department or you may find some at one of their Seafood Road Shows. My recommendation is to try and find tails that are the same size so that they cook at the same rate. Plan on one lobster tail per person. Pro tip: Frozen lobster tails at large grocery stores often go on sale after holidays like Valentine's Day and New Year's Eve. I've been able to buy them half off!
Serving suggestions: All you need is the warm juicy broiled lemons and additional melted butter.
Reheating: I'm not going to recommend reheating lobster tails. When you make broiled lobster tails, plan on making the exact amount that will get eaten fresh. If, however, for some reason you have leftover lobster, instead of reheating, my recommendation would be to slice cold and add to a salad or toss in a pasta recipe.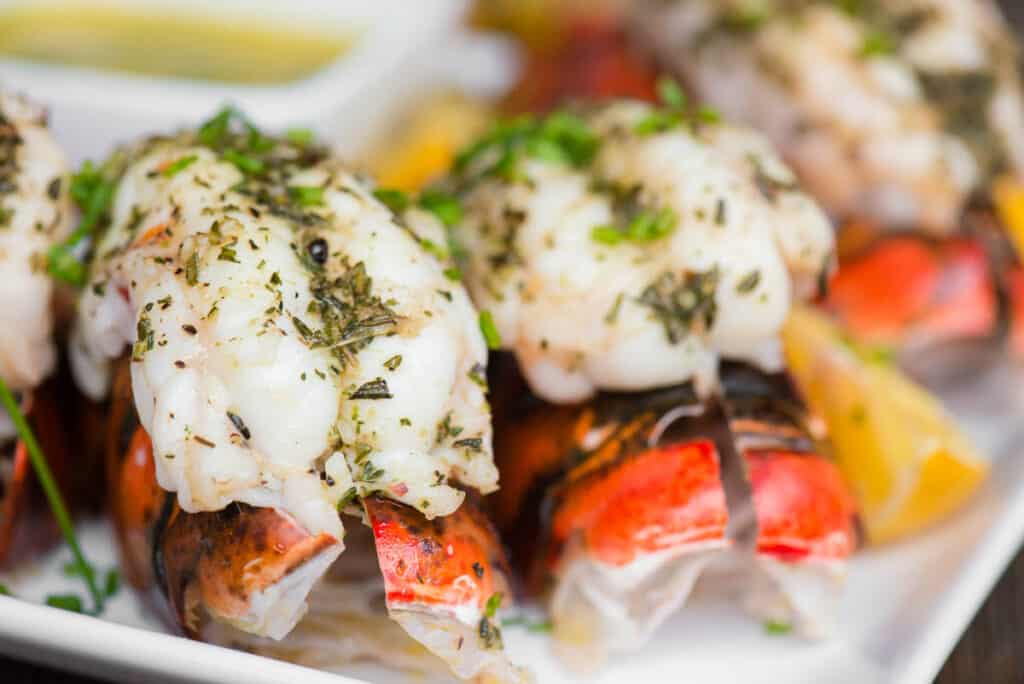 Serve broiled lobster tails with:
You can turn this recipe into Surf and Turf simply by making a delicious Filet Mignon or T-Bone steak to serve alongside.
You can't go wrong by serving with Roasted Garlic Mashed Potatoes or Bite Sized Smashed Potatoes on the side. If you're looking for a vibrant green vegetable, I would recommend Wilted Garlic Spinach or Garlic Parmesan Oven Roasted Asparagus. Are you sensing the garlic theme?
If you've made this or any other recipe on my site, let me know in the comment section how it turned out. I love hearing from my readers!
You can also follow along on PINTEREST, FACEBOOK and INSTAGRAM to see more amazing recipes to satisfy any foodie craving!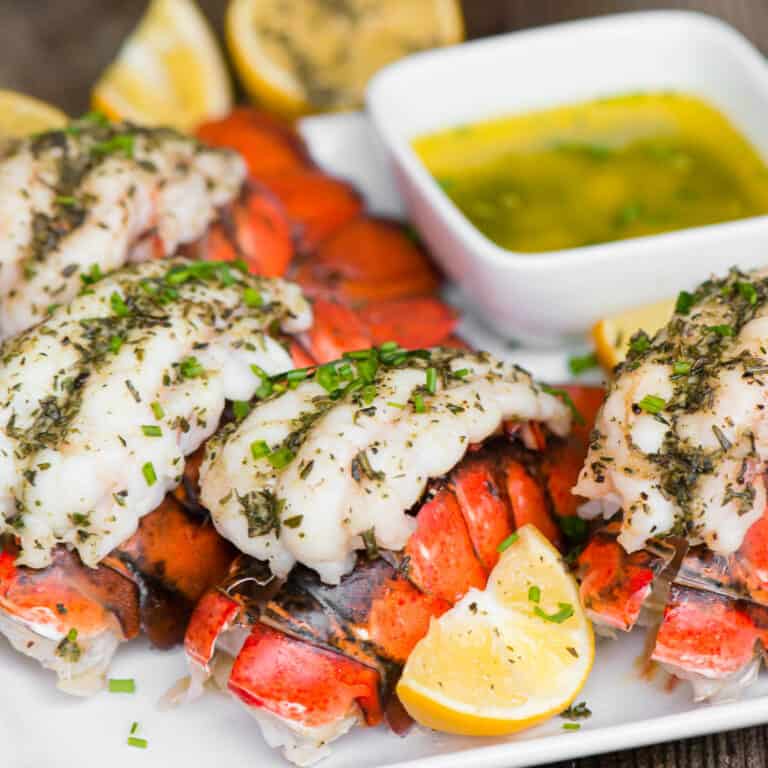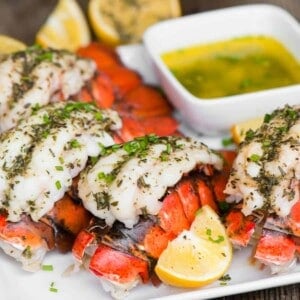 The easiest and most delicious way to make Broiled Lobster Tail for your next special occasion dinner!
Ingredients
Lobsters:
4

lobster tails

mine were 5-6 ounces each

2

lemons

halved or wedged; Meyer lemons recommended
Compound butter:
4

tablespoons

unsalted butter

softened, high quality

4

cloves

garlic

2

sprigs

fresh rosemary

stems removed

4

sprigs

fresh thyme

woody stems removed
For serving:
4

tablespoons

butter

melted, high quality

1

teaspoon

fresh parsley

minced

1

teaspoon

fresh chives

minced
Instructions
Prepare lobster tails: Using a sharp pair of kitchen shears, cut down the middle of the shell all the way to the tail. Turn the tail over, grab the cut shell with the finger tips on both hands, and bend inside out while releasing the meat from the shell. Turn back over, lift the meat away from the shell while keeping the tail connected, and set the meat on top of the shell. Remove vein, if present, and separate any connective tissue preventing it from taking it's natural butterfly shape. Rinse tails to remove any small fragments of shell and shake off any excess water (do not submerge in water). Sprinkle a thin layer of salt and pepper on top of the lobster meat.

Make compound butter: Combine the softened butter with the garlic and herbs in the food processor and process until smooth. When you are ready to broil the lobster, gently melt the compound butter.

Broil the lobster: Line a baking sheet with parchment paper and set the prepared lobsters on top. Arrange the lemon wedges or halves on the paper. Brush melted herb butter on top of lobster meat and spread any excess on top of lemons. Preheat broiler to 500°F and ensure top rack is in the center of the oven, about 6-8 inches below the heating element. Place baking sheet in broiler and cook roughly ten minutes until meat is opaque, shells are vibrant orangish-red, and internal temperature of the meat is about 145°F.

Serve: Place parsley and chives in melted butter. Squeeze broiled lemons over lobster meat and dip each bite into the melted butter.
Notes
Cooking time is roughly 2 minutes per ounce, so 5-oz tails take about 10 minutes to cook.
Anywhere from 3 to 10-ounce lobster tails are considered a good size for an individual portion. 
Nutrition
Calories:
253
kcal
,
Carbohydrates:
6
g
,
Protein:
8
g
,
Fat:
23
g
,
Saturated Fat:
14
g
,
Polyunsaturated Fat:
1
g
,
Monounsaturated Fat:
6
g
,
Trans Fat:
1
g
,
Cholesterol:
111
mg
,
Sodium:
271
mg
,
Potassium:
180
mg
,
Fiber:
2
g
,
Sugar:
1
g
,
Vitamin A:
775
IU
,
Vitamin C:
31
mg
,
Calcium:
64
mg
,
Iron:
1
mg
Nutrition information is automatically calculated, so should only be used as an approximation.