Jicama Slaw is a crunchy, fresh, light, and satisfying healthy vegan salad loaded with shredded veggies and tossed in a light and tangy vinaigrette.
Whether you absolutely love jicama or have no idea what it even tastes like, I'm confident you'll love this colorful Cole Slaw!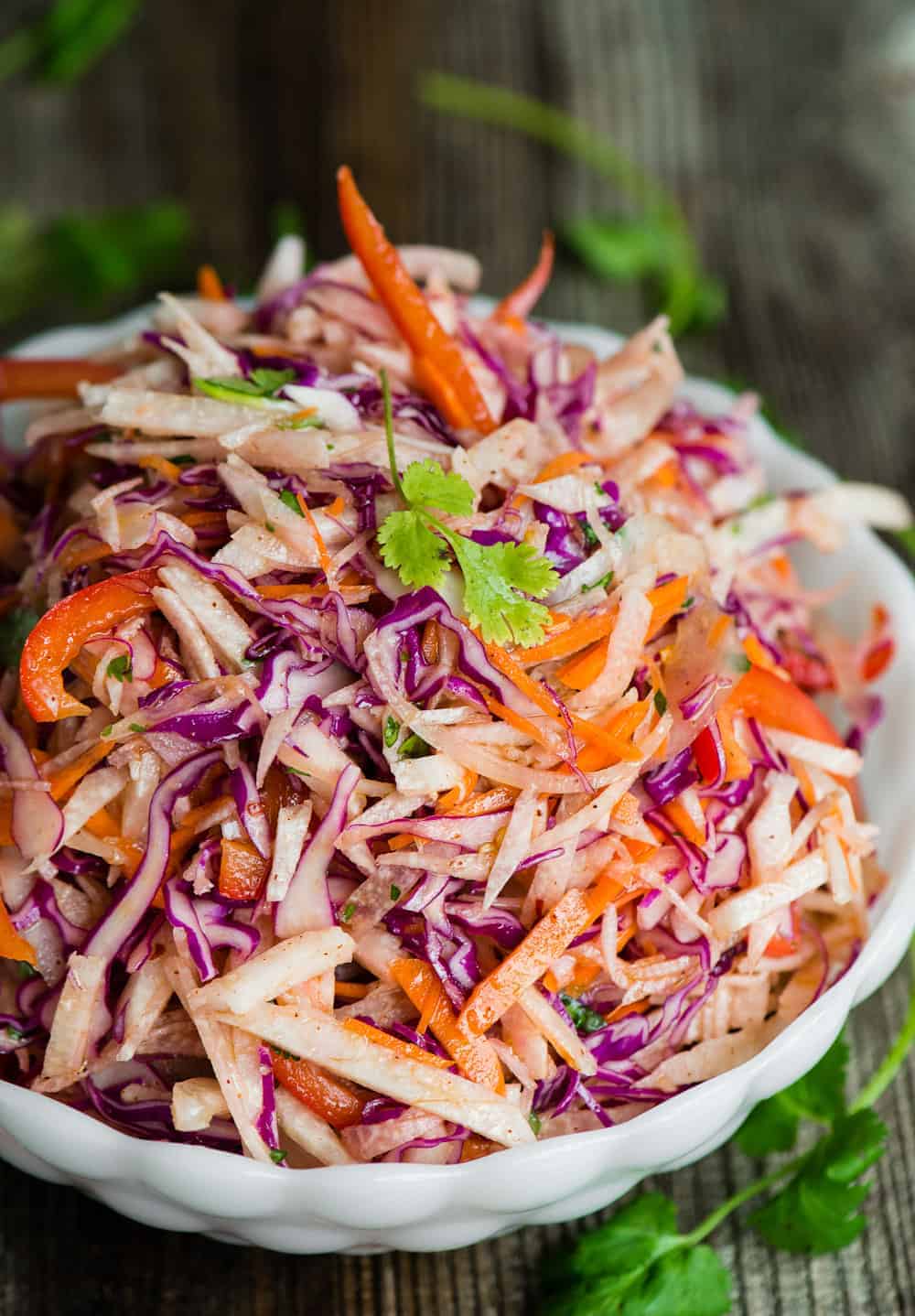 Do you eat jicama? I would love to know. Jicama is not something I grew up eating, thus it was never carried forward into my adult life.
The first time I tried jicama I was well into my 30s. I was volunteering at my daughter's preschool. Every Easter they would lay out rolls of paper and cover them with all kinds of raw vegetables and have their annual "Bunny Brunch". At first it blew my mind to see a bunch of 2 and 3 year-olds eating bell pepper, zucchini and jicama. Kids that age are notorious for eating a diet that's 100% Gold Fish and mac and cheese.
But I surprised myself as well by eating that jicama. And you know what? It was GOOD!
What is jicama?
It is a tuber vegetable. It's actually part of the bean family, but the part we eat is part of the root that's underground. The jicama we buy in the store is similar to a turnip. Weird, right?
The outside of the vegetable is yellow and a bit thick skinned. It wasn't as easy to peel as a carrot or a beet. The white flesh on the inside is very similar in texture to a raw potato or an apple.
Can you eat it raw?
Absolutely. In fact, I've never enjoyed jicama any other way.
What does jicama taste like?
The flavor is sweet and starchy. The texture is crisp, juicy, and crunchy.
It really did taste like an apple with a much more mellow and neutral flavor. It was the perfect addition to this slaw.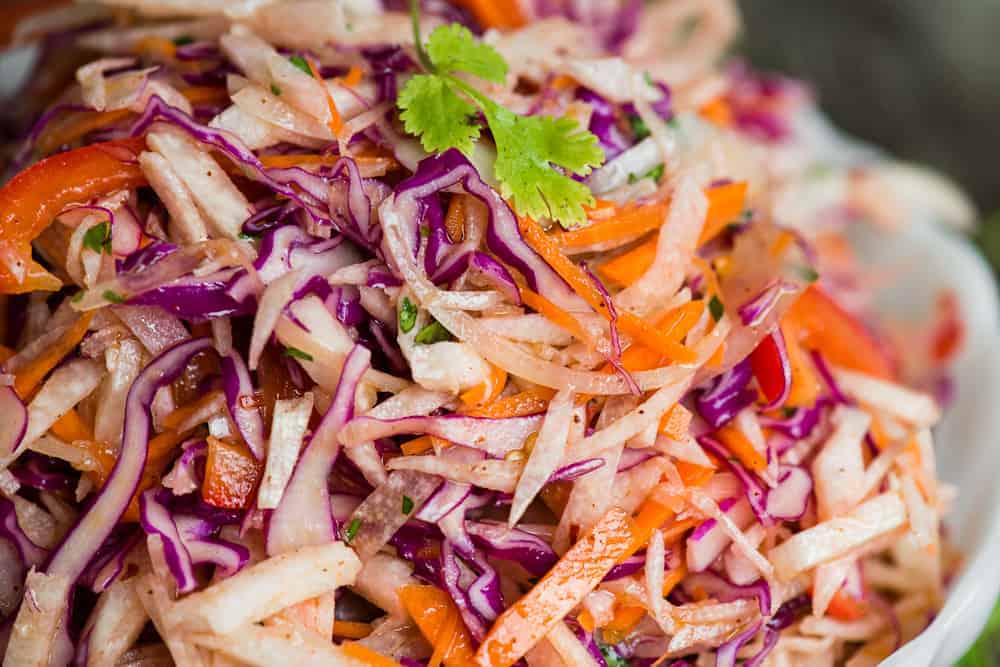 Is jicama a low carb vegetable?
Jicama is actually high in carbohydrates. But they are the good carbs in the form of dietary fiber. Different than, let's say, a brownie.
If you're on a very restrictive keto or low carb diet, you might want to avoid jicama much like you would carrots or sugar snap peas. If you're diet is not that restrictive, jicama is just another tasty and healthy vegetable that is good for you.
How to make this fresh coleslaw:
There are only two main steps in this easy healthy salad recipe: cut the vegetables and make the dressing.
To cut the vegetables, I love to use a mandoline. It not only slices things like the cabbage and onion super thin, but it cuts my jicama and carrots into match sticks. I did, however, slice the red bell pepper with a knife.
The vinaigrette has a lot of different ingredients, but together they add a complex and tangy taste to this already interesting salad.
Simply toss the dressing with the vegetables and you're ready to serve. This salad also keeps well in the refrigerator for a few days.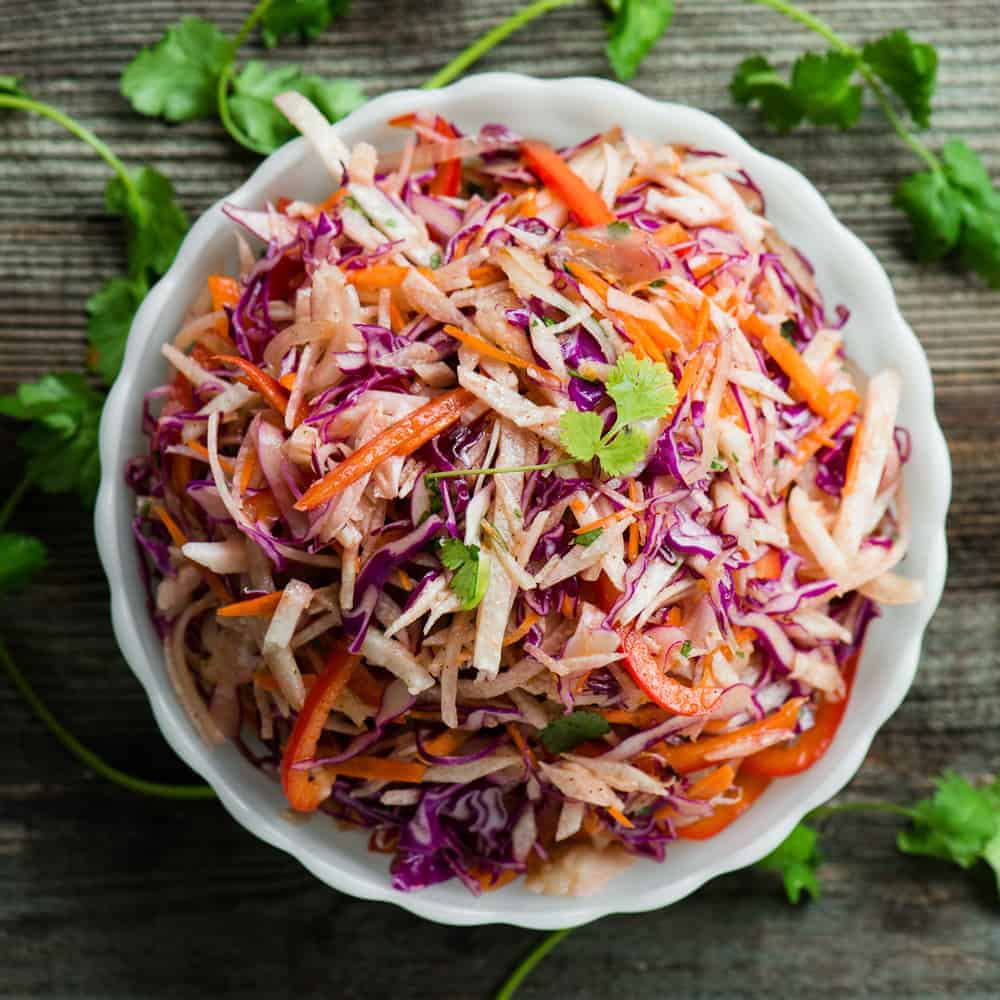 Love slaw recipes?
Check out these awesome recipes: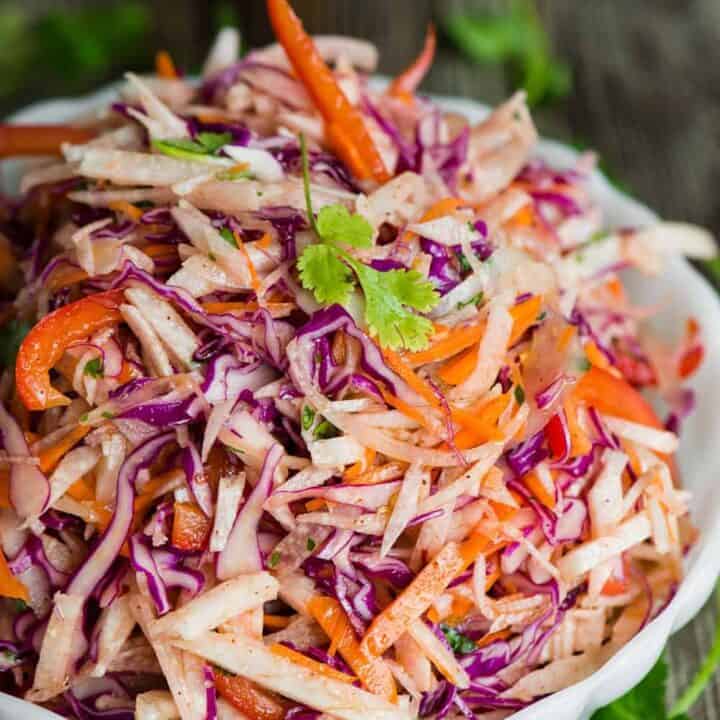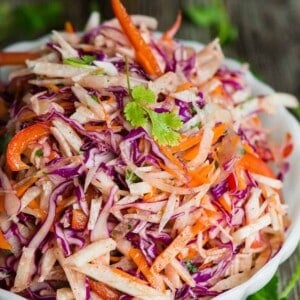 Jicama Slaw is a crunchy, fresh, light, and satisfying healthy vegan salad loaded with shredded veggies and tossed in a light and tangy vinaigrette.
Ingredients
Jicama Slaw:
1

large

jicama

or 3 small (about 2 pounds), peeled and finely shredded

1/2

head

red cabbage

finely shredded

2

carrots

peeled and shredded

1

large

red pepper

stem and seeds removed, sliced thin

1/2

white

onion

thinly sliced
Instructions
Place jicama slaw vegetables in a large bowl.

Whisk together the dressing ingredients in a small bowl.

Pour the dressing over the jicama slaw mixture and toss to coat well. Let sit at room temperature for 15 minutes before serving.
Nutrition
Calories:
225
kcal
,
Carbohydrates:
24
g
,
Protein:
2
g
,
Fat:
13
g
,
Saturated Fat:
1
g
,
Sodium:
327
mg
,
Potassium:
453
mg
,
Fiber:
9
g
,
Sugar:
10
g
,
Vitamin A:
3895
IU
,
Vitamin C:
89.5
mg
,
Calcium:
48
mg
,
Iron:
1.6
mg
Nutrition information is automatically calculated, so should only be used as an approximation.