Game Day Beer Chili made with fresh or canned tomatoes in the slow cooker or pressure cooker is the perfect cold weather tailgating meal!
If you love chili recipes, you'll definitely want to try my Southwestern Chili, Five Alarm Steak Chili, Pumpkin Chili, Skinny White Chicken Chili, and even a One Pot Chili Mac.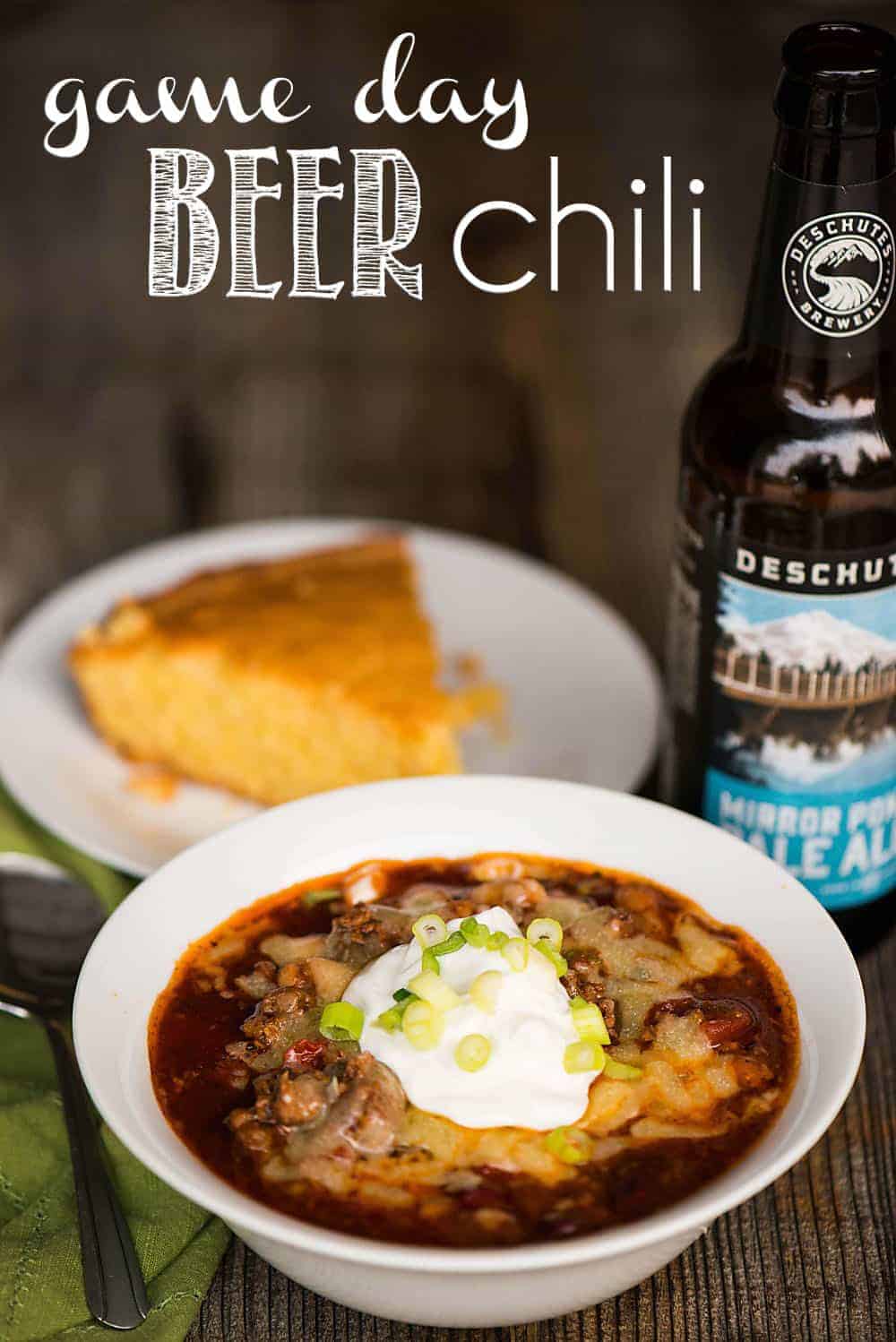 BEST CHILI RECIPE
Game Day Beer Chili made its first appearance on my blog back when I first started in the fall of 2014. I have made this recipe over and over again and finally decided to take updated photos, make a video of the recipe, and give the overall post a face lift.
All of these recipes can be made on the stovetop, in the crockpot, or in an electric pressure cooker. I guess that just depends on your mood!
Now, if you are a regular visitor to my blog, you know I don't watch sports.
But, if I did, and if I liked to stand outside in a freezing parking lot with a bunch of crazy people with colorful painted faces, you'd better believe I'd have a big ol' batch of this beer chili hot and steamy – ready to be devoured.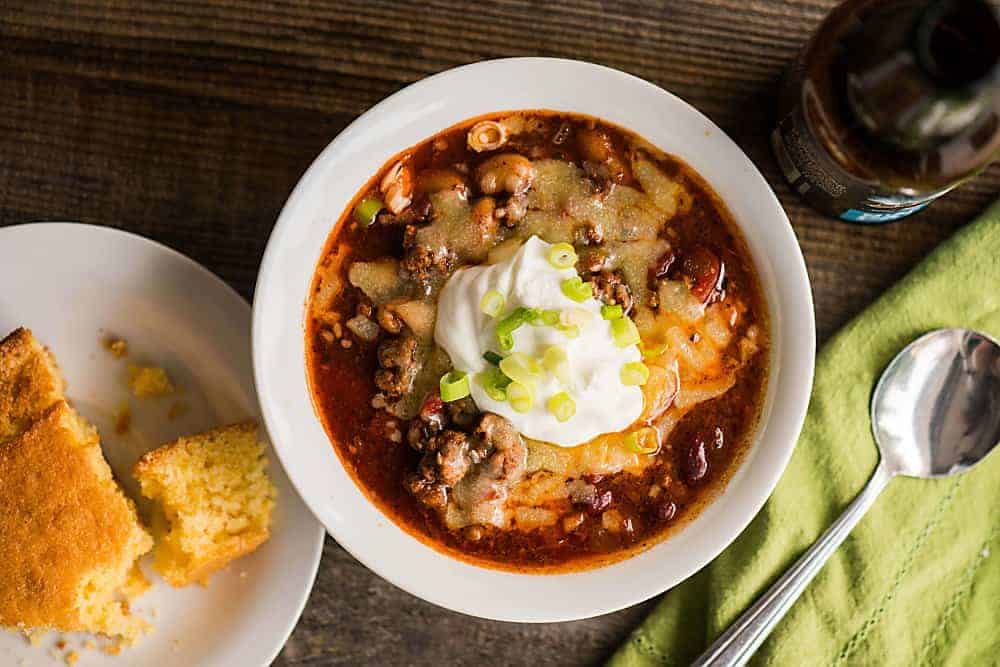 Reasons why this chili recipe is the best:
There are so many different ways to make chili, and I'm sure I'll end up sharing a lot of them on this blog in the years to come. But this Game Day Beer Chili is by far my favorite chili and I'll tell you why:
Its easy. I know some of the recipes I share with you take forever to make, but I usually don't mind spending most of my waking hours in the kitchen because its a labor of love. Since I'm sharing recipes with the general public, who, as I understand it, don't like to spend 6 hours a day in the kitchen, I figured I should even things out with some easy-to-make things as well. Plus, now that school is in and evenings are busy with homework and soccer and gymnastics, all I'm wanting to make are easy and/or slow cooker meals.
This is a slow cooker meal (see how previous bullet lead right into this one?). Sure you can let it stew in your pot on the stove for a short amount of time and forego using the crock pot, but who doesn't like being able to prepare a meal early, throw it in the slow cooker, walk away, and have it taste a million times better 4-8 hours later? And now that everyone seems to have an Instant Pot, you can make this recipe in a fraction of the time by browning your meat right in the pressure cooker and then cooking all the ingredients together on high pressure for only 20 minutes!
This chili has BEER. Cooking with beer makes all things better. In fact, cooking with booze in general makes all things better. Beer makes your meat even more tender and your flavors all blend together. I used an Amber Ale for this particular batch of chili. Beer is good. Beer chili is very good.
This chili can be made with fresh tomatoes. Sure you can used canned tomatoes and sure its easier to pop open a can than it is to blanch, skin, and seed fresh tomatoes. But let me tell you – its worth it. Especially in these late summer months when you're trying to find new uses for the overwhelming amount of tomatoes you're still seeing in your garden.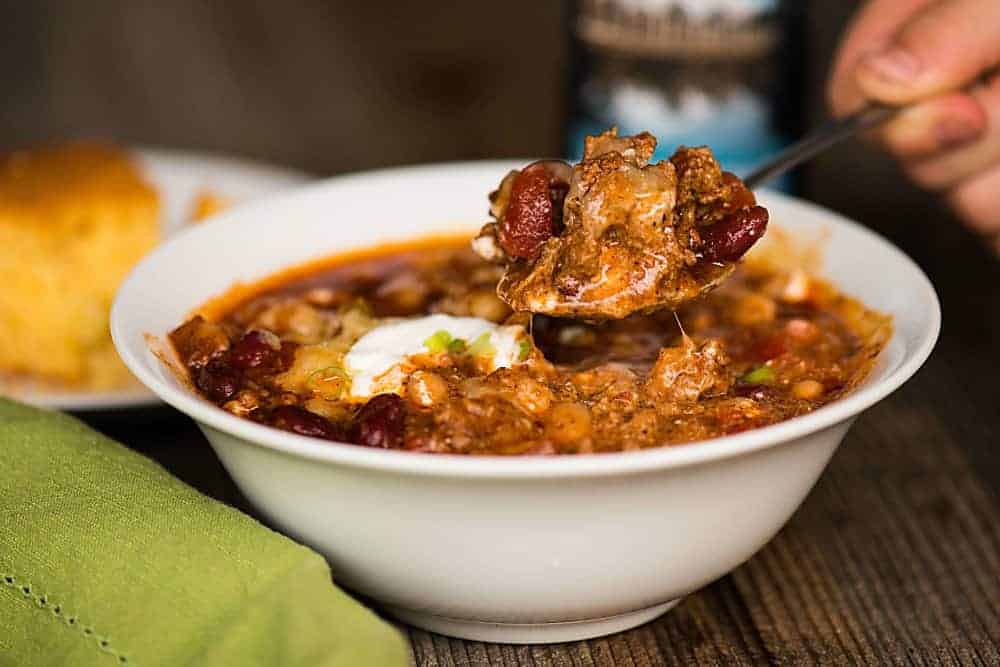 CHILI RECIPE VIDEO
Hungry?
Well, then you better not watch me make my Game Day Beer Chili, because then you'll start drooling uncontrollably! Humor me and watch anyway.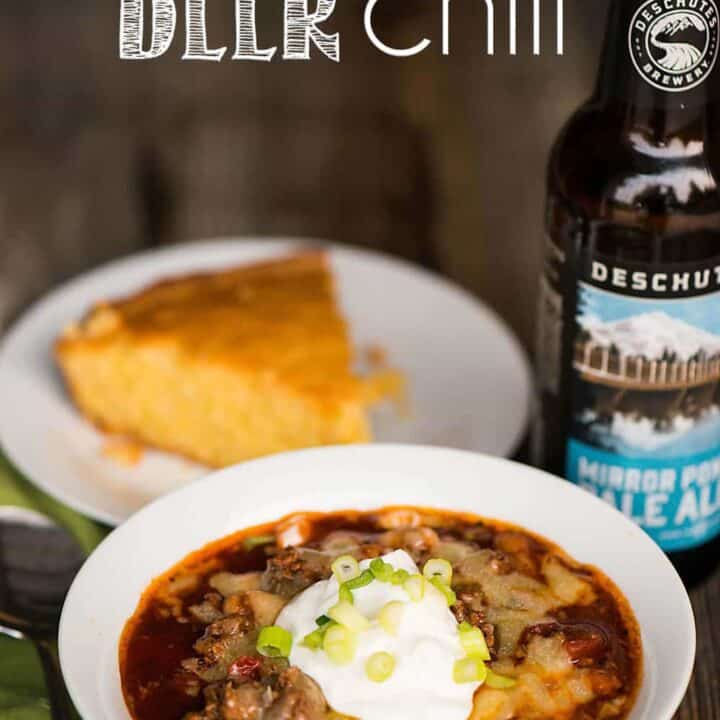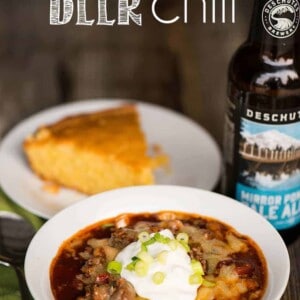 Game Day Beer Chili made with fresh or canned tomatoes in the slow cooker or pressure cooker is the perfect cold weather tailgating meal!
Instructions
In large skillet over medium high heat, brown ground beef with chopped onion and bell pepper until meat is slightly browned and crumbly, about 10 minutes. Add minced garlic, stir, and cook for a couple more minutes. Add mixture to large slow cooker.

Fill a sauce pan with about 4 inches of water and bring to a boil. Score tomatoes on top and bottom with sharp knife and toss them in the boiling water for about a minute or two until the skins start to peel away. Use hands to remove peels and seeds from tomatoes, then crush and add to slow cooker.

Stir in remaining ingredients. Set slow cooker to low and cook for 4-8 hours.

Alternatively, meat can be browned in electric pressure cooker, remaining ingredients can be added, and chili can be cooked on high pressure for 20 minutes.

Garnish with freshly grated sharp cheddar, sour cream, and sliced green onions.
Nutrition
Calories:
479
kcal
,
Carbohydrates:
37
g
,
Protein:
30
g
,
Fat:
24
g
,
Saturated Fat:
9
g
,
Cholesterol:
80
mg
,
Sodium:
1894
mg
,
Potassium:
1279
mg
,
Fiber:
12
g
,
Sugar:
10
g
,
Vitamin A:
1610
IU
,
Vitamin C:
31.8
mg
,
Calcium:
153
mg
,
Iron:
7.7
mg
Nutrition information is automatically calculated, so should only be used as an approximation.