Vegetarian Chili is easy to make, incredibly filling, packed with black and pinto beans as well as the perfect amount of vegetables, plus the flavor is incredible. This is a stovetop recipe but can easily be cooked in the Instant Pot or a Slow Cooker. This is a vegan chili recipe and tastes great when topped with avocado, however some of the best toppings are sour cream and grated cheese.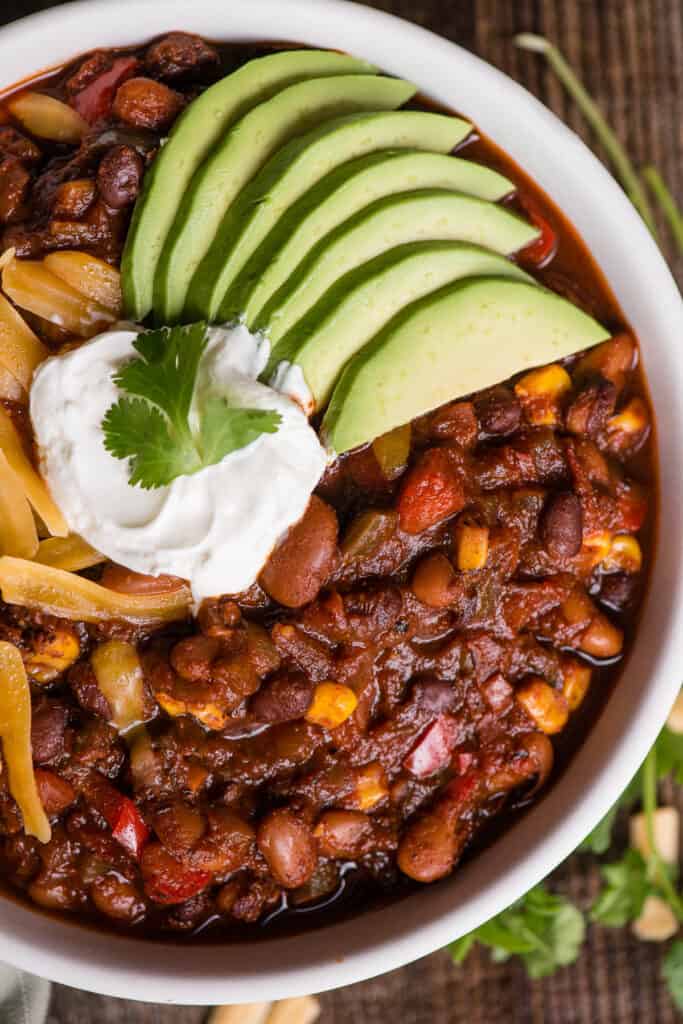 Why this recipe works:
I've always made my chili with some kind of meat, but we're consciously trying to cut back on our meat consumption. I actually think this is my favorite version of chili now!
Easy to make: This can be a typical weeknight dinner. I make it on the stove top but explain below how the recipe can be adapted for your Instant Pot or Slow Cooker as well.
Packed with flavor: The combination of all the vegetables, two varieties of beans, all the spices, plus the beer really do make for one of the most flavorful bowls of chili you'll ever enjoy.
Easy to customize: I think this recipe is perfect as is, but feel free to modify the types and quantities of the ingredients to your liking. The possibilities are endless!
Vegan: This recipe is actually vegan chili, but because I love topping it with sour cream and shredded cheese, it falls into the vegetarian category.
Ingredients needed:
Vegetables: This recipe uses a combination of fresh, canned, and frozen veggies. I chose to use yellow onion, red and green bell peppers cooked in olive oil, garlic, canned tomatoes, and roasted corn.
Beans: Although I typically make my chili with white and red kidney beans, I chose to use black beans and pinto beans in this vegan chili. They are nice and small and are very soft and tender.
Flavorful Sauce: You need additional liquid for this recipe and beer is my favorite because of the incredible flavor it adds. The alcohol is cooked off as it cooks, but you can always substitute with vegetable broth. Worcestershire sauce adds flavor and tomato paste helps thicken. For spices, I use a combination of chili powder, oregano, cumin, and salt.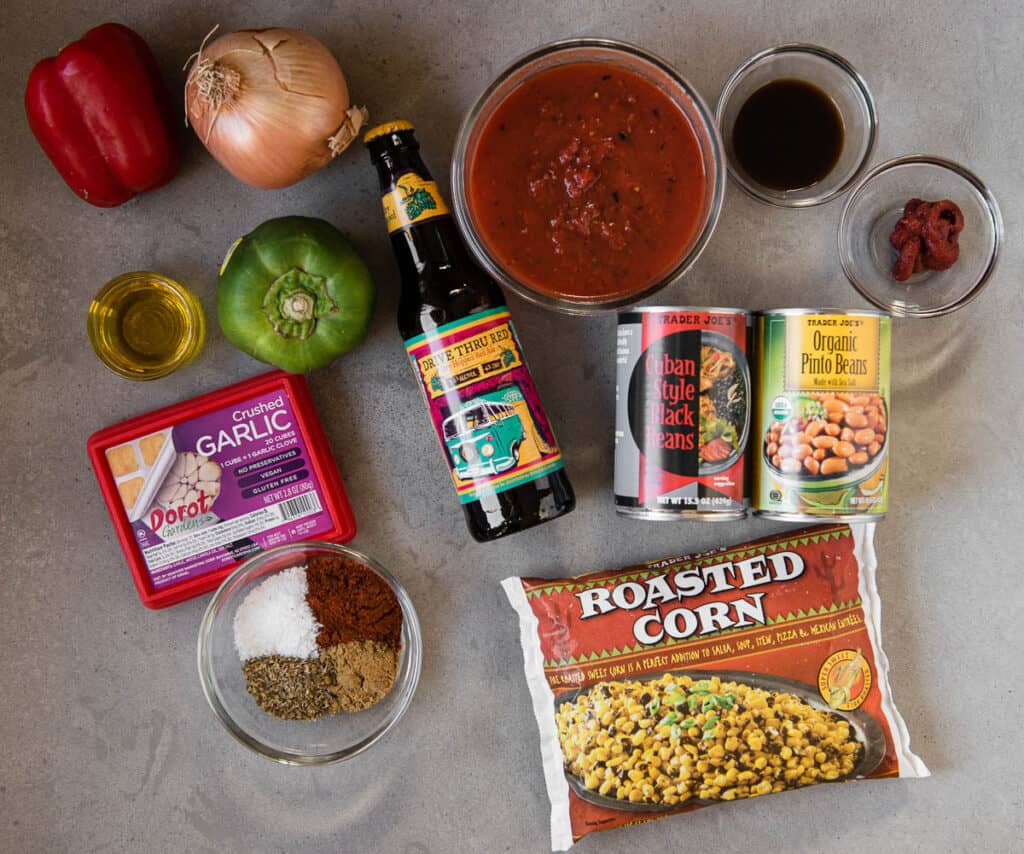 How to make Vegetarian Chili:
These are the stove top directions and I'll explain alternate cooking methods below.
Cook veggies: First step is to heat olive oil in a large pan and add the onions and bell peppers.
Add garlic: To avoid burning, the garlic is added later to prevent burning.
Cook spices: All of the spices are added to this mixture along with the tomato paste. Cooking them with the vegetables really brings out the amazing flavor in this vegetarian chili and your house will smell amazing.
Add beer: Pour in the whole bottle and watch it bubble.
Deglaze pan: The beer helps release anything that stuck to the bottom of the pan.
Add remaining ingredients: Dump everything else into the pot and continue cooking until heated through.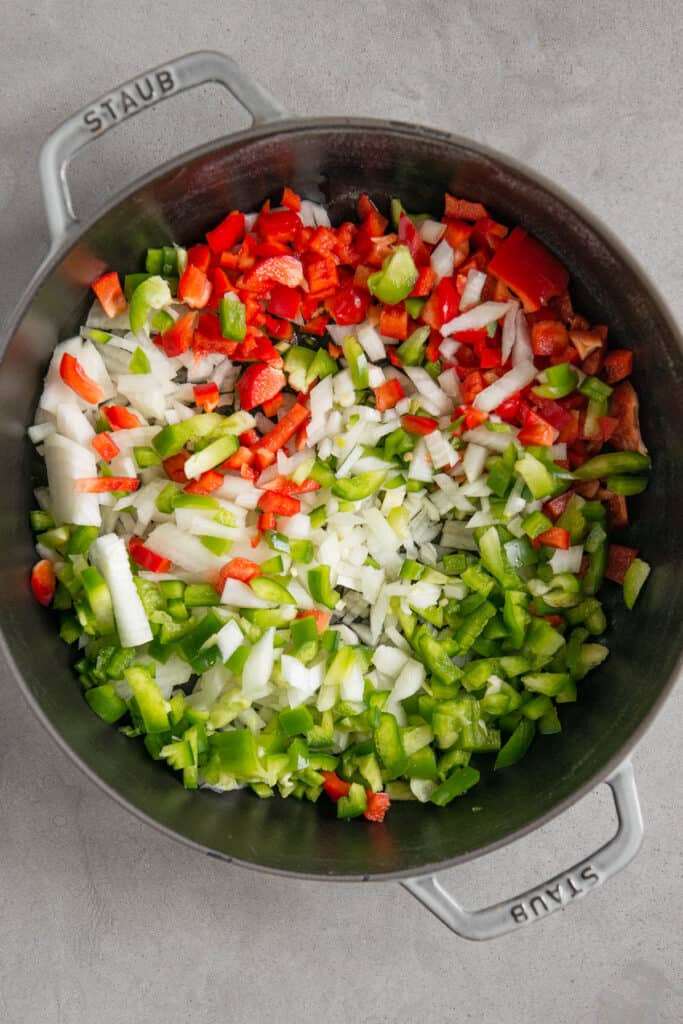 Alternate cooking methods:
This recipe is easy enough to cook on the stove so that is my preferred method, but it is easily adapted to other variations.
Instant Pot:
To make vegetarian chili in the Instant Pot, you'll follow the recipe by using the sauté function. Then, once all of the ingredients have been added, you will close and secure the lid, set it to high pressure for 10 minutes, and let it finish cooking.
Because pressure cooking with a lid retains more liquid, you may have to thicken the chili by allowing it to continue cooking on sauté mode with the lid off and/or mashing it to absorb some of the moisture.
Slow Cooker:
Unless your slow cooker has a sauté function, you will still need to follow the stove top recipe to sauté everything. Then, once you reach the step where all of the remaining ingredients are added, you can transfer to a slow cooker.
At that point, you would cook on high for at least 30 minutes or cook on low for at least 2 hours.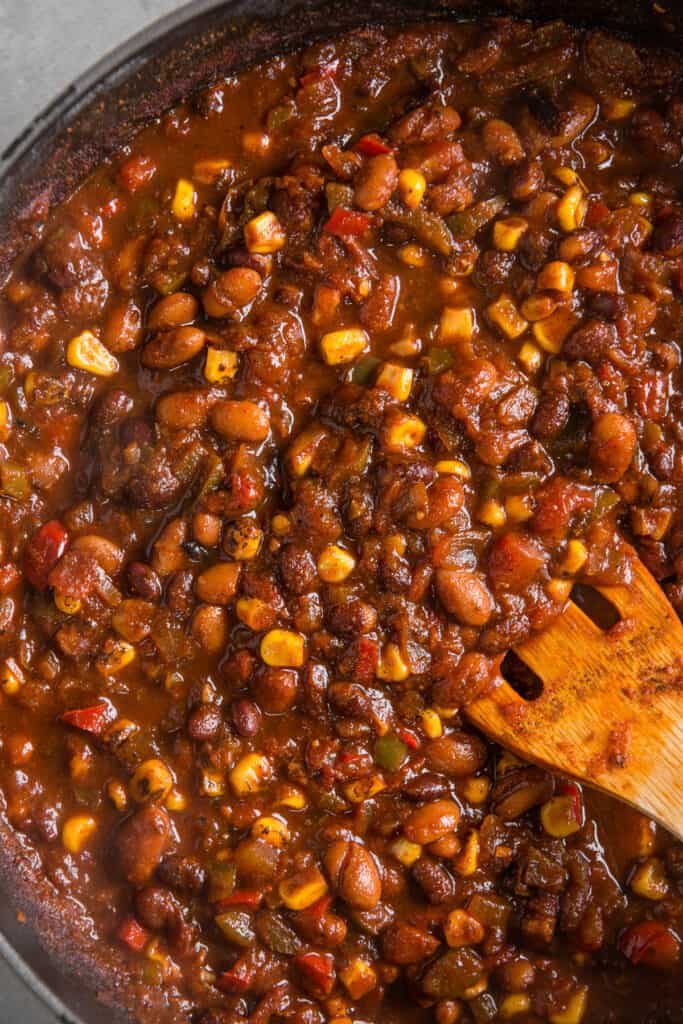 How to thicken chili:
The thickness of your vegetarian chili is a matter of preference. If you cook it only long enough to heat all of the ingredients through, it will still appear to have more of a broth rather than a thick sauce. If you prefer a more thick chili, here are my recommendations.
Continue cooking: With the lid off, the liquid will continue to evaporate and your chili will continue to thicken. Do with with the lowest possible heat to maintain a gentle simmer to avoid burning or sticking to the bottom of the pan.
Mash it: You can use a potato masher or even an immersion blender to partially blend the chili. This will smash the beans and will create a thicker, smoother chili.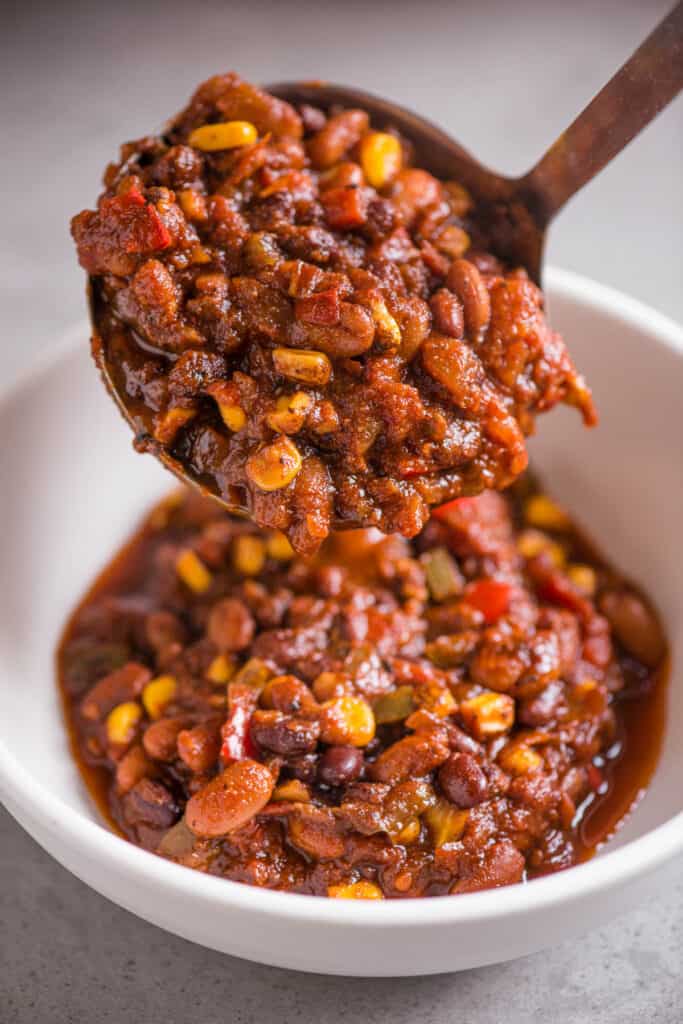 Best toppings for vegetarian chili:
I like to top any kind of chili with sour cream and shredded cheese. I love the creaminess both add. With vegetarian chili especially, sliced avocado is a fantastic topping. Chopped green onions are also a great addition for texture and added flavor.
My husband likes to use tortilla chips to scoop up chili. I much prefer a side of cornbread.
Meal planning ideas using this chili:
As a single batch, this vegetarian chili will fill the bellies of four people. This recipe can easily be doubled or tripled with a larger pan.
Freeze leftovers: I always store my soups, stews, and chilis in quart sized food grade plastic containers. Thaw in the refrigerator and heat to serve.
Baked potato topper: You'll have a complete meal if you top a giant baked potato with this chili along with tons of toppings.
Chili dogs: Who doesn't love a good chili dog! I actually prefer vegetarian chili on a hot dog as opposed to one made with ground beef.
Loaded nachos: Add this chili along with some nacho cheese sauce to a bed of tortilla chips. YUM.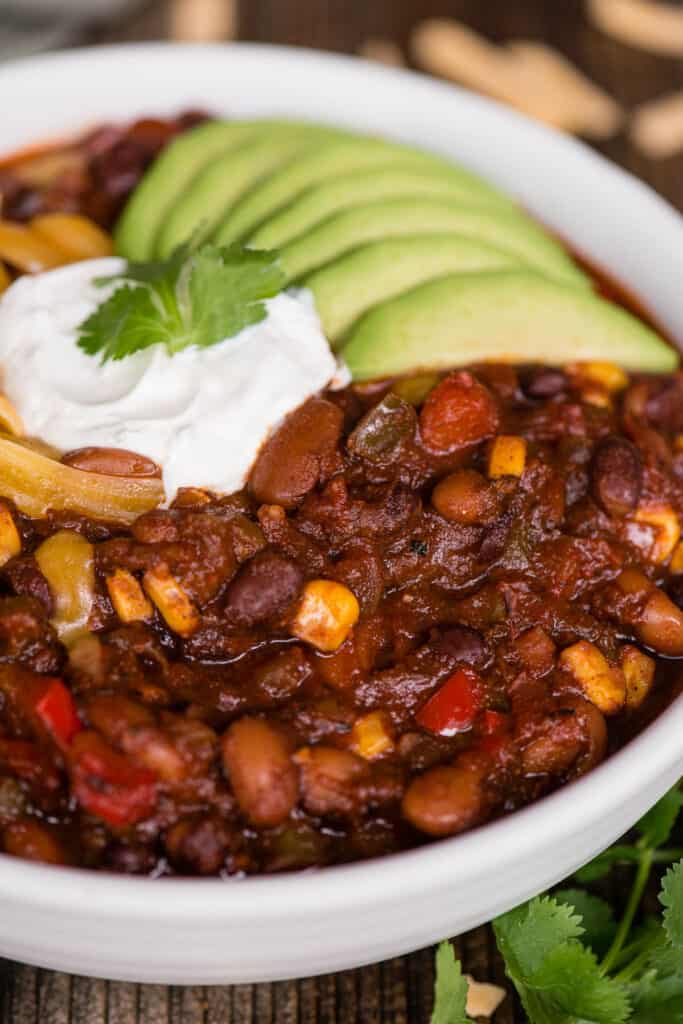 Other great chili recipes:
If you love this recipe, here are some other great recipe ideas for chili loving home cooks.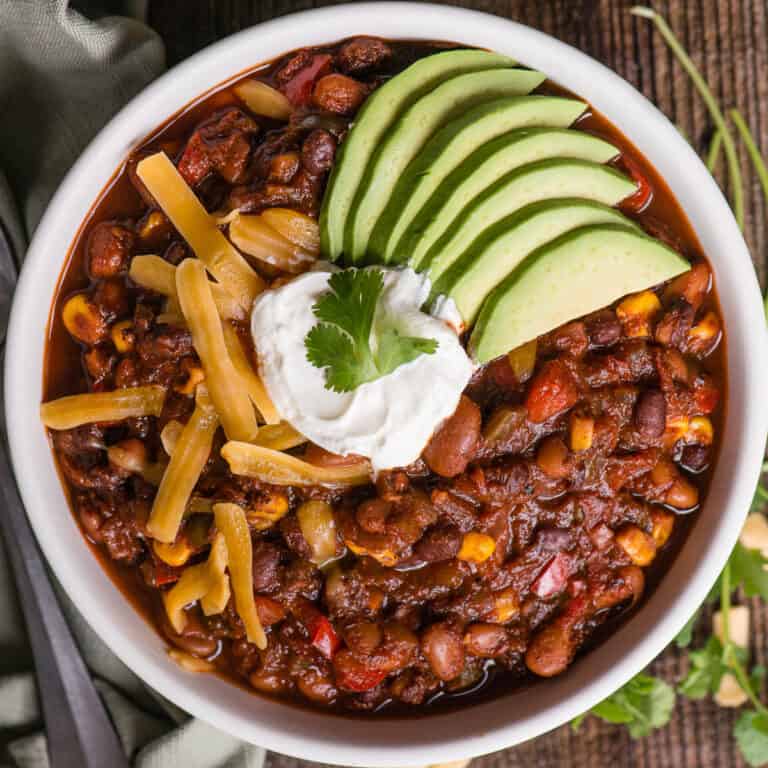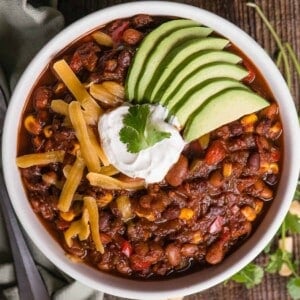 Vegetarian Chili is easy to make, incredibly filling, packed with beans and vegetables, and the flavor is incredible.
Ingredients
1

tbsp

olive oil

1

green bell pepper

diced

1

red bell pepper

diced

1

medium

yellow onion

diced

2

cloves

garlic

minced

3

tablespoons

chili powder

1

tablespoon

cumin

1

tablespoon

oregano

dried, not powdered (Italian seasoning can be used instead)

1

tablespoon

kosher salt

use less if you prefer less salty, you can always add more later

1

tablespoon

tomato paste

12

ounces

beer

(one bottle) Amber Ale recommended, vegetable broth can be used as a substitution

14

ounces

diced fire roasted canned tomatoes

1

tablespoon

Worcestershire sauce

15

ounces

black beans

(one can) drained and rinsed, I used trader Joe's Cuban black beans for extra flavor

15

ounces

pinto beans

(one can) drained and rinsed

1

cup

corn

frozen fire roasted corn recommended, fresh corn kernels work great too
Instructions
In large pan over medium high heat, heat oil and cook diced onion and bell pepper until slightly browned, about 10 minutes. Stir occasionally only to prevent burning. Add minced garlic, stir, and cook for a couple more minutes.

Add chili powder, cumin, oregano, salt, and tomato paste. Stir to combine and allow to cook for a few minutes.

Once the ingredients begin to stick to the bottom of the pan, add beer (or vegetable broth, if using) to pot and scrape bottom of pan to deglaze.

Stir in remaining ingredients. Allow to cook on stove until heated through, at least 15 minutes.

Garnish with freshly grated sharp cheddar, sour cream, avocado, and/or sliced green onions.
Notes
Serving size: Based on one pretty large bowl where one batch of chili makes four servings.
Cooking methods: Instant pot and Slow Cooker instructions listed above.
Thickening: Tips and tricks on how to get a thicker chili are also detailed above.
Scroll up above recipe for lots more helpful info with this recipe!
Nutrition
Calories:
489
kcal
,
Carbohydrates:
84
g
,
Protein:
25
g
,
Fat:
7
g
,
Saturated Fat:
1
g
,
Sodium:
2059
mg
,
Potassium:
1634
mg
,
Fiber:
26
g
,
Sugar:
11
g
,
Vitamin A:
3247
IU
,
Vitamin C:
78
mg
,
Calcium:
191
mg
,
Iron:
9
mg
Nutrition information is automatically calculated, so should only be used as an approximation.