This tasty One Pot Chili Mac is an easy and filling meal that can be served up as a kid friendly family dinner or can feed a crowd while watching the game.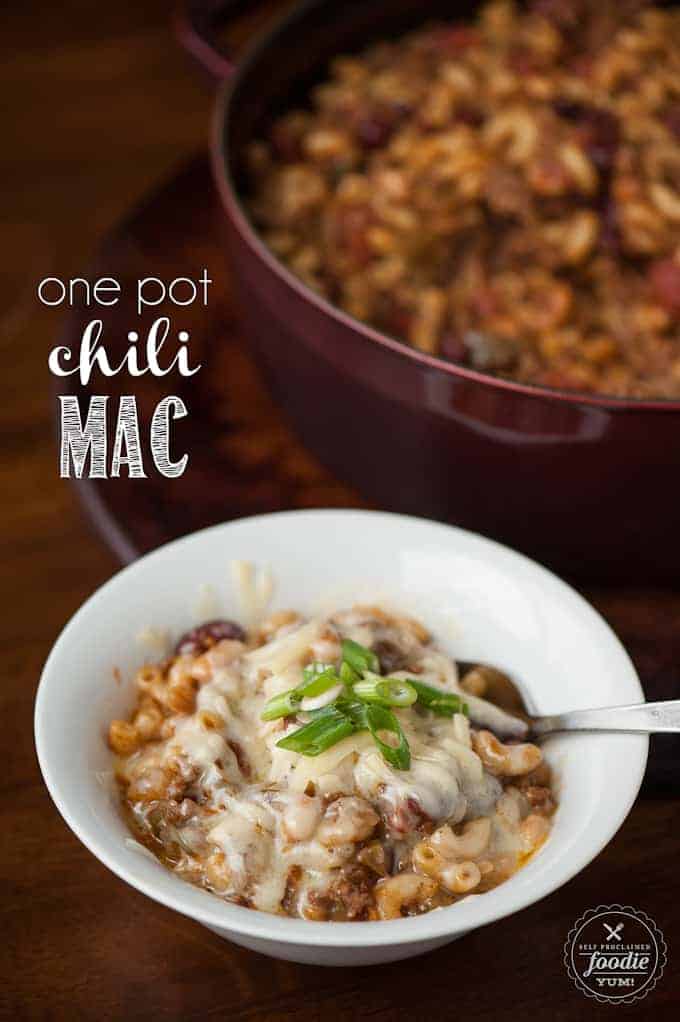 Last week I was sitting at my desk as my "real job" (yes, I work full time at a very busy and stressful job, am a mom, and have a food blog where I post a new recipe every single day… hopefully you'll forgive the occasional typo because my head is constantly on the verge of exploding from over commitment), and my co-worker sat down at his desk with his lunch. His cubemate asked "what do ya got there" and I heard him reply over that six foot tall carpeted cubicle wall "chili mac". Perhaps it was because I had been to busy to eat that morning and was starving, but I distinctly remember saying to myself (picture Homer Simpson with some drool dribbling out of the corner of his mouth): "Mmmmm, chili mac". So, of course I had to make some.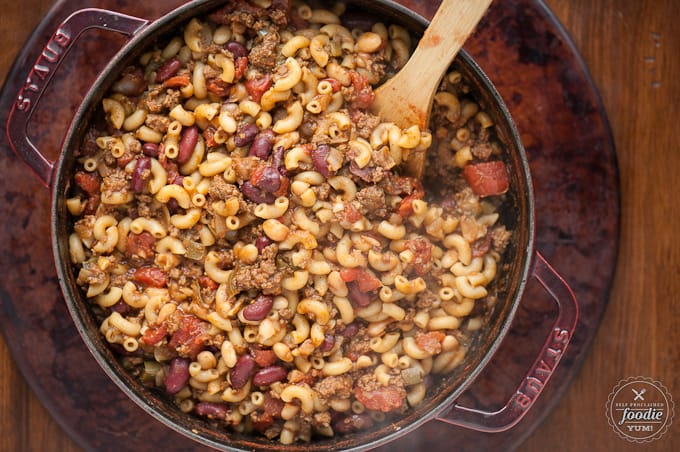 I started by using my game day beer chili recipe as inspiration. From there I made a few alterations and then added chicken broth and elbow macaroni. Bam. One pot chili mac. Nailed it.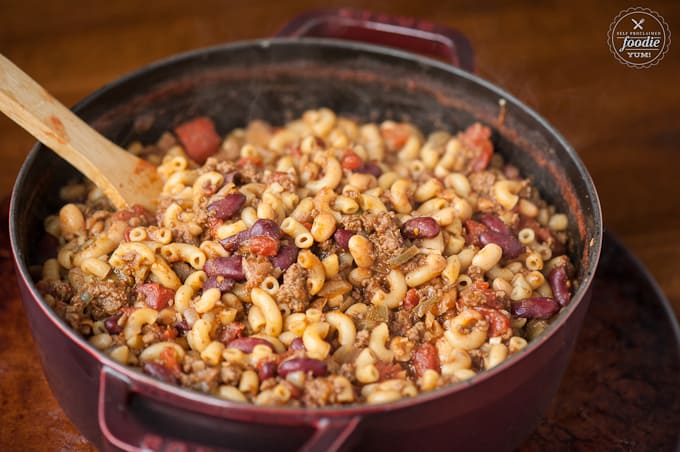 One of the main differences, besides the chicken broth and macaroni of course, from my game day beer chili is that I used fresh tomatoes in that recipe. I still highly recommend using fresh tomatoes but I made that chili at the end of August when I was buried in fresh tomatoes and had to figure out what to do with them. I made this chili mac in the spring. The only fresh tomatoes available in Oregon in the spring are at the store and are very expensive and not very appetizing. So, in went the canned tomatoes. Here's the thing: I use a lot of salt in my other chili because fresh tomatoes need it. What I didn't consider when making this was the salt that was in the canned tomatoes. Had I not added the chicken broth and macaroni, this would have been way too salty. But, because both chicken broth (at least the kind I used) and the pasta need additional salt, it ended up being perfect. Whew. That was lucky. If you aren't sure, you may want to start with less salt and add more to taste. Remember – you can always add but you can't take away in cooking.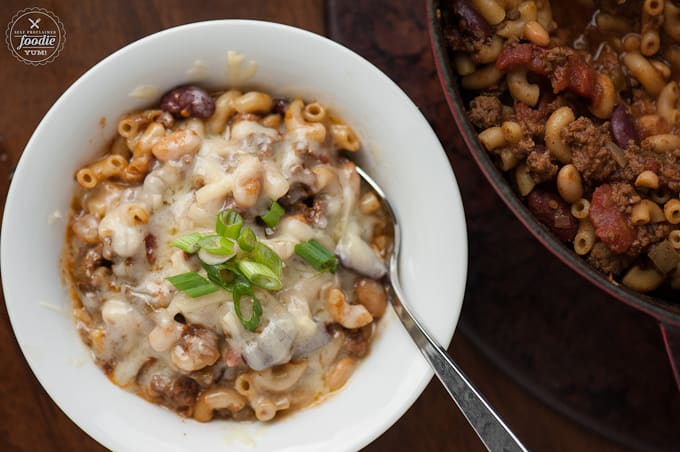 I prefer to add the cheese directly to the bowl rather than to the pot. This way I know I have the exact right amount. I also prefer using freshly grated extra sharp white cheddar. You can use the pre-grated stuff, but if you go to the trouble to make this awesome dinner, take the extra thirty seconds it takes to grate your own cheese. Its well worth it. My kids and my husband gobbled this stuff up. Chili + mac n cheese is like a food pairing made in heaven!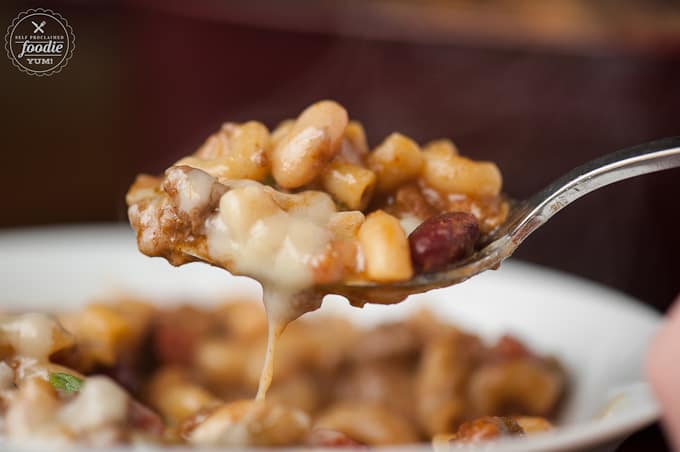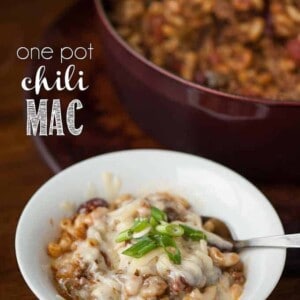 This tasty One Pot Chili Mac is an easy and filling meal that can be served up as a kid friendly family dinner or can feed a crowd while watching the game.
Instructions
Using a heavy bottom pot or Dutch oven (I think mine is the 9 quart size and it was just big enough) over medium high heat, brown ground beef with onion and bell pepper until crumbly, about 10-15 minutes. Add garlic and cook for a few more minutes. Add beer and scrape all the wonderful bits off the bottom of the pot as it boils. Allow for almost all of the liquid to cook away. This should only take about 5 minutes.

Stir in canned tomatoes, chicken broth,beans, chili powder, cumin, Worcestershire, oregano, salt (see note), and pepper. Bring to a simmer and stir in pasta. Bring to a boil, cover, reduce heat to low and simmer until pasta is cooked through, about 10-15 minutes.

To serve, top with grated cheese and sliced green onions.
Notes
I found 1 tablespoon salt to be the perfect amount but you may want to start with just a teaspoon and add more to your liking.
Nutrition
Calories:
440
kcal
,
Carbohydrates:
54
g
,
Protein:
25
g
,
Fat:
13
g
,
Saturated Fat:
5
g
,
Cholesterol:
40
mg
,
Sodium:
1261
mg
,
Potassium:
1089
mg
,
Fiber:
11
g
,
Sugar:
5
g
,
Vitamin A:
1791
IU
,
Vitamin C:
33
mg
,
Calcium:
100
mg
,
Iron:
6
mg
Nutrition information is automatically calculated, so should only be used as an approximation.