Skinny White Chicken Chili is a super healthy, protein packed, flavorful recipe.
This meal is really easy to make. Made with fresh chicken, roasted green chile, great Northern beans, and corn, this white chicken chili is sure to be a hearty meal your family will love.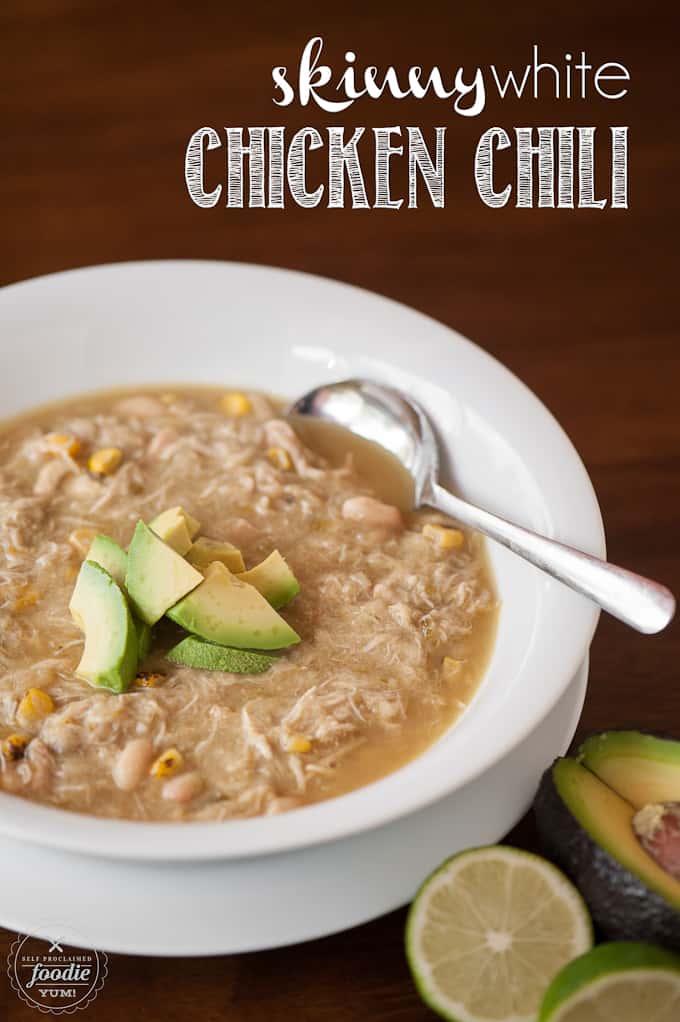 White chicken chili just sort of happened one night in my kitchen. When I made this chili, I was just kind of winging it. I knew I wanted to make a white chili with chicken and green chile.
I sure do love me some New Mexican Hatch green chile. Or couldn't you tell from my green chile cheddar meatballs, deviled eggs, enchilada casserole, aioli, bacon burgers, and homemade enchilada sauce recipes? Roasted green chile actually makes everything better.
When I made this white bean chicken chili, I knew I wanted to make something with a ton of flavor. I also wanted to make a meal that was good for me, and something that had enough protein to give me a nice solid meal.
I wanted to use two cans of beans but only had one, but in the end I'm glad it worked out that way because I'm not a huge fan of chili that has more beans than anything else.
The corn gave the heat from the green chile a nice sweetness. And the chicken shredded up so perfectly tender. I ended up putting twice the avocado in my bowl after I took the photo because I wanted every bite to have a piece.
This really turned out quite delicious and I've mentally added it to my go-to regular dinner recipe supply.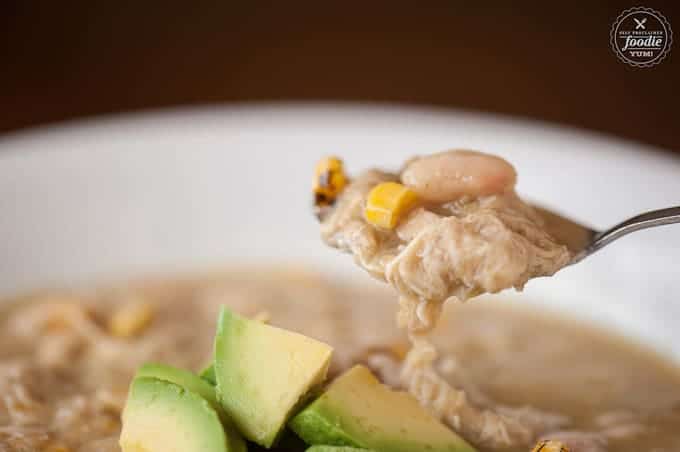 How to make white chicken chili:
My creamy white chicken chili recipe was created on the stove top, however you can modify this recipe for a slow cooker or a pressure cooker.
To make white chicken chili in the Instant Pot, simply brown the chicken in the Instant Pot using the saute feature. Then, add the broth, close and tighten the lid, and set to high pressure for 10 minutes. Allow steam to release naturally. This should allow you to easily shred the chicken. Then, you can add the remaining ingredients, cook on low pressure for 10 minutes to heat through, stir and serve. Quick and easy!
To make white chicken chili in the Crockpot, you will need to brown the chicken in a separate pan. This step isn't necessary, but any time you brown the meat first, you will get the most intense flavor. Then, you'll want to cook the chicken in the broth on low for 4-6 hours. Essentially, the only part of the chili that needs to be cooked is the chicken. Everything else just needs to be heated through. Before you serve, just allow yourself enough time to shred the chicken and add the remaining ingredients to the slow cooker. Then, cook on high for up to an hour to heat through.
If you decide to make the white bean chicken chili on the stove top like I did, a good quality dutch oven will make all the difference in the world. I didn't get a high quality cast enameled cast iron pot until I was well into my thirties. How did I ever survive without one?
What to serve with this recipe:
This hearty soup is a meal in and of itself. It really doesn't need anything, especially when you top it with fresh avocado and a squeeze of lime, as I've indicated in the recipe below. Any time I make soup or chili, however, I always recommend serving them along side two things: a crisp green salad and a crusty homemade bread. Since this chili has a southwestern flavor, you could always serve up a Purple Cabbage Citrus Slaw for some added color!
One other thing I wanted to point out with this creamy white chicken chili recipe... I had a reader leave me a very nasty comment on facebook. This troll's comment was so mean, it was almost comical. He insulted me because he said that this recipe couldn't qualify as chili because it didn't contain chili powder. He also said that it looked disgusting. Thankfully I have a thick skin and trolls don't bother me. In contrast, positive comments on my blog and social media fuel my soul. So, if you're reading this and have taken the time to ever leave me a positive comment - I thank you.
My response to him was this:
As for defining what makes "chili" a chili, I think it's incredibly regional. Personally I define actual chili as meat and/or beans in a thick, gravy-like sauce full of chile flavors. Plus, this white chicken chili contains roasted green chile
Yes. It is ugly and not pleasing to the eye. But who the heck cares? It tastes wonderful!
Full Recipe Instructions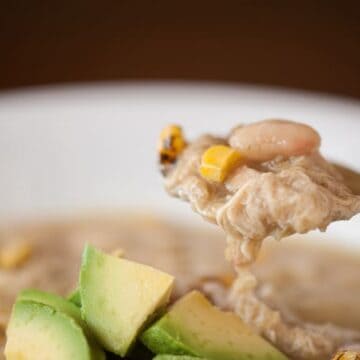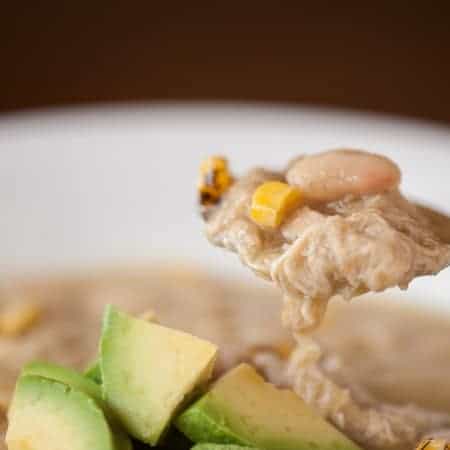 Skinny White Green Chile Chicken Chili
This Skinny White Chicken Chili is super healthy, full of protein, packed with flavor, really easy to make, and a great meal your family will love.
Print
Pin
Rate
CLICK TO PLAY RECIPE VIDEO
Ingredients
1-2

tablespoons

olive oil

1

pound

chicken breasts or chicken tenders

(I used tenders)

1

medium onion

(diced)

4

cloves

garlic

(minced)

1

teaspoon

cumin

6

cups

chicken broth

(divided)

4

whole roasted green chiles

(seeds and stems removed, diced (you can substitute with two 4-ounce cans green chile))

1

15 ounce can great Northern beans, drained and rinced

1

cup

corn

(I used Trader Joe's roasted frozen corn)

½ - 1

teaspoon

salt
Instructions
In a heavy bottom pot or dutch oven over medium high heat, add olive oil. Add onion and chicken breast meat and allow to brown, flipping the chicken just once. You don't need to cook the chicken through, but you want to get a little bit of a sear on it, about 5 minutes per side. Add minced garlic, give everything a stir, and allow to cook for 2-3 more minutes.

Add 4 cups of the chicken broth (reserving the remaining two cups for later) along with the cumin and green chiles. Allow mixture to come to a boil, and then reduce heat to low. Continue to cook on low uncovered until the liquid reduces by half, about 60-90 minutes. Using two forks, shred the chicken.

Add beans to the pot and stir. To get a thicker chili, smash about half of the beans with your spoon as you stir. Mixture should be a little thick once the beans suck up the remaining liquid. At this point, add the corn and the remaining chicken broth. Stir, add salt to taste, and heat through.

Serve with avocado and a squeeze of lime.
NUTRITION INFORMATION
Calories:
244
kcal
|
Carbohydrates:
16
g
|
Protein:
27
g
|
Fat:
7
g
|
Saturated Fat:
1
g
|
Cholesterol:
72
mg
|
Sodium:
1574
mg
|
Potassium:
846
mg
|
Fiber:
2
g
|
Sugar:
4
g
|
Vitamin A:
135
IU
|
Vitamin C:
36.5
mg
|
Calcium:
43
mg
|
Iron:
1.7
mg