I transformed my popular beer chili by adding the best fall has to offer and created Pumpkin Beer Chili, made with pumpkin ale, pumpkin puree, and cinnamon.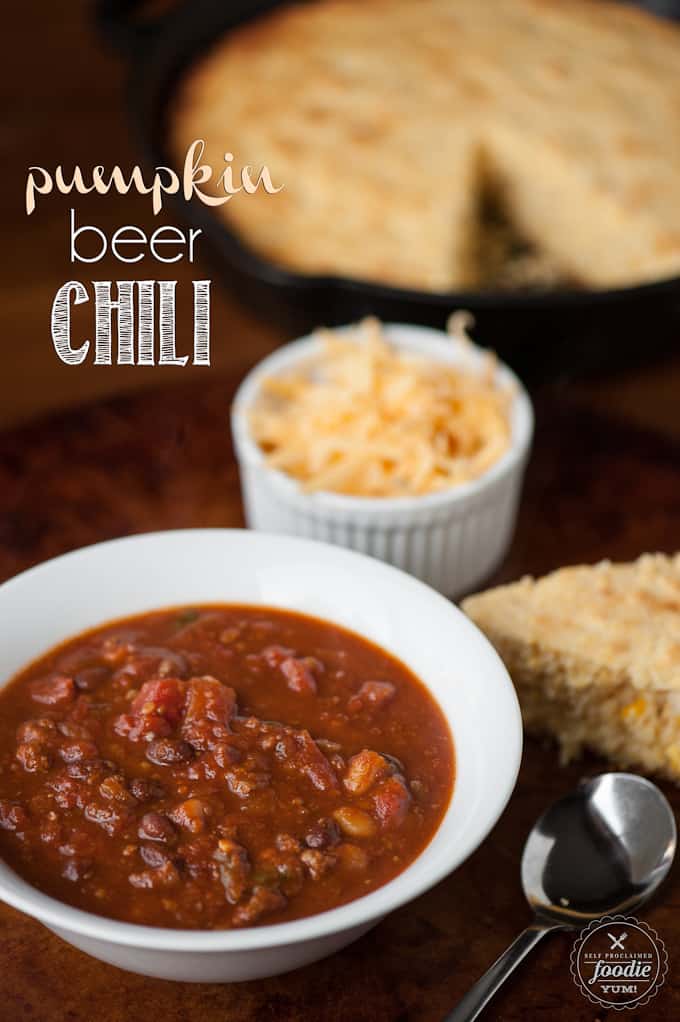 I'm not gonna lie. I'm pretty damn confident that I have perfected my chili making techniques and would put money on winning the next chili competition I enter. Yeah, its that good. There are a few good tricks, in my opinion to damn good chili. For this particular version, I wanted something fall inspired. I had heard of pumpkin chili before, and it just sounded weird to me. If you're doubtful like I was, have no fear – the end result does not taste like pumpkin pie. It tastes like fall. There's really no other way to describe it other than spicy savory delicious fall chili.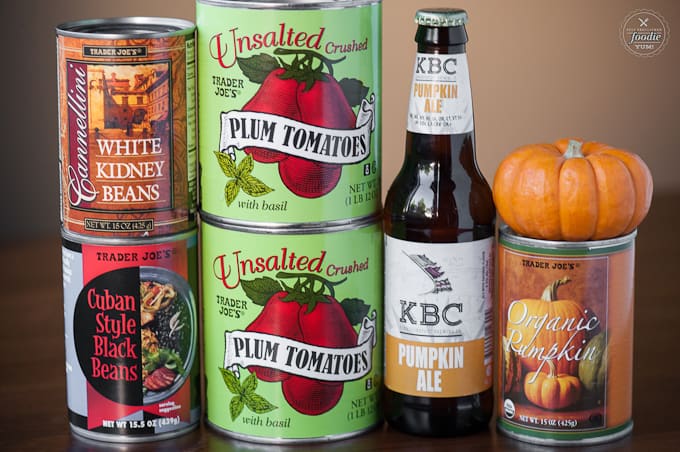 MY OTHER RECIPES
I normally stick with red and white kidney beans, but for this version I swapped out the red kidney beans for black beans. Not just any black beans, but Trader Joe's Cuban Style Black Beans because they're really tasty. I started putting beer in my chili quite some time ago, but instead of a traditional amber ale, I used pumpkin ale. And, you guessed it, I added that entire can of pumpkin puree. I also through in a teaspoon of ceylon cinnamon to really bring out the fall flavor. Everything cooks on low in your slow cooker for six to ten hours, so its the perfect meal to make on a busy weekday morning before rushing everyone off to work and school, and its also perfect tailgating food because you can make it the night before, let it slow cook while you sleep, and then you reheat it before the game starts.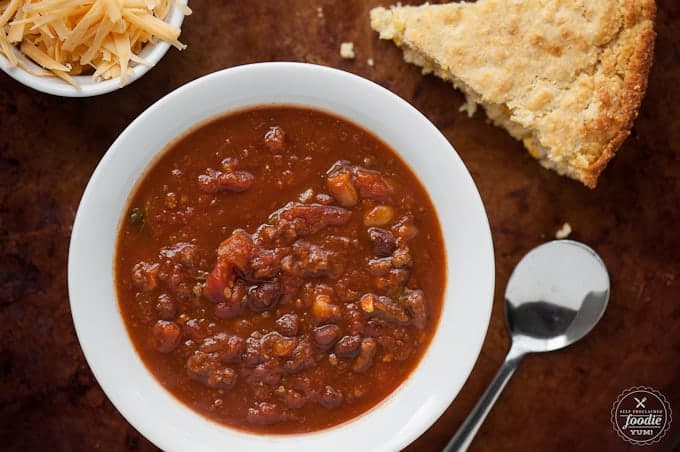 Besides the beer, my trick to making this chili really quite wonderful is to mash it up with a potato masher before serving. I don't know about you, but there are only so many whole kidney beans I like to eat in one sitting. By mashing half of them up, you not only thicken up your chili, but all that wonderful fall flavor mixes in so much better. Enjoy!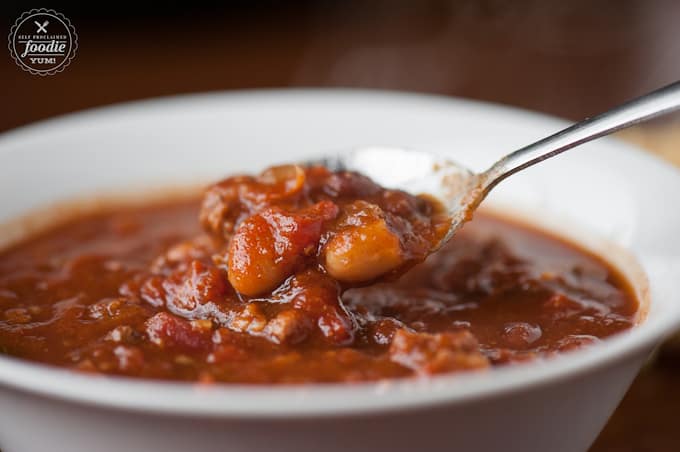 Pumpkin Beer Chili
I transformed my popular beer chili by adding the best fall has to offer and created Pumpkin Beer Chili, made with pumpkin ale, pumpkin puree, and cinnamon.
Recipe type:
dinner, main dish
Ingredients
1 pound ground meat (I use grass fed/finished)
1 green bell pepper, chopped
1 medium yellow onion, chopped
2 cloves garlic
1 (12 ounce) bottle pumpkin ale
2 (28 ounce) cans crushed tomatoes, unsalted
1 (15 ounce) can pureed pumpkin
1 (15 ounce) can white kidney beans, drained and rinsed
1 (15 ounce) can black beans, drained and rinsed
2 tablespoons chili powder
1 tablespoon cumin
1 tablespoon oregano
1 tablespoon kosher salt
1 tablespoon tomato paste
1 tablespoon Worcestershire sauce
1 tablespoon hot sauce (more if you want your chili spicier than mild)
1 teaspoon cinnamon
Instructions
In large skillet over medium high heat, brown ground beef with chopped onion and bell pepper until meat is slightly browned and crumbly, about 10 minutes. Add minced garlic, stir, and cook for a couple more minutes. Add pumpkin ale to meat mixture and stir with a wooden spoon to allow any browned bits at the bottom of the pan to release. Add mixture to large slow cooker.
Add remaining ingredients to crockpot. Set slow cooker to low and cook for 6-8 hours.
Before serving, use a potato masher to mash up some of the beans and continue to mash until your chili is as thick as you like. Garnish with freshly grated sharp cheddar and cornbread.