Granny's Classic Peanut Butter Cookies are crisp on the outside, chewy on the inside, and just so good!
Enjoy the perfect peanut butter cookie recipe that has been in our family for generations! These cookies will hold their shape while baked.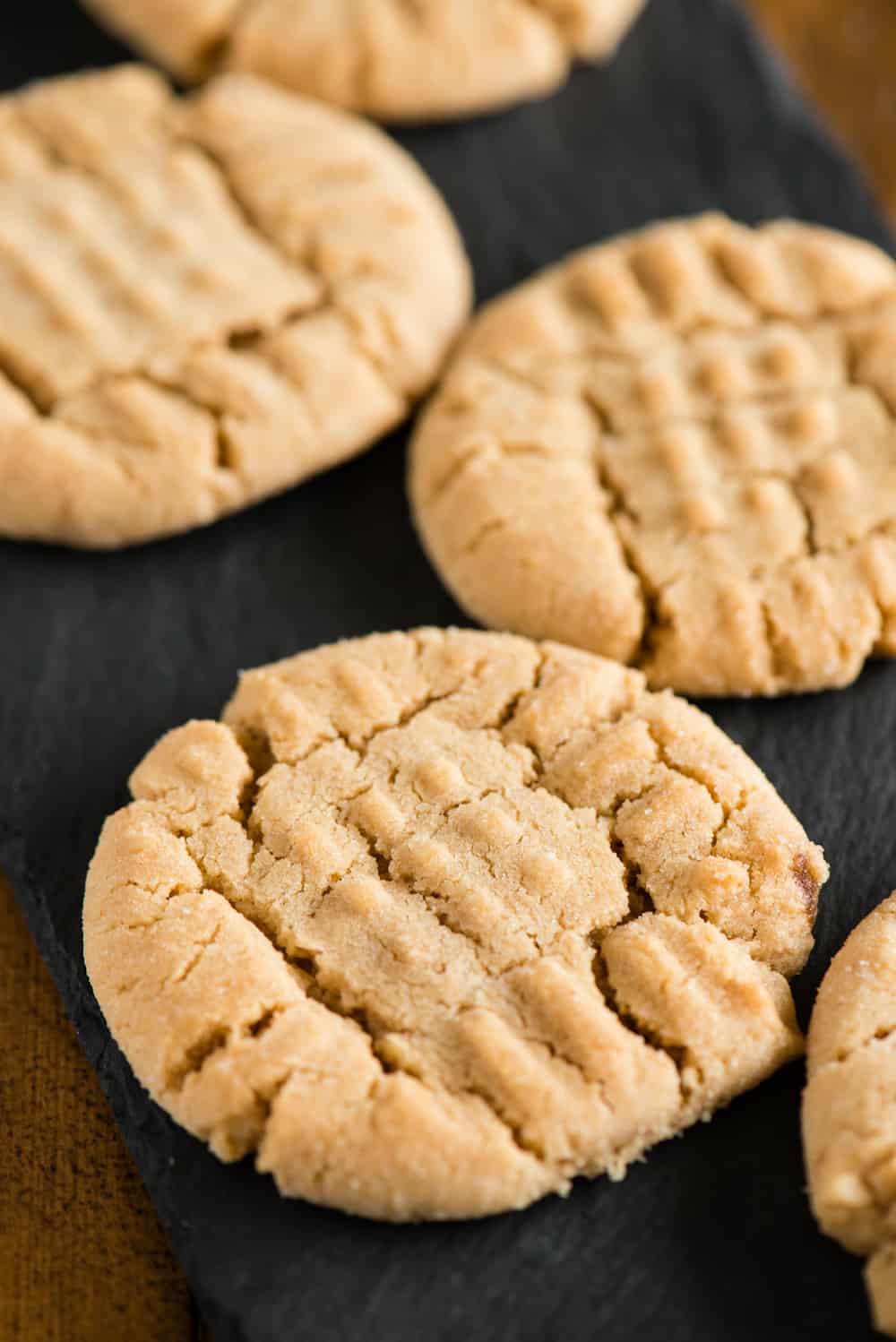 Granny's Classic Peanut Butter Cookies remind me of my childhood because it was the most made cookie in our house. Well, most made after classic chocolate chip cookies, of course.
If you want a peanut butter cookie that will be crisp on the outside, chewy on the inside, and won't go completely flat when cooked, look no further. This recipe uses just the right amount of flour to hold the cookie together without drying it out.
Can you use natural peanut butter?
Yes! It is the only kind of peanut butter I use, actually. I despise the kind of peanut butter that has the oil on the top and requires stirring. There are plenty of no-stir peanut butters out there that are natural, meaning the only ingredients are peanuts and salt.
Why do I recommend using natural peanut butter?
Well, have you ever looked at the ingredients on popular brands of peanut butter? They often contain Hydrogenated Vegetable Oil to prevent separation. Hydrogenated oils are a trans fat that have been known to increase LDL and triglycerides. Some of us feel guilty enough about shoving 6 cookies in our face… need we worry about increasing the risk of a heart attack even further? I think not.
Many peanut butters contain added sugar as well. Sure, it tastes great on a spoon, but when baking things like these peanut butter cookies, I like to control the amount of sugar added to my cookies. If you use a natural no-sugar added peanut butter, they will taste the same every time.
Reasons why peanut butter cookies are dry and crumbly:
There can be two reasons for your cookies turning out too dry and crumbly:
You cooked them a wee bit too long. Peanut butter cookies can be extremely deceiving. They don't always look cooked when, indeed, they are fully cooked. They won't get brown around the edges. Or, if they do, you've already cooked them too long. Take them out of the oven as soon as they no longer look wet or raw. They will finish cooking on the baking sheet after you take them out of the oven. Do not over cook your peanut butter cookies!
You added a wee bit too much flour. Be sure to measure your flour exactly. This recipe calls for just the right amount of flour to allow the cookies to hold their shape during the cooking process. Less flour will result in a chewier cookie but it might spread more. More flour than what I recommend will result in a drier, more crumbly cookie.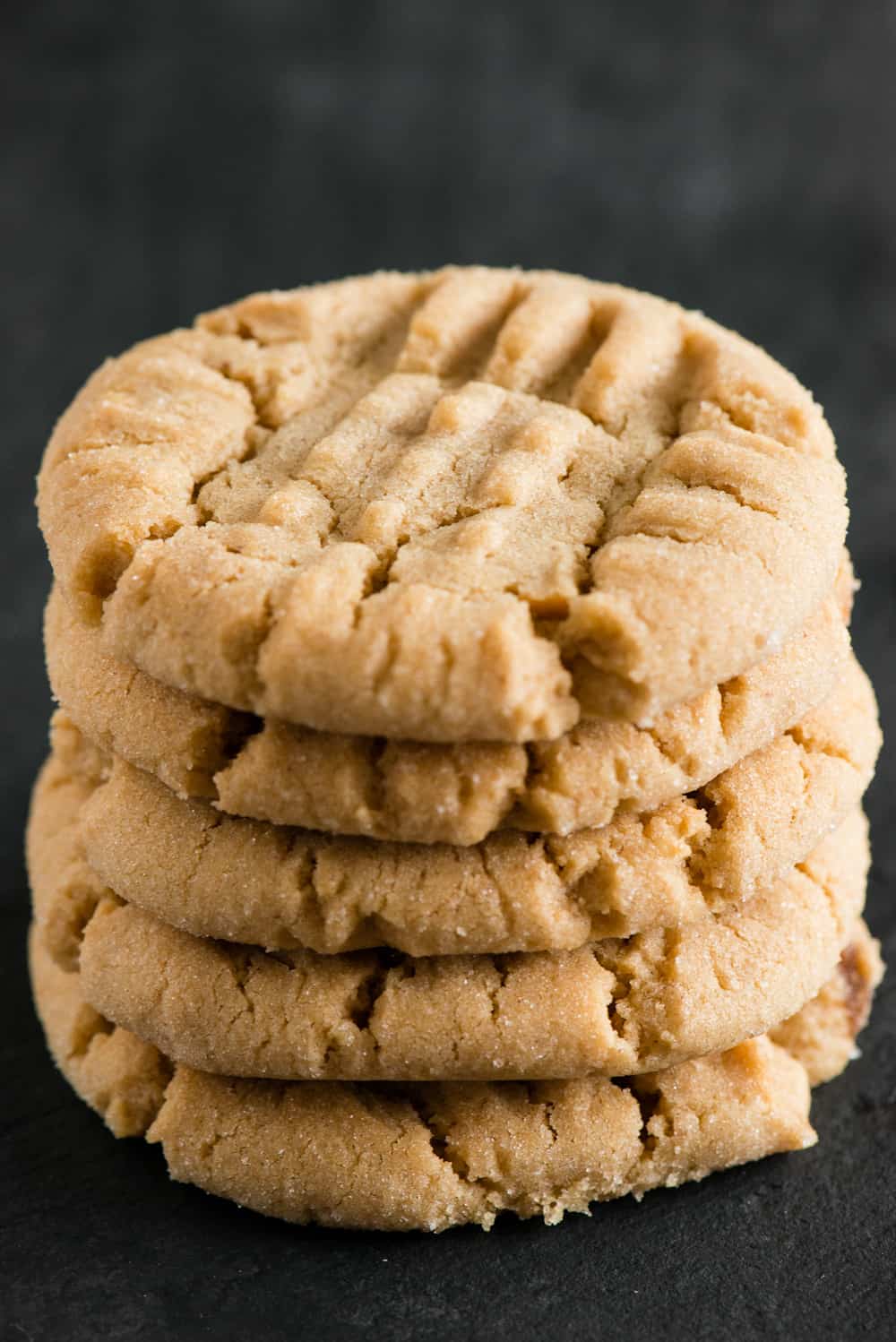 Should you refrigerate peanut butter cookie dough before baking?
Yes. I recommend refrigerating the dough for at least an hour before baking.
Cold cookie dough will spread less during the cooking process. Ever made homemade sugar cookies that can't hold their shape? That might be because the dough wasn't cold enough. Same principle.
If you're in a real hurry, you can skip the refrigeration process, but your cookies just might not look as good and could potentially take less time to cook.
Why do you fork peanut butter cookies?
The main purpose to "fork" your peanut butter cookies is to make them flat prior to cooking.
Can you just smash them with your hand? Yes. Does that yield the classic peanut butter shape? No.
Want to know the best part about using a fork in a criss-cross pattern on your peanut butter cookies? It's a job that you can let your kids do and they will love you for it. Plus, if you're a control freak in the kitchen like I am, it's a difficult task for the kids to mess up. That's a win-win combination right there!
How to store peanut butter cookies:
You can store peanut butter cookies in an air-tight container at room temperature and they'll stay fresh for days. Just be sure they are completely cooled before you store them. Never put a hot cookie in a sealed container.
If you don't feel like baking all the cookies at once, you can also store any leftover dough in the refrigerator for several days. Or, you can wrap the dough balls with plastic wrap and freeze any leftover dough for a future date when that pesky peanut butter cookie craving strikes again!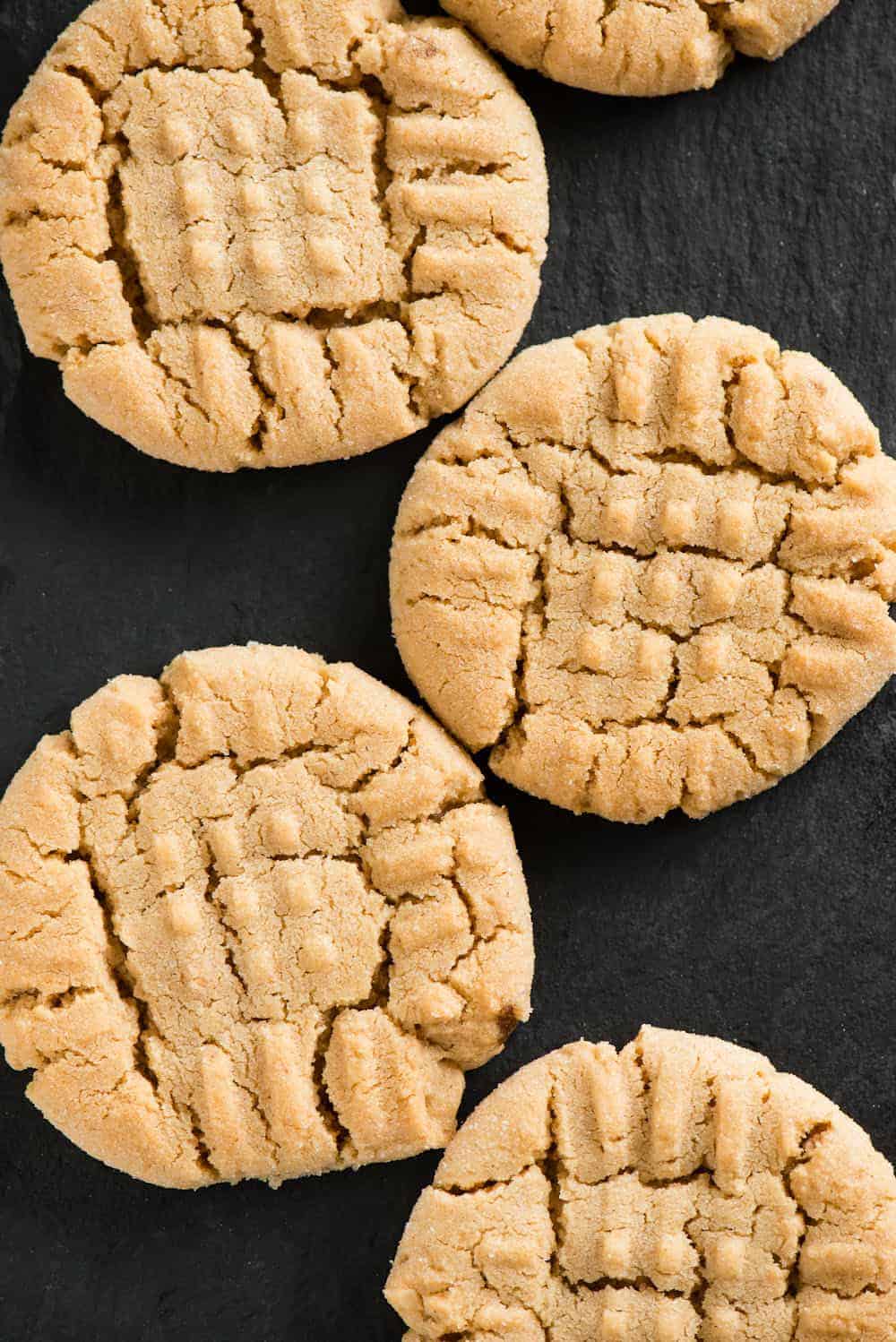 Love homemade cookie recipes?
You'll definitely want to make these:
Granny's Classic Peanut Butter Cookies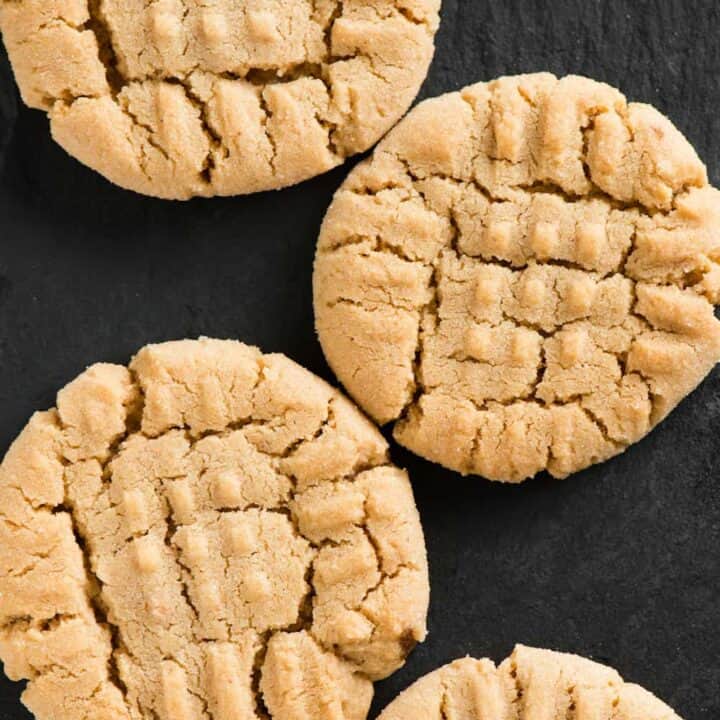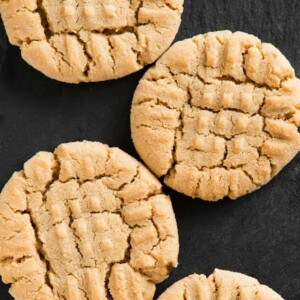 Granny's Classic Peanut Butter Cookies come from the perfect peanut butter cookie recipe that has been in our family for generations! Crisp, chewy, so good!
Instructions
Cream butter, peanut butter, and sugars together in large mixing bowl until light and fluffy. I use my stand mixer with the paddle attachment and beat on medium high speed, scraping the sides of the bowl several times.

Mix in eggs and vanilla, scraping sides at least once to fully incorporate.

In separate bowl, mix together flour, baking soda, baking powder, and salt. Slowly stir into peanut mixture, scraping down sides as needed to fully mix.

Cover bowl and refrigerate at least one hour.

To bake cookies, preheat oven to 350 degrees F. Form 1-inch sized balls and roll in between hands to make smooth and dip tops in the remaining sugar. Set on parchment lined baking sheet with the sugar side up. Use a fork to gently flatten cookie, turning the fork 90 degrees to make a criss cross pattern. Once flattened, cookies will continue to spread a bit during the cooking process, so allow a couple inches in between each cookie.

Bake in preheated oven for about 8-10 minutes. When you remove them from the oven, they should still be pretty soft. Allow them to sit on the hot baking sheet until you can lift them off without them falling apart. Transfer cookies to a cooling rack. Allow to fully cool before storing in an airtight container.
Notes
Recipe yields about 4 dozen cookies. Nutritional information based on a serving size of one cookie.
Nutrition
Calories:
147
kcal
,
Carbohydrates:
16
g
,
Protein:
3
g
,
Fat:
8
g
,
Saturated Fat:
3
g
,
Cholesterol:
18
mg
,
Sodium:
106
mg
,
Potassium:
81
mg
,
Sugar:
9
g
,
Vitamin A:
130
IU
,
Calcium:
15
mg
,
Iron:
0.6
mg
Nutrition information is automatically calculated, so should only be used as an approximation.