Snickerdoodle Cookies are super soft cookies filled with sugar, spice, and everything nice!
They are a classic favorite and you won't be able to stop at just one. The sweet cinnamon flavor is too hard to resist. This recipe tells you step by step how to make the very best snickerdoodles!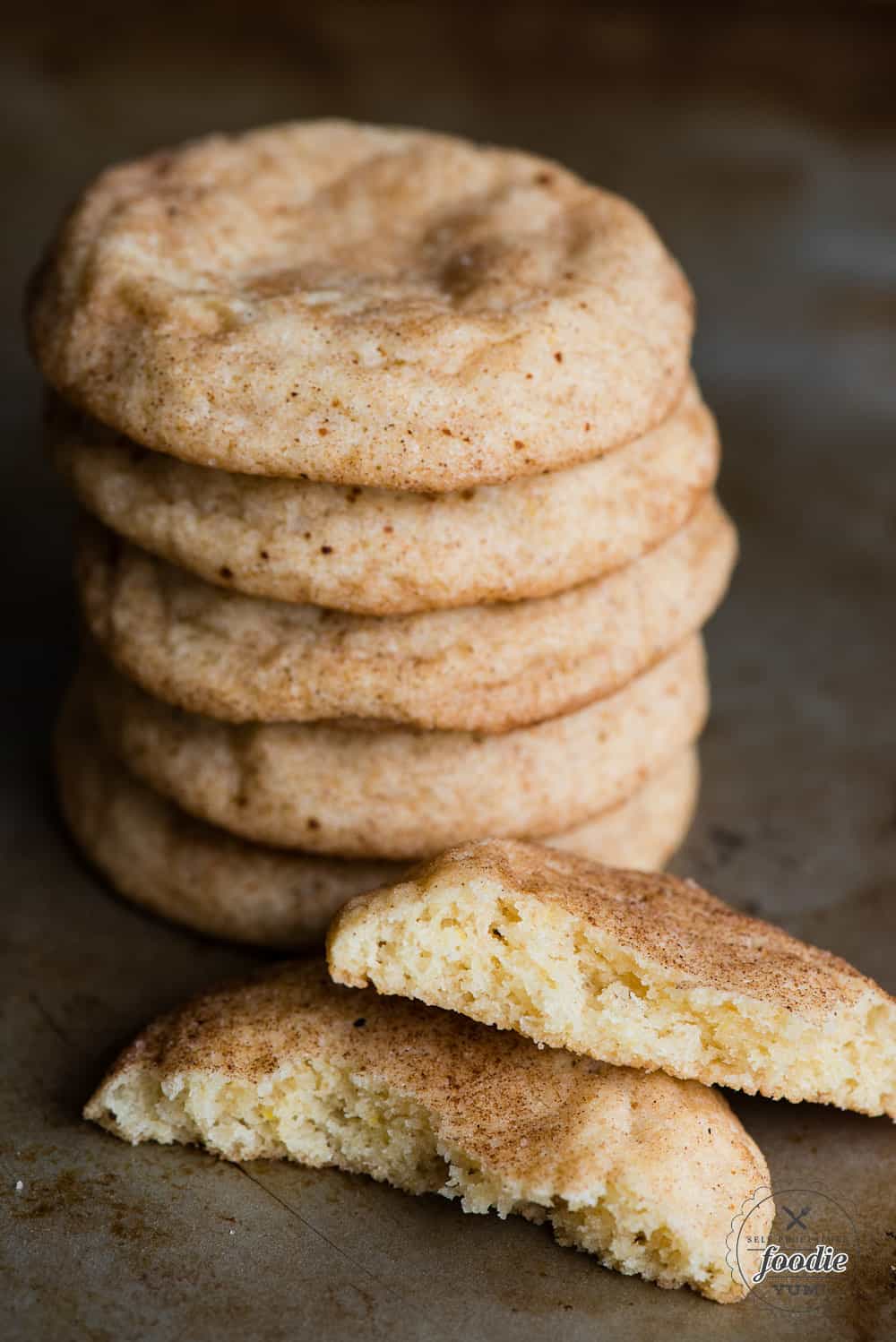 This post may contain affiliate links. That means that I will earn a teeny tiny (seriously, it's ridiculously small) commission on anything that you buy, at no added cost to you. By supporting me this way, I can deliver more delicious recipes! Read my disclosure policy here.
SNICKERDOODLE COOKIE RECIPE
Pin it to your COOKIE BOARD to SAVE it for later!
Follow Self Proclaimed Foodie on Pinterest for more great recipes!
Snickerdoodle Cookies are everyone's favorites. Well, they're one of my favorites, but my Faithful Chocolate Chip Cookies can't take second place to anything. This soft snickerdoodle recipe creates cookies that completely melt in your mouth. There are a few tricks you'll need to follow to ensure that they turn out soft and not crispy. They're fantastic cookies to make for your family or to share with friends!
If you're wondering what is a snickerdoodle, here is all you need to know:
A snickerdoodle is similar to a sugar cookie but there are a few distinctions. First, a snickerdoodle is always coated in cinnamon and sugar. That wonderful cinnamon spice flavor is basically synonymous with these cookies. Second, although they taste similar to a sugar cookie, their texture is different.
Sugar cookies are generally more dense whereas a snickerdoodle is more light and airy.
The most notable distinction that sets snickerdoodles apart from other cookies is that the leavening agent partially comes from cream of tartar.
So where did snickerdoodles originate?
I did some poking around online and there are two schools of thought on how snickerdoodles came to be.
According to The Joy of Cooking, snickerdoodles originated in Germany. This offered etymology tracing the snickerdoodle back to the German word schneckennudeln. "Schnecke" means "snail" in German, and could be the root of the mysterious snickerdoodle. "shnecke" was also a German name for a cinnamon pinwheel that resembles snails.
Snickerdoodles have also been traced back to New England, or colonial America. I read that the snickerdoodle, a simple cinnamon-spiced cookie, was an early entry into the American cookie spectrum, along with such treats as jumbles, plunkets and cry babies. Have you ever heard of such treats? Me neither.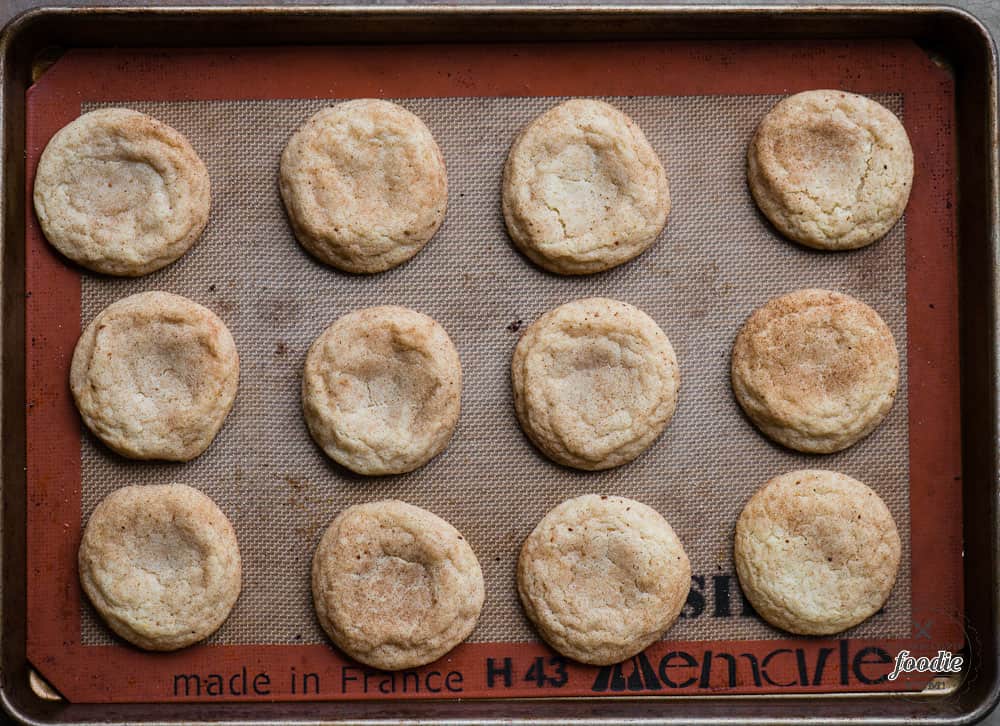 How to make snickerdoodle cookies:
Just as with most cookies, you mix the wet ingredients and then add in the dry ingredients. The trick is to use your handy dandy stand mixer with the paddle attachment or an electric mixer so that you incorporate air into the recipe, making it light and fluffy. Be sure not to over mix!
Next you'll drop rolled balls of dough into a bag of cinnamon and sugar. I find it easiest to use a cookie scoop so that you get the same size cookie each time.
Place these cinnamon and sugar coated dough balls onto your baking sheet. I always bake with a silpat or parchment paper.
This is one of the few recipes where I didn't give a time range. I seriously found that 8 minutes yielded the most perfectly soft snickerdoodle cookie. They will most likely look under cooked, but just let them sit on the baking sheet for about 5 minutes after you take them out of the oven. If you do this, they will continue cooking without getting too brown. This is how you get super soft cookies.
How to make a snickerdoodle recipe without cream of tartar:
You may not have cream of tartar in your pantry. It's usually something you bought 10 years ago for that one recipe and never used again.
That was me, however I ran out of cream of tartar while I was making these cookies. Over the course of those 10 years, I must have made more than a few recipes because that teeny tiny little container of cream of tartar finally went empty.
Not to worry!
You can actually use lemon juice interchangeably with cream of tartar. I was worried my cookies would taste like lemon, but they didn't. This snickerdoodle recipe calls for two teaspoons of cream of tartar. I actually used one teaspoon of cream of tartar and one teaspoon of fresh lemon juice. Worked like a charm!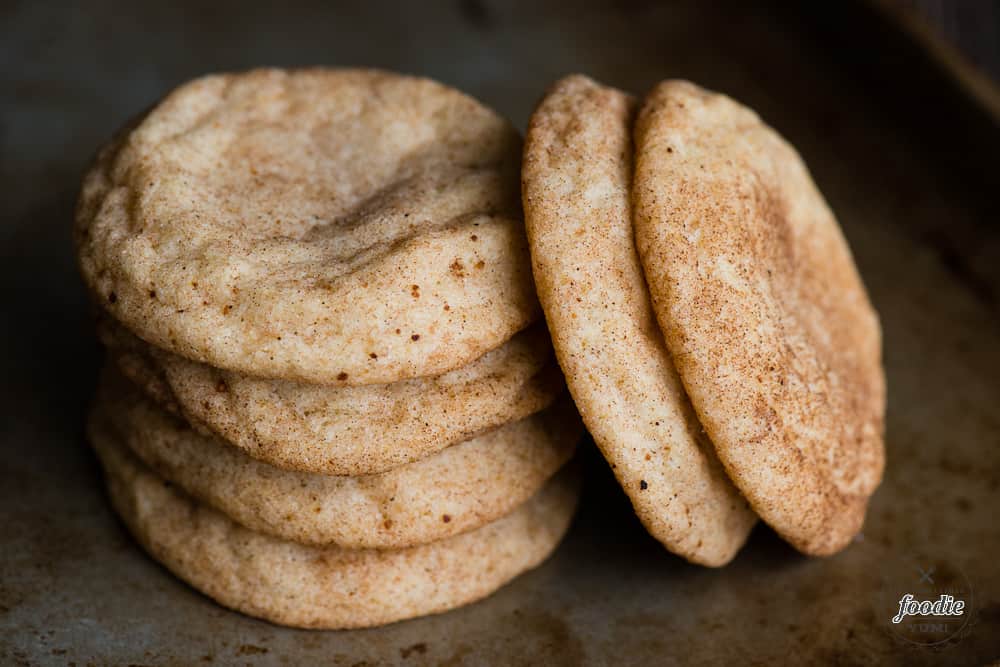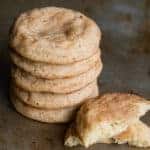 Snickerdoodle Cookies
Snickerdoodle Cookies are super soft cookies filled with sugar, spice, and everything nice! They are a classic favorite and you won't be able to stop at just one. The sweet cinnamon flavor is too hard to resist. This recipe tells you step by step how to make the very best snickerdoodles!
Ingredients
1

cup

butter

softened

1 1/2

cups

granulated sugar

2

eggs

slightly beaten

2

teaspoons

pure vanilla extract

2 3/4

cups

all-purpose flour

2

teaspoons

cream of tartar

1

teaspoon

baking soda

1/4

teaspoon

salt

4

tablespoons

granulated sugar

4

teaspoons

pumpkin pie spice
Instructions
Preheat oven to 400 degrees F. Line a baking sheet with parchment paper or a silpat.

Cream butter and 1 1/2 cups sugar together in a stand mixer until smooth. Add in eggs and vanilla and mix well.

In a separate bowl, combine flour, cream of tartar, baking soda, and salt. With the mixer running on low speed, slowly add the dry ingredients to the wet. Stir just to combine, scraping as needed.

Combine remaining sugar with the pumpkin pie spice in a plastic bag.

Use a medium cookie scoop and shape dough into balls. Drop each ball into the sugar spice mixture and then set on the baking sheet, 2 inches apart.

Bake 8 minutes in preheated oven. Allow to cool on sheet for 5 minutes before transferring to a cooling rack.

Store in airtight container.
Recipe Notes
You can substitute cream of tartar with lemon juice, if needed or desired
Nutrition Facts
Snickerdoodle Cookies
Amount Per Serving (36 g)
Calories 122
Calories from Fat 45
% Daily Value*
Total Fat 5g 8%
Cholesterol 22mg 7%
Sodium 95mg 4%
Potassium 44mg 1%
Total Carbohydrates 17g 6%
Protein 1g 2%
* Percent Daily Values are based on a 2000 calorie diet.