Salmon Patties, made from wild caught canned salmon, are an easy to make dinner time favorite in our house and are the best salmon cake recipe ever!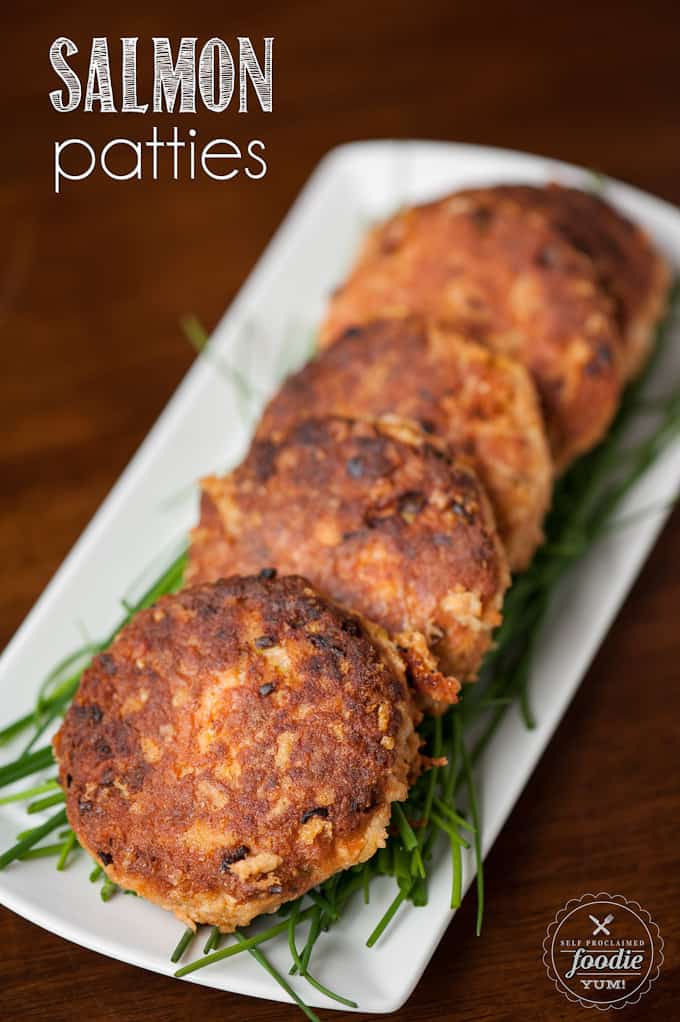 Why this recipe works:
This recipe is one of my most popular recipes and has been viewed almost 2 Million times.
It has also always been my family's favorite dinner. When I ask the kids what they want for dinner on their birthday, they say salmon patties.
Other than the taste, I love this recipe because it's an easy dinner that comes from the pantry. How many times have you gone to make dinner and realized that the only meat you have on hand is completely frozen?
Because this recipe uses canned salmon, it's easily available and is one of my favorite options for a quick and easy dinner on the table in less than 30 minutes.
How to make them:
If using canned salmon with bones and skin, decide whether you want to separate the meat or just mix everything together (photo 1).
Mix the canned salmon with egg (it binds all of the ingredients together), along with bread crumbs, green onions, parmesan, and lime juice (photo 2).
Form the salmon patties by hand and place them in screaming hot oil in a frying pan (photo 3). The screaming hot part is necessary to get that nice crispy outside.
Once they are crispy and golden brown on the bottom, flip them once to get crispy on the other side (photo 4). Once done, serve hot with your favorite sides.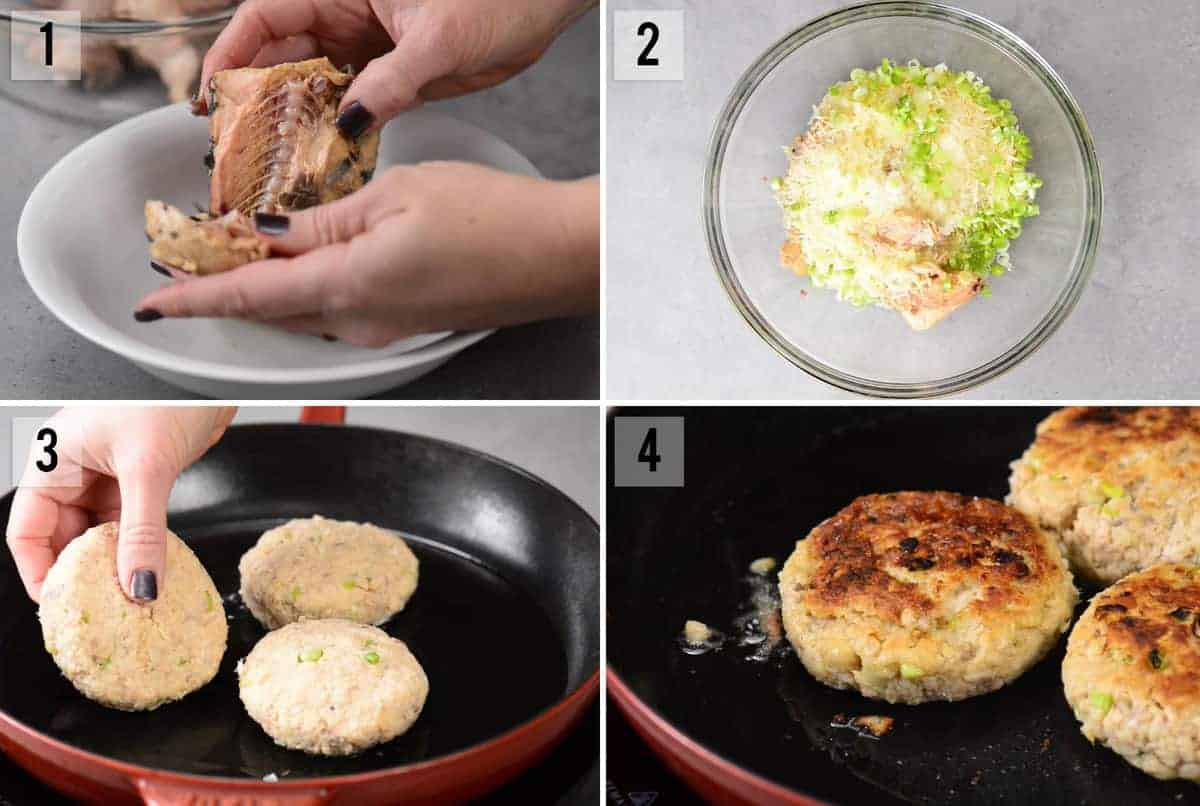 More about canned salmon:
If you've never used canned salmon, I feel it is my duty to educate you first. And based on the sheer number of reader comments this recipe has gotten, people are very passionate about this subject.
Canned salmon comes in two variations: with and without the skin and bones.
If you buy canned salmon without the skin and bones, it is very similar to canned tuna. You only need to drain it and follow the recipe.
If you buy canned salmon with the skin and bones, it's basically a chunk of the whole animal (minus the organs) that has been pressure cooked in an aluminum can. You can choose to eat everything in the can (skin, bones, spine, fat, etc.) or you can carefully pick them out and discard to separate the meat.
The bones are really soft because they've been soaking in liquid under pressure. The lightest squeeze in between your fingers crushes them. The bones, the skin, and the darker grey meat are full of nutrients.
Me? I pick through that canned salmon like I'm a surgeon and it is my patient.
Bottom line: you can eat the skin/bones/fat or you can leave them out. They are completely edible and it is 100% a matter of preference.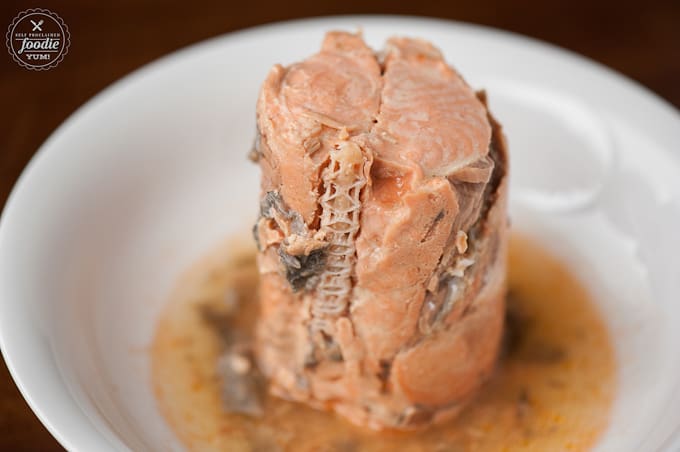 Salmon patty recipe variations:
Throughout the years I've been constantly changing this recipe to add variation. My readers have made some really great suggestions too!
Instead of using panko bread crumbs, try making salmon patties with cornmeal. I've done this before (but used a mixture of cornmeal and breadcrumbs) and it gave my salmon cakes a great texture. You can also make them with crushed crackers.
Ever try salmon patties with mayonnaise? It makes them so moist with tons of added flavor.
I get asked all the time if these can be made with fresh salmon. My answer is yes - you can make these with fresh salmon if you want to cook the fresh salmon first, but because this recipe is based on what my mom made growing up, I will always recommend using canned salmon.
How about a salmon patty sauce? I think a basil garlic aioli or an easy remoulade would be amazing with these salmon cakes!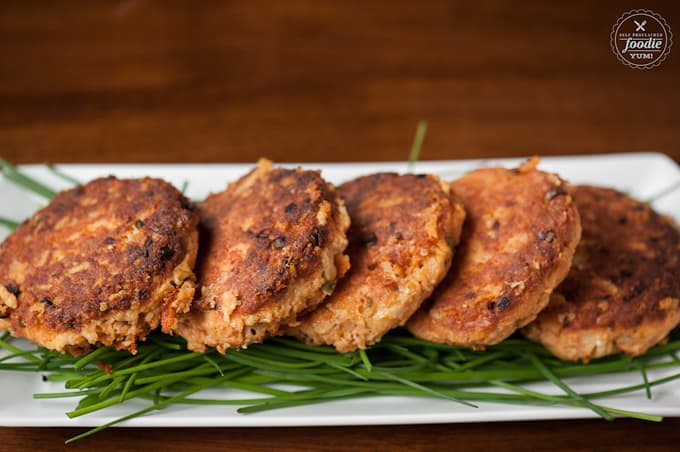 What to serve with salmon cakes:
The outside of my salmon patties is oh-so-perfectly crispy. The inside is moist and delicious.
We usually serve these up with a starch like rice or potatoes as well as a green vegetable such as a salad or wilted spinach. I also love eating them cold and leftover when they're mixed into a green salad with some delicious avocado. Sooooo good! That's why I always double or even triple the recipe.
Other favorite salmon recipes:
Although this recipe has become a regular favorite in our house, we also like to mix it up a bit and make Crispy Southern Salmon Patties and Lemon Basil Salmon Patties, along with lots of other variations to keep things interesting!
I cook with salmon all the time. From fresh Pacific Northwest wild caught fillets cooked on a cedar plank to smoked salmon whipped up into an smoked salmon dip or creamy salmon pasta, our appetite craves the omega 3 filled goodness that salmon brings to the table.
Recipe video below!
Did you make this recipe? Please leave me a comment below to let me know what you think! I also love hearing of the different variations you all recommend!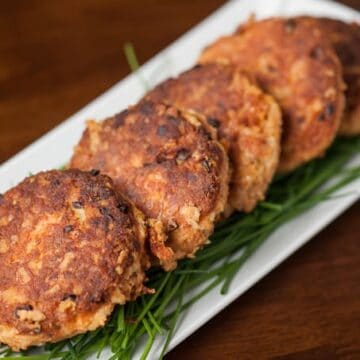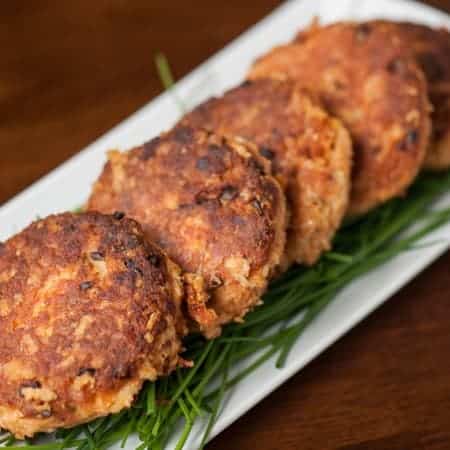 Salmon Patties Recipe
Salmon Patties, made from wild caught canned salmon, are an easy to make dinner recipe favorite in our house and are the best I've ever tasted.
Print
Pin
Rate
CLICK TO PLAY RECIPE VIDEO
Hover to scale:
8
patties
Ingredients
18

ounces

canned salmon

(3-8oz cans with no skin/bones or 2-14.75 cans with skin/bones, drained, red or pink salmon)

2

eggs

6

green onions

(minced)

½

cup

panko bread crumbs

½

cup

grated parmesan

1

lime

(juiced)

4

tablespoons

avocado oil

(or sub with olive oil)
Instructions
Drain salmon and pick out all of the good meat you want to use. I'm sure all of it can be used, but I like to discard any bone and skin because I think its gross. Personal preference.

In a medium sized bowl, combine salmon meat, eggs, green onions, panko bread crumbs, parmesan, and lime juice. Use hands to combine and then form into 8 patties that are no more than one inch thick.

Heat large skillet over medium high heat. Add oil. When oil is hot enough to bubble when a bread crumb gets tossed in, add your salmon patties. Be sure to leave enough room to have a good inch in between each patty, so you may need to cook them in two batches. Cook until golden brown, about 5-10 minutes, then flip and cook until golden brown on other side.

Serve warm. They also taste excellent cold on top of salad.
Notes
Recipe easily doubles or triples if you want leftovers, however you may need to cook in batches to ensure they crisp properly.
Popular reader variations/add-ins include lemon juice, crushed crackers, sauteed yellow onion, corn meal, fresh dill
NUTRITION INFORMATION
Calories:
212
kcal
|
Carbohydrates:
5
g
|
Protein:
19
g
|
Fat:
13
g
|
Saturated Fat:
3
g
|
Polyunsaturated Fat:
2
g
|
Monounsaturated Fat:
7
g
|
Trans Fat:
0.02
g
|
Cholesterol:
99
mg
|
Sodium:
397
mg
|
Potassium:
280
mg
|
Fiber:
1
g
|
Sugar:
1
g
|
Vitamin A:
249
IU
|
Vitamin C:
4
mg
|
Calcium:
258
mg
|
Iron:
1
mg
This recipe was originally published in June 2015 and has been updated with process photos, helpful information and cooking tips. Don't worry - I didn't change the recipe!