With over two million pageviews and counting, my recipe for Salmon Patties is a reader favorite. I have made them countless times since I was a kid.
This post is packed with tons of information on how to make the most delicious salmon cakes from canned salmon and a few other simple ingredients. It's a quick and easy dinner that is perfect for busy weeknights.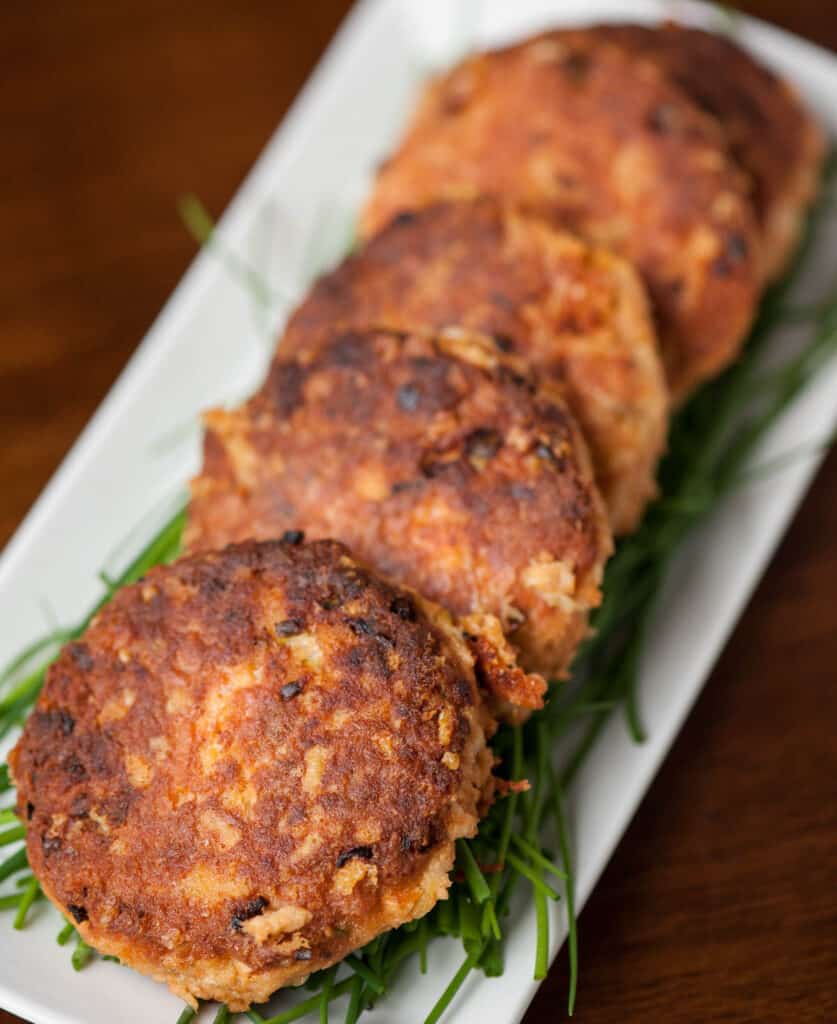 Be sure to check out my other seafood recipes while you're here. And if you love this recipe, you'll also love my Southern Salmon Patties and my Lemon Basil Salmon Patties. This salmon patty recipe is also similar to my Crab Cakes, which taste great with homemade remoulade sauce or basil garlic aioli.
Why This Recipe Works
Family favorite: This recipe is one of my most popular recipes. Even people who don't love salmon tend to really enjoy the taste of these salmon patties. They are definitely one of my favorite things to make for dinner.
Pantry staples: Ever find yourself needing to make dinner but the only meat you have is frozen? Or do you have hungry mouths to feed and haven't quite made it to the grocery store? This is the best backup dinner because it uses canned salmon. I always have some in the pantry specifically for these reasons.
Quick and easy: No matter what you have going on, you can have a complete and easy weeknight dinner on the table in less than 30 minutes.
So many variations: The recipe I have listed below is tried and true, but I have made salmon patties countless times with different ingredient substitutions and swaps. If you don't have any of the ingredients listed in the recipe card below, you most likely have something on hand that will work.
Join today and start saving your favorite recipes
Create an account to easily save your favorite recipes and access FREE meal plans.
Ingredients Needed
For a full ingredient list with quantities, scroll down to the recipe card below. For variations, scroll down to see how you can swap ingredients.
Canned Salmon – Red salmon has the best flavor, but pink salmon is more cost effective and tastes just fine
Eggs – these are used as a binder to hold the fish patties together
Bread Crumbs – I prefer to use panko breadcrumbs
Parmesan cheese – this makes them wonderfully golden brown
Green onion – they add great flavor
Lime – Citrus juice tastes fantastic with salmon
Oil – for frying
How to Make Salmon Patties
Full detailed instructions are listed in the recipe card below.
Step 1: If using canned salmon with bones and skin, separate the meat or just mix everything together. Drain any liquid.
Step 2: In a large bowl, mix the canned salmon with the remaining ingredients (except for the oil). Heat a very large skillet over medium high heat and add the oil.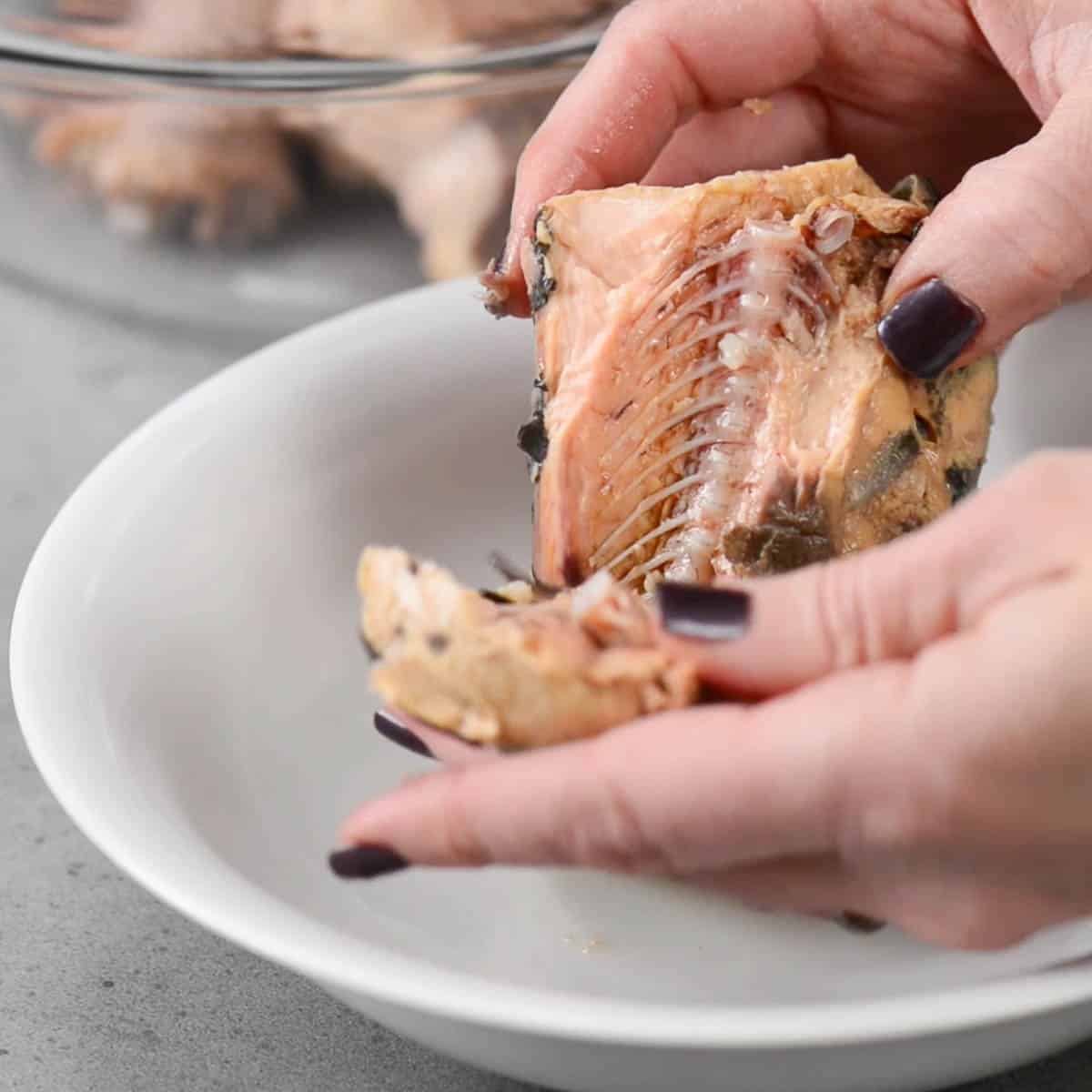 Step 3: Form the salmon patties by hand and gently place them in a single layer in the hot pan. Once they are crispy and golden brown on the bottom, flip them once to get crispy on the other side.
Step 4: When done, serve the salmon croquettes hot with your favorite sides.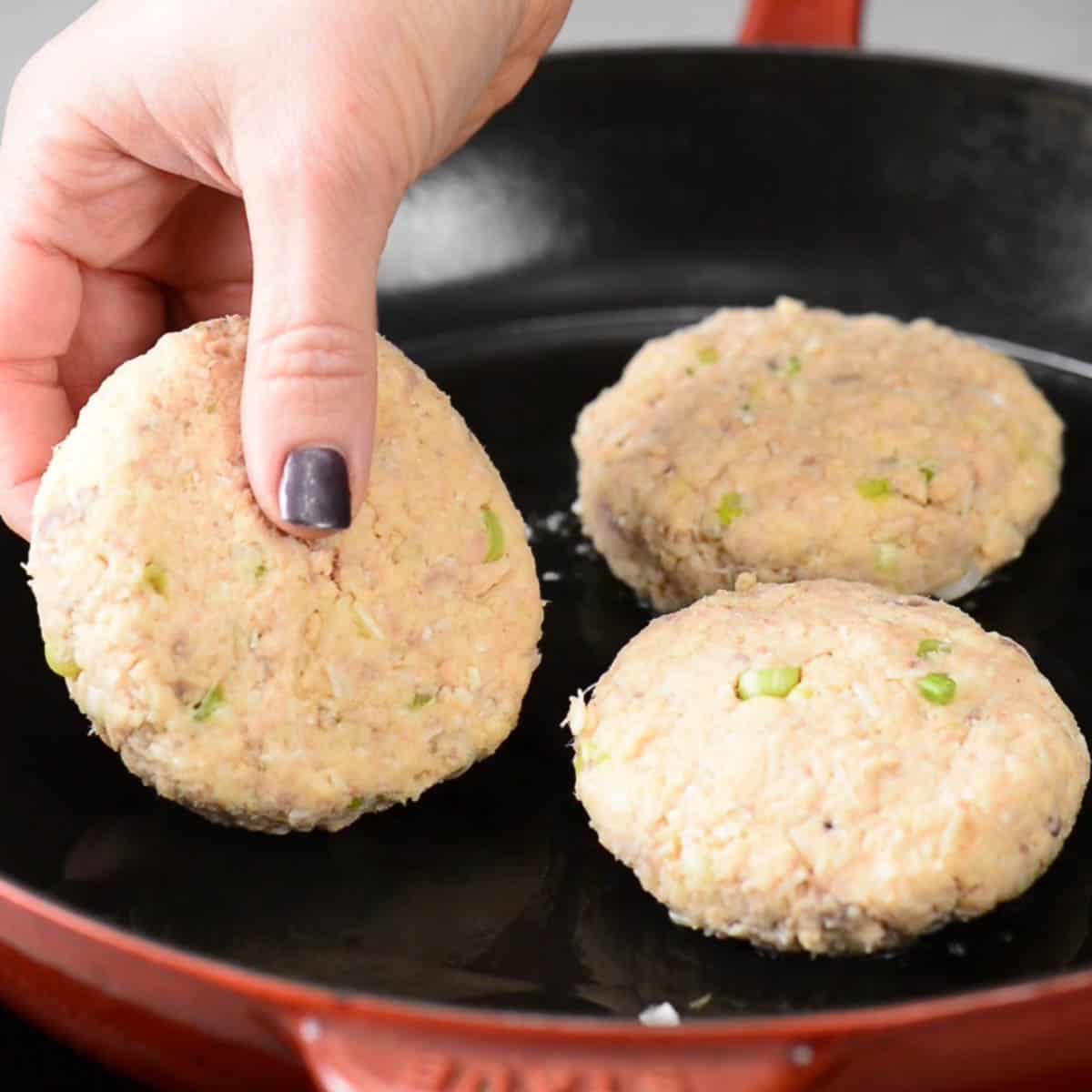 Recipe Variations
Throughout the years I've been constantly changing this recipe to add variation. My readers have made some really great suggestions too!
Instead of using panko bread crumbs, you have several different options. Crushed Saltine crackers or Ritz crackers work great. You can use a mixture of cornmeal and breadcrumbs for great texture. If you need a gluten free option, almond flour or hazelnut meal make a great substitution.
I've always used eggs as a binder to hold the salmon mixture together. Many readers have suggested using mayonnaise. It makes them moist and flavorful. Mayo is basically eggs and oil, so it works well.
Instead of fresh green onions, you can mince a yellow onion and sauté it in oil over medium heat before combining them with the other ingredients. Crispy fried onions, like the kind you add to green been casserole, also taste great. You can also dice a bell pepper and mix that in.
The flavor of lime is fantastic with any salmon recipe, but you can easily replace it with lemon juice. For extra citrus flavor, you can even mix in lime or lemon zest.
Other seasonings – There are so many other ingredients you can mix into your salmon patties to give them great flavor. Fresh herbs including basil, thyme, and especially fresh dill taste amazing. You can mix in a bit of Dijon mustard or hot sauce to boost the flavor. Old Bay seasoning is fantastic in recipes like salmon patties. Of course, salt and black pepper can always be added.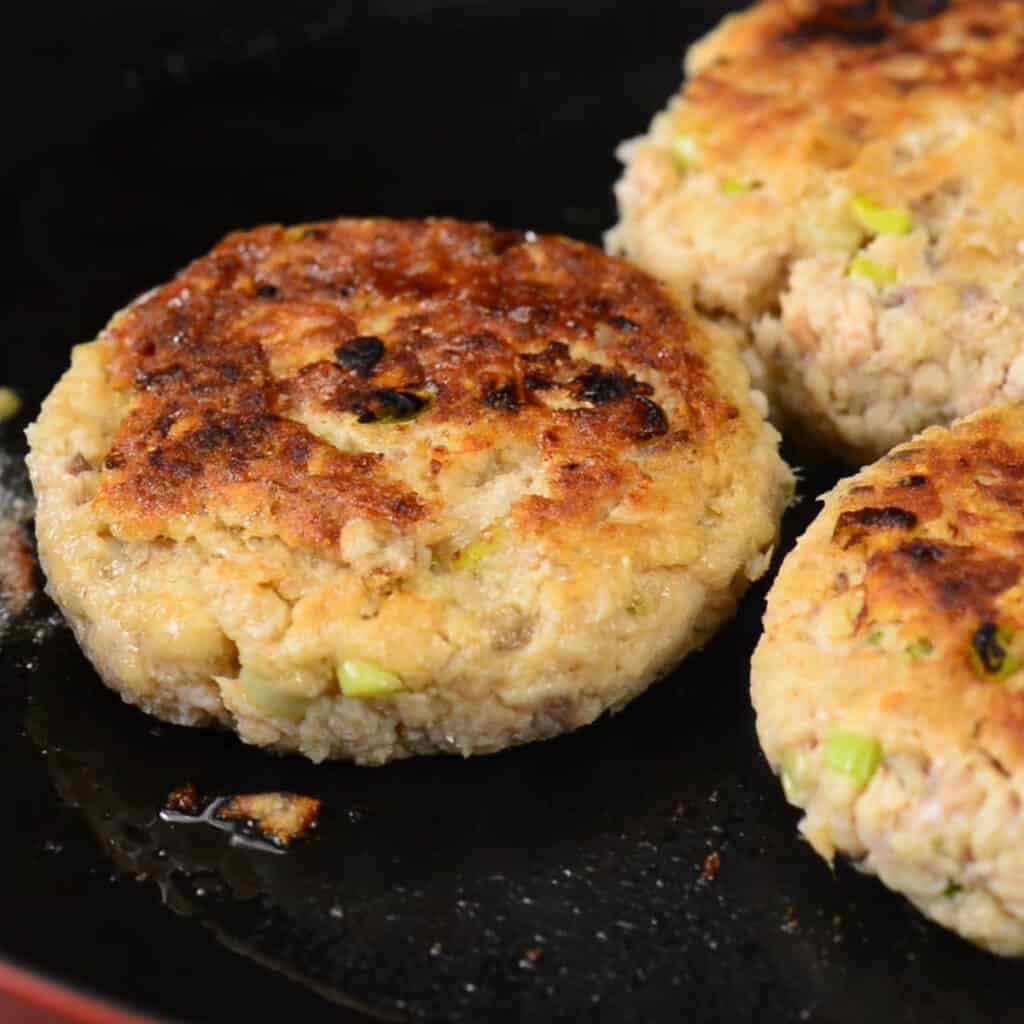 Alternate Cooking Methods
Salmon patties taste best when fried in oil on the stove, but you can also bake them or cook them in the air fryer.
Oven method – Line a baking sheet with parchment paper and place the patties on top. Spray or brush with olive oil. Bake in a preheated 400°F oven for 5-10 minutes, flip, spray or brush with more olive oil, and bake another 5 minutes. They will not be as crispy, but you can broil each side before flipping to get them crispy.
Air Fryer method – Spray or brush both sides of each patty with olive oil. Place in basket and air fry on 400°F until crispy, about 10 minutes.
FAQs
Because of the popularity of this recipe, I get a ton of reader comments, suggestions, and questions. Here is some additional information to help you make the best salmon cake recipe.
Can I use fresh salmon instead of canned salmon?
While the recipe is designed for canned salmon, you can use fresh salmon. Just ensure it's cooked and flaked before proceeding.
Why won't the salmon patties hold their shape?
If the patties won't hold their shape, add and additional whole egg, an egg yolk, or some mayonnaise and they will hold together better.
Can I make a larger batch and freeze the uncooked patties for later use?
Yes, you can shape the patties and freeze them before cooking. Ensure proper wrapping to prevent freezer burn, and adjust cooking time accordingly when ready to use.
What sides pair best with these salmon patties?
I almost always serve these with brown rice and a green salad. Popular choices also include mashed potatoes, broccoli, or green beans.
How do I know when the salmon patties are cooked thoroughly?
Cook until both sides are crispy and golden brown. The internal temperature should reach 145°F (63°C), ensuring the patties are fully cooked.
How do you store leftovers?
Leftover salmon patties should be stored in an airtight container in the refrigerator or freezer. They are best if consumed within 3-5 days.
Can you eat the leftovers cold?
Yes! It's actually one of my favorite ways to eat leftover salmon patties. They can be eaten cold and are quite delicious on top of a green salad with some avocado, sunflower seeds, and a light vinaigrette dressing.
How do you reheat salmon patties?
To keep them nice and crisp, reheat the salmon patties in a bit of oil in a frying pan on the stove. Otherwise, they can be heated in the microwave in one minute increments at half power until heated through.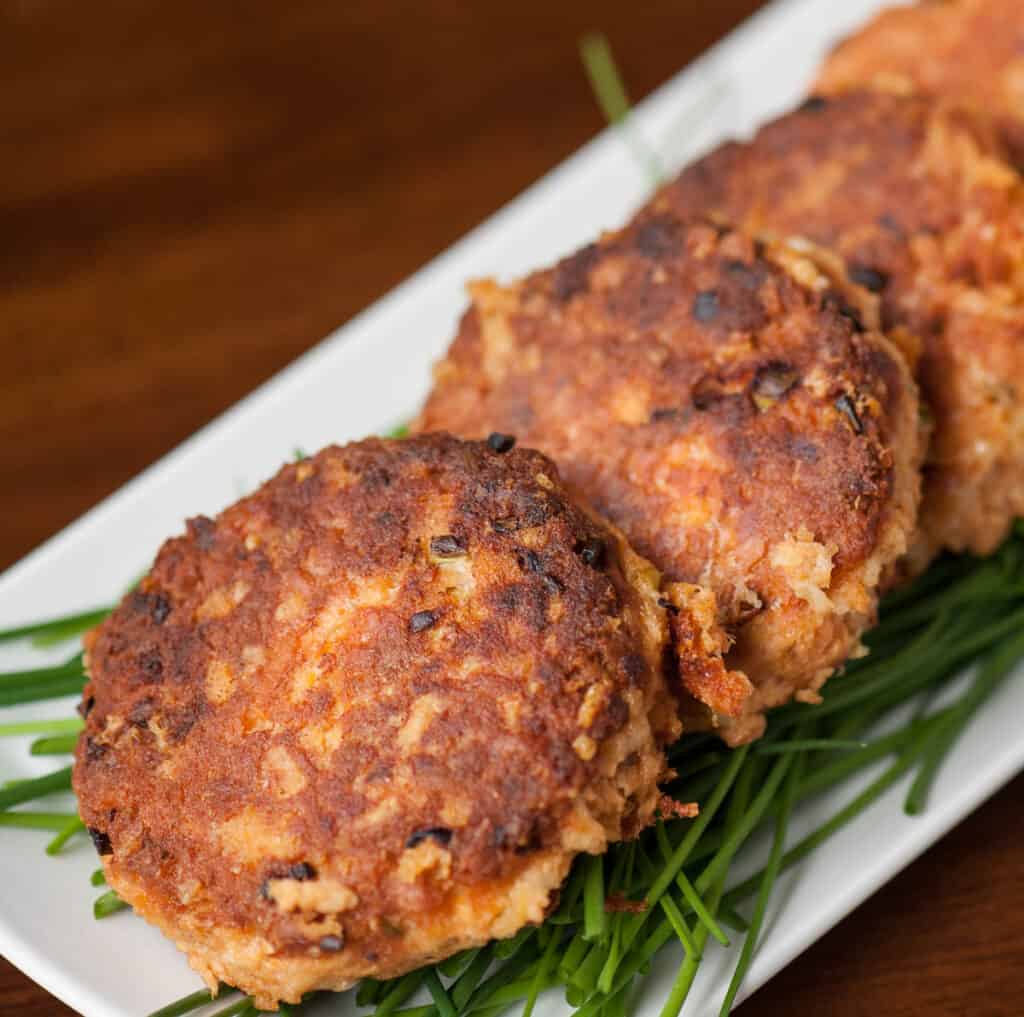 More Salmon Recipes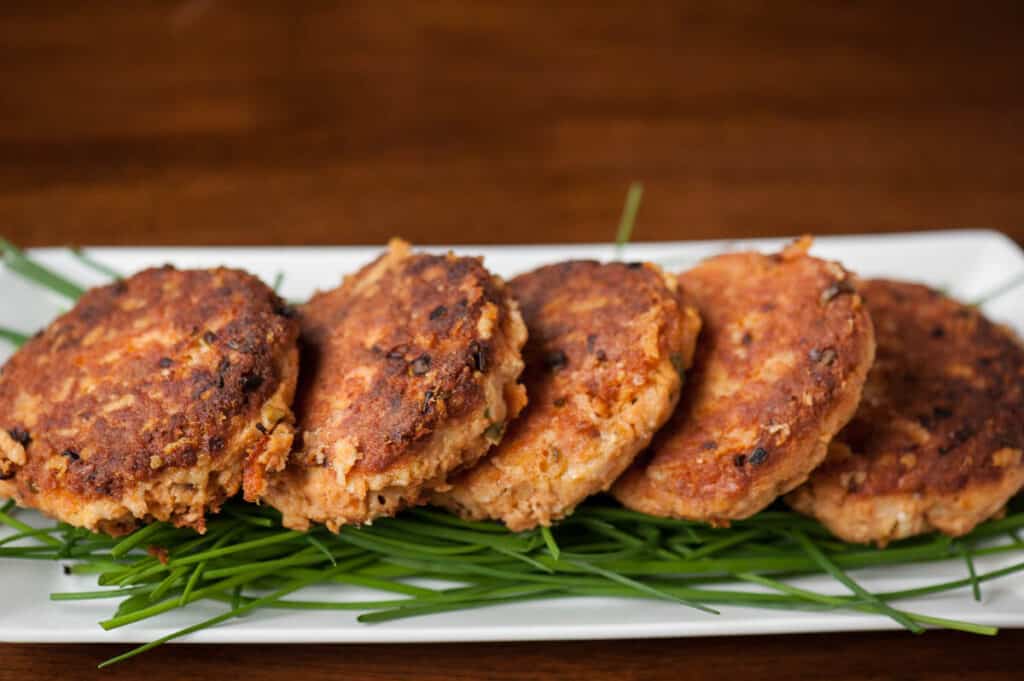 Pin this now to save it for later
Pin It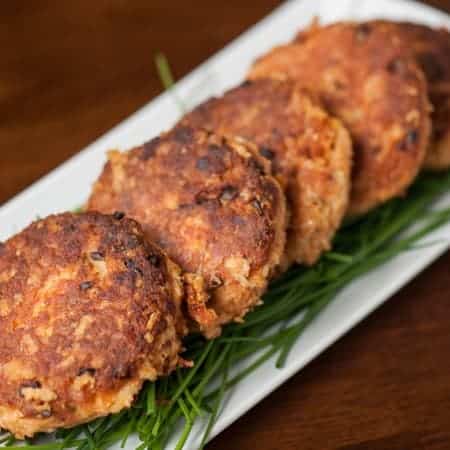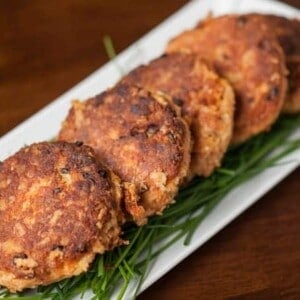 Salmon Patties, made with canned salmon, are super easy to make with a handful of pantry staples.
Ingredients
24

ounces

canned salmon

3-8oz cans with no skin/bones or 2-14.75 cans with skin/bones, drained, red or pink salmon

2

eggs

6

green onions

minced

1/2

cup

panko bread crumbs

1/2

cup

grated parmesan

1

lime

juiced

4

tablespoons

avocado oil

can use olive oil, increase oil if you like them extra crispy
Instructions
Drain salmon. If using canned salmon that contains bones and skin, you can either remove them or crush the bones and mix everything together.

In a large bowl, combine the salmon, eggs, green onions, panko bread crumbs, parmesan, and lime juice. Use your hands to combine the mixture. Form them into 8 patties that are no more than one inch thick. If making salmon burgers, you can make the patties larger to fit the bun.

Heat a large skillet over medium-high heat. Add the oil. When the oil is hot enough to bubble when a bread crumb gets tossed in, add your salmon patties. Be sure to leave enough room to allow space in between each patty. If your pan isn't large enough, you may need to cook them in two batches. Cook until golden brown, about 5-10 minutes, then flip and cook until golden brown on the other side.

Serve warm. They also taste excellent cold on top of salad.
Notes
Recipe easily doubles or triples if you want leftovers, however you may need to cook in batches to ensure they crisp properly.
Popular reader variations/add-ins include lemon juice, crushed crackers, sauteed yellow onion, corn meal, fresh dill
Nutrition
Calories:
212
kcal
,
Carbohydrates:
5
g
,
Protein:
19
g
,
Fat:
13
g
,
Saturated Fat:
3
g
,
Polyunsaturated Fat:
2
g
,
Monounsaturated Fat:
7
g
,
Trans Fat:
0.02
g
,
Cholesterol:
99
mg
,
Sodium:
397
mg
,
Potassium:
280
mg
,
Fiber:
1
g
,
Sugar:
1
g
,
Vitamin A:
249
IU
,
Vitamin C:
4
mg
,
Calcium:
258
mg
,
Iron:
1
mg
Nutrition information is automatically calculated, so should only be used as an approximation.
This recipe was originally published in June 2015 and has been updated with process photos, helpful information and cooking tips. Don't worry – I didn't change the recipe!