Pressure Cooker Corned Beef and Cabbage with creamy baby red potatoes and carrots is a flavorful easy meal with the most tender meat!
A marinated corned beef brisket is cooked in the instant pot with beef broth and Guiness stout and completely falls apart when done. This complete meal is great for St. Patrick's Day!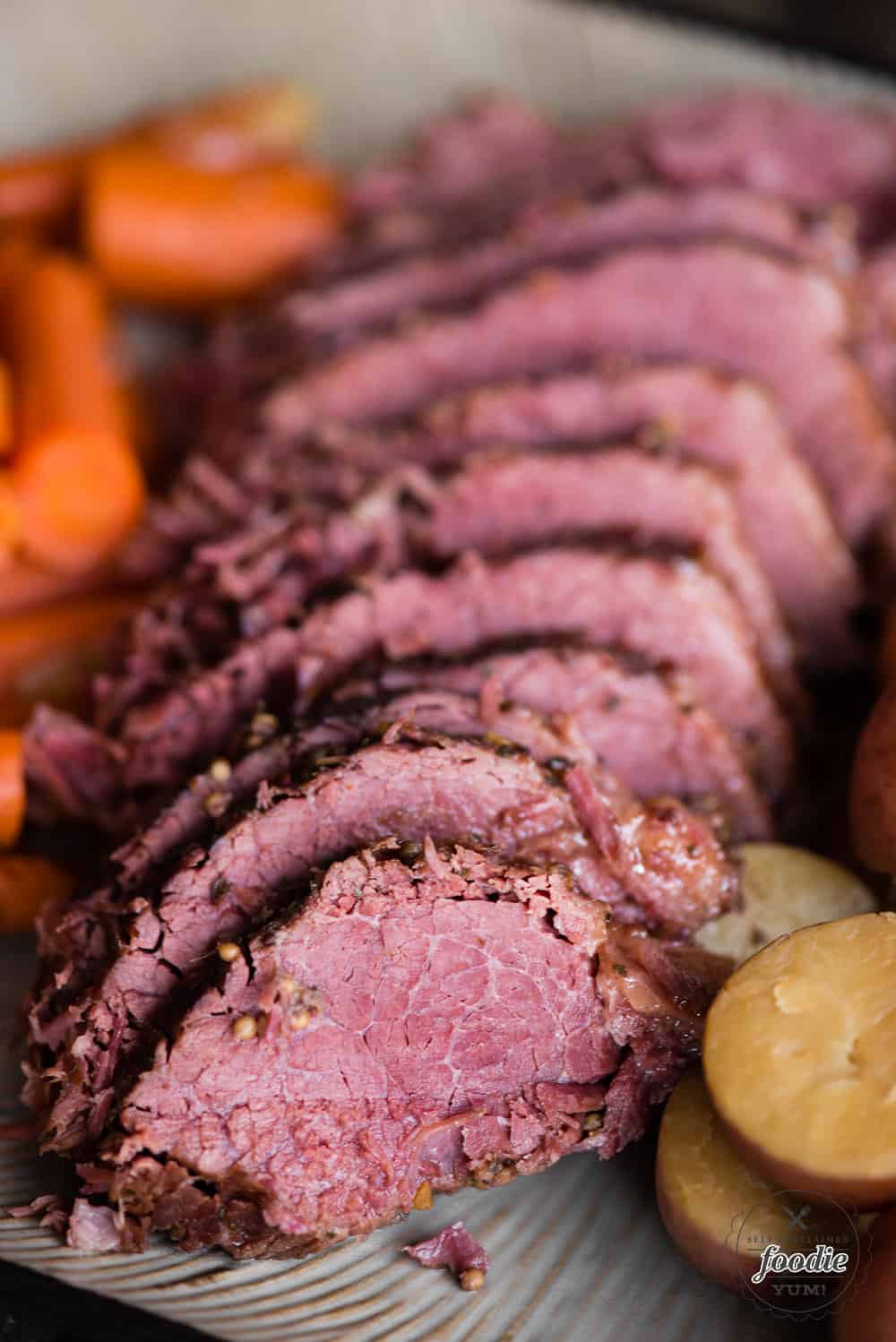 Why this recipe works:
Corned Beef and Cabbage is quick and easy in the Instant Pot! If you've ever made corned beef and cabbage, you probably used your slow cooker.
I will guarantee that this Instant Pot corned beef and cabbage is a million times better than any crock pot recipe you've ever tried.
Why?
Well, first of all it takes much less time.
Second, the Instant Pot infuses the liquid into the meat. This not only enhances the flavor, but makes your corned beef so incredibly tender that it falls apart when you cut it. You just can't achieve the same results in a crockpot.
I love this meal because it comes complete with your meat (corned beef brisket, carbs (baby red potatoes), and veggies (green cabbage and carrots). Nothing else is needed except for maybe a good wine pairing or dark beer.
How to make it:
You'll add the corned beef and spices or marinade to the cooking pot of your Instant Pot, or whichever brand you use. To the meat, you'll add a quartered onion, beef broth, stout beer, and bay leaves.
I cooked my meat for 90 minutes on high pressure and it was amazing. Perfectly tender and not at all dry.
When the beef is done cooking, you'll allow it to naturally release pressure for about 10 minutes and then you'll quick release the remaining steam. Set the meat on a plate and loosely tent it to keep it warm.
Next you'll cook the vegetables. You can do this all at once, but I prefer to throw the potatoes in first. If you cook the potatoes for the same amount of time as the cabbage and carrots, you'll end up with not-so-good results. You'll either get firm potatoes and perfectly cooked carrots and cabbage. Or, even worse, you'll have perfectly cooked creamy potatoes and mush for cabbage and carrots.
Once everything is done, serve it all up on a platter and you can add extra cooking liquid if you wish. No extra salt needed!
Cooking tips for perfect results:
If your roast is too big for your Instant Pot, you can cut it into smaller chunks.
The carrots and cabbage will cook fast. If you like them soft, follow my directions to cook them for a couple minutes. Otherwise, just adding them to the hot cooking liquid will soften them.
If you have any leftovers, you'll want to make corned beef hash!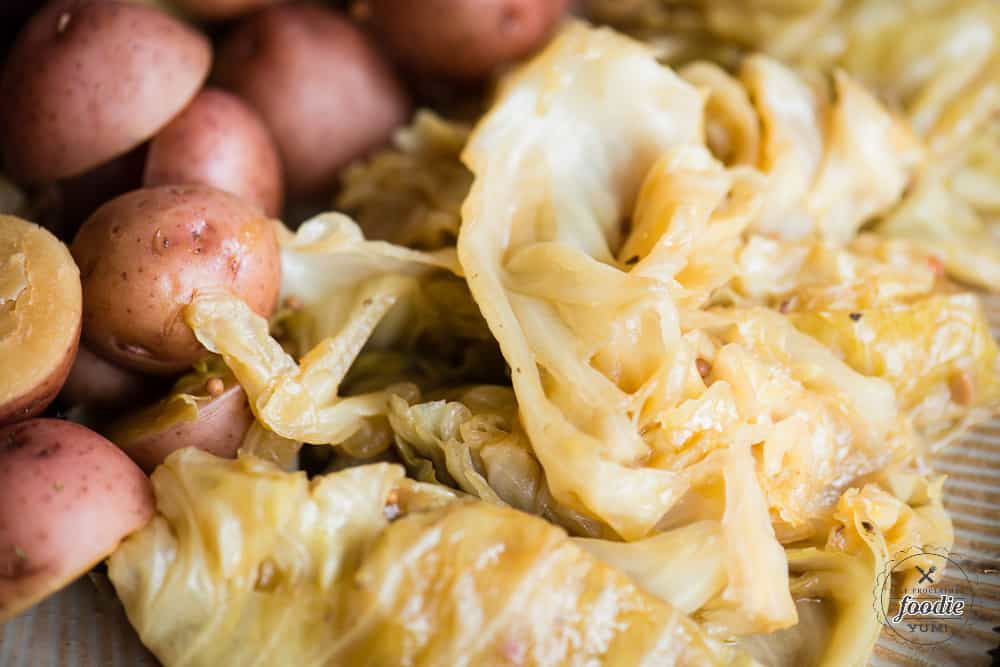 Did you know...
Corned beef got it's name because it is salt-cured with large grains of salt called "corns".
Because the cut of beef used is often tough with little fat, it must be braised. This means it must be cooked in liquid for a long period of time in the oven or crockpot, or rather quickly in a pressure cooker.
Throwing cabbage in the cooking liquid after the beef is removed is an easy way to serve a green vegetable with the meal and it compliments it well.
Is corned beef actually Irish?
From what I understand, many cultures have cured beef and heavily salted beef as a means of curing is a very common method.
Irish corned beef became extremely popular, however, during the British Industrial Revolution. It was widely consumed during that time to feed British and North American armies.
Although corned beef is not really considered a national Irish dish, it is often associated with Saint Patrick's Day in the United States. This came about from Irish-Americans in the late 19th century and is similar, yet much more flavorful than, a New England boiled dinner.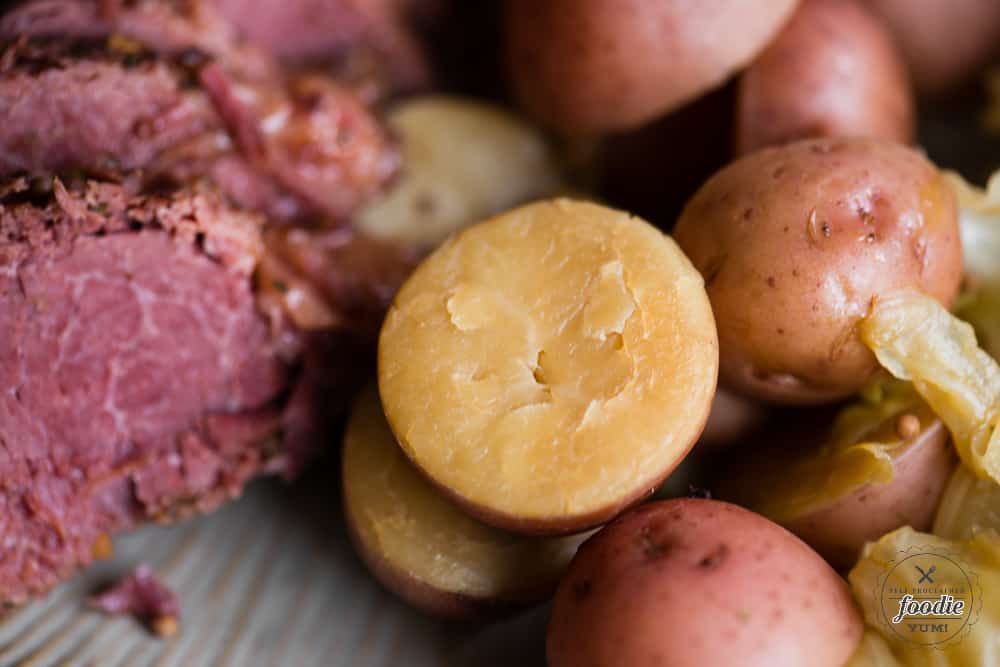 Where do you buy it and which is best?
Most corned beef you'll find at the store contains nitrates or nitrites to preserve it. Any kind of cured meat, like bacon or lunch meat, needs preservatives to keep it from spoiling. I take extra care to avoid buying any meat that contains nitrates or nitrites.
Instead, I look for meat that does not add them. They still get preserved, but it's through nitrates or nitrites that naturally occur through the curing process, most often times through ingredients like celery salt.
I passed over so many packages of corned beef because they contained nitrates or nitrites. I finally found one that didn't have added nitrates or nitrites and, of course, it was at my favorite grocery store - Trader Joe's.
The specific cut of meat in the package was an uncured corned beef round flat roast. It already came marinated in spices which made cooking in the Instant Pot about as easy as it gets!
What's in the spice packet?
If you're buying a corned beef to make, chances are it will come marinated or with a spice packet.
Most often, you'll find that the spice packet consists of mustard seed, coriander seed, bay leaf, and hot pepper. Sometimes you'll also see allspice berries, dill seed, or even cloves.
The flavor of corned beef spices is indeed unique, and when cooked in the pressure cooker, really gets infused into the meat and vegetables.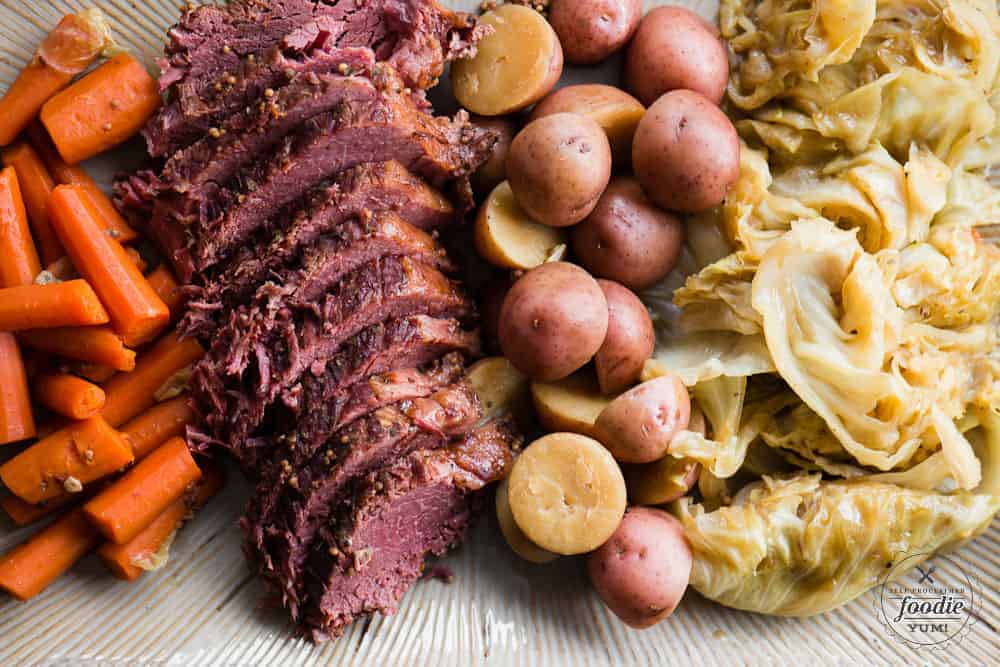 Why you should add beer:
I chose to add stout to my cooking liquid because it not only adds flavor, but it helps make the meat even more tender. The darker the beer, the more intense the flavor.
If you don't like Guinness, don't worry. You can't really taste it in the finished meal. Not at all, actually. It's hard to explain, but it will add amazing flavor that will please anyone, even if you hate beer.
How long does it take to cook?
If you're using a pressure cooker, 90 minutes is a good rule of thumb for just about any kind of large cut of meat. You can tell when it's done cooking because it should be fork tender.
If you're boiling (heaven forbid) your corned beef, a good rule of thumb is about an hour per pound.
Many recipes for cooking a corned beef in a slow cooker indicate you will cook it on 4-5 hours on high or 8-9 hours on low. I suppose the low setting is great if you want to make it in the morning before work and come home to dinner. But I will argue til the day that I die that using the pressure cooker is always better than the crockpot!
Recipes to make with Guinness Stout:
Did you make this recipe? Be sure to leave me a comment and let me know what you think!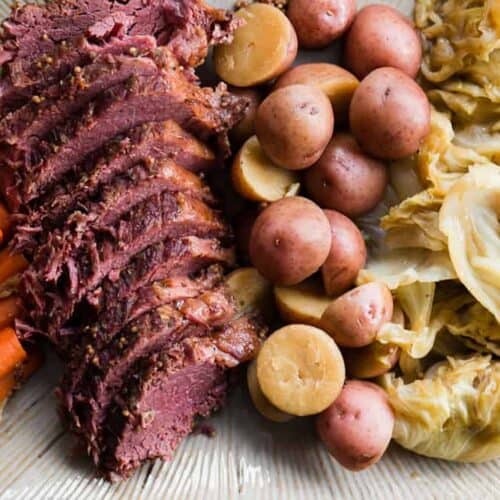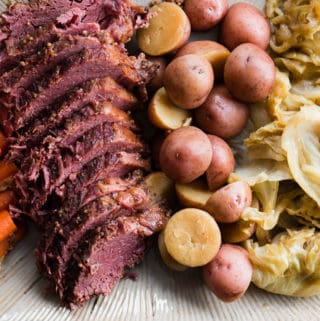 Pressure Cooker (Instant Pot) Corned Beef and Cabbage
Instant Pot Corned Beef and Cabbage with potatoes, carrots, and stout beer is a flavorful dinner recipe perfect for St. Patrick's Day.
Print
Pin
Rate
Hover to scale:
8
servings
Ingredients
3

pound

marinated uncured corned beef round flat roast

(Trader Joe's recommended)

4

cups

beef broth

12

ounces

stout beer

(I used Guinness)

1

large

onion

(quartered)

4

cloves

garlic

2

bay leaves

1

pound

small red potatoes

(halved (quarter if medium sized))

4

large

carrots

(peeled and cut into 2-inch pieces)

1

small

head green cabbage

(cut into 6 wedges with core removed)
Instructions
Put the corned beef, beef broth, stout, onion, garlic, and bay leaves in to the pressure cooking pot. Lock the lid in place. Select High Pressure and set the timer for 90 minutes. Once done, allow a natural pressure release for 10 minutes, and then do a quick pressure release to release any remaining pressure.

Remove the roast from the pressure cooking pot and transfer to a plate. Loosely cover the corned beef with aluminum foil until ready to serve.

Scoop all of the solids out of the pot and discard, leaving only the broth.

Add the potatoes to the cooking pot, cover, and cook on high pressure for 3 minutes. Release pressure so you can open the lid, add the carrots and cabbage, and then cook on high pressure for 2 minutes. Do a quick release of the pressure.

To serve, arrange the cabbage, potatoes, and carrots on a platter. Slice the corned beef against the grain and add to the platter. Ladle the cooking liquid into a gravy boat and serve along side meal.
Notes
Cooking tips for perfect results:
If your roast is too big for your Instant Pot, you can cut it into smaller chunks.
The carrots and cabbage will cook fast. If you like them soft, follow my directions to cook them for a couple minutes. Otherwise, just adding them to the hot cooking liquid will soften them.
If you have any leftovers, you'll want to make corned beef hash!
NUTRITION INFORMATION
Calories:
96
kcal
|
Carbohydrates:
17
g
|
Protein:
3
g
|
Sodium:
488
mg
|
Potassium:
530
mg
|
Fiber:
3
g
|
Sugar:
4
g
|
Vitamin A:
6050
IU
|
Vitamin C:
21.7
mg
|
Calcium:
46
mg
|
Iron:
1
mg
This post was originally published in March 2018 and has been updated with more information and cooking tips. Don't worry - I didn't change the recipe!