This classic and delicious Irish Soda Bread with currants is super easy to make and is a perfect addition to any St. Patrick's day celebration.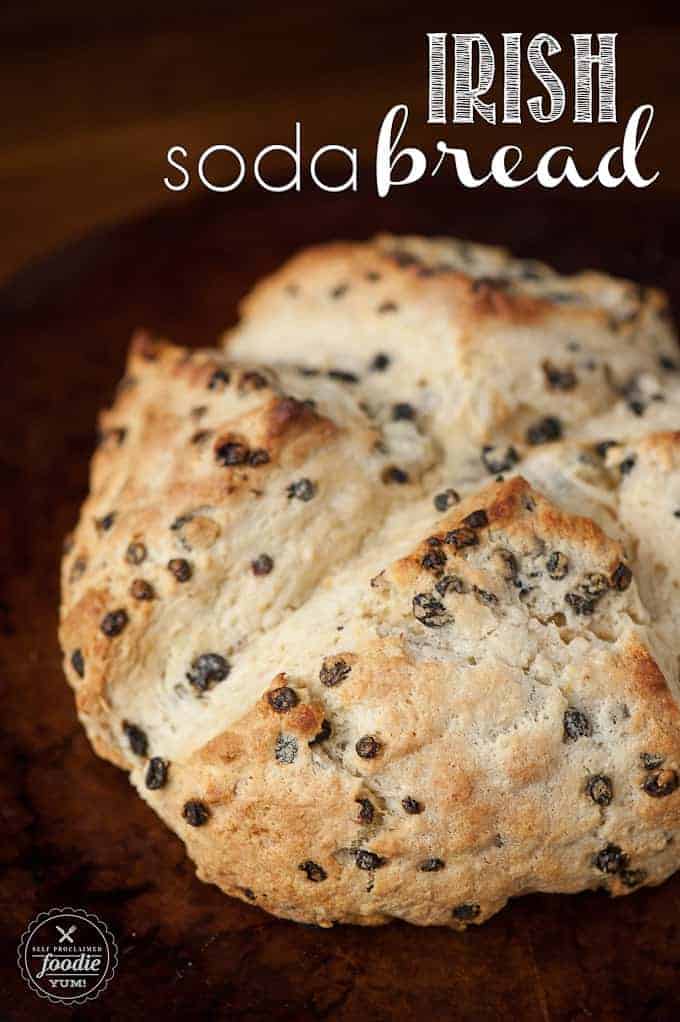 MY OTHER RECIPES
Hello, friends. This is the first of many Irish recipes you'll see on my blog in the coming weeks. One would assume that is because St. Patrick's day is just around the corner. Well, yes, I admit that has inspried some of my menu planning, but the other factor is that we just finished binge watching a fantastic show on Netflix called The Fall that takes place in Northern Ireland. My dad was visiting last week when I made this soda bread and we had the most wonderful lazy time together while the kids were at school – I cooked and he started an ultra marathon of watching The Fall. It was awesome.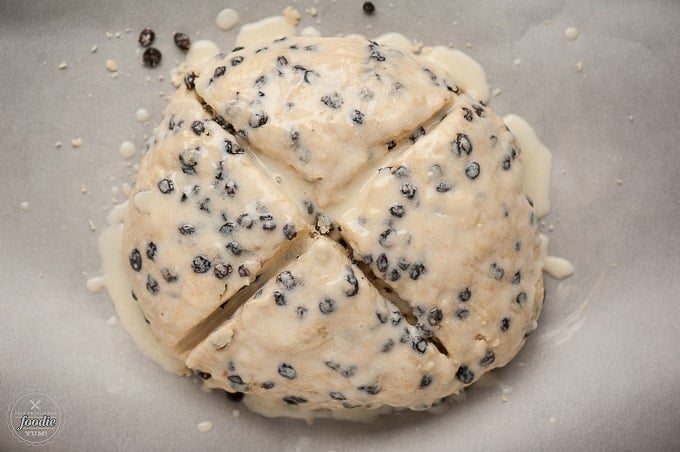 When I head down to Southern California to visit family, there are a few restaurants that I love to eat. There's El Ranchito which serves the best Mexican food ever (I grew up on the stuff), Wahoo's Fish Tacos (I have a slight addiction), and Muldoon's Irish Pub. I know Muldoon's has lots of great food, but the one thing that keeps me coming back is their Irish Soda Bread.  Well, I am very pleased to say that my dad said this soda bread was better than Muldoon's!  I take that as a serious compliment because there's is so good.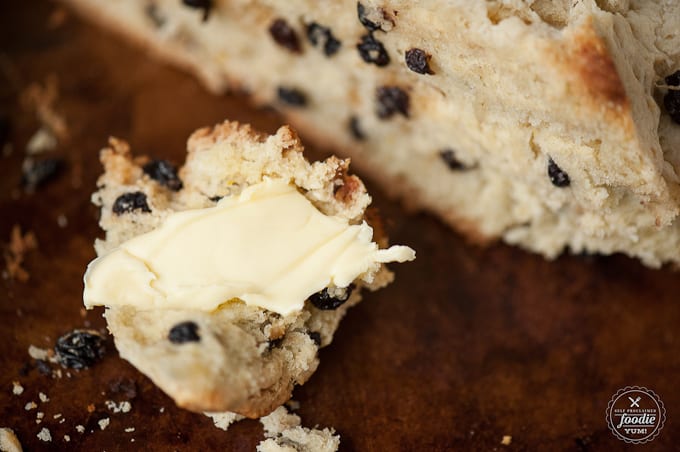 This stuff is super easy to make. I cooked up some Guinness ribeye steaks along with some buttermilk mashed potatoes and sauteed spinach and served up this wonderful bread alongside it. The kids loved it too!  If you've never cooked with currants, they're similar to raisins.  I honestly don't really know what they are. I think they might actually be raisins but aren't called raisins because they come from a different kind of grape?  If you know, please leave me a comment and let me know! Anyway, my point is that I hate cooking with raisins (oatmeal raisin cookies – vomit), but currants, especially in this bread, are wonderful. And to make this bread even more perfect, I smothered it with Kerrygold grassfed Irish butter. Go big, or go home, right?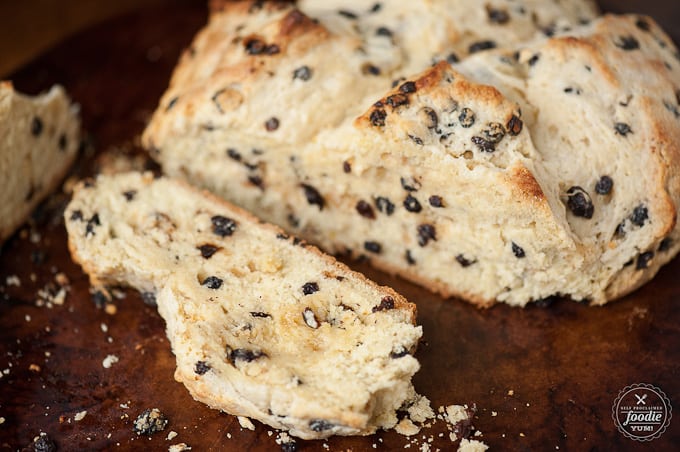 This classic and delicious Irish Soda Bread with currants is super easy to make and is a perfect addition to any St. Patrick's day celebration.
Ingredients
4

cups all-purpose flour + 1 tablespoon, divided

4

tablespoons white sugar

1

teaspoon baking soda

1

tablespoon baking powder

1/2

teaspoon salt

1/2

cup butter, softened

1

cup buttermilk

1

egg, beaten

1

cup currants

1/4

cup butter, melted

1/4

cup buttermilk
Instructions
Preheat the oven to 375 degrees F. Line a baking sheet with parchment paper.
Combine the flour, sugar, baking soda, and salt in the bowl of stand mixer fitted with the paddle attachment. Add the butter and mix on low speed until the butter is mixed into the flour.
In a measuring cup, combine buttermilk with egg. With the mixer on low speed, slowly add the buttermilk mixture to the flour mixture and mix until just combined.
Measure out currants and sprinkle 1 tablespoon of flour on top. Shake the measuring cup to disperse the flour to evenly coat. Add the currants to the dough and fold in (I used my hands)
Place the loaf on the prepared sheet pan, shape into a circle, and cut an X that's about a half inch deep into the top of the bread with a knife.
Combine melted butter and buttermilk and brush over top of bread to coat. During the cooking process, continue to brush the top of the mixture every fifteen minutes or so until you've used all of it.
Bake in preheated oven for 40-50 minutes until an inserted toothpick comes out clean.