Learn How to Make Simple Syrup at home. The process couldn't be easier!
Anyone who makes sweet beverages and cocktails should know how to make it. I'll teach you how to make a standard simple syrup base as well as how to infuse it with different flavors that will elevate your drinks to the next level!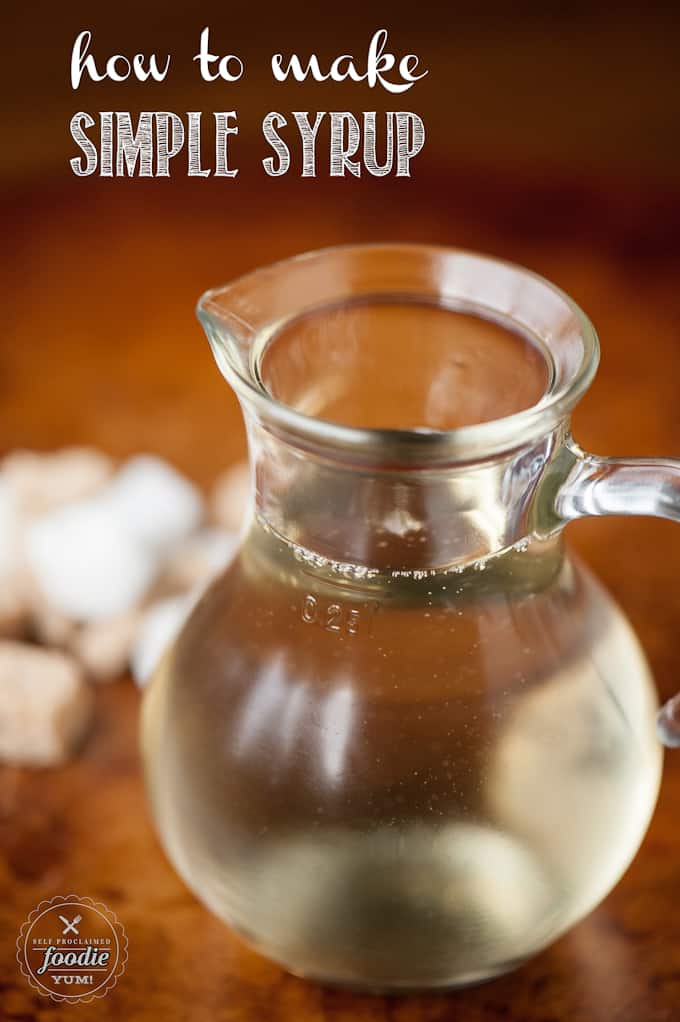 Why this recipe works:
Knowing How to Make Simple Syrup is something everyone should know if you make any kind of drink recipes at home.
It is beyond easy to make. Simple syrup is basically sugar dissolved in water. The solution is heated in a pot to fully dissolve the crystals and then cooled before using and/or storing.
Whether you drink alcohol or not, simple syrup can be added to any drink to sweeten it up. Things like lemonade, coffee, iced tea, you name it! Use it with any kind of drink that needs to be sweetened.
It can be infused with a variety of things like herbs, citrus peel, flowers, etc. to create a pleasant aromatic taste and flavor!
Here's how to make it:
Boil water in small sauce pan and then remove from heat. Add sugar, swirling occasionally, just until sugar dissolves. Cool completely before using.
Store in airtight container in refrigerator. Will keep for about one month.
If you prefer your simple syrup to be even sweeter, just increase the amount of sugar you use. Just be aware that the greater the concentration of sugar, the longer it will take to dissolve. And, going back to my chemistry days, if you end up putting in too much sugar, it will never come to a solution. I haven't figured out what the breaking point ratio is just yet because I don't like it that sweet.
Join today and start saving your favorite recipes
Create an account to easily save your favorite recipes and access FREE meal plans.
Recipe tips:
Simple syrup keeps quite well in your refrigerator and lasts even longer if you make it with a stronger concentration of sugar. I've always used the 1:1 ratio of sugar:water but you can make it more concentrated.

Can you buy it at the store? Yes, but making it at home is the most cost efficient method. That way, too, you'll have total control over the quantity and quality of the sugar you use.
How to infuse simple syrup:
For each cup of sugar and water, my rule of thumb is to add about a tablespoon of dried herbs. Allow the herbs to soak in the warm syrup for at least an hour. For the most intense flavor, don't strain out the herbs until you're ready to use the simple syrup.
My favorite herb infusions are lavender as well as mint.
You can also use lemon, lime or orange peel in the same way.
Related recipes:
I've added some examples of drinks that I've made with simple syrup.
Pin this now to save it for later
Pin It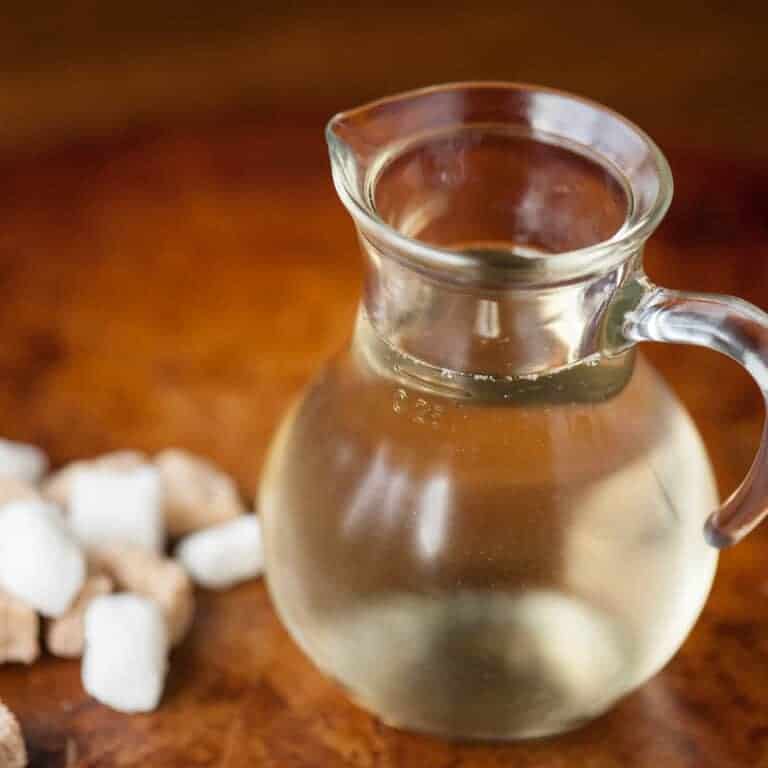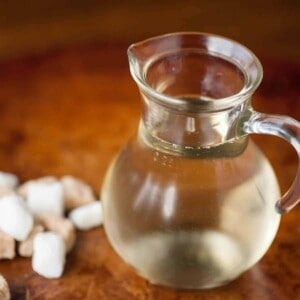 If you enjoy making your own delicious cocktails at home, then you must know How to Make Simple Syrup.
Instructions
Add water to small sauce pan. Heat over high heat and bring to a boil. Remove from heat and add sugar, swirling occasionally, just until sugar dissolves. Cool completely before using.

Store in airtight container in refrigerator. Will keep for about one month.
Notes
Recipe makes about 3/4 cup. Serving size based on one tablespoon.
Nutrition
Calories:
32
kcal
,
Carbohydrates:
8
g
,
Sodium:
1
mg
,
Sugar:
8
g
Nutrition information is automatically calculated, so should only be used as an approximation.
This post was originally created in January 2016 and has been updated with more fun facts and tidbits for your reading pleasure.