Learn How to Make Simple Syrup at home. The process couldn't be easier!
Anyone who makes sweet beverages and cocktails should know how to make simple syrup. I'll teach you how to make a standard simple syrup base as well as how to infuse it with different flavors that will elevate your drinks to the next level!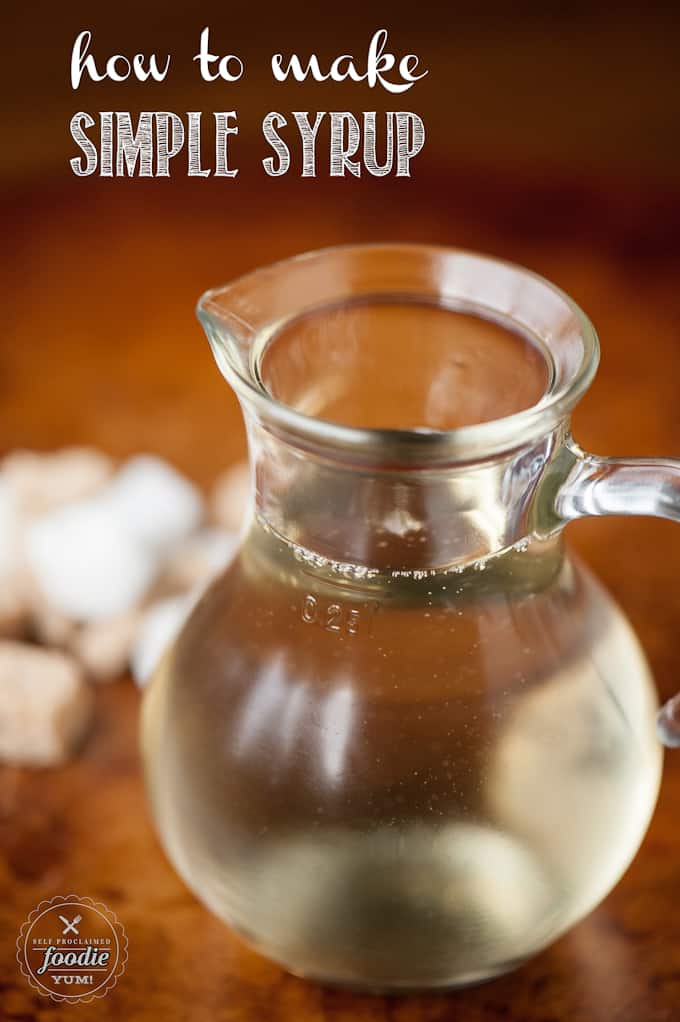 SIMPLE SYRUP
Pin it to your DRINK BOARD to SAVE it for later!
Follow Self Proclaimed Foodie on Pinterest for more great recipes!
Knowing How to Make Simple Syrup is something everyone should know. Whether you drink alcohol or not, simple syrup can be added to any drink to sweeten it up. Things like lemonade, coffee, iced tea, you name it! Any kind of liquid that needs to be sweetened benefits from a good simple syrup.
I debated for a long while about whether I should write a recipe post on how to make simple syrup because it's really quite easy to make and I wasn't sure it actually required its own post. The determining factor, however, was that I use my simple syrup in tons of recipes.
That, combined with the fact that I've grown quite weary of explaining the process in every single recipe. So now, I'll just hyperlink the words "simple syrup" to this post and BAM! – everyone will know how to make it.
What is simple syrup?
If you've never made simple syrup before, or don't even know what it is for that matter, allow me to explain.
Simple syrup is basically sugar dissolved in water. The solution is heated in a pot to fully dissolve the crystals and then cooled before using and/or storing.
Simple syrup keeps quite well in your refrigerator and lasts even longer if you make it with a stronger concentration of sugar. I've always used the 1:1 ratio of sugar:water but you can change that up if your heart desires.
Then, just add it to any drink that's in need of some sweetening!
Can you buy simple syrup at the store?
Yes, but please do so only if you're in a beverage emergency or you're already too drunk to operate the stove. I kid! I kid!
Seriously, it's sugar dissolved in water. If you make it yourself, it will be the most cost efficient method. That way, too, you'll have total control over the quantity and quality of the sugar you use.
The only reason I recommend buying it from the store is if you need simple syrup immediately and don't have time to make it and let it cool. But, by the time you get home from the store, I bet you could have made it yourself!
How do you make sugar syrup?
Combine sugar and water in small sauce pan. Heat over medium heat, swirling occasionally, just until sugar dissolves. Cool completely before using.
Store in airtight container in refrigerator. Will keep for about one month.
If you prefer your simple syrup to be even sweeter, just increase the amount of sugar you use. Just be aware that the greater the concentration of sugar, the longer it will take to dissolve. And, going back to my chemistry days, if you end up putting in too much sugar, it will never come to a solution. I haven't figured out what the breaking point ratio is just yet because I don't like it that sweet.
How to infuse simple syrup:
Anyone can easily infuse intense flavors into simple syrup simply by adding dried herbs.
For each cup of sugar and water, my rule of thumb is to add about a tablespoon of dried herbs. Allow the herbs to soak in the warm syrup for at least an hour. For the most intense flavor, don't strain out the herbs until you're ready to use the simple syrup.
My favorite herb infusions are lavender as well as mint.
Is simple syrup and corn syrup the same thing?
Nope.
Simple syrup is cane sugar dissolved in water.
Corn syrup is syrup made from cornstarch, consisting of dextrose, maltose, and dextrins.
They are sooooo different. Please don't confuse the two.
While you're at it, if you aren't using real maple syrup and are using that sticky corn syrup stuff, please throw it away and buy a big ol' tub of real maple syrup. Your pancakes will thank you.
What can be used in place of simple syrup?
If you ask me, there is no alternative.
You could dissolve sugar substitutes in water, but I don't think they taste the same.
You could dissolve honey in water, but honey has a much different taste than sugar and is often much more sweet.
You could forego the process of making simple syrup and just drop sugar into your drink, but it might not dissolve. When I was a kid, this was my preferred method because I loved getting a big mouthful of crunchy sugar. Not so much now.
What do you use simple syrup for?
I'd love to know what your favorite cocktail made with simple syrup is. Me? I love anything fruity that tastes best sipped through a straw under the hot summer sun.
I've added some examples of drinks that I've made with simple syrup. Just click on the photo and you'll go to that recipe. Enjoy!
Fresh Squeezed Lemonade – There is nothing better than enjoying an ice cold glass of easy-to-make classic homemade Fresh Squeezed Lemonade on a gorgeous warm day.
Lemon Berry Cubes are super easy to make and are the best way to plan ahead to enjoy some delicious berry lemonade or any other citrus berry cocktail.
Blended Watermelon Margarita is made from frozen watermelon, lime, sugar and tequila. This refreshing cocktail pairs well with Mexican food.
Pomegranate Cosmopolitan – This vibrant and delicious Pomegranate Cosmopolitan made with vodka and Grand Marnier is easy to make and will be the talk of any holiday party.
Pomegranate Whiskey Sour – If you want a lip smacking cocktail that's perfect for the winter holidays, mix up an easy to make Pomegranate Whiskey Sour.
Strawberry Lemonade Whiskey Sour– This blended Strawberry Lemonade Whiskey Sour is perfectly tart and sweet with a bourbon whiskey kick is the perfect summertime cocktail.
Refreshing Raspberry Mule combines lime sweetened raspberry puree with vodka and ginger beer to create a tasty, refreshing, and easy to make cocktail.
Grapefruit Mimosa – I make my Grapefruit Mimosa a little different than just combining champagne and grapefruit juice and the result is a sweet and flavorful pink cocktail.
Watermelon Limeade is a refreshing and tasty summer drink made from fresh watermelon and limes, perfect for all ages on a hot summer day.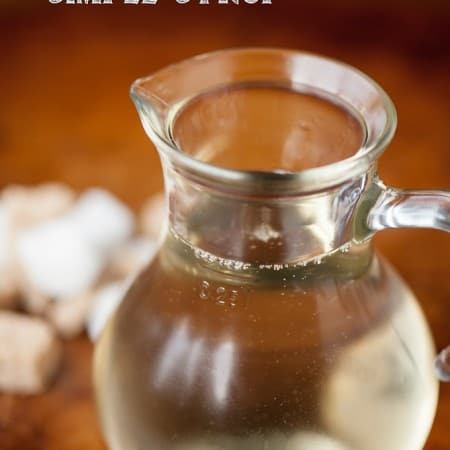 How to Make Simple Syrup
If you enjoy making your own delicious cocktails at home, then you must know How to Make Simple Syrup.
Print
Pin
Rate
Ingredients
1/2

cup

granulated sugar

1/2

cup

water
Instructions
Combine sugar and water in small sauce pan. Heat over medium heat, swirling occasionally, just until sugar dissolves. Cool completely before using.

Store in airtight container in refrigerator. Will keep for about one month.
Notes
Recipe makes about 3/4 cup.  Serving size based on one tablespoon.
Nutrition
Calories:
32
kcal
|
Carbohydrates:
8
g
|
Sodium:
1
mg
|
Sugar:
8
g
This post was originally created in January 2016 and has been updated with more fun facts and tidbits for your reading pleasure.