Indulge in comforting and delicious Beef and Noodles, a simple recipe that invokes nostalgia and delivers a satisfying burst of flavors. With the flexibility of three cooking methods—Instant Pot, slow cooker, and stove top — this recipe brings the classic together with modern convenience.
Enjoy the flavor of seared tender beef tips or stew meat, smothered in a creamy mushroom gravy, and served over a bed of delicate egg noodles. Whether it's a busy weeknight or a cherished family gathering, this easy recipe promises to become a treasured staple your whole family will love.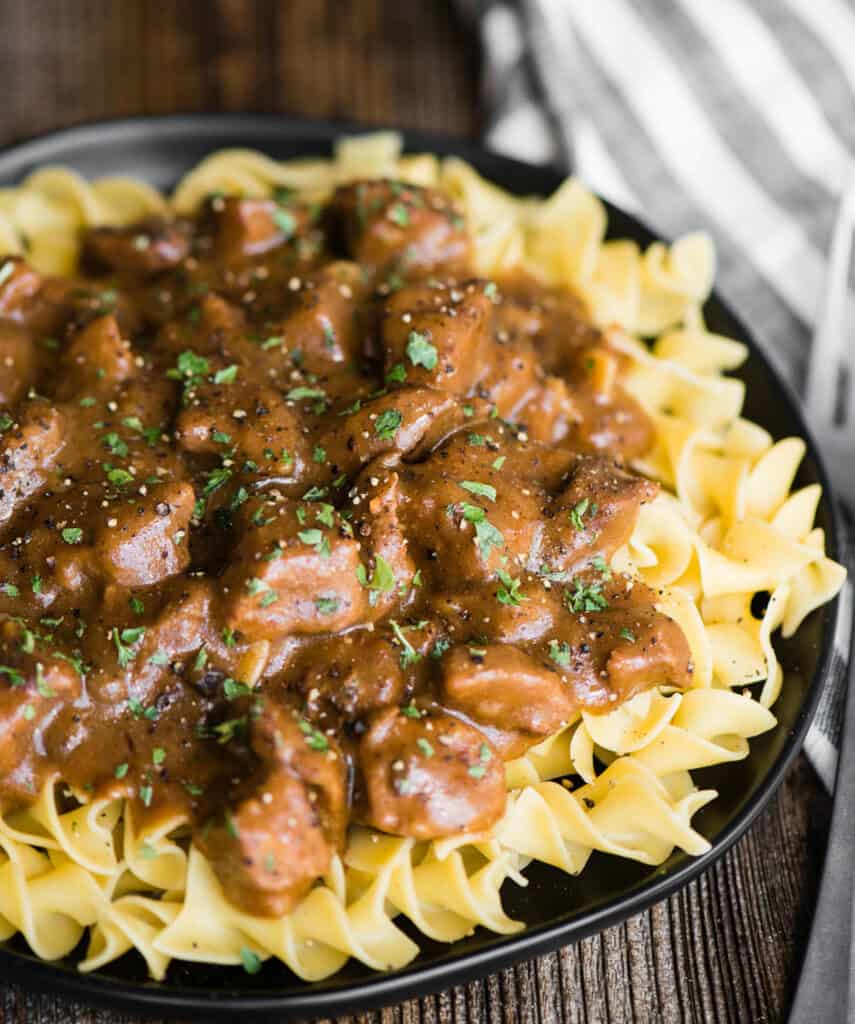 This classic dish is one of my family's favorite meals. Similar to beef stew or beef stroganoff, it's the perfect meal when you want to enjoy rich flavors in a simple recipe.
Reasons to Make Beef and Noodles
Effortless Ingredients: Embrace simplicity with the core components of stew meat or beef tips, Cream of Mushroom soup, onion dip mix, beef broth, and noodles, complemented by a touch of olive oil to elevate the searing process.
A Trip Down Memory Lane: Rediscover the warmth of cherished memories as you savor the authentic flavors reminiscent of grandma's comforting cooking. At least, that's how I feel when I make this!
Versatile Cooking Techniques: Make this recipe in the Instant Pot, crockpot, or by using my stove top method. Easy instructions grant you the freedom to suit your lifestyle and schedule.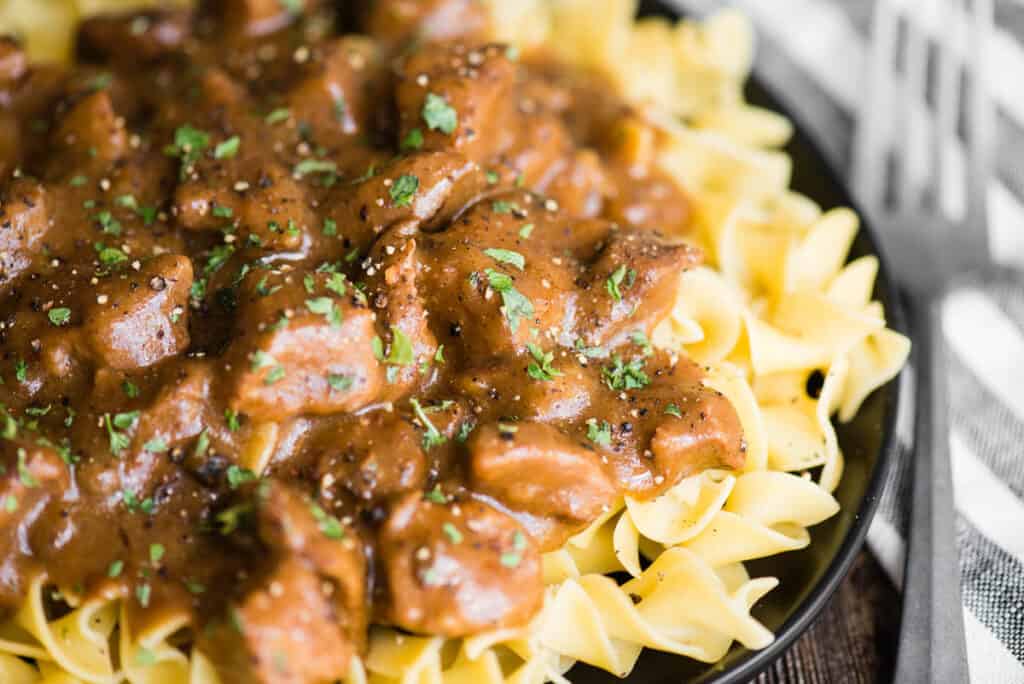 How to Make Instant Pot Beef and Noodles
The full recipe with ingredient quantities is detailed in the recipe card at the bottom of the post, but here is a summary.
Step 1: Sear the Meat
Heat the olive oil in the Instant Pot using the sauté mode. Divide the meat in half and brown the first half, turning only once. Remove the seared pieces from pot and set them on a plate. Brown the second half of the meat. Transfer the first batch back to the Instant Pot along with any liquid from the plate.
Step 2: Combine Ingredients
Combine the cream of mushroom soup, onion dip mix, and beef broth with the seared meat.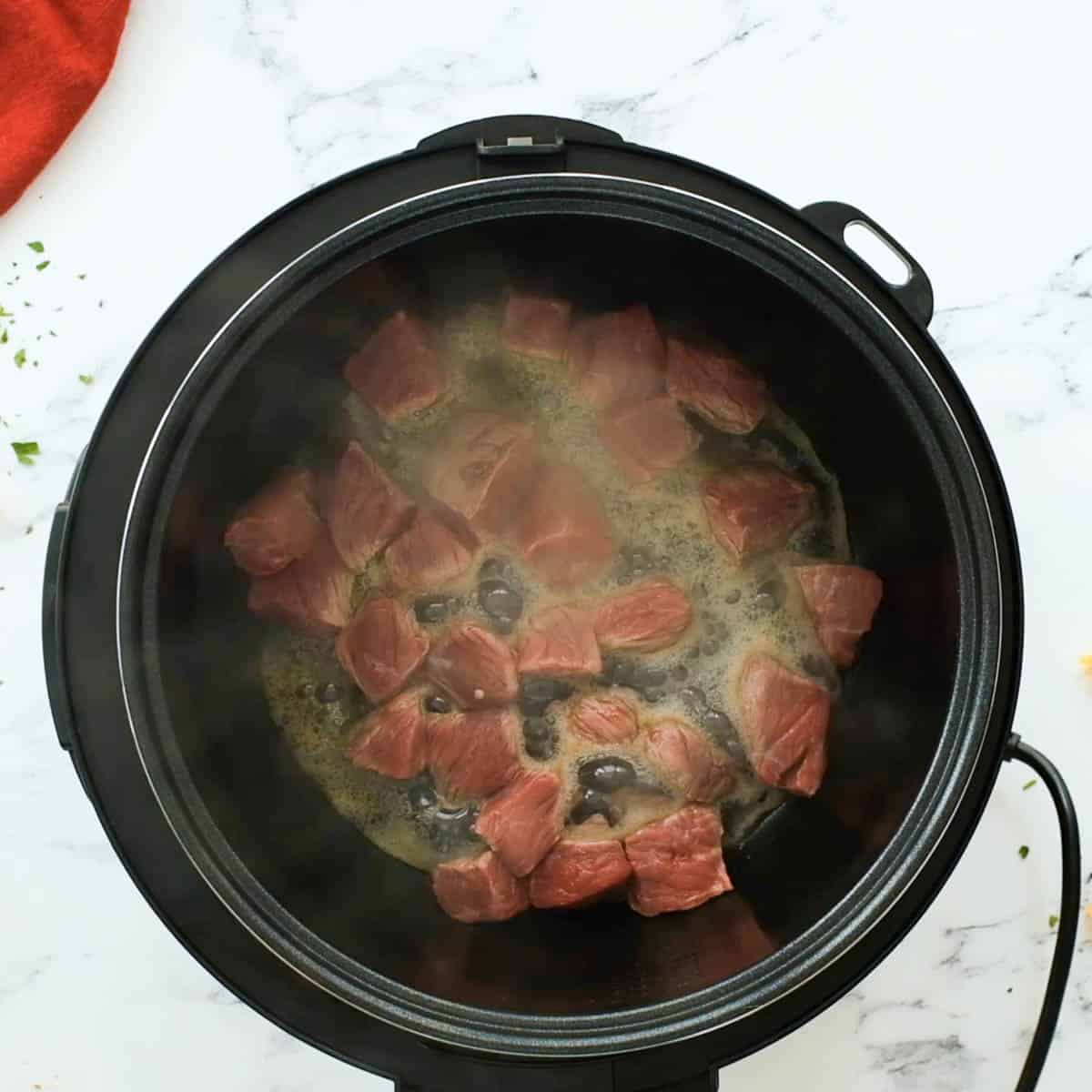 Step 3: Pressure Cook
Seal the pressure cooker lid, and cook under high pressure for 15 minutes. Allow the pressure to gently release.
Step 4: Cook the Noodles
As the mixture cooks, boil the egg noodles in salted water. Once cooked and drained, choose between two serving options: blend the noodles into the beef gravy mixture or allow the beef and gravy to smother the warm noodles.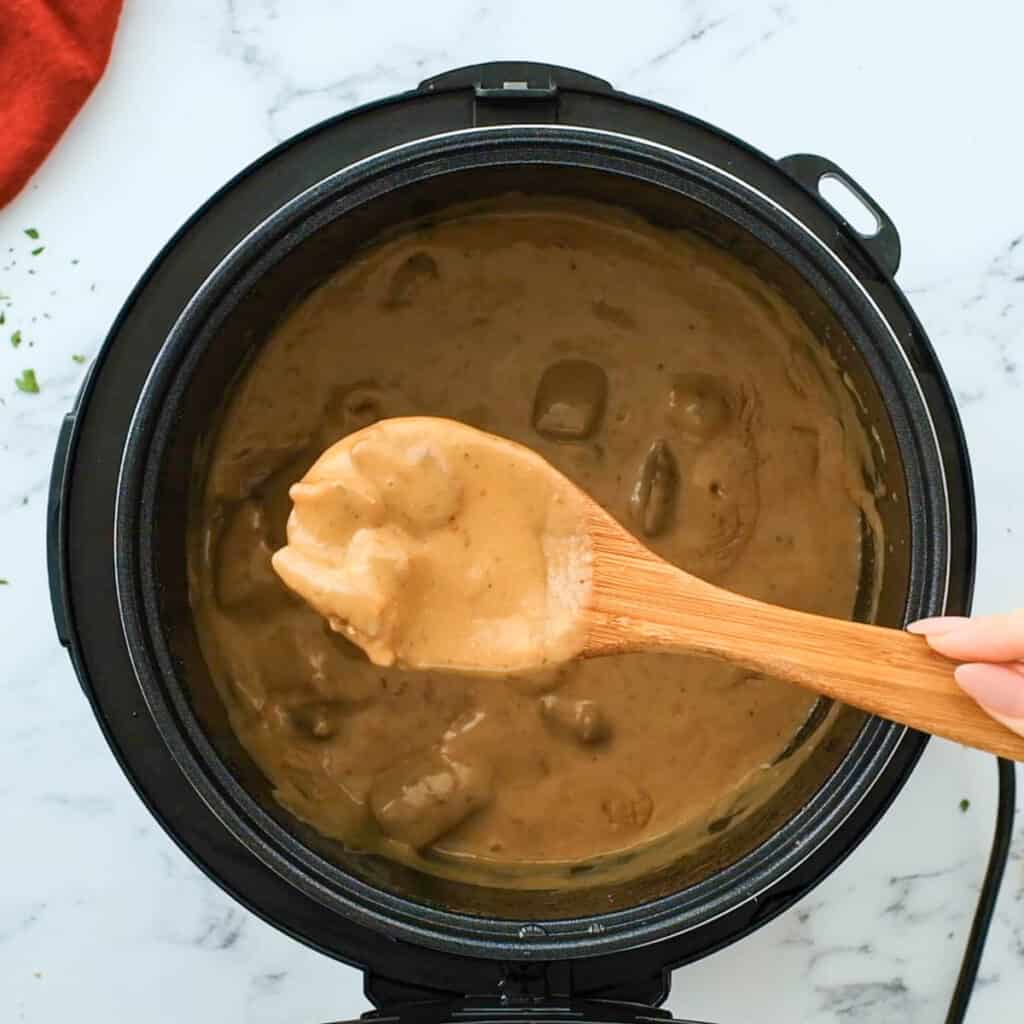 Alternate Cooking Techniques
Crock Pot Beef and Noodles
Sear the beef on the stovetop before starting the slow-cooking process.
Mix ingredients: Transfer the browned meat to the crockpot. Add the cream of mushroom soup, onion dip mix, and beef broth. Stir well to combine.
Slow cook: Set slow cooker to low and allow to cook for 6-8 hours. This method is ideal for those busy days when you return home to a warm, inviting meal. When you're ready to serve, cook the noodles and serve them with the beef gravy.
Stove Top Beef and Noodles
Brown the beef: Begin with a heavy-bottomed Dutch oven, and brown the stew meat over medium-high heat. You can use a large skillet, however it will need to be transferred to a large pot or Dutch oven. For the best flavor and to capture all of those browned bits, and to avoid having to wash an extra pan, just use a Dutch oven.
Braise meat: Combine the cream of mushroom soup, onion dip mix, and beef broth with the seared meat in the Dutch oven. Initiate a gentle boil, then reduce the heat to a tranquil simmer. Cover it to preserve moisture, allowing the meat to tenderize over an hour or more on low heat.
Serve: Boil the noodles separately. Once done, serve them with the beef gravy.
Join today and start saving your favorite recipes
Create an account to easily save your favorite recipes and access FREE meal plans.
Cooking Tips for Perfection
Use the Best Ingredients
Use Trader Joe's Portabella Cream of Mushroom soup. It's just the best. It's only available for a very short window each fall, so if you're not lucky enough to get some, Pacific brand is the next best option.
Make your own homemade roasted beef broth. This is only convenient if you have some stored in quart-sized containers in your freezer. But if you do, you will definitely notice a difference!
Use good quality meet. Stew beef works great for this recipe, but I still tend to cut it into smaller pieces. You can use chuck roast as well. Just be sure to remove as much fat as possible. Since you are braising the meat, a lean meat like sirloin isn't your best option. You want something marbled with fat so that it is incredibly tender once cooked.
Instant Pot Burn Notice
​Safeguard against the infamous Instant Pot burn notice by increasing the amount of beef broth. When I use Trader Joe's Cream of Mushroom, I do not get any burning with the recipe, as written.
Sear the Meat Properly
​Sear the beef in small enough batches to allow each piece to have contact with the bottom of the pan without crowding. This approach guarantees a tantalizingly browned exterior that's brimming with succulence.
Make Ahead
​This is a great recipe to double or triple so that you have leftovers available for a future meal. Freeze extra portions (without the noodles) for an easy meal prep option. After reheating on the stove or in the microwave, you're in for a flavorful encore.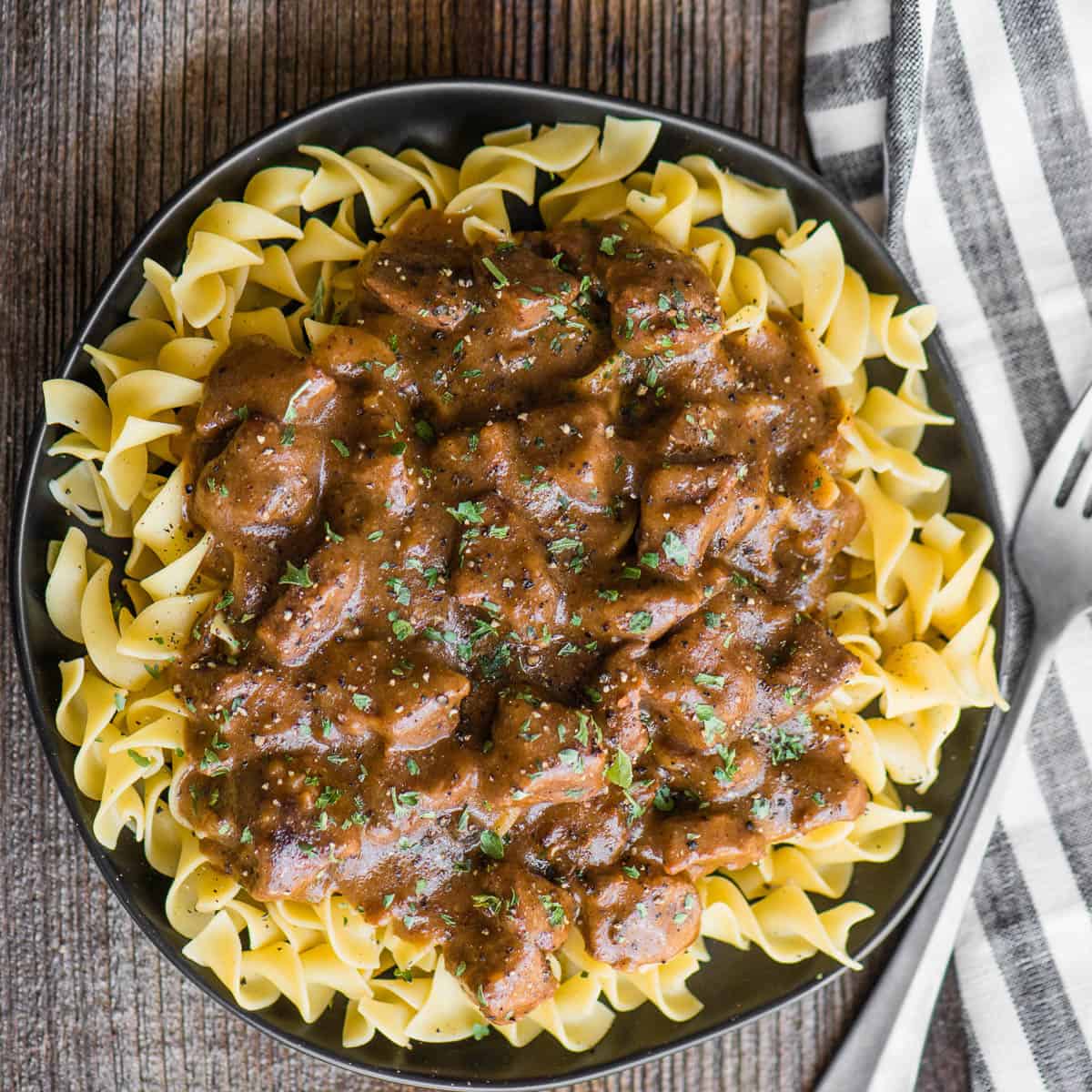 Common Ingredient Substitutions
Cream of Mushroom Soup
Substitute: Cream of Chicken Soup or Cream of Celery Soup. Sour Cream or Greek Yogurt can also be used, but will add a tanginess to the recipe.
Why it Works: Both alternatives bring a creamy base to the dish, adding a comforting texture and flavor similar to cream of mushroom soup. Cream of Chicken Soup imparts a mild chicken flavor, while Cream of Celery Soup offers a subtle herbal note.
Stew Meat or Beef Tips
Substitute: Cubed Chuck Roast is the best alternative. Ground beef or sirloin steak can work. Portobello Mushrooms can be used as a vegetarian option.
Why it Works: Chuck Roast provides a rich taste and maintains tenderness when cooked properly and shares the same robust beef flavor of stew meat or beef tips. Sirloin Steak or ground beef can work, however they won't taste as tender because they are more lean.
Onion Dip Mix
Substitute: Homemade Onion Seasoning Blend (onion powder, garlic powder, salt, and dried herbs) or dried Onion Soup Mix (like Lipton)
Why it Works: Creating your own seasoning blend allows you to control the salt content and tailor the flavors to your preference, while still providing the savory and aromatic qualities of the original mix. Onion Soup Mix is almost the same as dip mix.
Egg Noodles
Substitute: Wide Pasta (such as fettuccine or pappardelle), Fusilli (used in the video), or Rice. Whole Wheat Noodles, Gluten-Free Noodles, or Zucchini Noodles (Zoodles) can also be used.
Why it Works: Wide pasta varieties deliver a similar ribbon-like texture to egg noodles. Likewise, the gravy really clings to the Fusilli. Alternatively, rice can be a gluten-free substitute, absorbing the delicious gravy and adding great texture to the recipe.
Beef Broth
Substitute: Chicken Stock or Vegetable Broth
Why it Works: Both substitutions contribute a rich, savory depth to the dish. Chicken Stock slightly changes the flavor profile, while Vegetable Broth maintains the moisture and imparts a complementary flavor.
Olive Oil
Substitute: Vegetable Oil, Avocado Oil, or Canola Oil
Why it Works: These oils offer a neutral flavor and high smoke point, making them suitable for searing meat without overwhelming the dish's taste profile.
Flavor Enhancers
Addition: Red Wine, Worcestershire Sauce, or Soy Sauce can be added to the recipe in addition to the ingredients above.
Why They Work: Red wine adds richness, Worcestershire sauce contributes a slight umami flavor, and soy sauce brings savory complexity.
By utilizing these ingredient substitutions, you can tailor the recipe to your dietary preferences, allergies, or ingredient availability, while still enjoying a delicious and comforting meal.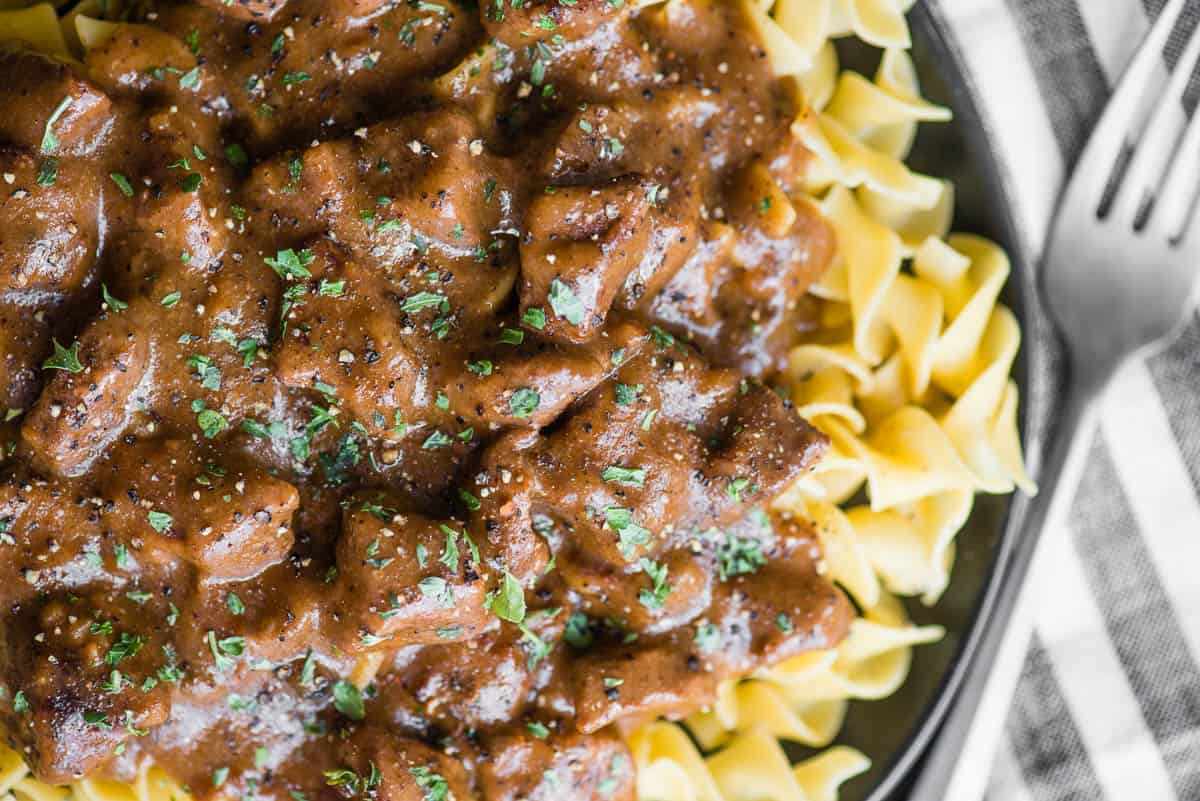 Recommended Side Dishes
Counterbalance the richness of Beef and Noodles with vibrant vegetable sides.
Pin this now to save it for later
Pin It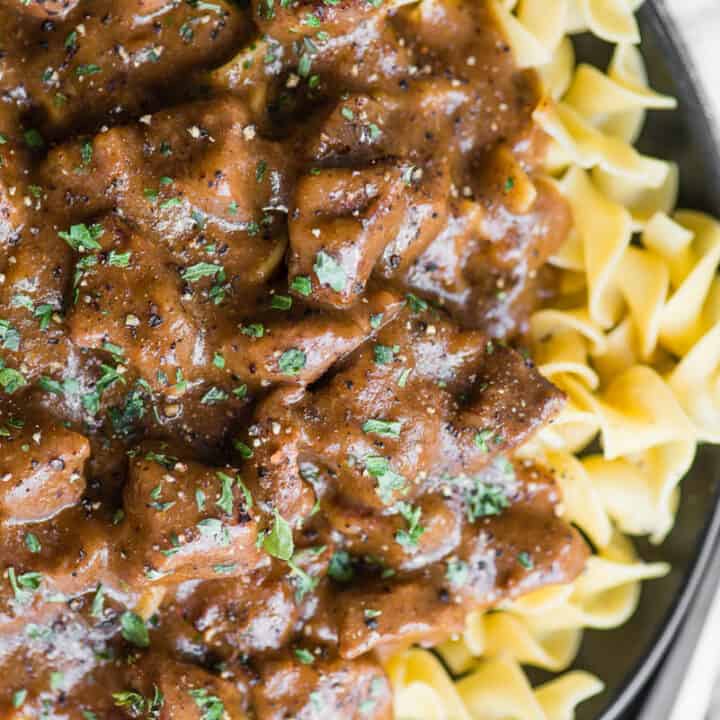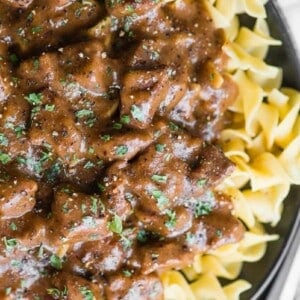 Beef and Noodles using Granny's classic easy 5-ingredient recipe made even quicker in the Instant Pot, but can be made using the crockpot or stove top too.
Equipment
stockpot

optional cooking method
Ingredients
1

Tablespoon

olive oil

1

pound

beef stew meat

cut into one inch pieces

22

ounces

cream of mushroom soup

two 11-ounce boxes from Trader Joe's recommended, see note below

2

Tablespoon

onion dip mix

1

cup

beef broth

more if needed, see instructions below

8

ounces

egg noodles

1

Tablespoon

salt

for cooking the noodles
Instructions
Instant Pot directions:
Add olive oil to pressure cooker pot and set to sauté function. Divide meat in half and brown the first half, turning only once. Remove from pot and set on plate. Brown second half of meat.

Add first batch of meat back to the pressure cooker along with any juices that may have accumulated on the plate. Add cream of mushroom soup, onion dip mix, and beef broth. Stir to mix. Note: if your Instant Pot gives you burn notices, you may want to increase the beef broth to 1 1/2 to 2 cups to prevent that from happening.

Close lid and set to high pressure for 15 minutes. When done, allow to release naturally.

While meat is cooking, cook egg noodles in large pot of salted boiling water to al dente doneness, drain, and set aside. Note: I recommend using egg noodles but in the video, the recipe was made with traditional pasta. Either works.

To serve, top egg noodles with beef and mushroom mixture or simply stir the noodles into the beef gravy mixture.
Stove top directions:
Brown meat in heavy bottom pot over medium high heat using same procedure. Once all ingredients (not the egg noodles which will need to be cooked separately) have been added to pot, cover and allow to braise at a simmer for at least an hour. When done, stir in the drained cooked noodles.
Slow cooker directions:
Brown meat in heavy bottom pot over medium high heat using same procedure. Transfer to slow cooker with remaining ingredients (not the egg noodles which will need to be cooked separately). Cover and cook on high for 2 hours or low (recommended) for 6-8 hours. When done, stir in the drained cooked noodles.
Notes
Choosing the best ingredients:

Cream of mushroom: I highly recommend Trader Joe's Portabella Cream of Mushroom soup. Every fall I buy enough to last all year because it's a seasonal item. Pacific Foods makes a good version too. I find that Campbell's is thicker and may require thinning. You may need to add additional liquid to avoid the burn notice on the Instant Pot.
Beef broth: I also highly recommend making your own roasted beef broth and storing it in the freezer in quart sized containers. I always have some on hand! Otherwise, your favorite store bought beef broth works fine.
Beef: Stew meat works best for this recipe but any cut that says chuck (chuck roast, chuck shoulder, chuck eye-roast, etc.) will work as long as you cut them into bite sized pieces and remove most of the fat. Beef tips are another great option.

Instant Pot burn notice: I've had many readers that tell me they get the burn notice when making my beef and noodles recipe. That has never happened to me, however this is easily preventable by increasing the amount of beef broth you use.
Searing the meat: For the best flavor, it is important you properly sear the meat. That often means you'll need to sear the beef in small batches in order to keep the pan super hot and prevent crowding which would result in tough steamed meat, rather than meat with a nice browned sear.
Freezing: This recipe can easily be frozen, so feel free to double or triple the recipe for future leftovers. Just make everything as written except for the noodles. Chill in the refrigerator and then freeze in an air tight container.
Reheating: Fully thaw before reheating. I recommend either reheating in a covered pot on the stove over low heat or in the microwave on 50% power in 1 minute increments.
Nutrition
Calories:
568
kcal
,
Carbohydrates:
50
g
,
Protein:
47
g
,
Fat:
18
g
,
Saturated Fat:
6
g
,
Cholesterol:
143
mg
,
Sodium:
1682
mg
,
Potassium:
645
mg
,
Fiber:
2
g
,
Sugar:
1
g
,
Vitamin A:
35
IU
,
Calcium:
42
mg
,
Iron:
5
mg
Nutrition information is automatically calculated, so should only be used as an approximation.
This recipe was originally posted in October 2018 and has been updated with additional process photos, helpful information, and cooking tips. Don't worry – I didn't change the recipe!