Anyone can make these easy homemade refrigerator pickles. Fresh cucumbers and a flavorful brine create a crisp delicious pickle with no canning required! They take only a few minutes to make and you'll never want to buy store bought again.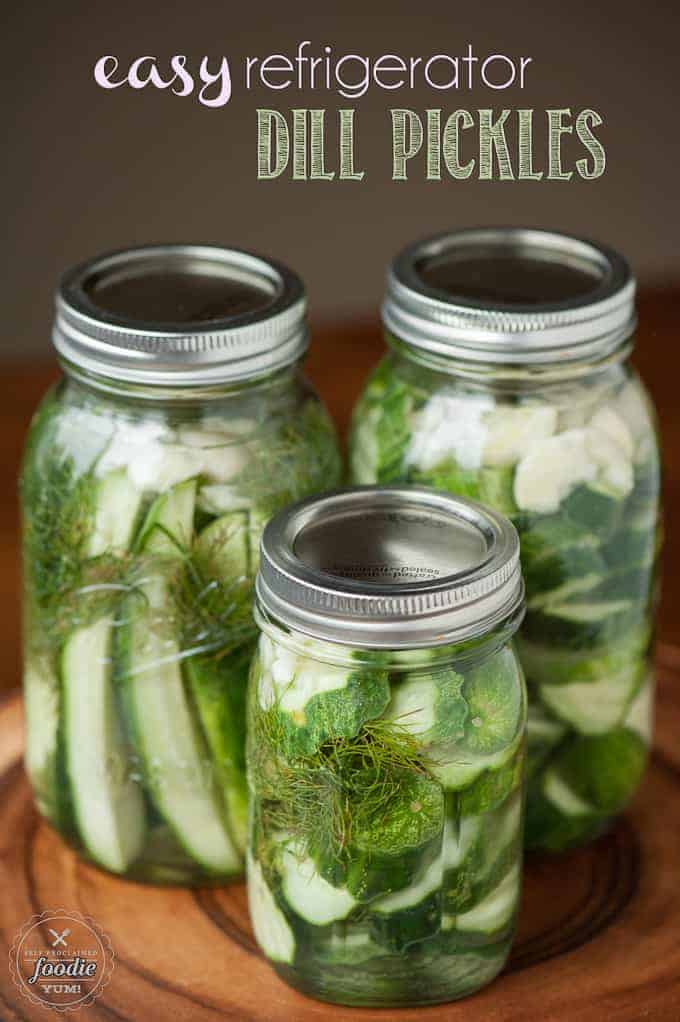 Why this recipe works:
This recipe uses very few ingredients. No special pickling salt or hard-to-find spices needed.
No special canning equipment needed. Because these are refrigerator pickles, you simply brine the cucumbers in the refrigerator and they last a really long time.
They are very easy to make - no cooking experience necessary!
If you love a pickle with an unbelievable crunch and great flavor, you'll love these!
These are seriously the best dill pickle you'll ever enjoy!
How to make them:
All you have to do is heat the brine that consists of water, vinegar, salt, and sugar to the point were the salt and sugar dissolve.
Next you will pour the brine over your freshly cut cucumbers which are nestled nicely in your Mason jars with garlic, fresh dill, and peppercorns.
Stick them in the refrigerator for a week and voila - they're ready!
You were waiting for some catch, right? Like I lure you in with the word easy but then when you read the recipe you're all like "What is she talking about? That's not easy." I wouldn't steer you wrong, my friends. This is easy.
Where can you find pickling cucumbers?
I've always found pickling cucumbers at the farmers market. Starting this summer, I decided to grow my own!
Grocery stores will carry them as well, but they are definitely a seasonal item. Some stores might try to convince you that other types of cucumbers are pickling cucumbers, but don't be fooled. Pickling cucumbers have a very unique look and taste and it should be no surprise that they make the perfect pickles!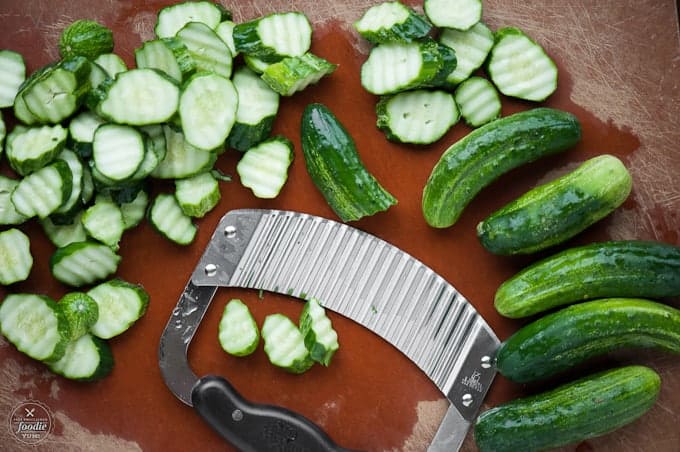 They are not canned in a water bath or pressure cooker.
There are a few recipes that I make every year and then process in a water bath so that I can store them in the pantry. Namely my Vanilla Bean canned Peaches and my vanilla bean homemade applesauce.
These are refrigerator pickles, however, which means that you just put everything in a jar, refrigerate, and wait. No canning. No sealing. Easy.
How long can you keep refrigerator pickles?
The salt and vinegar keeps them safe for a short while at room temperature, but to preserve them you will need to keep them refrigerated.
I recommend storing these refrigerator dill pickles no longer than two months in the refrigerator
Be sure to always use a clean utensil to pull them out as you do not want to contaminate the liquid from dirty hand germs
If you eat all the pickles, you can definitely reuse the brine and add more fresh cucumbers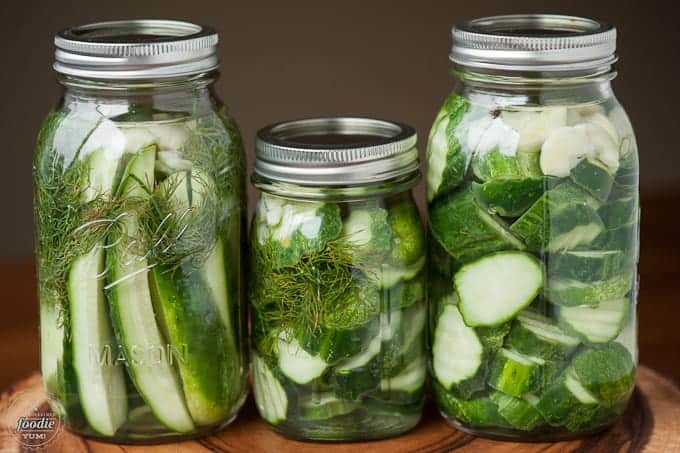 Reader Q&As:
Because of the popularity of this recipe, I get a lot of questions and comments. Here are the most common questions I get with this recipe along with my answers:
Q: Your recipe seems so simple with very few ingredients, do you know why most of the recipes call for the addition of mustard seed, coriander seed and dill seed? Do you know how that would change the flavor? A: I find that the fresh cucumbers, fresh dill and fresh garlic along with the brine are all that you need and people really do love them! You can certainly add additional spices but they aren't necessary to still get great taste and texture.
Q: Can I add other vegetables to the brine? A: Yes! I've had readers tell me they added fresh green beans, carrots, cauliflower, asparagus, etc. and they all worked out amazingly well.
Q: Do you have to use pickling cucumbers? Can you use regular cucumbers? A: I get asked this a lot. Pickling cucumbers are ideal because they are small and firm so they give that great pickle crunch. You can pickle any kind of cucumber, but because of the moisture content in slicing and English cucumbers, they will be more mushy but they will still taste great.
Q: Can I reuse the brine? A: Yes! That's why I recommend always using a clean utensil to get the pickles out. You don't want to introduce any bacteria from dirty fingers. Use the brine over and over again.
Q: Can I use whole cucumbers or do I need to slice them? A: Yes, you can use whole. They just might take a longer time to absorb all of the flavor from the brine. Slicing them just makes the pickling process go faster.
Favorite pickle inspired recipes:
What's not to love about a crunchy dill pickle from a fresh cucumber when you're eating a loaded club sandwich or a stuffed burger?
But did you know that pickles are fantastic in other recipes too? You'll want to try these:
I love to hear from my readers, so be sure to leave me a question or comment below!
Full Recipe Instructions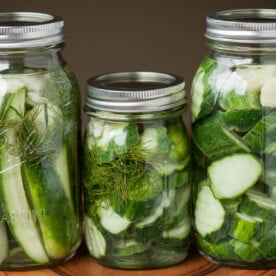 Easy Refrigerator Dill Pickles
Easy Refrigerator Dill Pickles take only a few minutes to make. Once you make your own homemade dill pickles, you'll never buy store bought again.
Print
Pin
Rate
CLICK TO PLAY RECIPE VIDEO
Add to Collection
Go to Collections
Ingredients
10-12

pickling cucumbers

4

cups

water

2

cups

white vinegar

2

tablespoons

kosher salt

1

teaspoon

sugar

big bunch of dill

1

head of garlic

(skins removed, cloves smashed (less if its a strong garlic))

10

peppercorn kernals
Instructions
Slice cucumbers into ¼ inch slices or spears. Set aside

To make brine, combine water, vinegar, salt, and sugar in medium sauce pan. Bring to a boil and swirl to make sugar and salt dissolve. Remove from heat and cool to room temperature.

Add cucumbers to jars. Do not pack them super tight as you you'll want room for the brine. Add the fresh dill, smashed garlic, and peppercorns to the jars. Finish by adding enough brine to cover the cucumbers. Seal with an airtight lid and store in the refrigerator for at least one week. Pickles should be good for at least 4-6 weeks after that.

This recipe made enough for me to fill one pint and fill two quart jars.
Notes
Makes 3 quart sized jars
The amount of dill and garlic can vary depending on taste. I prefer to pack my jars with a ton of fresh dill which is why I don't specify a specific quantity, but you can add as little or as much as you prefer.
The intensity of the garlic will impact the intensity of the pickles. If your garlic is particularly strong, use less if you are sensitive to the taste.
NUTRITION INFORMATION
Calories:
26
kcal
|
Carbohydrates:
3
g
|
Sodium:
781
mg
|
Potassium:
226
mg
|
Fiber:
1
g
|
Sugar:
2
g
|
Vitamin A:
120
IU
|
Vitamin C:
5.4
mg
|
Calcium:
27
mg
|
Iron:
0.4
mg
This post was originally created in 2015 and has been updated with more fun facts and tidbits for your reading pleasure, but this reader-favorite recipe has always remained the same.