Crème Brûlée, made with just four ingredients, is the best dessert! This rich and creamy classic recipe is easy to make too, so anyone can make it.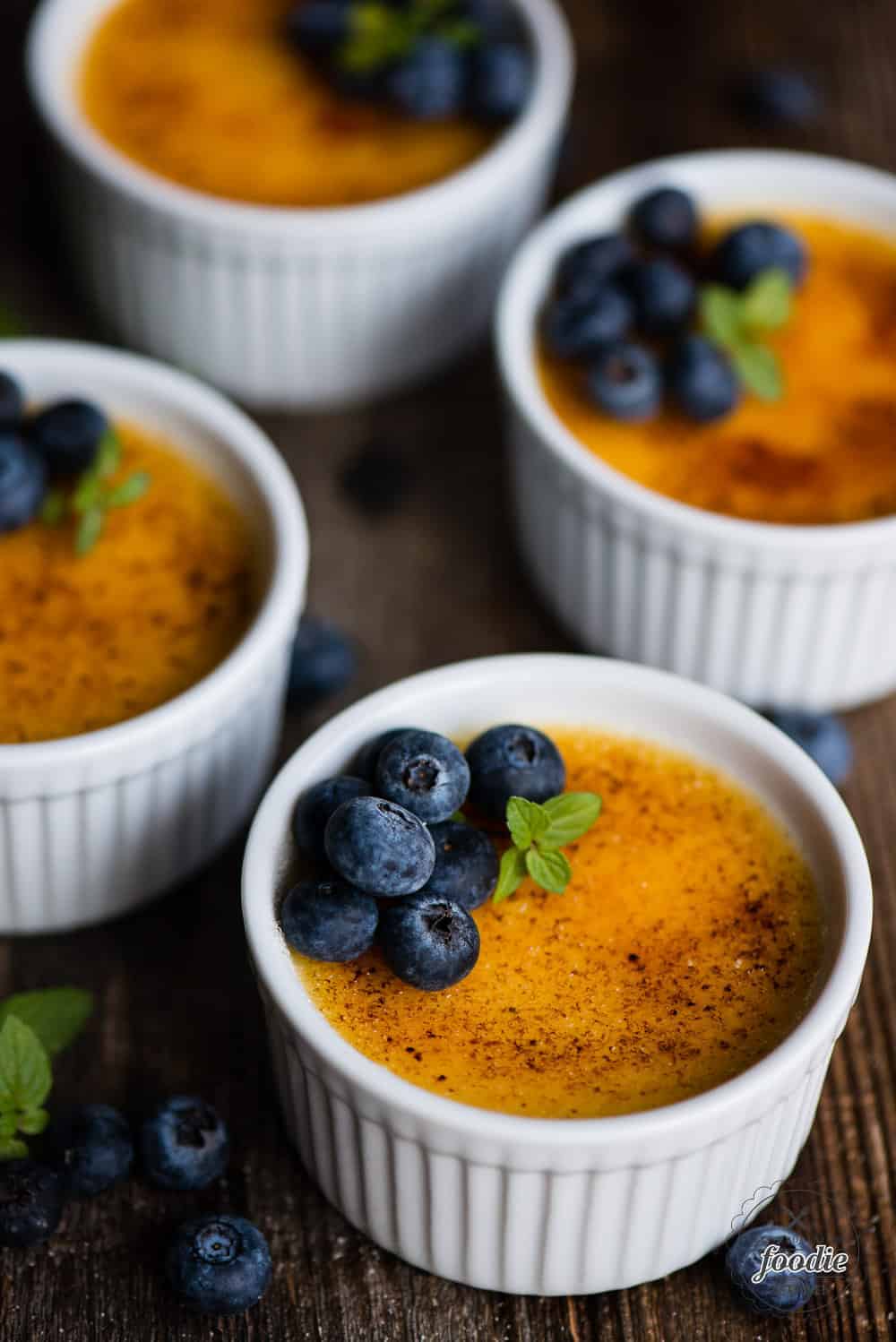 Why this recipe works:
Crème Brûlée is one of those rich and decadent dessert recipes that's usually ordered in a restaurant and not made at home. Don't be intimidated to make it though.
The recipe was actually really easy to make and the results were far better than any Crème Brûlée I have ever ordered in a restaurant!

With a few simple techniques, it will turn out completely rich, smooth, decadent and creamy.

The caramelized sugar topping, which is golden brown and crisp, is easy to achieve with the proper techniques.

This is one of those dessert recipes that is sure to impress!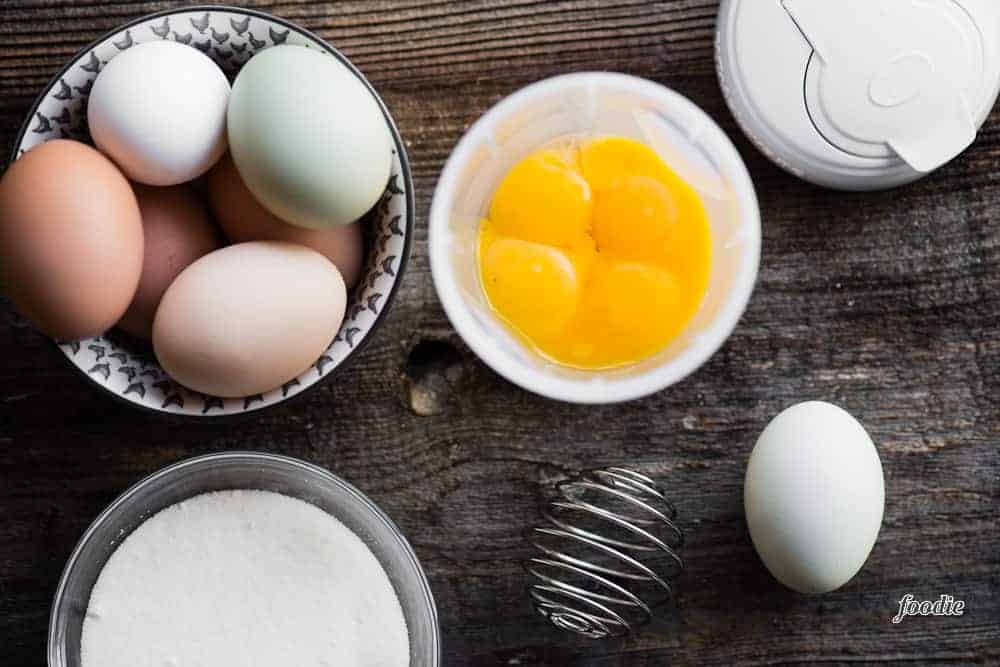 Ingredients:
Four simple ingredients create this classic dessert. Can you believe it?
Heavy cream – Also known as heavy whipping cream. I'm sure some readers will ask if you can substitute with milk and my answer will be no. The fat content in heavy cream is much, much higher than milk and there really is no substitute.
Egg yolks – It is recommended that you use the highest quality eggs you can find. It truly makes a difference.
Vanilla bean – You can certainly substitute pure vanilla extract or vanilla bean paste for the vanilla bean, but if and when possible, use a real vanilla bean in this recipe. They can be expensive, but I think they're worth the investment.
Sugar – Nothing special here. Just regular granulated sugar.
How to make it:
Blend the egg yolks with the sugar until they are pale yellow and fully mixed.
Scald the cream with the vanilla bean and then allow it to sit, covered, for about 15 minutes.
Add a couple tablespoons of the warm cream mixture to the blended egg yolks to temper the egg. Add a couple more tablespoons of the warm cream and mix. At this point you can add all of the tempered egg mixture in with the warm cream and stir it well to fully combine.
This mixture will then be strained through a fine mess strainer into four ramekins. The filled ramekins are then added to a baking dish and water is added to the baking dish (not the ramekins) to create a water bath. You'll want to add enough so that the water is about half way up the sides of the ramekins.
The Crème Brûlée will then bake in the water bath until is just starts to set but is still quite jiggly. This takes about 40-50 minutes.
You'll need to remove the ramekins from the water bath and refrigerate them for at least two hours before adding the caramelized sugar layer.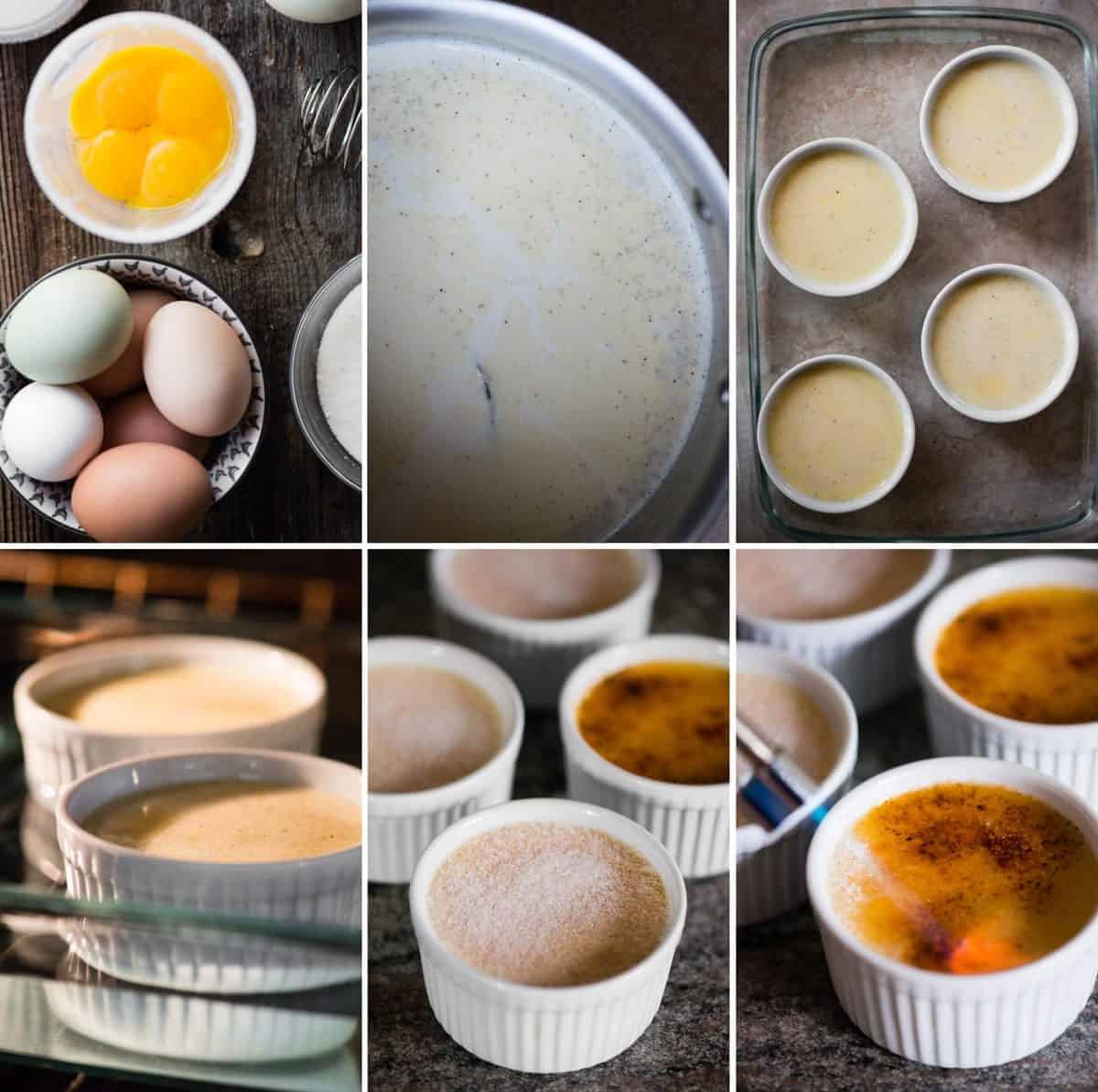 Cooking tips:
Caramelize the sugar: To do this, you want to sprinkle just enough sugar on top of the Crème Brûlée so that it coats the top of the custard, but any excess is shaken off. Too much sugar will result in a layer of uncooked sugar under the hardened caramel layer.

To burn the sugar with the kitchen torch, wave the flame over the sugar so that it bubbles but doesn't burn. Continue to heat until all of the sugar has melted and it is golden brown.
If using the broiler, I recommend surrounding the ramekins with ice to keep them chilled. You do not want the custard to cook under the broiler. Keep a very close eye on them because the sugar can go from caramelized to burnt in a matter of seconds!

Ramekin size: The ramekins I used were 3.5 inches in diameter and about 1.75 inches deep.
To serve: You simply need to provide a spoon. It's perfect on it's own, but I will always prefer fresh berries. That tartness and juice that a berry provides is a great compliment to the creamy sweetness you get with the best Crème Brûlée.
Storage: Crème Brûlée can be kept in the refrigerator up to three days from the time you take it out of the oven to the time you're ready to add the caramelized sugar layer.

Just be sure to keep it covered so that it doesn't dry out.
Be sure to hold off on the caramelization process until just before you're ready to serve. If you caramelize the sugar and then put it back in the refrigerator, it will get soggy and you'll lose that fabulous hard top.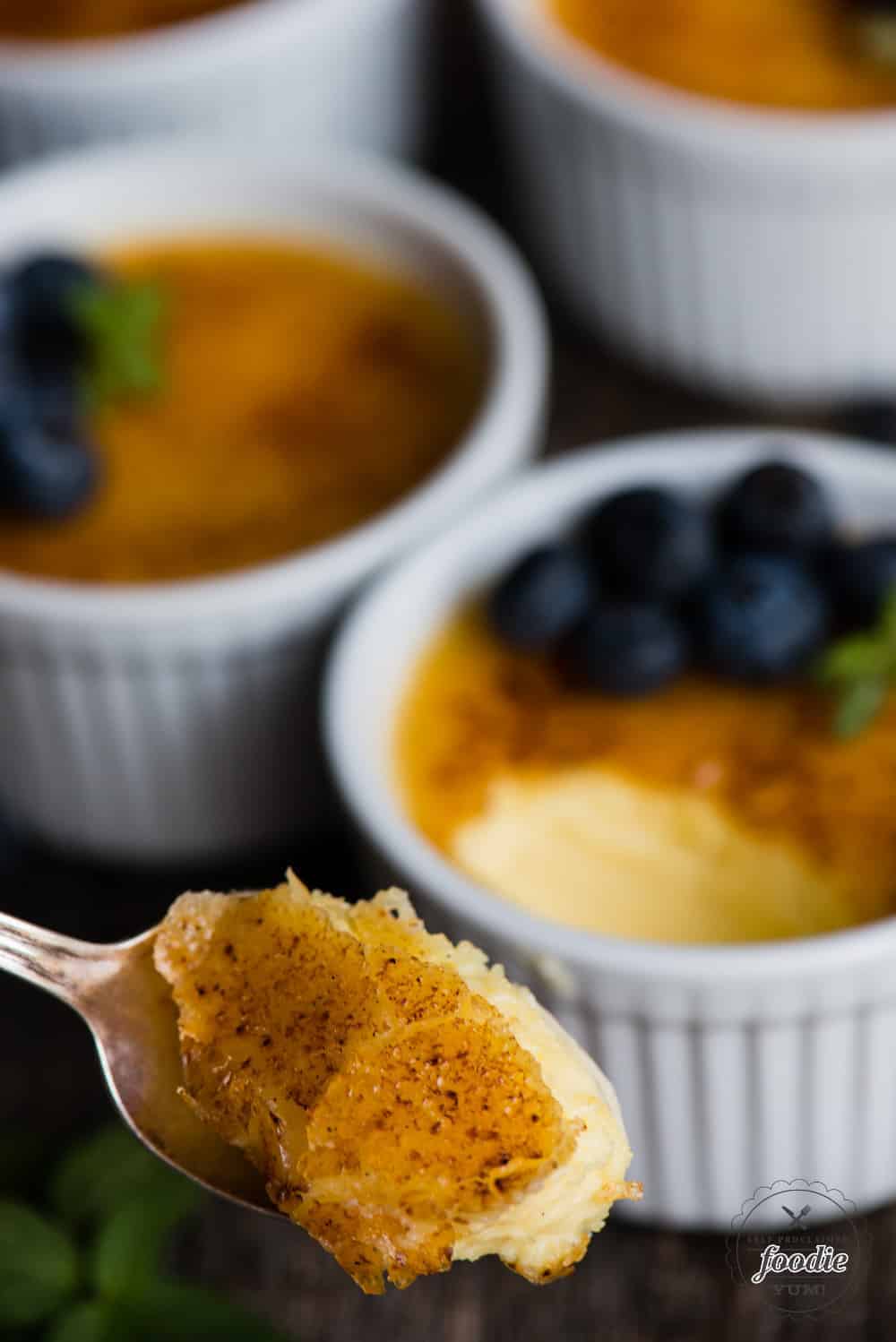 Related recipes:
If you love rich and creamy custard based desserts like this one, you will surely love these favorites: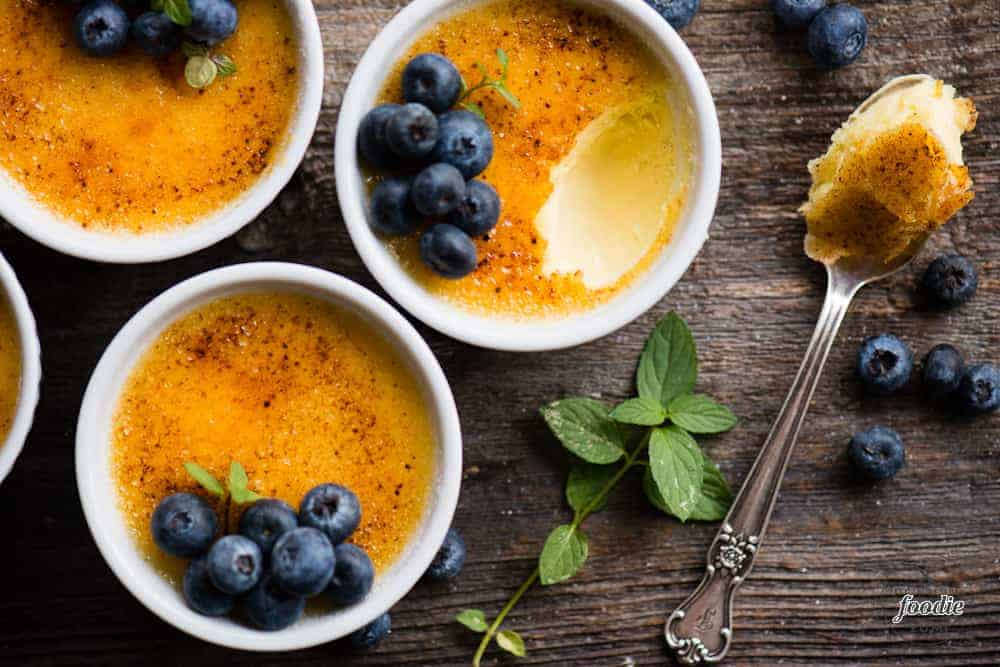 If you've made this or any other recipe on my site, let me know in the comment section how it turned out. I love hearing from my readers!
You can also follow along on PINTEREST, FACEBOOK and INSTAGRAM to see more amazing recipes to satisfy any foodie craving!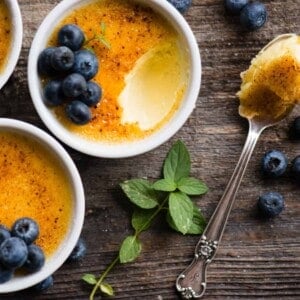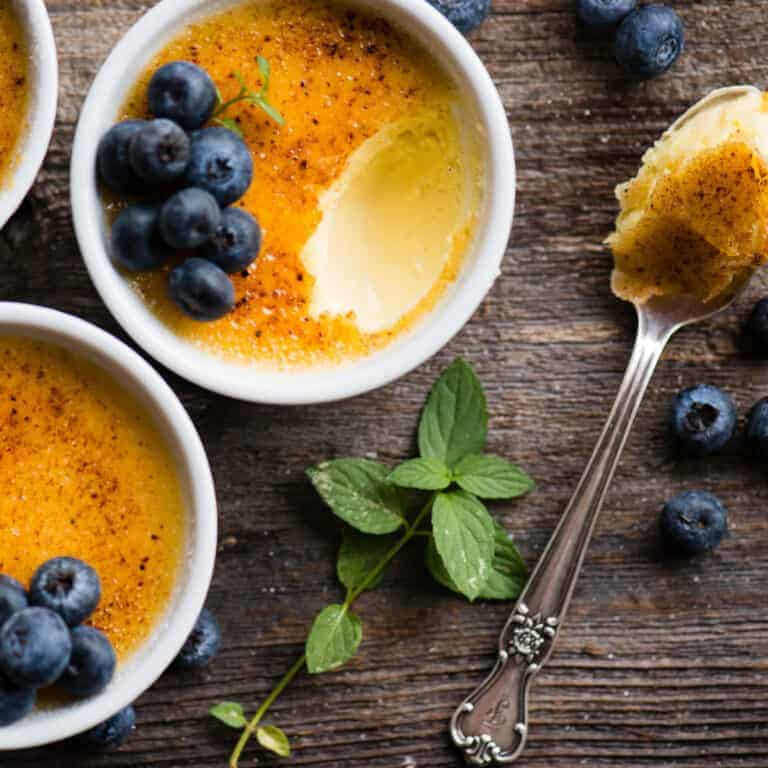 Crème Brûlée, made with just four ingredients, is the best dessert! This rich and creamy classic Crème Brûlée recipe is easy to make too!
Ingredients
Crème Brûlée custard:
2

cups

heavy cream

1

vanilla bean

(can substitute with 1/2 teaspoon pure vanilla extract)

5

egg yolks

(reserve egg whites for other use)

1/2

cup

granulated sugar
Instructions
Preheat oven to 325 degrees F.

Add heavy cream to a sauce pan. Split vanilla bean down the middle lengthwise and scrape seeds out with tip of knife. Add seeds and pod to heavy cream. Heat over medium high heat and bring to a boil. Immediately remove from heat, cover saucepan with lid, and allow mixture to sit for about 15 minutes.

While hot vanilla cream is sitting, combine egg yolks and 1/2 cup sugar in Whiskware™ Egg Mixer. Blend until creamy and light in color. Add about a tablespoon of the warm cream to the egg mixture and blend to temper. Add another tablespoon of warm cream and blend. Finally, transfer tempered egg mixture from the Whiskware™ Egg Mixer to the pan with the warm vanilla cream. Stir well to combine.

Pour mixture through fine mesh strainer into 6 ramekins ensuring each ramekin has an equal amount. Place filled ramekins in a baking dish and add water to the baking dish (not to the inside of the ramekin) to create a water bath. Add enough water so that the water comes about half way up the sides. Bake in preheated oven just until the centers of the Crème Brûlée are set but still jiggly, about 40-50 minutes.

Remove from oven, dry off water from bottoms of ramekins, and refrigerate for at least two hours. If making ahead of time, your Crème Brûlée can be refrigerated up to 3 days, however after two hours of refrigeration, cover with plastic wrap.

To serve, sprinkle tops with granulated sugar. You want a thin even layer. If the sugar layer is too thick, it won't caramelize all the way through, so shake off any excess. Use a torch, working from the outside in, to caramelize the tops. See recipe notes on how to use oven to caramelize the tops.
Notes
If you don't have a torch, fear not! You can caramelize the sugar in the oven under the broiler. You don't want to cook your creamy Crème Brûlée, though, so put your chilled ramekins in a baking dish, fill with ice like you filled for the water bath. Add the sugar to the tops of the Crème Brûlée and place under the broiler until golden brown. This method will keep your Crème Brûlée custard consistent while being able to caramelize the tops.
Serve with fresh fruit.
Nutrition
Calories:
590
kcal
,
Carbohydrates:
31
g
,
Protein:
6
g
,
Fat:
50
g
,
Saturated Fat:
29
g
,
Cholesterol:
407
mg
,
Sodium:
56
mg
,
Potassium:
113
mg
,
Sugar:
27
g
,
Vitamin A:
2075
IU
,
Vitamin C:
0.7
mg
,
Calcium:
106
mg
,
Iron:
0.6
mg
Nutrition information is automatically calculated, so should only be used as an approximation.
This recipe was originally published in October 2014 and has been updated with helpful information, ingredient and process photos, as well as recipe tips. Don't worry – the recipe hasn't changed!