Chocolate Covered Strawberries are the best dessert. This recipe is fancy and romantic, but super easy to make and they turn out perfect every time.
I'll share my secret tips I've been using for years that make this the easiest fail-proof homemade chocolate covered strawberry recipe you'll find!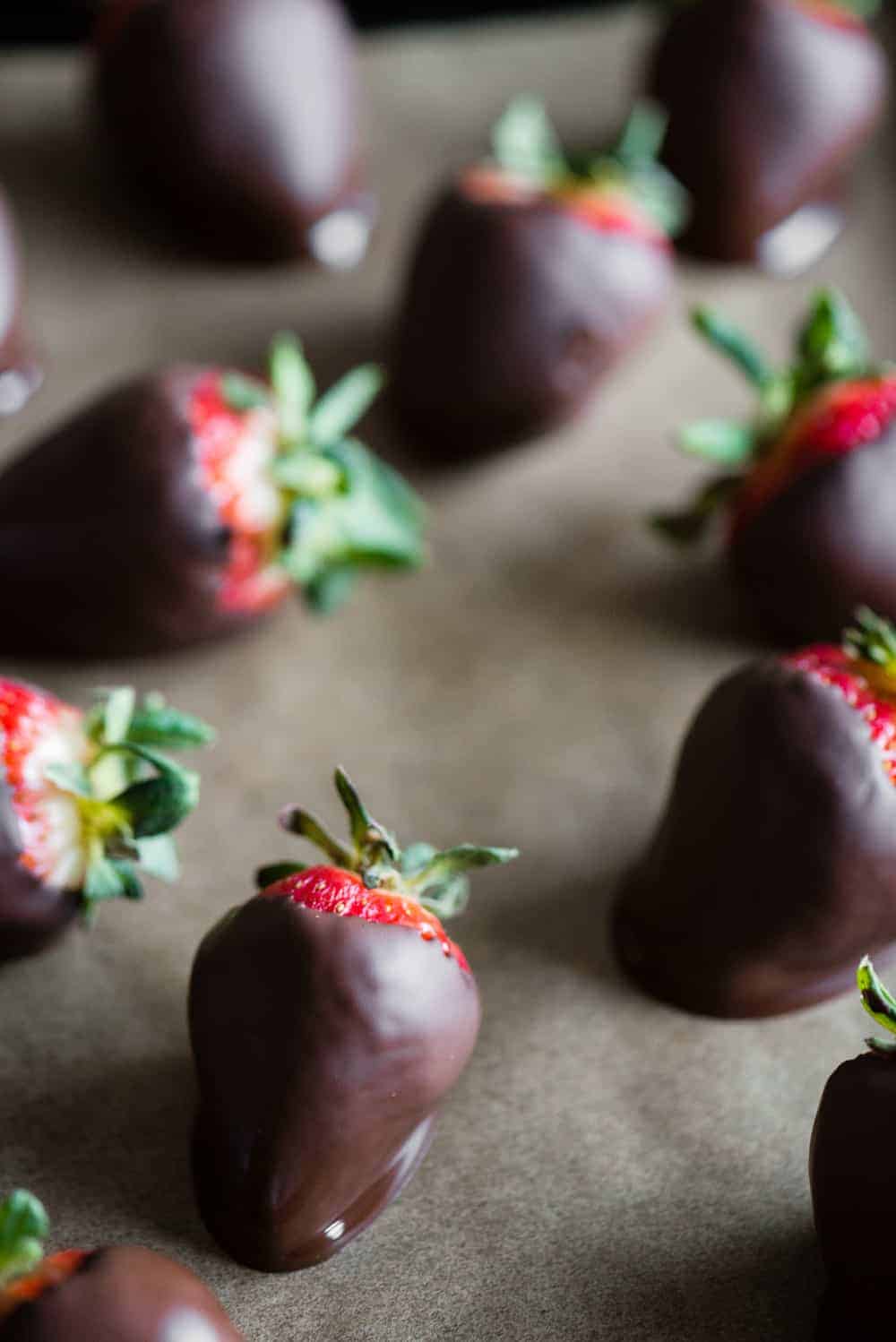 I've always equated chocolate covered strawberries with a romantic dessert. Especially on occasions like Valentine's Day.
There are two things I find completely absurd about chocolate covered strawberries, though.
They are one of the most difficult treats to eat while still looking pretty. For real. Just finished the romantic filet mignon dinner your sweetheart made you and you want to take a bite of that chocolate covered strawberry? Sure enough all of the chocolate will crack apart and fall all over your shirt and melt before you notice. Not to mention that little bit of chocolate you got on your note and didn't notice. Super awkward. There's a secret to my chocolate covered strawberry recipe that actually makes eating them more civil. Read on!
Store bought chocolate covered strawberries are ridiculously expensive. Especially if you order them and have them delivered. We're talking several dollars, if not more, per strawberry! Do yourself a huge favor and just make them yourself. I promise – there's nothing to it and they turn out perfectly every time if you follow my tips.
How long do they last?
This is one of those recipes that you really should make on the same day you plan on eating them. Chocolate covered strawberries don't last long. Funny things happen to fresh fruit covered in chocolate.
If you can't make these chocolate covered strawberries on the same day you plan on eating them, I would plan on making them no more than one day ahead of time. Seriously, though, they are so easy to make that you should just carve out ten minutes to make them on the day you plan on eating or giving them. It will be worth it.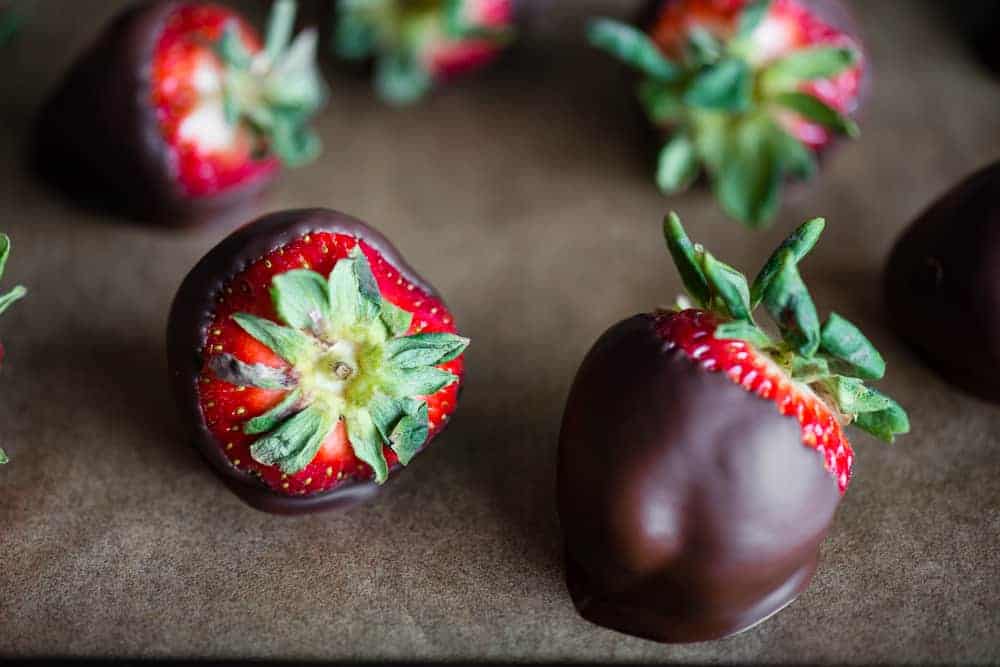 Do you have to put chocolate covered strawberries in the fridge?
I actually recommend NOT putting chocolate covered strawberries in the fridge. If your house is on the warmer side, like really warm, and the chocolate won't firm up at room temperature, then YES – you can put them in the refrigerator.
What happens in the fridge, however, is that chocolate wrapped around strawberries will begin to sweat and get wet and soggy. A quick chill is fine, but the longer you keep them in there, the more wet and gross they will get over time.
How do you get chocolate to stick to strawberries?
Here lies two of my secrets:
You have to make sure your strawberries are completely dry. Whether that means you choose not to wash them (no judgement here), or you wash them and do everything in your power to get every drop of moisture evaporated, the strawberries need to be completely dry before you dip them in chocolate. Wet strawberries will not only prevent the chocolate from sticking, but it will make the strawberries go bad much quicker.
Coconut oil mixed into the chocolate is your secret ingredient. Does it add a coconut taste? Yes, but it's very subtle and the results are worth it. Coconut oil mixed into your melted chocolate does a few wonderful things. First, it keeps the chocolate melted and smooth in the container, but once it's in a thin layer on your strawberry, it hardens very quickly. Second, the coconut oil makes your chocolate more forgiving and less finicky. That means it sticks to the strawberry very well. Third, the coconut oil helps keep the chocolate from breaking apart. Remember when I talked about how un-sexy chocolate covered strawberries were to eat in front of your Sweetheart? Coconut oil fixes that.
So much cheaper to make them.
Store bought versions are So. Much. Money. For real. The markup on chocolate covered strawberries in unreal, and most of the time you'll be getting conventional strawberries unless you pay up the nose for organic strawberries.
Do yourself a favor and make them yourself. That way you have total control over the quality and freshness of both the strawberries and chocolate. That not only means making your own chocolate covered strawberries will taste better, but they will be fresher and cheaper than anything you can buy.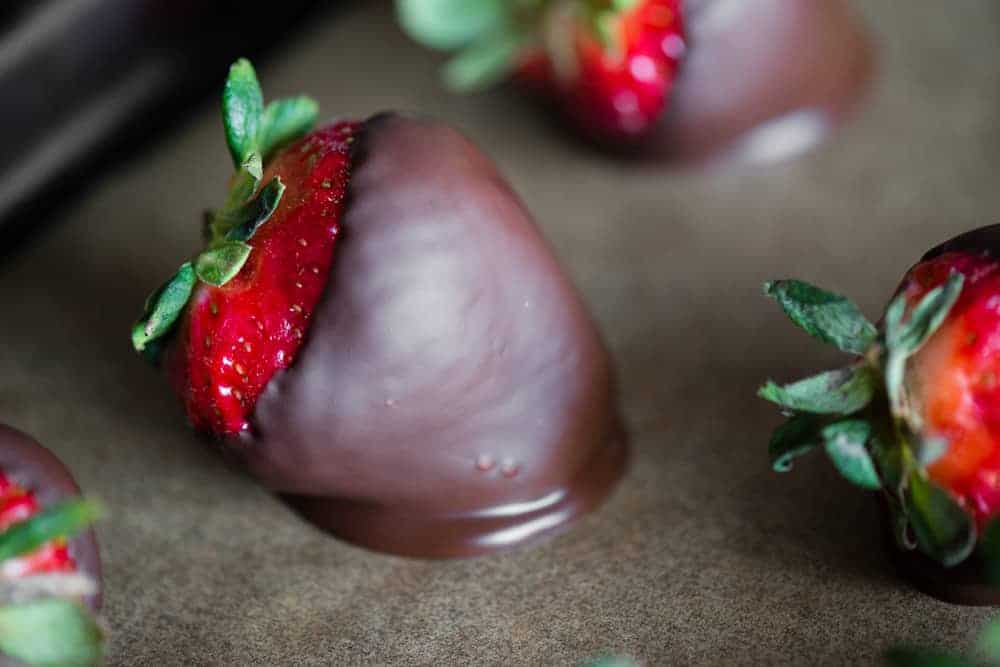 How to decorate them:
As you can see, I'm a bit of a minimalist when it comes to chocolate covered strawberries. I dip them in my chocolate and coconut oil mixture, let them set, and call it good. I don't need, nor do I want, anything fancier than that.
But, I acknowledge some people want to dress up their chocolate covered strawberries so here are a few ideas on how to decorate chocolate covered strawberries:
You can melt additional chocolate to drizzle over the top once the chocolate covered strawberries have set. You can do this with the same chocolate you used to dip them in or go for a darker chocolate or white chocolate.
Minced nuts sprinkled on the chocolate before it sets would add great texture.
Mini chocolate chips can be tossed on top of the melted chocolate before it dries.
Crushed cookies can also be added to the chocolate covered strawberries before they set.
How to make them:
I'm sure some hard core chocolate enthusiasts will cringe at my method, but if you're like me and are looking for easy recipes that taste really good, this recipe is for you.
Ensure your strawberries are completely dry.
Combine the chocolate chips and coconut oil in a microwave safe dish (I use a glass measuring cup). Microwave on 50% power for one minute. The 50% power is important – you want to heat the chocolate gently. Low and slow. Give it a stir.
Microwave on 50% power for another minute. Stir. If the chocolate is starting to melt, continue the same process but heat in 30 second increments now. The second you can stir the mixture and it's completely melted, you're done.
Line a baking sheet or your counter top with parchment paper.
Gently hold the strawberry by the leaves. Dip in the chocolate and let any excess drip off before you set the chocolate covered strawberry on the parchment to dry. As you get to the bottom of the chocolate, you'll probably need to roll the strawberry around to get it fully covered. Depending on how much chocolate you let run off the strawberry, you might have some leftover or might have to make more to cover all the strawberries. It should only take about 15-20 minutes for them to be ready to devour!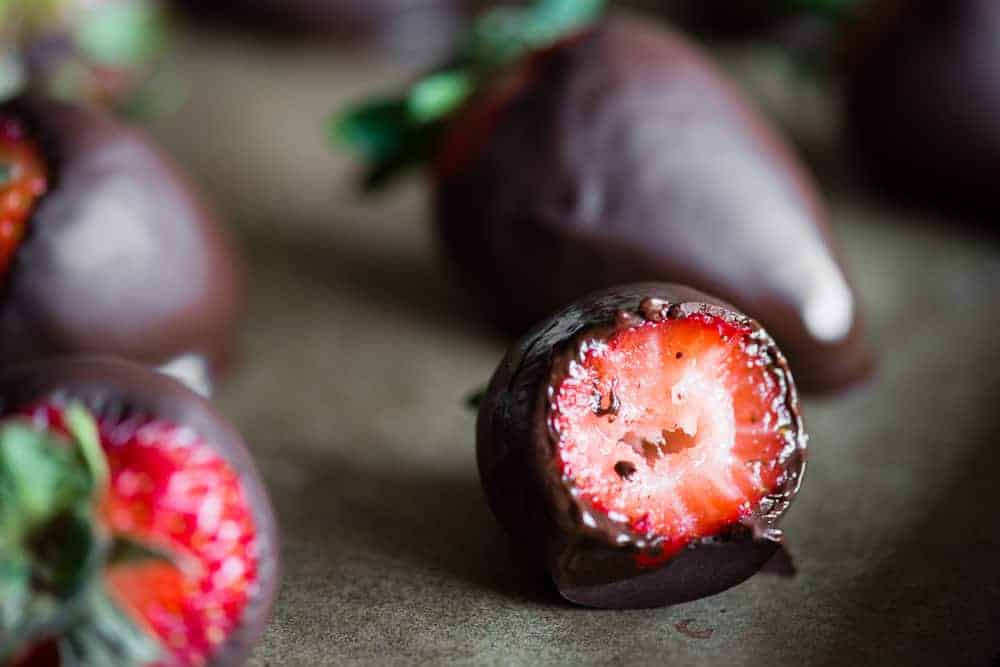 Love strawberry recipes?
You'll have to try these recipes that use fresh strawberries:
Chocolate Covered Strawberries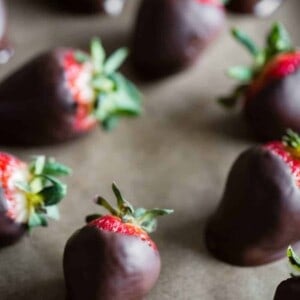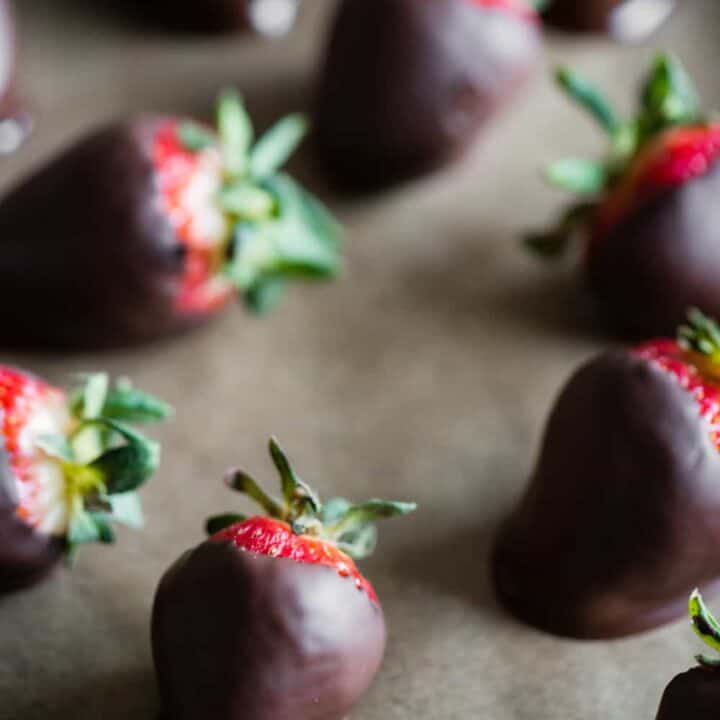 Chocolate Covered Strawberries are the best dessert. This recipe is fancy and romantic, but super easy to make and they turn out perfect every time.
Instructions
If you wash your strawberries, be sure that they are 100% dry. To do this, you can lay them on a clean dish towel on the counter and rotate a few times to let the air dry them.

To melt the chocolate, combine the chocolate chips and coconut oil in a glass measuring cup (or some other kind of microwave save dish). Microwave on 50% power for one minute. Stir. Repeat until melted. Mine took 2min 30sec to melt.

Line a baking sheet or your counter with parchment paper. One at a time, gently hold the strawberry by the leaves and dip them in the chocolate. Allow as much chocolate as possible to drip off back into the glass. Set the strawberry on the parchment to dry at room temperature.
Notes
Makes about 24 strawberries (depending on the size of your berries).
Nutritional info based on ~3 strawberries per person.
Nutrition
Calories:
163
kcal
,
Carbohydrates:
24
g
,
Protein:
1
g
,
Fat:
7
g
,
Saturated Fat:
4
g
,
Cholesterol:
3
mg
,
Sodium:
16
mg
,
Potassium:
173
mg
,
Fiber:
2
g
,
Sugar:
19
g
,
Vitamin A:
65
IU
,
Vitamin C:
66.8
mg
,
Calcium:
44
mg
,
Iron:
0.7
mg
Nutrition information is automatically calculated, so should only be used as an approximation.