Bangers and Mash with Stout Onion Gravy is a traditional quick and easy dinner made from sausages, buttermilk mashed potatoes, and a savory gravy loaded with onions.
This recipe originated from the British Isles and can be made with any kind of sausage. The Irish Stout adds intense flavor to the sausage and the gravy.
Be sure to scroll down to watch my Bangers and Mash recipe video below!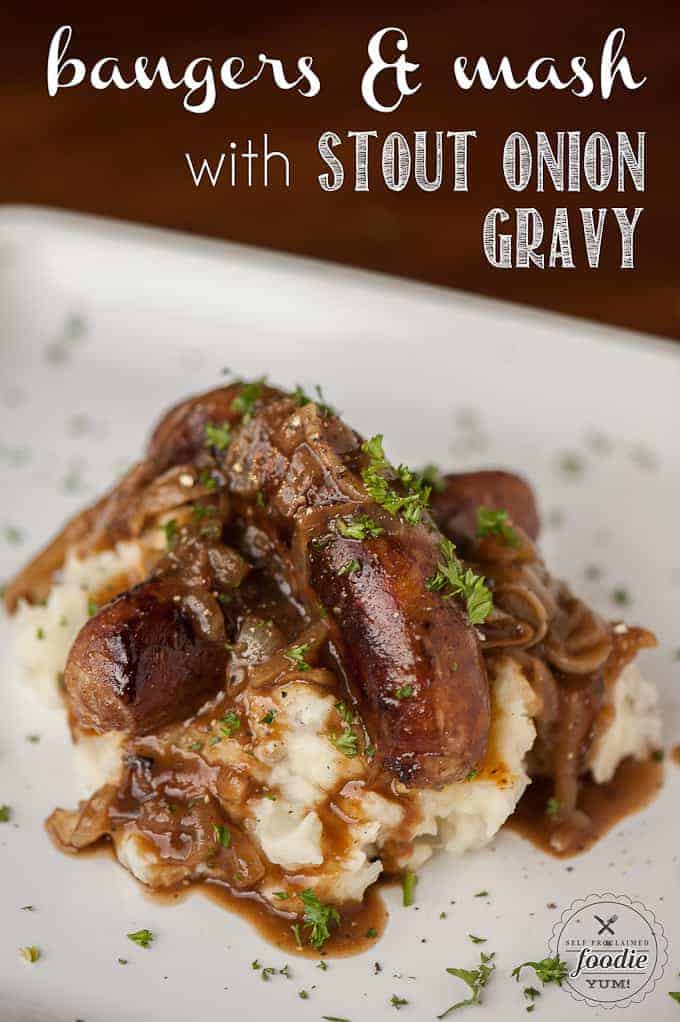 BANGERS AND MASH WITH STOUT ONION GRAVY
Pin it to your DINNER BOARD to SAVE it for later!
Follow Self Proclaimed Foodie on Pinterest for more great recipes!
Bangers and Mash with Stout Onion Gravy was a fun recipe for me to make. I had never made bangers and mash before. Every good meal deserves a good sauce and boy does this stout onion gravy take this meal over the top!
The stout onion gravy is what ties everything together. Its basically awesome. Guinness was my stout beer of choice. And, although my kids like to pick out the onions, they loved the flavor of the gravy. And yes, I serve my kids lots of food that's made with alcohol. But only after its been cooked down to no longer be boozy.  The boozy stuff is only for mom and dad.  If you're judging me right now, I'm guessing you don't cook with beer or wine.
I love making this recipe for St. Patrick's Day, but it makes an outstanding dinner any time of year.
Love recipes using stout beer?
You wouldn't believe that I actually don't enjoy drinking stout beer based on the number of recipes I've made using stout beer, but it is outstanding in both savory and sweet recipes!
What does bangers and mash mean?
Bangers means sausage. Mash means mashed potatoes.
MY OTHER RECIPES
You might be wondering what vegetable goes well with bangers and mash? Peas. When in doubt, always throw on some peas. Especially if you have mashed potatoes and gravy for them to stick to.
Why is it called a banger?
I found an interesting article that discusses the origins of some popular foods.
I've known sausages have been referred to as bangers because they pop when they cook. Now, we all know that a good sausage or hot dog will split when it's cooked, but does it really pop?
The article states that "The sausage, one of the oldest types of processed food in history, can be traced back to ancient times. British pork sausages have been mass produced since the 19th century.
After the outbreak of World War I, food shortages led to a dramatic reduction of meat, of any sort, in sausages.
Instead, producers packed them out with scraps, cereal and water, which caused them to pop and hiss when cooked on shovels over open fires in the trenches of northern Europe — hence 'bangers'."
How do you cook bangers?
Because I start with raw sausages, you have to ensure they get cooked through. I love to cook my bangers in a saute pan with a lid. I like to give them a good sear on the outside, but the lid helps steam the sausages and cook them all the way through.
By adding Irish stout to the pan and then covering it, the stout evaporates into steam. This not only helps cook the sausage, but it infuses that intense dark flavor into the meat and makes it more tender.
Are bangers and mash English or Irish?
The answer is both.
It's typical "Pub Grub" you might find anywhere in the British Isles including Great Britain and Ireland. It's a relatively easy dinner to make either for a family or in large quantity if serving a crowd.
If you want to make this meal specifically Irish, use an Irish stout like Guinness to cook the sausage and gravy like I did for this recipe.
If you want to make this meal specifically British, just serve plain sausage with flavorless mashed potatoes. I kid! I kid! Well, sort of.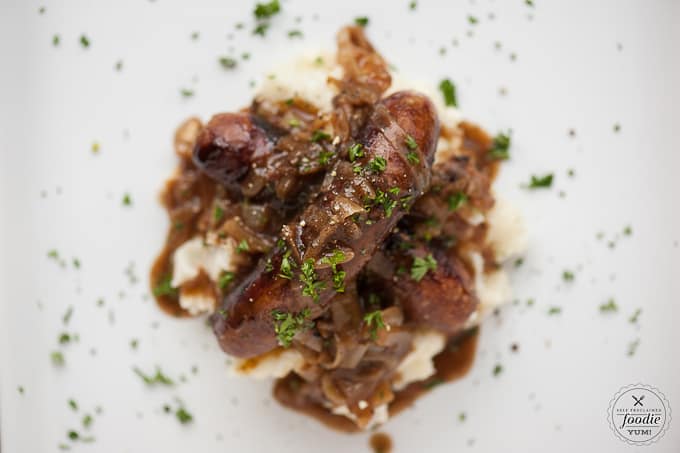 Watch the VIDEO below to see how easy it is to make Bangers and Mash with Stout Onion Gravy:
This St. Patrick's Day, serve up some delicious Bangers & Mash with Stout Onion Gravy for a quick and easy dinner the entire family will love.
Ingredients
bangers
1 pound sausage (I used bratwurst)
1 tablespoon olive oil
3 ounces stout
mashed potatoes
3-4 russet potatoes, peeled and sliced
2 tablespoons butter
1/2 cup buttermilk
stout onion gravy
2 tablespoons butter
1 medium sized onion, sliced thin
2 tablespoons flour
1 cup stout (I used Guinness)
1 cup beef broth
salt & pepper to taste
Directions
sausages:
Heat oil in a skillet over medium high heat. Add sausages and stout. Cover with lid and crack just to allow enough steam to escape. Cook covered for about 10 minutes, turning half way through. After they've cooked for 10 minutes, remove lid and allow the liquid to reduce a bit and coat the sausages. When the liquid is almost gone, lower heat to medium low and continue cooking with the lid on, rotating occasionally, until evenly browned and cooked through, about another 10 minutes.
gravy:
In a separate pot, heat butter over medium high heat. Add sliced onions and cook until slightly brown and fragrant, 5-10 minutes. Sprinkle with flour and allow to cook 2-3 minutes. Add stout and scrape bottom of pan to deglaze. Add beef broth and allow to simmer until no longer foamy, 10-15 minutes.
potatoes:
In large pot cover potatoes with water and bring to a boil. Cook until soft. Drain and add butter and buttermilk. Mash to your preferred consistency.
To serve, top potatoes with sausage(s) and top with as much gravy as your heart desires.