Warm Spinach Artichoke Dip is a favorite party appetizer, especially when you use this fresh spinach recipe that's full of flavor.
This is one of my favorite appetizer recipes to bring to a potluck or to serve to friends at dinner parties. All you need is bread, chips or crackers for dipping and it will disappear!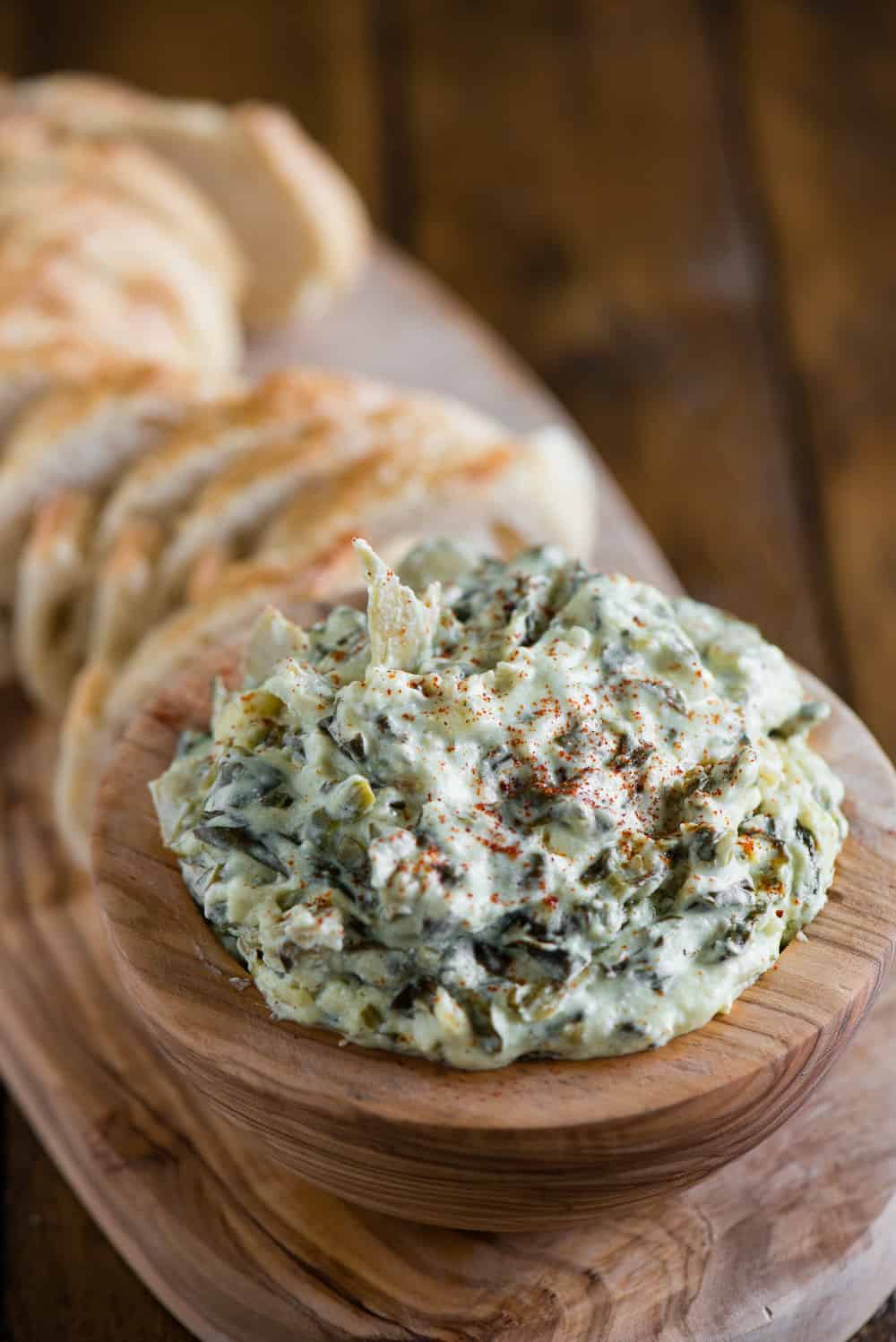 Spinach Artichoke Dip is everyone's favorite appetizer. Well, my husband would argue that deviled eggs are better. I'll have to throw a party and see which one wins.
I've had plenty of spinach artichoke dip in my day, and it has usually been from a tub at Costco or it was homemade but was made with frozen spinach and lacked flavor.
This recipe is not only easy to make, but the flavor and texture are unbeatable. Give it a try... you'll love it!
Ingredients:
Spinach artichoke dip is one of those recipes where there are a ton of variations out there and the only consistency is that they all contain both spinach and artichokes. Go figure.
There are many cold variations of the dip out there that aren't much different than a cold onion dip, meaning sour cream is the main ingredient holding it all together.
This recipe is meant to be cooked and served warm. Is it good cold? Sure is. But you still need to cook it first.
My recipe consists of fresh spinach. I much prefer cooking with fresh spinach as compared to frozen because I just think its more flavorful. I also use marinated artichoke hearts. The kind you buy can really vary the flavor of the artichokes. I get the big jars at Costco.
The creaminess and melty goodness in my spinach artichoke dip comes from a combination of cream cheese, sour cream, and a cheddar gruyere cheese blend. No mayo in this particular spinach artichoke recipe.
And finally, every good spinach artichoke dip needs a punch from garlic. I add fresh minced garlic along with a garlic herb blend. The flavor is perfect!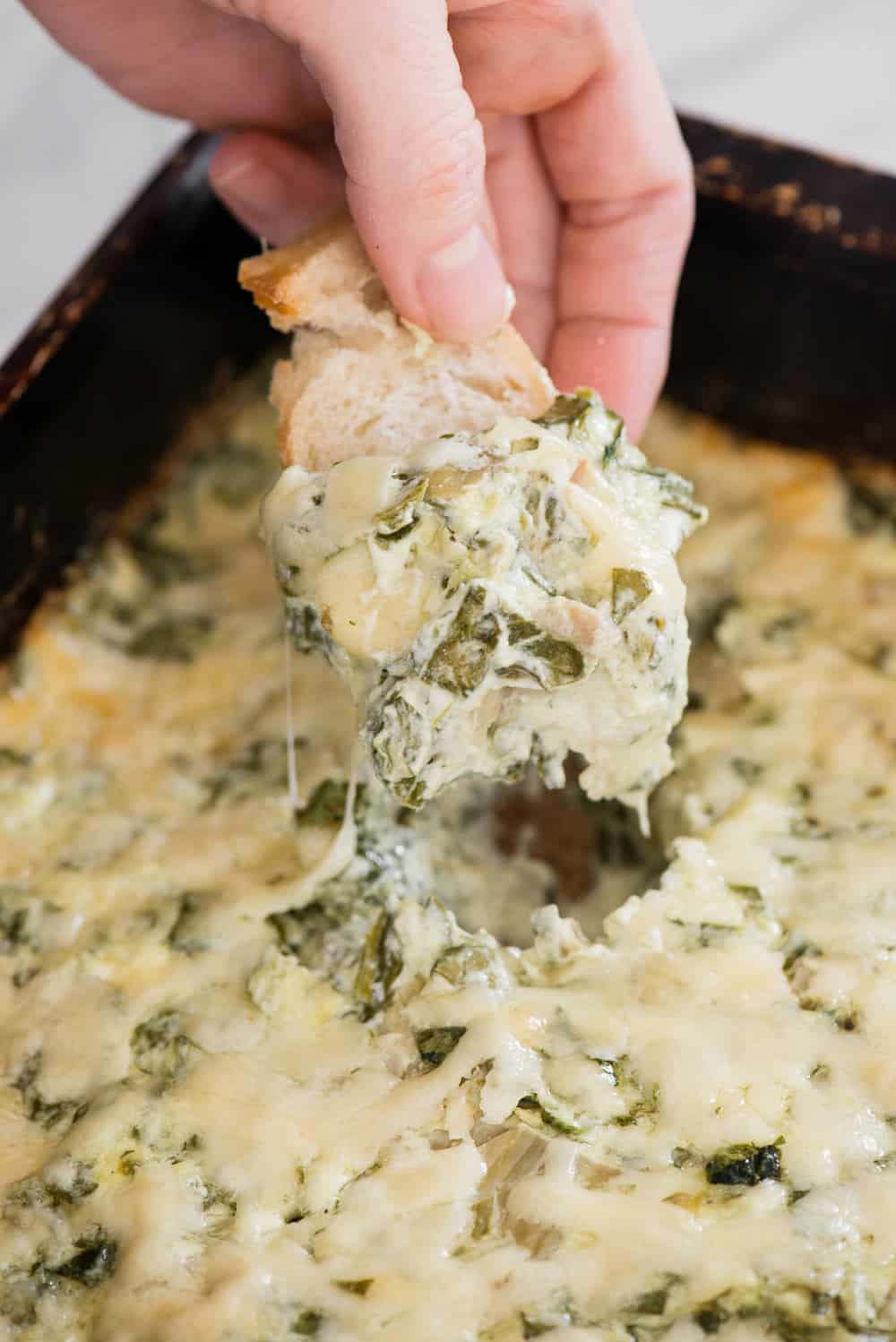 What to eat with it:
Whenever I've ordered it at a restaurant, they almost always serve it with tortilla chips. I inevitably eat too much and end up feeling less than great because the dip is pretty heavy and fried chips set it over the edge. The combination tastes good, but is best in smaller portions.
Now, slice up a nice French baguette to serve with a warm spinach artichoke dip, and I will go to town! To me, this is the perfect pairing. Chewy warm bread with a crisp crust smothered in heavenly warm cheesy spinach artichoke dip? Yes, please.
How long can it sit out?
I've never had any issues with my dip sitting out for the duration of a party. The only problem with letting it sit out is that it will cool off. The cooled version of this dip still tastes great, but I much prefer the melted hot version.
If you want to keep your dip hot until it's gone, I still recommend cooking it in the oven so you get that nice chewy top layer, but you can totally scoop it out and transfer it to a small slow cooker to keep it warm. Or, if you have a way to keep your baking dish warm, that makes things even easier.
Just be sure to refrigerate any leftovers. Haha. That's funny. There won't be any leftovers.
Can you heat up cold spinach and artichoke dip?
You can certainly heat up this recipe! In fact, this is a great recipe to make ahead. If I'm planning on serving this spinach artichoke dip for a party, I'll usually make it ahead of time and keep it in the refrigerator until it's ready to bake. If all the ingredients are cold, it might take a few more minutes to cook.
The bonus is being able to pop a tasty appetizer into the oven and not having all the mess from the prep to clean up.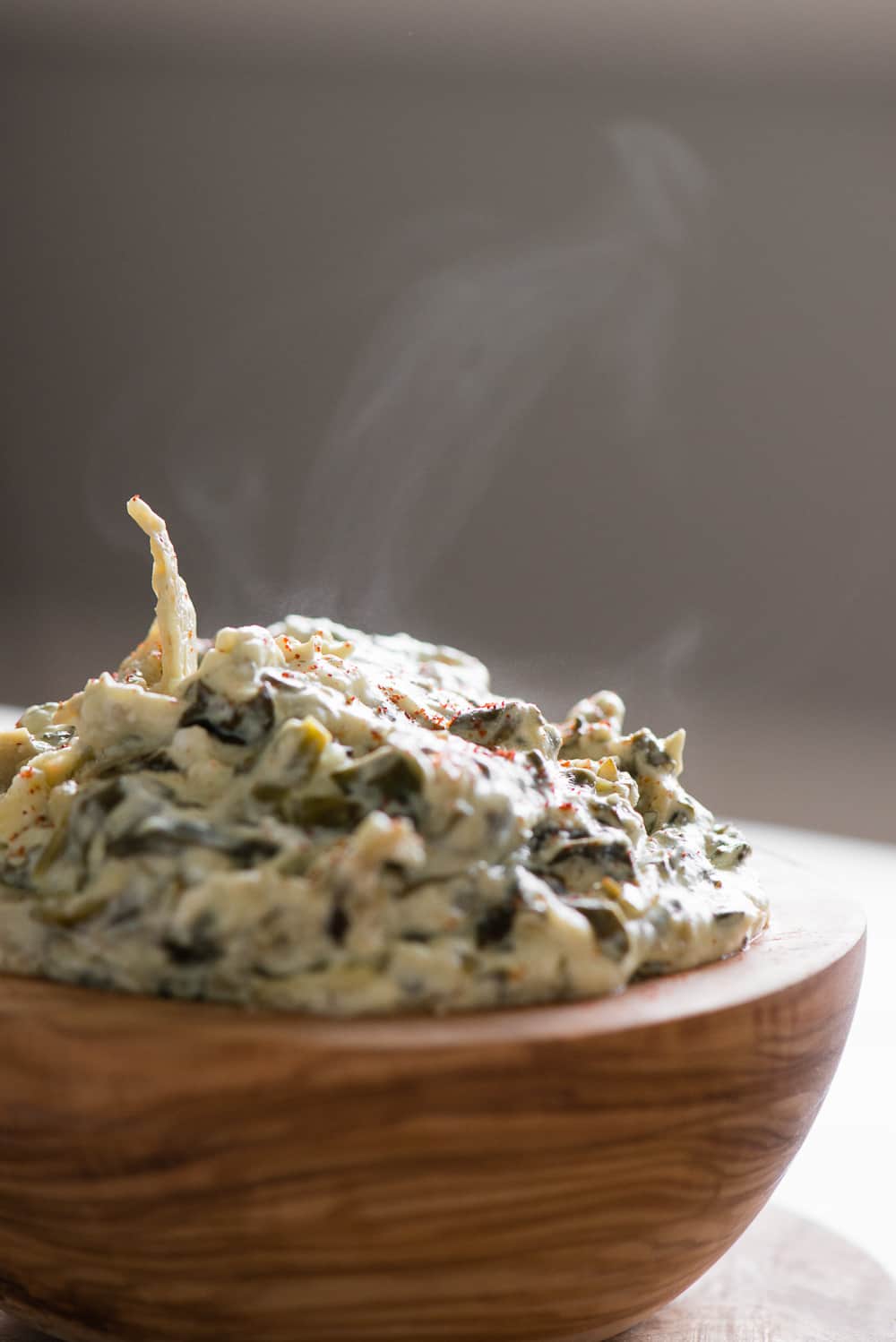 Love tasty dip recipes?
Well, then you'll have to make these!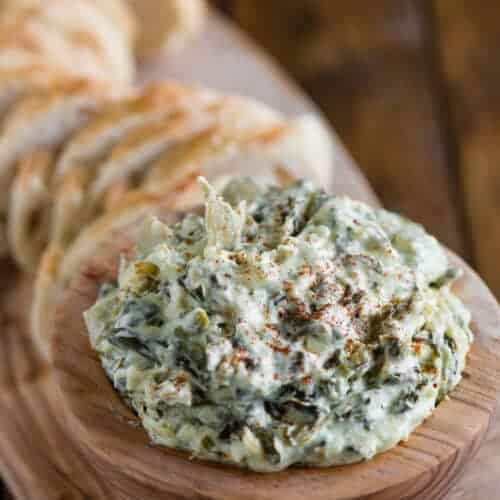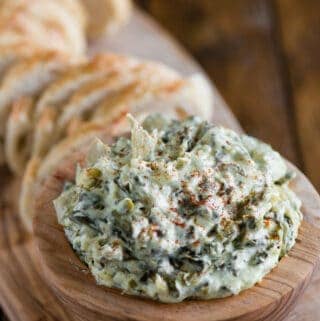 Spinach Artichoke Dip
Warm Spinach Artichoke Dip is a favorite party appetizer, especially when you use this fresh spinach recipe that's full of flavor.
Print
Pin
Rate
RECIPE VIDEO WILL AUTOPLAY
Hover to scale:
8
servings
Ingredients
8

ounces

cream cheese

(softened)

1/4

cup

sour cream

3

cloves

garlic

(minced)

1/2

tsp

garlic herb blend

1

cup

marinated artichoke hearts

(drained and roughly chopped)

2

cups

fresh spinach

(pre-washed baby spinach, packed, roughly chopped)

3/4

cup

cheddar gruyere cheese

(grated)
Instructions
Preheat oven to 350 degrees F.

In a medium sized bowl, mix together cream cheese, sour cream, garlic, and garlic herb blend. Stir in artichoke hearts, spinach, and shredded cheese.

Transfer dip to an 8x8 inch (or equivalent size) baking dish. Bake until bubbly and lightly browned, about 30 minutes.

Serve hot with crackers or sliced bread.

NUTRITION INFORMATION
Calories:
184
kcal
|
Carbohydrates:
3
g
|
Protein:
5
g
|
Fat:
16
g
|
Saturated Fat:
8
g
|
Cholesterol:
46
mg
|
Sodium:
263
mg
|
Potassium:
106
mg
|
Sugar:
1
g
|
Vitamin A:
1485
IU
|
Vitamin C:
7.7
mg
|
Calcium:
127
mg
|
Iron:
0.6
mg