Roasted Garlic is incredibly easy to make and adds so much flavor to your favorite recipes. Here are my easy cooking tips on how to roast garlic.
Forget the old method of roasting whole heads of garlic. My method is so incredibly easy and the results are perfect every time!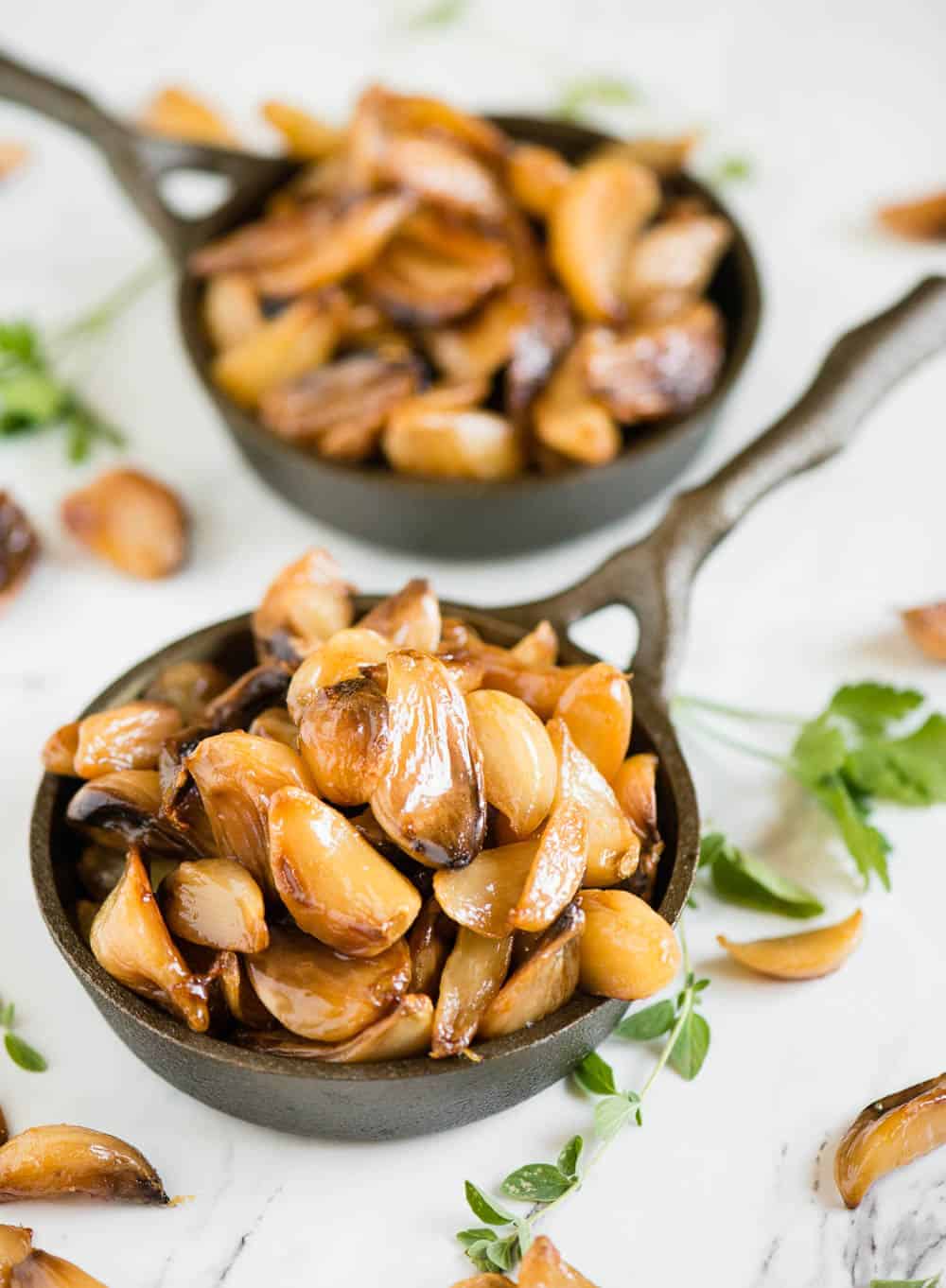 Why this recipe works:
Unlike raw garlic which is extremely strong and potent, roasted garlic has a much more mild flavor.
In it's raw form, garlic is hard and crunchy. Once roasted properly, the golden brown outside is chewy and the inside is soft and creamy.
You can substitute roasted garlic for any recipe that calls for garlic. Since the flavor is more mild, you can double, triple, or quadruple the amount!
Rather than making whole roasted garlic, I buy peeled garlic cloves in bulk at Costco and make roasted peeled garlic instead!
Using pre-peeled garlic cloves saves time and enables you to make a large batch.
This method is much easier than roasting a garlic bulb where you simply cut off the end, drizzle it in olive oil, and bake it in the oven.
When you roast garlic in olive oil, it keeps much longer than fresh garlic. Also, by making a large batch, you will always have it available to use in recipes.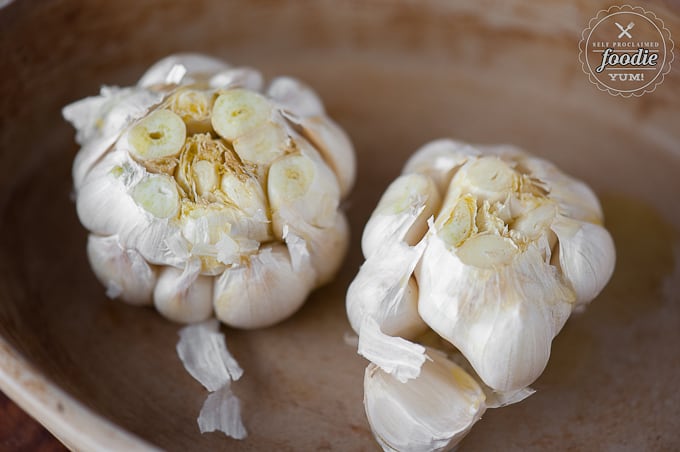 How to roast garlic:
First step is to line a baking dish with parchment paper. This step isn't necessary, but it makes for easy clean up.
I roast about 4 cups of peeled garlic cloves at a time. This may seem like a lot, but it keeps a lot longer in the refrigerator once it has been roasted versus raw. Plus, I throw my roasted garlic cloves in just about everything I make.
Not a lot of olive oil is needed. Figure about a half tablespoon for every cup of garlic cloves.
Then, to roast, simply start off with a 400 degree F oven and roast the garlic for about 20 minutes. This will make the tops nice and brown. At this point, I give it a good stir and reduce the heat to 350 degrees F.
I like to stir the garlic about every five minutes during the second half of the cooking process to ensure even cooking and browning. Just make sure you're careful not to smash them.
That's it! No squeezing the golden cloves of garlic out of the papery bulb. No mess. Perfect results every time.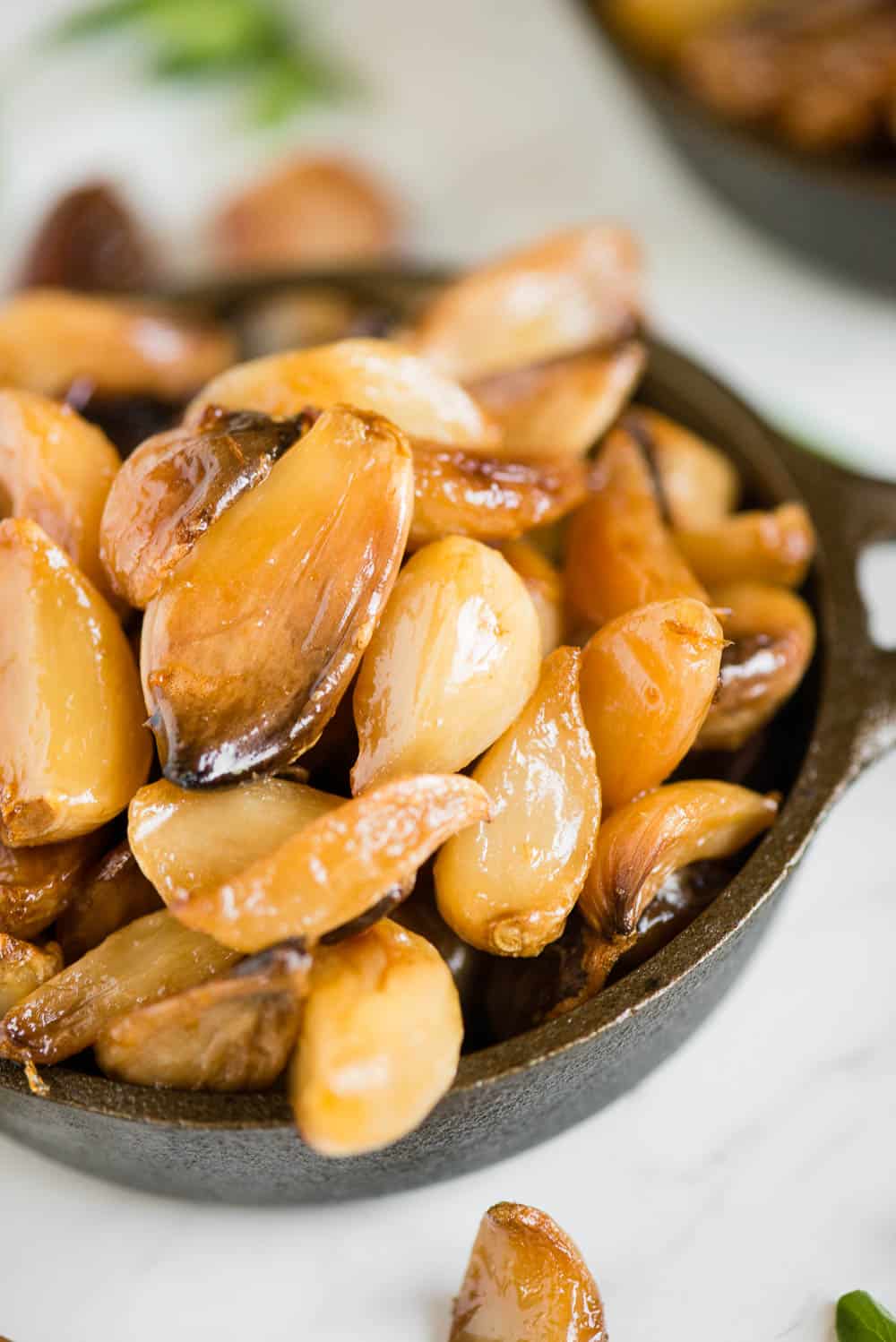 Best uses for roasted garlic:
I seriously use roasted garlic almost daily in my cooking. Here are some of my favorite methods for incorporating roasted garlic into your meals.
Scrambled eggs – whether you like to mix in a ton of sauteed veggies or just eat plain scrambled eggs in the morning, some smashed roasted garlic adds amazing flavor.
Garlic bread – I have found that roasted garlic makes the absolute best garlic bread! I cook an entire loaf until heated through. While it's cooking, I mix together some high quality butter, a ton of roasted garlic, and some garlic herb blend to make a spread. Then, when the bread comes out of the oven, just lather each piece up with the spread.
Garlic roasted potatoes – Stir in a handful and watch the flavor change from good to oh-my-god-what's-in-these?
Roasted Brussels sprouts with garlic – Since I keep my roasted garlic in the fridge, I just toss some in with the sprouts for the last few minutes of cooking.
Homemade pizza – technically we buy frozen pizzas all the time and add a bunch of veggies at home before we cook them. You better believe I add a ton of garlic.
Roasted garlic aioli – aka the best spread or dip ever
Make a vibrant pink Beet Hummus!
And the list goes on and on!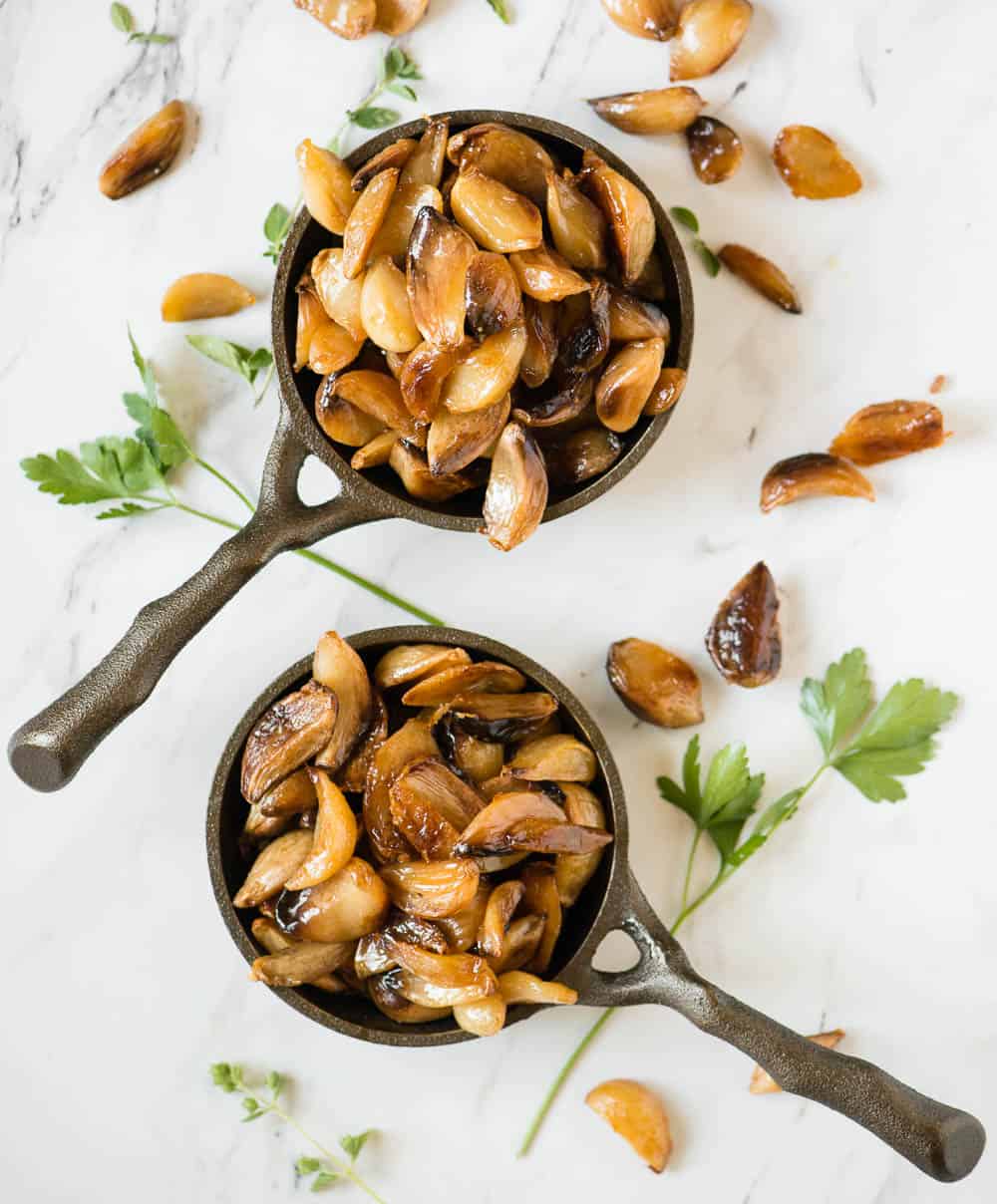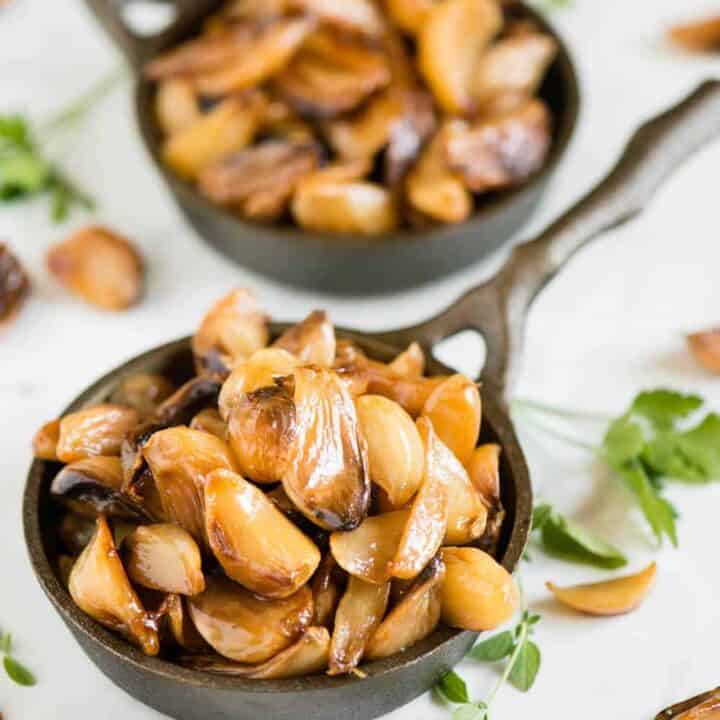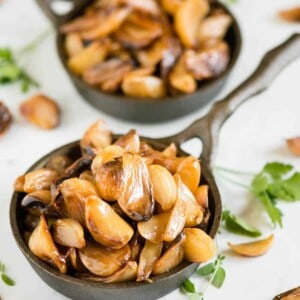 Roasted Garlic is incredibly easy to make and adds so much flavor to your favorite recipes. Here are my easy cooking tips on how to roast garlic. #roastedgarlic #oven #recipe #uses #cloves
Instructions
Preheat oven to 400 degrees F.

Line baking dish with parchment paper. Add garlic cloves and olive oil; toss to combine.

Roast garlic in preheated oven for 20 minutes. Stir the garlic for even browning, reduce the oven temperature to 350 degrees, and continue cooking for another 20 minutes – this time carefully stirring every five minutes. Take care not to smash the garlic cloves while stirring.

Enjoy warm, otherwise allow to fully cool and store in an airtight container in the refrigerator.
Nutrition
Calories:
44
kcal
,
Carbohydrates:
7
g
,
Protein:
1
g
,
Fat:
1
g
,
Saturated Fat:
1
g
,
Sodium:
4
mg
,
Potassium:
91
mg
,
Fiber:
1
g
,
Sugar:
1
g
,
Vitamin C:
7.1
mg
,
Calcium:
41
mg
,
Iron:
0.4
mg
Nutrition information is automatically calculated, so should only be used as an approximation.