Pork Fried Rice, made with tender pork tenderloin, is a delicious and complete meal your family will love.
See how easy it is to make pork fried rice just like a Chinese restaurant in your own kitchen!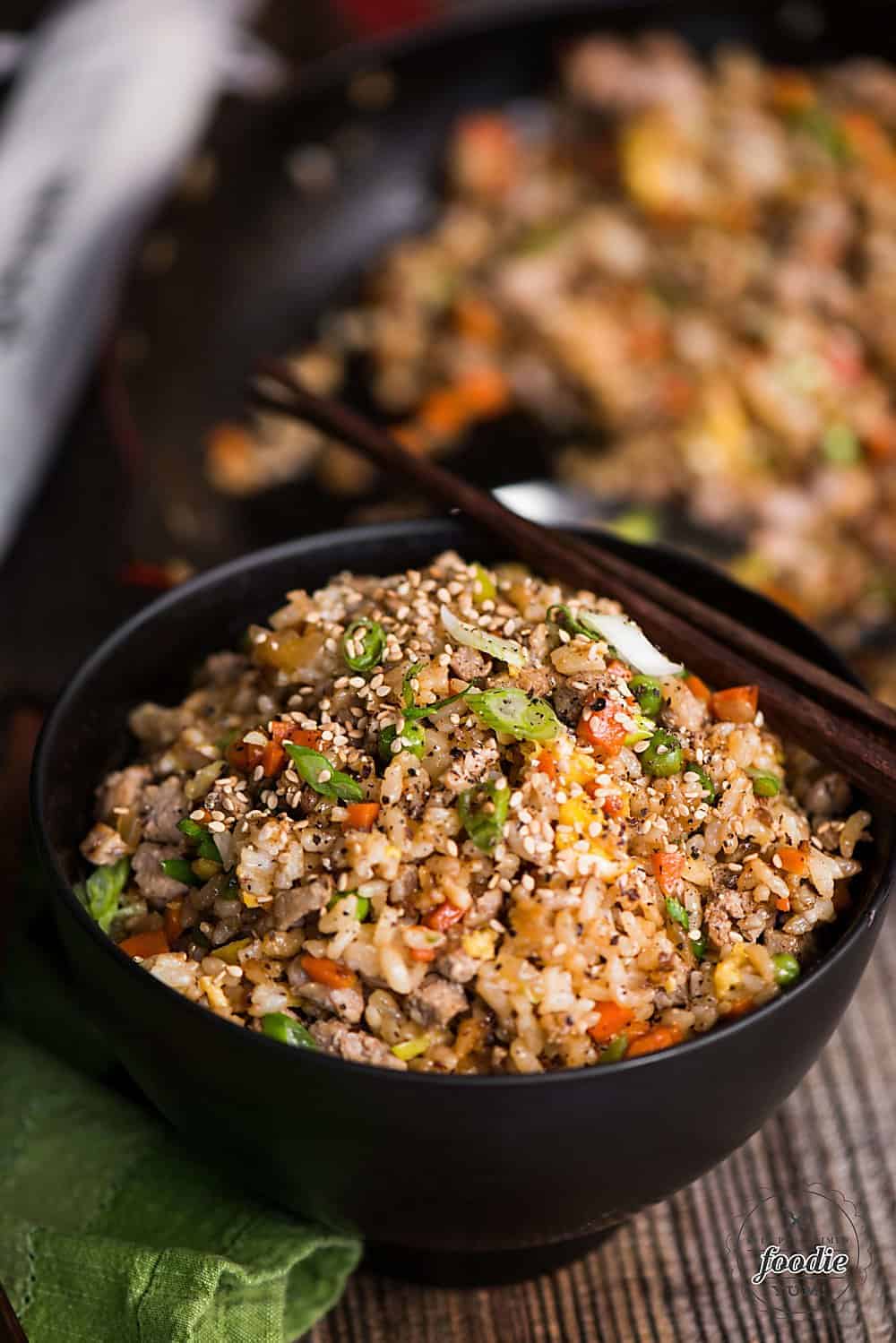 Pork fried rice is a recipe I've been making for as long as I can remember. As a kid, I always used leftover pork chops, which you can totally do. For this recipe, I happened to be cleaning out my deep freezer and took stock of the cuts of meat I needed to use up. I had no idea I had a pork tenderloin in there. I've been craving authentic pork fried rice for quite some time now, and thought pork tenderloin would be so much better than using leftover pork chops. Turns out I was right.  Read on to find out how to make pork fried rice like a Chinese restaurant. YUM!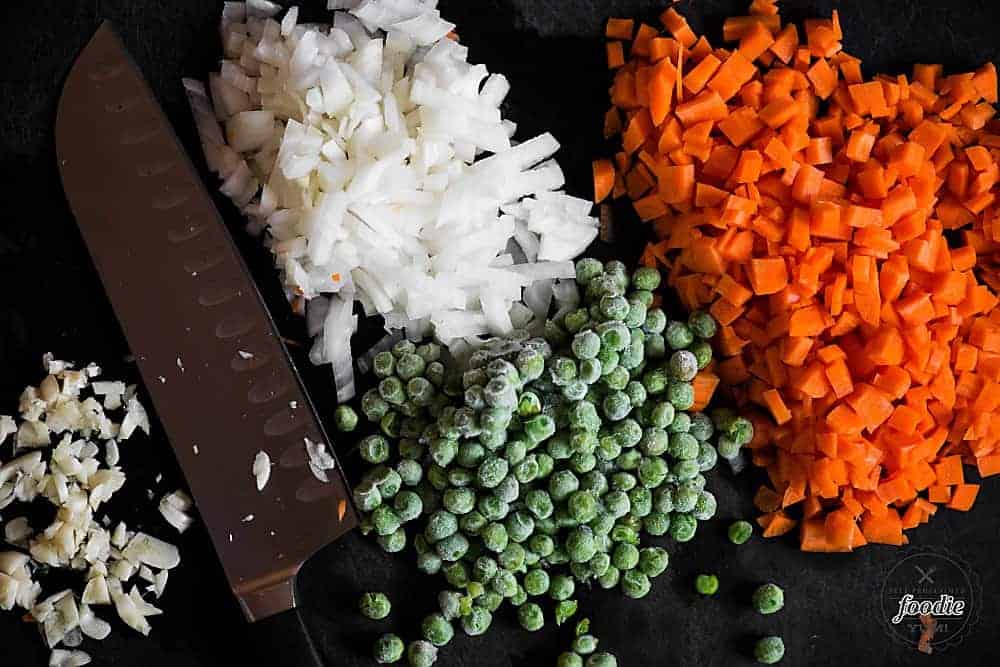 Tips for making the best fried rice:
The best fried rice, in my opinion, has a combination of short grain rice, protein, and vegetables – all dices into really small pieces.
You can easily make a vegetarian version of egg fried rice or vegetable fried rice, but I much prefer the addition of meat. That means that you will likely see slightly different versions of chicken fried rice or shrimp fried rice in the future.
If you're looking to make healthy pork fried rice, you can easily use this recipe to make pork fried brown rice by swapping the white rice with brown rice.
You need to cook the egg, meat, and vegetables all separately and then combine them at the end. This will give you soft eggs as well as meat and veggies with a nice, flavorful, golden brown sear.
Butter can be replaced with oil, however butter is what gives you the tastiest browning on your meat, veggies and rice.
Soy sauce and toasted sesame oil are to be added at the very end for flavor.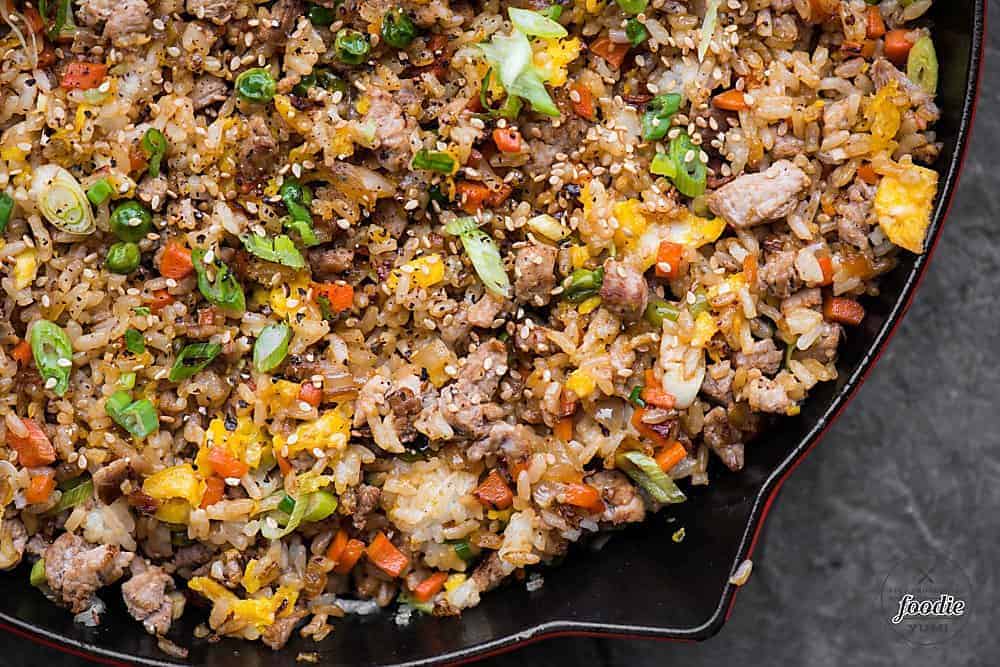 How to reheat pork fried rice:
Leftover fried rice is excellent, however you must reheat it carefully so as to not over cook the meat or the egg. There are two methods I recommend. First option would be the microwave. I recommend heating your leftover pork fried rice on a lower power setting or, if your microwave offers, the reheat setting. Heat, uncovered, just until warm. Pork fried rice tastes better really warm as opposed to super hot. My other recommendation would be to melt a bit of butter in a saute pan and reheat over medium heat, uncovered, with very little stirring. This method will heat your pork fried rice all the way through without over cooking the meat or the egg.
What to serve with pork fried rice:
I honestly think pork fried rice is a complete meal. You've got your protein, your vegetables, and your starch. If you want to serve your homemade pork fried rice as a side dish instead of a main course, it would pair well with a nice bok choy salad, some onion or miso soup, and/or a buttery grilled steak.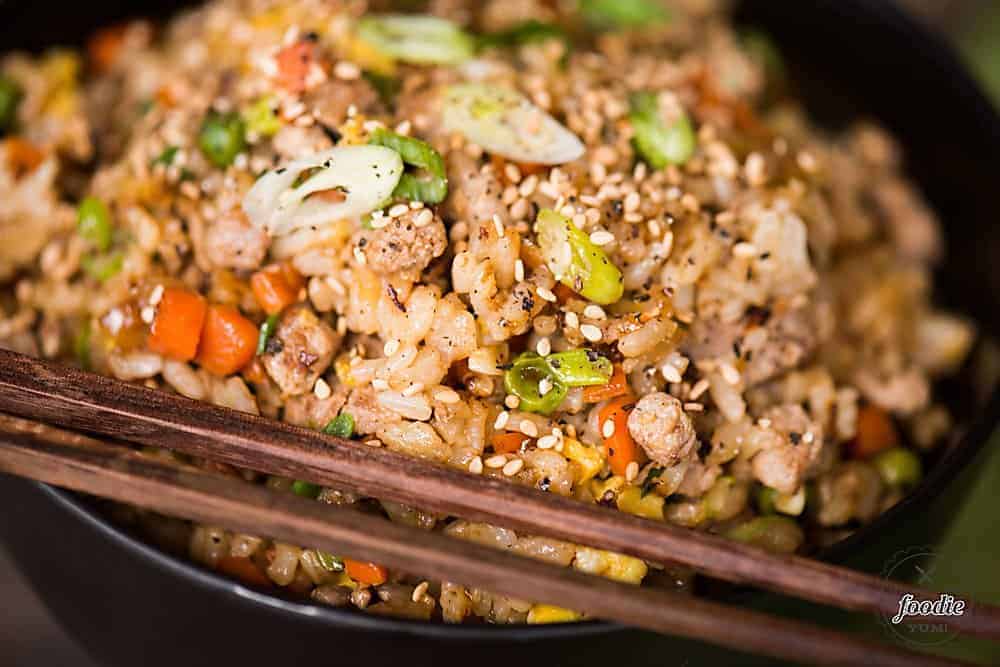 Kitchen tools used to make pork fried rice:
Cutting Board: These are my go-to cutting boards. They are super easy to clean, never hold a smell (onion transferred to apple is gross), and because they are so thin, they are really easy to store.
Knives: There is nothing more frustrating than having to use a poor quality knife. I've been using this set for years. I found it to be affordable yet incredibly durable and versatile. Whether you're filleting a salmon or slicing a super ripe tomato, these are great knives for the everyday chef.
Garlic Press – Having a good garlic press can make all the difference. I use this one because it's not only easy to squeeze, but it's easy to clean. Both are equally important, in my opinion.
Fry pan: I've been using Staub cookware for years. It gives your food a great crispy outside and distributes the heat evenly.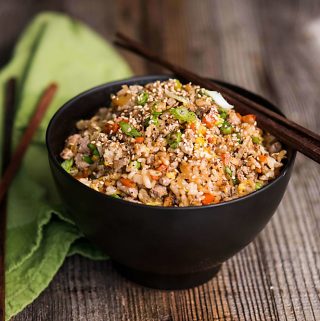 Pork Fried Rice
Pork Fried Rice, made with tender pork tenderloin, is a delicious and complete meal your family will love. See how easy it is to make pork fried rice just like a Chinese restaurant in your own kitchen!

Print
Pin
Rate
RECIPE VIDEO WILL AUTOPLAY
Hover to scale:
6
servings
Ingredients
4

cups

short grain white rice

(cooked and chilled)

5

tablespoons

butter

(divided)

2

eggs

(slightly beaten)

1

pound

pork tenderloin

3

cloves

garlic

(minced)

2

carrots

(peeled and diced)

1

small onion

(diced)

1/2

cup

frozen peas

1/4

cup

green onions

(sliced thinly (mostly whites but some greens))

3

tablespoons

soy sauce

(more if preferred)

1

teaspoon

toasted sesame oil

(more if preferred)

1

teaspoon

sesame seeds

(more if preferred)

salt and pepper

(to taste)
Instructions
Ahead of time, you'll want to cook your rice. Rice typically triples in size when it cooks, so you'll need at least 1 1/3 cups uncooked rice to start with. I typically make more just to have it on hand for the kids. You want the cooked rice to be cold when you make the pork fried rice, so if you need to chill it quickly, you can spread a thin layer on a cookie sheet and place in the refrigerator or even freezer.

Cut the pork tenderloin into very small pieces. This is easier if the meat is partially frozen and you use a serrated edge knife.

In a very large pan over medium heat, melt 1 T of the butter. Add the whisked egg and cook to a slightly underdone scramble. Transfer to a plate.

Increase heat under pan to medium high and melt another 1 T of butter. Add the tenderloin pieces, stirring only occasionally in order to get them to brown. Once mostly cooked, add the garlic, stir, and cook for a few more minutes. Transfer to a large plate.

Add another 1 T of butter to the pan. Saute the carrots, onion, and peas until slightly golden brown, stirring only occasionally. When done, transfer to the plate with the meat.

Add the remaining 2 T of butter to the pan. Add the cold rice and spread to an even layer. Allow to cook for a couple minutes before stirring to get the bottom layer to crisp up a bit. Then give it a good stir to heat through. Add meat and veggies back to the pan (along with any juices on the plate). Stir to combine to heat through. Add scrambled egg, green onions, soy sauce, sesame oil, and sesame seeds. Stir to combine. Add salt and pepper and additional soy sauce and/or sesame oil, if needed.

Serve warm.
NUTRITION INFORMATION
Calories:
375
kcal
|
Carbohydrates:
37
g
|
Protein:
23
g
|
Fat:
15
g
|
Saturated Fat:
8
g
|
Cholesterol:
129
mg
|
Sodium:
664
mg
|
Potassium:
512
mg
|
Fiber:
2
g
|
Sugar:
3
g
|
Vitamin A:
3902
IU
|
Vitamin C:
9
mg
|
Calcium:
51
mg
|
Iron:
2
mg