New Mexican Posolé made with pork roast, hominy, chile sauce, and a rich and flavorful chicken broth is a delicious Instant Pot or Slow Cooker soup.
This is a spicy, hearty, filling stew filled with fiber and protein that tastes great and will make you feel fantastic. If you love the flavor of red chile, be sure to check out my homemade enchilada sauce!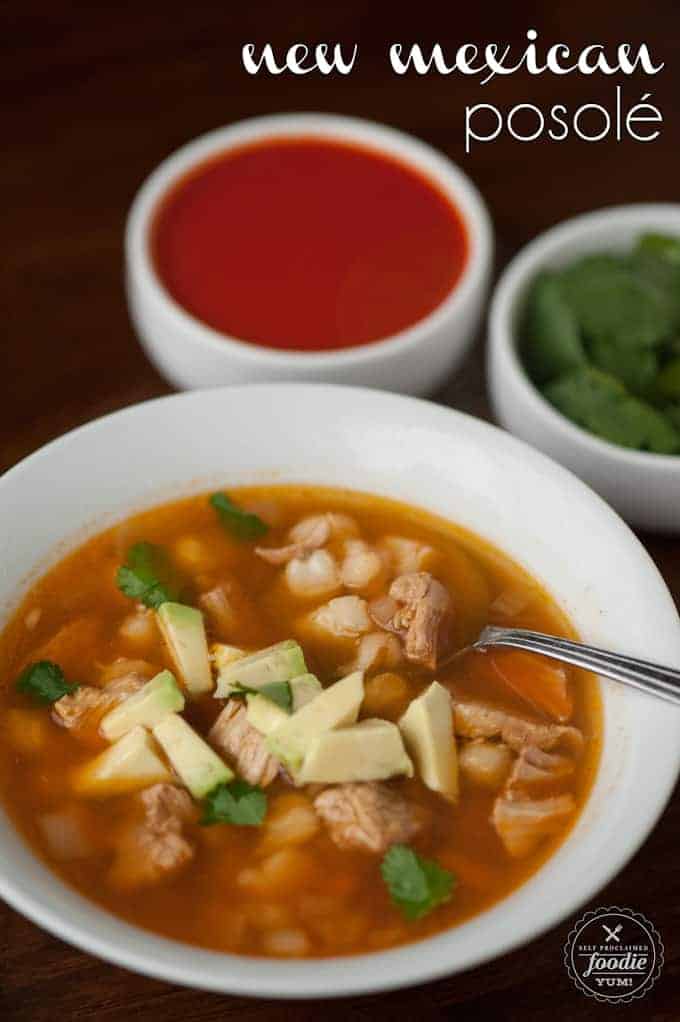 Authentic New Mexican cuisine.
New Mexico Posole made from dried red chile, tender pork, and tasty hominy is a spicy authentic soup that I crave.
I lived in New Mexico for a few years in my late teens and early 20s. I didn't appreciate all that the state had to offer when I lived there. I loved the hot air balloons and the fact that you could watch multiple thunderstorms over a horizon that appeared to never end, but I didn't fully appreciate the food or the culture until I moved away.
It wasn't until I moved away that my love for all things chile developed and I started creating all sorts of recipes like Green Chile Stew, Cheesy Green Chile Chicken Lasagna, Green Chile Cheddar Queso, Green Chile Tochos, Green Chile Deviled Eggs… and the list goes on and on.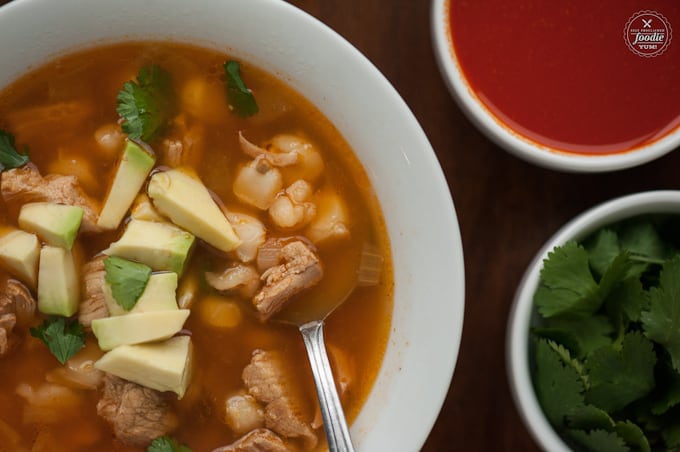 New Mexican dried chiles are the key ingredient.
I had a friend bring me some dried red chiles direct from New Mexico, but you can find them in most supermarkets in this Hispanic foods section.
I make the chile sauce separately and add just enough to make the posole mild so that my kids can eat it, then I add extra sauce for the adults to take it to a level where our foreheads begin to sweat when we eat it.
What is Posolé?
Posole is basically a soup or a stew that is made with pork and hominy and its flavored with chili sauce.
Posolé is about as traditional New Mexican as you can get. This savory New Mexican stew is almost always served on Saint's Day feasts at the pueblos and at Christmas and New Year's gatherings of families and friends.
Posole rojo, or "red" posole, is made with pork shoulder, red chiles, and lots of hominy corn. Since I first started making this recipe, I've become quite superstitious that eating it on New Year's day will bring me good luck, so I will forever more enjoy it on the first day of the year.
I love to top mine with avocado, diced radishes for crunch, and a ton of shredded cheese (not shown). If its wrong to put cheese on Posolé soup, then I don't want to be right.
If you've never enjoyed a Mexican posole soup with hominy, you might be wondering…
What is hominy?
I know I had a million questions swirling around in my head the first time I heard of posole made with hominy. Is hominy good for you? Why do they call it hominy? Is there a difference between hominy and corn? What does hominy taste like?
I will tell you this much – if you can't find 15 ounce cans like I describe in the recipe, the store will most likely have a huge can of hominy. If there's ever a zombie apocalypse and I only have $3 and the stores are still accepting cash because the looting hasn't started, I'm buying hominy. Not only does it pack a lot of nutrition, but you get a ton of hominy for $3.
All of your questions about hominy can be answered with a quick google search as there are a ton of articles written about it, but I found a great Huffington Post article that will explain it to you titled: What the Hell is Hominy, Anyway? If you don't know what hominy is, read the article.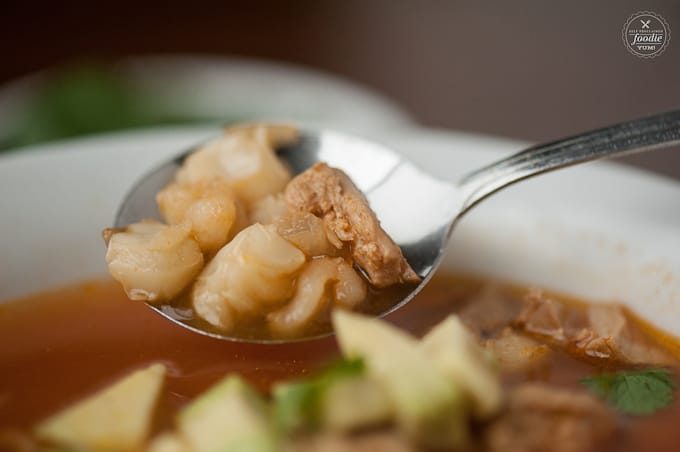 How do you cook Posolé?
In my opinion, you have three options: on the stove, in a slow cooker (crockpot), or in an electric pressure cooker (Instant Pot).
To cook this pork posole on the stove, you would follow the same instructions as the slow cooker. It will definitely taste great and your home will smell amazing, but any kind of stove cooking requires monitoring. I originally made this easy posole soup recipe in the slow cooker. I cut the raw pork roast into bite sized pieces, gave them a good sear in a pan, and then transferred the pork and the onion along with the broth, hominy, and chile sauce over to the crockpot. This is a great option if you want to prepare dinner in the morning and have it ready for you 8-hours later.
I have since fallen in love with pressure cooking. The batch I made last night was made in my Instant Pot. Instead of cutting up the raw roast, I cooked it whole and then shredded it when it was done cooking. I found this method to not only be easier and faster, but the pork in the posole soup was much more tender and flavorful.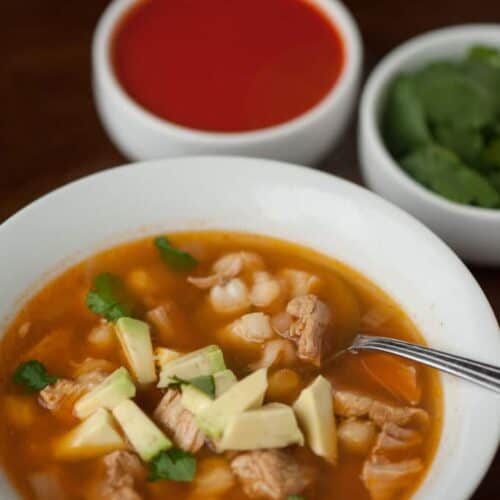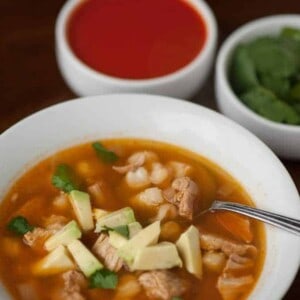 New Mexican Posolé made with pork roast, hominy, chile sauce, and a rich and flavorful broth is a delicious Instant Pot or Slow Cooker soup.
Ingredients
6

dried

New Mexican red chile pods

stemmed and seeded

6

cloves

garlic

chopped

1

medium

onion

chopped

2

pound

pork roast

shoulder, butt or loin, trimmed of excess surface fat

30

ounces

hominy

(2 15-oz cans), drained and rinsed

8

cups

chicken broth

1

tablespoon

salt

or more to taste
Instructions
Boil about 2 cups of water. Add your dried chiles (wear gloves!) that have had the stems and seeds removed to a large bowl. Cover with boiling water and weigh down with another plate to ensure they are fully submerged. Allow to soak for at least 30 minutes.

Transfer softened chiles along with 1 1/2 cups of the soaking water and the chopped garlic to a blender. Process until smooth and set aside.

To cook in the crockpot: Cut the pork into bite sized pieces. In a large saute pan, cook the onion and pork on high heat, turning only once, for a total of about 8 minutes to brown. Transfer onion and pork to a slow cooker. Add chicken broth, hominy, salt, and 1/4 – 3/4 cup of the chile sauce to the slow cooker. If you are unsure about how spicy your sauce is, start out with a small amount. You can always add more. Cook on low 6-8 hours. Shred pork, if desired, before serving.

 To cook in the Instant Pot: Brown the whole roast along with the onion for 3-4 minutes on each side in order to get a nice sear. Add all 8 cups of the chicken broth, 1/4 – 3/4 cup of the chile sauce (again, less is more if it is super spicy), and the salt. Cook on high pressure for 90 minutes. You can slow or quick release the pressure (I usually do quick release because I'm in a hurry). Remove the meat and transfer it to a cutting board. When cool enough to handle, shred the meat, discard the fat, and add the meat back to the soup. Add hominy to the hot broth and allow everything to heat through before serving.  Add additional chile sauce and/or salt, to taste.

To serve, top with fresh cilantro, avocado, chopped radishes, shredded cheese, and additional chile sauce for extra spice.
Notes
Storage: Store in an airtight container in the refrigerator for several days or freeze in quart sized containers for longer storage. If using the Instant Pot, you can cook the whole pork roast or cut the raw roast into bite sized pieces first and brown those. If you decide to brown the bite sized pieces of roast, brown them in small batches one one side only and do not flip. This will allow you to get a nice sear on the meat without over cooking it. Once browned, transfer to a plate. Then, you will only need to pressure cook the stew for about 20 minutes instead of the 90 minutes that would be needed to cook a whole roast.
Nutrition
Calories:
331
kcal
,
Carbohydrates:
25
g
,
Protein:
38
g
,
Fat:
8
g
,
Saturated Fat:
2
g
,
Cholesterol:
95
mg
,
Sodium:
2874
mg
,
Potassium:
877
mg
,
Fiber:
4
g
,
Sugar:
4
g
,
Vitamin A:
132
IU
,
Vitamin C:
24
mg
,
Calcium:
50
mg
,
Iron:
2
mg
Nutrition information is automatically calculated, so should only be used as an approximation.