This New Mexican Posolé is a spicy, hearty, filling low carb stew filled with fiber and protein that tastes great and will make you feel fantastic.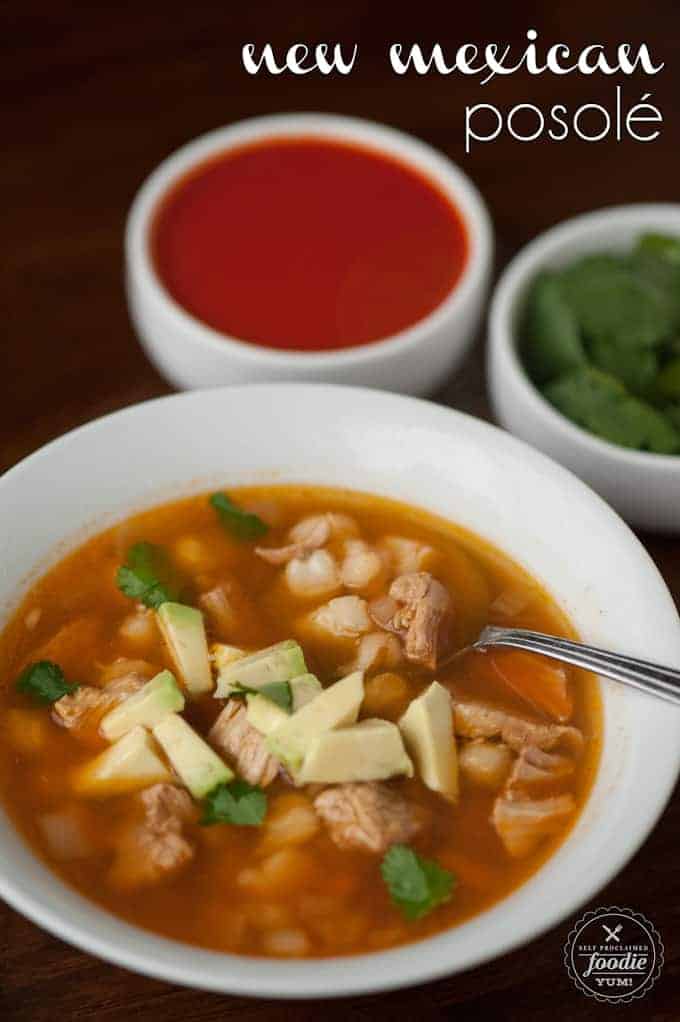 MY OTHER RECIPES
I lived in New Mexico for a few years in my late teens and early 20s. I didn't appreciate all that the state had to offer when I lived there. I loved the hot air balloons and the fact that you could watch multiple thunderstorms over a horizon that appeared to never end, but I didn't fully appreciate the food or the culture until I moved away.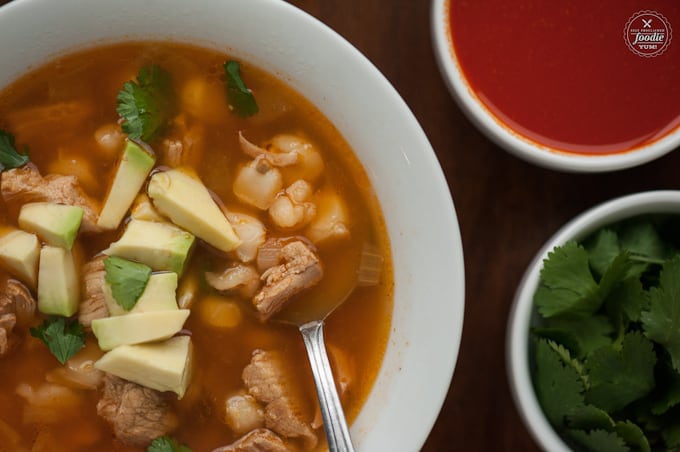 I actually wasn't a fan of spicy food until I got pregnant with my oldest. I'm not sure what those pregnancy hormones did to my brain or my taste buds, but something happened during that pregnancy that triggered not only a love for spicy foods, but for everything-pickled as well. Almost a year ago, a co-worker of mine brought back a giant bag of red New Mexican dried chiles. They've been sitting in my pantry just waiting to be transformed into something wonderful. I make the chile sauce separately and add just enough to make the posole mild so that my kids can eat it, then I add extra sauce for the husband and I to take it to a level where our foreheads begin to sweat when we eat it. So far I've made some homemade enchilada sauce (recipe to come) and this posole which I thought was outstanding. Posole is basically a soup or a stew that is made with pork and hominy and its flavored with chili sauce. I found a great Huffington Post article that will explain it to you titled: What the Hell is Hominy, Anyway? If you don't know what hominy is, read the article.
Posole is about as traditional New Mexican as you can get. This savory New Mexican stew is almost always served on Saint's Day feasts at the pueblos and at Christmas and New Year's gatherings of families and friends. I love to top mine with avocado and a ton of shredded cheese (not pictured). If its wrong to put cheese on posole, then I don't want to be right.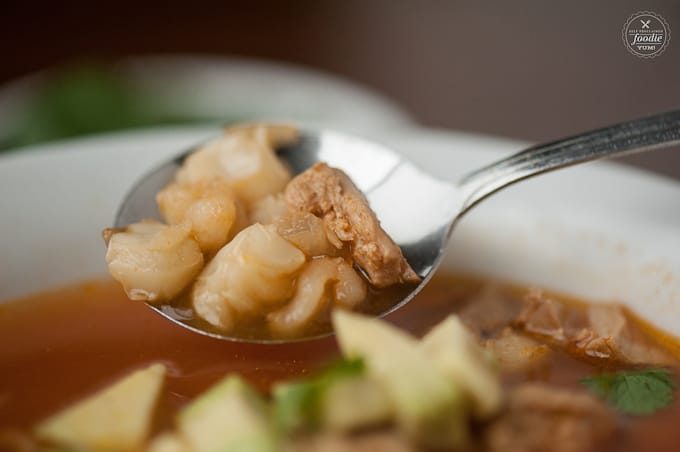 This New Mexican Posolé is a spicy, hearty, filling low carb stew filled with fiber and protein that tastes great and will make you feel fantastic.
Ingredients
6

dried New Mexican red chile pods, stemmed and seeded

6

cloves garlic, chopped

2

tablespoons vegetable or avocado oil

1

medium onion, chopped

2

pound pork roast (shoulder or loin, trimmed of surface fat and cut in bite-sized cubes)

2

(15 ounce) cans posole (hominy), drained

8

cups chicken broth

1

tablespoon salt, or more to taste
Instructions
Boil about 2 cups of water. Add your dried chiles that have had the stems and seeds removed to a large bowl. Cover with boiling water and weigh down with another plate to ensure they are fully submerged. Allow to soak for at least 30 minutes.
Transfer softened chiles along with 1 1/2 cups of the soaking water and the chopped garlic to a blender. Process until smooth and set aside.
In a large saute pan, cook the onion and pork on high heat, turning only once, for a total of about 8 minutes to brown. Transfer onion and pork to a slow cooker.
Add chicken broth, hominy, salt, and 3/4 cup of the chile sauce to the slow cooker. Cook on low 6-8 hours. Shred pork, if desired, before serving.
To serve, top with fresh cilantro, avocado, shredded cheese, and additional chile sauce for extra spice.