If you're looking for a super quick and simple chocolate fudge recipe, look no further! My Five Minute Microwave Fudge is one of my most popular recipes during the holidays because it tastes SO GOOD and literally anyone can make it – it's that easy!
I've been making this holiday treat for Christmas every year. The recipe has been viewed over 1 million times! It's about as sweet as Granny's Monkey Bread, which also gets made every year during the holidays.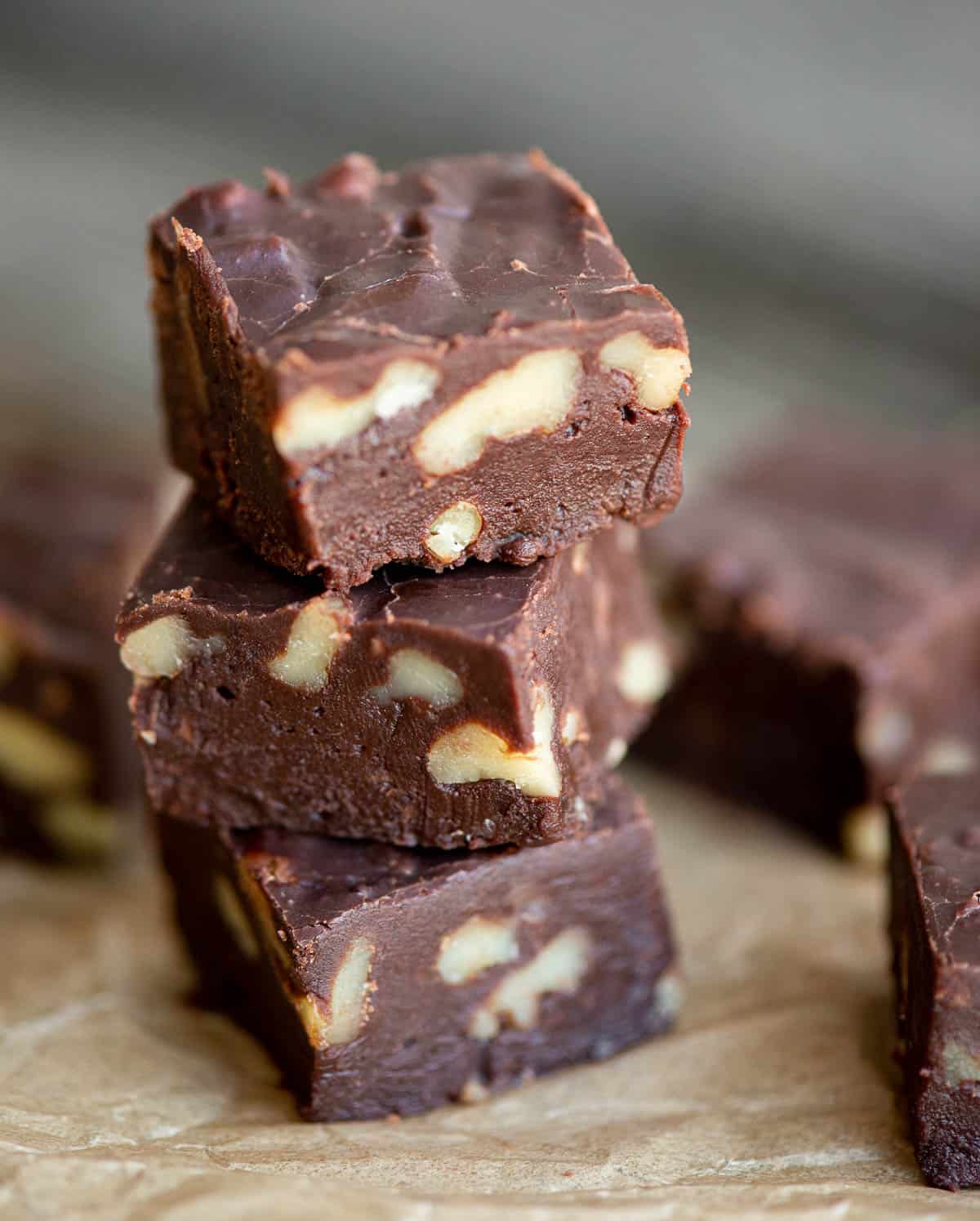 This has always been one of my favorite fudge recipes, but my brown butter pecan fudge and peanut butter fudge (also made in the microwave oven) are always a hit too!
And don't take my word for it… just read the hundreds of comments from readers who also love this easy microwave fudge recipe!
Why This Recipe Works
Simple ingredients: All you need is powdered sugar, unsweetened cocoa powder, butter, milk, walnuts, and vanilla extract. You don't even need to mess around with melted chocolate chips! These pantry staples come together in perfect harmony to create a velvety, indulgent treat.
Easy to make: The magic happens in a large microwave-safe bowl, eliminating the need for complex tools like candy thermometers or a double boiler traditionally used when making homemade fudge.
Holiday treat: If you were looking for an easy fudge recipe that you can include in your Christmas cookie tins, this is the best fudge that will satisfy any sweet tooth!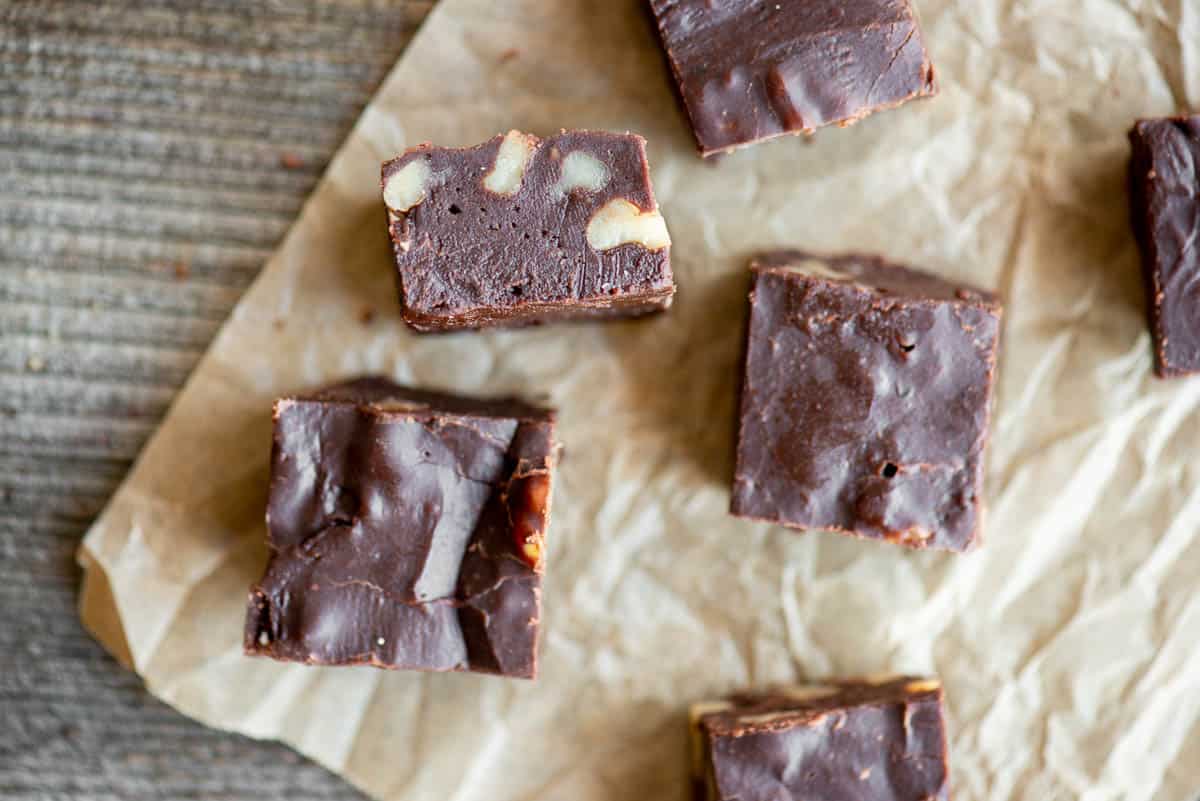 How to Make Microwave Fudge
Step 1: Whisk together the cocoa powder and confectioners sugar in a large microwave safe bowl. Try to eliminate any lumps. You can always sift the sugar and cocoa powder to eliminate any lumps, if you want.
Step 2: Add the butter and milk but do not stir the mixture.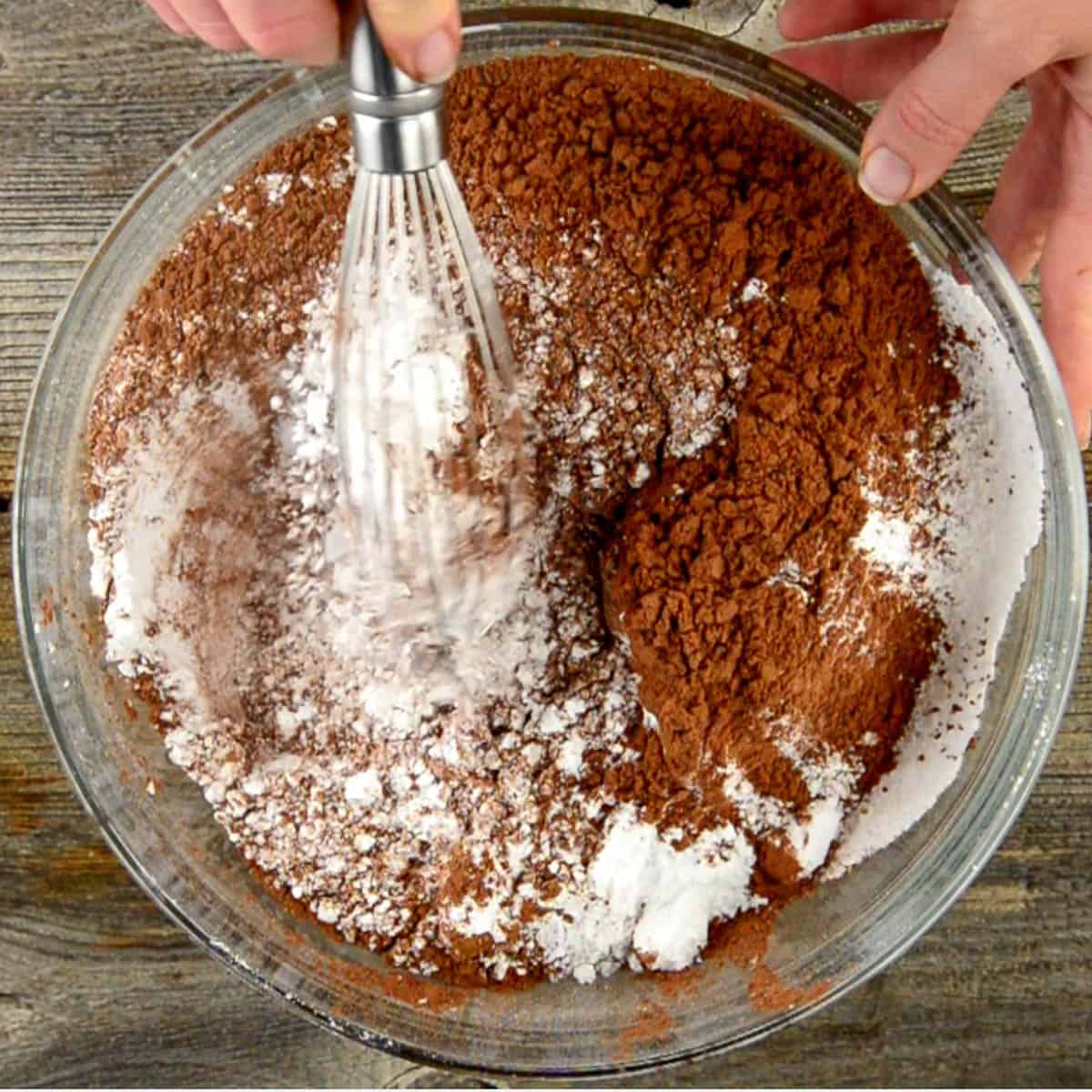 Step 3: Microwave it on high for a few minutes until the butter has fully melted. You will then need to quickly stir the fudge until everything is well combined.
Step 4: Stir in the walnuts and vanilla extract.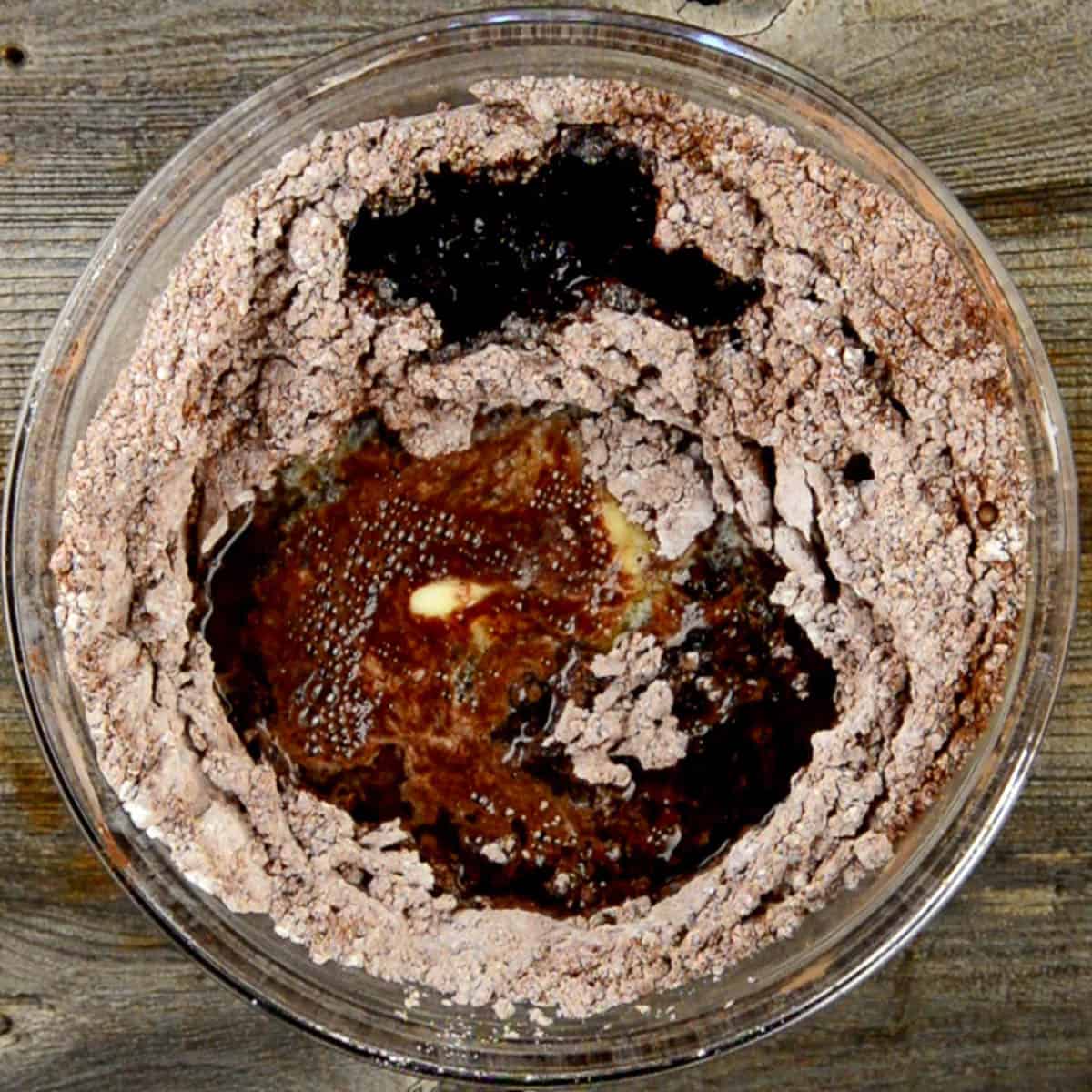 Step 5: The warm fudge is then poured onto an aluminum foil lined baking sheet or square pan.
Step 6: Once the pan of creamy fudge sets, you can transfer it to a cutting board to cut it into individual pieces.
Recipe Tips
Sifting the confectioners' sugar and the cocoa powder is an optional step. It's not necessary, but should be done if your sugar has lumps.
You only need to microwave it long enough to melt the butter. To be on the safe side, you can always microwave in 30-second intervals to ensure the mixture is heated gently.
FAQs
Do I have to add nuts to the fudge?
Nope! I prefer nuts because of the flavor and the crunch, but you can leave them out of the recipe.
Can I store the fudge for later?
Certainly! Cut the fudge into bite-sized pieces, store them in an airtight container with parchment paper between layers, and enjoy for days.
Is it possible to customize the fudge with different flavors or add-ins?
Absolutely! Add peppermint extract for a minty twist. Feel free to mix in crushed Oreo cookies, coconut flakes, mini marshmallows, candy canes, peanut butter chips, etc. for variety.
Can I use a different milk in this recipe?
Yes, regular whole milk is my preference, but evaporated milk or lowfat milk also work great.
How long does it take to make microwave fudge?
The microwave fudge comes together in minutes. All you need is about 10-minutes, start to finish, not counting the time it takes to set.
Can I double the recipe for a larger batch?
Certainly! Adjust the quantities accordingly and use a larger microwave-safe bowl for doubling the recipe. Pour the fudge onto a baking sheet or use two 10-inch pans.
Do I need a candy thermometer for this recipe?
No, this microwave fudge recipe eliminates the need for a candy thermometer. The microwave does all the work for you.
Can I freeze leftover fudge?
Yes, you can freeze leftover fudge in a freezer bag. I happily enjoy a bite here and there when it's still frozen, or you can thaw before enjoying.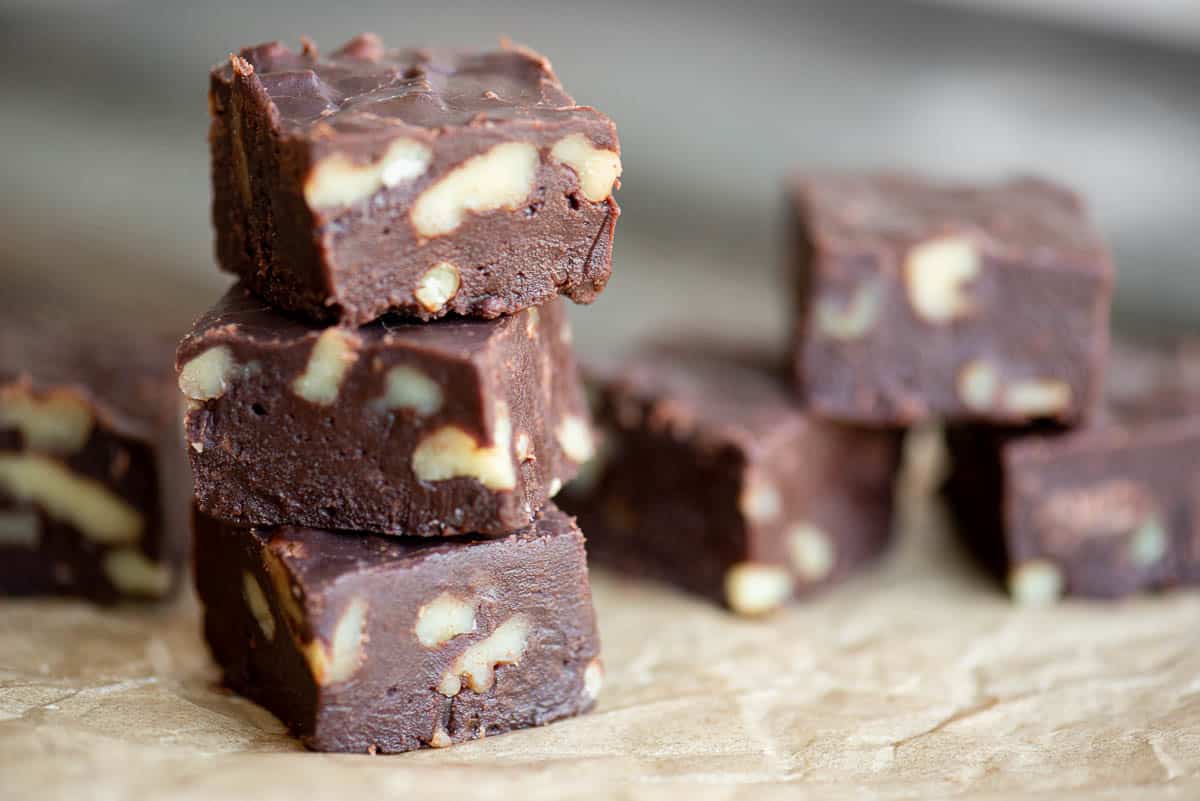 Christmas Candy Recipes
If you love making treats during the holidays, you'll also love these favorite dessert recipes!
Join today and start saving your favorite recipes
Create an account to easily save your favorite recipes and access FREE meal plans.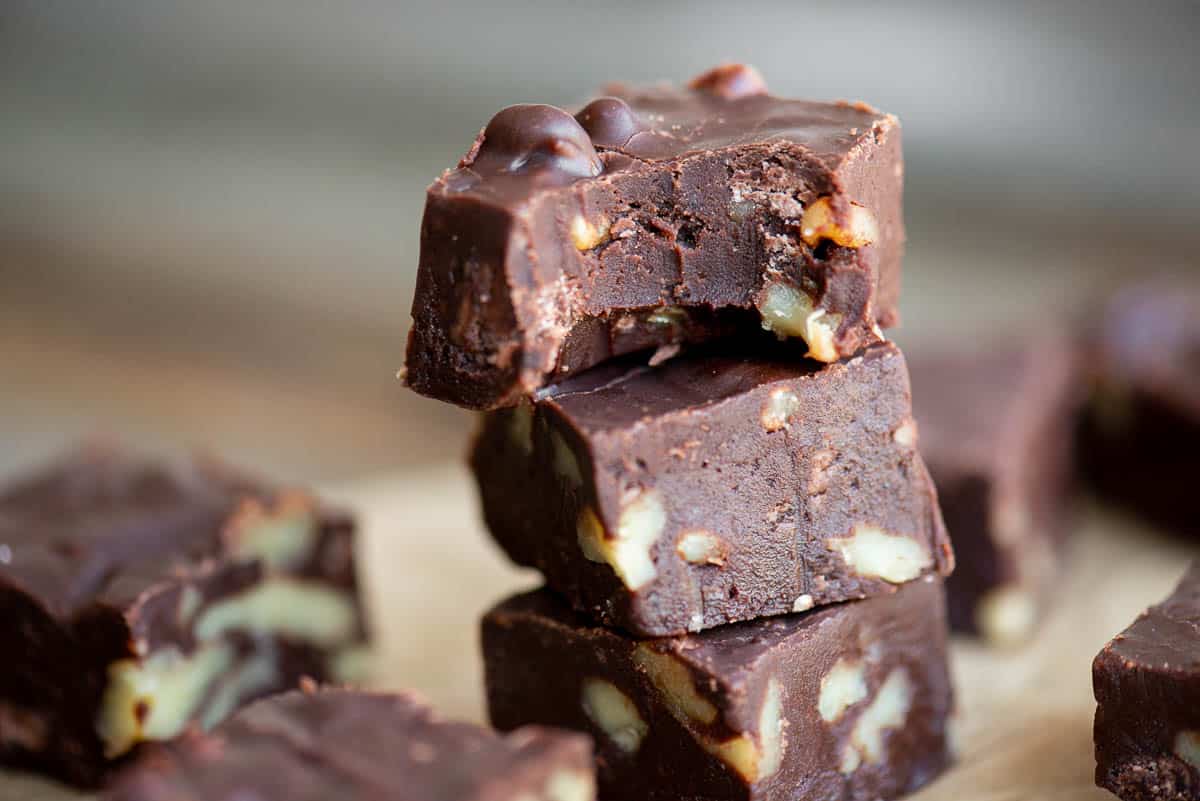 Pin this now to save it for later
Pin It
Five Minute Microwave Fudge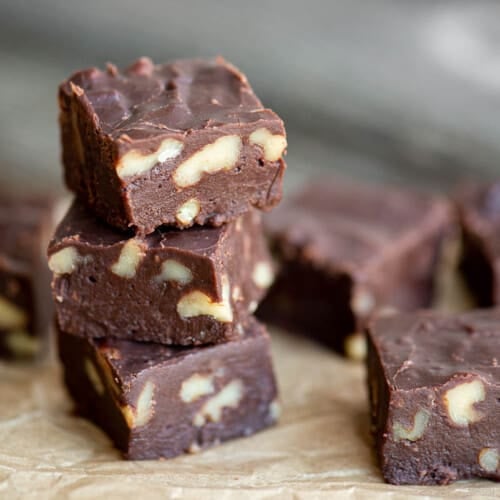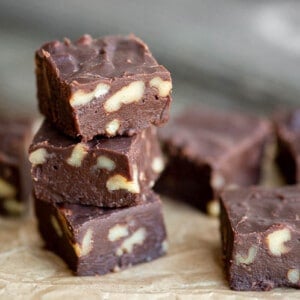 Unlock the magic of easy microwave fudge—indulgent, quick, and utterly delicious. No candy thermometer needed. Perfect for sweet cravings in minutes!
Instructions
Line a baking sheet or casserole dish with foil.

In a large bowl, combine powdered sugar and cocoa powder and stir until they seem reasonably well mixed. If the mixture seems like there are small clumps, you may sift it after its been measured.

Pour milk over sugar mixture but do no mix. Place cubes of butter on top. Microwave on high power 3-4 minutes until the butter has almost completely melted. If unsure, you can always microwave in short intervals to avoid over cooking the mixture.

Immediately remove mixture from microwave and stir well until thoroughly combined. You need to work fast because you want to spread the mixture while its still hot, but you want it to be fully mixed.

Once chocolate mixture is thoroughly mixed, stir in the walnuts and vanilla.

Immediately pour the warm fudge into prepared dish and spread to desired thickness. If using a baking sheet, you can form the fudge so that it only takes up a portion of the surface. It will only spread as far as you want, so make it as thick as you'd like the individual pieces to be. Alternatively, if you use a 10×10-inch pan, it will cover the entire surface.

Allow the fudge to fully set at room temperature. Our house is always freezing, so it doesn't take much time. If you live in a warm house, it may take several hours or even a bit of refrigeration.

Lift foil out of dish and transfer the fudge to a cutting board. Use a sharp knife to cut into squares.

Store in airtight container or plastic storage bag. Use parchment paper to separate layers, if needed.
Notes
Makes 80 small pieces, serving size is once piece
Recipe Tips:
All microwaves perform differently so be sure check on the mixture and stop cooking as soon as all the butter has melted.
Sifting the sugar and cocoa powder is additional and optional step, but recommended if either your sugar or cocoa powder has lumps.
Whole milk is recommended, although lowfat or nonfat will work. Evaporated milk in a can will also work.
Nutrition
Calories:
83
kcal
,
Carbohydrates:
12
g
,
Fat:
3
g
,
Saturated Fat:
1
g
,
Cholesterol:
6
mg
,
Sodium:
1
mg
,
Potassium:
29
mg
,
Sugar:
11
g
,
Vitamin A:
75
IU
,
Calcium:
6
mg
,
Iron:
0.2
mg
Nutrition information is automatically calculated, so should only be used as an approximation.
I originally posted this fudge recipe in November 2014 and have since updated it to include better photos, recipe tips, and helpful information. Don't worry – I didn't change the recipe!