An open faced fresh Dungeness Crab Melt with Lemon Butter Sauce and a Citrus Salad is an easy yet incredible decadent and delicious recipe.
This post was sponsored by Safeway in partnership with Seafood Watch, Vintage Sweets Heirloom Navel Oranges, and The Rustik Oven but all opinions are 100% my own. #SWYBLOGGERTOUR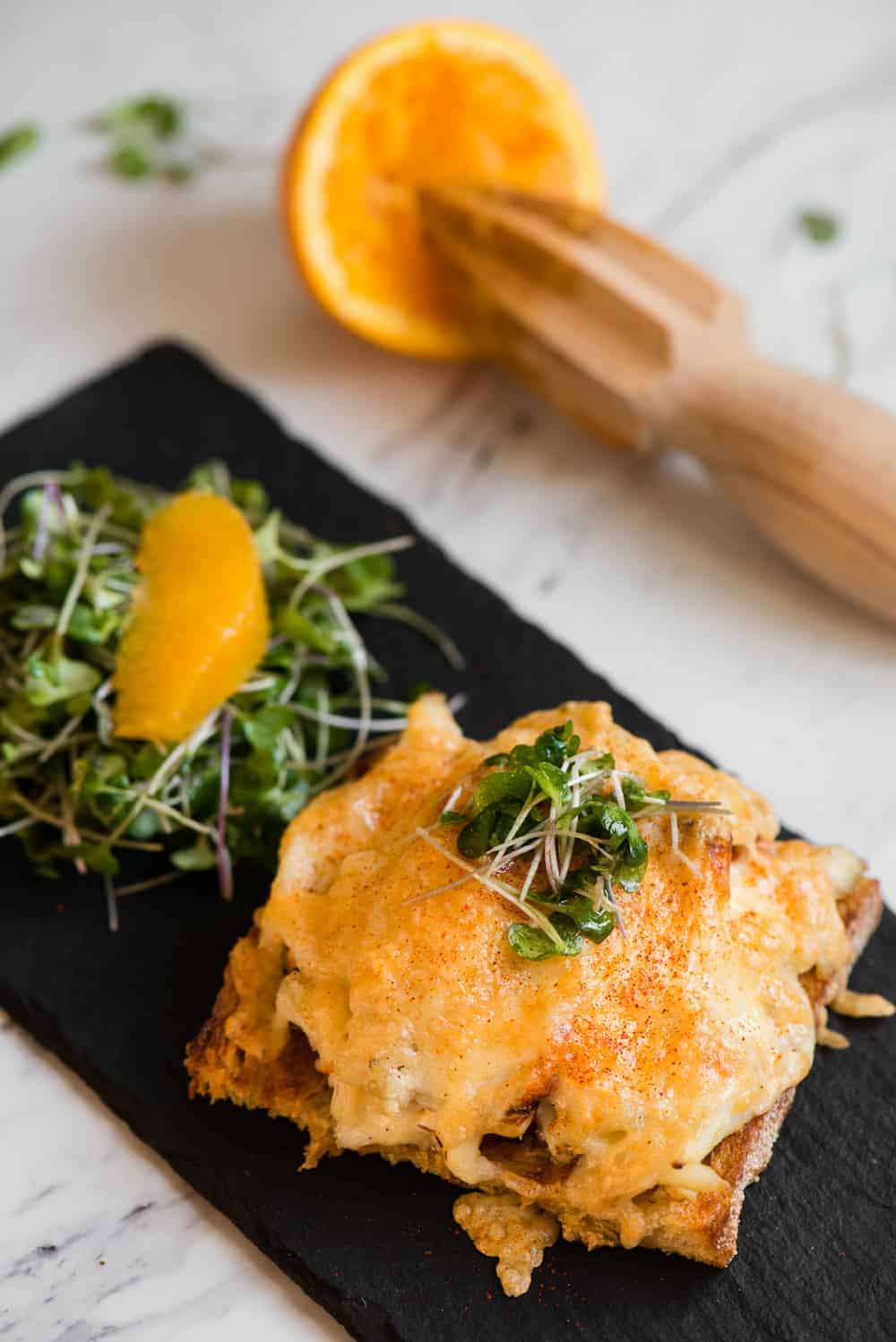 CRAB MELT RECIPE WITH CITRUS GREENS
Pin it to your SEAFOOD BOARD to SAVE it for later!
Follow Self Proclaimed Foodie on Pinterest for more great recipes!
Not only am I going to tell you how to make this ridiculously rich and tasty Crab Melt with lemon butter sauce and a lightly dressed citrus salad, but I'm going to share an amazing day I had with fellow bloggers. We saw, we learned, we ate. The entire event was a fantastic experience, not only because I learned about three amazing partners of Safeway that you'll want to learn about too, but because I walked away with the most amazing recipe that I'm sharing with you!
Our day started with a behind the scenes Seafood Watch tour at the Monterey Bay Aquarium that is typically only offered to Seafood Watch Partners. We learned about what is required of seafood distributors to become a partner of Seafood Watch. Then we got to tour their brand new Andronico's Store that just opened this past January to learn about the sustainably caught/farmed seafood they sell in their cases. Finally, we enjoyed the most lovely lunch at the iconic Fish Hopper on Cannery Row featuring:
Seafood from Monterey Bay Seafood
Vintage Sweet Heirloom Navel Oranges from Sun Pacific
Artisan Bread from The Rustik Oven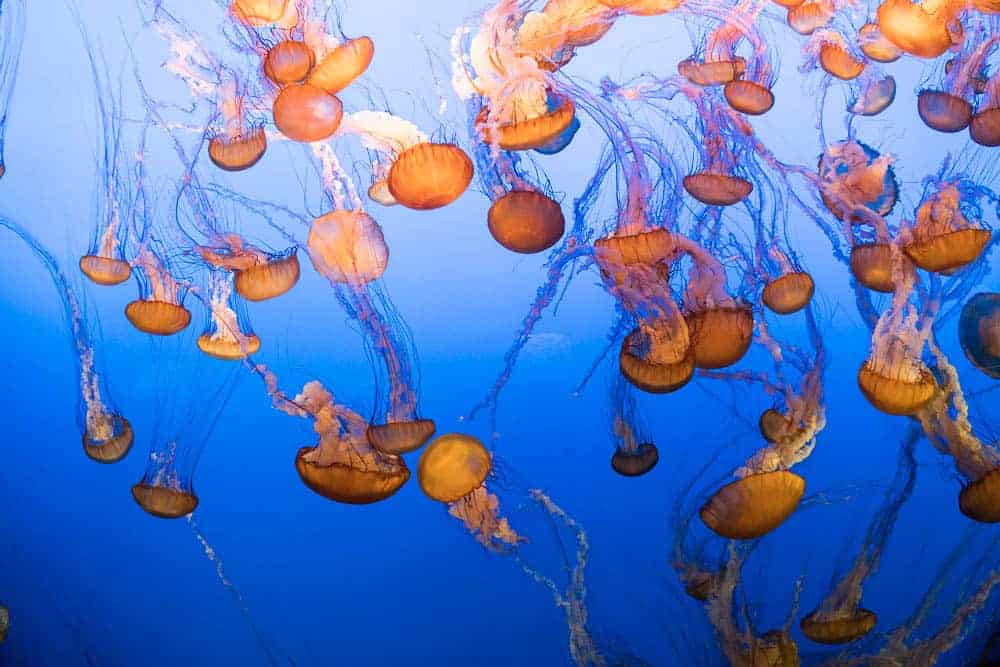 I have never been to the Monterey Bay Aquarium but it had always been on my bucket list. We were able to enjoy the exhibits on our tour, but the most interesting part was getting to learn first hand what Seafood Watch does. Safeway's Responsible Seafood Program utilizes the seafood rating system developed by the Monterey Bay Aquarium's Seafood Watch Program as well as world recognized sustainable seafood certifications like the Marine Stewardship Council, Aquaculture Stewardship Council, and Best Aquaculture Practices.
The commercial seafood industry is one of our greatest immediate threats to our ocean and the folks over at Seafood Watch believe everyone can help simply by making more informed seafood choices. We really have an important and unique role as communicators to inspire others and inform our friends about these important issues affecting our blue planet. Did you know you can help our ocean simply by making better seafood choices? The Monterey Bay Aquarium SeafoodWatch program assesses the environmental impacts of fisheries and fish farms using a traffic light rating system (red – yellow—green). To make it even easier, you can even download the free Seafood Watch app or visit SeafoodWatch.org to access over 1,200 sustainable seafood recommendations.
Safeway is committed to providing their customers with high-quality, sustainable, and traceable seafood from environmentally and socially responsible sources. They aim to improve transparency within our seafood supply chains, to protect the oceans, and to provide fair and equitable treatment for the people who depend on them for their livelihoods.
Safeway has a comprehensive Responsible Seafood Program covering fresh and frozen seafood, sushi and shelf-stable tuna, which we developed with FishWise, our long-term seafood sustainability partner.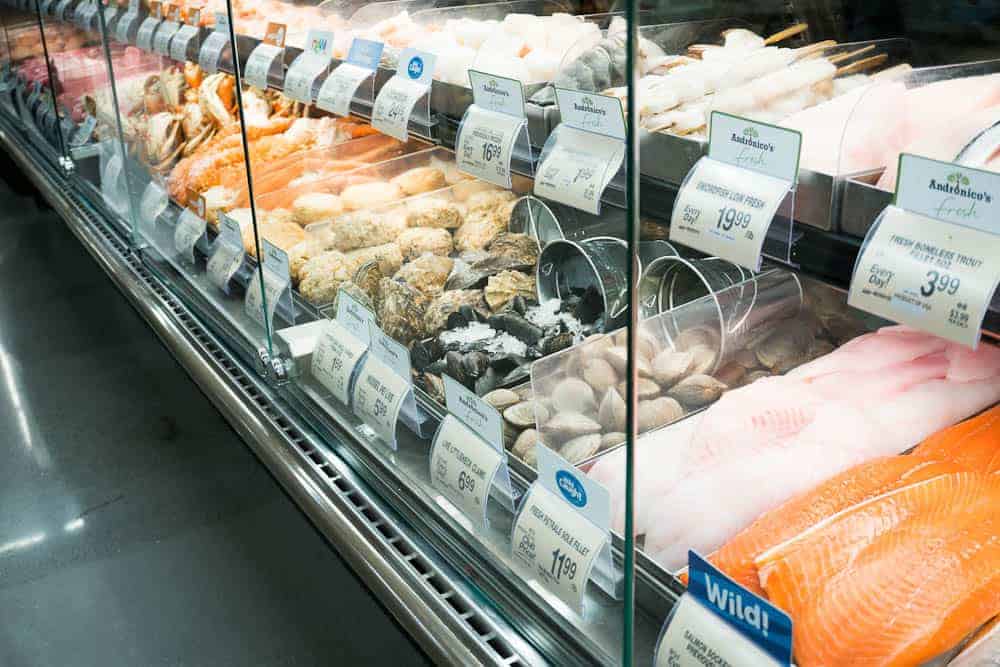 At their new Andronico store, we learned more about the different varieties of seafood Safeway carries along with where it's sourced. All of their seafood is given either a green or yellow light rating from Seafood watch.
They also took us behind the counter and taught us how to crack open a fresh Dungeness crab. Turns out I've been doing it wrong all these years! All you need is a nice mallet and to give section a good whack in order to crack the shell. I also learned that there is a ton of meat in the body segment of the crab; nut just in the legs.
My other favorite recipe to make with crab are my delicious Crab Cakes!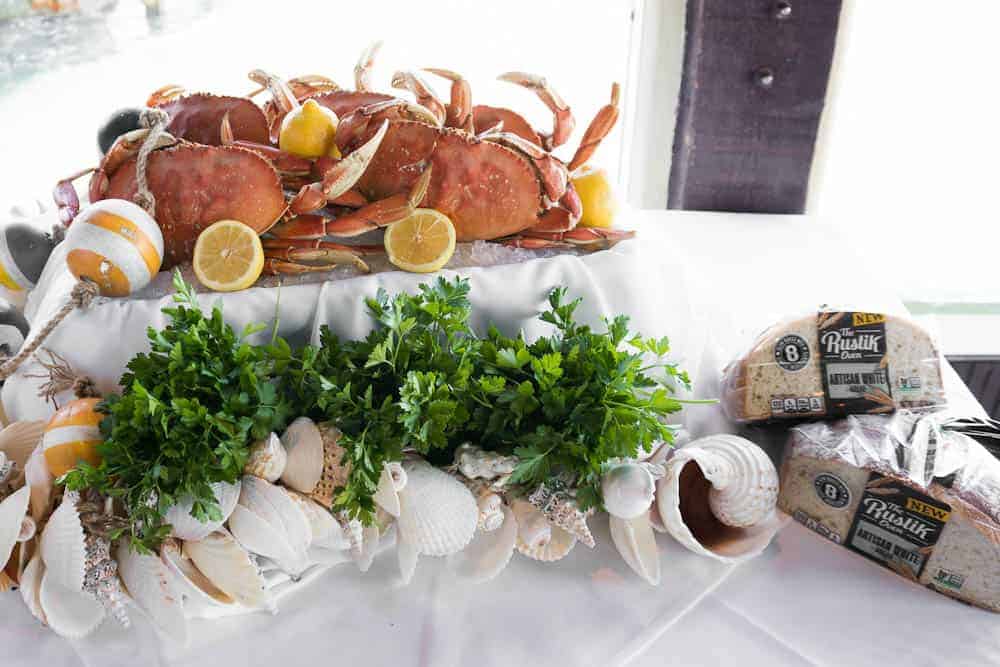 Our final stop was at the iconic Fish Hopper restaurant on Cannery Row. We had the private dining room and were fed a special menu featuring seafood from Monterey Bay Seafood, Vintage Sweet Heirloom Navel Oranges from Sun Pacific, and Artisan Bread from The Rustik Oven. The chef was tasked with incorporating all of these Safeway partners into our three courses as well as our drink and he did a phenomenal job!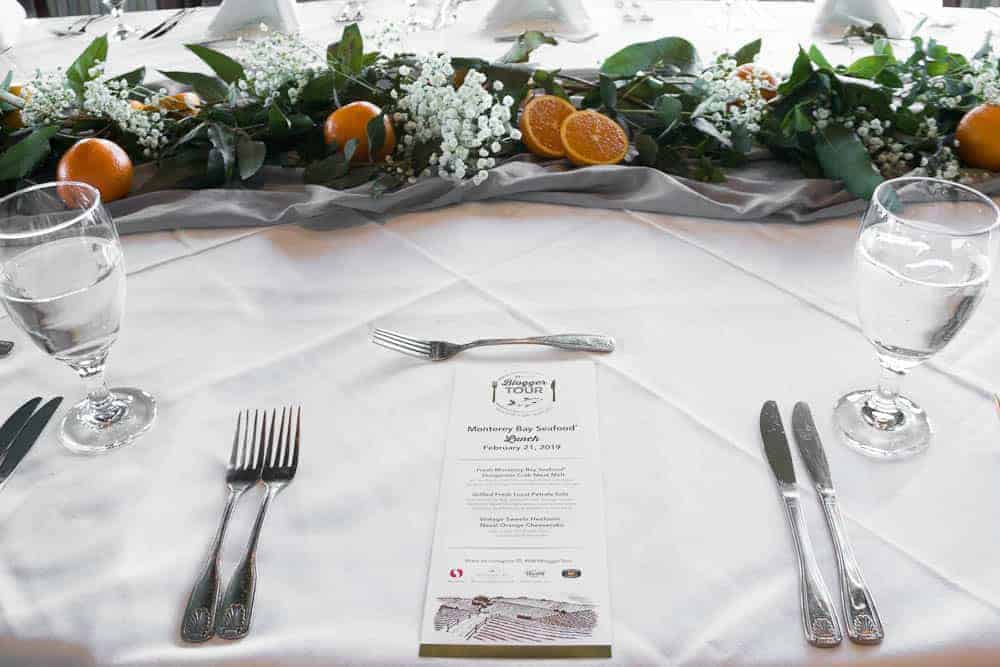 Our divine meal started with a cocktail that was simply a mix of champagne and freshly squeezed Vintage Sweet Heirloom Navel Oranges. If you've never tried Vintage Sweets, you must! The only way I can describe them is that they taste like an orange should taste. They have a perfect balance of sweet and tart and are irresistibly juicy. The first bite of an heirloom Vintage Sweet navel orange is pure bliss: luscious aroma and delightful flavor for a wonderful eating experience. Their citrus sommeliers hand select the fruit from their best old line groves and test it for peak sugar levels and perfect flavor.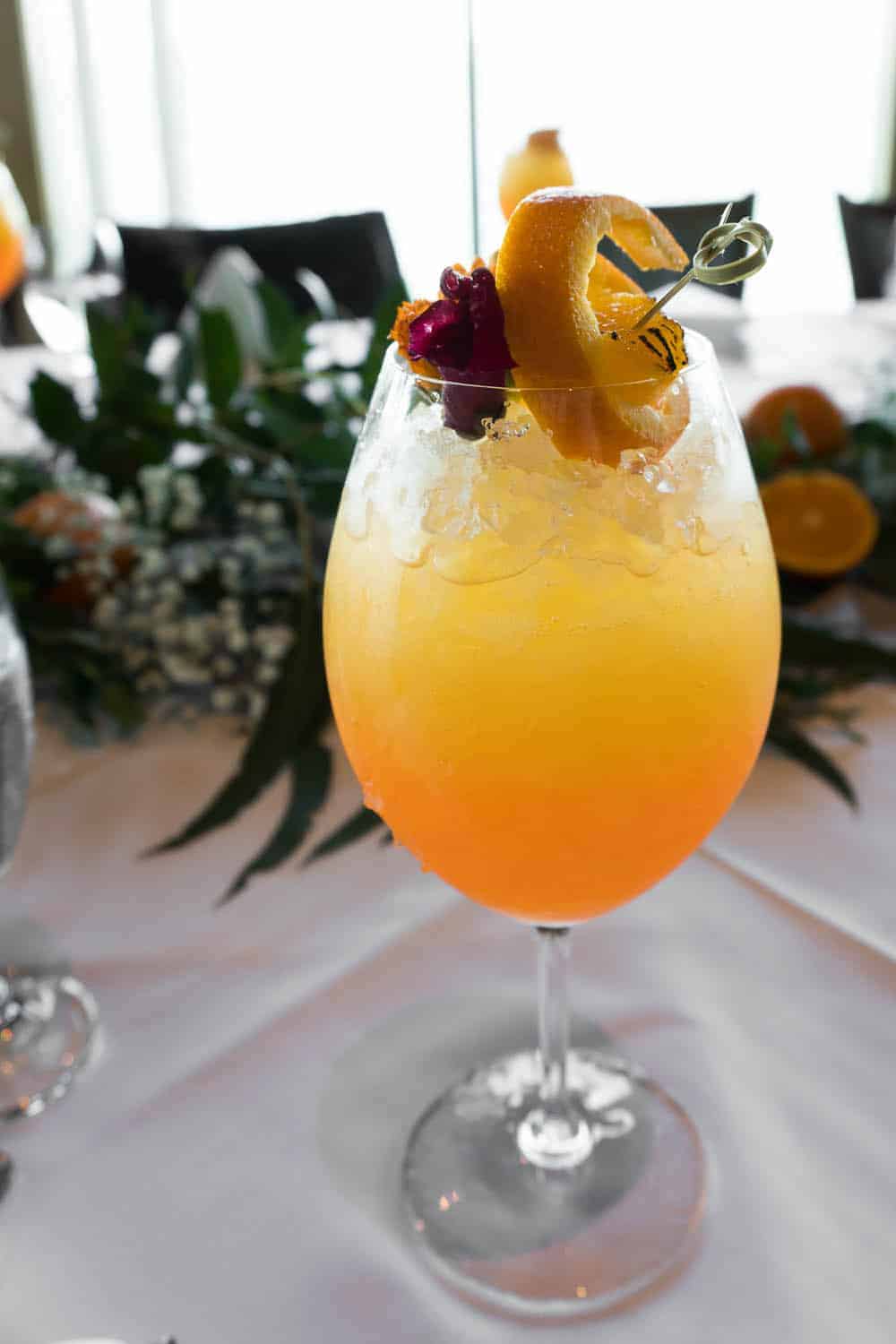 Our first course started with this amazing crab melt. The chef was gracious enough to send me the exact recipe he used so that I could recreate it. This just might be one of the best things I've ever eaten.
Lump dungeness crab tossed in a lemon butter sauce and topped with melted gruyere is served atop a delicious piece of Rustik Bread. Made with simple, real ingredients, this signature artisan bread is fermented for at least 14 hours and slow baked to deliver a rich flavor and crusty texture that delivers an experience that is distinctively rustik. You won't miss this bread at the store – they sell it in half loaves so you can see exactly what the inside of the loaf looks like. Pretty genius, especially because it's sourdough!
For my recipe I incorporated the Vintage Sweets into the salad dressing and also served a segment of orange with the salad. YUM!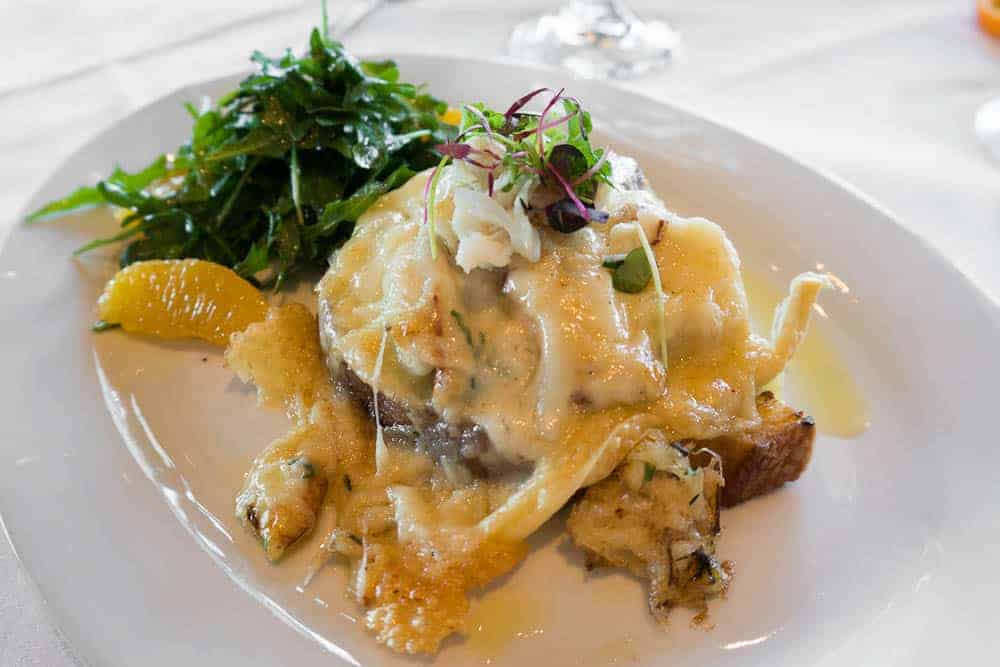 Our main course was fresh local Petrale Sole. This may be my new favorite fish. Not only is it less expensive than some of my favorite varieties of fish, but it is a white flaky fish that melts in your mouth. Don't google Petrale Sole, though, unless you like looking at ugly fish!
Chef served the fish on top of some sweet potato with the most delicious citrus sauce.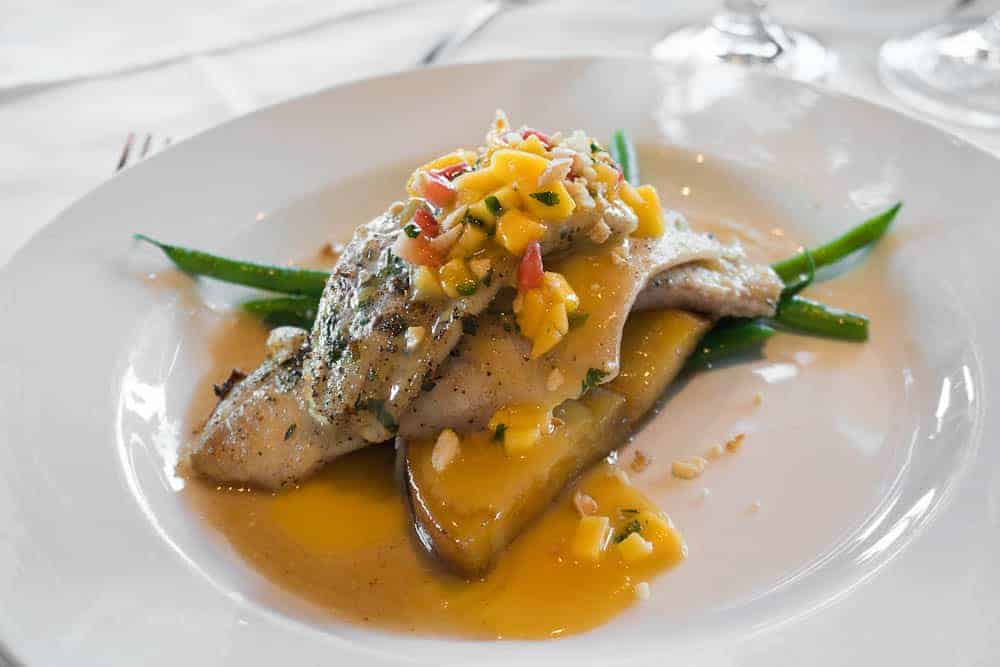 How to make a crab melt:
You'll see from my recipe below that this crab melt is really easy to make.
The first step is to make the lemon butter sauce. The recipe makes more sauce than you'll need for a single crab dip. Fear not – you can store any excess in the refrigerator for another use.
To make the crab melt, you'll start by brushing olive oil onto the Rustik Sourdough bread and toasting in a hot oven.
Next you'll mound your fresh crab meat on top of the toasted bread, drizzle it with the lemon butter sauce, and top with a slice of gruyere. Then, simply heat in the oven until it's nice and melty.
This crab melt is so rich and decadent, you will surely want to serve it alongside a fresh salad with the citrus dijon dressing.
This entire meal only takes minutes to put together and is heaven on a plate!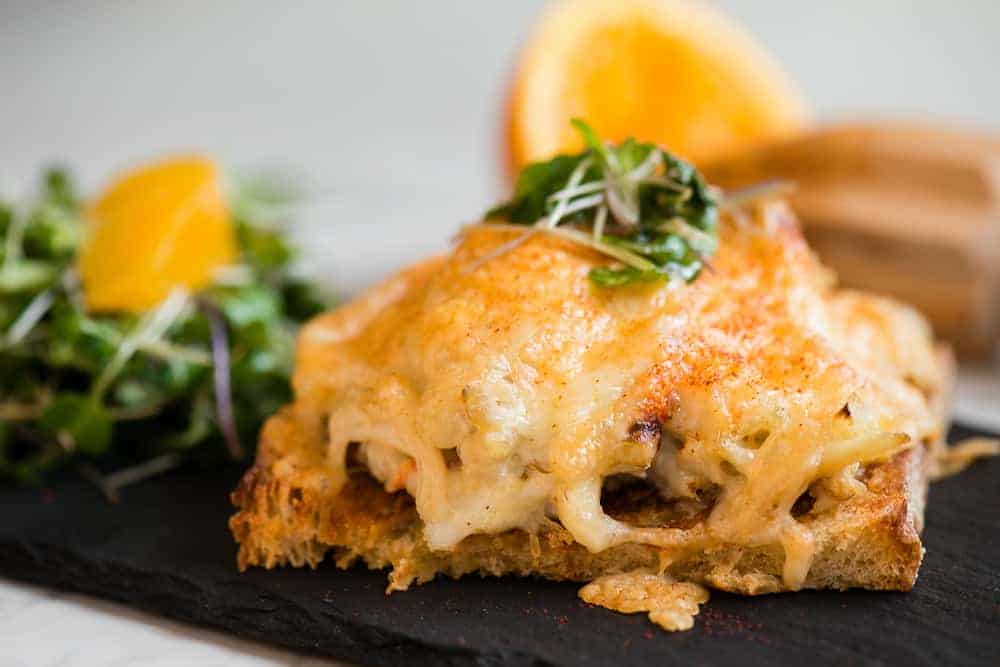 To learn more about these @safeway partners, you can find them on social media using the following handles: @therustikoven, @montereybayseafood, @fishwise, @seafoodwatch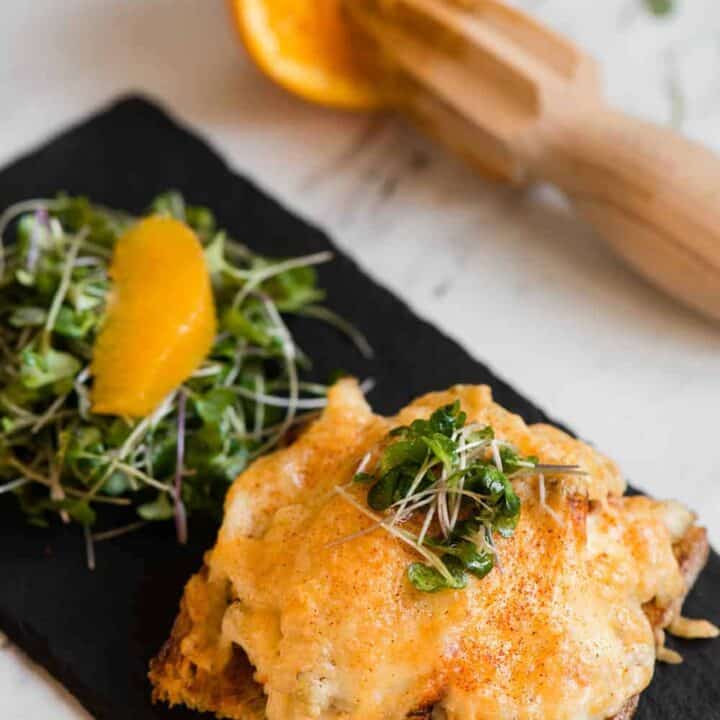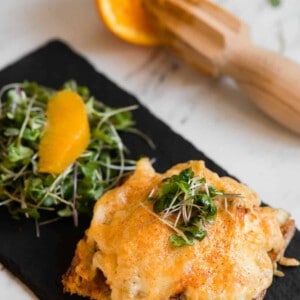 An open faced fresh Dungeness Crab Melt with Lemon Butter Sauce and a Citrus Salad is an easy yet incredible decadent and delicious recipe.
Ingredients
Crab Melt
1

slice

sour dough bread

Rustik Sour Dough recommended

1

tsp

olive oil

4

ounces

fresh Dungeness crab meat

1

slice

Gruyere cheese

1/2

ounce

lemon butter sauce

(recipe to follow)
Lemon Butter Sauce:
1

shallot

minced

1/2

cup

white wine

2

sprigs

fresh thyme

1

lemon wedge

1/2

cup

heavy cream

2

Tbsp

butter
Instructions
To make the Lemon Butter Sauce:
Simmer shallot, white wine, thyme and lemon wedge in a sauce pan until the white wine begins to evaporate. A

dd heavy cream and s

immer for another 8 minutes. Remove from heat and add b

utter. S

tir and enjoy.
To make the Crab Melt:
Heat oven to 400 degrees F.

Brush sourdough with the olive oil and bake in oven for 3 minutes on a heat safe dish.

Remove bread from oven and top with the crab meat. M

ake sure that the crab meat is packed tightly and not loose.

Drizzle the lemon butter sauce over the crab meat. T

op with the Gruyere cheese. P

lace the bread back into the oven and bake for another 5 minutes.

Remove and enjoy while hot!
To make the Citrus Salad:
In small bowl, whisk together the orange juice and dijon mustard. Slowly drizzle olive oil into dish while continuously whisking to create dressing. Season with salt and pepper, as desired. Toss with micro greens and top salad with segmented orange wedge. Serve along side crab melt.
Nutrition
Calories:
625
kcal
,
Carbohydrates:
39
g
,
Protein:
38
g
,
Fat:
35
g
,
Saturated Fat:
11
g
,
Cholesterol:
98
mg
,
Sodium:
1407
mg
,
Potassium:
313
mg
,
Fiber:
2
g
,
Sugar:
3
g
,
Vitamin A:
480
IU
,
Vitamin C:
18.7
mg
,
Calcium:
367
mg
,
Iron:
3.3
mg
Nutrition information is automatically calculated, so should only be used as an approximation.