Country Sausage Gravy recipe made from scratch is delicious!
The best biscuits and gravy are made from homemade flaky buttermilk biscuits and sausage homemade gravy. Love biscuits and gravy? Well, then you'll also love my Country Mushroom Gravy, Country Bacon Gravy, and my Gluten Free Country Sausage Gravy!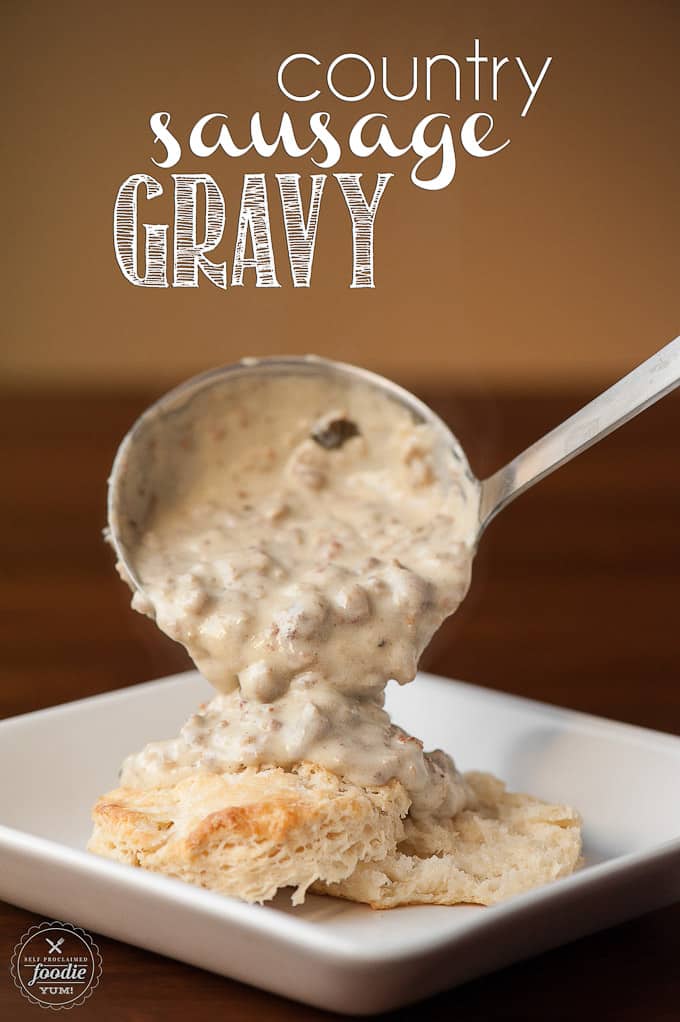 Sausage gravy makes every breakfast better. My husband and I love biscuits and gravy. You all know I'm a total food snob. Him? Not quite as much (but I'm grooming him daily). The one thing he is a total food snob about is sausage gravy. When we go out to breakfast, he'll order a sample of the country gravy before committing to actually ordering biscuits and perfect gravy. I'm sure you all have experienced country sausage gravy that sucks. Its either too thick or too thin or too starchy or the sausage is nasty. The best part? Homemade sausage gravy is quick and easy to make!
The best biscuits and gravy require two things – sausage gravy and homemade buttermilk biscuits. Now, in the video of me making the recipe, you might notice that I used canned biscuits. For that, I apologize and I shall never live that one down. Canned biscuits should be reserved for Monkey Bread, and only Monkey Bread. Homemade sausage gravy deserves the flaky goodness of a homemade biscuit. There. Please forgive me.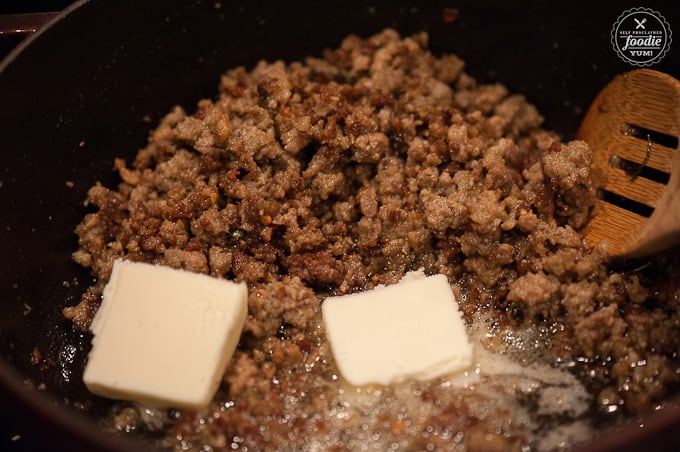 How to make sausage gravy from scratch:
You can buy seasoned breakfast sausage in bulk without any casing from most meat departments, however I prefer to start with plain ground pork and make my own sage breakfast sausage. Its the best damn sausage you'll ever have.
Make sure to use a good pan that will brown the meat nicely. I always cook my sausage gravy in my favorite Staub dutch oven. The pan drippings are what give this recipe so much flavor.
Then you gotta add some more butter because you can't have a good gravy without the right amount of fat! Do not substitute with margarine.
Once you add the flour, be sure to let it cook for several minutes before adding the milk. You want it to mix with the fat and give off an amazing aroma
I highly recommend using whole milk for a richer flavor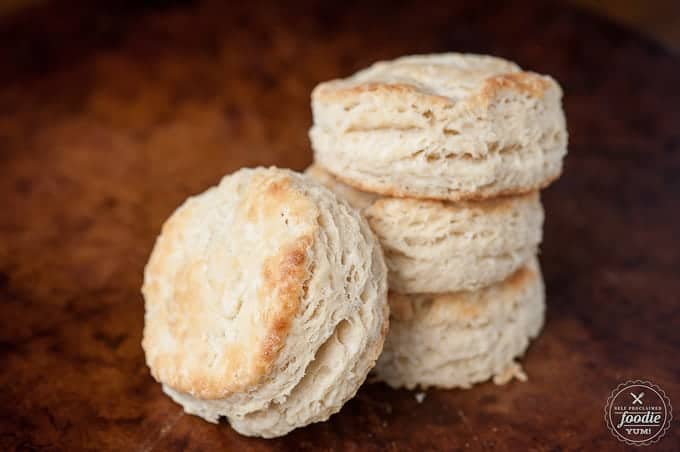 How to make biscuits and gravy:
Always start with a Southern style gravy.
Obviously, I think my country sausage gravy is the best, but I've seen tons of variations of white gravy made with bacon or a combination of sausage and bacon.
You'll want the country gravy recipe you choose to be made with flour, fat (butter and/or drippings from the meat), milk, and the right amount of seasonings.
Then you really need some amazing flaky buttermilk biscuits to go with your gravy. Pairing a delicious sausage gravy with a less-than-perfect biscuit is very unsettling to me. It just doesn't make sense. Go ahead. Drown that biscuit.
Freshly ground pepper is a must.
Now, go enjoy the best damn biscuits with country sausage gravy you'll ever have. Consider yourself warned though – they may be so good that you'll no longer order them when dining out because all others will fail in comparison.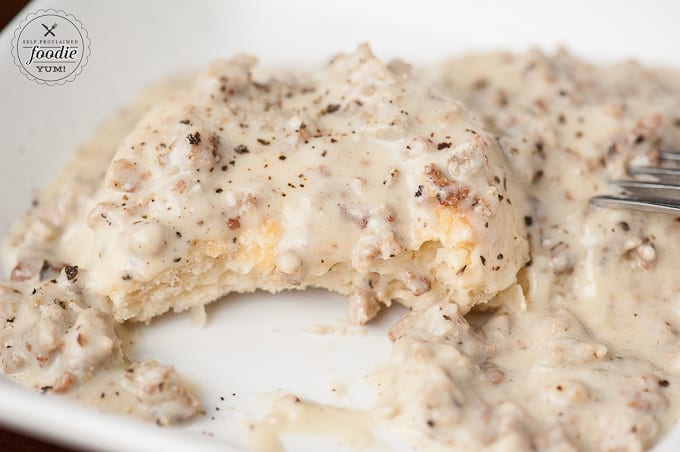 What to serve with Biscuits and Gravy:
I love some kind of egg recipe to accompany my biscuits and gravy. I don't like runny yolks running into that country sausage gravy, so I always serve them with some kind of scramble or omelet.
If you're not afraid of the carbs (hey, you're eating biscuits and gravy, after all), a side of easy breakfast potatoes makes a nice addition, especially if you get an extra ladle full of gravy to smother those potatoes.
It's a good idea to add some color and produce to your plate as well. I make a fruit salad with a secret ingredient that pleases everyone. Or you balance out your biscuits and gravy with some wilted sauteed spinach.
Watch below to see the recipe video of me making this country sausage gravy!
For the video, I cooked the sausage gravy on an induction cooktop. You totally want biscuits and gravy now, don't you!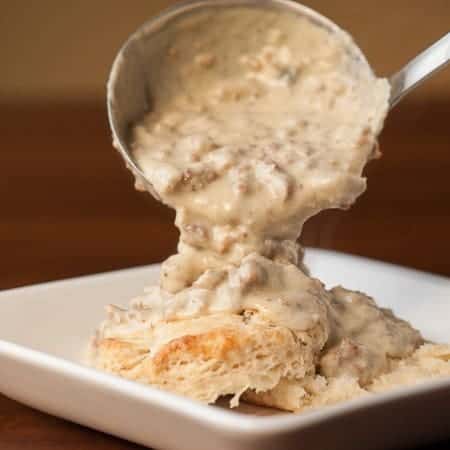 Country Sausage Gravy Recipe for Biscuits and Gravy
Country Sausage Gravy made from scratch is delicious! The best biscuits and gravy are made from homemade flaky buttermilk biscuits and sausage gravy.
Print
Pin
Rate
Instructions
In a large skillet over medium high heat, cook the sausage until brown and crumbly. If excess oil, drain while keeping a solid tablespoon of the sausage oil in the pan. Add the butter and stir well until melted.

Sprinkle sausage with flour, stir, and allow to cook for several minutes.

Add the milk and stir. Continue stirring occasionally over medium heat until gravy thickens, 5-10 minutes.
Nutrition
Calories:
373
kcal
|
Carbohydrates:
9
g
|
Protein:
15
g
|
Fat:
29
g
|
Saturated Fat:
12
g
|
Cholesterol:
81
mg
|
Sodium:
583
mg
|
Potassium:
348
mg
|
Sugar:
6
g
|
Vitamin A:
430
IU
|
Vitamin C:
0.5
mg
|
Calcium:
146
mg
|
Iron:
1.1
mg