Apple Brown Betty is one of my favorite fall dessert recipes. It's a classic dessert made with thinly sliced apples and a sweet, crumbly topping
This sweet treat has a rich history dating back to colonial America. It is a fantastic dessert choice any time of year, but it truly shines during the fall months when fresh apples are at their peak.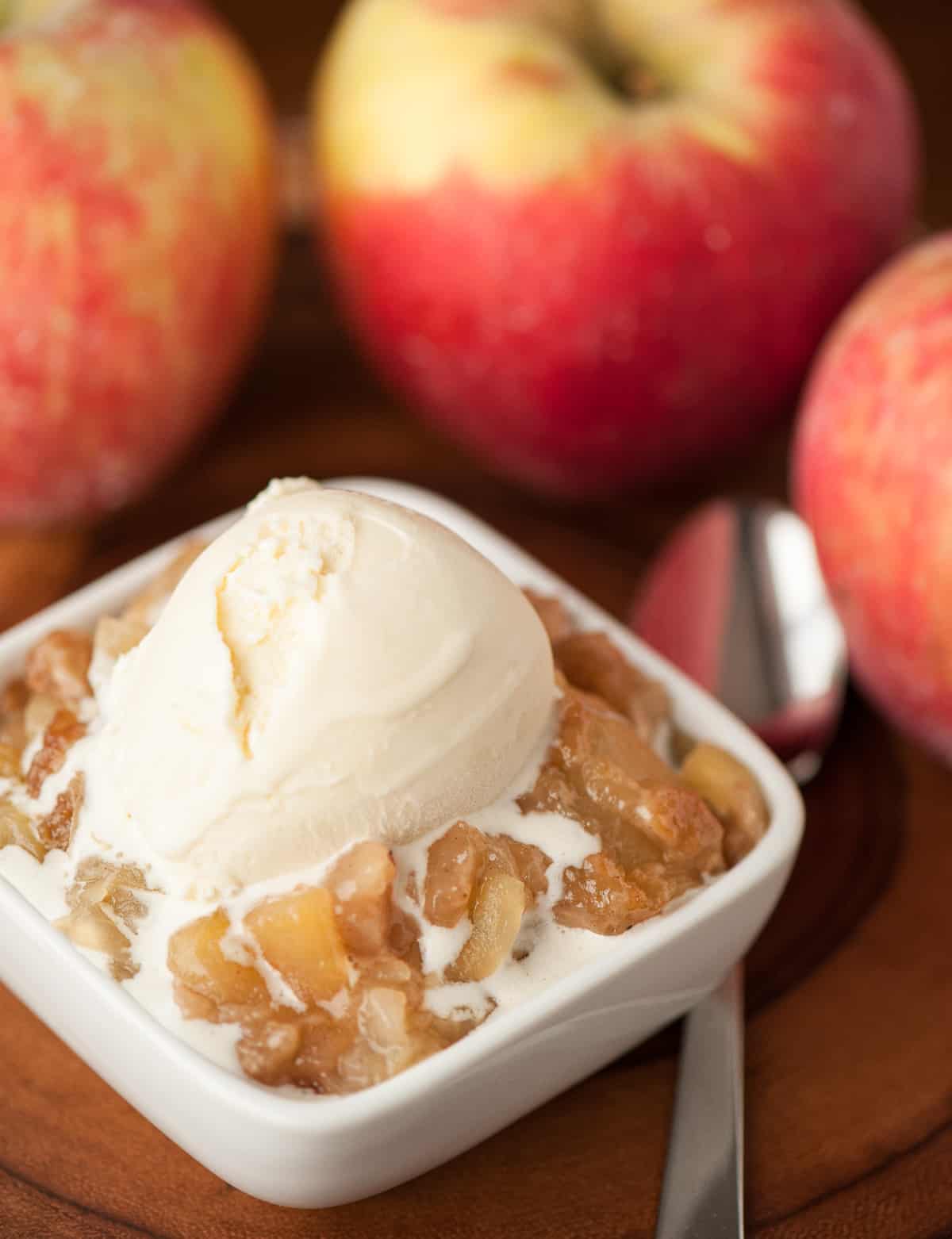 If you love the fall flavor of apple recipes, be sure to check out my applesauce cake, apple pie (made with my all-butter pie crust), and apple cobbler recipes!
Ingredients for the Perfect Dessert
To create this mouthwatering dessert, you'll need:
For the Filling:
Fresh and crisp sweet apples (I recommend a mixture of your favorite apple variety)
A touch of lemon juice to prevent browning and add tartness to the sweet layers of sugar-spiced fruit.
For the Topping:
All-purpose flour
Brown sugar
Granulated sugar
A hint of pumpkin pie spice
Cold butter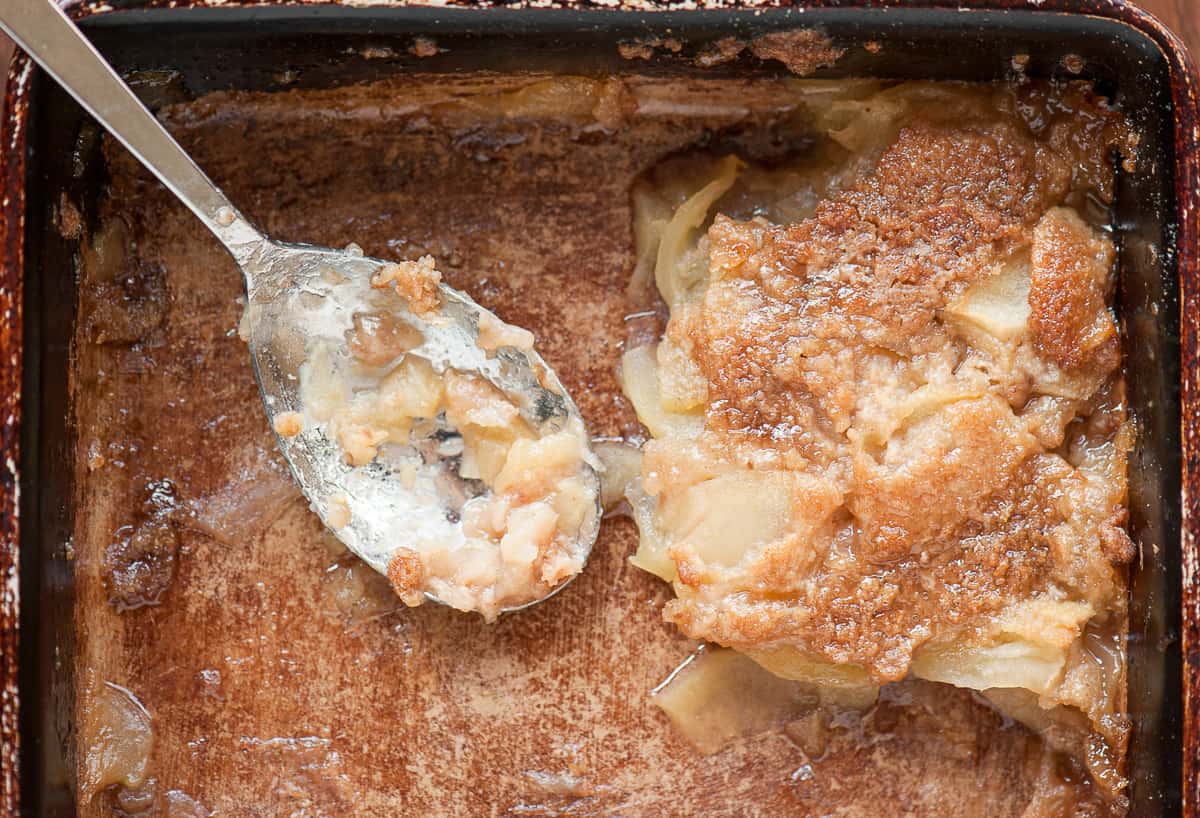 How to Make Apple Brown Betty
You'll love how easy it is to make this delicious fall dessert:
Mix the Crumbly Topping
In a mixing bowl, combine the all-purpose flour, brown sugar, granulated sugar, and a pinch of pumpkin pie spice.
For the perfect crumbly texture, incorporate cold butter into the mixture. You can use a pastry cutter or simply cut the cold butter into small cubes and blend it using a fork.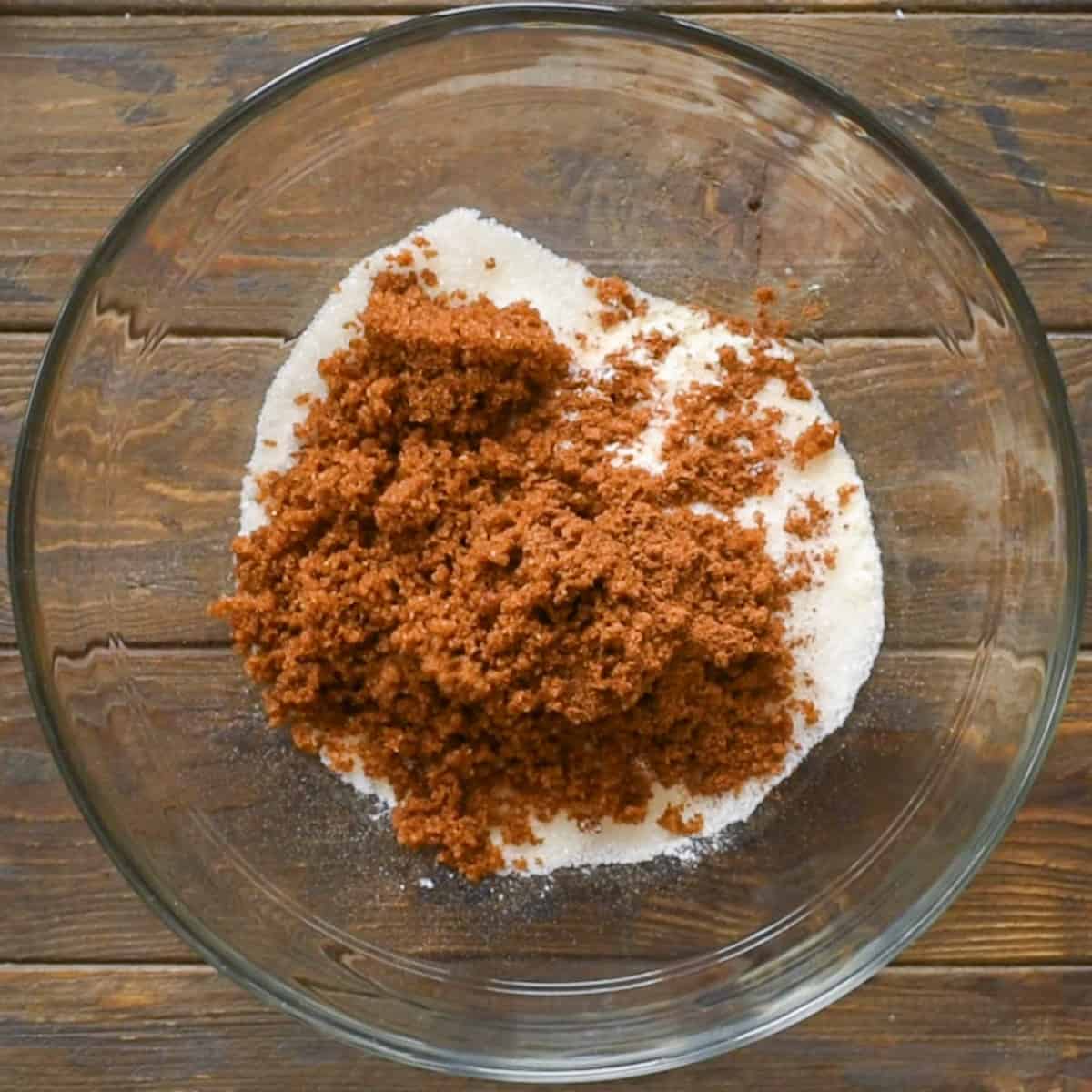 Prepare the Apples
Thinly slice your choice of apples and arrange them in a baking dish.
To keep the apples fresh and add a zesty kick, drizzle some lemon juice over them.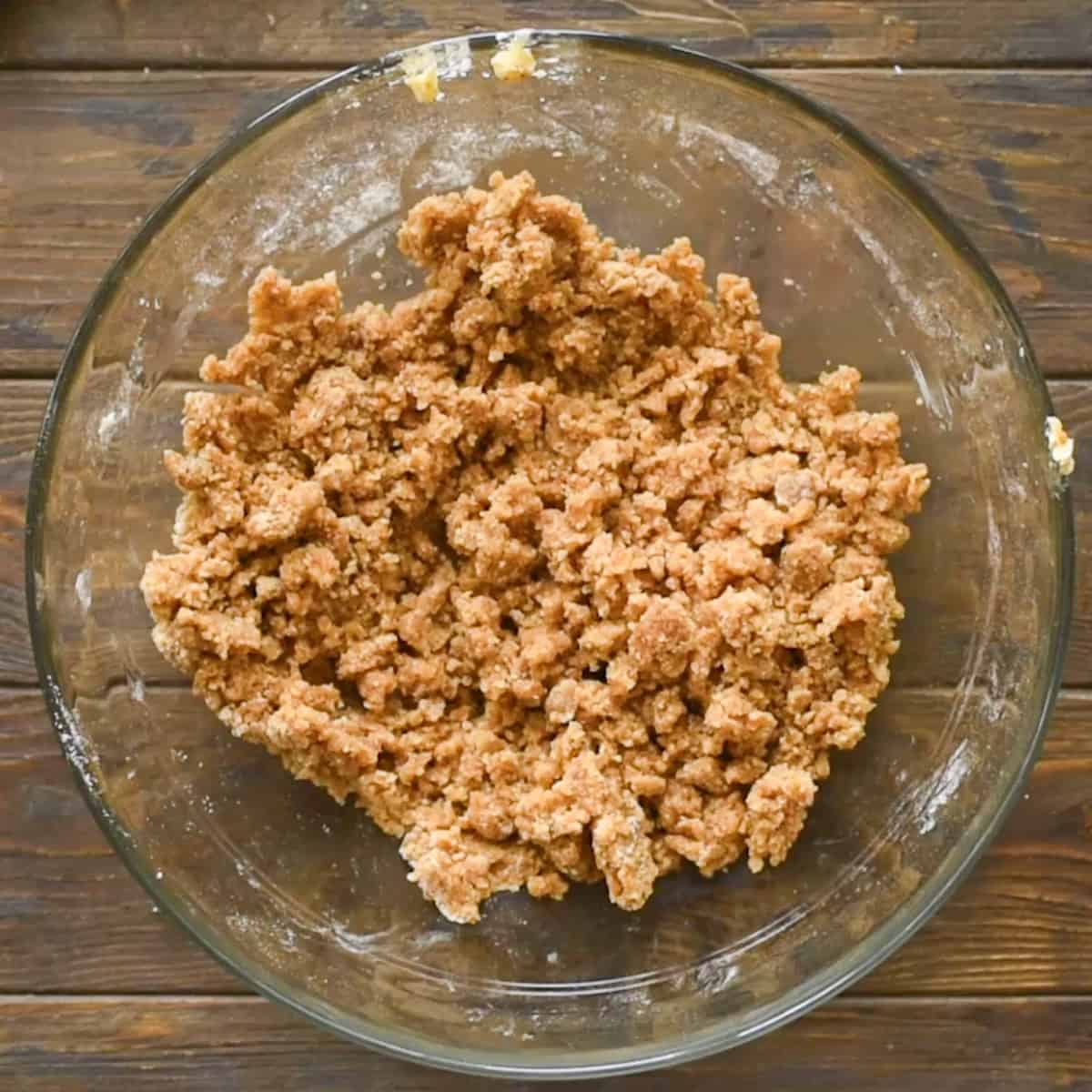 Assemble
Evenly sprinkle the crumb mixture over the thinly sliced apples, creating a mouthwatering layer of sugar-spiced goodness. Cover with a sheet of aluminum foil. This will help cook the apples to a wonderfully tender texture.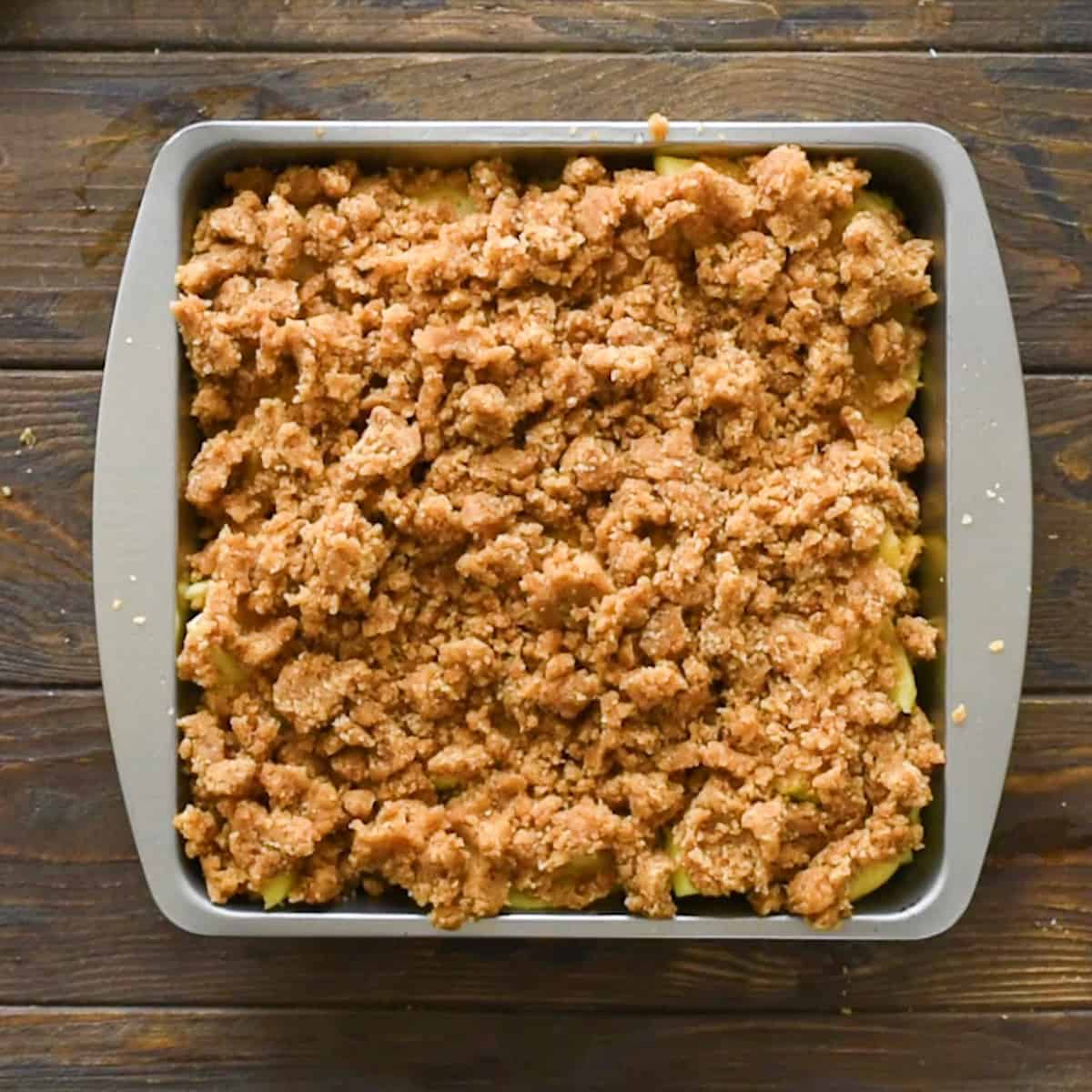 Bake
Place your Apple Brown Betty in a preheated oven and bake for approximately 40 minutes until its bubbling with flavor.
You will remove the foil towards the end to give the topping an amazing crispy golden brown crispy top. Serve it warm with a scoop of vanilla ice cream!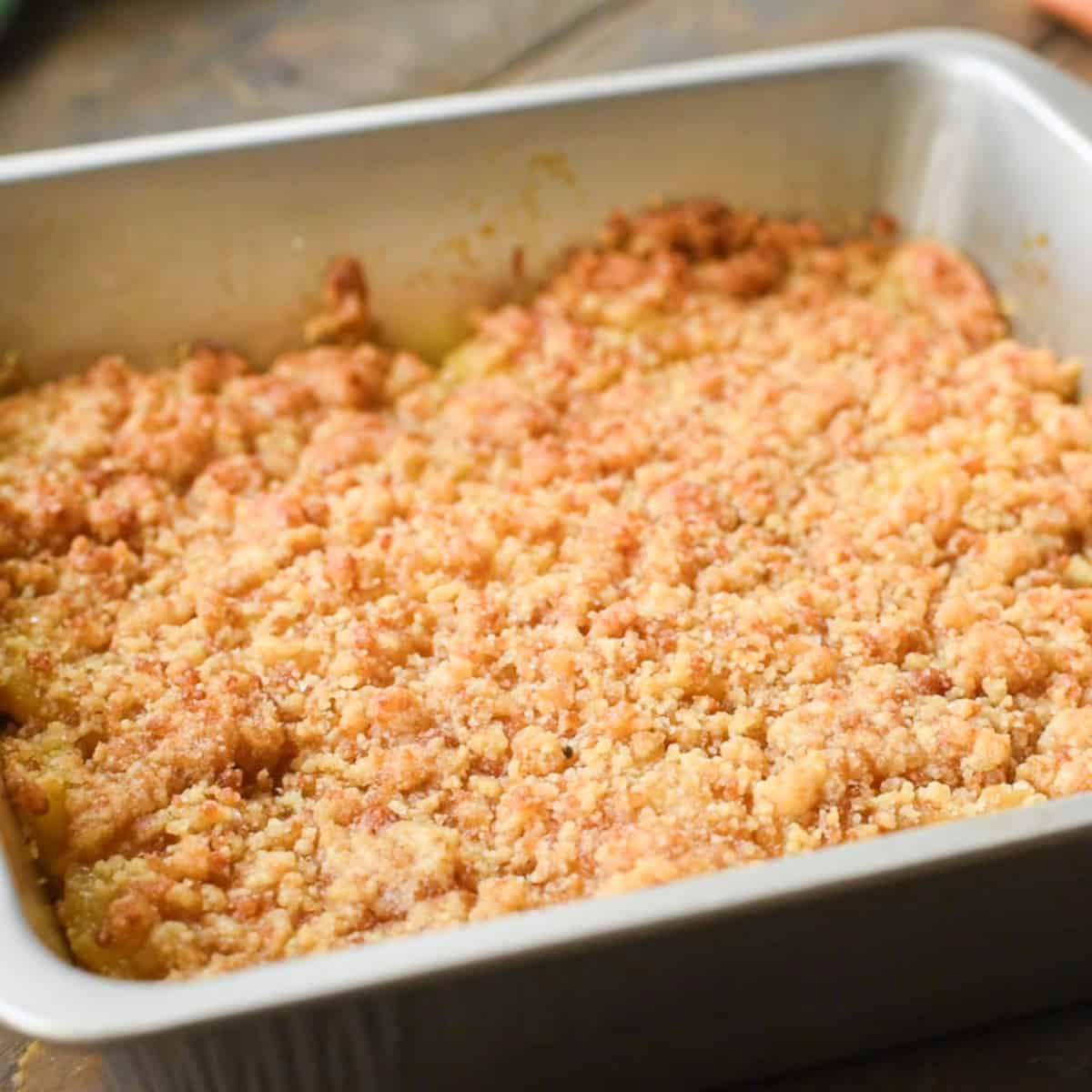 Ingredient Substitutions
Whether you have dietary restrictions or your don't have a particular ingredient on hand, most recipes can be modified to accommodate your needs. I think the recipe is fantastic as written, but the following changes should work, if needed.
Gluten-Free Option: For a gluten-free version, substitute all-purpose flour with a gluten-free flour blend or almond flour.
Dairy-Free or Vegan Variation: Replace butter with a dairy-free alternative like Earth Balance or coconut oil. If you're serving your Apple Brown Betty a la mode, any kind of dairy free vanilla ice cream will work, but one made with oat milk would taste best.
Low-Sugar Option: If you're watching your sugar intake, you can reduce the amount of brown sugar and granulated sugar in the topping. Sweeter apple varieties are recommended if you reduce the sugar in the recipe.
Citrus Alternatives: If you don't have lemon juice on hand or want a different flavor, you can use orange juice or even a small amount of apple cider vinegar to prevent apple browning. You can just omit the lemon juice as well.
Fruit Variations: While apples are the classic choice, you can experiment with other fruits like pears, peaches, mixed berries, or a combination of fruits to create your own unique twist on the dessert.
Spice Modifications: Adjust the amount and type of spices to suit your taste. Add a pinch of ground cinnamon, nutmeg, or cloves for extra flavor.
Crumble Variations: Get creative with your topping by incorporating ingredients like shredded coconut, rolled oats, or crushed graham crackers for a unique twist. Bread crumbs can be used in place of the flour.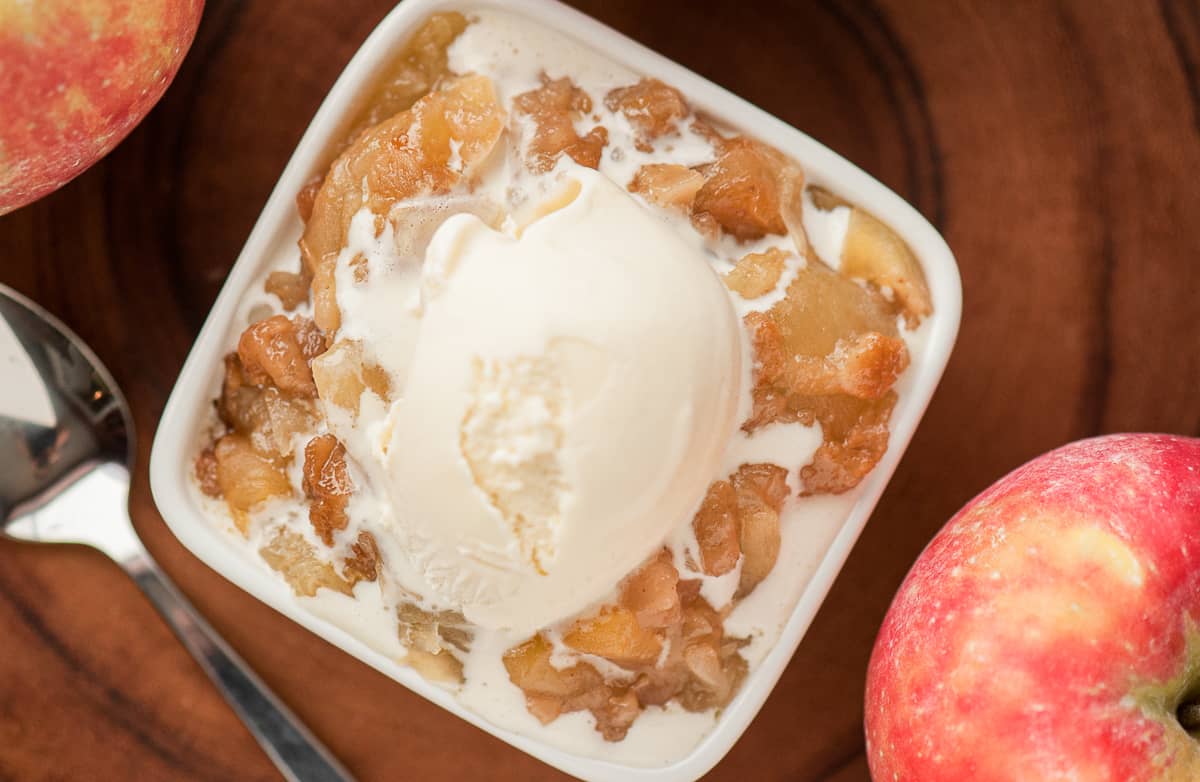 FAQs
Can I make Apple Brown Betty ahead of time?
Yes, you can prepare it up to a day in advance and refrigerate it until you're ready to bake. Cooking time may need to increase if it is cold when you put it into the oven.
What are the origins of Apple Brown Betty?
The roots of Apple Brown Betty trace back to colonial times in the United States. It was a simple and hearty dessert enjoyed by early settlers, and it remains a beloved classic to this day. Fun fact – Apple Brown Betty was one of President Ronald Reagan's favorite desserts when he resided at the White House.
What's the difference between Apple Brown Betty and apple crisp?
Apple Brown Betty has a crispy topping made of flour, brown sugar, and butter, while apple crisp typically includes oats in the topping.
Can I use any type of apples for this recipe?
Yes, you can use your favorite apple variety. Granny Smith and Honeycrisp are popular choices. I always like to use a mixture of sweet and tart apples in my apple desserts.
How do I prevent the apples from browning?
By tossing the apple slices with a touch of lemon juice, you will prevent browning. They will brown as they cook because of the brown sugar and pumpkin pie spice.
What's the best way to serve Apple Brown Betty?
Enjoy it warm, and for an extra treat, top it with vanilla ice cream or warm caramel sauce.
How long does Apple Brown Betty stay fresh after baking?
Store leftovers in an airtight container in the refrigerator, and they will keep well for several days.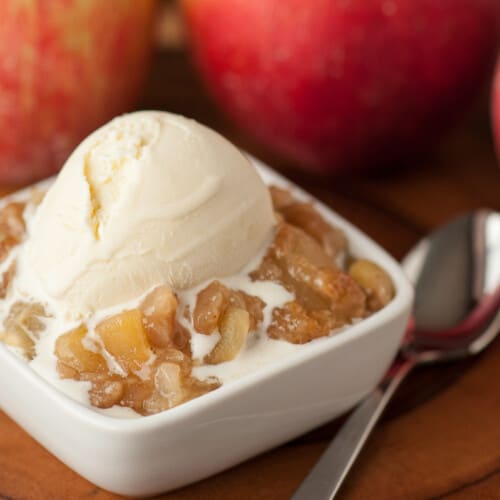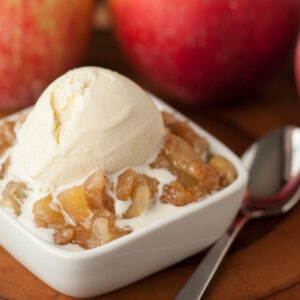 One of my favorite fall desserts is my version of Apple Brown Betty which consists of thinly sliced fresh apples with a no oat sweet and buttery topping.
Instructions
Add apple slices to a 9×9 baking dish. Cut lemon in half and squeeze juice over apples. Toss apples to evenly coat.

In medium sized bowl, combine flour, sugars, and spices. Add cold butter and use a pastry blender to work the butter into the dry ingredients, cutting it into small pieces. You want the mixture to be crumbly with little to no dry ingredients left that haven't touched the butter. Sprinkle all of the topping over the apples evenly.

Cover with aluminum foil and cook in preheated oven for 40 minutes. Remove foil and allow to continue cooking until the topping is crisp, about 10-20 additional minutes. Serve warm with vanilla ice cream.
Notes
Apples: you can use any variety that you prefer in this recipe. My preference is for Honeycrisp. Alternatively, you can use a variety of apples.
Fresh lemon juice is recommended but you can use bottled.
If you don't have a pastry blender, simply cut the cold butter into very small cubes and use a fork to blend.
Make ahead directions: You can prepare this recipe up to a day advance and keep refrigerated until you are ready to bake.
Store leftovers in an air tight container in the refrigerator. Will keep for several days.
Nutrition
Calories:
197
kcal
,
Carbohydrates:
48
g
,
Protein:
1
g
,
Sodium:
6
mg
,
Potassium:
65
mg
,
Sugar:
34
g
,
Vitamin C:
9.6
mg
,
Calcium:
25
mg
,
Iron:
1
mg
Nutrition information is automatically calculated, so should only be used as an approximation.
This post was originally created in September 2015 and was updated with more helpful information. Don't worry – the recipe wasn't changed!