Super Easy Peach Cobbler is not only insanely delicious, but this recipe of fresh peaches covered in a crunchy sweet cobbler topping could not be easier!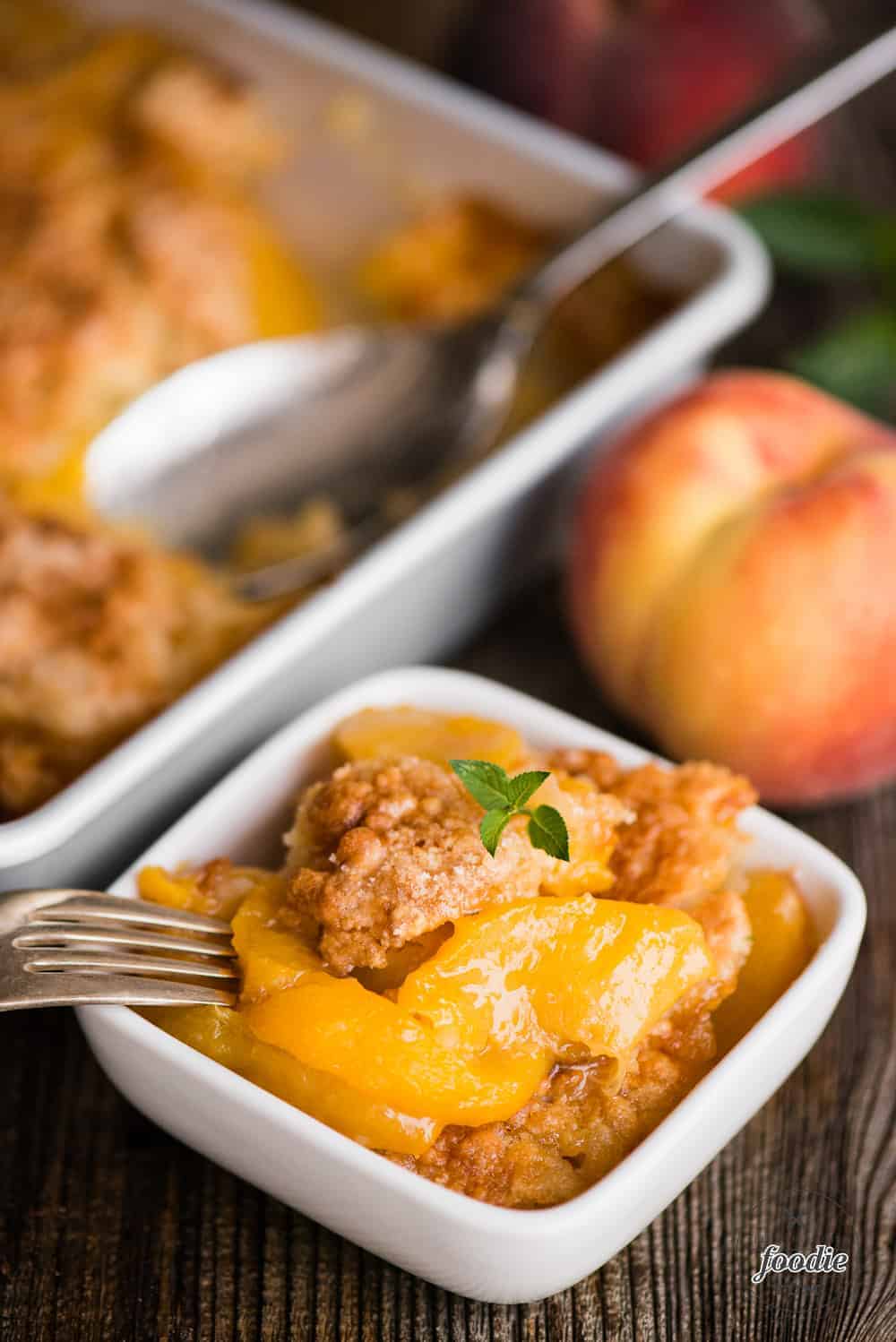 Super Easy Peach Cobbler will be your favorite go-to peach cobbler recipe. Mark my words. This is one of those recipes that's so easy, you actually commit it to memory and can make it each and every summer without even referencing the recipe.
Everyone needs a handful of easy recipes like that, don't you think?
Why I love this recipe:
Most obvious reason: It's ridiculously easy to make. There are so many more ingredients you can add that would indeed be outstanding additions, but it truly doesn't need anything else. You know I put pure vanilla extract in basically everything. Heck, I even put vanilla beans in when I'm canning my own homemade peaches. But this peach cobbler recipe does not need anything else and it truly is perfect as is.
My recipe calls for fresh peaches. I'll explain below my thoughts on using frozen or canned peaches, but at this very moment I'm celebrating all the splendors of summer. As soon as those peaches are ripe, I make so delicious peach recipes. You really can't beat the flavor of a perfectly ripe fresh peach.
This peach cobbler recipe feels about as old-fashioned and Southern as you can get. When you think of how a peach cobbler should taste, this is it!
Have I convinced you yet?
How to make it with fresh peaches:
First step is to peel and slice your peaches. Hopefully they're easy to peel and cling-free which means they don't stick to the pit. If not, here are a few helpful tips when slicing your peaches:
If the skin peels away easily, gently score it in strips from top to bottom and peel it away. If not, score the skin and drop the peach in boiling water for less than a minute. Immediately transfer it to an ice bath and the skin should pull away easier. Else, you can always use a sharp paring knife and just cut the skin off.
I recommend peeling the peach first and then slicing it. I always hold the peach over my pan as I cut so that any juice lands in my cooking pan. Don't want to waste any of that delicious peach juice, right? Just be careful with this step as a peach that has been peeled can be mighty slippery.
As soon as you're done slicing your peaches, toss them in lemon juice in your 9x9 baking dish. The lemon not only adds a nice tart flavor that balances out the sweet crispy cobbler topping, but it prevents the peaches from browning.
Next you'll mix together your flour, sugar, and egg. 1 cup flour, 1 cup sugar, 1 egg. See why I call this super easy? You already have it memorized, don't you?
Dump this crumbly mixture over your fresh peach slices. then, thinly slice your butter and place it on top.
My easy peach cobbler takes about 50 minutes to bake, but it is worth the wait! I don't even put ice cream on top.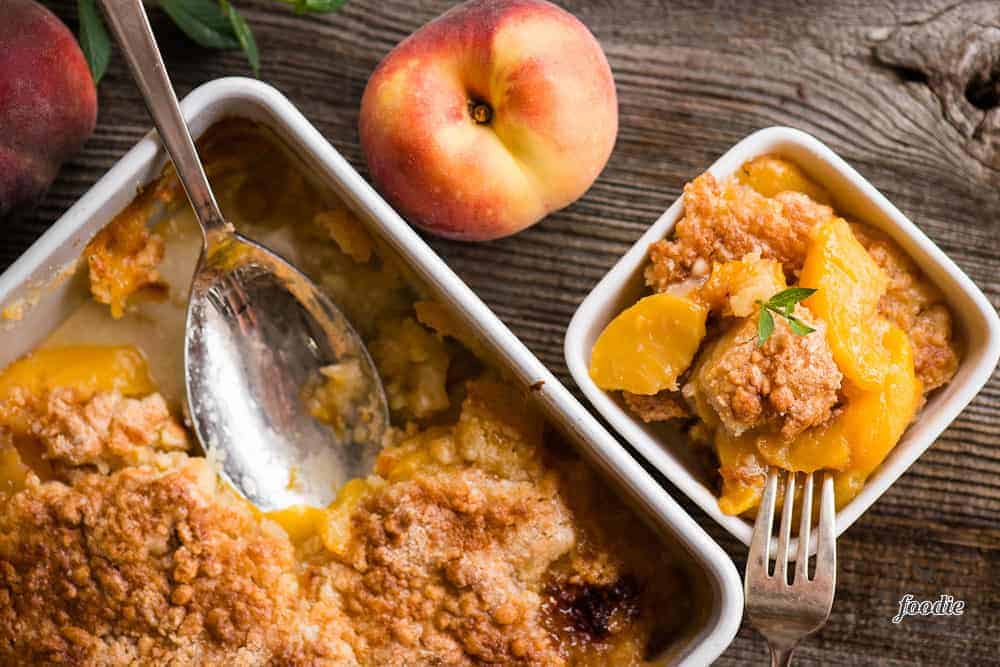 The difference between a cobbler, crisp, and a dump cake?
Not sure what the formal definitions of each are, but here's how I understand them to be different:
Cobblers have a sweet topping that is usually made with flour, sugar, some kind of fat, and egg.
Crisps typically indicate they are made with oats.
Dump cakes use a store bought cake mix. You dump that all over your fruit and then pour melted butter on top before baking.
Can you make peach cobbler with frozen peaches?
You can, however there are a few things to keep in mind. First, if peaches are in season, use fresh peaches! It's very satisfying.
I know the peach season window is rather small, so using frozen peaches will work just peachy for this peach cobbler recipe. See what I did there? My recommendation, however, is to let them fully thaw before cooking them. Otherwise, by the time your cobbler topping is nice and golden brown and crispy, your peaches might now be cooked all the way. If you prefer firmer peaches, then by all means cook them from the frozen state. But if you want them to break down and get soft and delicious, allow the frozen peaches to thaw first.
What about canned peaches?
I love canned peaches. Especially when they're homemade.
You can totally use canned peaches. That would make this recipe a super duper easy peach cobbler. I personally, however, prefer fresh or frozen over canned peaches when baking. Especially if they're store bought canned peaches. They just don't pack that same tart punch that a fresh peach delivers.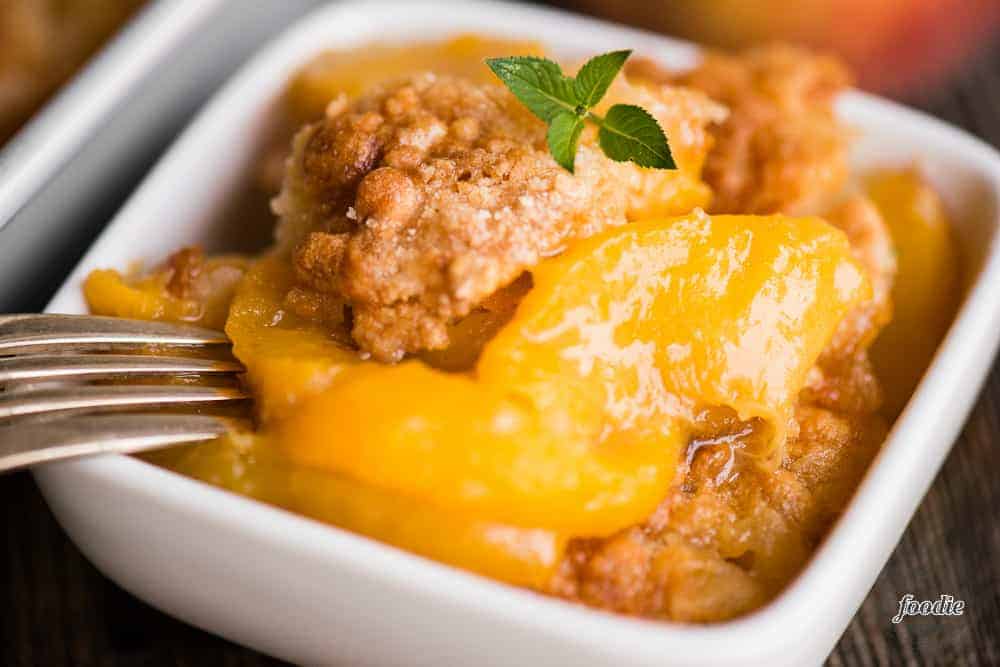 I've made peach cobbler so many times. I knew this recipe would turn our perfectly because it is exactly the same as how I make my Easy Quadruple Berry Cobbler and my Apple Cobbler, except I swapped out the fruit filling. Perfection achieved!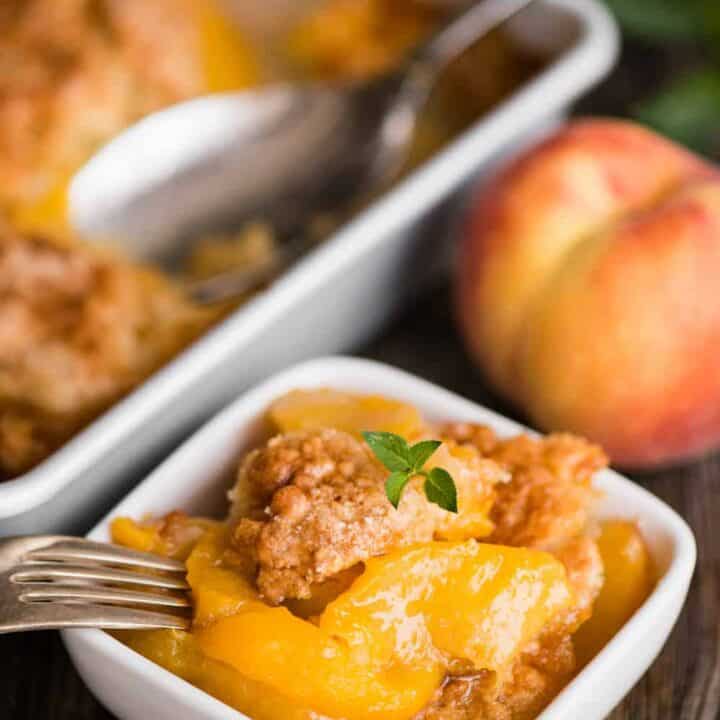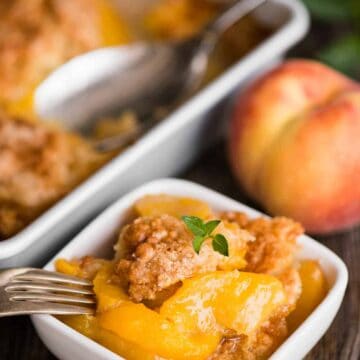 Super Easy Peach Cobbler
Super Easy Peach Cobbler is not only insanely delicious, but this recipe of fresh peaches covered in a crunchy sweet cobbler topping could not be easier!
Print
Pin
Rate
Hover to scale:
6
servings
Ingredients
5

cups

peaches

(peeled and sliced)

1

tbsp

lemon juice

1

cup

all purpose flour

1

cup

sugar

1

large

egg

6

tablespoons

butter
Instructions
Preheat oven to 375 degrees F.

Add peaches to a 9x9 baking dish. Toss with lemon juice.

In small bowl, combine flour, sugar, and egg. Mixture will be crumbly. Cover peaches with mixture.

Slice butter into thin slices and spread as evenly as possible on top of cobbler mixture.

Bake in preheated oven for 45-50 minutes until golden brown.
NUTRITION INFORMATION
Calories:
367
kcal
|
Carbohydrates:
61
g
|
Protein:
4
g
|
Fat:
12
g
|
Saturated Fat:
7
g
|
Cholesterol:
61
mg
|
Sodium:
112
mg
|
Potassium:
277
mg
|
Fiber:
2
g
|
Sugar:
44
g
|
Vitamin A:
815
IU
|
Vitamin C:
9.4
mg
|
Calcium:
19
mg
|
Iron:
1.4
mg