Blackberry cobbler is a classic dessert that embodies the essence of summer fruit.
With its juicy berries, golden biscuit-like topping, and comforting flavors, it's no wonder why this simple recipe has become one of the most popular cobbler recipes around.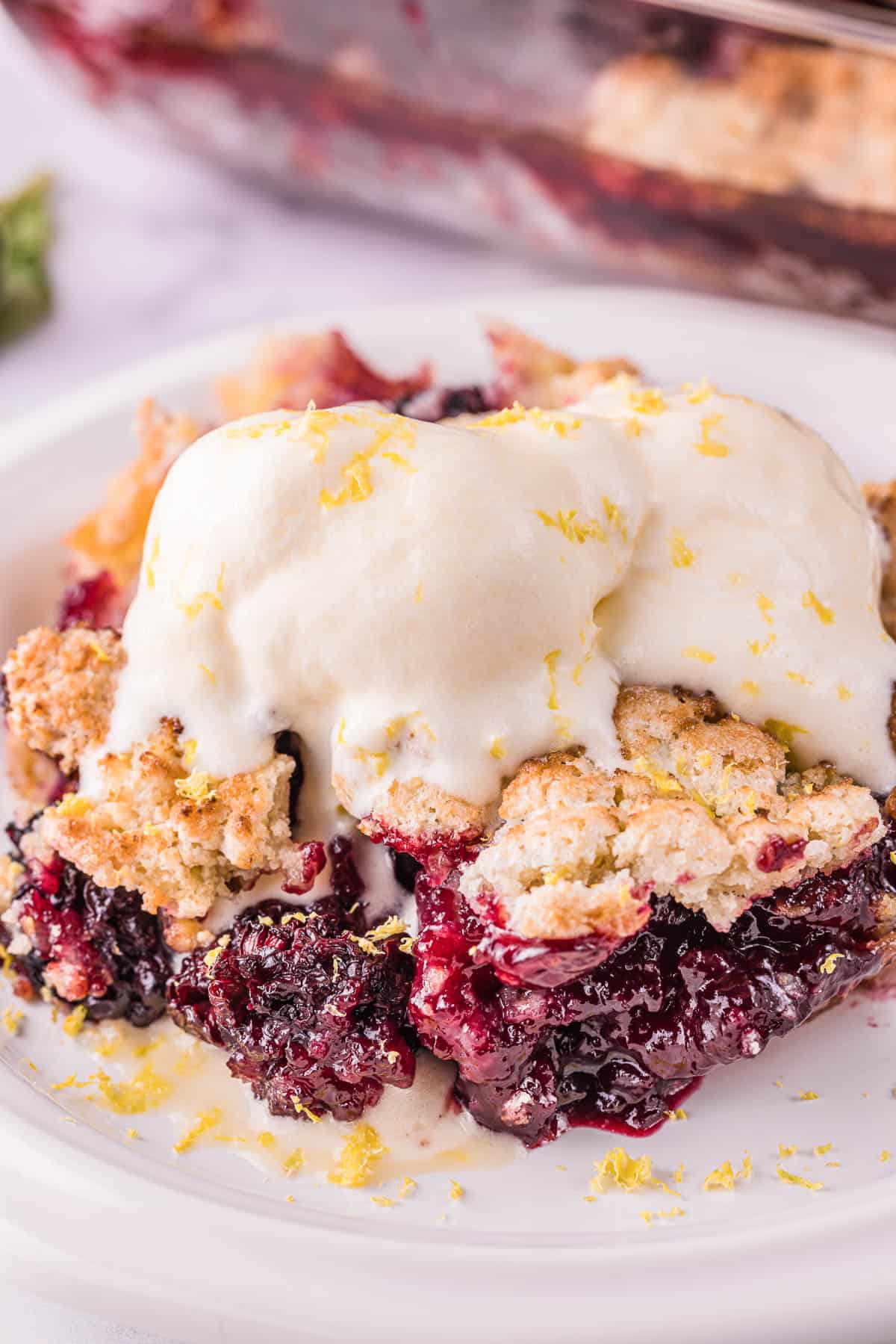 Continue reading and we'll explore why this easy blackberry cobbler dessert works so well, what it tastes like, and why you should definitely make it this time of year.
Why This Recipe Works
​Fruit cobbler, especially when served hot and served a la mode with a creamy scoop of vanilla ice cream, is hands down my favorite summer dessert. Because of how easy it is to make, I would consider it the ultimate easy dessert!
What It Tastes Like
When you take a bite of homemade blackberry cobbler, you'll experience a delightful combination of flavors and textures.
The warm, juicy blackberries burst with sweetness, creating a harmonious balance with the tangy lemon zest.
The cobbler topping, with its golden crust and fluffy interior, adds a comforting and buttery note to the overall taste.
Cobbler is similar to a fruit pie, but it is sweeter because of the sugar in the crust and arguably much easier to make.
It's like a slice of summer in every bite.
Why You Should Make It
There are several reasons why you should consider making this easy blackberry cobbler.
Firstly, it's a simple recipe that doesn't require any fancy techniques or hard-to-find ingredients. With just a few simple ingredients like fresh blackberries, lemon juice, flour, sugar, egg, and butter, you can whip up a delicious dessert that will impress your family and friends.
Secondly, blackberry cobbler is incredibly versatile. It can be enjoyed on its own, straight out of the oven, or topped with a scoop of vanilla ice cream or a dollop of whipped cream for an extra indulgent treat. The contrasting temperatures and textures make for a truly satisfying dessert experience.
Finally, blackberry cobbler is a perfect way to showcase the abundance of fresh berries during the summer season. Whether you pick the blackberries yourself or purchase them from a local farmers market, this dessert celebrates the natural sweetness and juiciness of the fruit. Plus, it can be a great opportunity to involve your loved ones in the kitchen, making memories as you prepare this delicious cobbler together.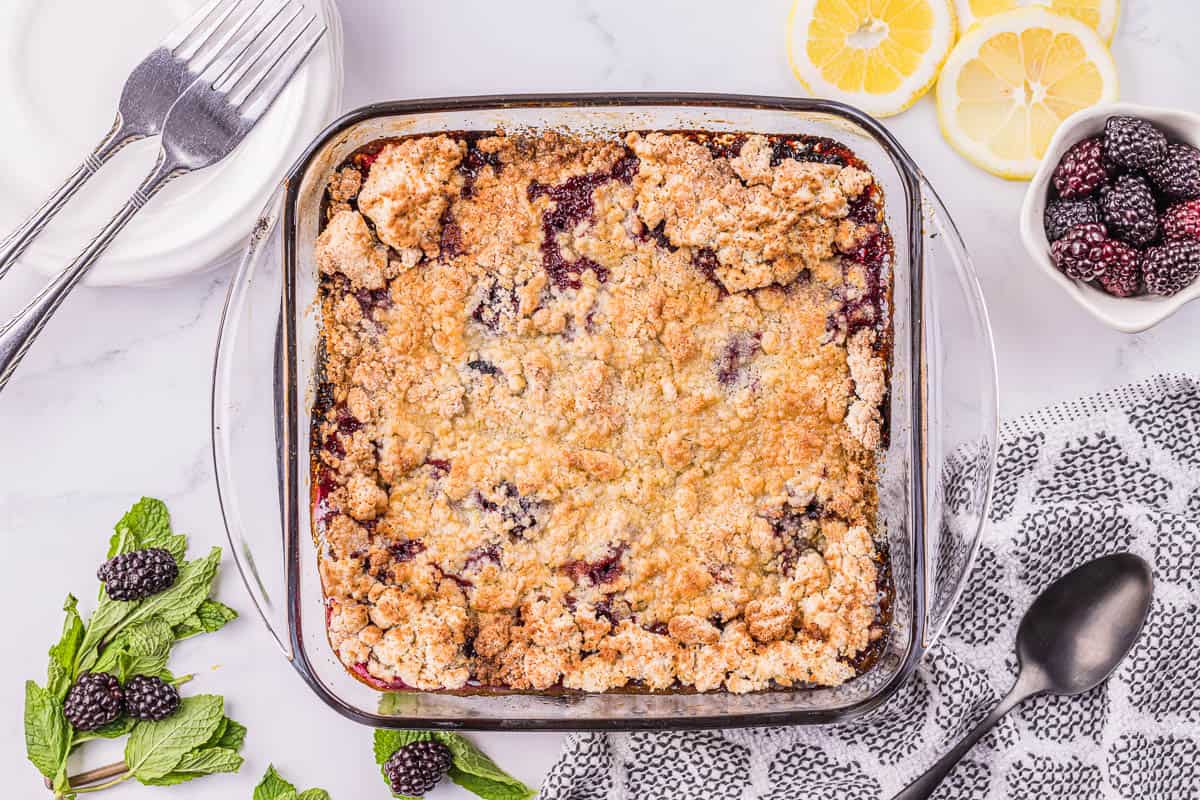 Ingredients Needed
Fresh blackberries take center stage in this delicious cobbler, giving it a burst of natural sweetness and vibrant color. The blackberry filling, enhanced with a touch of lemon juice and zest, provides a bit of tang to balance the sweetness.
The cobbler topping mixture, made with all-purpose flour, sugar, egg, and butter, bakes into a golden brown, fluffy cobbler crust that beautifully complements the juicy blackberries.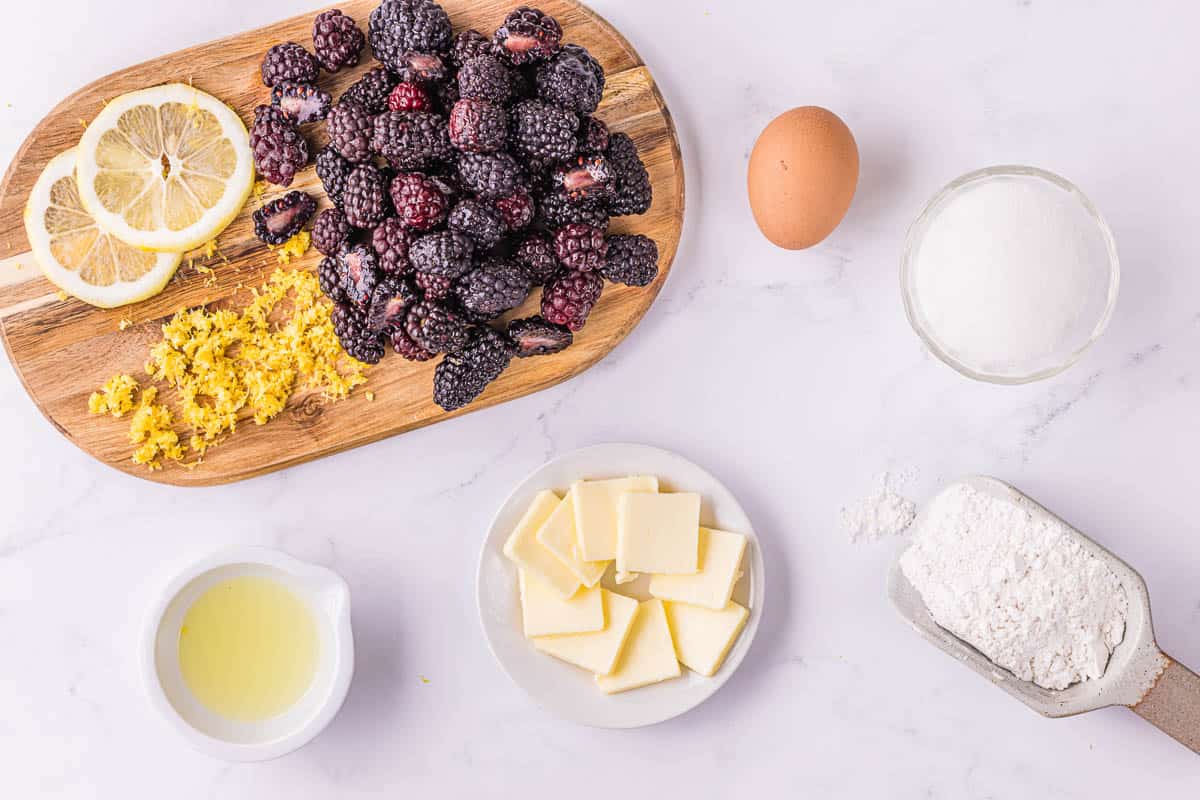 How to make Blackberry Cobbler
Start with the fruit: Combine the berries and lemon juice in a baking dish. Pro tip: always be sure to zest the lemon before you juice it!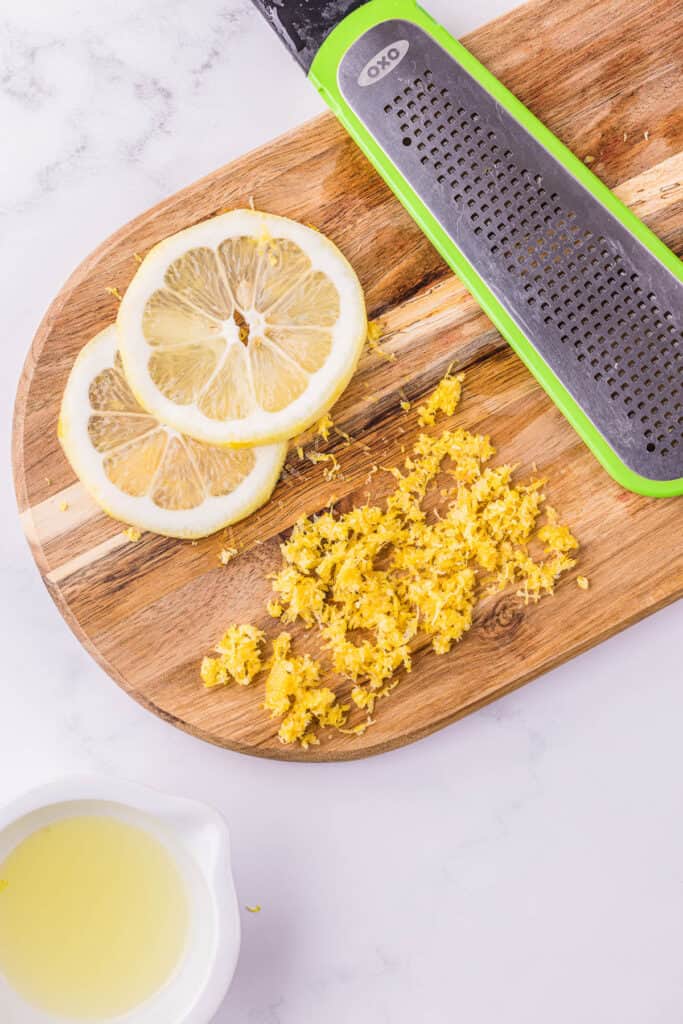 Mix the topping ingredients: In a small bowl, combine flour, sugar, egg, and lemon zest. The mixture will be crumbly. Sprinkle the mixture on top of the blackberries.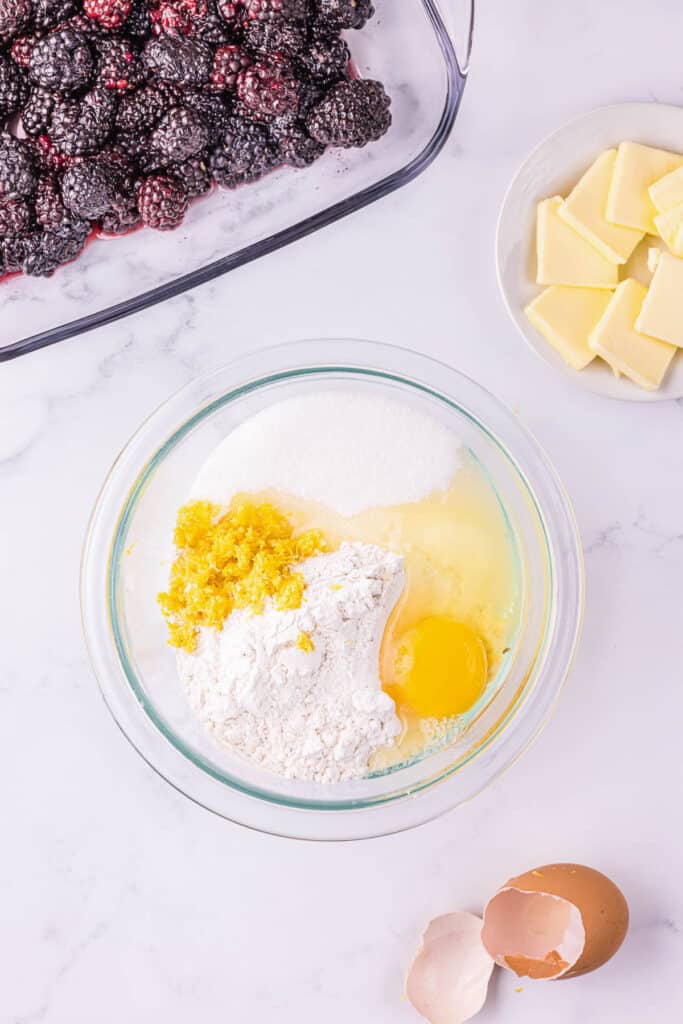 Top with butter: Slice the butter into thin slices and spread as evenly as possible on top of the cobbler mixture.
Bake: Place the prepared cobbler in a preheated oven and bake until golden brown.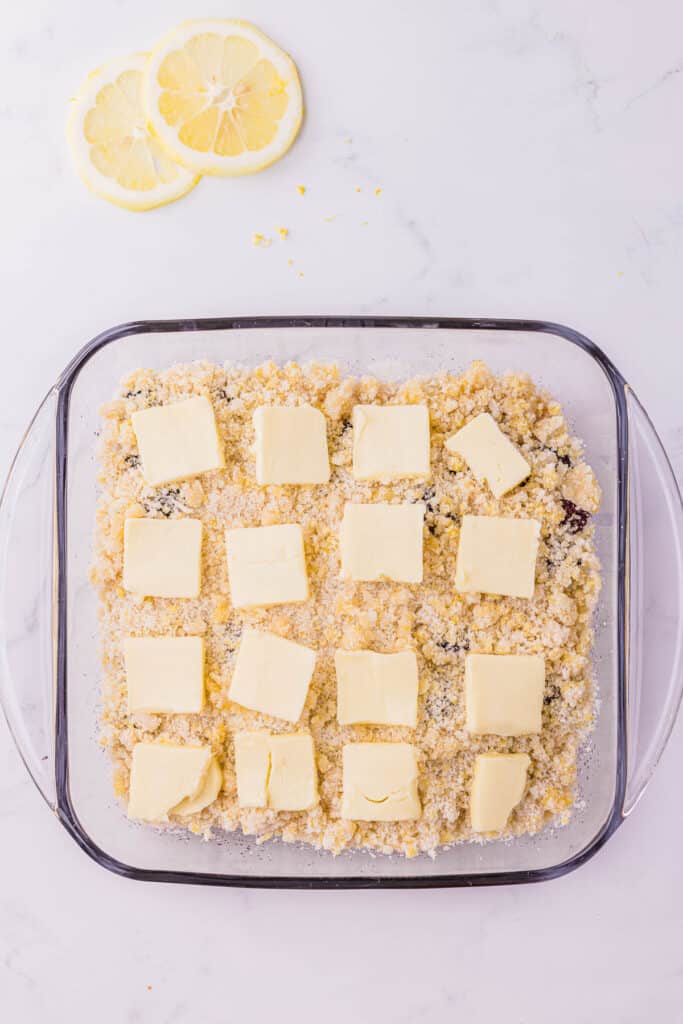 Ingredient Substitution Ideas
When it comes to homemade blackberry cobbler, it's important to note that the recipe is highly customizable.
Whether you have dietary restrictions or simply need to make ingredient substitutions based on what you have on hand, there are several options available to ensure you can still enjoy this delicious dessert.
Let's explore some ingredient additions and substitutions that you can consider when making your own blackberry cobbler.
Blackberries: If you don't have access to fresh blackberries, you can use frozen berries instead. Simply thaw them before using, and keep in mind that frozen berries may release more liquid during baking. This shouldn't increase the amount of cooking time needed, but a bowl may be better for serving than a plate.
Flour: For those who follow a gluten-free diet, you can use a gluten-free flour blend as a substitute for regular all-purpose flour. There are many commercially available gluten-free flour blends that can work well in this recipe. Just make sure to check the package instructions for the appropriate measurement ratio. I have also used equal portions of almond flour and a gluten-free flour blend when I made my cherry cobbler and it tasted fantastic.
Sugar: To reduce the amount of refined sugar, you can use alternative sweeteners such as coconut sugar or maple syrup. Keep in mind that the sweetness level may vary, so adjust the amount accordingly to suit your taste preferences.
Butter: For a dairy-free or vegan option, you can substitute the butter with a non-dairy alternative, such as margarine or coconut oil. Ensure that the substitute is in a solid state (similar to cold butter) for proper incorporation into the cobbler topping.
Egg: To make the cobbler topping vegan-friendly, you can replace the egg with a suitable egg substitute like applesauce, mashed banana, or a commercial egg replacer. These alternatives will help bind the ingredients together and provide moisture, resulting in a similar texture to the original recipe.
Lemon Juice and Lemon Zest: If you don't have fresh lemons on hand, you can use bottled lemon juice instead. Just be mindful of the concentration and adjust the amount accordingly to achieve the desired level of tanginess. Alternatively, you can omit the lemon juice and zest altogether if you prefer a more straightforward blackberry flavor.
These are just a few suggestions for ingredient additions and substitutions in a homemade blackberry cobbler recipe. Feel free to get creative and experiment based on your dietary needs and ingredient availability.
The beauty of cooking is that you can tailor recipes to suit your preferences while still enjoying a delicious dessert.
So go ahead and adapt this blackberry cobbler to make it your own, and savor the flavors of this delightful summer treat.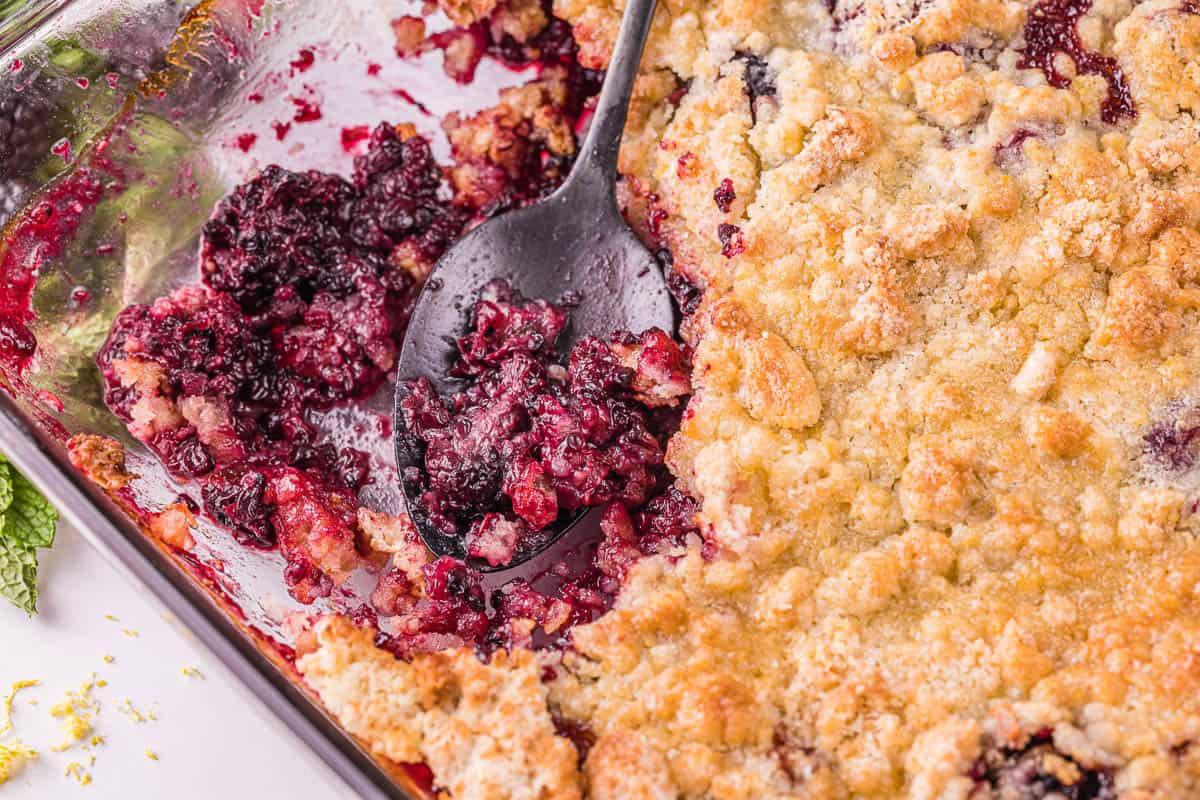 Variations
​I've used this simple recipe to make all different kinds of dessert cobbler recipes. If you really like this easy blackberry cobbler recipe, you should try these recipes:
​Cobbler History
The exact origin of cobbler as a dessert is unclear, but it is believed to have originated in the United States during the early colonial period.
The name "cobbler" is thought to have derived from the British term "cobblestone," referring to the uneven appearance of the biscuit-like topping resembling a cobblestone street.
Cobbler became a popular dessert in America, especially in the southern states, where it was traditionally made with seasonal fruits like berries or peaches.
Over time, cobbler desserts have evolved into various regional variations and have become a beloved classic dessert in American cuisine.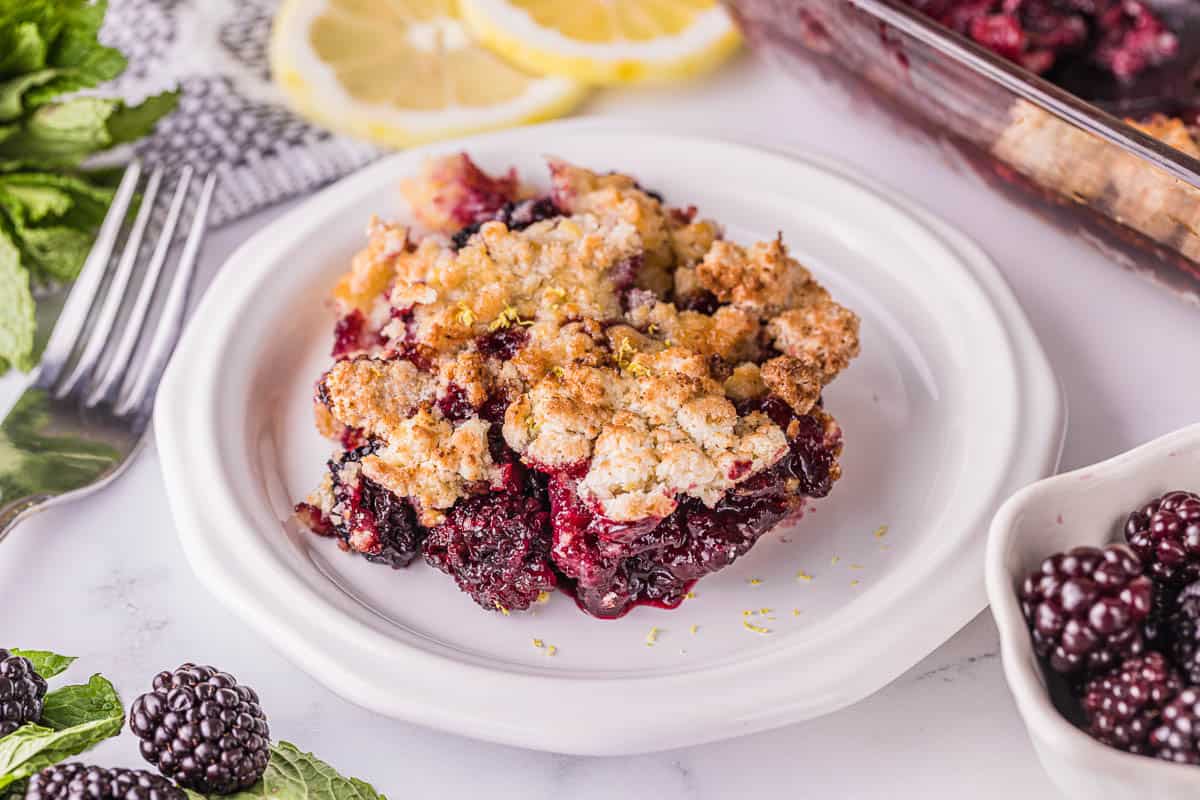 FAQs
Can I use frozen blackberries for homemade blackberry cobbler?
Yes, you can use frozen blackberries. Thaw them before using to avoid having to increase the cooking time. Frozen berries will often release more juice when baking.
Can I use a different type of fruit for this cobbler recipe?
Yes, you can try using other fruits like blueberries or peaches for variation.
How do I store leftover blackberry cobbler?
Store leftover cobbler in an airtight container in the refrigerator for up to 3-4 days.
Can I freeze blackberry cobbler?
Yes, you can freeze it. Wrap it tightly with aluminum foil, plastic wrap, or place it in an airtight container before freezing.
Can I reheat blackberry cobbler?
Yes, you can reheat it in the oven at a low temperature or in the microwave for a short time.
What can I serve with blackberry cobbler?
Blackberry cobbler pairs well with vanilla ice cream, whipped cream, or a drizzle of heavy cream.
Can I make blackberry cobbler ahead of time?
Yes, you can prepare the cobbler ahead of time and bake it when ready to serve for convenience.
Homemade blackberry cobbler is a timeless and comforting dessert that captures the essence of summer fruit. Its simple ingredients and easy preparation make it a go-to recipe for those seeking delicious and easy desserts.
With its golden biscuit-like topping, juicy blackberry filling, and a bit of tang from the lemon zest, this homemade blackberry cobbler is a crowd-pleasing treat that can be enjoyed on any occasion.
So go ahead, grab your apron, and let the aroma of this delightful dessert fill your kitchen.
If you've made this or any other recipe on my site, let me know in the comment section how it turned out. I love hearing from my readers!
You can also follow along on PINTEREST, FACEBOOK and INSTAGRAM to see more amazing recipes to satisfy any foodie craving!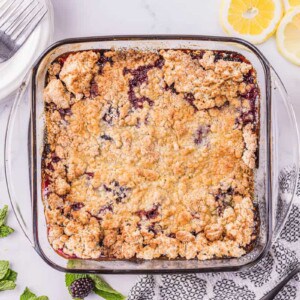 Indulge in the ultimate summer dessert, Easy Blackberry Cobbler. Its bursting with juicy berries and a sweet golden biscuit topping.
Ingredients
Instructions
Add berries to a 9×9 baking dish. Zest the lemon and set the zest aside. Squeeze about a tablespoon of lemon juice over the blackberries.

In a small bowl, combine flour, sugar, egg, and lemon zest. The mixture will be crumbly. Cover the berries with the mixture.

Slice butter into thin slices and spread as evenly as possible on top of cobbler mixture.

Bake in preheated oven for 45-50 minutes until golden brown.
Nutrition
Calories:
357
kcal
,
Carbohydrates:
59
g
,
Protein:
5
g
,
Fat:
13
g
,
Saturated Fat:
7
g
,
Polyunsaturated Fat:
1
g
,
Monounsaturated Fat:
3
g
,
Trans Fat:
0.5
g
,
Cholesterol:
57
mg
,
Sodium:
102
mg
,
Potassium:
195
mg
,
Fiber:
6
g
,
Sugar:
38
g
,
Vitamin A:
595
IU
,
Vitamin C:
21
mg
,
Calcium:
39
mg
,
Iron:
2
mg
Nutrition information is automatically calculated, so should only be used as an approximation.