This Strawberry Basil Vinaigrette made with fresh strawberries and basil is a fresh, easy, and healthy dressing to top your summer green salads.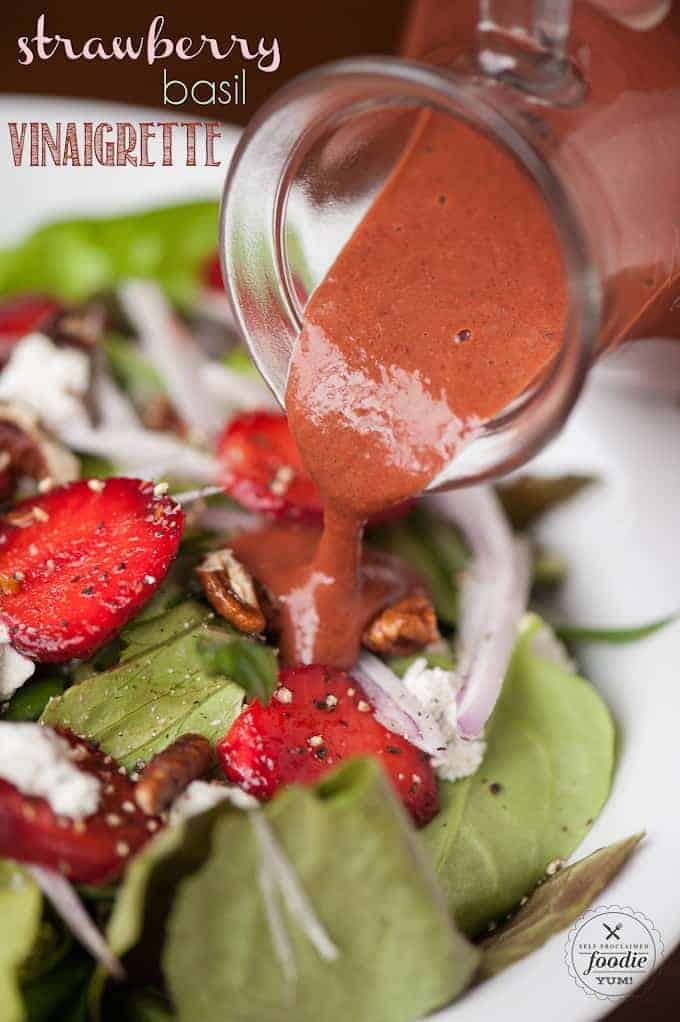 I was so proud of my daughter. When I served up this salad for dinner, she asked, "does this have mozzarella in it?"  I love that she equated the flavors of balsamic and olive oil with the fresh basil and the acid from the strawberries with caprese salad. Smart girl! She made me proud!!!
Wanna hear a funny story? I hate shooting my recipes with a tripod. I prefer to toggle my focus points and use a fairly wide aperture, which means that I really need to be looking at what I'm photographing rather than shooting with a tripod and timer/remote. I also shoot with a very heavy camera and a macro lens, which means that not only is it very awkward to shoot using only one hand to hold the camera, but I have to get pretty far away from what I'm shooting just to get it in the frame. All of these reasons are why I'm especially proud of the the first photo in this post. Somehow I was able to hold the camera and stretch my arm out as far out as possible to pour the dressing and get the shot with the dressing in focus while it was composed properly. Nailed it! Know what else I nailed? (loaded question)  Get your mind out of the gutter. I nailed the salad dressing. It was DELICIOUS!!!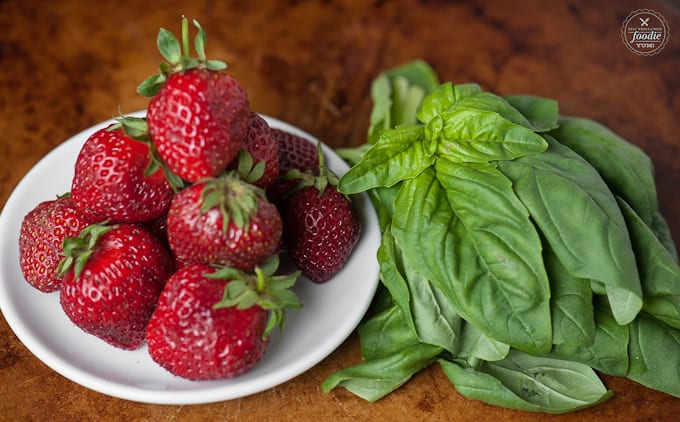 I could probably eat strawberries and basil every single day of my life. I love both equally, and now that I know what they taste like together, I love them even more. Salad dressings are one of those things that are so easy to make, yet most of us continue to buy them pre-made from the grocery store either because we're lazy or we just don't know what to make. I'll have you covered this summer. In my opinion, you're doing your salad a serious disservice by not making a homemade dressing. Why bother chopping up so many fresh ingredients only to coat them with a store bought dressing full of stabilizers and other random things you would never put in a fresh dressing?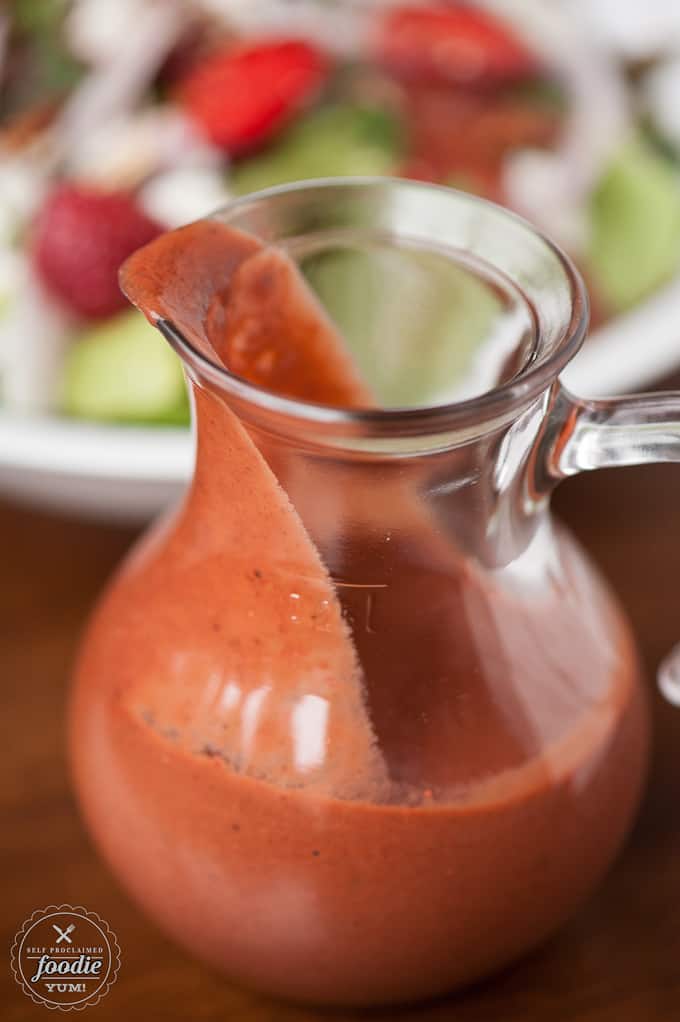 Don't believe me? Take a look at the dressing bottle that has been sitting in the door of your refrigerator for the past six months. Yep, making a fresh dressing in a quantity that will last you one or two meals is the perfect way to go. Some of my other favorites include my citrus cumin vinaigrette, creamy blue cheese (or is it bleu cheese?) and my lemon herb vinaigrette. I'll be making plenty more this summer as I try my best to balance out the salads with all of the naught cakes and cookies I make, so stay tuned!
This dressing was seriously so tangy and delicious. I loved the flavors and the ingredients blended so well that even after a week of sitting in the refrigerator, I didn't even have to swirl it around. It was still perfectly mixed. If you're wondering what kind of green salad I through together, it had both spinach and red butter lettuce along with shallots, herbed goat cheese, candied pecans, and of course – fresh strawberries. YUM!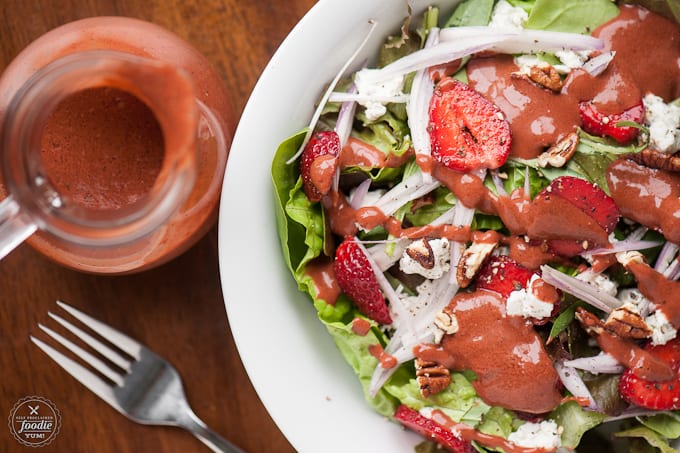 Strawberry Basil Vinaigrette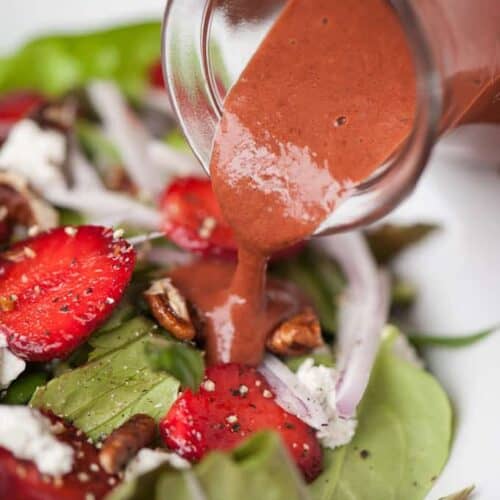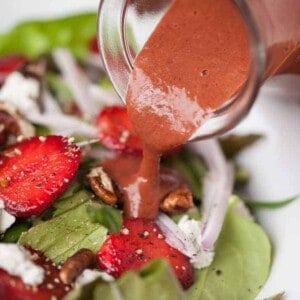 This Strawberry Basil Vinaigrette made with fresh strawberries and basil is a fresh, easy, and healthy dressing to top your summer green salads.
Ingredients
1

cup

strawberries

stems removed

1

large handful

fresh basil

1

tablespoon

balsamic vinegar

1

tablespoon

fresh lemon juice

1

tablespoon

high quality olive oil

1/4

teaspoon

salt
Instructions
Add all ingredients to blender and process until smooth. Pour over green salad.

Dressing makes enough for four large salads.
Notes
makes about 1 cup of salad dressing
Nutrition
Calories:
47
kcal
,
Carbohydrates:
4
g
,
Protein:
1
g
,
Fat:
4
g
,
Saturated Fat:
1
g
,
Sodium:
147
mg
,
Potassium:
55
mg
,
Fiber:
1
g
,
Sugar:
2
g
,
Vitamin A:
26
IU
,
Vitamin C:
23
mg
,
Calcium:
6
mg
,
Iron:
1
mg
Nutrition information is automatically calculated, so should only be used as an approximation.