Southwestern Quinoa Stuffed Peppers are a flavorful and fantastic choice if you're searching for healthy vegetarian stuffed peppers without rice.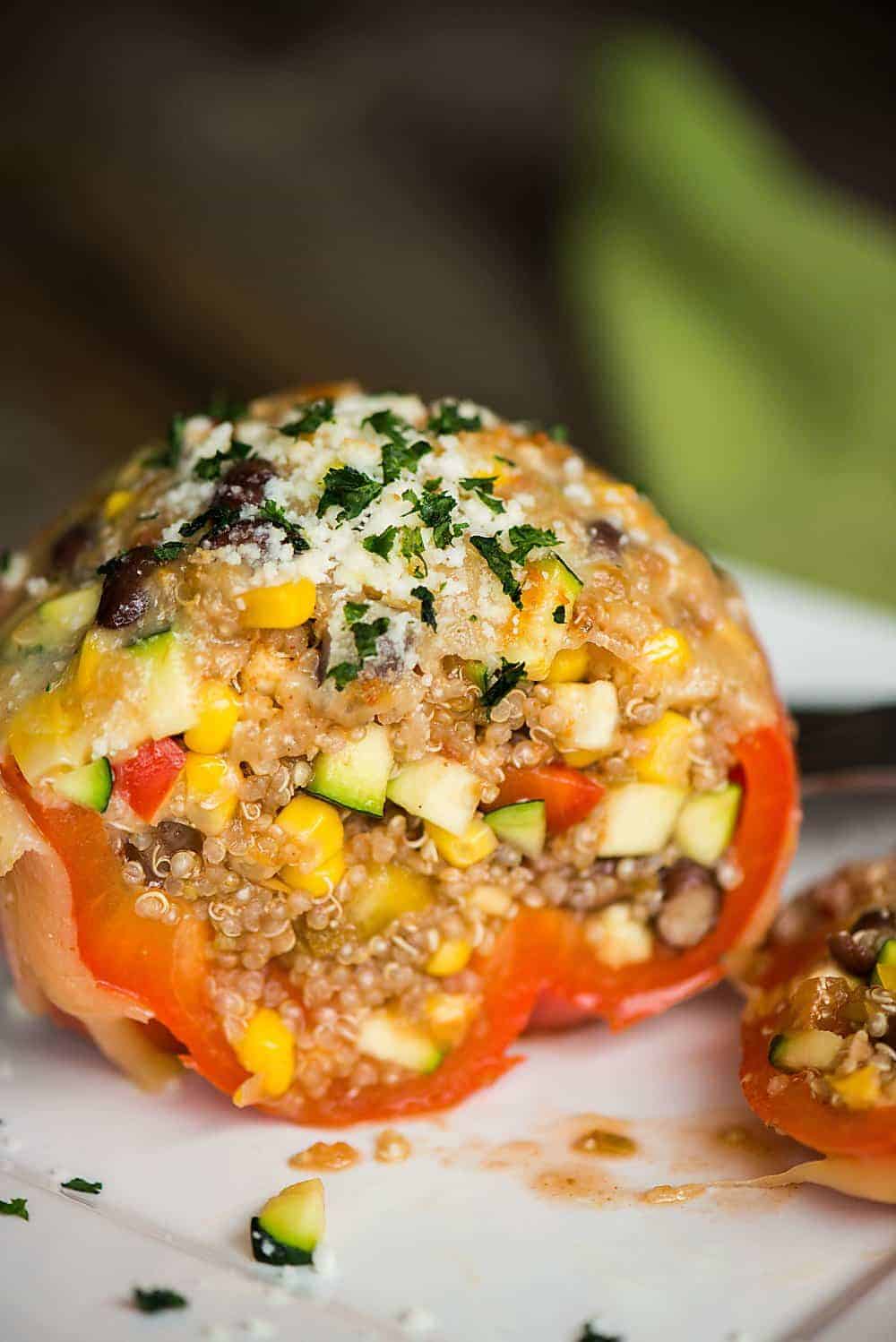 Southwestern Quinoa Stuffed Peppers were a surprisingly easy and satisfying meal. I never been the kind of person to make stuffed peppers, let along quinoa stuffed peppers. In fact, I can only think of one other recipe I've made using quinoa. Note to self: make more quinoa recipes! A couple weeks ago I made some Classic Stuffed Peppers, but I wanted to try another healthy stuffed pepper recipe, but this time I wanted to make stuffed peppers without rice. Turns out quinoa is a great alternative!
I knew these quinoa stuffed peppers needed to be packed full of flavor, but I still wanted to be able to call them healthy stuffed peppers. That's why I went with Southwestern flavors. Nothing like some black beans, corn, cheese and salsa to make anything taste good!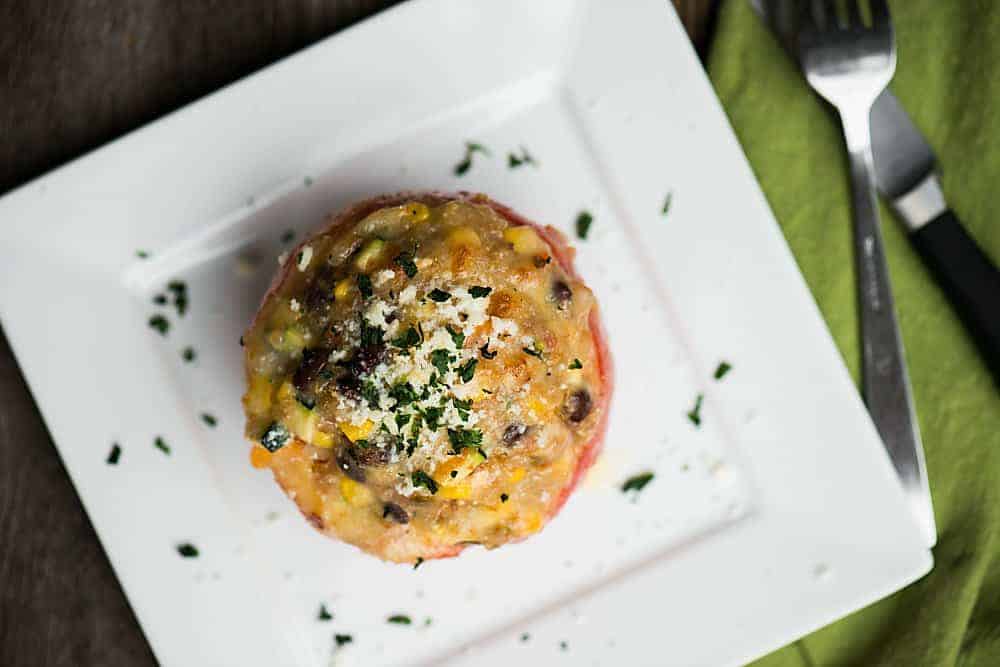 I chose to make the quinoa using chicken broth, but these can easily be made into vegetarian stuffed peppers by cooking the quinoa in either water or vegetable broth. You can even go a step further and make them vegan stuffed peppers by either omitting the cheese or using a vegan replacement. Either way, you're looking at a healthy choice. I specifically wanted to make quinoa stuffed peppers as opposed to stuffed peppers without rice because of the added health benefits quinoa brings to the table.
Why quinoa stuffed peppers are a great choice:
Did you think quinoa was a grain? I did. Quinoa is actually a seed, but can be prepared like whole grains such as rice or barley. This makes quinoa a great choice for people on a grain free diet.  Quinoa is a gluten free paleo-friendly complete protein.  It's somewhat rare for a plant food to have the complete profile of all 20 amino acids, including the 10 essential acids our body doesn't produce on its own, which quinoa has. Using quinoa makes extra healthy stuffed peppers. The more you know…
The taste and texture of quinoa is a bit like brown rice crossed with oatmeal. It's fluffy, creamy, crunchy and somewhat nutty, all rolled into one. It's versatile and can be prepared several ways. Quinoa stuffed peppers can really take on any flavor depending on the ingredients you choose to pair with the quinoa.
It's easy to enjoy vegetarian stuffed peppers when using quinoa. So many stuffed pepper recipes call for using ground beef. By using quinoa, you not only add the protein and complex carbs to help keep you full longer, but it's a fantastic choice for vegetarians, especially those who prefer to make stuffed peppers without rice.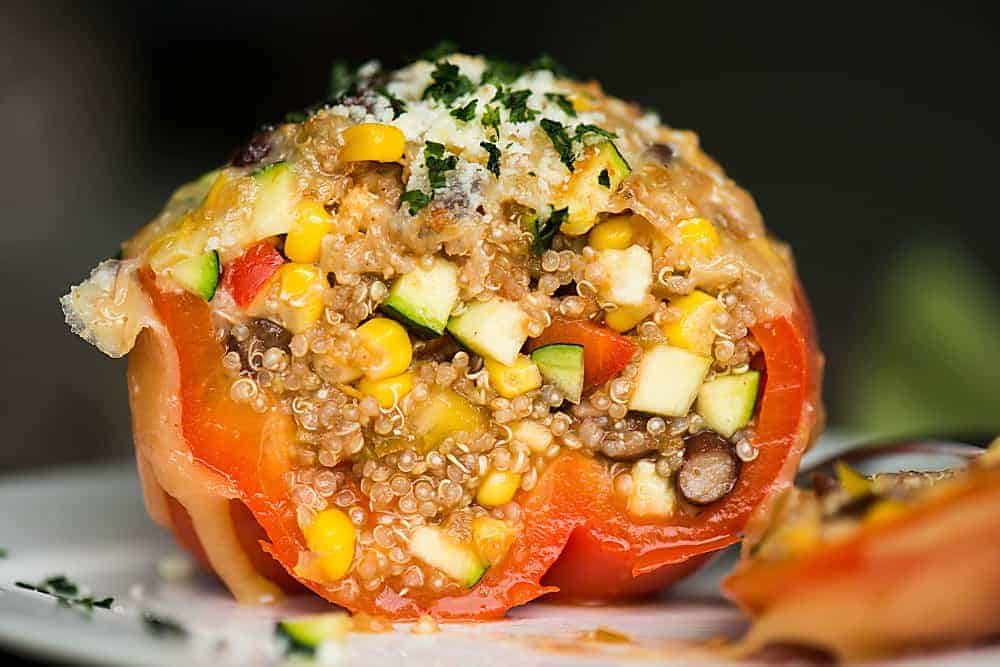 Kitchen tools used to make these Quinoa Stuffed Peppers:
Cutting Board: These are my go-to cutting boards. They are super easy to clean, never hold a smell (onion transferred to apple is gross), and because they are so thin, they are really easy to store.
Knives: There is nothing more frustrating than having to use a poor quality knife. I've been using this set for years. I found it to be affordable yet incredibly durable and versatile. Whether you're filleting a salmon or slicing a super ripe tomato, these are great knives for the everyday chef.
Nesting bowls: Every good recipe requires a good set of nesting bowls. I just ordered this set and love them! Light weight, great price, sturdy – perfect!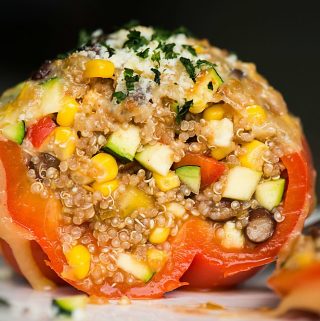 Ingredients
6

whole bell peppers

any color

1

cup

quinoa

2

cups

chicken broth

1

15 ounce can black beans, drained

1

15 ounce can corn, drained

1

zucchini

diced

1

cup

salsa

salt and pepper to taste

8

ounces

pepper jack cheese

grated

cojita and cilantro

for garnish
Instructions
To prepare the peppers, slice the tops off and remove any veins or seeds inside. Do not discard tops as you will use any remaining pepper attached to the stem.

Add peppers to a casserole dish, fill with about 1/2 inch of water, cover with aluminum foil, and bake in a 425o F oven for 20 minutes in order to steam, or parbake, the peppers.

While the peppers are steaming, cook the quinoa in the chicken broth over high heat until fluffy, about 10 minutes. Remove from heat and stir in black beans, corn, zucchini, salsa, and salt and pepper.

Once peppers are done, remove from oven, discard water, and return peppers to casserole dish. Fill each pepper cavity with the quinoa filling until all of the peppers have been evenly filled. Top with pepper jack cheese and cojita, if using. If making ahead, store in airtight container in the refrigerator until ready to heat and serve.

Return peppers to oven and cook until heated through and cheese has melted. This should only take a few minutes.
Notes
To make these quinoa stuffed peppers vegetarian, replace chicken broth with water or vegetable broth. To make them vegan, do the same and either omit the cheese or use a vegan cheese. Canned corn can be replaced with fresh corn, if in season.