Classic Stuffed Peppers stuffed with rice, ground beef, tomatoes, and zucchini are a complete meal that can be made ahead.
They are one of those easy, feel good, dinners. They have everything you would want in a meal - meat, a starch, veggies, and cheese!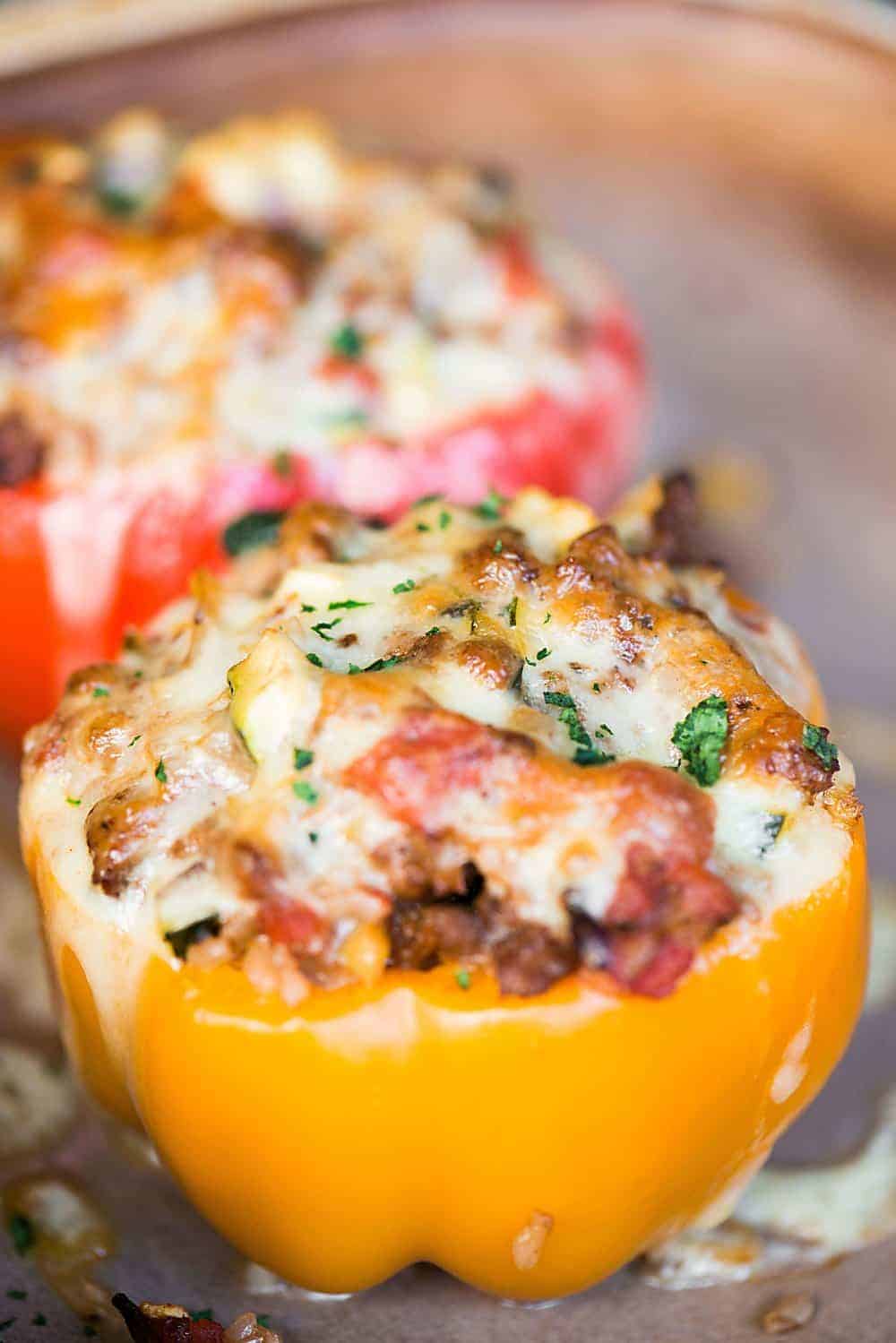 Why this recipe works:
Classic Stuffed Peppers with ground beef, rice, zucchini, tomatoes, and cheese are one of the most satisfying meals I have ever made!
I thought these easy stuffed peppers with rice were delicious and filling. I don't think I've ever even eaten stuffed peppers with ground beef, and here I was hoarding the leftovers for myself, hiding them from the husband.
Ingredients in this recipe:
Whole bell peppers - you will only discard the stem and seeds and will use everything else
Ground beef - I always recommend grass fed if available
Yellow Onion - one ingredient you should never run out of!
Garlic - pro-tip: buy the big bag of peeled garlic, roast a bunch, and keep it in your refrigerator
Zucchini - the little ones are best
Rice - I always use par-cooked (heat and serve) rice in recipes like this
Canned tomatoes - you can use fresh if they're in season
Pepper Jack Cheese - it melts oh-so-nice and adds a spicy kick
Salt - always add salt
What's the best kind of pepper for stuffed peppers?
You can use any kind of bell peppers when you make stuffed peppers.
I'm partial to the red, orange, and yellow ones and conveniently, I found a six pack at Costco. Finally - a new recipe I can weave into my weekly dinner rotation!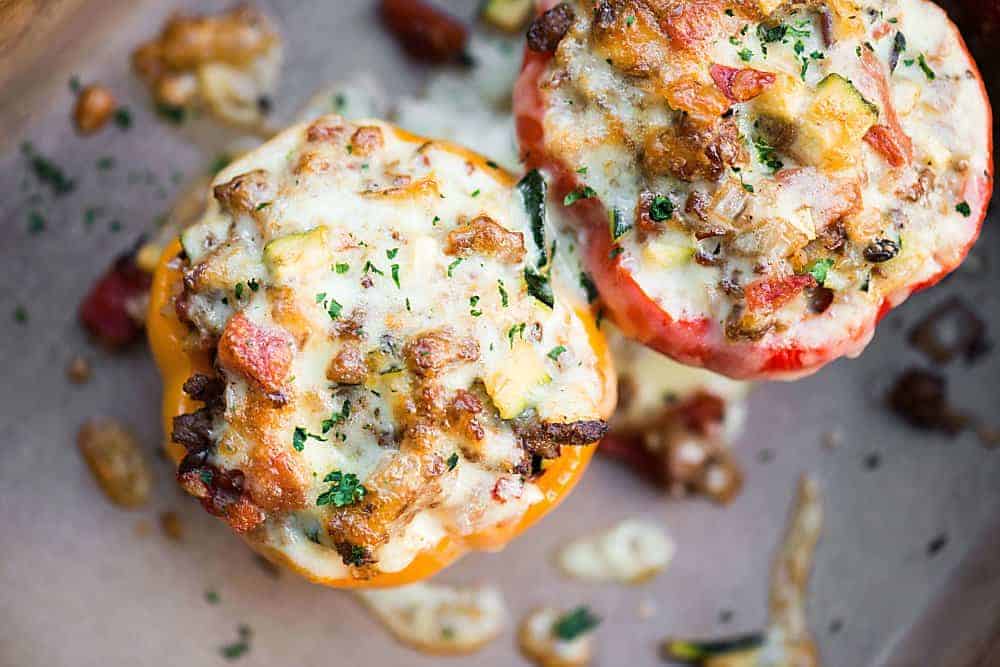 Do you cook bell peppers before stuffing them?
Yes.
Since the filling is often already cooked when you stuff them into the pepper cavity, it is important to par bake the peppers so that they are evenly cooked with their stuffed ingredients.
You can:
Steam or par cook the peppers by roasting in the oven with water and foil like I do for this stuffed bell pepper recipe, or
You can blanch the peppers in boiling water and then transfer them to an ice bath, or
You can even steam them in the microwave in a covered dish with a bit of water.
How to make stuffed peppers:
Stuffed bell peppers can be made with any kind of filling. People often choose cooked meat, beans, rice, vegetables, leftovers, or any combination of those ingredients.
To cut the tops off of the bell peppers, make one slice that allows the pepper to be the largest bowl or vessel possible. Don't throw away any pepper that is attached to the stem! Dice it up and add it to your stuffed pepper filling.
If making stuffed peppers with ground beef, or any kind of meat, ensure the meat is fully cooked before adding to the pepper. This ensures that you will only need to warm them up prior to eating.
If making stuffed peppers with rice, the best trick I know is to buy frozen pre-cooked rice that only needs to be heated prior to eating. Trader Joe's carries this and you'll never find my freezer without a pack of brown rice, jasmine white rice, or their rice medley.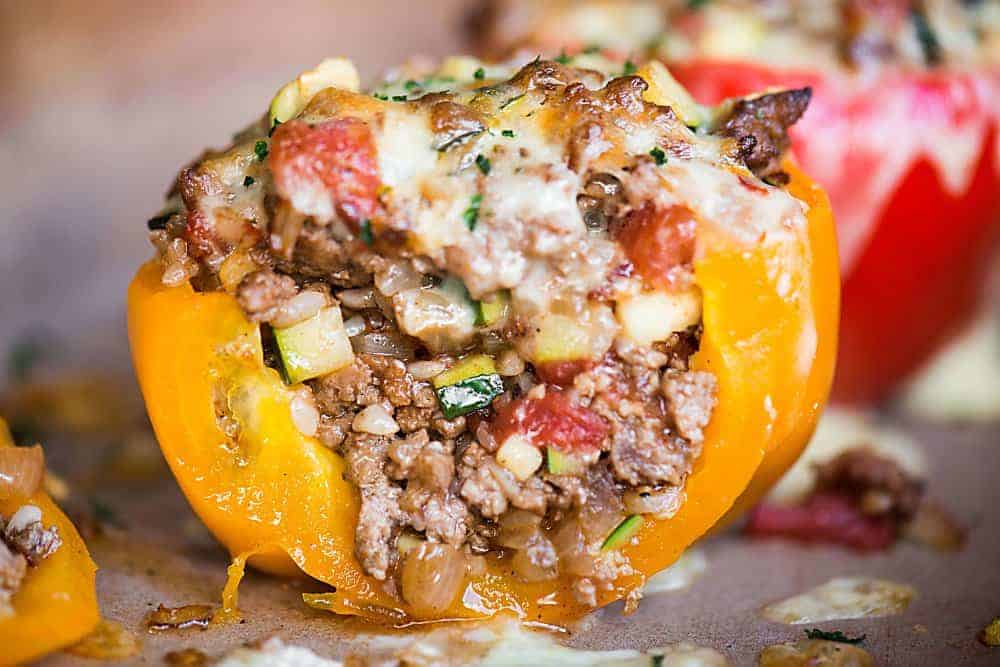 How long do you bake them?
If you par bake your bell peppers ahead of time, and cook the filling, the assembled stuffed bell pepper recipe should only take a few minutes in the oven. Essentially, since everything is already hot, all you are doing is giving it a final push in the oven at the end to melt the cheese.
If you're a planner and like to make things ahead of time, you can par bake the peppers, make the filling, stuff the peppers, and then keep them in the refrigerator until you are ready to cook them.
If this is what you do, you'll want them to come to room temperature before you heat them in the oven. If you don't, the outside will get very hot and the inside will still be cold. By allowing them to come to room temperature first, your stuffed peppers have a better chance of heating all the way through, evenly.
The amount of time this process will take will be completely depended on how close to room temperature you allow them to get, but I would guess 20 minutes would be a sufficient amount of time.
Kitchen tools used:
Cutting Board: These are my go-to cutting boards. They are super easy to clean, never hold a smell (onion transferred to apple is gross), and because they are so thin, they are really easy to store.
Knives: There is nothing more frustrating than having to use a poor quality knife. I've been using this set for years. I found it to be affordable yet incredibly durable and versatile. Whether you're filleting a salmon or slicing a super ripe tomato, these are great knives for the everyday chef.
Fry pan: I've been using Staub cookware for years. It gives your food a great crispy outside and distributes the heat evenly.
Love stuffed bell pepper recipes?
Well, then you must try these favorites:
Step-by-step recipe video below: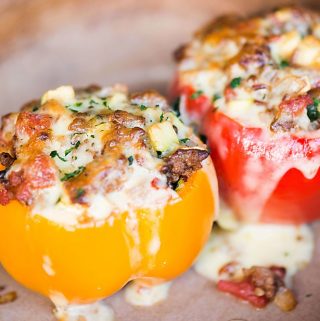 Classic Stuffed Peppers Recipe
Classic Stuffed Peppers with rice, ground beef, tomatoes, and zucchini are a complete dinner recipe that can be made ahead.

Print
Pin
Rate
RECIPE VIDEO WILL AUTOPLAY
Ingredients
6

whole bell peppers

(any color)

1

pound

ground beef

1

yellow onion

(diced)

2

cloves

garlic

(minced)

1

zucchini

(diced)

2

cups

rice

(par cooked)

1

15 ounce can diced tomato, drained

1/4

teaspoon

salt

(more or less to taste)

8

ounces

pepper jack cheese

(grated)
Instructions
To prepare the peppers, slice the tops off and remove any veins or seeds inside. Do not discard tops as you will use any remaining pepper attached to the stem.

Add peppers to a casserole dish, fill with about 1/2 inch of water, cover with aluminum foil, and bake in a 425o F oven for 20 minutes in order to steam, or parbake, the peppers.

While the peppers are steaming, cook the ground beef, onion, garlic, and any remaining pepper from the stem piece (diced) in a large saute pan over medium high heat until the meat is crumbly, about 10-15 minutes. Add the diced zucchini and allow to cook for 1-2 minutes. Remove from heat and add the par cooked rice (frozen microwavable rice works best) and tomatoes. Add salt to taste.

Once peppers are done, remove from oven, discard water, and return peppers to casserole dish. Fill each pepper cavity with the ground beef and rice filling until all of the peppers have been evenly filled. Top with pepper jack cheese. If making ahead, store in airtight container in the refrigerator until ready to heat and serve.

Return peppers to oven and cook until heated through and cheese has melted. This should only take a few minutes.
NUTRITION INFORMATION
Calories:
621
kcal
|
Carbohydrates:
62
g
|
Protein:
29
g
|
Fat:
27
g
|
Saturated Fat:
13
g
|
Cholesterol:
87
mg
|
Sodium:
368
mg
|
Potassium:
802
mg
|
Fiber:
4
g
|
Sugar:
8
g
|
Vitamin A:
4165
IU
|
Vitamin C:
166.1
mg
|
Calcium:
354
mg
|
Iron:
3.6
mg
This post was originally created in October 2017 and has been updated with more fun facts and tidbits for your reading pleasure.