Philly Cheesesteak Stuffed Peppers basically combine all of your favorite Philly Cheesesteak flavors in one easy to make low carb meal.
Ground beef, onions, mushrooms, peppers, and a melted cheese sauce come together with Philly Cheesesteak taste without the bread!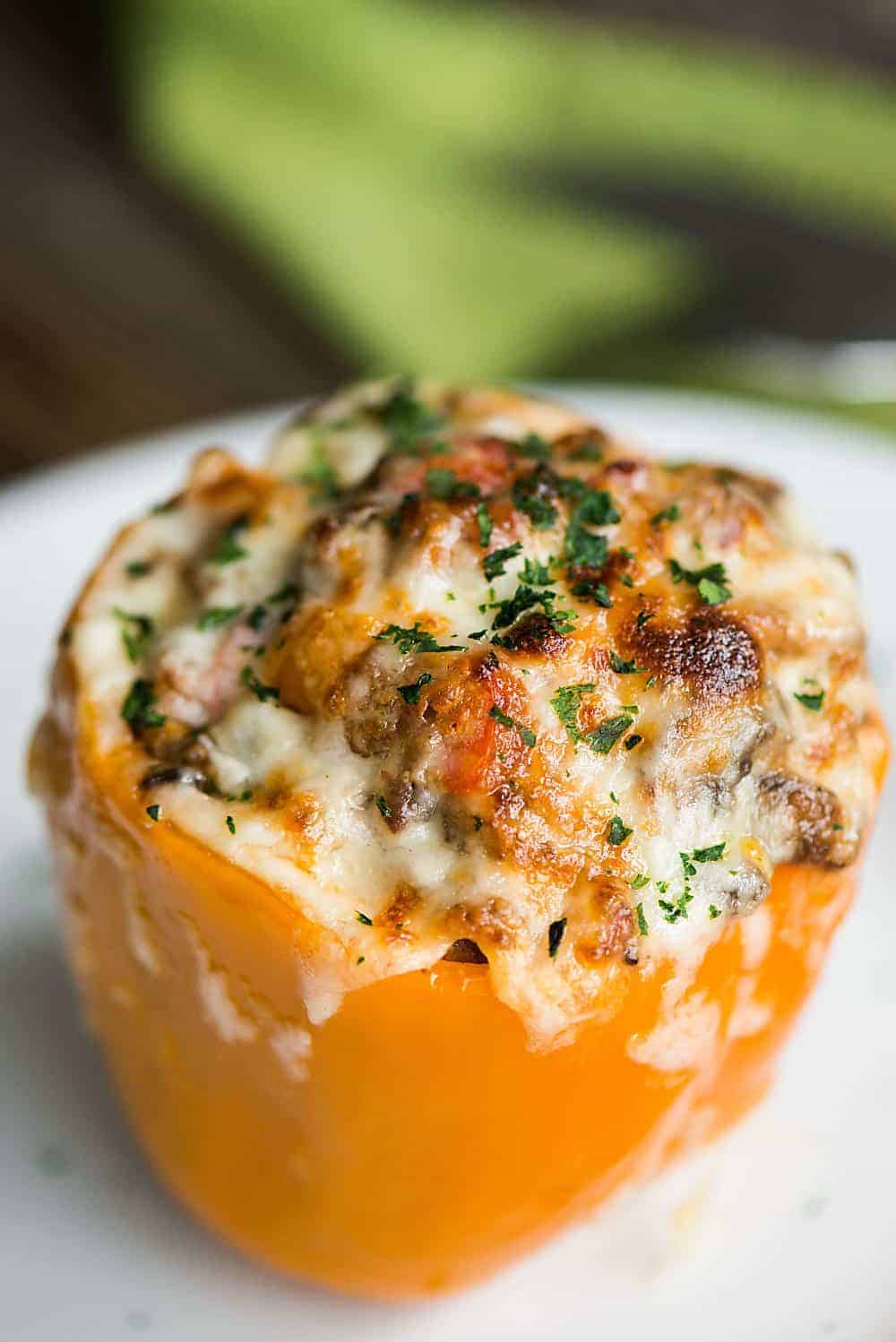 Why this recipe works:
Philly Cheesesteak Stuffed Peppers are a complete meal packaged into a delicious and healthy edible cup.
Think about eating something like a Philly Cheesesteak Slider. Now just remove the bread and this recipe delivers the same great flavor!
I'm not on a keto friendly diet, but if I were, I'm pretty confident this would be my favorite thing to eat. If high protein and low carb are what you're looking for, then you should also make shrimp zucchini boats and Parmesan Roasted Cauliflower Rice!
Ingredients used to make these stuffed peppers:
If you're a fan of Philly Cheesesteak flavors, these stuffed peppers have it all
ground beef,
peppers,
onions,
mushrooms,
and a creamy provolone and parmesan topping.
Like I said, I'm typically don't monitor what I eat too much. I think portion control is my friend, however I still struggle with that one. But if you're looking for a low carb option that is easy to make and will fill your belly, these Philly Cheesesteak Stuffed Peppers might be your best option.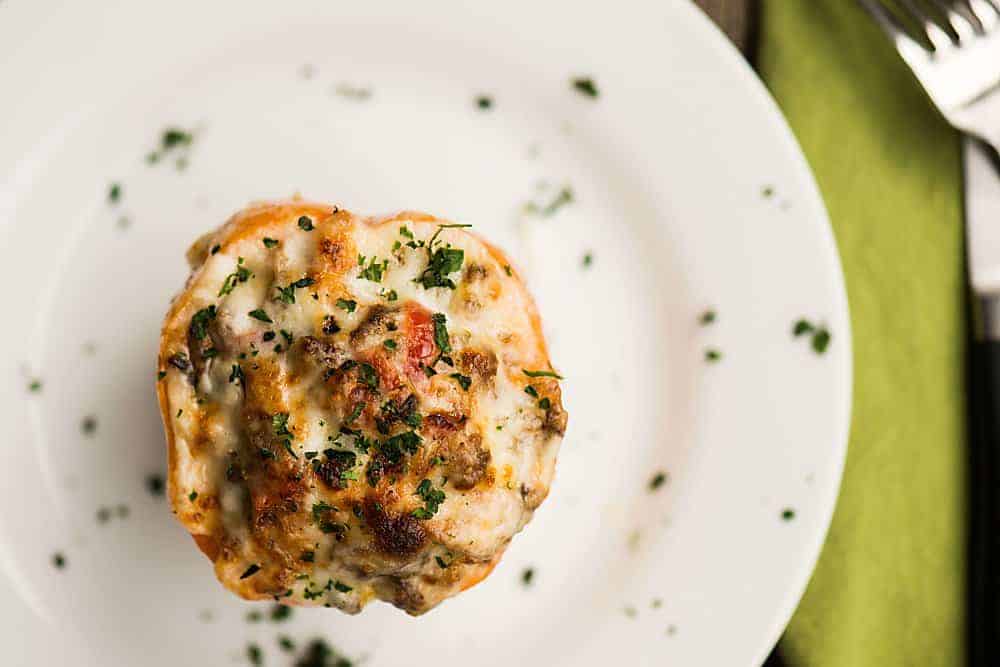 How these stuffed peppers are different:
I've made a couple different variations of stuffed peppers. Alas, I can't really tell you which is my favorite because they are all really good, but for different reasons.
If you're looking for a great recipe for classic stuffed peppers, I think you'll like mine. My recipe has the basics of ground beef, rice, and tomatoes, but you'll find they're incredibly flavorful.
If you're looking for a healthier vegetarian option, my Southwestern quinoa stuffed peppers are also super easy to make and surprisingly very delicious.
But who doesn't love the flavors of Philly Cheesesteak? Perfectly seasoned meat sizzling with those mushrooms, peppers, and onions, smothered in cheese. Oh yes. Gimme some.
How to make them:
First you'll need to prepare the peppers. You do this by cutting the top of the pepper off. Don't worry about getting too close to the stem because any pepper that is attached to the stem piece will be cut up and added to your dish. No wasting here. Your cut should be made with the purpose of creating a bowl for that amazing Philly Cheesesteak filling. Just be sure to remove the seeds.
You'll want to par bake the peppers. The reason for doing this is because the filling will be cooked separately, and you don't want to spoon the filling into a raw pepper unless you prefer them to be extra crunchy. You can par cook the peppers in a number of ways including roasting in the oven with water and foil like I do for this philly cheesesteak stuffed pepper recipe, blanching the peppers in boiling water and then transferring them to an ice bath, or steaming them in the microwave in a covered dish with a bit of water.
For my version of Philly Cheesesteak stuffed peppers, I prefer to make a rich, melty cheese sauce. You could skip this step and just use sliced provolone, but I urge you to take the extra step. It's worth it.
Just before serving, all you need to do is stuff the par baked peppers with your cooked Philly cheesesteak filling and top with the cheese sauce. Since everything should be hot, all you need to do is broil the stuffed peppers to brown the tops. YUM!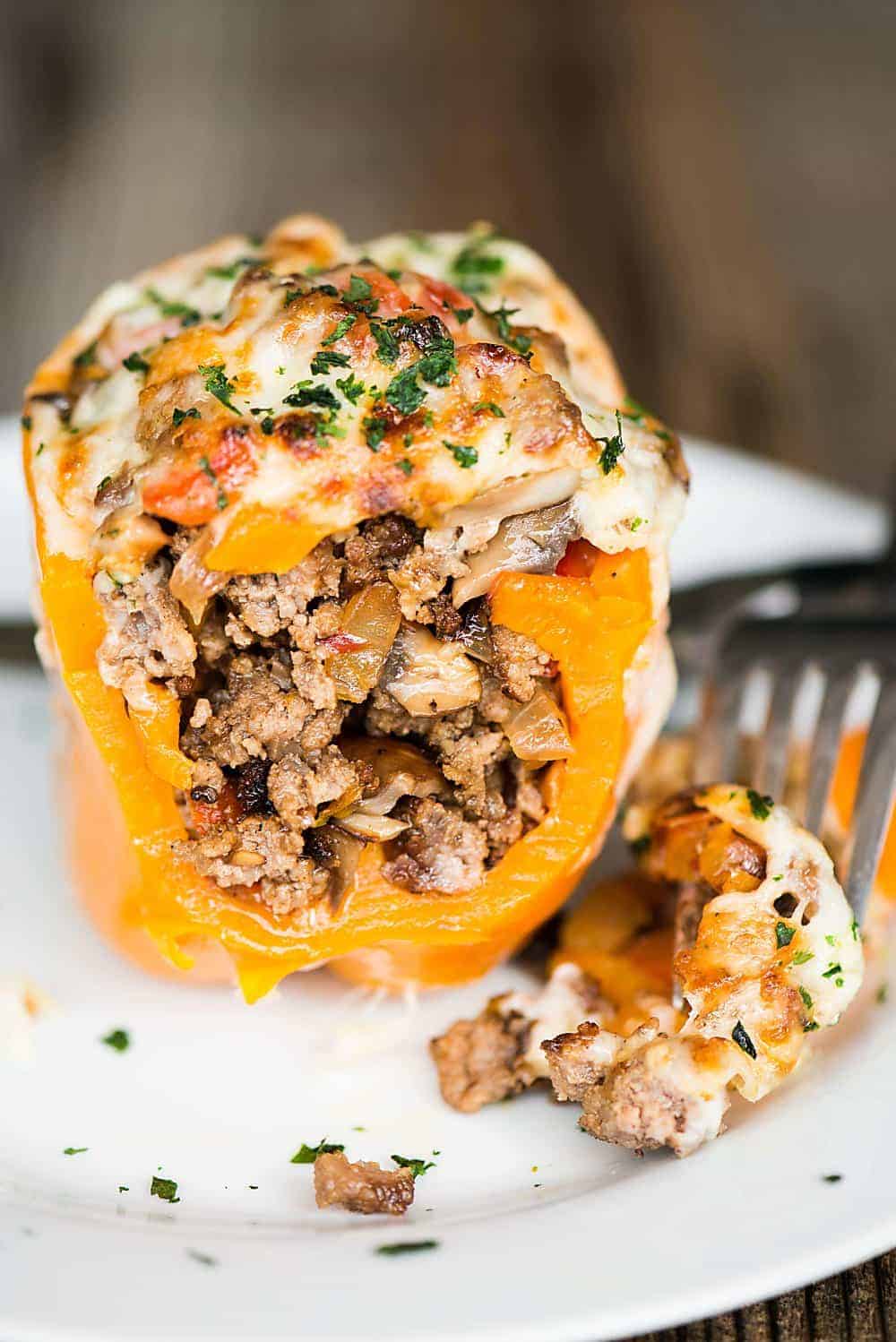 Love stuffed bell pepper recipes?
Well, then you must try these favorites:
Philly Cheesesteak Stuffed Peppers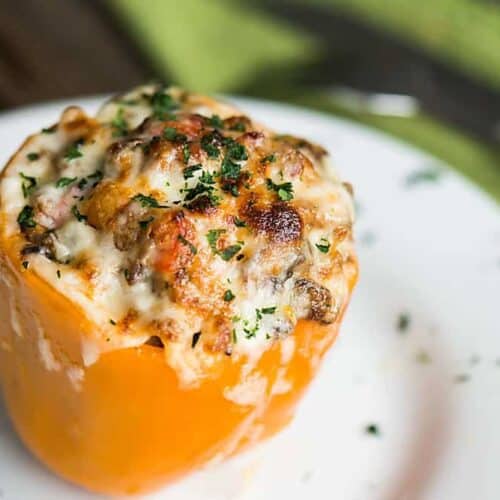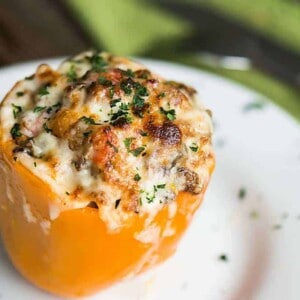 Philly Cheesesteak Stuffed Peppers basically combine all of your favorite Philly Cheesesteak flavors in one easy to make low carb meal.

Ingredients
4

whole bell peppers

any color

1

pound

ground beef

1

large yellow onion

diced

8

ounces

mushrooms

diced

1

tablespoon

butter

1

tablespoon

flour

2

cups

milk

8

ounces

provolone

shredded

1/4

cup

parmesan cheese

salt and pepper

to taste
Instructions
To prepare the peppers, slice the tops off and remove any veins or seeds inside. Do not discard tops as you will use any remaining pepper attached to the stem.

Add peppers to a casserole dish, fill with about 1/2 inch of water, cover with aluminum foil, and bake in a 425o F oven for 20 minutes in order to steam, or parbake, the peppers.

While the peppers are steaming, cook the ground beef, onion, mushrooms, and any remaining pepper from the stem piece (diced) in a large saute pan over medium high heat until the meat is crumbly, about 10-15 minutes. Remove from heat and set aside.

In a separate pot, melt the butter and flour together over medium heat while stirring frequently to make a roux. After a few minutes when it has turned golden brown and has a nice aroma, whisk in the milk and continue to heat until mixture is thoroughly mixed and heated through. Remove from heat and stir in provolone and parmesan until melted.

Once peppers are done, remove from oven, discard water, and return peppers to casserole dish. Fill each pepper cavity with the ground beef filling until all of the peppers have been evenly filled. Top with provolone cheese sauce. If making ahead, store in airtight container in the refrigerator until ready to heat and serve.

Return peppers to oven and broil on low until the cheese turns a bubbly golden brown. This should only take a few minutes.
Nutrition
Calories:
678
kcal
,
Carbohydrates:
20
g
,
Protein:
43
g
,
Fat:
46
g
,
Saturated Fat:
23
g
,
Cholesterol:
143
mg
,
Sodium:
758
mg
,
Potassium:
1017
mg
,
Fiber:
3
g
,
Sugar:
13
g
,
Vitamin A:
4560
IU
,
Vitamin C:
155.2
mg
,
Calcium:
676
mg
,
Iron:
3.5
mg
Nutrition information is automatically calculated, so should only be used as an approximation.
This post was originally created in November 2017 and has been updated for your reading pleasure!