These super soft and delicious homemade from scratch Pumpkin Spice Cinnamon Rolls are made with real pumpkin and have an added pumpkin seed crunch.
These tasty treats are basically the fall version of my favorite Homemade Cinnamon Rolls!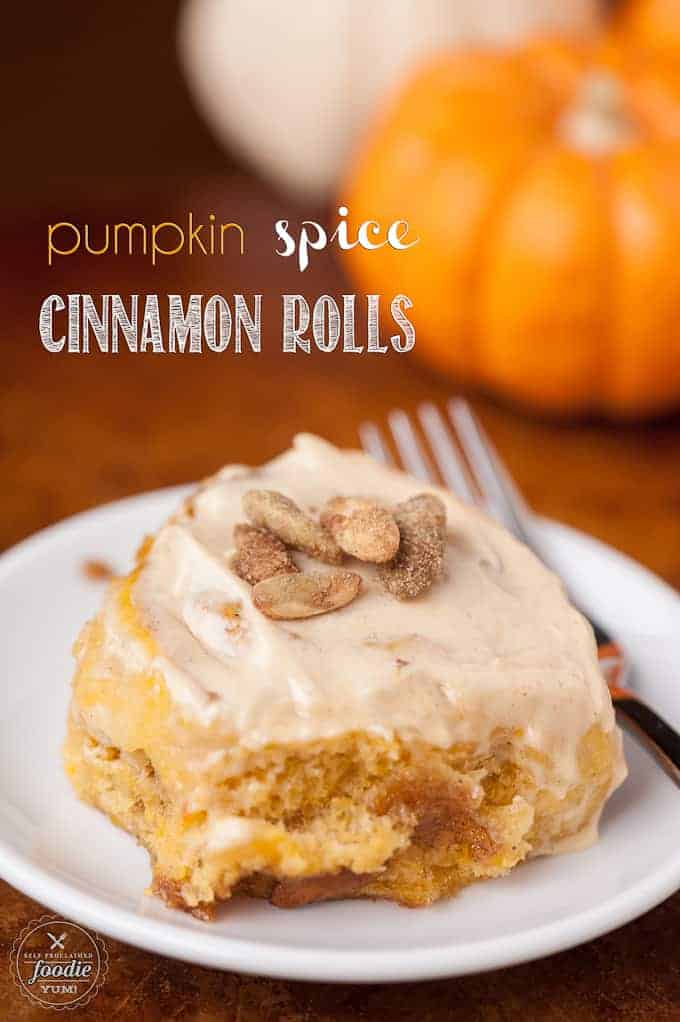 Okay, friends. I'm not gonna like. These were a serious pain in the ass to make. If you have a craving for cinnamon rolls with a fall flare, by all means, please visit your favorite bakery or buy a tube of premade cinnamon rolls. You'll satisfy your craving and you'll save several hours and a lot of dirty dishes. If, however, you want to create something absolutely delicious, from scratch, in your own kitchen, and have people marvel at the fact that you made these from scratch as each and every morsel dissolves in their mouth? Well, then, these are for you.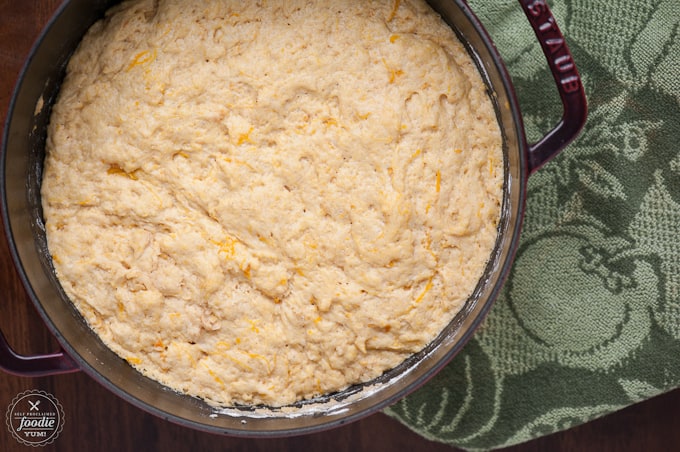 With any dough made with yeast, these require a fair amount of commitment. You have to give the dough time and the proper environment to properly rise. But it is oh-so-satisfying to see your hard work double in size. You will dirty a fair amount of bowls and counter space, but it is oh-so-satisfying to roll up that delicious dough and watch it expand and cook to a beautiful golden brown, right before you smother it in frosting. Did these take a fair amount of time to make? Yes. Were they worth it? Oh yes. What else are you going to do on a rainy fall day while the husband's eyes are glued to the football game on TV, right?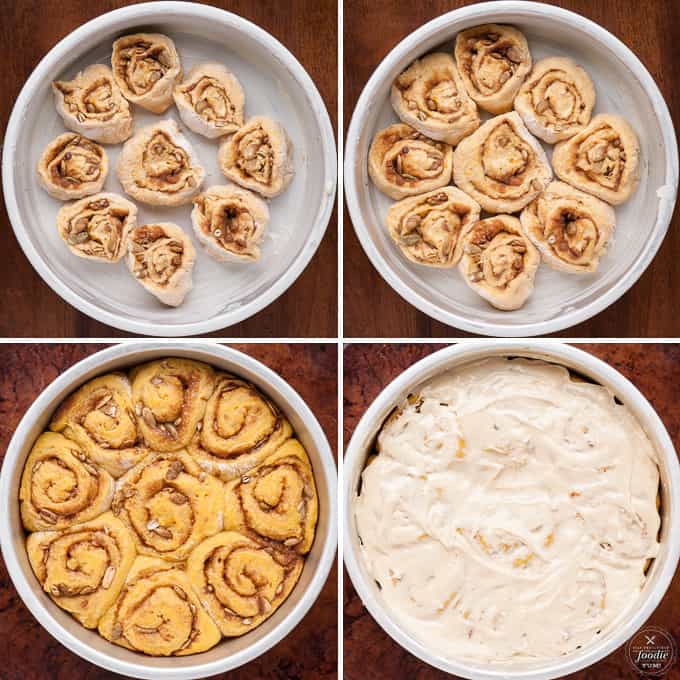 I brought these into work and shared them with my friends. I was having lunch with one of these friends the other day (are you reading this Scott?) and I can always count on him to give me great feedback. What he told me was the thing he liked best about these rolls is that they actually tasted like pumpkin. He said that anytime something is "pumpkin spice", that really means you will only taste cinnamon, nutmeg, cloves and ginger. Although the pumpkin spice flavor comes through, he said it wasn't overbearing and that he could tell these weren't just pumpkin spice cinnamon rolls, but they were pumpkin spice cinnamon rolls.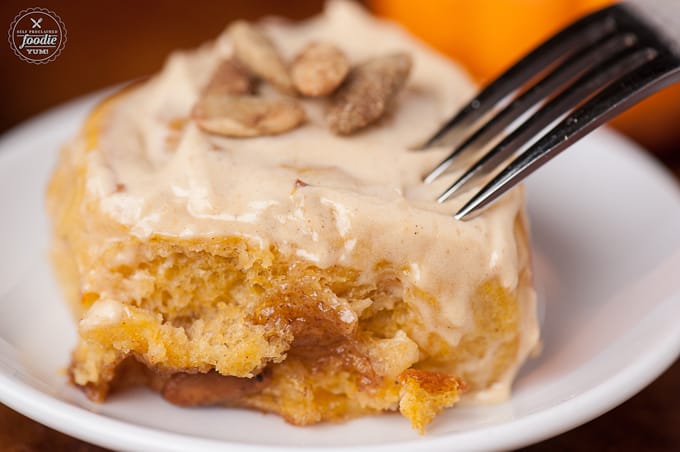 I have to be honest with you. I was pretty damn proud of myself when these turned out so well. No one ever wants to invest their valuable time into something that doesn't turn out. And yes, I was very pleased with the fact that I made something so pretty and soft and tasty from scratch! Plus, I saved myself the anxiety of having to open that damn cinnamon roll tube that pops and nearly gives me a heart attack each and every time!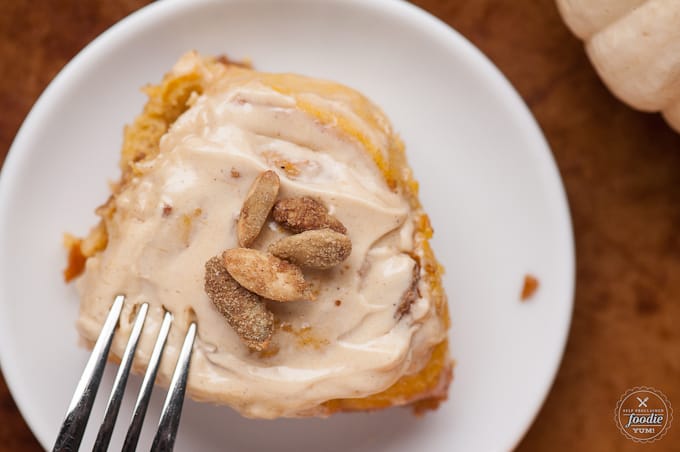 This recipe uses pure vanilla extract. Did you know you can make your own homemade vanilla extract? It makes the perfect gift too. Watch how in the video below.
[adthrive-in-post-video-player video-id="LExWqseM" upload-date="2016-11-14T18:54:41.000Z" name="Self Proclaimed Foodie – Homemade Vanilla Extract" description="Making your own homemade vanilla extract is not only easy to do, but it smells and tastes wonderful, makes the perfect gift, and the beans can still be used once you're done!" player-type="default" override-embed="default"]

Pumpkin Spice Cinnamon Rolls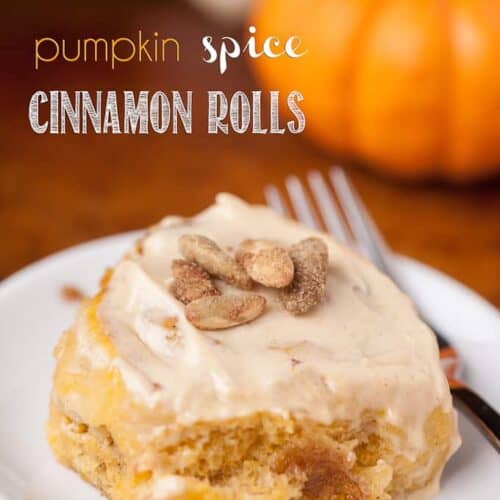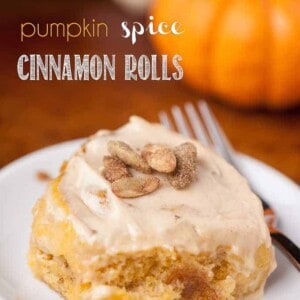 These super soft and delicious homemade from scratch Pumpkin Spice Cinnamon Rolls are made with real pumpkin and have an added pumpkin seed crunch.
Ingredients
frosting:
4

ounces

pumpkin cream cheese

softened (I used Trader Joe's. You can substitute plain cream cheese and 1/2 teaspoon pumpkin pie spice)

2

tablespoons

butter

softened

1

cup

powdered sugar

1

teaspoon

vanilla
Instructions
For the dough:
In a large saucepan, combine the buttermilk, vegetable oil and brown sugar. Heat until hot but not boiling. Be very careful not to over cook. Then, remove the pan from the stove and allow it to cool until the mixture is warm to the touch. Sprinkle the yeast over the surface of the liquid and allow it to sit for 5 minutes.

Once yeast has proofed, stir in the pumpkin puree until combined.

Combine 2 cups of the flour with the pumpkin pie spice. Add it into the saucepan and stir until it just comes together. Cover the saucepan with a dish towel and set in a warm place free of any drafts for 1 hour. *see note.

After 1 hour, the mixture should be very puffy and at least doubled in size. Combine the remaining 1/2 cup flour with the baking powder, baking soda, and salt and sprinkle over the dough. Mix until well combined. Add additional flour, as needed, in order to just barely handle the dough without it sticking to your hands.

Preheat the oven to 375 degrees F. Heavily grease two 8 inch cake pans with butter.

Turn out the dough onto a floured surface and press it into a rectangular shape. Use additional flour if it is still too sticky. Roll the dough into a large rectangle that's about 3/4 inch thick.
For the filling:
Drizzle the melted butter over the dough and spread it all over the surface of the dough.

In a small bowl, mix together the brown sugar, granulated sugar, and pumpkin pie spice. Sprinkle this mixture all over the surface of the dough, covering all the melted butter. Add the sweetened pumpkin seeds in a thin layer.

Roll the dough into a large log and pinch the end seam to seal. Use a sharp knife to cut the log in half, one for each cake pan. Cut each log into 6-9 pieces, depending on how tall you want your cinnamon rolls and place them in the buttered cake pans. Loosely cover with towel and allow to rise for 20 minutes.

Bake in preheated oven until the rolls are nice and golden brown around the edges, about 15 to 18 minutes.
For the frosting:
In the bowl of your stand mixer with the paddle attachment, cream together the cream cheeses and butter until light and fluffy, about 5 minutes. Add the sugar and vanilla, then blend until smooth. Then with additional vanilla or milk, if desired.

Frost the rolls when they come out of the oven so that they are hot and the frosting will partially melt.
Notes
To help my dough rise, I found it best to preheat my oven to 200 degrees F. Once it reached temperature, I turned it off, and cracked the door to release some heat. I kept the door closed while the dough would rise.
Nutrition
Calories:
496
kcal
,
Carbohydrates:
70
g
,
Protein:
7
g
,
Fat:
22
g
,
Saturated Fat:
14
g
,
Cholesterol:
41
mg
,
Sodium:
258
mg
,
Potassium:
188
mg
,
Fiber:
2
g
,
Sugar:
37
g
,
Vitamin A:
4065
IU
,
Vitamin C:
1
mg
,
Calcium:
77
mg
,
Iron:
1
mg
Nutrition information is automatically calculated, so should only be used as an approximation.